Displaying events on your website so you can sell event tickets is amazing from a promotion point of view. However, managing them by hand can prove to be a tedious and time-consuming task.
Using a WordPress events plugin makes the process easier and gives you more flexibility. Event plugins like the ones mentioned in this article are manageable from within the WordPress dashboard itself.
They help to show event registration forms in different ways and various layouts on the front end of the website. A good WordPress events plugin allows you to sell event tickets and manage event visitors easily.
This makes getting a WordPress event booking plugin a worthwhile endeavor. A modern events calendar is helpful for displaying events and, integrating various payment gateways, and making reservations in an easy way.
This article highlights the best WordPress events plugins beginning with the one we recommend.
The best WordPress events plugins you can find
Recommended: Amelia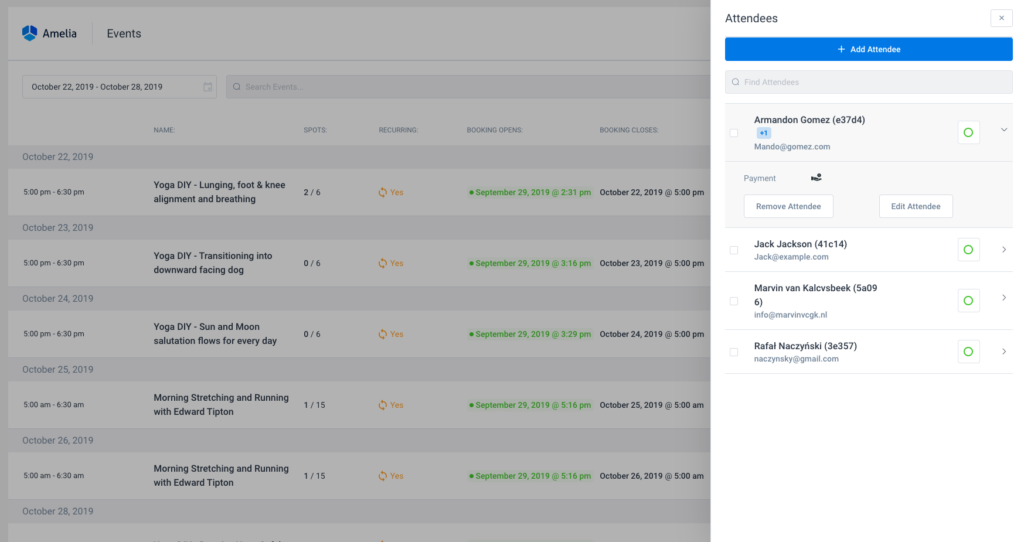 Amelia is a feature-packed WordPress events plugin that works flawlessly with WordPress sites of all kinds. It has a minimal, yet powerful events management interface designed to ease your workflow, automate repetitive tasks, and make appointment booking a breeze for customers.
You can even have email and SMS notifications so that nobody forgets about a booked event.
In order to book a spot at an event, the complete user interaction takes a few clicks with this events plugin. Moreover, it includes payment gateways like PayPal and Stripe, perfect for those who want to pay in advance to reserve their spot.
As a business owner, you can monitor KPIs in the event dashboard and analyze other important data to keep a pulse on your business. Amelia is a straightforward, no-nonsense events calendar plugin and an amazing option for those who want an around-the-clock solution for their event booking.
The Events Calendar module is nothing short of amazing.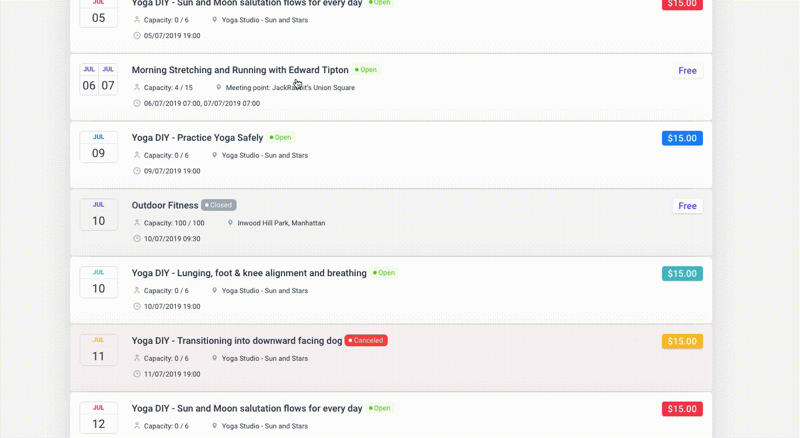 You can now automate your event bookings as well. To be more precise, it means that you will be able to schedule a single day, a multi-day, and also recurring events with Amelia.
Did we mention that you can manage multiple event venues and that you have Google Calendar integration?
All of these and much more are under only one license, no add-ons are needed.
To test things for yourself, I'd suggest checking out the demos and see how things look on the front end as well as in the back-end.
Hands down, this is the one you should pick from this list of the best WordPress events plugins. Yet, you can check out the other options as well.
Event Organiser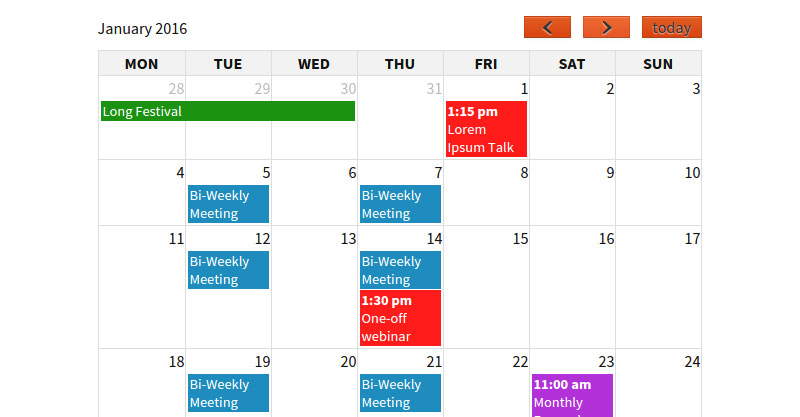 Event Organiser is the second WordPress event booking plugin on the list. It is a dependable choice because it works well with any WordPress installation.
It adds an events post while keeping the familiar WordPress functionality.
Event Organiser allows the use of WordPress post features and adds extra functionality. This functionality includes the options of reassigning and rescheduling events.
It can also create similar events based on previous posts. It has an embeddable event widget that you can customize to display your events in various ways.
Also provided are shortcodes that determine how the chosen events appear. They can show or hide information such as venue details.
WP Event Manager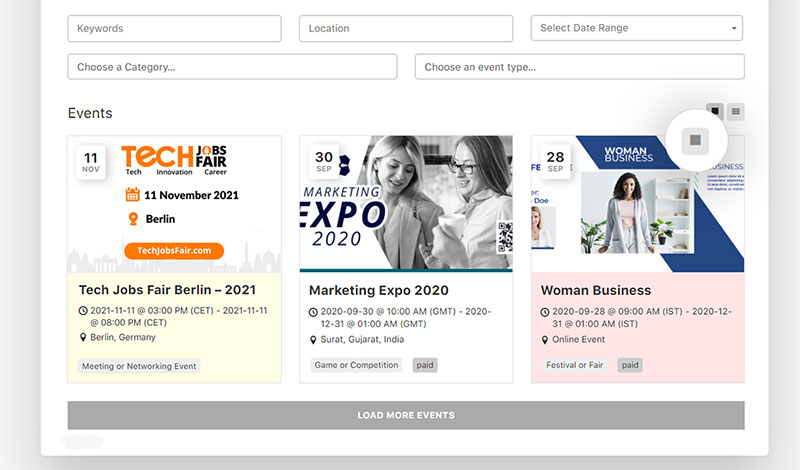 WP Event Manager is a lightweight WordPress event management plugin. As such, its features are a little more limited, but it keeps sites fast and back-ends free from clutter.
This is one of the newer event management tools. Yet, in the time it has been around it has gained a lot of popularity.
An internet search for WP Event Manager will return many positive reviews. This is, in part, because of their excellent customer support.
As is often the case with WordPress plugins, there is a free and a pro version.
The free version offers basic scheduling options. The pro version includes add-ons to boost its performance and add functionality.
Although simple in appearance WP Event Manager contains some very powerful features.
Modern Events Calendar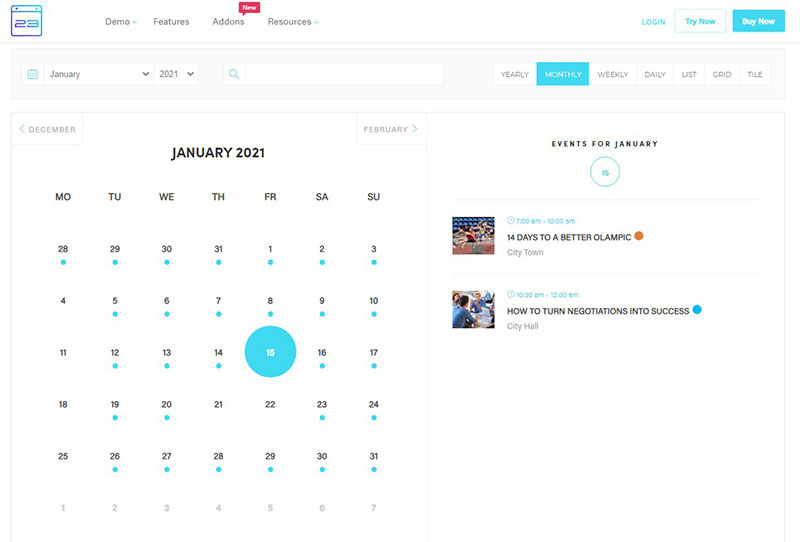 This plugin centers around an embeddable events calendar for use on any website. It is a modern and refined software product that has a free and a pro edition.
The free plugin contains many essential functionalities. This makes Modern Events Calendar a good choice for users with a limited budget.
After installation, users have all they need to deliver a beautiful product. This plugin is easy to use, with little additional work required to get the best out of it.
Sugar Calendar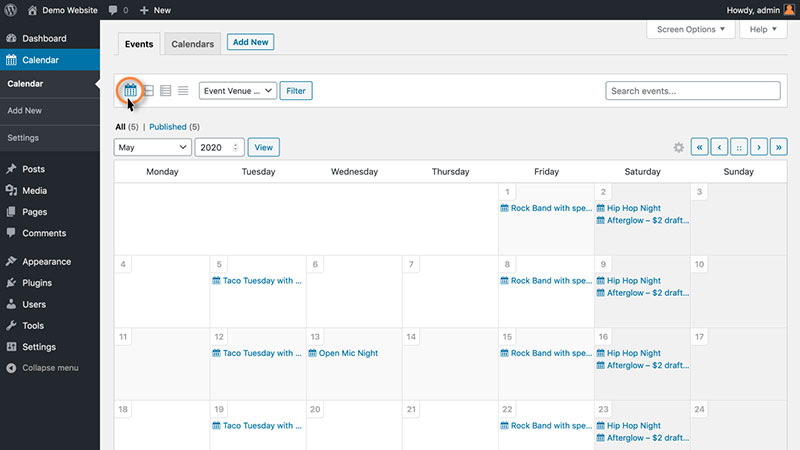 The next WordPress event booking plugin is Sugar Calendar. Created by the developers at Sandhills Development, Sugar Calendar is a lightweight option.
Their previous releases include Easy Digital Downloads, AffiliateWP, and Restrict Content Pro. Sandhills Development is known for its clean and flexible code.
Sugar Calendar is no exception. It has all the needed features, without being heavy and sluggish.
Of all the options presented here, Sugar Calendar is one of the simplest. Yet, it has all the essential features.
With the premium version, users gain access to added functionality.
Stachethemes Event Calendar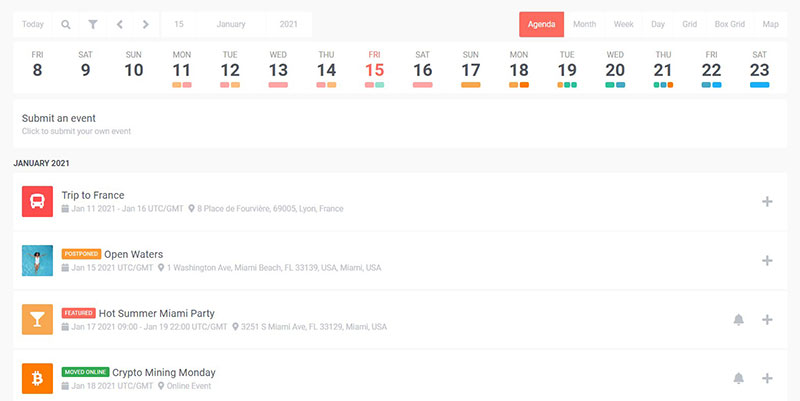 Stachethemes Event Calendar is a popular events calendar and it is one of the newest. It has a one-page admin feature.
Stachethemes Event Calendar is optimized for use with mobile devices. The WooCommerce integration allows you to sell tickets and related merchandise.
It auto-updates bookings, ensuring that viewers always have up-to-date availability information.
Besides WooCommerce, users can integrate event booking options with ICS and iCal. Six different viewing options for the calendars are available.
The events calendar is customizable. This allows users to change the colors, fonts, and design of the calendar.
The Events Calendar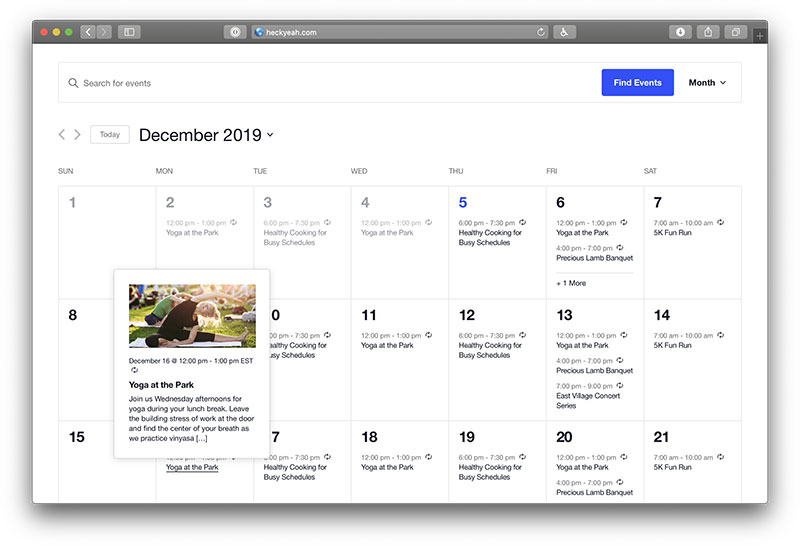 The Events Calendar is the most reliable option on the list, especially for those who use WordPress for publishing a blog.
This is a top plugin, whatever a user might require from their calendar. The features that it offers make this an outstanding option.
The security has been tested by some of the most qualified WordPress developers. The developers worked along with field users to perfect this booking plugin.
Another big advantage of The Events Calendar is its customizability. It has endless possibilities for making branded and personalized calendars.
However, to take advantage of its full potential, you will need some coding skills.
All-in-One Event Calendar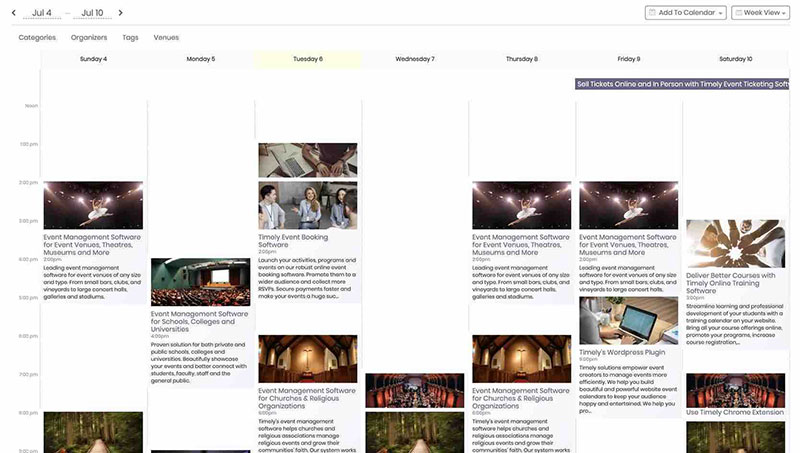 Time.ly's events booking plugin comes in the form of All-in-One Event Calendar. With its pleasing looks, this WordPress plugin revolves around an events calendar.
This plugin achieves its objectives of minimizing administration and easing event management processes.
The basic version allows users to book recurring events. It also offers a filter function, social media sharing, and venue auto-saving.
Also included is Google Maps embedding. Users are also enabled to import events from Facebook.
It is possible to obtain added features through Time.ly's hosted software solution.
Events Manager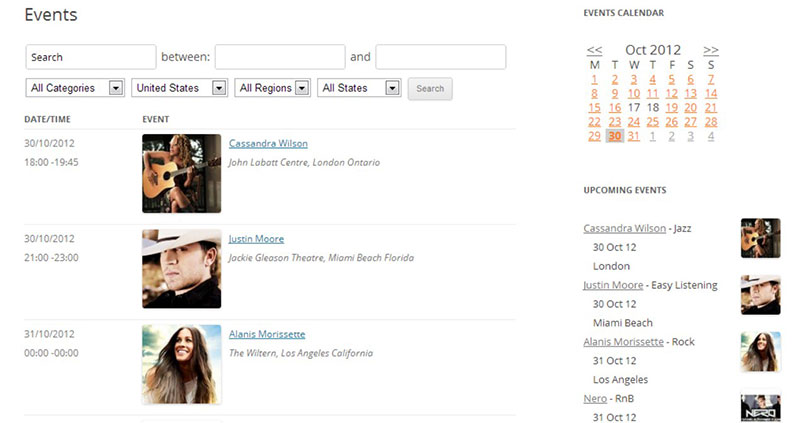 Events Manager introduces itself as an event registration platform. It offers event and location management, event calendar, Google Maps supports, and direct booking.
It only requires the user to enter the start and end date for the event. The plugin will take care of all the other details.
Events can be set up months in advance if needed. It also allows visitors to register before the scheduled event.
Users can register as guests without the need to become a member.
The Events Manager can display events according to their location. This means that guests can sign up for the events that are closest to them.
Events Manager also supports Google Calendar. Thanks to this, Google users can add the event to their personal calendars.
The Events Manager can make managing a busy calendar easy. It does require a little administrative maintenance from the user.
MotoPress Timetable and Event Schedule Plugin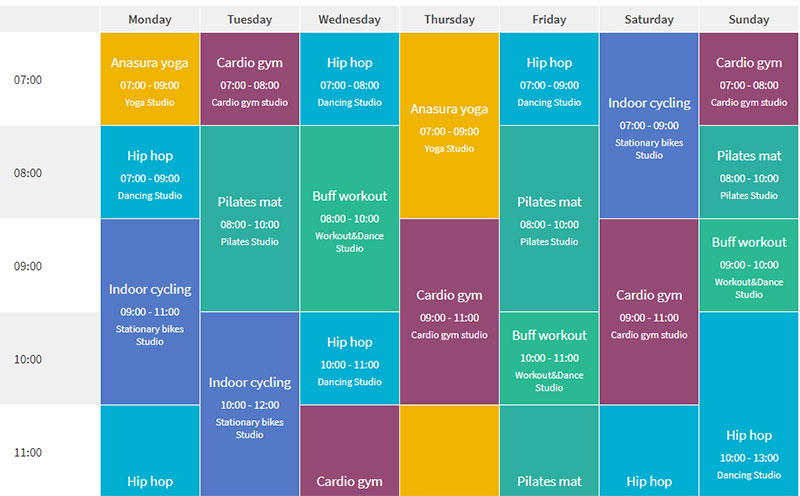 This plugin is not a modern events calendar but it has basic features that some users could use. This event calendar plugin focuses on gyms, spas, and other businesses in the health industry. It is a great WordPress calendar plugin that allows clients to make bookings online from any device.
MotoPress uses a color-coding system for identifying and classifying events based on type. The shortcode makes embedding it in a website as easy as possible.
The calendars offer customization options for color, category, label, size, and time zone. Filters make the calendars searchable.
Many pages have more than one calendar. With this in mind, MotoPress assigns an individual ID to each calendar, making them easy to find and distinguish.
Upcoming events are highlighted using widgets. This is important to attract attendance.
WordPress Pro Event Calendar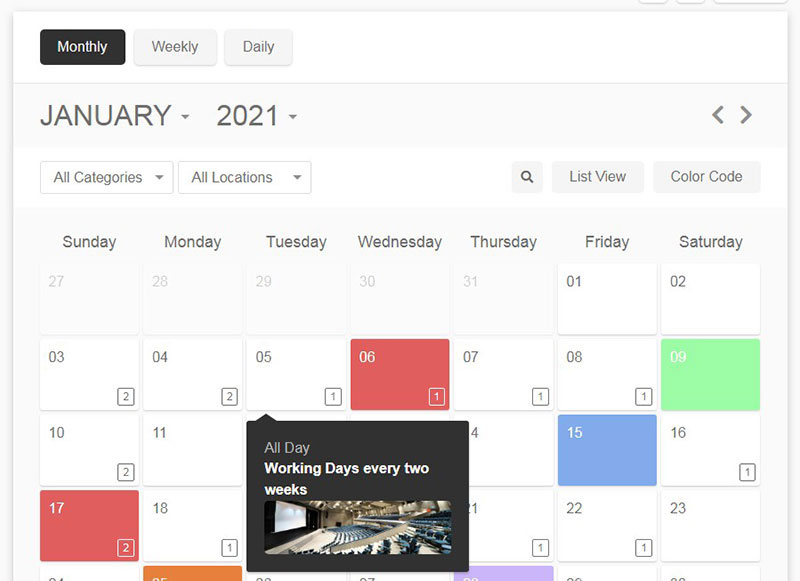 The thing that makes each plugin different is its design. This is an important consideration.
WordPress Pro Event Calendar works with any WordPress site But it also has an attractive design that will look great on any kind of device.
It does not involve a steep learning curve for new users. In part, this is thanks to the intuitive drag-and-drop method of building.
WordPress Pro Event Calendar has been on the market for some time and has undergone various refinements. This makes it a very complete solution for all WordPress scheduling and events needs.
The event settings are flexible and, coupled with a shortcode generator, embedding is easy. On top of the responsive design, it has Google Maps integration and many more features.
My Calendar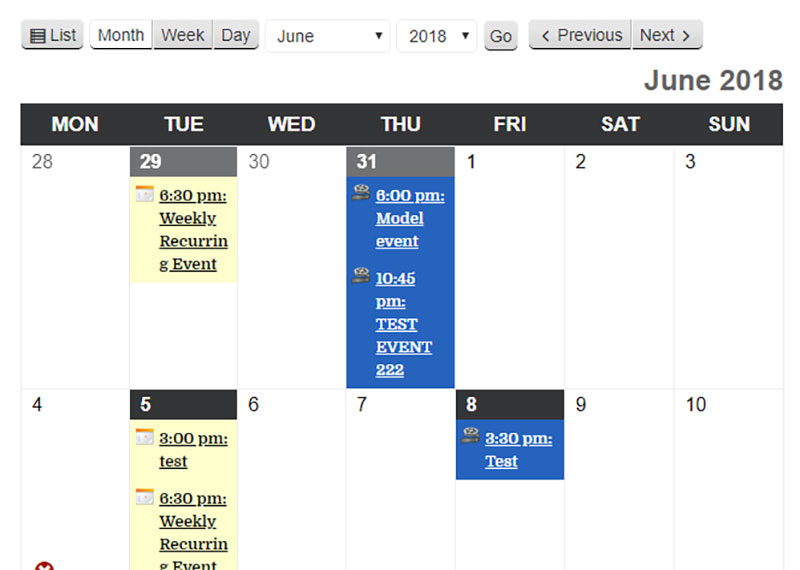 My Calendar is an interesting WordPress event booking plugin with some unique options. It is a great option for developers who want to create different calendars and templates.
With WordPress Multisite, events are publishable on different sites at the time. Or keep it simple and announce the event on just one site.
The functions of My Calendar are expandable by upgrading, but there are also several free plugins available. The My Tickets plugin, for instance, is free and integrates with My Calendar.
MyTickets enhances the calendar and helps you sell tickets in an easy way. This enables visitors to purchase tickets, RSVP, and print tickets.
Customers could also pick up their tickets at a predefined location.
Events Schedule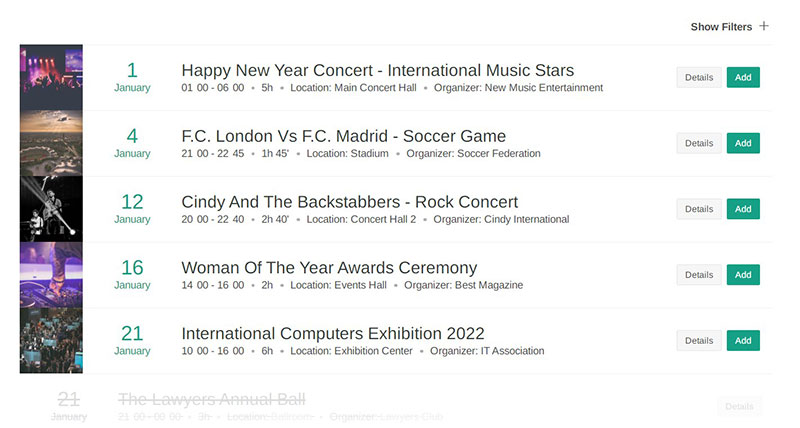 Events Schedule is a robust WordPress events plugin. It offers calendar scheduling and online booking options.
Events Schedule is a helpful tool for scheduling conferences and other large-group gatherings. It is particularly great for event registration needs for an international audience.
Events Schedule offers five different event calendars with customizable colors and design capabilities. Applying filters makes the calendars searchable.
The user can edit, add, and delete events as needed with the Visual Schedule Builder.
EventsPlus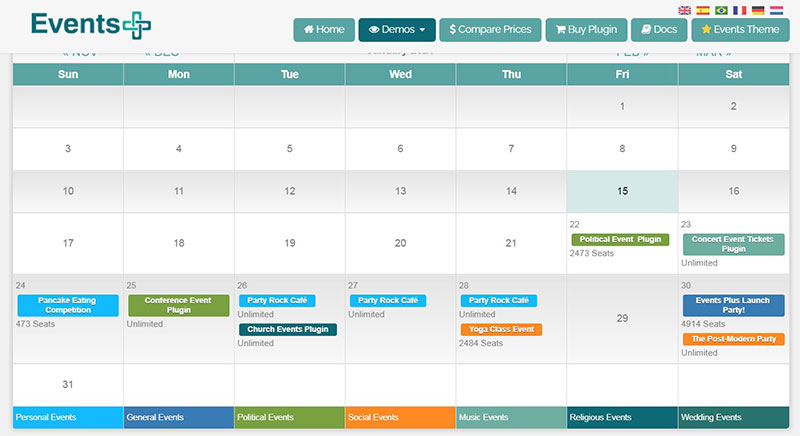 Any WordPress user who manages events will enjoy the broad applicability that EventsPlus offers. Its abilities include creating an interactive calendar with online or offline event details.
With EventsPlus clients can register for classes, seminars, workshops, or other events. It also takes care of publishing the event, as well as ticketing.
Users can add a countdown clock to their site, which encourages visitors to buy event tickets. To further expand their circle of viewers, there is an option to add social share buttons.
To ensure that everyone can view the information, EventsPlus offers a responsive layout.
Event Calendar WD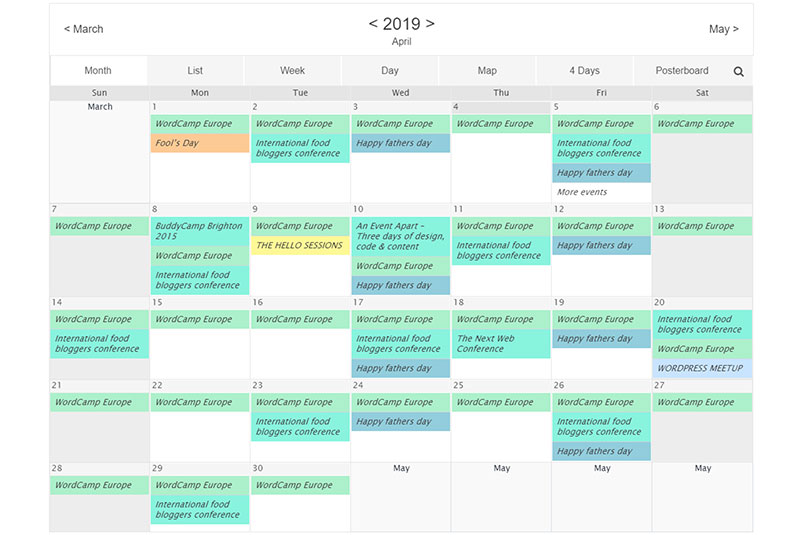 Event Calendar WD includes some unique features. One of these features is that it guarantees full responsiveness across devices.
It also has a rare sidebar widget that makes an event more visible. The integration with Google Maps helps guests to find the event's location with ease.
With the free version, the user can create unlimited events. The event information can include venue, organizer, categories, and specific tags.
The free version also includes a Google Maps integration feature.
There are quite a few premium add-ons to expand Event Calendar WD's features. These add-ons are available as bundles or individually.
EventOn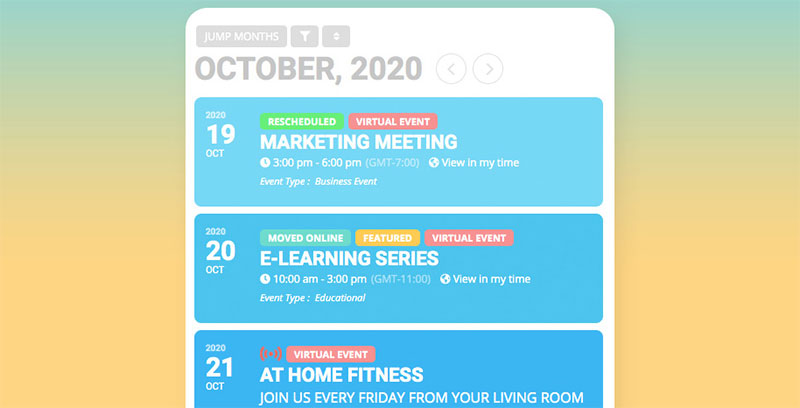 EventOn is only available as a paid premium version. This WordPress event management tool is a great option for adding an event registration form to your website.
It has slick event views and a card approach that adds to the appearance of the calendar. An example is available at the link above.
EventOn is one of the popular WordPress events plugins on the list in regards to the overall appearance.
The main calendar displays event details such as time and location. It also shows specific event cancellations.
This premium plugin can help users to manage events through its location and event management tools. Users also benefit from a functional search bar and social sharing buttons.
Facebook Events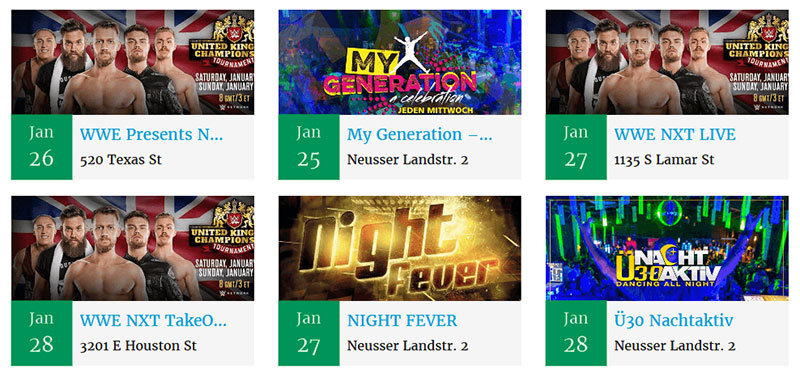 The last WordPress event booking plugin on the list is also the simplest.
It is not meant for manually adding events from within the WordPress dashboard. Instead, it imports events from a Facebook page to a WordPress website. This might not be the booking management option you are looking for, considering it does a basic import job.
To do this users must first create a Facebook app. This is usually done for importing content from Facebook pages.
Having done that, it is possible to display events using a widget or by using the shortcode.
FAQ about WordPress events plugins
What are the top WordPress events plugins available?
Well, there are a bunch of great options, but the best possible one is Amelia.
How do I choose the right events plugin for my website?
Choosing the right plugin can be a bit tricky. First, you need to consider your requirements – do you need a simple event management system or something more complex? Make a list of features you're looking for, like ticketing, registration, or booking. Next, check out reviews and ratings for different plugins.
This will give you an idea of their reliability and performance. Finally, test out a few options to see how they work on your site.
Are there any free WordPress events plugins?
Yes, there are! Some popular free events plugins include Events Manager, My Calendar, and Event Organiser. These plugins usually offer basic event management features, like creating events, managing attendees, and displaying event calendars.
Keep in mind that free plugins may have limited functionality compared to their premium counterparts. But if you're just starting out or have a tight budget, they can be a great choice.
Do WordPress events plugins support multiple languages?
Most of the top WordPress events plugins do support multiple languages. They either have built-in translation options or are compatible with popular translation plugins like WPML or Polylang.
This means you can easily translate your event listings and calendars into different languages, making your website more accessible to a global audience. Just check the plugin's documentation to find out about its multilingual capabilities.
Can I sell tickets using a WordPress events plugin?
Absolutely! Many WordPress events plugins offer integrated ticketing and booking systems. Plugins like Amelia, Event Espresso, Events Calendar Pro, and EventON allow you to sell tickets, manage bookings, and handle payments directly on your website.
This makes it super convenient for both you and your attendees. Just make sure to choose a plugin with the necessary e-commerce features for your needs.
Are WordPress events plugins mobile-friendly?
Most popular WordPress events plugins are designed to be responsive and mobile-friendly.
This means that your event listings and calendars will look good and function well on all devices, including smartphones and tablets. It's essential to choose a mobile-friendly plugin since many users access websites on their mobile devices. A responsive design ensures a smooth experience for everyone, no matter the screen size.
How do I customize the appearance of my events calendar?
Customizing the appearance of your events calendar is usually pretty straightforward. Many plugins offer built-in design options, like color schemes, fonts, and layout choices.
You can also use custom CSS to make more advanced design changes if you're comfortable with coding. Some plugins even offer compatibility with popular page builders like Elementor or Divi, allowing you to create unique and custom designs for your events pages.
Can I import and export events using a WordPress events plugin?
Yes, most WordPress events plugins support importing and exporting events. This is a super useful feature if you're migrating from one plugin to another or want to share events between different websites.
Plugins like Events Calendar and Modern Events Calendar allow you to import events from other calendars using CSV, iCal, or Google Calendar formats. They also let you export events in similar formats, making it easy to transfer data when needed.
How do I ensure my events are SEO-friendly?
To make sure your events are SEO-friendly, choose a plugin that follows best practices for search engine optimization. Look for features like schema markup, which helps search engines understand your event data better, and customizable URL structures.
Additionally, create unique and engaging content for your event listings, including keyword-rich titles and descriptions. Don't forget to optimize your images, too! You can also use SEO plugins like Yoast SEO or All in One SEO Pack to further improve your events' search engine visibility and rankings.
Can I integrate WordPress events plugins with other tools and services?
Definitely! Many WordPress events plugins offer built-in integrations with other tools and services. For example, you might find integrations with email marketing platforms like Mailchimp or Constant Contact, payment gateways such as PayPal or Stripe, and social media platforms like Facebook or Twitter.
Some plugins also offer API access, allowing you to create custom integrations with other tools you're using. Just check the plugin's documentation or features list to find out what integrations are available.
Choosing the best out of these WordPress events plugins
An events calendar plugin is a great tool you can use for attendee management. Not only will you handle event registration automatically, but with an overview of the events calendar, you can manage events better, screen record events, they are community events or more specific ones.
Which one of these event calendar plugins is the best? That depends on what features you actually need from them.
If you want a complete WordPress events plugin that you can use to create an event registration form, add it on a custom event page of yours, sell tickets, and organize every step of the process, then Amelia is the best WordPress event plugin you should pick.
This calendar plugin has new features added on a regular basis and is getting far better than its competitors while keeping a decent price.
If you enjoyed reading this article about the best WordPress events plugins, you should check out this one with event WordPress themes.
We also wrote about a few related subjects like event websites, creating a WordPress booking system, lots of event planning resources, great event registration landing page examples, and how to use PayPal for event registration.