Amelia is a well-polished appointment scheduling software that works very well for new WordPress users. Using Amelia you can have online bookings for both free and paid appointments, all with an easy-to-use interface. It's a great plugin, offering a wide catalog of tools to use when customizing your appointment booking flow, but it may not be right for you.
Amelia has a very rigid structure, and although that structure brings many benefits, for some reason, you might not consider it good enough for you.
For this particular reason, you would be searching for an alternative to this WordPress booking plugin, so we're going to help you find it.
Finding a WPAmelia alternative can be a lengthy undertaking, as there are many available tools on the market.
Here is a list so that you can find the best WPAmelia alternative for you.
Our recommendation: Trafft
Trafft is probably the best alternative to Amelia, and this is not just because it's an app that is as good as Amelia, or even better. No, that's not why you should use this one instead of Amelia.
It's because it's not just a scheduling tool. Trafft is a professional service business management software, a professional tool, and a digital business partner that covers different aspects of running a business.
It's the kind of app that small and medium business owners, administrators, managers, and key staff in the service industry are using to take their processes and businesses to the next level.
How does it do that? Well, Trafft is a combination of an online no-code platform and human service from a team of service business automation experts. While that's a mouthful, we can make it simple by saying that it provides all the necessary tools to organize schedules, accept bookings and payments, send reminders and integrate with other tools.
Trafft differentiates from typical apps and tools that automate smaller tasks like online bookings or personal schedules, and are usually hard to configure and maintain, and support is hard to get.
The Trafft app and its team do that by providing support for the complete workflow cycle of a service business, and has an extremely intuitive interface and UX.
What does that mean practically for you? You would not need to waste time on repetitive tasks like calling clients and confirming or rescheduling, and you won't even need to hire additional people to do that.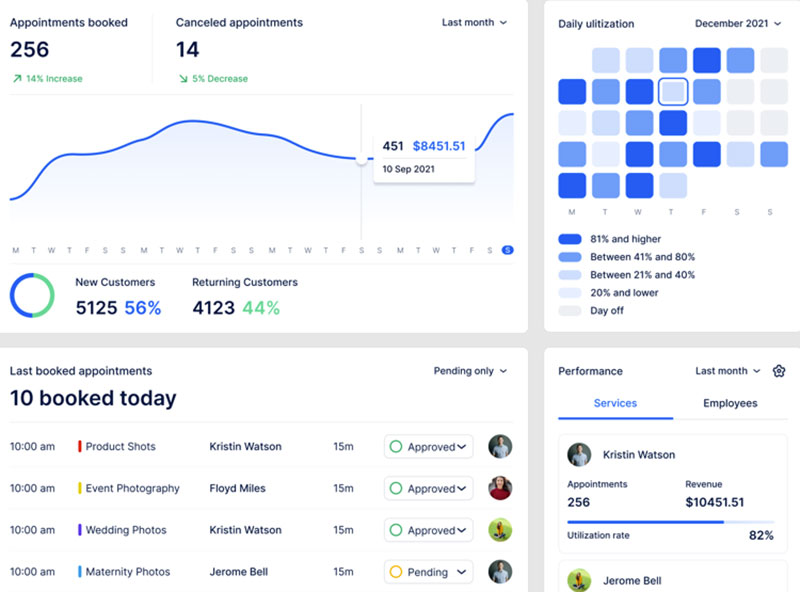 It also comes with all the features that you need to get started, such as:
LatePoint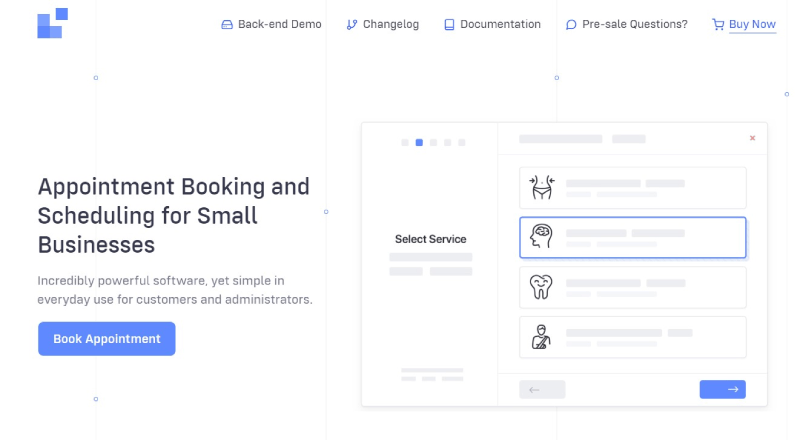 LatePoint is a very popular appointment booking plugin by CodeCanyon.
One of the stand-out features of LatePoint is its streamlined booking interface. It has a very smooth system that lets you create booking forms nearly instantly, with no page reloads necessary. It also has very user-friendly popups to further improve functionality.
Additionally, it has many out-of-the-box features that put it ahead of the competition. One of these features is its built-in chat system. Using this chat system, you can talk with customers and even send necessary files for their online appointments. LatePoint also lets you see custom schedules depending on which days or hours your employees work, further improving customer relations. Altogether, LatePoint focuses on how you interact with your customers, and if that is important for your company, it may be the right product for you.
Booking Calendar Plugin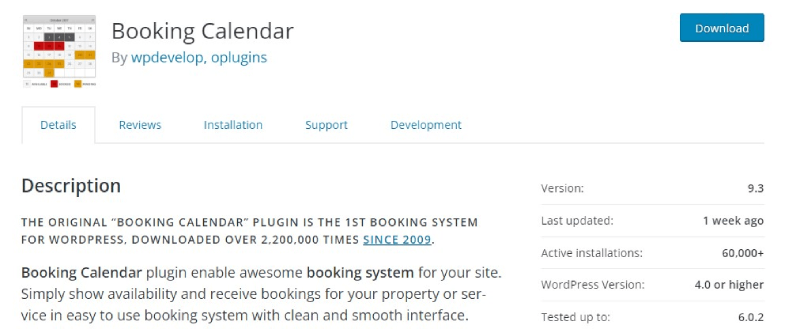 Booking Calendar is an old but reliable WordPress booking plugin. The core plugin has a free version that comes with the majority of capabilities that small businesses need, but there is a paid version for companies that want more.
The cost is a little high at around $60 for the first upgrade, and it goes up from there. If you are looking for a WordPress booking plugin for local use, you may prefer starting with the free version. If you find that suitable for your needs, you can upgrade to the premium plugins, but the price is something to keep in mind.
This plugin also supports Google Calendar sync, as well as other third-party sites like Airbnb, TripAdvisor and Booking.com.
Start Booking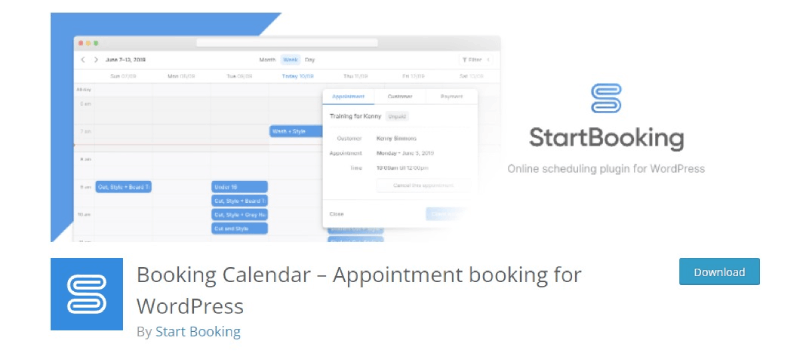 Start Booking is an appointment booking plugin that has many more advanced features. It is mainly for big businesses, agencies, schools, and corporations. This is not an easy market, which means that this plugin has several powerful features to compensate. Not only does it offer class and group bookings, but it also lets you set up office locations with individual office hours.
Start Booking also offers a modern customer interface that lets potential clients choose from a premade list of services. This list of services includes a list of available times and dates, and sleek option boxes to collect the necessary customer information. This makes Start Booking a great WordPress booking plugin for users in the service industry, as well as for companies that rely on customer relations.
This plugin also integrates with Google Calendar to further improve your client management.
Easy Appointments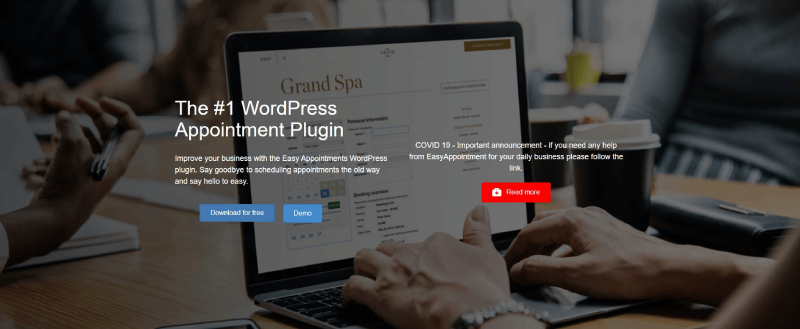 The Easy Appointments WordPress plugin is a popular booking plugin with both a premium and free version. This makes Easy Appointments a good choice for those on a budget.
It comes with some good features, as well as an entirely customizable booking form builder. It also includes other key features, such as:
Unlimited booking forms
Custom fields for said booking forms
Flexible time tables to control availability
Support for multiple locations, services, and workers
Customizable email notifications (free)
Twilio SMS notifications (paid)
BirchPress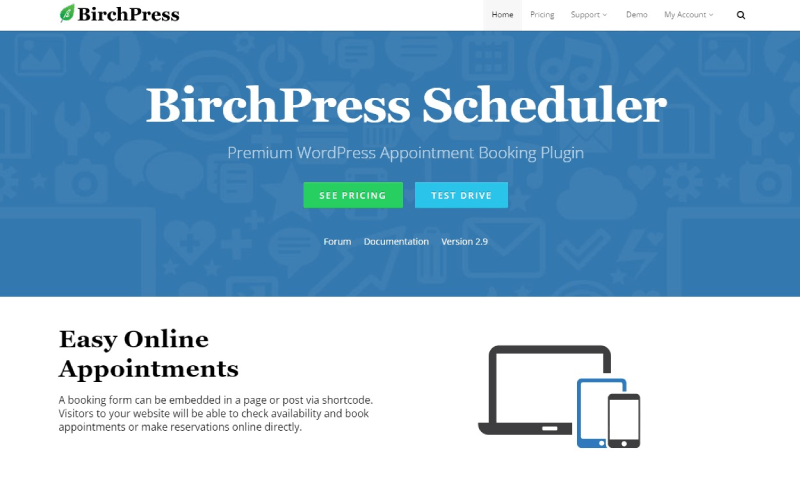 BirchPress is another WPAmelia alternative that switches up the formula of appointment scheduling software.
The first notable difference from Amelia comes from the plugin configuration. In BirchPress, a booking form can be embedded into a page or post via shortcode. This means that you can receive bookings from blogs, articles, and other pages, not just your main page.
The second difference lies in their calendar sync. Birchpress supports external calendar apps such as Google Calendar, iCalendar, and Outlook, an impressive catalog.
Like Amelia, it also allows debit and credit card payments through PayPal, and it can support more through WooCommerce integration. The only real shortcoming of BirchPress is their lack of email notifications, something that Amelia does have.
Booked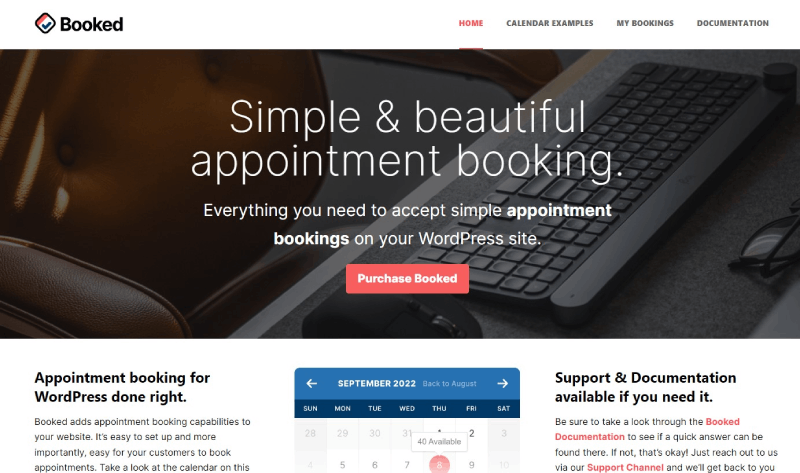 Booked is a simple appointment booking plugin that focuses entirely on booking appointments. This lets Booked do its job tremendously, although with few other options.
It does this job using customizable fields, customizable options, and a back-end calendar dashboard, all of which make your job easier. Time slots within the application are shown in a calendar or list format, and you can choose available dates directly from said calendar. There are also many multilingual options for worldwide companies, which further grows its target market.
Although Booked may not have the most beautiful design or the most simple interface, it does offer one of the simplest processes for your customers. If you want to make your booking forms as simple as possible for your clients, this may be the way to go.
Booking & Appointment Plugin for WooCommerce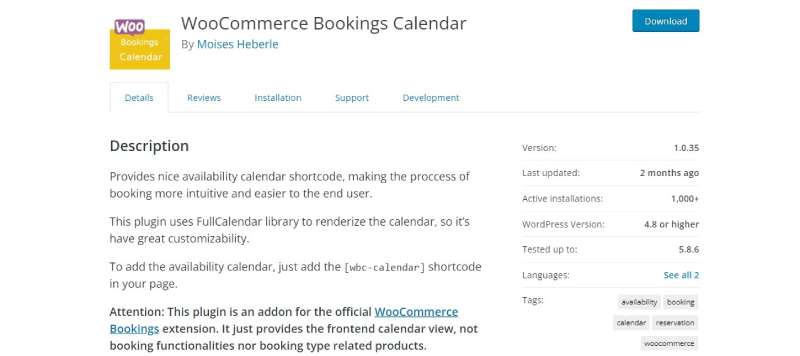 The Booking & Appointment Plugin for WooCommerce is a bit different then the other WordPress plugins on this list. Its main use is to make WooCommerce websites into powerful booking platforms.
Inside your WooCommerce store you can enable date- or time-based booking. There you can use WooCommerce widgets to create an easier booking process when selecting available dates and times.
It even offers a duration-based booking option; if someone is looking for an event that lasts an hour, they can find it faster.
Last of all, this plugin has recently received a timezone feature. This feature displays all available time slots according to the user's local time, ensuring that everyone understands the date and time of the event. This feature can be lifesaving for companies with online workers, let alone online prospects.
Bookingo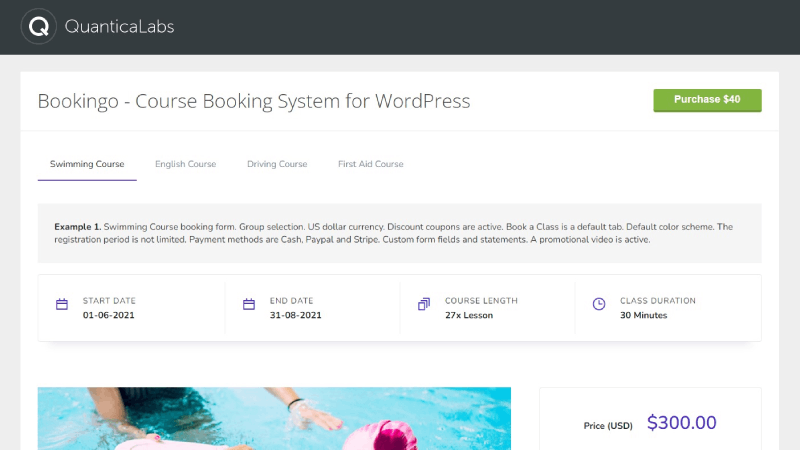 Bookingo is a WordPress plugin from QuanticaLabs that is tailor-made for recurring appointments for classes. It provides everything you need to post classes and sessions easily, as well as customizable fields so that you can adjust the plugin for what you need.
To start, you're able to select start and end dates, the duration of each course and class, participant limits, recurring appointments, location (or links to the virtual course), instructor contact information, as well as any additional details necessary.
You also get unlimited appointments, booking forms, courses, and course groups. This can be fantastic for larger companies who work in training or education, and it's definitely one to take a look at if so.
GetBooked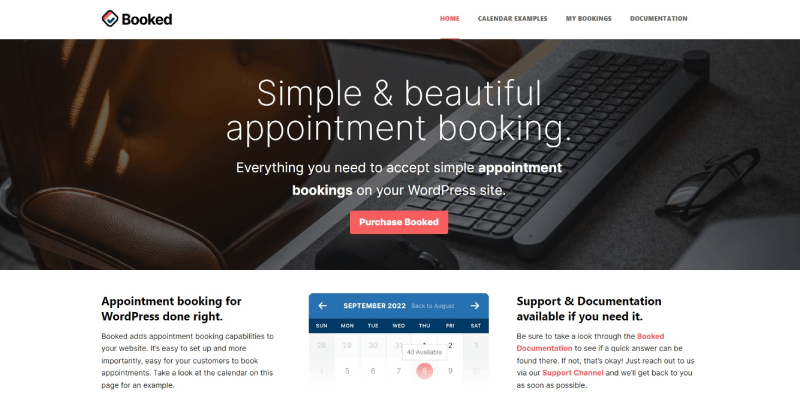 GetBooked is a WordPress plugin with a straightforward interface that makes booking appointments speedy. It's easy to install, and you don't need to pay for a session with the support team if necessary. It's also highly customizable, as it allows you to add as many fields as you need to get the information you need from your customers.
If you want a plugin that's easy to manage and navigate, and offers all the features you need, GetBooked may be your best option. The regular license costs $49, but you can upgrade to the extended support by paying a reasonable $16.50.
CM Booking Calendar Plugin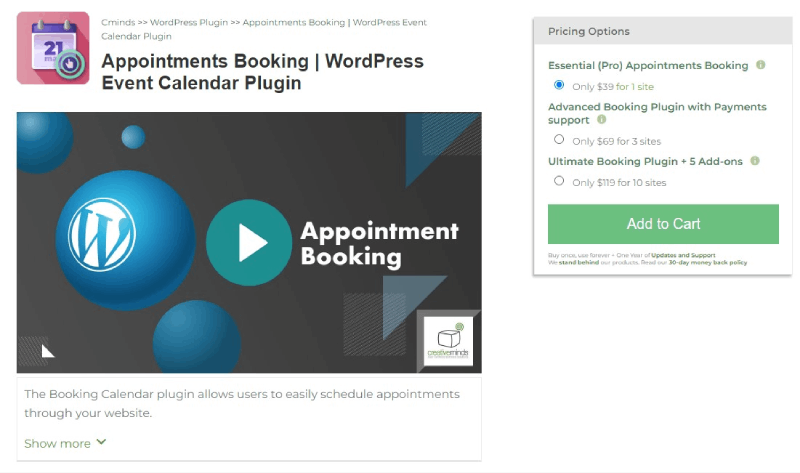 The "CM" in CM Booking Calendar Plugin stands for "Creative Minds", and this WordPress appointment booking plugin lives up to that name.
This booking calendar plugin lets users schedule appointments online directly through their website. An admin user can create calendars with specified times, dates, and even amounts of event tickets. They can also change booking forms and moderate requests, among other things.
Using CM Booking Calendar Plugin, you can even create multiple calendars, each with their own booking form and moderator. This makes the plugin scalable, which can be useful for startups who don't know how many clients they will have in the long run.
WP Booking System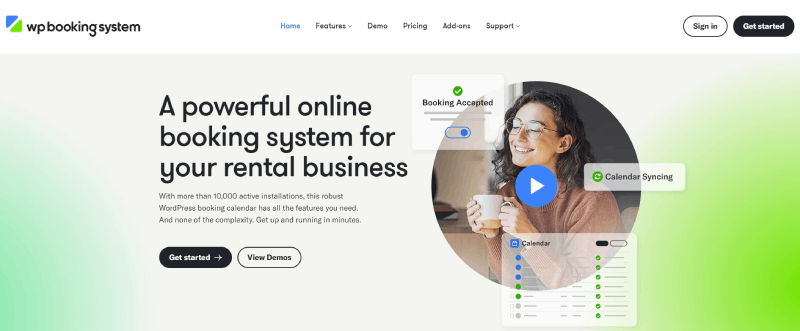 WP Booking System has both free and premium versions that are targeted towards bookings for rental properties or equipment (such as boats). This focus helps create a better experience for users who need bookings when dealing with properties, and that's not even talking about the booking features.
To start, it doesn't have an hour-by-hour management system, as you may find with other WordPress plugins like it. Instead it is focused on full-day bookings, which is often more necessary for rental property bookings.
WP Booking System can also accept payments through various gateways, such as Stripe, PayPal, and WooCommerce.
Bookmify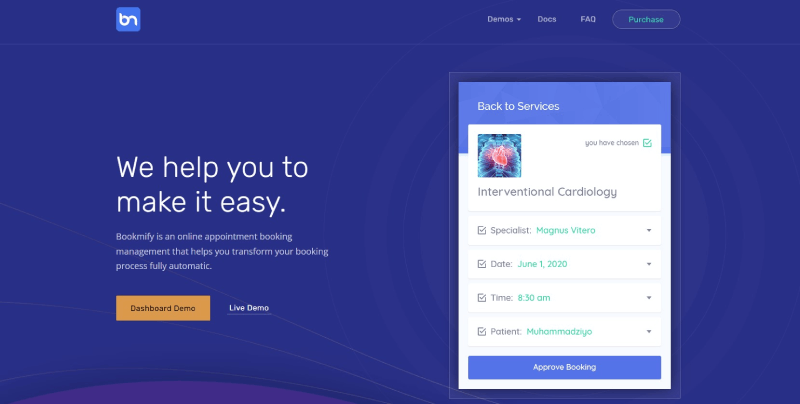 Bookmify is a great appointment booking system for WordPress that is very intuitive to use. You don't need much prior knowledge to be able to use Bookmify, save knowing how to use a computer. You can even individualize the appointment plugin to your own needs. You can set reminders via email notifications that fit your company, no matter what size of company you own.
Bookmify also offers many customization options to help manage bookings, depending on whether you manage a small or big company. From a sleek layout to online payments, this plugin has it all.
Bookly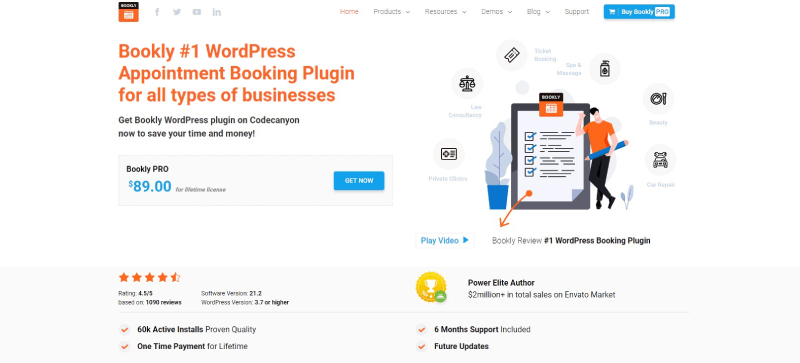 Much like Amelia, Bookly has customization options that can adjust the process and color scheme of your booking form. You can also show or hide fields, and add services other than the default and customize text. You can even color code your services to help distinguish one from the next.
Bookly also allows users to make and receive unlimited bookings on your website. Then from the admin panel, you can control payments, customers, and employees all in one location. This makes managing appointments much easier than before.
You can also receive online payments through PayPal and Stripe when using Bookly. If you want more payment gateways, you can upgrade to Bookly Pro, where you can integrate others.
10to8 Online WP Booking System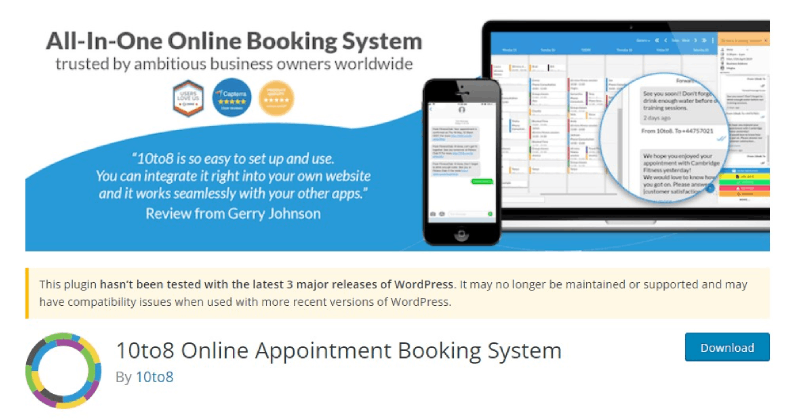 10to8 Booking System is a WordPress appointment booking plugin that is great for scheduling. It has a system designed specifically for professionals and their requirements. It's one of the most used WordPress plugins of all time.
Using 10to8 you can schedule your services so that others can book times. Then, potential customers can request adjustments through email notifications, SMS, Slack, or Facebook, with a two-way chat feature.
A key feature of 10to8 Booking System includes integration for iCal, Outlook and Google Calendar, and that doesn't even include the over 500 other apps that are integrated as well. This massive undertaking resulted in one of the best WordPress plugins on the market.
Booking Package

Booking Package is probably the simplest online appointment scheduling software, and that is a good thing. With Booking Package, you can book appointments, services, and events, and even rent rooms with the click of a button.
Here are some of the key features that make this application so simple:
It has flexible appointment duration times that can even be set for one-minute intervals
It can accept payments from applications such as PayPal and Stripe
It can send appointment confirmation emails reliably
It has a booking system that can be added to any post or page with simple shortcode
If you are a business owner simply trying to schedule appointments online, this may be for you.
JetAppointment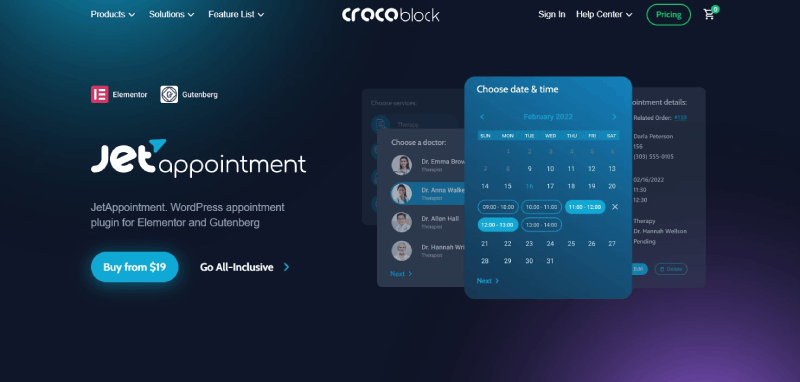 JetAppointment is an online appointment scheduling software that is specifically designed to work with Elementor. If you are already using Elementor, no doubt this is an appointment scheduler you will want to check out.
This plugin can be a powerhouse when in the right hands. The setup process for this site gives you a lot of flexibility, which can be a priority for many designers. This does come with some drawbacks though, as it is not the most beginner-friendly option. You will need to add custom fields manually, which can easily overwhelm those who are new to using shortcode.
If you are the type of person who likes to personalize your sites and are ready for a challenge, then this is a great option for you.
Calendarista Premium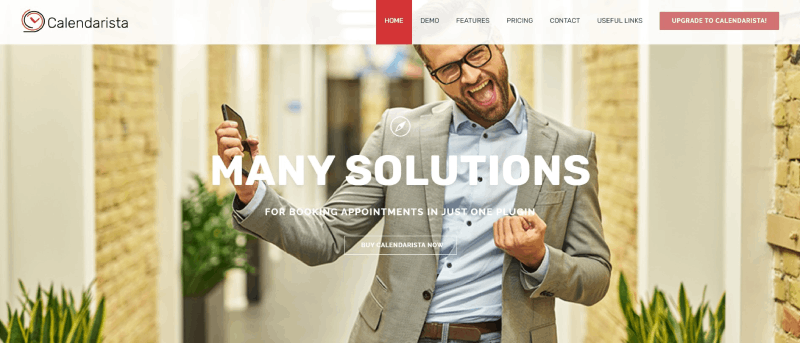 Calendarista is another very solid appointment booking software from CodeCanyon.
Calendarista focuses their efforts on booking flexibility. Clients can book events with single dates, multiple dates, or even packages with one or more dates already chosen. You can also set changeover times for rental bookings.
It also has some travel-specific features, such as letting people select packages with pre-chosen pickup/dropoff points. This can make one of the most difficult parts of travel booking simple and take a load off of your managers.
Online Booking by vCita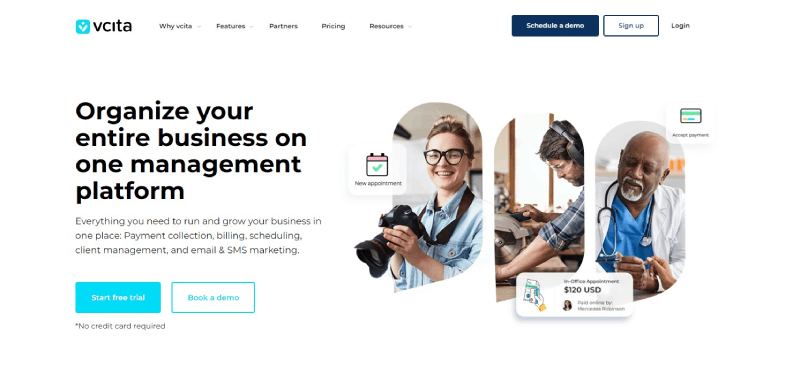 vCita Online Booking plugin is easily one of the best WordPress plugins that is available on the market today. This company also provides a wide range of options depending on your team's size.
The vCita scheduling app includes both appointment scheduling features as well as marketing features. Using vCita you can offer online coupons, create SMS/email marketing campaigns, and even create online lead capturing widgets to attract customers. These features help make vCita a great option for companies who want an all-in-one package when managing appointments.
Some of the other key features that the vCita online booking plugin offers include:
Client management features
Billing and invoicing forms
Ability to receive online payments
Zoom integration
Google Calendar integration
Online coupons
Automated reminders/SMS notifications
Simply Schedule Appointments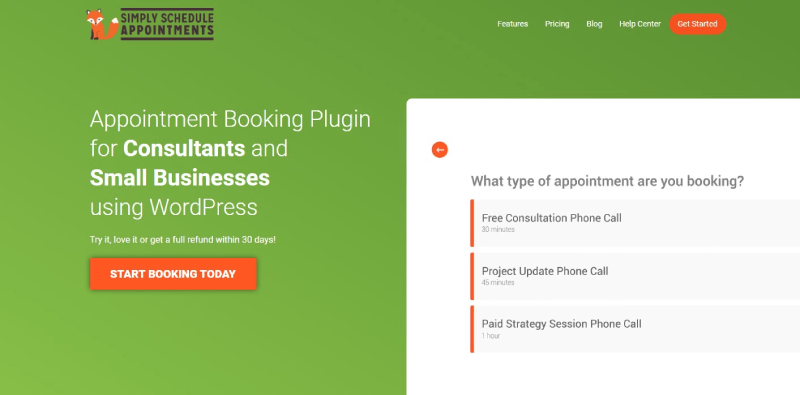 If your business has more than one type of appointment, you need an appointment booking plugin that's agile enough for all the necessary options. Simply Schedule Appointments can be that plugin for you.
With support for an unlimited number of appointments, users, and appointment types on every plan, SSA is great for anyone who needs fine-tuned customization from their scheduling software.
The free version by itself is generous with features. You get features such as unlimited appointments, appointment types, and users, as well as custom notifications. You can even edit your scheduling widgets to match your branding.
These features make the free version of Simply Schedule Appointments a great choice for smaller businesses with many types of appointments. An example of this could be a recording studio, but there are many other businesses that would suit this option. If you need a quick and flexible plugin, look no further.
Bookentic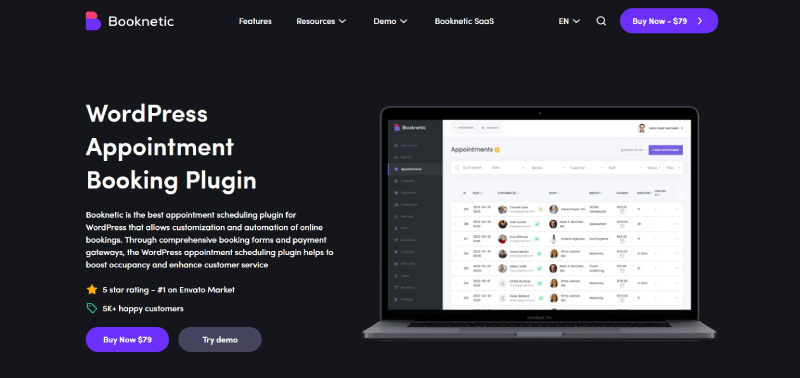 Booknetic and Amelia are toe-to-toe competitors with very similar target audiences and features. Both Amelia and Booknetic are designed for spa salons, wellness centers, health organizations, and consultants.
Booknetic has a fully customizable booking widget that can be embedded anywhere on your website. You can design said booking widget to match your brand and allow users to register on your site through their Google or Facebook accounts.
Just like Amelia, Booknetic also integrates well with Google Calendar. This lets staff view all appointments applicable to them on their calendar. But Booknetic doesn't stop there, as they also include Zoom integration to help streamline virtual meetings from the booking panel.
Which WPAmelia Alternative Is for You?
After this thorough study of what makes a good WPAmelia alternative, what conclusion have you come to? Here are some ideas you may want to keep in mind when choosing. First, not all tools are necessary; don't be taken captive by features that you may not need. On the other hand, try to think creatively about which tools could improve your appointment booking experience. Last of all, pricing is always an important figure to take into consideration when making any business decision, and this one is no different.
The truth is that any of these plugins can create a powerful and effective booking system, depending on what type of business you own. This is because all of these plugins are great at booking appointments.
However, if you want an appointment booking system for service based websites, Trafft may be the best choice for you. Trafft has many great solutions for many different clients by providing the best user experience for both you and the customer. Happy Booking!
If you enjoyed reading this article about WpAmelia Alternative, you should read these as well: