A WordPress calendar plugin can prove to be very helpful on your website. Especially if you need to let your visitors know about future events, a calendar plugin will be the best website accessory you can invest in. The events calendar is the best way to keep things organized directly from your WordPress dashboard, no other efforts involved.
Installing a WordPress calendar is a good choice for all sorts of websites that deal with event information. Openly displaying information by using a modern events calendar will boost the website's authority while establishing a certain reputation for your brand. It is a sign of professionalism and it is deeply appreciated by visitors. What's even better is that you can implement a WordPress events calendar by simply using a free plugin. Learn below more about this topic in this article created by our team at wpDataTables.
Table of contents
A list of the top WordPress calendar plugins

Events Manager is one of the first WordPress schedule plugins you should know about. This plugin is packed with features of all sorts and it is meant to offer all users the needed reliability. The features that this WordPress calendar plugin offers are just enough to handle events directly from the dashboard. First of all, you can set recurring or multi-day events, which is a feature that many people find extremely convenient.
The plugin offers BuddyPress support to let users sync their personal events and displaying them further. The plugin can be integrated with Google Maps for clearly setting a location for the event. You can work with WordPress Multisite as well. The plugin can be controlled through tags and shortcodes, which makes it beginner-friendly. It is a WordPress events calendar that you don't want to miss.
Features summary:
Easy integration (Google Maps, BuddyPress)
Included widgets
Highly customizable
Multiple tickets option
Easy definition of start/end times

Another WordPress calendar plugin that you may be interested in is the Events Calendar. This plugin is very fast to use, as you can create and customize events regardless of your previous experience with WordPress. The events calendar plugin has a search function, which allows users to look for specific events on your website. There are two possible ways to visualize events – monthly events or list view of all events.
The plugin has a special feature – iCal exporting. It includes a Google Calendar widget and you can create categories and tags for your events. Furthermore, the Events Calendar WordPress events plugin is also mobile-friendly and fully responsive with all sorts of themes, even the new ones.
Features summary:
It is integrated with Google Maps
It features widgets
It improves Search Engine Optimization by using Microformats
It enables Ajax for smooth navigation
It offers support for caching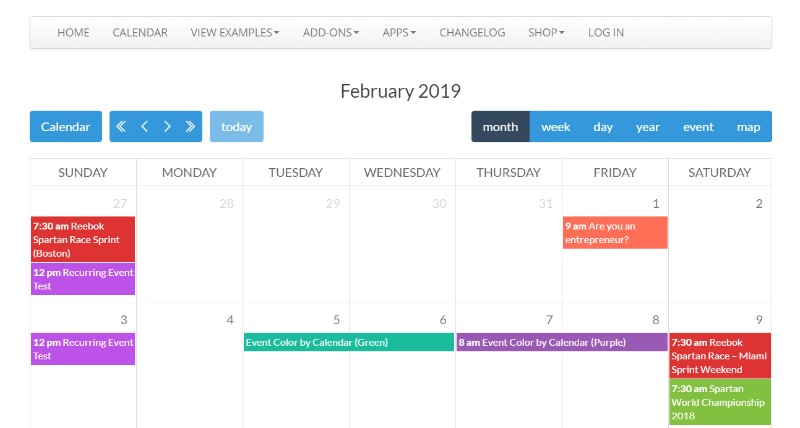 Calendarize.it is a premium WordPress schedule plugin that sold more than 5000 units until now. The rating of this plugin is 4,3 out of 5, a pretty impressive number. The reason why people pick this plugin is the friendly interface, packed with premium features. The user interface of this plugin is extremely simple, but that makes it so responsive and easy to use.
You can customize the calendar just the way you like it, both in a functional and visual way. The interface is a point-and-click one, which means it can be used by beginners as well. You can set recurring events and edit events that were already created. The plugin also offers the possibility to create categories and tags for sorting the events out.
Features summary:
Very easy to use
Setting recurring events is possible
You can manage venues through it
It features a sidebar widget
Includes shortcodes

A WordPress calendar plugin that will meet your expectations is the All-In-One Event Calendar. This plugin was created by Timely and it has a very stylish look. The great visuals are backed up by a series of features that make it convenient to use. The event creation process is a simple one, which makes this WordPress event plugin a pleasure to use. You can create recurring events or even add upcoming events. The plugin includes widgets and you can display the events on the website in various ways: daily, weekly, monthly, poster board and so on.
The level of customization with the All-In-One Event Calendar is very high. More than that, the calendars generated with this plugin encourage user interaction, which means your visitors will spend more time on the website than initially planned. You can set a color for each event to make them easier to notice and organize as well. You can embed the calendar onto your WordPress posts too.
Features summary:
All events are Search Engine Optimization friendly
You can embed Google Maps
Filtering events by categories and tags are active
You can import calendars from other platforms
The interface is user-friendly

Event Organiser is a free calendar plugin that is designed to ease the event management process. The plugin comes with a series of features such as setting up recurring events or attributing venues to each event. It has a very intuitive interface and even people who don't have any experience with WordPress or event organizing altogether.
The plugin lets you add calendars and even lists or agenda widgets. These widgets can be added to the website and they are interactive, which means that visitors will be kept up to date with the latest information regarding the events you set.
Event Organiser is a WordPress calendar plugin that uses shortcodes and embedded calendars. Because it is so effective to work with this plugin, you will reduce the time needed for putting the events together on your website. You can also separate the events by tags and categories, by color codes and so on. The expired events are automatically deleted, and you can create permalinks.
Features summary:
You can create yearly, monthly or daily archives
It includes venue pages
Visitors can subscribe to events
It enables visitor subscription to events
It features several language translations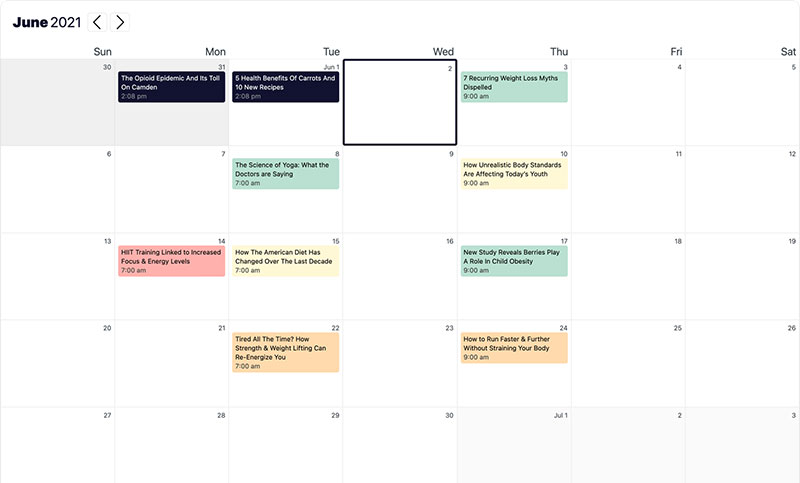 And now a different type of calendar plugin.
Strive's content calendar gives you a birds-eye view of your publishing schedule so you never miss a deadline.
It's easy to forget a step with a complex editorial workflow. Post checklists let you create custom checklists for every step of the content creation process.
Find where your bottlenecks are and make sure no post slips through the cracks.
The Pipeline shows you all unpublished drafts and is the perfect compliment to Strive's content calendar.

With the Simple Calendar WordPress event plugin, you can add a Google Calendar widget to your site. It doesn't require much effort to configure and visitors will be able to understand how the widget works without needing a guide. Moreover, the widget from Simple Calendar is mobile-friendly and it will be viewed perfectly on all screen sizes.
The advanced features of the plugin such as changing time zone, date and time formats; combining multiple calendars into a single one and managing events with ease make it a good plugin for all WordPress users. You can create the events in your own Google Calendar and then simply connect the plugin with it, instead of creating the events in the WordPress dashboard.
Features summary:
The content is very easy to read for the visitors
Calendars can be customized using tags
Features translations
It has a monthly grid/list view option
It is scalable

This plugin is also known as the Calendar by 10Web and it is a highly-configurable one. If you look for a plugin that is able to set a large number of events on one single calendar from the WordPress dashboard, this is the WordPress calendar plugin you should be using.
You can use extensions in order to create beautiful WordPress calendar widgets in pop-up form. The user can either organize the events as he wishes, or he can let the plugin choose the order or randomize the events. The calendar plugin created by 10Web is – as the name says it – very responsive and dynamic.
Features summary:
You can add an unlimited number of calendars
You can add separate widgets for any upcoming event
It is fully customizable both in terms of events and widgets
You can create recurring events
A month display format is available

This one is a little bit different compared to other WordPress events plugins out there. It is meant for people who want to give site visitors details regarding the availability of something. For instance, the spots available for an upcoming event or a vacation home that can be booked during a certain period of time. This is an extremely helpful plugin to keep the website's visitors informed. There is a free version and a premium one for this plugin and they are both just as useful. Yet the free version has visibly fewer features than the premium one. The premium version of WP Simple Booking Calendar includes features such as creating an unlimited number of calendars, creating your own legend, highlighting important events and so on.
Features summary:
You can translate it using .po files
The availabilities can be defined easily
The calendar events can be color coded
You can use shortcodes to put the calendar together
It has a booking widget available

If you look for a plugin that supports WordPress Multisite, this is definitely the best WordPress calendar plugin for you. The calendars can be organized based on category, location, author and so on. You can simply list them instead of adding bigger widgets. The events can be displayed based on the criteria you set. You can opt for a compact calendar view, the visitors can search for a particular event using the search function and you can set recurring events.
The plugin sends email notifications to visitors who subscribe, and it can also post tweets when an event is created. There is a shortcode generator that you can use for more customization. This WordPress calendar plugin can be customized in detail, but it also has built-in skins for people who want to rapidly add a calendar to their page.
Features summary:
You can use shortcodes and tags
Recurring event information can be edited later
You can choose between calendar grid view and list view
You can set calendar access restrictions
You can set your own custom templates for future events

Sugar Event is a simple, yet very complex WordPress calendar plugin. It is not complicated to use and the features it offers are exactly what you need to create a good WordPress calendar. The features are strictly created to manage calendar events. The plugin has been translated into several languages.
As for the features, you can set event dates, including their start/end times. You can enable Ajax to improve loading times and UX experience. You can create event archives by listing the events based on their end date or creation date.
Features summary:
You can use shortcodes to customize it
The configuration is simple and short
All events can be managed directly from the dashboard
You can choose a specific post type for each event
Free plugin for displaying Google Maps
WordPress Pro Event Calendar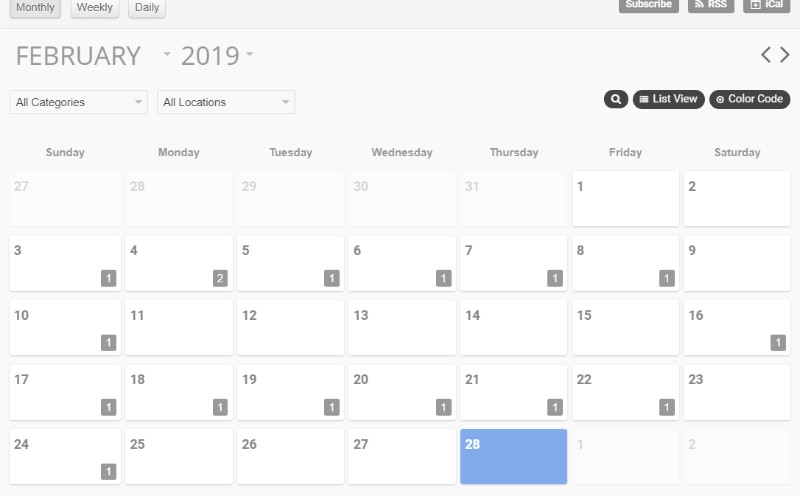 If you want to use a WordPress calendar plugin that is very clean-looking, the WordPress Pro Event Calendar is the one. You can add calendars in posts, pages or even on the sidebar. It features a front-end submission feature and you can set events on various time distances. It features Google Maps integration.
Features summary:
You can import events from your social media accounts
You can add CSS to the main code
It has included widgets
It is .ics compatible
It is highly customizable in terms of styling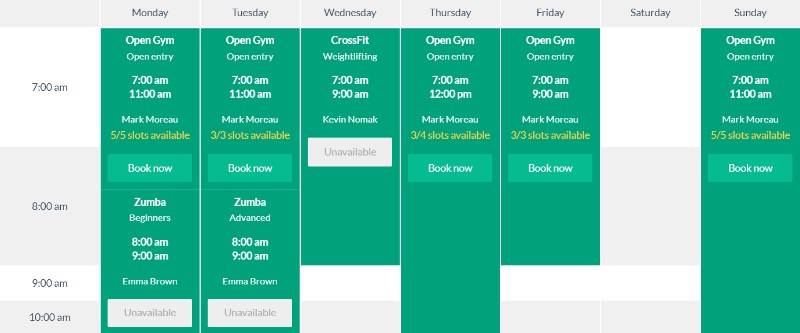 This is a very flexible and simple WordPress calendar plugin. It is a premium one, so it is packed with features of all sorts. You can set custom calendars for each post type. Shortcodes are used to set up the calendars easier and you can customize the included widgets as well. The plugin is perfect for beginner users, as it contains dummy content.
Features summary:
It has a shortcode generator
It is compatible with multiple browsers
It is beginner-friendly
You can import events
You can customize fonts and colors

Booking Calendar lets visitors check the availability of something, be it a service or a property. The plugin allows visitors to check a specific date and time and see if the service/property is available for it. If it is available, a form can be filled in order to book a reservation. The plugin is very easy to use and has multiple features that make it effective.
Features summary:
It offers multi-language support
You can import your Google Calendar
It sends email notifications
You can assign user roles
Included CAPTCHA to prevent spam
What WordPress calendar plugin should I choose?
Considering how many possibilities you have when choosing a WordPress calendar plugin, it's best to take your time and read about each one to find the plugin that suits your needs and budget the best. Think about what tools are paramount for your WordPress site and select the plugin that offers exactly those. A premium plugin will offer much more features than a free one, so make your choice wisely.
FAQs about WordPress calendar plugins
1. What is a WordPress calendar plugin?
To create and manage events, appointments, and schedules, a WordPress website can be equipped with a calendar plugin. It makes it easier for website owners to present forthcoming events, crucial dates, and other time-sensitive information on their pages in an orderly and appealing manner.
2. How do I install a WordPress calendar plugin?
You can search for the calendar plugin you want to use on your WordPress dashboard, click "Plugins," then "Add New," to install a calendar plugin. To use it on your website, first click "Install," then "Activate," after you've located it.
3. What are some popular WordPress calendar plugins?
Amelia, WP Easy Booking Calendar, All-in-One Event Calendar, and Modern Events Calendar Lite are a few well-liked WordPress calendar plugins. It's crucial to conduct research and pick the plugin that best suits your demands because each of these plugins offers a variety of features and functionalities.
4. How do I customize the appearance of my WordPress calendar?
The majority of WordPress calendar plugins provide built-in customization features that let you alter the calendar's colors, fonts, layout, and other visual components. Even better, some plugins have drag-and-drop editors that make it simple to design a unique layout without any coding experience.
5. Can I add events to my WordPress calendar manually or import them from another calendar?
The dashboard of the majority of WordPress calendar plugins enables you to manually add events to your calendar. Moreover, some plugins give users the option to import events from other calendars like Outlook or Google Calendar.
6. How do I add my WordPress calendar to a page or post on my website?
You can use a shortcode provided by the plugin to add your WordPress calendar to a page or post on your website. The plugin will take care of the rest; all you have to do is copy and paste the shortcode into the page or post where you want the calendar to display.
7. Is it possible to set up recurring events on a WordPress calendar?
It's true that a lot of WordPress calendar plugins let you create recurring events like weekly meetings or monthly lectures. For website owners who must repeatedly add the same events to their calendar, this can save time and effort.
8. Can I set up reminders or notifications for events on my WordPress calendar?
Sure, you can set up reminders or notifications for events, such as email reminders or pop-up notifications, using several WordPress calendar plugins. For website users who want to keep track of forthcoming events or appointments, this tool may be helpful.
Ending thoughts on WordPress calendar plugin options
Managing events on your website is now much easier with the help of WordPress calendar plugins. Just go ahead, try one and you will see how simple this task begins. Put your creativity to work to make the calendars look stylish and interesting.
If you enjoyed reading this article on WordPress calendar plugin options, you should check out this one about WordPress coupon code plugins.
We also wrote about a few related subjects like WordPress countdown timer examples, WordPress wiki plugin, WordPress editor plugin, Calendly alternatives, and WordPress quiz plugin.