Having an online booking calendar comes with many benefits; from saving time to having a better overview of our schedules. Luckily, there are many WordPress booking plugins available online. They will help you add this cool feature to your website quickly and easily.
Choosing the right WordPress appointment plugin will not be easy with the whole sea of possibilities. However, our wpDataTables team has taken a closer look at them and we have selected the best plugins for WordPress that will make your decision at least a little bit easier.
You have probably already heard about Bookly but that is not the only WordPress scheduling plugin worth checking out. While Bookly plugin is great, there are some of the best WordPress plugins 2017 that you should test and see what they have to offer.
All of the following top WordPress plugins are highly customizable. A bunch of settings and options will help you create a calendaring system that best fits your needs.
So without further ado, let's take a look at some must-have WordPress plugins for the online booking management system your website deserves!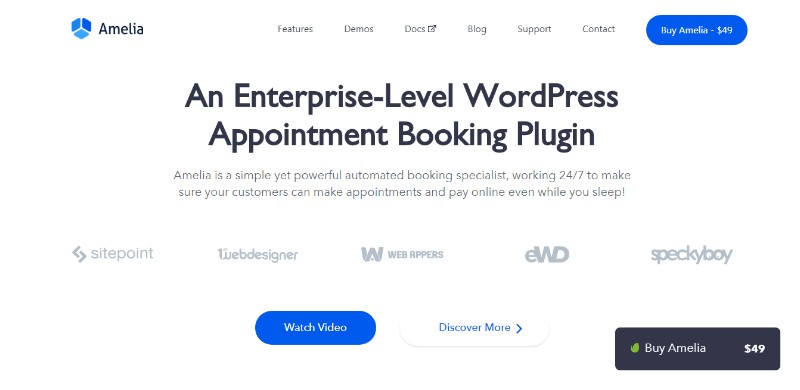 Amelia is a WordPress booking plugin tailored for the website owners who need a highly effective and customizable booking system.
It offers some cool features that cannot be found in most of the WordPress booking plugins. For example, if you need to schedule and manage appointments at several different locations, Amelia makes that possible. The clients will see the options on your website and then book an appointment at the location they want to visit.
However, the locations will not be the only thing the users will be able to choose from. This WordPress schedule plugin will also let them pick the type of appointment they want, the service they need etc.
Amelia is a particularly useful WP schedule plugin for the websites with multiple employers. Every one of them will be able to manage their own bookings with the same plugin quickly and easily.
If you need to process payments from your online booking system, the good news is that Amelia integrates with PayPal and Stripe. You can edit the pricing details for each service you offer and the users will be able to pay for the selected services instantly.
As for the user interface and navigation, Amelia makes WordPress booking as easy as possible. A single glance at this WP booking calendar will be enough to immediately see which slots had been taken and which are still available.
In addition to that, if you want to track how productive you have been, you can use Amelia's dashboard reporting tools.
All in all, considering all the cool features Amelia offers, it is definitely one of the must-have plugins for WordPress.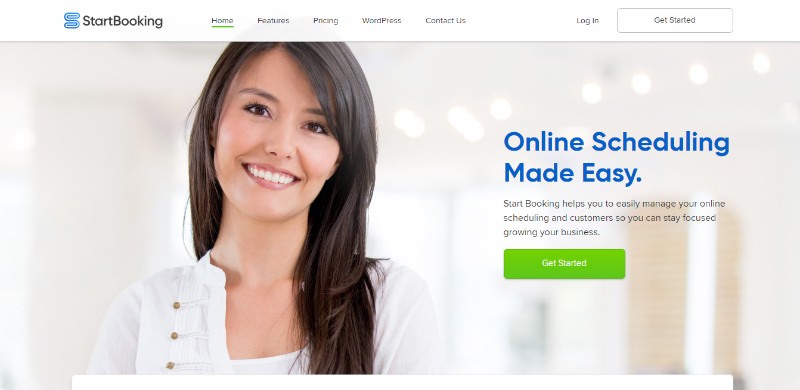 StartBooking is a one of the best WordPress booking plugins for setting up appointment forms for your website. The forms can be modified by adding and editing the services, your working hours, available time slots etc. The user can then pick the time, staff, and more when making an appointment.
If you want, you can choose different forms for different services. Then go to the plugin settings and simply display the forms on your website. Easy-peasy.
Another cool feature is the integration with Google Calendar. Once you do that, you can see your WordPress booking calendar on all devices.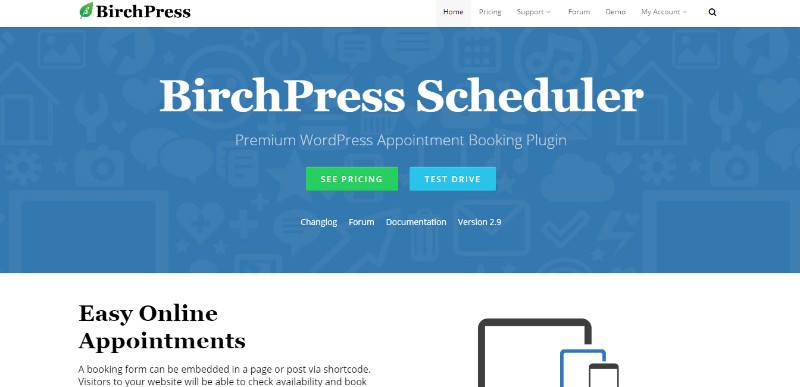 BirchPress is a WordPress reservation plugin for adding a professional booking system to your website. The users can pay for their appointments using credit cards or PayPal quickly and easily.
You can synchronize your BirchPress calendar with other calendars such as iCal, Google Calendar, Outlook, Android, and many more.
One of the great features of this WordPress scheduler plugin is its cool notification system. You can customize the email reminders and notifications to make sure both you and the clients are informed about the appointments.

Just like its name suggests, Booking Calendar is a plugin with calendar view for simple booking managing. It is great for beginners because of its simplicity yet it offers a range of options for more advanced clients.
You can customize the appointment form with your own custom fields and then you can add the form to any WordPress page of your choice. Voila – you have a perfect appointment booking calendar.
It comes with a built-in captcha to prevent spam, email notifications, jQuery effects, and more. At the same time, all bookings and settings are stored in your DB so don't need third-party accounts.

MotoPress Hotel Booking Lite is one of the WordPress booking plugins tailored for hotels, B&Bs, motels, and similar. So if you need a WordPress hotel booking plugin, this one is worth checking out.
You can use it to create a listing of unlimited properties with their descriptions. For example, you can add max occupancy, bed types, amenities, photos etc.
It offers simple online search availability forms for the customers. All they have to do is input check-in and check-out dates, choose from a search results list and provide personal data to complete a booking.
All received requests and their current statuses are stored in the booking calendar. You can search bookings by a room type, room status (booked, pending, available, etc), and period of booking.
You can also set up seasonal pricing and regulate your prices within any custom period. Then you can charge a full amount of money or deposit and accept payments through built-in PayPal, 2Checkout, Braintree, Stripe etc.
So if you work in hospitality services and/or apartment renting, this is definitely one of the must-have WordPress plugins.

Sagenda is an appointment scheduling plugin for WordPress that will make your booking management much easier. The best part – it is available at no cost to the clients. WordPress appointment scheduling has never been easier!
You can have an unlimited number of bookings and/or customers, you can see every appointment booked in a free booking calendar, and there will be no ads.
The customers can choose the date and the time of an appointment and pay immediately on spot. They can pay with their credit cards or via their PayPal accounts.
NOTE: To validate your Sagenda plugin, you first have to register an account on Sageda site. An authentication code will be sent to you then and you will be all set to create your WordPress bookings calendar.
Ending thoughts on the best WordPress booking plugins
WordPress appointment booking is the easiest way for your clients to book appointments for your service. If you asked yourself, "What plugin do I need?", here are some of the best WordPress plugins 2016.
Managing your booking calendar has never been easier than now. All you have to do is pick your booking calendar WordPress and you are all set.
If you enjoyed reading this article about best WordPress booking plugins, you should also read these: