If you have a service business that has a website or you're creating a website for one, then chances are you'll need a booking system and if you have a WordPress website, then one of these WordPress booking plugins should do the trick.
Why?
Why not?
You're in the age when technology makes our lives easier.
In the case of an appointment booking system, for the user, it's easier than to spend time on a phone call and waste minutes of your life on something that can be done in mere seconds with a few clicks or taps on your smartphone.
For a business owner, a booking calendar plugin automates a good part of the administrative process of the business, making room for assigning time elsewhere.
Ok, so you want to use such a booking calendar plugin, right?
Not all booking plugins are the same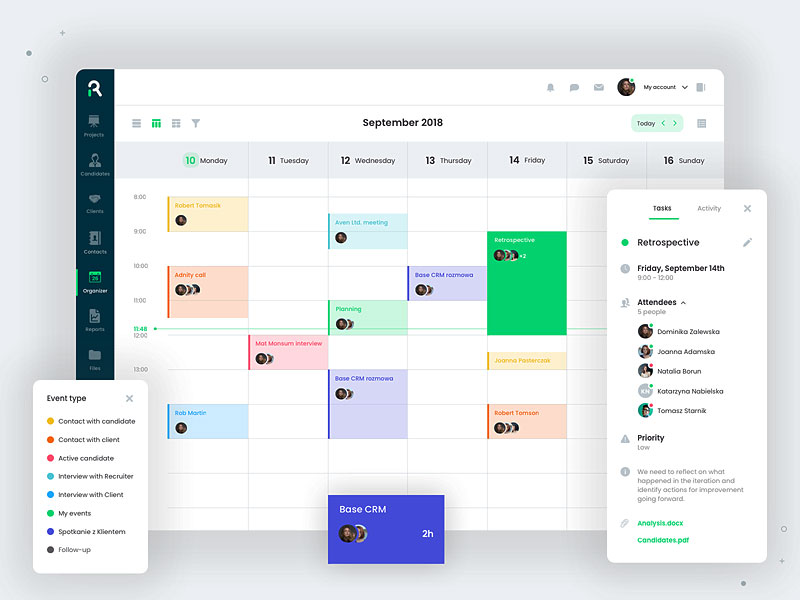 Image source: Lucas Swierad
While it may seem like a simple appointment booking calendar is all you need when it comes to a WordPress booking plugin, it will not be long before you realize that this tool is not the only thing you need for an optimal system.
Depending on the nature of your business, you may need certain, specific tools. A gym, for example, may need something that can organize the many activities that are controlled by the staff. There may be group classes that require a list of how many clients will attend, or you may want to offer personal trainers services, but their availability must be considered.
However, a dental office may require a different booking form for detailing the services offered by doctors, and at what times they are available.
Before choosing a WordPress scheduling plugin, consider that the appointment booking plugin must meet some basic requirements:
The booking form must allow customers to request appointments from a calendar with all the available schedules.
Your booking form must be responsive.
The form must be connected to a database that stores appointments, such as Google Calendar or the WordPress database itself.
The booking system should allow you to place a visible calendar on your website where the available and busy schedules are indicated.
If your staff requires having individual calendars (for example, personal trainers), the appointment booking system must be able to manage multiple schedules.
In most cases, the software should allow you to work with a payment processor so that the customer can pay for the appointment in advance. You must also have a reimbursement plan.
The user interface must be intuitive, provide clear instructions, allow booking appointments easily, and users must have a space to review and edit their requests.
It must include a notification system for the client and you. This will usually be done through emails, as well as the user's appointment and any changes that may arise will be recorded.
A filter system to allow an advanced search of the different reservations.
The Best WordPress Booking Plugins
Amelia – The best WordPress booking plugin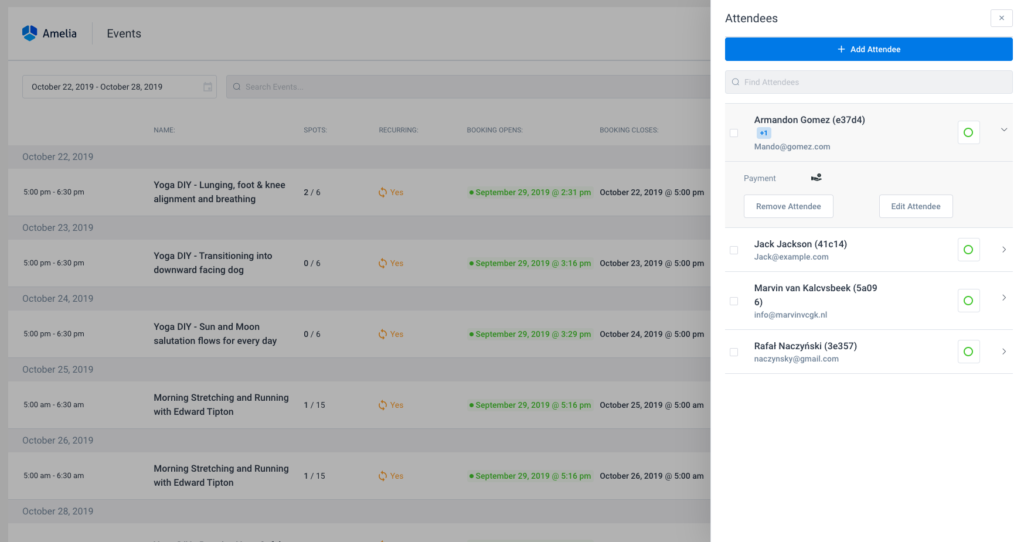 Amelia is a powerful WordPress booking plugin that works flawlessly with WordPress sites of all kinds. It has a minimal, yet powerful appointment booking interface designed to ease your workflow, automate repetitive tasks and make appointment booking a breeze for your customers.
You can even have email notifications and SMS notifications so that nobody forgets about their appointment bookings.
In order to book an appointment, the complete user interaction takes a few clicks with this WordPress plugin. Moreover, it includes payment gateways like PayPal and Stripe, perfect for those who want to pay in advance to book appointments.
As a business owner, you can monitor KPIs in the WordPress dashboard and analyze other important data to keep a pulse on your business. Amelia is a straightforward, no-nonsense booking calendar plugin and an amazing option for those who want an around-the-clock solution for their WordPress site.
The plugin has an Events Calendar module that is nothing short of amazing.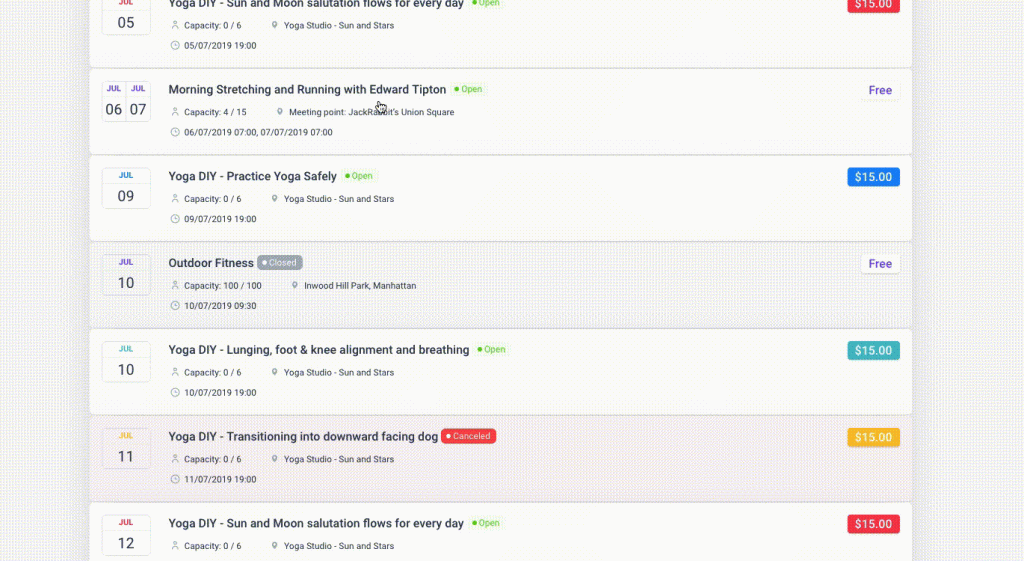 You can now automate your event bookings as well. To be more precise, it means that you will be able to schedule a single day, a multi-day, and also recurring events with Amelia.
Did we mention that you can manage multiple event venues and that you have Google Calendar integration?
All of these and much more are under only one license, no add-ons are needed.
To test things for yourself, I'd suggest checking out the demos and see how things look on the front end as well as in the back-end.
Medical/Health booking page demo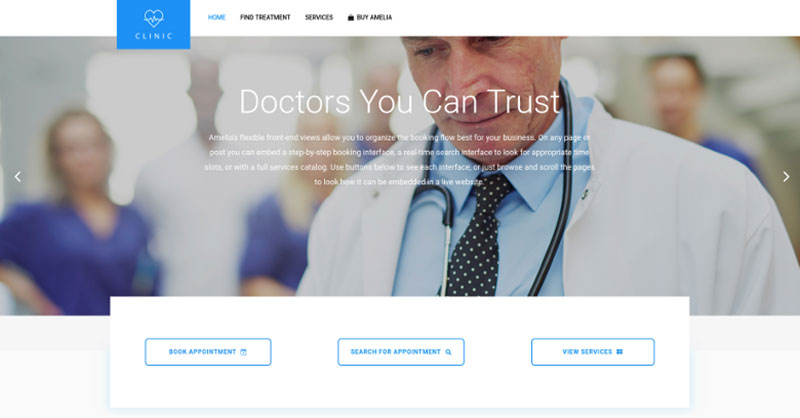 A website of a fake private clinic, where a visitor can read about provided medical procedures and services, and schedule an appointment.
Barbershop booking page demo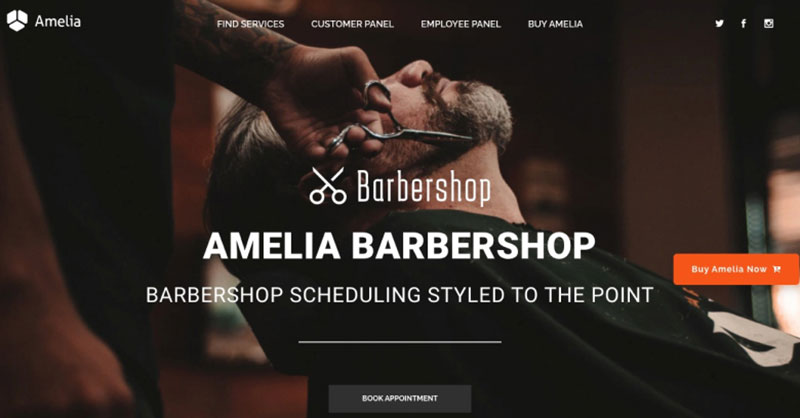 A dummy WordPress website for Barbershops with online booking – a nice and easy implementation with the Bridge theme and the Amelia WordPress booking plugin.
Fitness Gym / Yoga booking page demo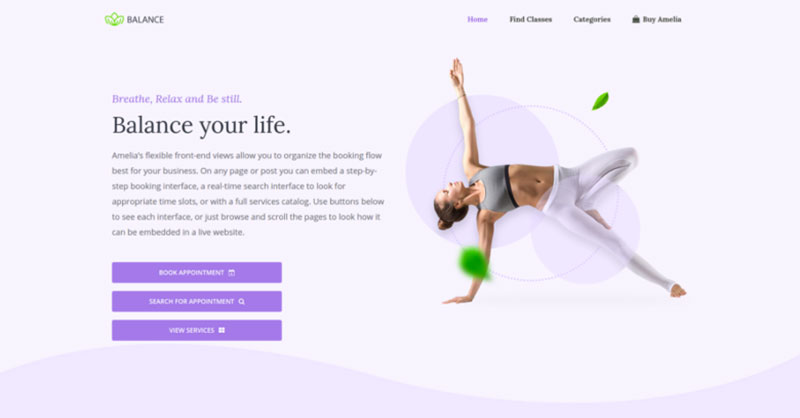 A pseudo Yoga/Gym website where you can browse through possible Yoga classes, schedule individual or group training, and book a package of appointments.
Spa booking page demo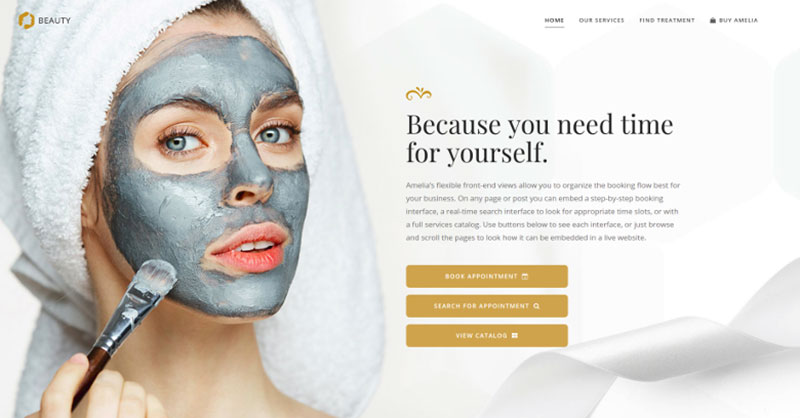 A dummy cosmetology website – look through different cosmetic procedures and treatments, pick an employee and book an appointment.
Consultant booking page demo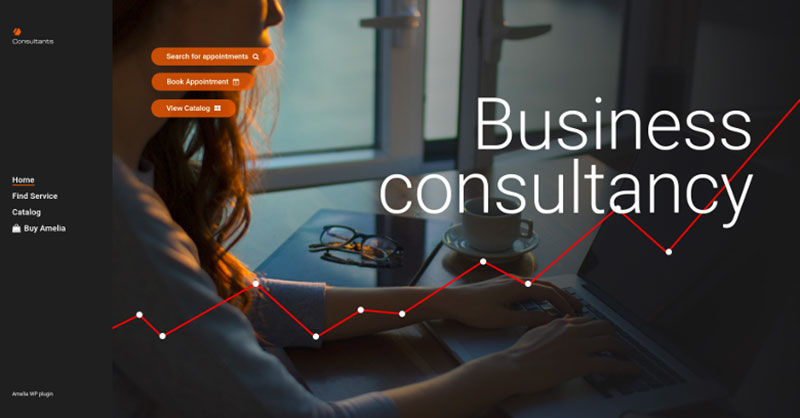 A pseudo Business Consultant / Coach / Lawyer website, where a customer can browse through provided consultancy and lawyer services and book an appointment.
Hands down, this is the one you should pick from this list of the best WordPress booking plugins. Yet, you can check out the other options as well to see for yourselves why Amelia is #1.
StartBooking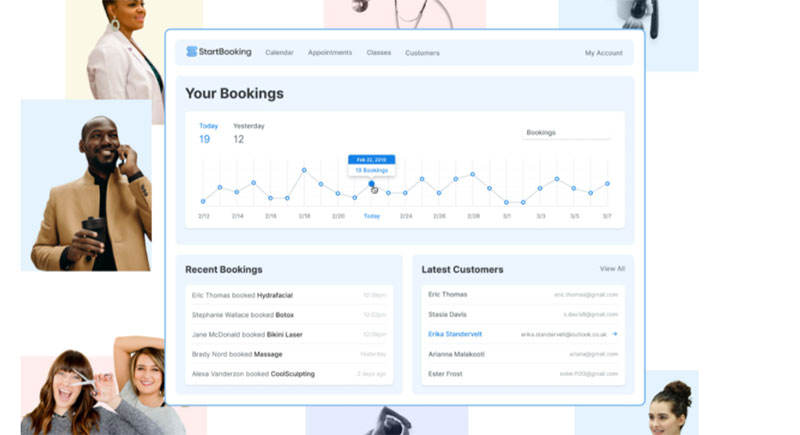 The next in this list of WordPress booking plugins is StartBooking. Thanks to the extensive integration of StartBooking with different add-ons and devices, you can fully control your appointment calendar. This plugin allows you in a few steps to create multiple booking forms that you can add anywhere on your WordPress website simply by using a shortcode.
StartBooking can also be customized with other add-ons, and you can even make it work in conjunction with other management tools, such as Google Calendar, which will synchronize calendars between all devices with the same account.
In the same way, this WordPress scheduler plugin allows you to create booking calendars specifying the working days, the rest hours, the available staff, and the services it offers. In summary, the main functions of StartBooking are:
Be able to create personal appointments for classes or groups.
The inclusion of calendars to see the available schedules, in addition to integration with other calendar applications.
Personnel management, the services offered, and the branch where it is reserved. A database with customers is also created.
Compatibility with multiple add-ons and smart scheduling.
It offers to customers a channel to contact you in case of any inconvenience.
Appointment Scheduler Pro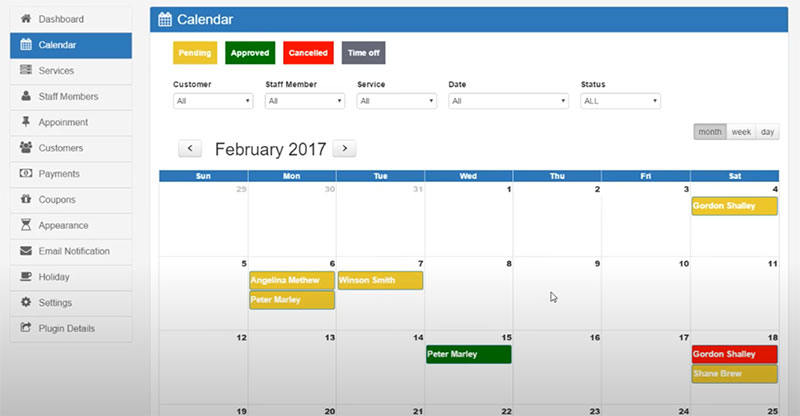 This appointment Scheduling Plugin For WordPress is a great online booking solution. This plugin manages all for you. Book appointments on your WordPress blog site.
Some of its features:
Experience Responsive Scheduling
Unlimited Appointment Bookings, Services, and Staff
Free and unlimited appointments
and more
WooCommerce Bookings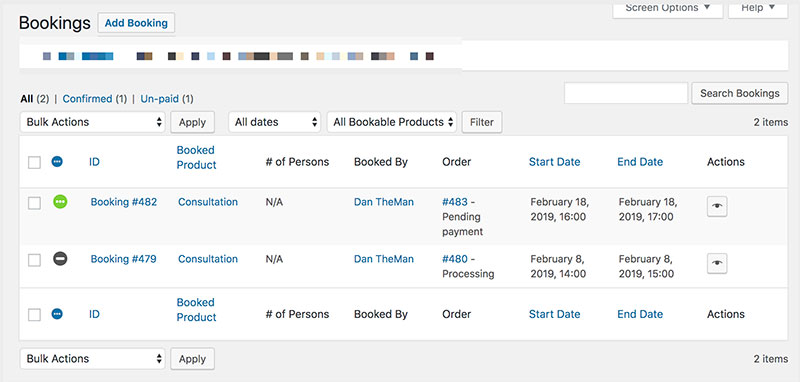 When it comes to trade in WordPress, the WooCommerce plugin cannot be missing. Much of its popularity is because you can access all the main features for free, although there is the possibility to customize this plugin through plans, which will allow you to use the payment processors you want, with a few exceptions.
WooCommerce includes an extension especially made for reservations and appointments, but it is limited, so you cannot request online payments. Although this is not especially negative if you did not plan to add a payment processor.
With the WooCommerce extension, you can do the following:
Create detailed booking calendars, which the client can manipulate using blocks of fixed time intervals, as well as the ability to control certain aspects of appointments, such as the number of people allowed, or offer special discounts.
Reservations are ordered in a control panel. From this, you can see the status of each one, and you can approve or reject the requests if you wish.
With a single payment, you will have full access to everything WooCommerce can offer, such as payment processors. Before buying the extension, you can try it for 30 days.
If you need to create more complex booking forms, WooCommerce offers many extensions (all paid) with which to customize the system to your liking.
WP Simple Booking Calendar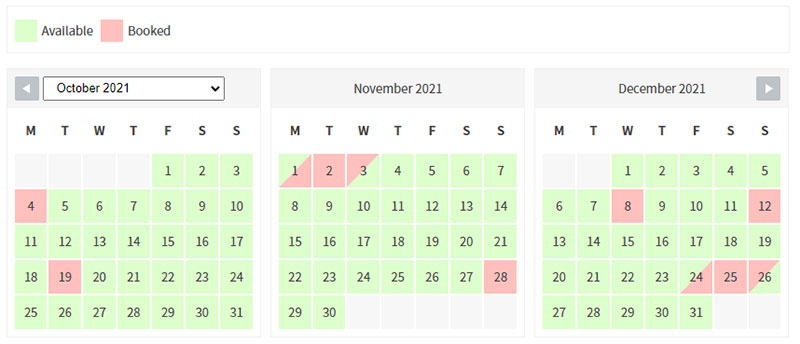 If you only require a plugin to organize reservations, then WP Simple Booking Calendar is one of the best. WP Simple Booking Calendar allows you to create everything you need from its free version, including creating calendars in the form of widgets where you can show the availability of your services.
This booking calendar can simply schedule appointments and in multiple languages. Its only downfall is that, even in the Premium version, it does not accept payment processors, so it is intended exclusively to function as an organizer.
With the Premium version, you can obtain these benefits:
Synchronization with calendars of other companies such as Airbnb, Booking.com, HomeAway, and more, perfect for promoting vacation plans.
We can create multiple calendars, and each one can show several months, not just the current one.
Offers mass editing options for dates, saving you time in manual programming. You can also customize the calendar's legend with colors, texts, and shapes that you want.
User management tool.
The option to change the beginning of the week and the year. Besides, each week will have its corresponding number.
You can hide the reservation history.
For the publication of the appointment booking calendar on your site, you can generate a shortcode that you will place on the booking page you want in WordPress. Also, you can export calendar dates in CSV format.
Appointments for WooCommerce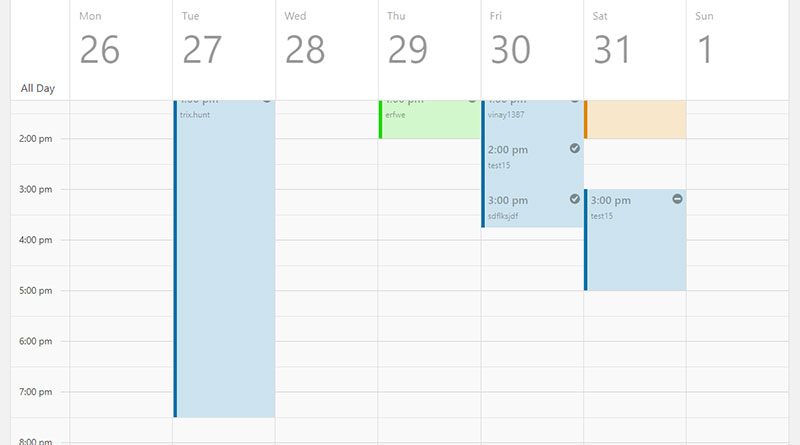 WooCommerce Appointments is a plugin you can install on your WordPress website so that your website visitors can schedule appointments. It is fully integrated with WooCommerce (obviously), WordPress, and Google Calendar.
It is one of the booking calendar plugins you can get right now. With it, you can request payments or accept appointments for free. This WooCommerce extension allows you to receive payments for appointments with little to no effort, similar to what other booking plugins do.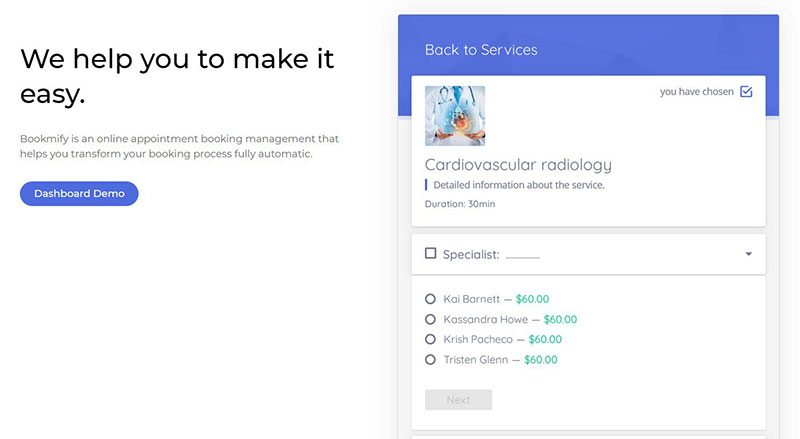 Bookmify is a WordPress booking plugin that is easy to use. With it you can easily organize any type of business, be it health, entertainment, sports, or any area where you need to order staff and a clientele.
Bookmify not only offers you as an owner a series of organizational advantages but also can create accounts for employees so that everyone can create their schedules.
This software allows you to experience multiple tests of its frontend and backend in WordPress to be sure that the booking plugin is what you need for your company. And in case you need technical assistance with any of Bookmify's features, you can contact the support staff at any time.
The main qualities of Bookmify are:
Online appointment scheduling, in addition to having the possibility of receiving payments from the network.
Accounts for employees with calendars and custom forms.
Google Calendar sync so you can review and modify your itinerary at any time and from any device.
Email notifications.
BirchPress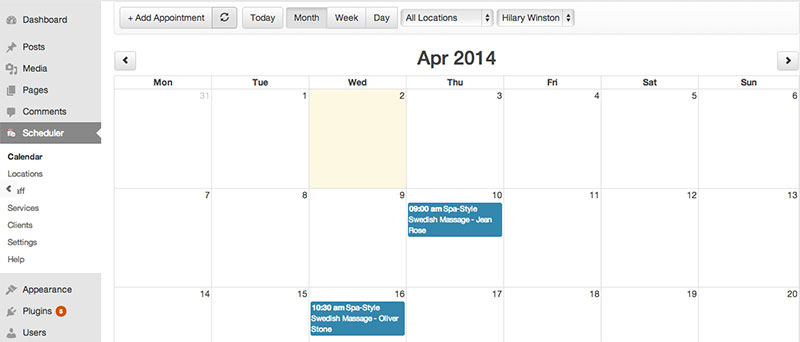 Another one of these WordPress booking plugins is BirchPress. If you do not want to be limited only to payment gateways, then BirchPress is a great alternative. This WordPress reservation plugin can configure payments by credit cards, in addition to being able to receive payments by multiple means available in WooCommerce.
Like the previous alternatives, the BirchPress calendar allows you to create different schedules and reservation forms, but all this is available for free.
Among what makes BirchPress a candidate on this list, it highlights:
Multiple predetermined templates with which to start working immediately (we can even include the price of your services in the forms).
Possibility of adding unlimited fields in your booking form.
Multiple alternatives for online payment. As a basic option, PayPal is available, but the add-on is compatible with WooCommerce, so you can add any means you want.
Synchronization with Outlook, Google Calendar, and much more. Also, you can receive specialized help to activate these services.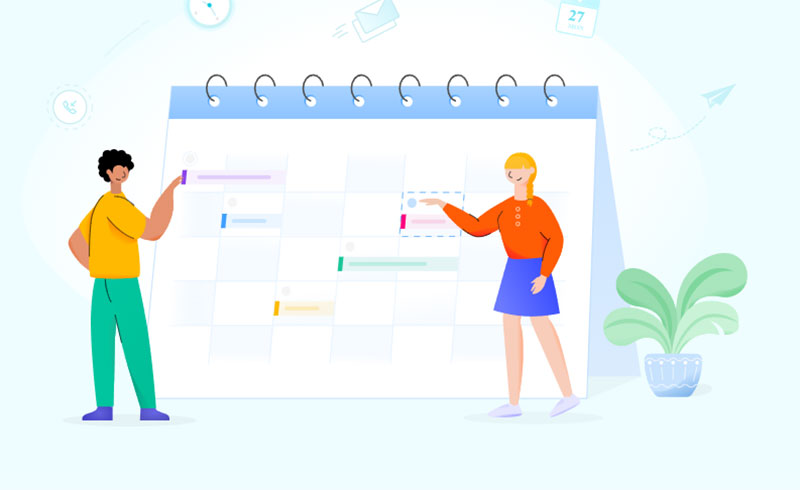 If you want your appointment calendar to stand out and not be a simple grid with numbers, then you need a tool that allows you to alter its design as you wish. Modern Events Calendar has several formats in which you can place your itinerary on the page you want.
You have access to a grid view, agenda type, list form, like a handy Widget, and other interesting features. Once you select your template, you can change the base appearance as you wish.
Obviously, aesthetics has not displaced functionality, since this plugin retains everything you need to organize reservations, and other unique features, such as:
Repeat a specific event multiple times.
Create countdowns for each event.
Include maps detailing the location of events.
Receive payments through different payment processors.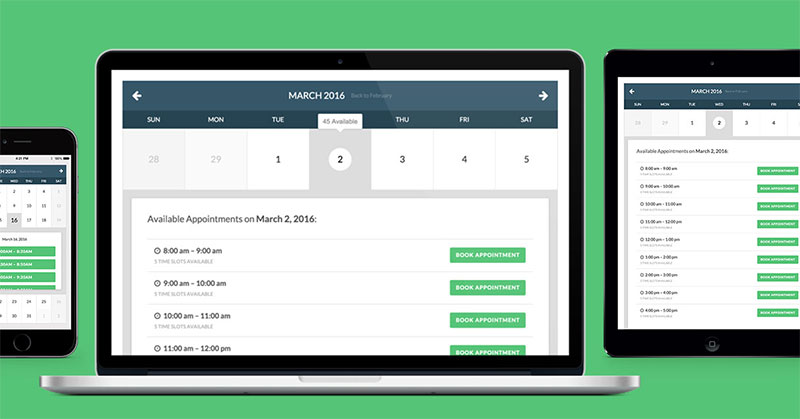 With Booked, you can enjoy a wide range of customization options, while providing excellent communication between the frontend and the back end of your site.
A shortcode will oversee showing your clients the calendar in the form of a widget with all available spaces. This code allows you to change the color of the schedule so that you can adapt it to your WordPress site.
One remarkable feature of Booked is that customers can create accounts within the site, which will be required to make a reservation. From this account, each user can manage their reservation. As the site owner, you can also control this from the WordPress interface.
This scheduling software, in addition to having its graphic interface, has functions that you already know, such as:
Be able to integrate it with WooCommerce to install payment processors.
Each reservation made will be sent to a profile depending on the request. From this profile, you can manage each of the appointments.
Messaging and notifications service. It even allows you to send personalized messages if you require it.
Unidirectional synchronization of all your calendars such as Google Calendar, Outlook, Apple Calendar, among others, so that the schedule is always updated.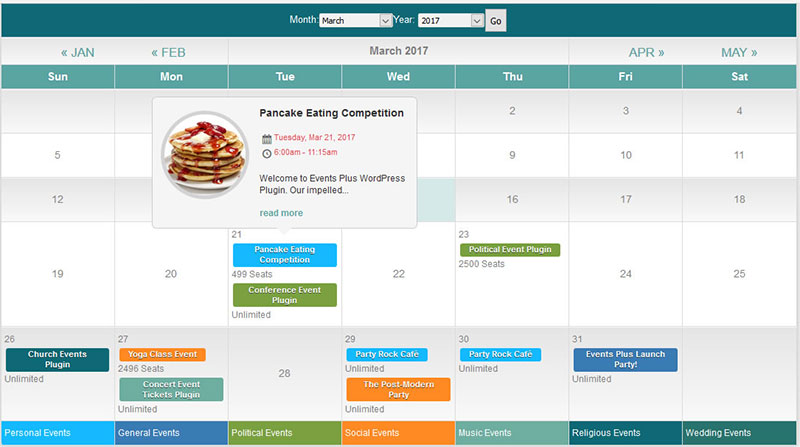 While the comparison may seem exaggerated, we assure you that the Events Calendar Registration and Booking plugin will make organizing any type of event for large audiences easy. This WordPress booking plugin is specially designed for large events, such as classes, conferences, seminars, and even concerts.
Regardless of the cause that brings your customers together, you can manage assistance and payments directly from the network. The Software is compatible with processors such as PayPal, Stripe, and Authorize.Net, which gives you some freedom to withdraw your funds.
Additionally, Events Calendar Registration and Booking includes these interesting features:
Multiple languages ​​for the creation of events and the interface.
Possibility to add maps for events thanks to Google Maps.
Shortcodes for individual calendars and events. You can even add a countdown in the form of a widget.
Confirmation system by email, providing an additional security step.
EDD Bookings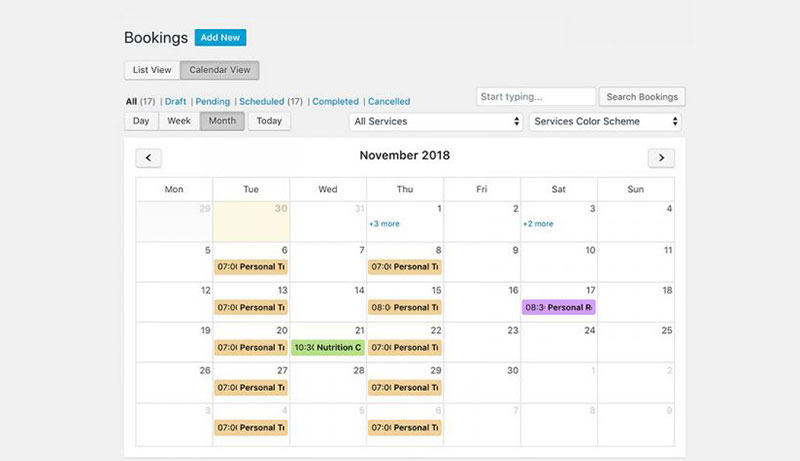 EDD, or Easy Digital Download, is a WordPress plugin that allows you to manage a digital product store. That is, you can sell any electronic goods, such as music, PDF documents, e-books, games, and much more.
The EDD plugin is simple; the customer buys a product, and it arrives for download to their registered email.
However, many may not know that EDD has an extension that allows the sale of services online, such as reservations and appointments. It works like many of the previous WordPress plugins in this list but has direct integration of EDD, so that if you already work with it, you should consider installing it.
Some of the features of the EDD Bookings add-on are:
Basic customization. You can edit colors, labels, and even the time zone of calendars.
System for managing appointments and reservations from the back end of your site.
Simultaneous notifications for both customers and site administrators when a reservation is created.
Compatibility with much of the repertoire of EDD extensions, in addition to the basic functions offered by the platform to sell products.
Generate sales reports and payment records.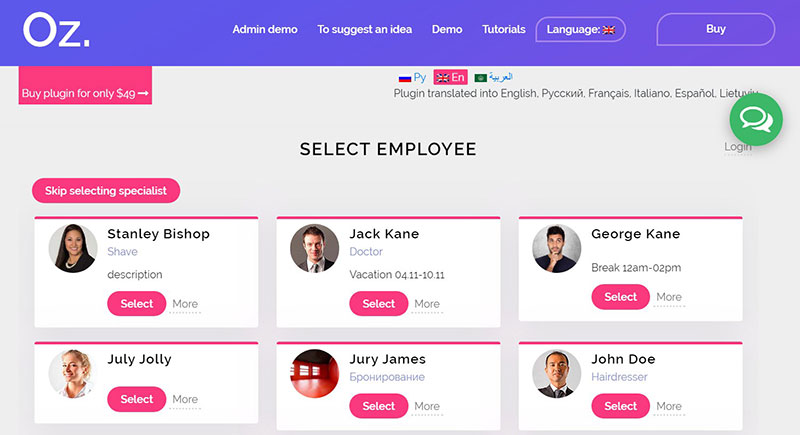 With this WordPress booking plugin, you will not have to worry about making complex modifications to your WordPress site. Book an appointment online PRO works on what you already have built, integrating perfectly with your design.
This add-on works especially well for individuals, such as doctors, lawyers, stylists, trainers, or any other job on their own.
Among the functions that you can highlight of this plugin are:
Ability to adapt the calendar clock to a 12-hour or 24-hour format.
System for requesting appointments in several steps.
Compatibility with PayPal to receive payments.
The plugin is translated into multiple languages. If you do not find the language you need, the tool also allows you to translate what you want.
Email notifications as well as SMS notifications.
Unidirectional synchronization with Google Calendar.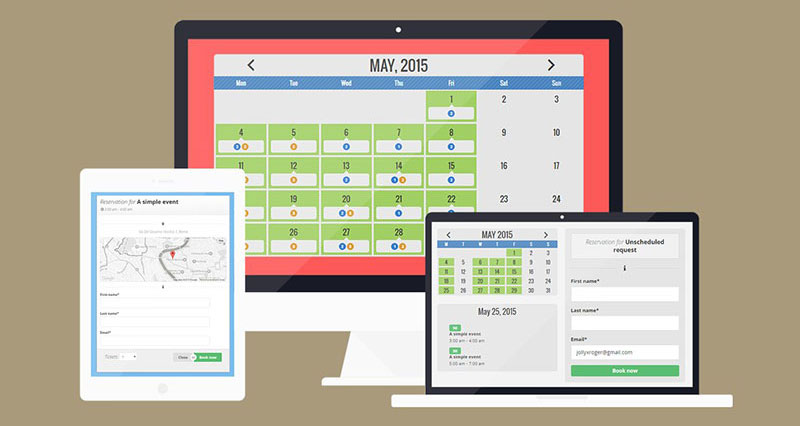 In WordPress, you can also find reservations plugins that allow you to work together with other people by editing a group schedule.
Team Booking makes communication between team members easy, as well as complex enough. You can edit calendars where different categories, employees and types of service are divided. Each event will be assigned a schedule, and if this is available, customers can book it.
Additionally, the services can be paid for directly from the booking site using PayPal or Stripe. This entire booking process will be recorded in a database, which you can use to verify all reservations, and the customer can review its appointment.
What makes Team Booking work exceptionally is that:
It is fully integrated with Google Calendar, so you can edit the itineraries from any site. Also, you can program everything from the Google application, without entering WordPress.
Each created event will be automatically added to the calendar and free space will be assigned. If a reservation is made, it will be updated immediately in Google Calendar.
Booking Calendar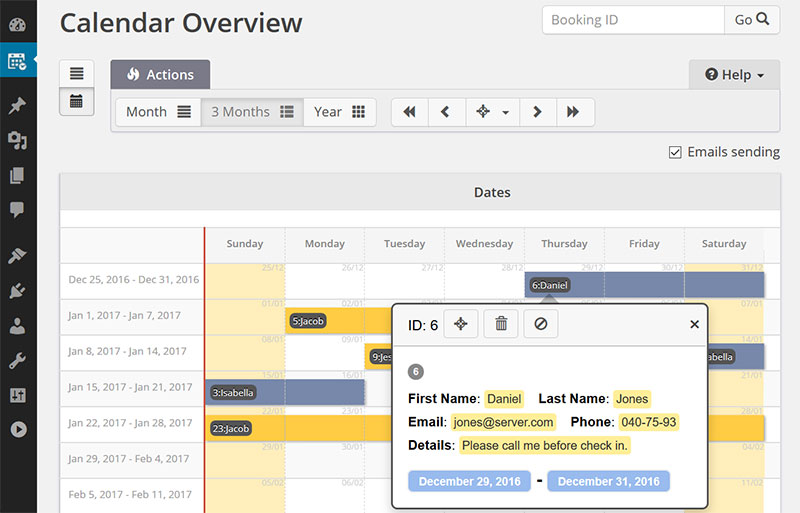 Do not let the appearance of Booking Calendar fool you. Although you are facing a tool that easily adapts to beginners, in the background is a powerful free software to organize reservations.
This WordPress booking plugin has enough documentation and guides to configure it without technical assistance, and if you want to take advantage of some of the more advanced features, you will only have to read a little.
Among all that Booking Calendar offers, the following stand out:
Captcha to avoid spam and false reservations.
Synchronization with multiple tourism sites, such as Airbnb, TripAdvisor, and Booking.com. It can also be integrated into Google Calendar to keep the schedules synchronized.
You can block schedules and dates if you do not want to receive appointments.
The interface is easy to understand, and customers will have no trouble booking thanks to its Widget format.
Notifications by email.
Possibility to customize its appearance using CSS code.

Those who manage hotels, vacation plans, or any accommodation service, may require specific reservation systems that allow them to coordinate all reservations made.
The HBook plug-in offers you a booking system very similar to that used on sites like Airbnb. In fact, HBook has integration to this site, as well as others with similar characteristics.
As the job of managing accommodation is complicated and requires a constant check, HBook allows you to synchronize all data with external calendars such as iCal and Google Calendar, so you will have all the itineraries and reservation maps in your hands with a Smartphone.
With this WordPress booking plugin, you can:
Have a constant view of the reservation calendar and its current availability.
Add or review additional information in each of the reservations, as well as edit the current data of the accommodation, send notification emails to customers, or change the amount of the invoice if necessary.
Synchronize your website with other tourism sites such as HomeAway, Airbnb, Vrbo, and Booking.com
Select multiple payment processors to receive online transactions, such as PayPal, Stripe, Cardlink, Mollie, Square, etc.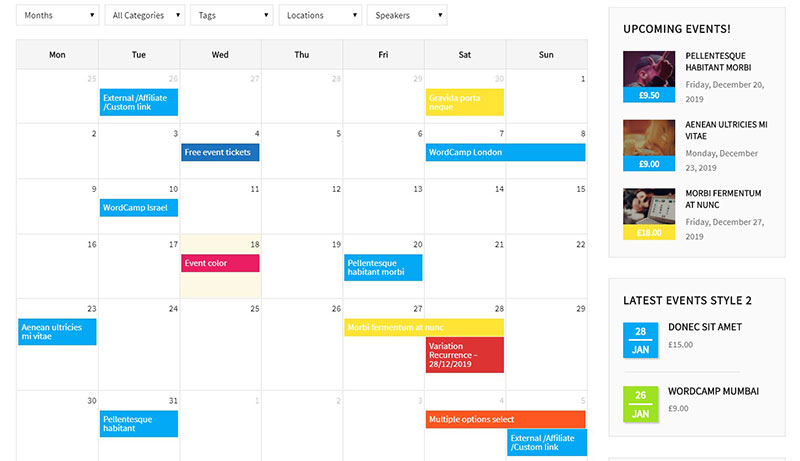 As its name makes clear, this is a WooCommerce plugin, which among other things, gives you the advantage of having many options for buying and selling from WordPress.
In the case of WooEvents, you can sell tickets to events as if it were a virtual box office. Besides, you can add additional instructions to the events calendar, such as a map for people to get the location.
With WooEvents, you can also coordinate how the event will be, how many people can attend, schedules, and much more. Each ticket sold through this add-on will be registered in a database for later verification.
These are some of the features why you should give WooEvents a chance:
Possibility of creating events of all kinds and selling tickets for them through WooCommerce. Available payment methods include digital processors and credit cards.
Complex customization options thanks to compatibility with Visual Composer.
Invoice system. When placing an order, WooCommerce will send a digital invoice to the customer's email, which will include a unique barcode.
Webba Booking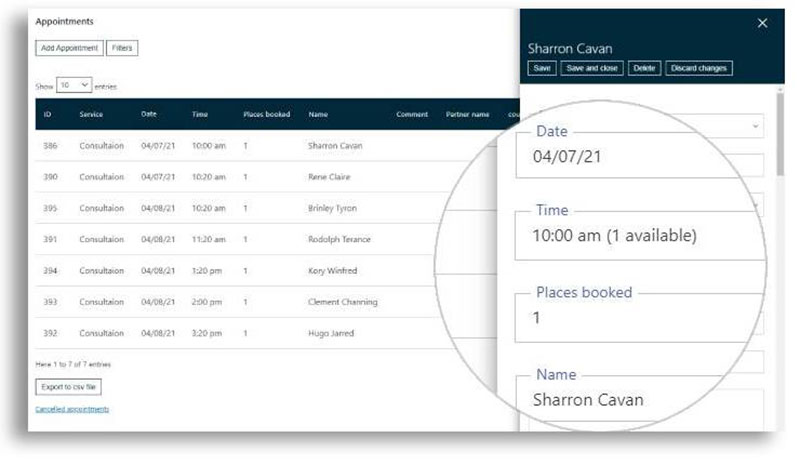 Whether a single reservation or something for extended periods, Webba Booking is a basic booking tool that allows you to create all kinds of appointments. The interface is simple for both you and your customers, and it provides all the information you both want.
The forms in this WordPress booking plugin have up to 80 customizable fields to create a unique form adapted to what you offer. Although if you want to start using the plugin immediately, you can work with one of the default forms.
Other features offered by Webba Booking are:
Integration with Contact Form 7.
Possibility to edit the texts of the forms.
The reservation form and its calendar will automatically be responsible for confirming appointments. Also, you can receive online payments through PayPal, as well as synchronize the information received with Google Calendar.
Notification system for both the client and the administrator.
MotoPress hotel booking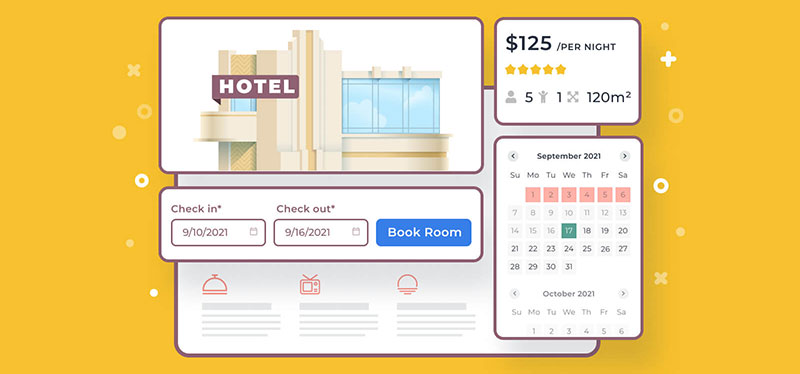 The MotoPress WordPress Hotel Booking plugin is, as they're calling it, an all-in-one property management suite for rental property websites.
With it, you can list unlimited accommodations and services, accept direct online reservations, synchronize all bookings across OTAs, and more.
This WordPress hotel booking plugin is perfect for running any hospitality business establishment regardless of the size, function, or cost.
MotoPress Appointment Booking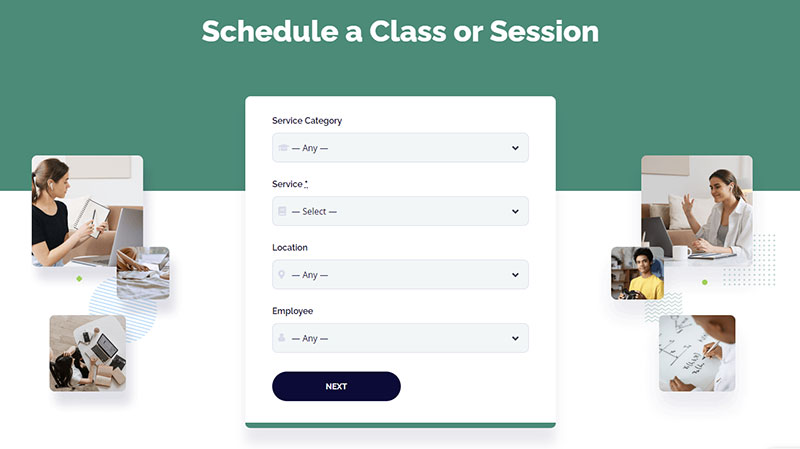 The WordPress Appointment Booking plugin by MotoPress is a top solution for service-based businesses. This plugin will be a perfect match both for individuals and business chains: for beauty & spa salons, fitness centers, yoga studios, and other appointment-related niches.
You will be able to add any number of customizable services and employees. It is possible to assign individual schedules and create profiles for staff members. These flexible timetables may include breaks, lock-out, holidays, and days off. In addition, the plugin has options for group scheduling and multiple booking.
A mobile-friendly widget embedded via a shortcode or visually through a page builder (Gutenberg, Elementor, or Divi) enables the clients to make a one-page booking step-by-step. They will appreciate the opportunity to choose between online payments (PayPal, Stripe, direct bank transfer) and payment upon arrival.
This WordPress Appointment Booking plugin features also such highlights:
Centralized appointment bookings calendar in different modes.

Appointment Manager and Appointment Employee user roles allow defining capabilities in the plugin settings and menus.

Bookings synchronization with an employee's Google Calendar.

Email notifications are sent automatically.
FAQs about WordPress booking plugins
1. What is a WordPress booking plugin, and how does it work?
An optional feature for a WordPress website that lets users book appointments, events, or reservations online is known as a WordPress booking plugin. Customers can fill out a booking form that is created by the plugin, which is then processed to reserve a location or time window.
2. What are some of the most popular WordPress booking plugins on the market?
Amelia, Booking Calendar, and BirchPress Scheduler are a few of the most well-liked WordPress booking plugins. Every plugin provides a set of distinctive features, such as editable reservation forms, email alerts, and choices for payment methods.
3. Can WordPress booking plugins be used for different types of bookings, such as events, appointments, and reservations?
Indeed, booking plugins for WordPress can be used for events, appointments, and reservations, among other booking types. You can modify the booking form based on the plugin to meet your unique booking requirements.
4. Do WordPress booking plugins come with payment processing features, or do I need to use a separate payment gateway?
Most booking WordPress plugins provide money processing capabilities that can be coupled with payment gateways like PayPal or Stripe. As an alternative, certain plugins might need a different payment gateway plugin in order to handle payments.
5. Can I customize the appearance of my booking forms with WordPress booking plugins, and how?
Absolutely, the majority of WordPress booking plugins give users the flexibility to customize the way their booking forms look. To coordinate with the branding and style of your website, you can change the colors, fonts, and layout.
6. How do I integrate my WordPress booking plugin with my website's calendar?
By syncing with Google Calendar or iCal, WordPress booking plugins can be integrated with a website's calendar. This integration makes sure that the calendar displays the most recent reservations and that the booking system displays availability in real-time.
7. Are WordPress booking plugins compatible with multiple languages and currencies?
Absolutely, the majority of WordPress booking plugins have capabilities for email notifications. These tools can be used to notify clients and service providers of booking confirmations, reminders, or cancellations.
8. Are WordPress booking plugins compatible with multiple languages and currencies?
There are numerous WordPress booking plugins that work with different languages and currencies. You may service clients from all over the world and take payments in several currencies thanks to this interoperability.
9. How can I track and manage bookings made through my WordPress booking plugin?
By logging into the dashboard for your WordPress booking plugin, you can keep track of and manage reservations made through it. The majority of booking plugins offer a calendar view of reservations, which may be changed or canceled as necessary.
10. Are there any security concerns I should be aware of when using WordPress booking plugins?
There is a chance that data breaches or hacks could occur while using WordPress booking plugins. Choose a trusted plugin, and keep your website and plugin updated with the most recent security fixes, to reduce these risks. It's also advised to process customer payments over a secure payment channel.
Choosing the one for you out of the best WordPress booking plugins
A WordPress booking system is a great tool you can use to schedule appointments. Not only will you handle the booking process automatically, but with an overview of the booking calendar, you can manage appointments easier and faster.
Which one of these booking plugins for WordPress is the best? That depends on what features you actually need from them.
If you want a complete WordPress appointment plugin that you can use to create a booking form, add it on a custom booking page of yours, so that your website visitors can book appointments, then Amelia is the complete booking package you could get.
This premium WordPress plugin has new features added on a regular basis and is getting far better than its competitors while keeping a decent price.
If you enjoyed reading this article on WordPress booking plugins, you should check out this one about how to create a WordPress booking system.