Engaging an audience using DataTables is no longer an issue for WordPress users. It's easy to find table plugins, free or otherwise, that can help you make beautiful tables with ease.
But with table plugins being so readily available, it can be difficult to decide which plugin is best for you. If you start with a WordPress table plugin that doesn't work for you, you will probably end up frustrated. You need something that works for the specific needs of your WordPress website.

WP Table Builder is a decent table plugin, but this article will review it to see if it will work for you. This article will discuss its features and pricing to see whether it truly is worth your money.
About WP Table Builder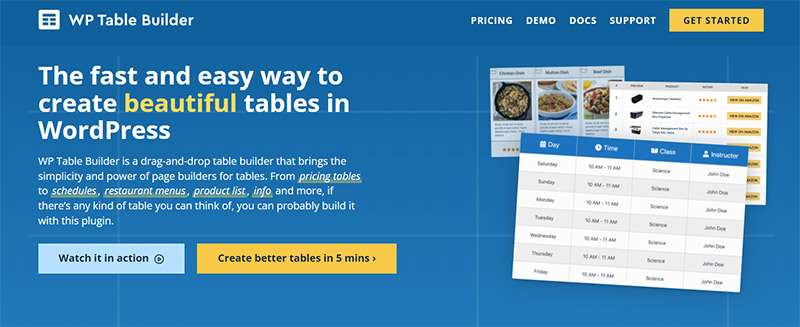 WP Table Builder is built upon a drag-and-drop table builder, so you can create tables on your WordPress site. You have seven different tools at your disposal, and you can use them however you wish. These seven tools range as follows:
Text
List
Custom HTML
Images
Shortcode
Buttons
and Star Ratings
With these tools, you can arrange your tables easily. What type of tables can you make with WP Table Builder? They range as such:
Schedules
Pricing tables
Comparison tables
Product list tables
Information tables
Restaurant menus
You can construct tables using the tools and elements within the Table Building application. How well do those elements work?.
Elements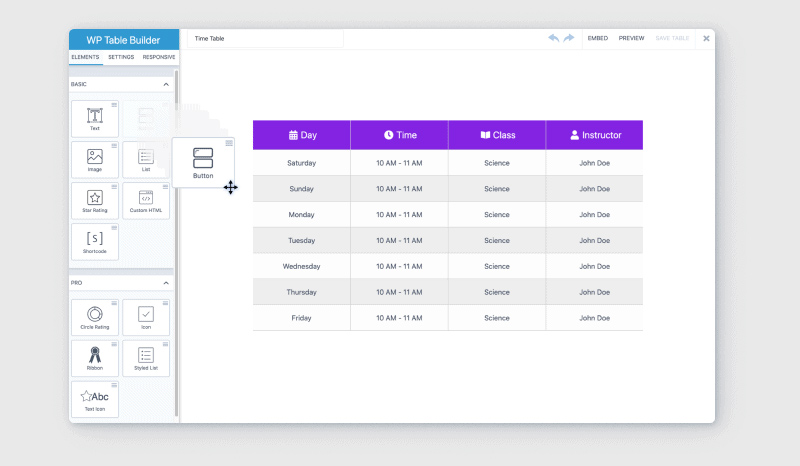 Text: The first and arguably most important element of beautiful tables is the text. The text is necessary for people to read tables. The fact that you are reading this article is proof of the importance of text. The text in WP Table Builder works fine, but it isn't special.
Image: With this important element, you can show photos and images of whatever you want. It can be a great way to add flair to your sea of table data.
List: Lists can be a great addition to your tables. If you ever want to have more responsive tables, lists are probably the way to go.
Button: This element can greatly help your tables if you want links. Links can act as a free way to import data, while at the same time helping you create more interactive tables.
Star Rating: You can add ratings to the features or products of interest. This can greatly help you create beautiful tables that show viewers how you feel.
Custom HTML: This element is great if you want to add a bit of your flair to your tables. Because what is a Table Builder plugin if you can't make it your own?
Integrations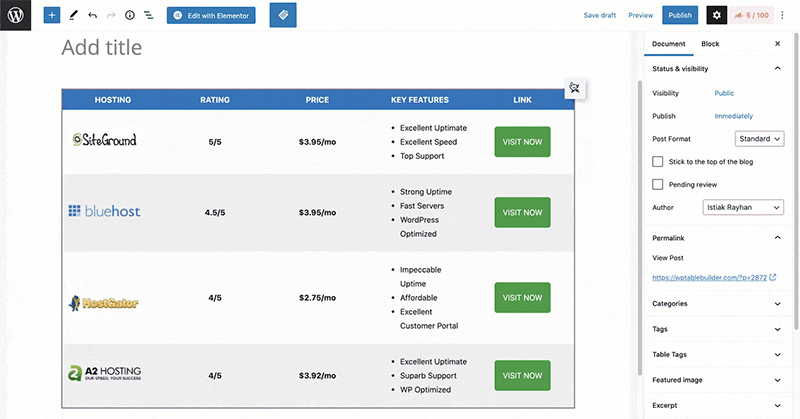 Third-party products are one of the main things for which WordPress table plugins stand out. Sadly, when considering WP Table Builder for this important point, it falls flat on its face.
You can, of course, still import data and import tables from XML files and CSV files. The problem is that WP Table Builder has no other integrations. This may not be a big problem if you only need a simple data table, but it is always better to have a more versatile tool.. You can of course still use the autogenerated shortcode to make WordPress tables and posts.
Table Design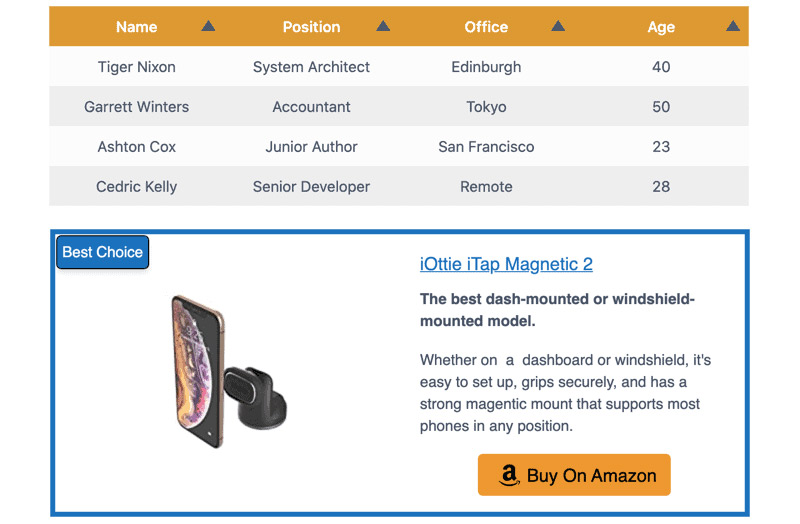 Creating tables can be much more than aiming and clicking; you want attractive tables that catch your customer's eyes. With WP Table Builder, you can add backgrounds to your columns, rows, and even table cells. You can also change the colors of your table headers to make them pop.
WP Table Builder also allows you to add and change the colors of your table's borders. And that is just scratching the surface of the design features that WP Table Builder offers.
Customization
All of the seven tools (or elements) that you have at your disposal can be designed in several ways. You can change the colors of the text, borders, and table cells. You can also change the size, insert links, image alt text, table position, cell padding, etcetera.
Pricing

WP Table Builder has both a Pro and free version, both with pros and cons. With the free version, all you have to do is download and install it.. But if you want more advanced features, you should upgrade to Pro.
The free version of WP Table Builder has the following features:
Seven drag and drop elements: text, list, image, button, custom HTML, star rating, and shortcode
Cell management mode with options to add new rows or columns, split or merge cells, etcetera
Individually customizable elements
Import of tables from TablePress
Import/export of single and multiple CSV or XML files.
The WP Table Builder plugin has multiple different premium plugins. The Starter Plan, costs $39 a year and has the following features:
Full duplication and separation for columns and rows
Creation of unlimited tables
Five advanced elements
Tooltips for list items
Drag and drop sorting and ordering
Settings for margins and padding
Configurable border colors
Import of tables from TablePress
Priority support and updates
Next, the Pro plan is priced at $79 a year and allows 1,000 separate sites.
Last, of all, WP Table Builder features a lifetime plan that costs $249, which allows infinite separate sites.
Pros and Cons
Now, the juicy bits. After discussing the features of WP Table Builder, here are its pros and cons..
Pros
Responsive tables
Lightweight plugin
Drag-and-drop builder
Free version available
Advanced customization and styling
Prebuilt templates
Cons
Limited integrations
Cannot create charts from data
Icons UI is a little fiddly
Limited predesigned tables
Need an additional plugin for pro
Is There an Alternative?
Those are the main features and elements of WP Table Builder. It's a pretty good table plugin with a drag-and-drop editor.But it does lack some important features and integration capabilities. The good news is there is an alternative.
wpDataTables

wpDataTables is a great table plugin that has both a Lite (free) and premium version. The free version works great for basic tables that need more table functionality than table design. But if you want both beautiful and responsive tables, you may want to invest in the premium version. You don't have to be worried about it burning a hole in your wallet, as it is priced at a very reasonable $69 per year.
It has so many features, all of which are within a simple and easy-to-use interface. It is one of the best go-to table plugins on the market that even allows you to create charts.
Whether you want to create tables from existing sources or make them from scratch, wpDataTables has got you covered.
Pricing
If you want to try out wpDataTables for yourself, there is a free version. But you can also try the backend demo quickly without installing anything.
The free version creates basic tables, while the premium version offers advanced features.
The premium version offers both one-year and lifetime licenses with the following prices:
1 site – $69 for a one-year license or $199 for a lifetime license.
3 sites – $109 for a one-year license or $389 for a lifetime license.
Unlimited sites – $249 for a one-year license or $589 for a lifetime license.
Creating Beautiful and Responsive Tables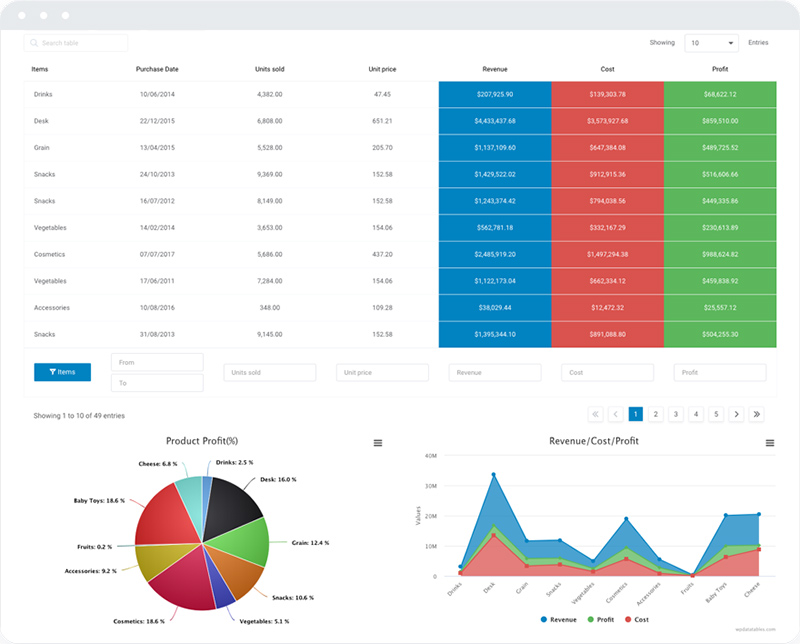 WpDataTables allows you to create beautiful tables from any source. Whether you want to import data from Excel, Google Sheets, MySQL queries, or otherwise, you can rely on wpDataTables to deliver. You can use its table builder for things as simple as content tables to huge data tables that have millions of rows.
What's more, you can make them look nice. Here are some of the options you have to design your tables:
Manual data table – create your data table using an Excel-like editor.
Simple table – this is a newer option that makes great choices for more formatted tables like product comparison tables or pricing tables.
External data table (import) – import your data from an external source. Unlike the previous external option, though, this one won't sync after you import the data.
External data table (linked) – you can create data tables that are linked to an external source like Google Sheets, Excel, a custom SQL query, JSON, and more. The plugin will automatically store your data when synced with an external source.
Database query to MySQL database – use a graphic tool to generate a query to any SQL database, even external ones.
Database query to WordPress – use a graphic interface for querying data from the WordPress database (e.g. a list of posts).
One of the best features of wpDataTables is its front-end editing. You can allow people to edit their data, while not allowing them to edit any other data on the table.
You can create tables manually using an intuitive editor, or import tables and data from other sources. Here are some of the options:
CSV
JSON
Google Sheets (either by using API or Sheets on the web)
Any database (via a graphic query builder)
Excel
For more advanced features, you can choose one of the many premium features available.
Custom sorting/filtering
Formulas
Conditional formatting
Front-end editing
Features
There are a lot of features in wpDataTables, including:.
WPBakery Page Builder integration
Creation of charts with built-in wpDataCharts
Sortable table with types and values
Change or highlight cells or columns with conditional formatting
Row grouping feature on the non-server side
Front-end advanced filter for multiselect, text, date, number, time, etcetera
Five table creation types- Existing data source, manually, import, generate a query WordPress database, and MySQL database
CSV, PDF, Excel files export
Copy tables to the clipboard and configure table tools
MySQL, MS SQL, and PostgreSQL databases
Open multiple links by a pre-filter value
Word Wrap and Limit Table Width
Drag and drop and shortcode facility
Fully responsive tables to fit all devices
Present using sources like MySQL or Excel
And here are some of the interactive tables you can create with it
You need to have a look at some of the other tables from the showcase section.
Statistics Tables with Charts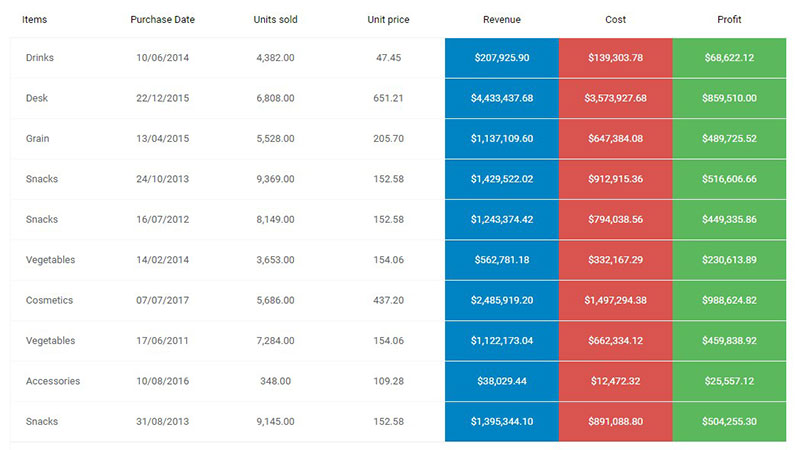 wpDataTables is used to generate a graphic representation of statistical data as charts.
Cryptocurrency Rank Table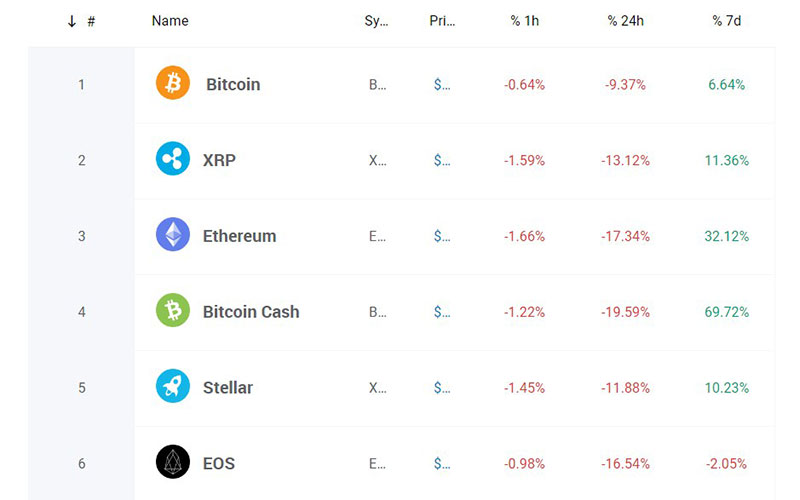 In this example, cryptocurrencies are ranked in a table using wpDataTables. You can add this type of crypto table to your site with a few tweaks.
Online Laptop Catalog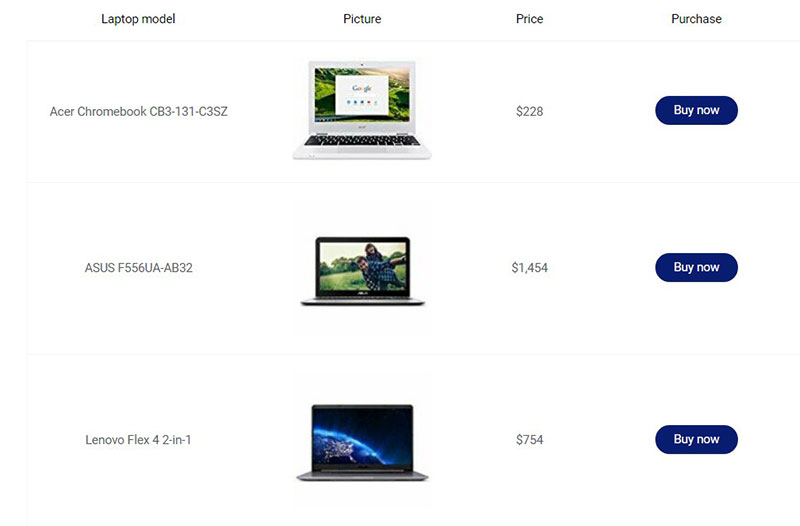 This table can be used for product comparison. For example, if you have a WordPress site where you are presenting and promoting products, the table can display the characteristics of the most popular products.
Financial Reports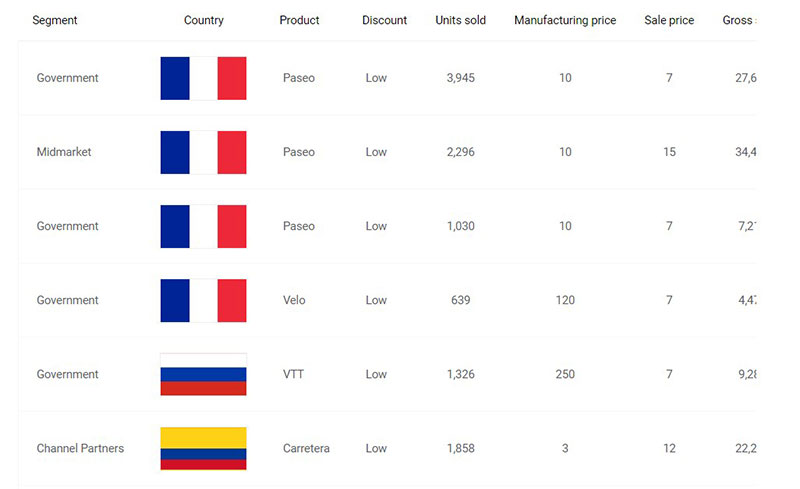 The plugin is used to create a table that shows financial data per country. Obviously, it can be adapted to presenting different types of financial data.
Book Catalog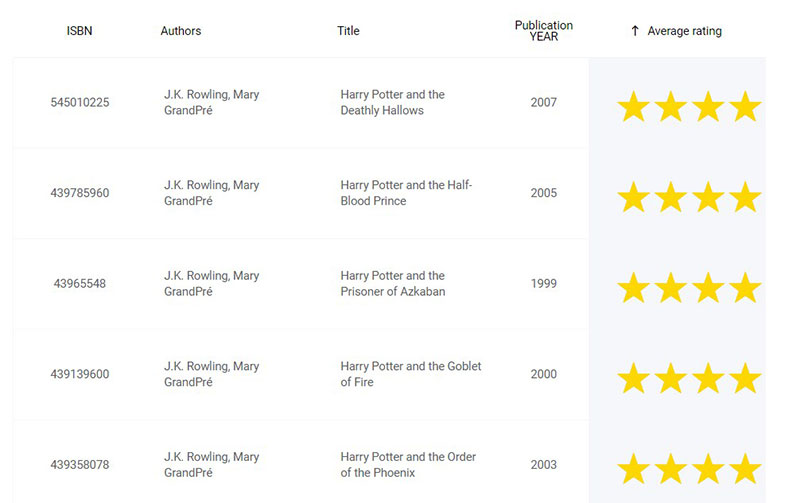 This table style works well for an affiliate site or an online book store.
Mutual Funds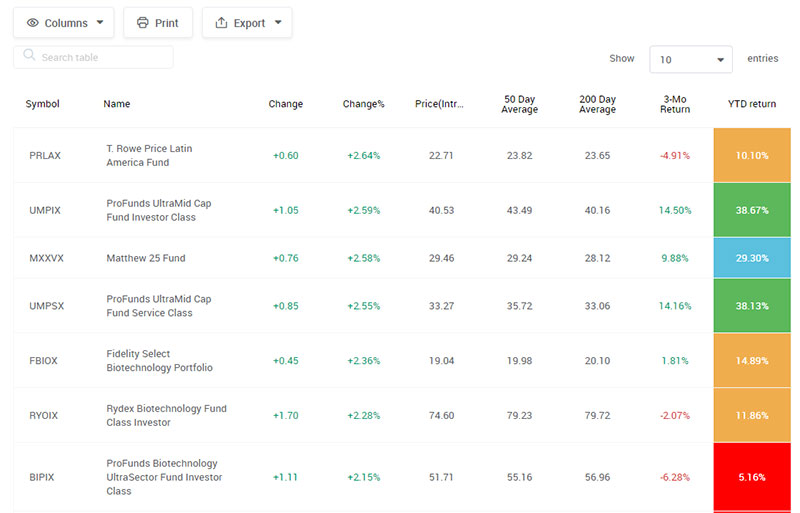 wpDataTables can create a list of mutual funds, sorted by performance.
Catalog of Drivers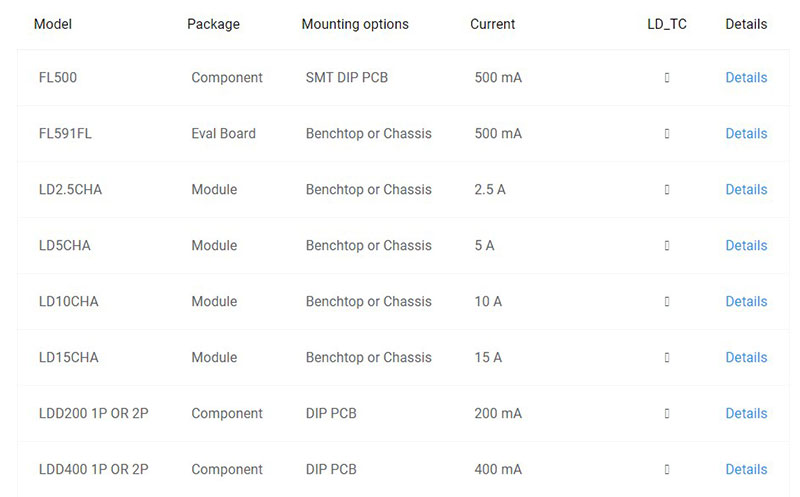 wpDataTables is used to show driver configuration.
Oh, and after all those table examples that you saw, it's worth mentioning that you can also convert the data from your tables into interactive charts.
For your charts, you can use the Google Charts rendering engine, if that's the one you're used to. However, you can also use other chart types like the Highcharts library, ApexCharts, or Chart.js.
Conclusion on WP Table Builder
WpDataTables wins over WP Table Builder when it comes to user-friendliness as well as flexibility, which can be hard to find for table plugins. Other than that, it has a great feature list and lots of options for making beautiful and responsive tables.
WpDataTables has you covered, whether you're a casual or more advanced user. If you just want to create basic data tables or comparison tables, you can easily import data from Google Sheets or Excel. If not, there are many advanced features at your disposal. Some examples would be their custom database queries, as well as feeding data from front-end forms. The limit is just your imagination.
If you enjoyed reading this article on WP Table Builder, you should check out this one on creating a Google Forms results graph.
We also wrote about a few related subjects like how to merge cells in HTML, how to create a survey table with wpDataTables and Forminator, how to design a table, how to create a heatmap table with wpDataTables, and WordPress pricing table plugins.