As with all programming, coding for the web requires careful attention to detail and a fair amount of skill. Luckily, web development technology is constantly evolving, and there are many useful software programs that can help you develop websites quicker and easier than ever before.
These programs, known as code editors, are a web developer's best friend, providing you with a suite of handy features like code auto-completion and syntax highlighting, along with other tools that help ensure a better development workflow and clean, error-free code.
In the past, you didn't have many choices in terms of code editors. Today, you can choose between a myriad of options, which we will be covering in this article created by our team at wpDataTables.
Read on to learn more about the best code editors for modern web development.
Defining "Code Editor"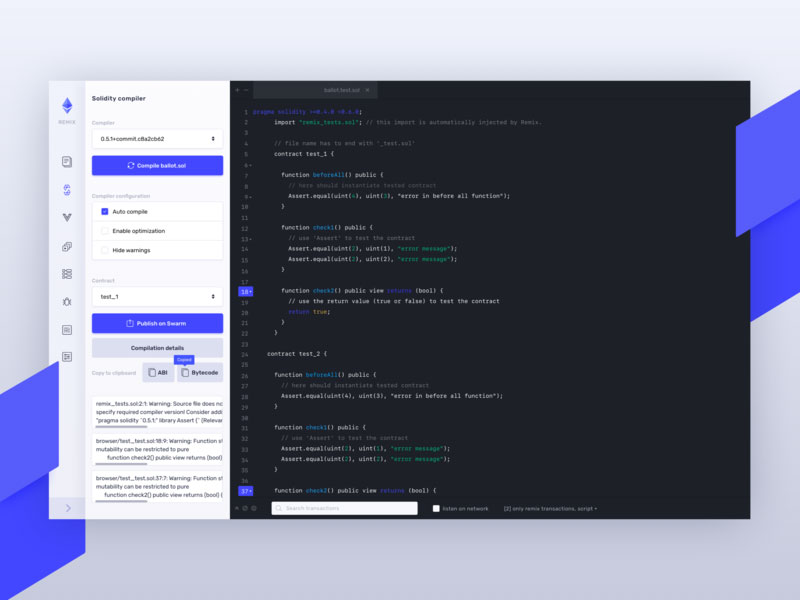 Simply put, a code editor is a software product that helps developers and designers to write lines of code in a more organized manner. Not all designers know how to use IDEs (Integrated Development Environments) as they are often more complex than what a designer would need.
IDEs can be highly complicated, while basic text editors like Notepad or TextEdit (Windows and Mac, respectively) are too basic and have no functions that would help you with writing code.
This is where code editors intervene. They represent the perfect combination – a happy medium – between the features of an IDE and the simplicity of a regular text editor.
Thus, a code editor is a software program that enables you to write code efficiently by providing you with useful tools to keep everything flowing.
How to Pick a Good Code Editor?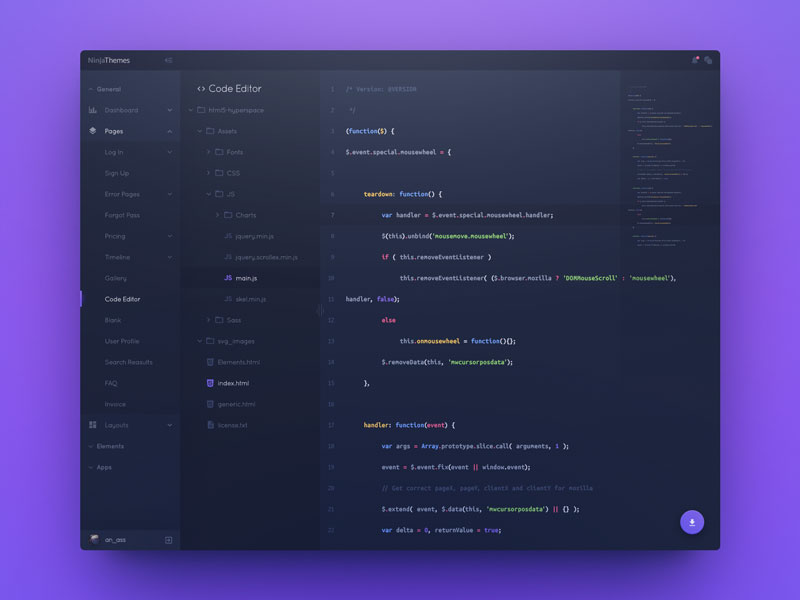 Now that you're convinced you need a code editor, you're probably wondering, "Which one is the best?" Picking a code editor can be difficult, considering how many variants there are.
Ultimately, you will have to consider your needs and requirements as each new development project may involve different tasks, and perhaps, different languages and frameworks.
Most developers prefer code editors that let you set specific keyboard shortcuts and that offer a friendly interface with different theme choices, in addition to the other common features like smart code auto-completion and language-specific syntax highlighting.
Of course, you may have specific preferences that are offered only by certain code editors. In order to figure out what you need, ask yourself these questions:
What OS are you using? Some code editors are only meant for Windows, while others are exclusive to Mac / Linux.
What programming languages are you using? Some code editors support a wide range of programming languages, while others are limited to a few.
What features do you consider mission-critical vs. nice-to-have?
Do you need rapid customer support? Are you a beginner developer?
What are you developing, and what frameworks or libraries will you be using?
9 Best Code Editor Options to Choose From
Atom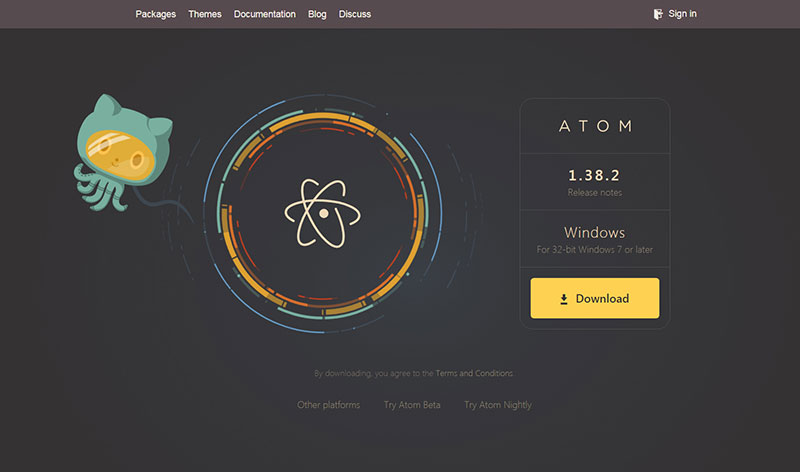 Atom is a free-to-use, open-source code editor created and provided by GitHub. Before becoming a public code editor, Atom was used internally by GitHub to great effect in developing the GitHub platform.
In 2014, Atom was finally released as an open-source editor and it quickly became one of the most popular code editors on the market.
The user interface is beautifully designed; it is responsive and has useful organizational features like the ability to split the interface into multiple panes to edit multiple projects at a time.
Atom comes with built-in code auto-completion support which can be extended to many different languages with extra plugins. It also includes a built-in system browsing feature which makes it easy to keep track of your project files and folders while coding.
It is similar to VS Code, which will be presented later in this list, in the sense that it has a pair-programming tool included. In Atom's case, it is called Teletype, and it allows multiple developers to join one working session.
Many other great features can be added to Atom with free plugins developed by the open source community.
Vim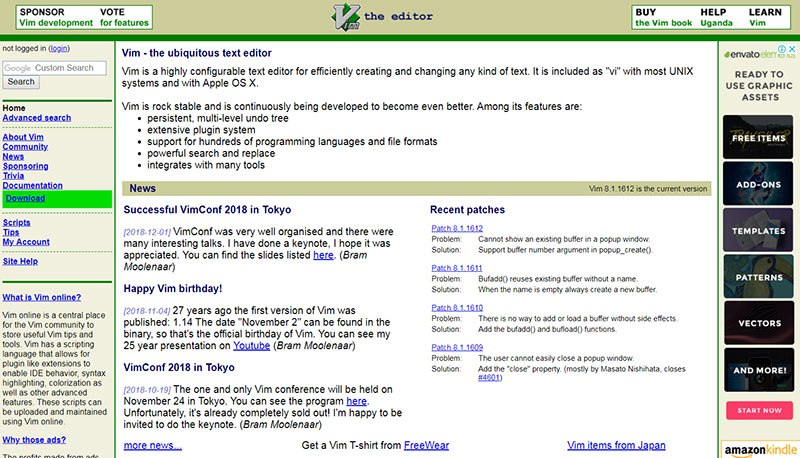 Vim is another open-source code editor. It is highly appreciated by developers because it has many advanced features packed intoone very lightweight software package.
It comes preinstalled on any UNIX box and is 100% keyboard driven. This means that you won't have to lift your hands off the keyboard for any action at all.
The interface is not as good-looking as in the case of Atom or other code editors since it runs in the Linux terminal by default, but it can also be extended with a GUI.
Even though it is powerful, Vim is not suitable for beginner developers, as it involves a steep learning curve. However, it is a very good choice for experienced developers who want to write code with a few keystrokes.
Visual Studio Code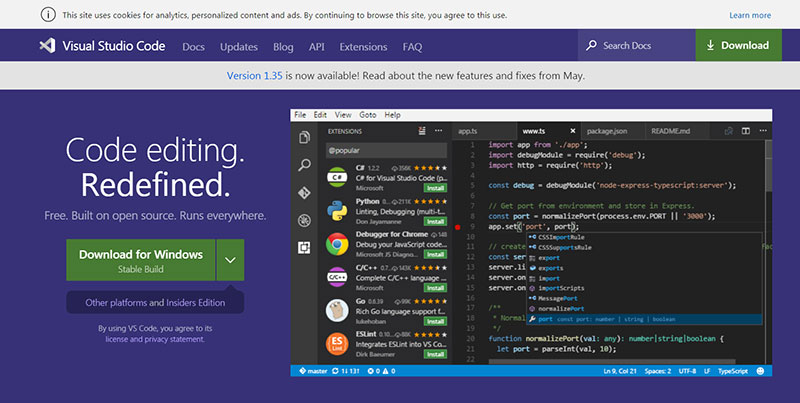 Visual Studio Code, also known as VS Code, was developed by Microsoft. It is a cross-platform code editor that runs on most operating systems.
Visual Studio is based on Atom's open-source components, but they were tweaked to meet the image that Microsoft had in mind for this product.
In this sense, VS Code lacks some of Atom's features yet at the same time, it brings some unique features to the table as well. The main benefit when comparing VS Code and Atom is that VS Code tends to run slightly smoother and quicker than Atom.
Visual Studio Code can be personalized using themes and plugins from the official marketplace. Moreover, VS Code comes with a Live Share function. This lets you collaborate with other developers, just as in the case of Atom's Teletype.
Other useful functions include git integration, syntax highlighting, and Intellisense capability. You can check out more awesome features on their official website.
Brackets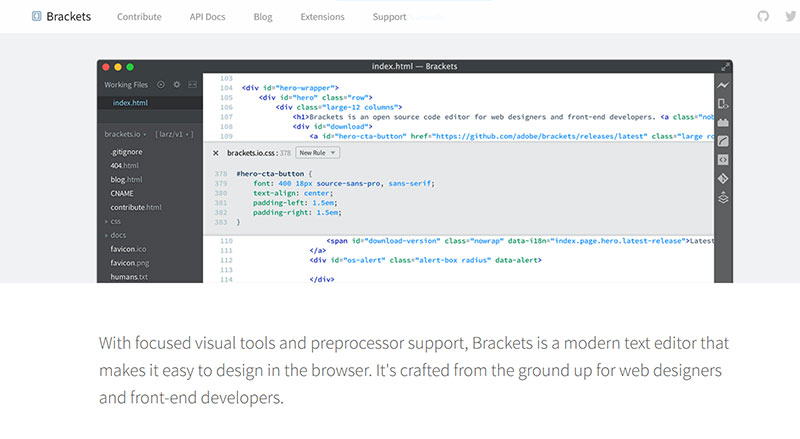 Brackets is also open-source and cross-platform. It was developed and brought to the public by Adobe under the MIT license. This software product is mostly dedicated to web designers and front-end developers because of its easy-to-use interface.
Those who don't need all the complicated functions that are present in many IDEs can use Brackets as a front-end code editor. It supports HTML, CSS, and JavaScript. Brackets can also be integrated with Google Chrome to see the changes you make live. And it has some cool extensions.
Sublime Text 3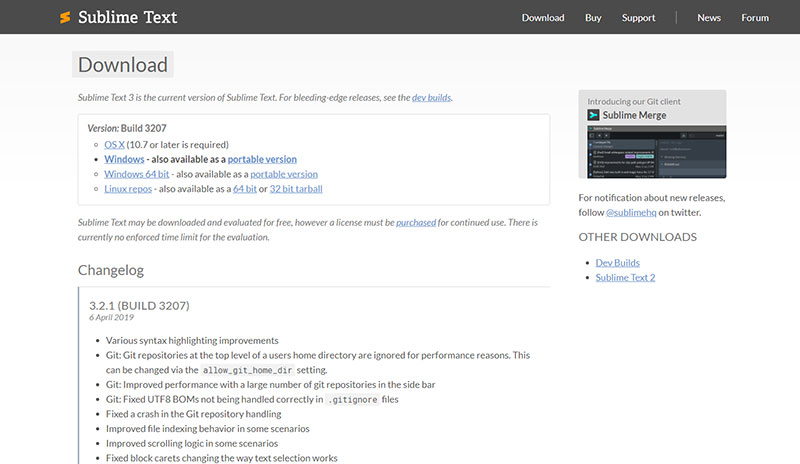 Sublime Text 3 comes in two versions: a free one and a paid one. You can choose based on what types of functionalities you need from a code editor.
It is a lightweight program with a low learning curve. It is very fast and flexible, and you can expand it using extensions just like with Atom, VS Code, etc. The price is good considering what it offers and it is what dedicated teams use.
It has an auto-completion function and syntax highlighting for many different languages. You can pay for the Sublime Text Package Control if you want to add a debugger, other themes, and Intellisense to it.
Notepad++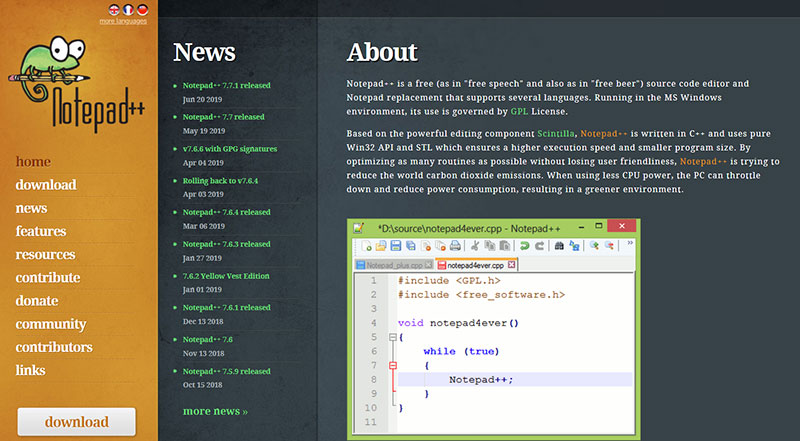 Notepad++, as the name suggests, is a more advanced version of the basic Notepad text editor that comes included in Windows OS. There are major differences between the two.
First of all, Notepad++ supports all sorts of programming languages, but it is most suitable for web programming languages like HTML and CSS.
You can use colored lines while writing for syntax differentiation and Notepad++ will highlight mistakes if they are present. It's simple and efficient if it suits your project goals. It is probably the best text editor for Windows and many non-developers use it as a Notepad replacement.
One interesting thing about it is that you can install Notepad++ on Linux. It isn't official, but you can still do it.
Coda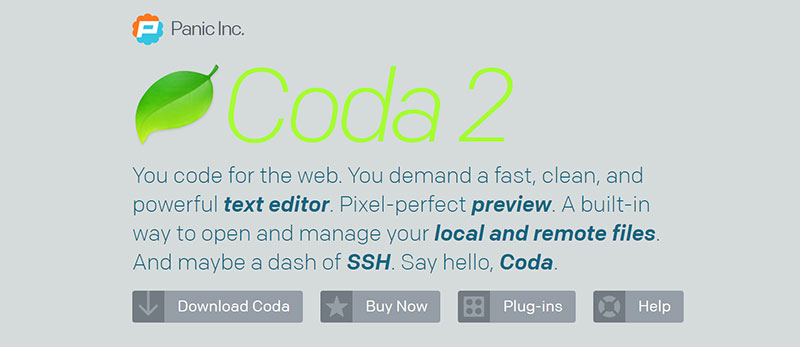 This text editor is fully supported by Mac OS X 10.7.5 or newer versions. It is designed especially for computers that run Mac OS. Coda is very fast and responsive, perfect for those who want a seamless coding experience.
It was initially released in 2007 but it has improved a great deal since then. It includes features that will help you with syntax and reviewing. Coda comes with a function called Transmit Turbo Engine that lets you upload code from a remote location very quickly.
GNU Emacs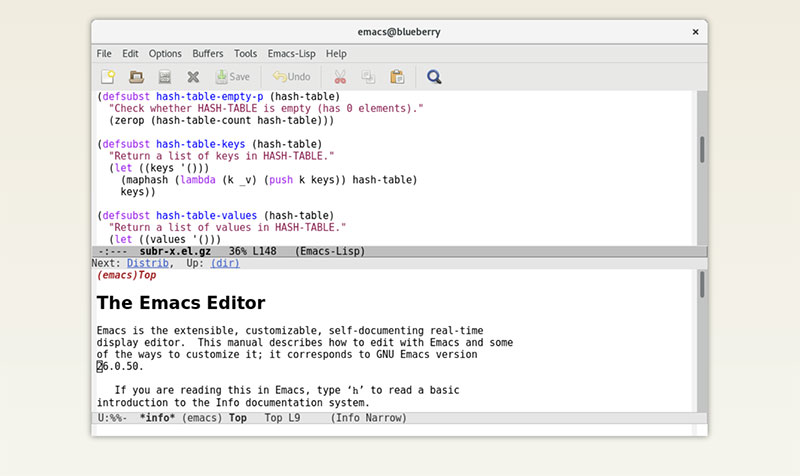 The last code editor in this list, GNU Emacs is just one of the various editions of Emacs. It is free, and it can be personalized and extended after the preferences of the user. It takes a while to get used to its functions, but – once you do – it's unstoppable.
It has content-aware editing models included and gives people full Unicode support, regardless of the script type.
Ending thoughts on choosing the best code editor
The list can go on, but these should be more than enough to give you a taste of what's out there. Remember, you can't choose a code editor unless you know exactly what you need from it.
Analyze the requirements of your project and choose a code editor that features all the tools you'll need. Although it's perfectly fine to use multiple editors, sticking to one code editor and learning its intricacies will lead to faster coding and more productive results.
If you enjoyed reading this article on best code editor, you should check out this one about WordPress developer salary.
We also wrote about a few related subjects like convert HTML to WordPress, WordPress training, JavaScript libraries and Brackets extensions.