With WordPress ruling as the most popular CMS available, the internet has been flooded with a wide range of WordPress training courses and WordPress tutorials teaching you how to make a WordPress website and how to use WordPress to create amazing websites and blogs.
Although the internet is packed with all forms of WordPress training that you can think of, from WordPress tutorial video channels to WordPress classes, articles, and presentations, you should learn WordPress and how to create a WordPress site from a course that is well-structured.
Learning WordPress is not the difficult part but finding the best WordPress training sources that will teach you how to build WordPress websites efficiently can be difficult without any guidance.
Here, at wpDataTables, we specifically liked these five best WordPress training courses for newcomers:

WordPress Quick Start Course by WP Apprentice is a one-hour, free WordPress tutorial. You can also get lifetime access to WP essentials against $47 or lifetime access to all their courses against $147. If you are looking for a WordPress tutorial for beginners, this is it!
This WordPress training courses focus on WordPress for dummies or WordPress for beginners because its focus is on the WordPress basics, including finding a web host for your future WordPress site, installing WordPress, using the WP dashboard, and creating content.
This course provides detailed explanations of the key features of WordPress as a CMS: themes, widgets, plugins. The point is that you will know how to build a WordPress website at the end of the ten videos that make up this WordPress training course! You can start using WordPress!
The Pros of WordPress Quick Start Course by WP Apprentice
A short and free WordPress training course, this 10-video tutorial is risk-free
Ideal for any WordPress beginners, who want to learn how to create a WordPress site
The course presents you with a WordPress overview covering all key features
The Cons of WordPress Quick Start Course by WP Apprentice
There are no detailed descriptions and explanations since this training course is short
The course is an introductory level course that will let you create simple sites only!

Complete WordPress Training for Beginners by Udemy is a four-hour, free WordPress training course that addresses the basics of using WordPress to create websites or blogs. It's a comprehensive course that even includes SEO discussion even though it is a free course.
This course will allow you to understand the WordPress framework as a concept, learn the building blocks of a WordPress website, launch your professional WordPress blog and website, and learn to manage and create your own WordPress themes.
The Pros of Complete WordPress Training for Beginners by Udemy
This WordPress training course covers many topics in only four hours
The course is like a step-by-step WordPress guide to have your site up and running
It is a set of explanations of why and how things work rather than a set of instructions
The majority of explanations offered is newbie-friendly and straightforward
The Cons of Complete WordPress Training for Beginners by Udemy
Not all content is entry-level, and the course covers more advanced topics as well;
Not all content in this course is UpToDate as the course is a bit older.

The WordPress 101: The Basics by WP101 is a 130-minute WordPress training course that consists of 8 free videos with the remaining 12 videos priced at $19. The WordPress 101: The Basics covers the basics but also advanced topics such as site customization and settings.
The Pros of WordPress 101: The Basics
It is an affordable, close-captioned training course with a Spanish language version.
The course offers access to a forum and support when you buy a subscription/course
The intermediate level course is free once you buy the entry-level course
The Cons of WordPress 101: The Basics
This training course can be pricey if you can't get it on sale
This training course does not include any information on how to find a host for your website or how to install the platform.

Lynda offers a very well-structured learning environment but lacks the casual feel perhaps because Lynda is owned by LinkedIn, which, in turn, is now owned by Microsoft, and Lynda embraces the well-known professionalism of Microsoft, its parent company.
Lynda's courses are held by leaders of the WordPress arena and other highly reputed tutors. This provider offers three courses including Start with a Theme: Food Blogs on WordPress, WordPress Developer Tips: Using Custom Web Fonts, and WordPress DIY: Community Website.
With Lynda, you get a 10-day free trial, which is great, and then you can opt for the standard plan or the premium plan, which are detailed below:
Lynda Standard Plan starts at $25 per month and includes unlimited access to its subscription library and learning tools, such as including playlists, transcripts, etc.
Lynda Premium Plan starts at $35 per month and adds practice files that you can download and then follow with the instructor and offline viewing with Android, iOS, and Windows 8 apps in addition tothe standard package.

Treehouse has the best of both worlds, the lightweight learning of Udemy and the professionalism of Lynda, as far as WordPress training courses for beginners are concerned.
There are three courses available, including WordPress Basics, WooCommerce Theme Development, and SEO for WordPress.
Treehouse has a high-standard presentation that blends well the professionalism of Lynda with Udemy's casual vibe. The Treehouse courses will take you through entire projects, such as creating your own WordPress theme.
With Treehouse, you get a 14-day free trial, and then you get to choose between a Basic Plan and a Pro Plan, which are both detailed below:
The Treehouse Basic costs $25 per month and you get to learn from 1,000 videos, access forums for members-only, and practice with the Code Challenge Engine of Treehouse.
The Treehouse Pro Plan costs $49 per month and offers access to bonus content and a full spectrum of talks from industry professionals in addition to the Basic Plan.

Pippin's Plugins are developed by Pippin Williams, the developer that brought Easy Digital Downloads, AffiliateWP, and Restrict Content plugins to the world of WordPress users.
Pippin's Plugins consists of 12 series/courses plus a full spectrum of articles on plugin development. You can access part of the content for free, but you must pay a membership fee to get access to the video courses. Titles include Shortcodes 101 for Plugin Developers, Unit Tests for WordPress Plugins, and Plugin Development 101.
Courses are composed of articles, video tutorials, and links to associated content, such as articles on various WordPress and Pippin's blog and Codex documentation. These self-paced series are available for instant consumption.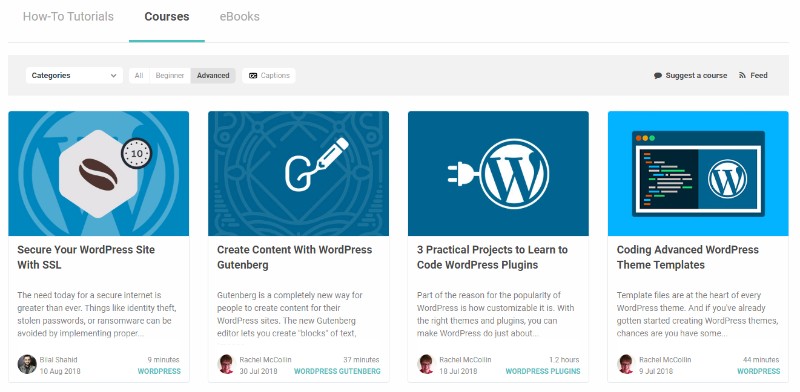 Envato Tuts+ is a great provider of different forms of education on various web technologies, including WordPress. Their courses are endorsed by Rachel McCollin and Tom McFarlin, well-known experts in the WordPress arena.
Envato Tuts+ does not offer comprehensive WordPress training courses, but short-term WordPress training courses that target a particular topic related to WordPress. Some of their courses include Make Your Code Extensible with Hooks and Functions, Customize the WordPress Admin Pages, or Write Customizer-Ready WordPress Themes.
The Envato Tuts+ courses are not designed to teach you WordPress development. They are designed to teach you specific skills.
Ending thoughts on taking WordPress training courses
WordPress is the most popular content management system utilized by companies and bloggers everywhere. Learning WordPress is an endeavor that comes with many benefits: adding new skills for your personal use, adding value to your customers, etc.
Within this context, selecting the best WordPress training course and identifying the most reputed sources for learning WordPress for therefore essential.
If you enjoyed reading this article on WordPress training, you should check out this one about WordPress developer salary.
We also wrote about a few related subjects like convert HTML to WordPress, best code editor, JavaScript libraries and Brackets extensions.