Although WordPress is one of the best and most reputable content management systems available, it's not the only option you have when starting your first website. In fact, for some types of sites — especially smaller ones — all the benefits of WordPress may be irrelevant, and it's best to look into WordPress alternatives.
Whether you just want to manage your online content, build a website, or make your voice heard on the Internet, keep reading this article created by our team at wpDataTables and learn about the best WordPress alternatives, separated by category.
WordPress Alternatives: Content Management systems
Joomla!
Joomla is one of the best website builders and is nearly as popular as WordPress nowadays. It's easy to use and it's very similar to WordPress from some standpoints but it also brings some new features to the table. You can build websites for all sorts of purposes, from education to non-profits and e-commerce. All pretty easy with Joomla templates.
Joomla is a WordPress alternative that lets you control your content workflow in detail and use the template layouts that they provide for free. It is similar to WordPress in terms of themes and plugins, although Joomla addons are called "extensions" (many of which are free, too).
One new feature that Joomla includes is the Access Control List (ACL) which improves the site's administration section. This allows extremely fine-grained control over users and roles, perfect for websites with multiple admins and contributors.
Pixpa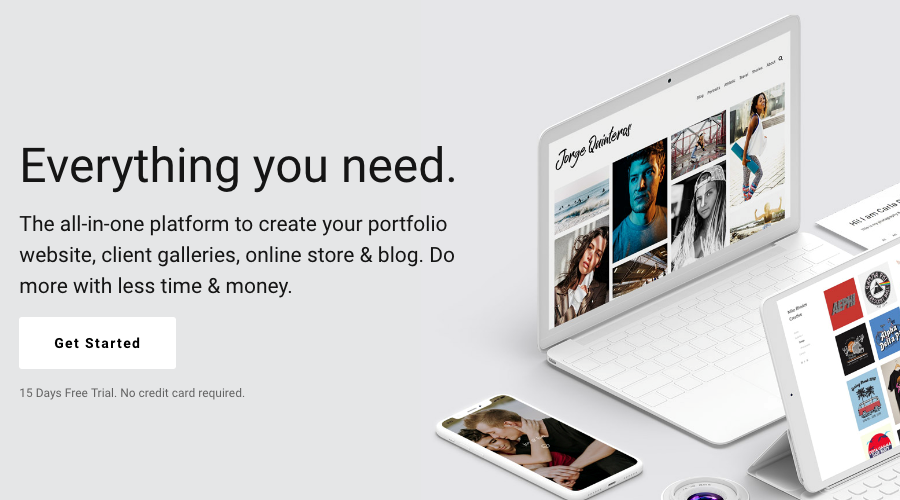 Pixpa is the ultimate all-in-one website platform for photographers and creatives to showcase, share, and sell their work online. Pixpa enables you to create a beautiful portfolio website in minutes, complete with built-in client galleries, online store, and blogs. Pixpa is the only platform out there that offers a complete blend of features:
– A portfolio website with integrated eCommerce galleries. The process of selling your images as prints and downloads is seamless and part of your website.
– Ability to add an online store to your website if that works better for you instead of eCommerce galleries.
– Full-featured client galleries platform.
– Integrated blogs
– Mobile Gallery Apps
– Zero commissions and amongst the lowest pricing plans
Compared to Wix, for example, Pixpa has a much more exhaustive list of features for photographers and creatives:
– Many more layouts for galleries
– IPTC import on image uploads
– Watermarking of images
– Ecommerce galleries to sell images as prints and downloads
– Fully-featured Client Galleries platform to share, proof, sell, and deliver images to clients. The flexibility and features of the Client Galleries platform make it an ideal tool in a photographer's arsenal.
– Mobile Gallery Apps for a quick, stand-alone showcase of your work or for clients after/before a project.
Beyond these big ones, there are scores of features that you would discover when you use Pixpa more intensively.
Drupal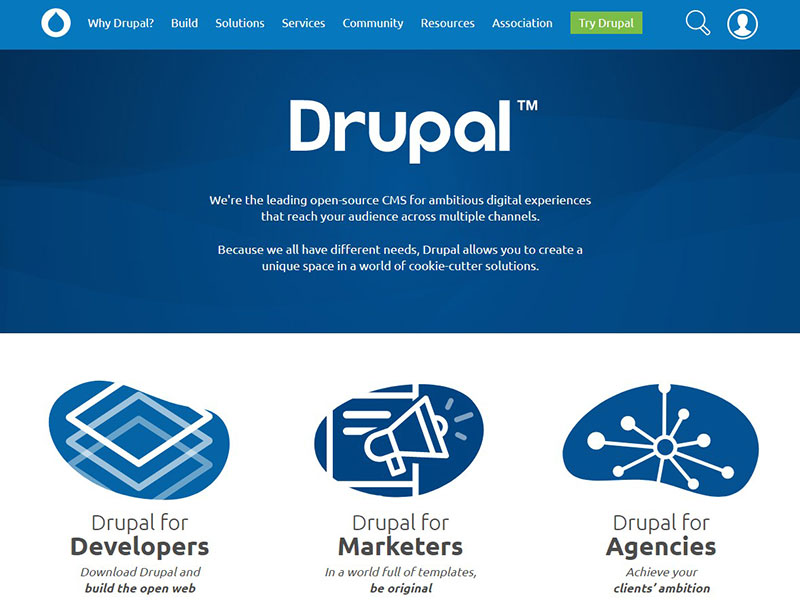 Drupal is quite popular too. It is an open-source CMS, just like WordPress. This CMS has been around for a while so it is generally regarded as a stable and reliable platform. Drupal is entirely written in PHP and it's powered by MySQL.
The biggest benefit of Drupal is the ability to deploy Distributions, which are preconfigured Drupal installations that let you quickly develop a website for a specific use-case.
Do you need an e-commerce website? Drupal can handle it! You may need to have a bit of experience with websites to use this one though.
Craft CMS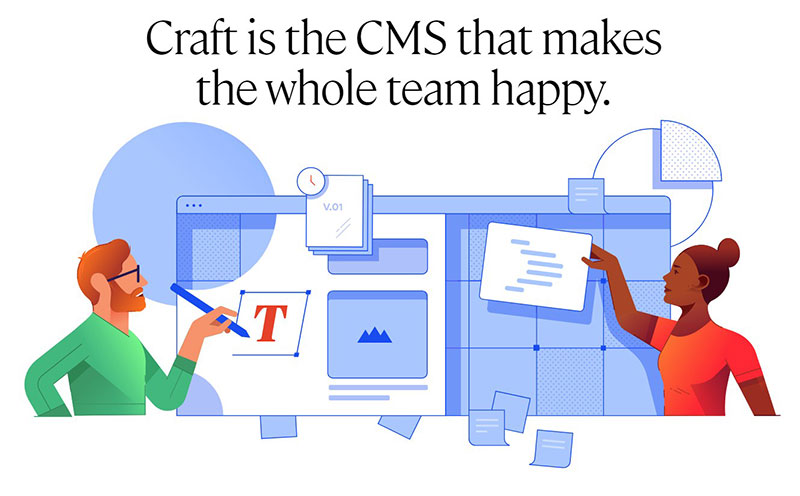 Craft CMS is not as popular as its siblings Drupal and Joomla, but it is just as effective. Big websites such as Netflix or Salesforce are built exclusively using Craft CMS. It is a complex system that qualifies as one of the best WordPress alternatives out there.
Craft CMS has a higher learning curve and it doesn't provide any front-end themes, but it's developer- and designer-friendly as you can easily design templates yourself with Twig.
Magento
When it comes to eCommerce platforms, Magento is a powerful alternative to WordPress. Magento is a highly scalable and feature-rich e-commerce platform that has been gaining popularity as a powerful alternative to WordPress. While WordPress is an excellent platform for creating content-driven websites and blogs, Magento is designed specifically for eCommerce sites and has a range of features that make it a great choice for businesses looking to sell products online.
One of the key advantages of Magento is its flexibility and customizability. It has a wide range of extensions and modules that can be used to add new features and functionality to your online store from providers like Mageplaza, such as SEO optimization tools, One Step Checkout, Extra Fee options, and Product Feed.
Website Builder Alternatives
Constant Contact Website Builder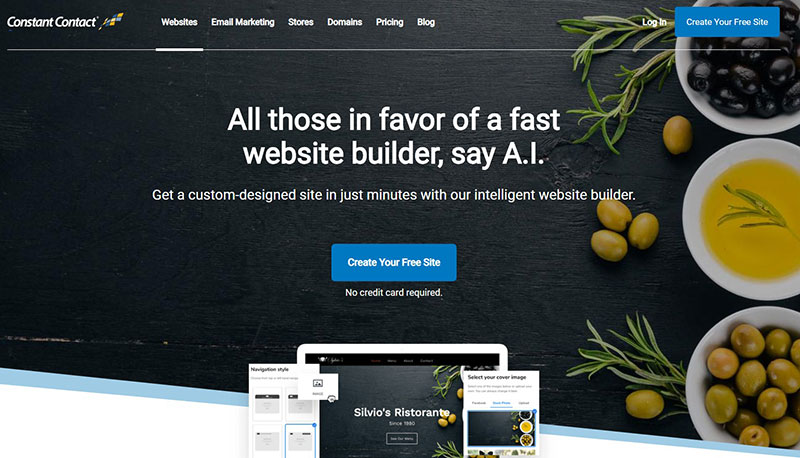 For those who want to use a WordPress alternative that can generate a website in under 5 minutes, Constant Contact Website Builder is the answer.
This website builder is an absolute dream for those who are not tech-savvy at all. The interface is drag&drop and powered by an AI-powered wizard to make the creation process as easy as possible.
You can personalize all aspects of your website and you'll get content suggestions and personalized tips from the wizard. From this standpoint, Constant Contact Website Builder is probably the best one for beginners.
Squarespace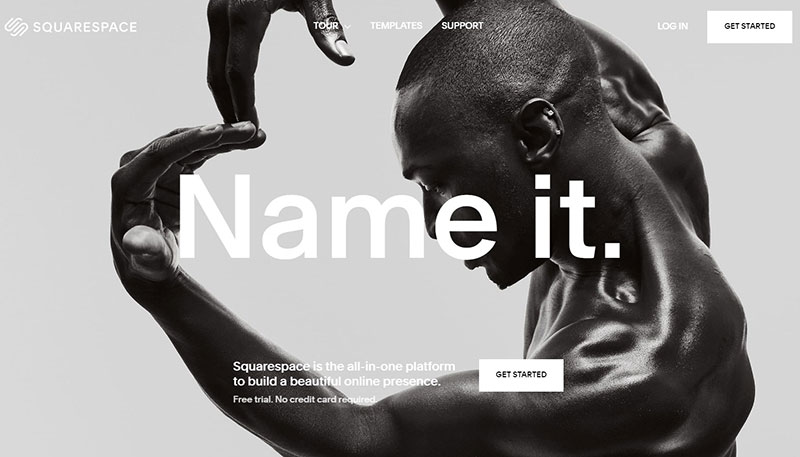 Squarespace is one of the most appreciated WordPress alternatives because the team behind it handles everything related to maintaining your website in good condition. The only downside is that you'll have to pay more for their services.
Compared to WordPress, which is free, Squarespace doesn't require any effort from you. As a user, you'll just have to decide what kind of website you want to own and choose an appropriate plan.
It is a powerful website builder that lets you choose between numerous templates. You won't have to worry about anything more technical than dragging and dropping elements in place.
Moreover, Squarespace only delivers mobile-friendly websites. All the sites created with this website builder look expensive and professional because of the talented designers and developers behind the platform.
PageCloud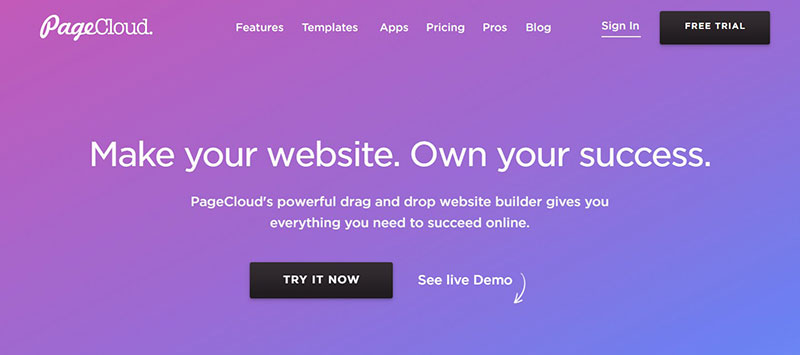 If you like the visual interface of WordPress, you should know that PageCloud is very similar and it can replace this content management system for most types of sites.
The editing experience is based on a drag & drop system with a new WYSIWYG standard. PageCloud is not the best choice for complex websites with hundreds of pages though.
TemplateToaster

TemplateToaster is a Windows-based Web Design and CMS Theme & Template design Software that lets you create wonderful websites and templates in minutes.
With its intuitive UI, TemplateToaster empowers you to conceive your ideas and design high-end responsive themes & templates for several popular Content Management Systems(CMSes) such as WordPress, Joomla & Drupal also including eCommerce platforms such as Magento, OpenCart, Prestashop & VirtueMart.
You can also create templates for Blogger and HTML websites in no time. TemplateToaster is the best offline website builder that lets you work on your local machine providing you a dynamic interface to work with.
Wix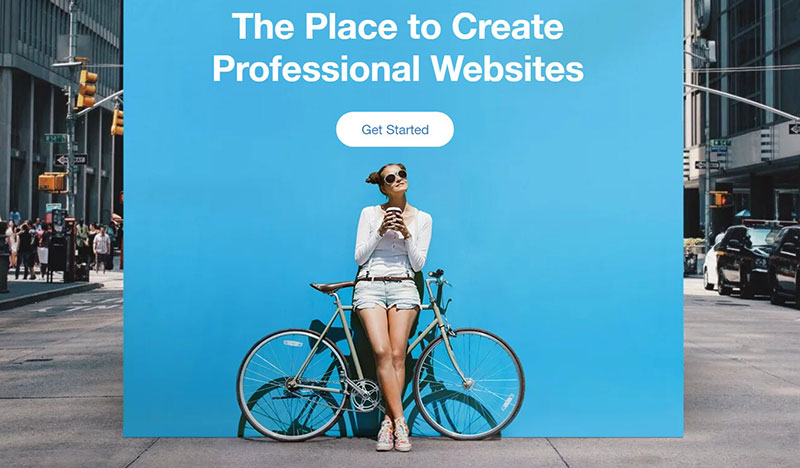 Wix is a popular WordPress alternative that is preferred by many users for its extreme ease of use. This website builder has a unique WYSIWYG editor that's a joy to work with. Compared to PageCloud, Wix doesn't offer the same level of flexibility or design appeal, but it's enough to build a complex website.
Wix has you covered if you want to design a feature-packed website. The website builder comes equipped with an App Market that you can use to expand your website's functionalities.
Zyro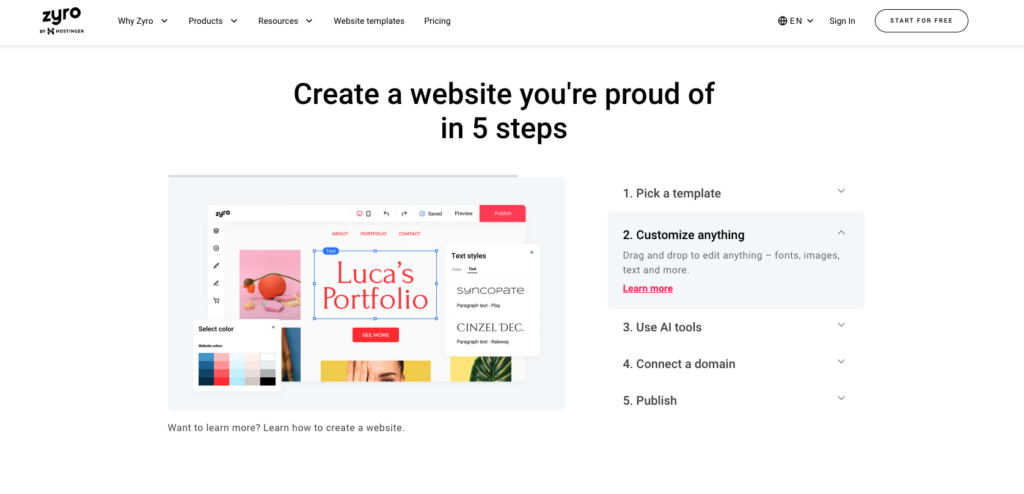 Zyro is a fairly new website builder but growing rapidly in popularity because of its low prices. The drag-and-drop editor is very similar to Wix (albeit not quite as feature-rich) and offers eCommerce functionality as well.
A bonus is its AI-powered tools like AI writer, which helps you create content, and the logo maker. Both tools help you optimize your website without much effort on your end.
Weebly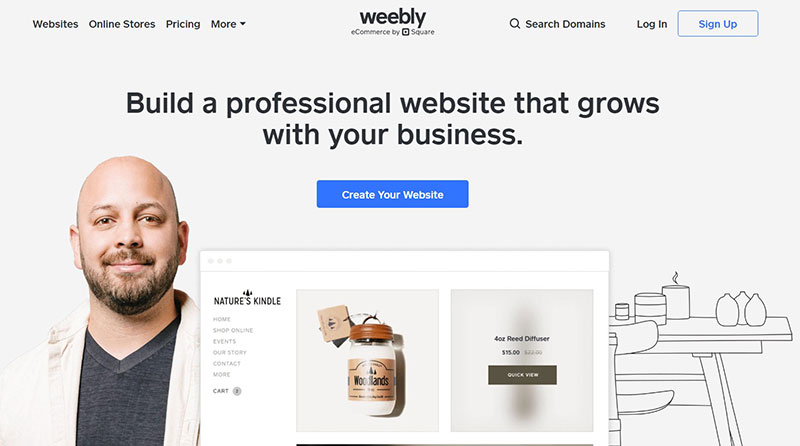 Weebly was purchased by Square in 2018, and it's the best thing that happened to it. Since the purchase, Weebly is focused on e-commerce websites. Those who want to put together an e-commerce website in a couple of minutes can do so with Weebly's drag & drop interface.
The learning curve is low —you won't have to touch any lines of code and the interface is very intuitive. Those who are not confident with technology, yet who want a professional, self-managed e-commerce website should give Weebly a try.
Gator by HostGator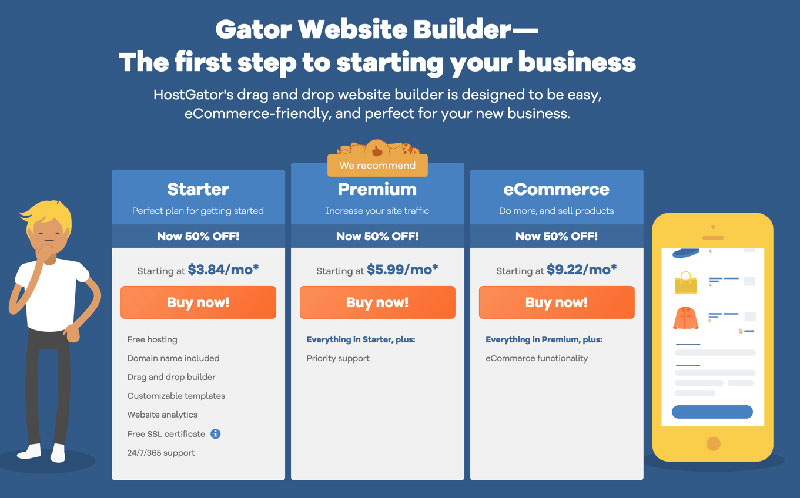 You've probably heard about HostGator, better known as a web hosting company. Well, they have launched their own website builder and it is now one of the best in the world.
Hosting a website with Gator is extremely convenient, as it includes ready-made website designs for all kinds of sites from simple blogs to online stores.
The builder is drag & drop, great for absolute beginners but also advanced designers that want a quick result. There's no learning curve at all with Gator. It is very intuitive and enjoyable to use.
Blogging Alternatives
Medium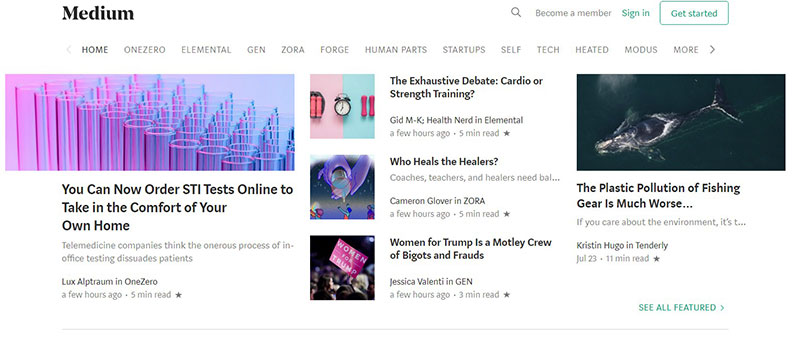 If you just want to write your content, publish it, and release it to the world, Medium is for you. The Medium community consists of independent content creators that manage their blogs within the platform.
Medium has no less than 60 million readers per month and it's great as a starting point for beginner writers who want to gain visibility without investing too much in traditional marketing tactics.
Blogger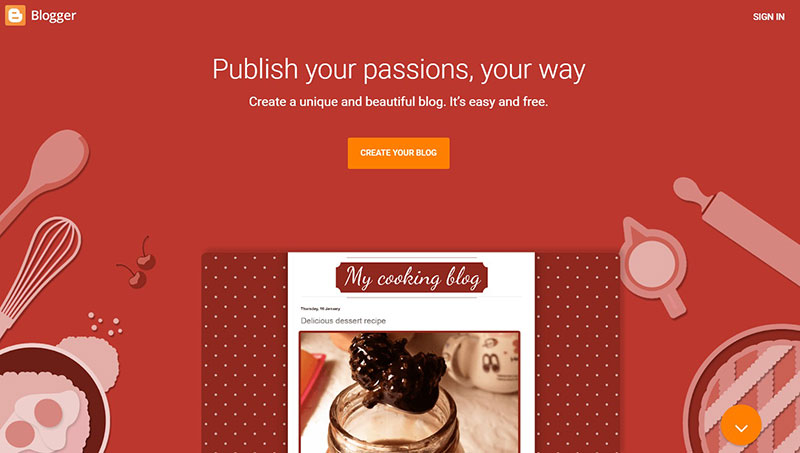 Blogger was purchased by Google in 2003, and it gained quite some popularity since then. Blogger, as the name suggests, is just a blog-publishing service.
It is not a full content management system, but it's a good alternative to WordPress if you just want to publish your creations without worrying about design or development.
You don't have to possess much technical knowledge to use Blogger. It is user-friendly and it's far less complicated than a fully-fledged content management system. Choose Blogger for creating a simple blog.
Ghost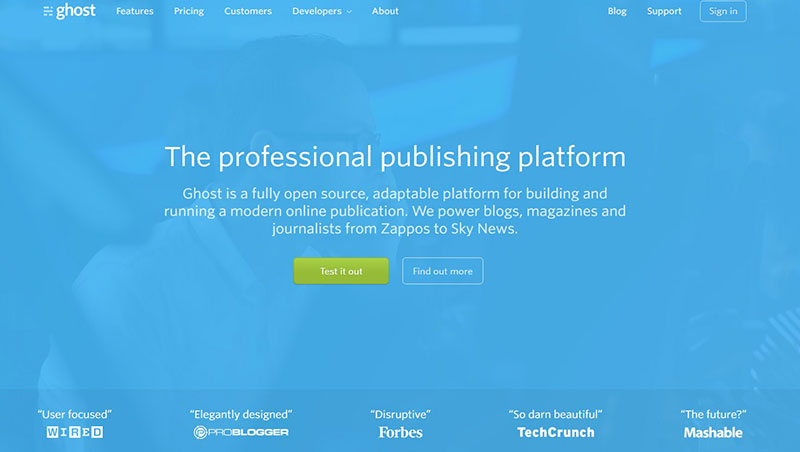 WordPress remains more than just a blogging platform, and it may be too complicated for people who just want an online platform where they can get their content published in minutes. Among most WordPress alternatives, Ghost is probably the most versatile.
It is NodeJS-based and open-source, which means it's perfect for personalized online publishing. The Ghost project was only recently launched, but it already achieved way more users than it initially planned to.
FAQs about WordPress alternatives
1. What are some popular alternatives to WordPress for creating websites?
WordPress has a number of well-liked competitors, including Wix, Squarespace, Joomla, Drupal, and Weebly. These platforms are excellent for various kinds of websites and customers because they each have distinctive features and advantages.
2. What are the advantages of using an alternative to WordPress?
Better usability, easier upkeep and upgrades, improved security, and more specialized functionality are some benefits of utilizing a WordPress substitute. Depending on the user's needs, several options might also be less expensive or perform better than WordPress.
3. Can I use the same plugins and themes with a WordPress alternative?
No, WordPress-specific plugins and themes are incompatible with other website builders. Yet, many alternatives provide their own libraries of plugins and themes, some of which may be functionally equivalent to those offered by WordPress.
4. How easy is it to migrate from WordPress to an alternative platform?
Depending on the size and complexity of the website, switching from WordPress to another platform might be a difficult procedure. To make the process simpler, several website builders offer migrating tools or services.
5. Are WordPress alternatives more or less secure than WordPress?
Many website builders have varying levels of security, but many of them have strong security measures and might be thought of as more secure than WordPress. However, because to its widespread use and popularity, hackers and other online criminals frequently attack WordPress.
6. Can I still use a similar CMS to WordPress, but with different features?
There are, in fact, a number of CMS choices that, while offering features or functionalities that are similar to WordPress, are not quite the same. Examples include Shopify, which is made for e-commerce websites, and Ghost, which is primarily targeted toward blogging.
7. How does the pricing of WordPress alternatives compare to WordPress?
Depending on the platform and the user's requirements, pricing for website builders varies greatly. Some may demand a subscription or one-time purchase for access to more sophisticated tools, while some, like Wix and Weebly, provide free plans with constrained functionality.
8. What are the limitations of using a WordPress alternative?
Limits may differ depending on the particular alternative selected, however, some potential negatives of adopting a WordPress substitute include less customization flexibility, fewer plugin and theme options, and challenges with content migration from WordPress.
9. Are there any specific industries or niches that benefit from using a WordPress alternative?
Various website builders could be more appropriate for various markets or specialties. For e-commerce websites, Shopify is the best option, whilst Squarespace is preferred by creative professionals like photographers and designers.
10. Can I still use WordPress for blogging even if I choose an alternative for my main website?
WordPress may be used as a solo platform or in conjunction with a different website builder, and it is a great option for blogging. WordPress is a popular platform for bloggers, who often integrate it into their main websites as needed.
Ending thoughts on these WordPress alternatives
These WordPress alternatives should be enough to get you started with your brand-new website. Research the interface options that seem the most appropriate for you and keep an eye on the features that mirror your website's needs, as well as your available budget.
The world's most popular content management system, WordPress, is still a good choice if you can't decide on another — especially if you plan to grow your website in the future.
If you enjoyed reading this article on WordPress alternatives, you should check out this one about Blogger vs WordPress.
We also wrote about a few related subjects like WordPress.com vs WordPress.org, Joomla vs WordPress, WordPress vs Wix and content management system.