Every business owner needs a bookkeeping system. It is time-consuming to properly manage your business finances, incomes and outgoings yourself and it's costly to hire someone else to do the bookkeeping.
QuickBooks is a lifesaver for many e-commerce business owners. It's one of the quickest and most intuitive ways to manage incomes and expenditures, to send invoices to vendors, and to keep the balances of your business.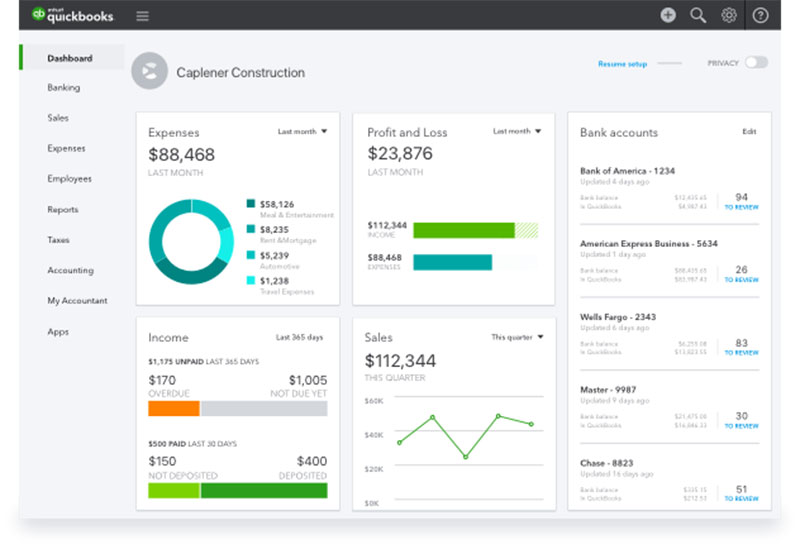 WooCommerce to QuickBooks integration syncs data between the two platforms and significantly reduces the amount of data you have to input manually, and is thus time-saving. But how does one sync data from WooCommerce to QuickBooks?
This article created by our team at WpDataTables will explore the options for syncing data from WooCommerce to Quickbooks and help you choose what's best for your business.
WooCommerce to QuickBooks: Syncing Makes Life Easier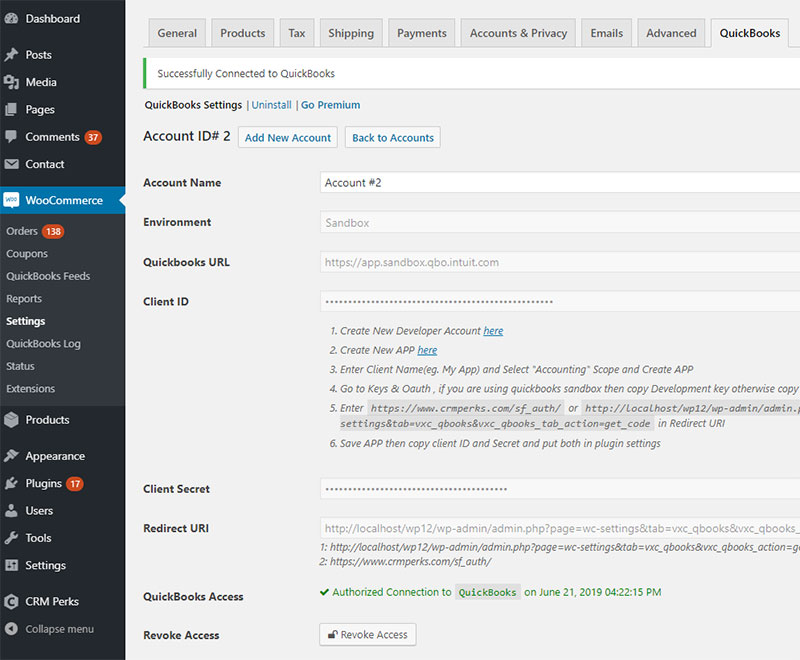 We can easily sync data from WooCommerce to QuickBooks which saves hours from entering data manually into the various books and data files. Instead, you can simply sync it from WooCommerce.
What are some of the benefits of syncing?
Automation of tedious and unwanted tasks, including the creation of customer accounts, adding new or updating existing products, and managing renewals for subscriptions.
The synced data is more accurate with less chance of mistakes compared with manual entry.
We can combine and compare data from different channels, work these in multiple locations and easily combine financial data with other data types.
Convenient management. Syncing is very useful if you have multiple accounts or stores and you want everything to be integrated into one place.
You also get a tax calculator with QuickBooks, helping you stay on top of the taxes.
Subscriptions are more easily manageable. There is more flexibility when managing subscription plans and recurring payments, as everything is done manually.
Every WooCommerce store has strong accounting software like QuickBooks which offers automation of the business process and saves many hours per month.
Two Types of WooCommerce to QuickBooks Syncing
WooCommerce is actually a plugin for WordPress which allows the management of online stores and includes the full facilities of various WordPress plugins as well as the capabilities of WooCommerce. There are two types of integration to choose from one-way integration and two-way integration.
One-Way Transfer Integrations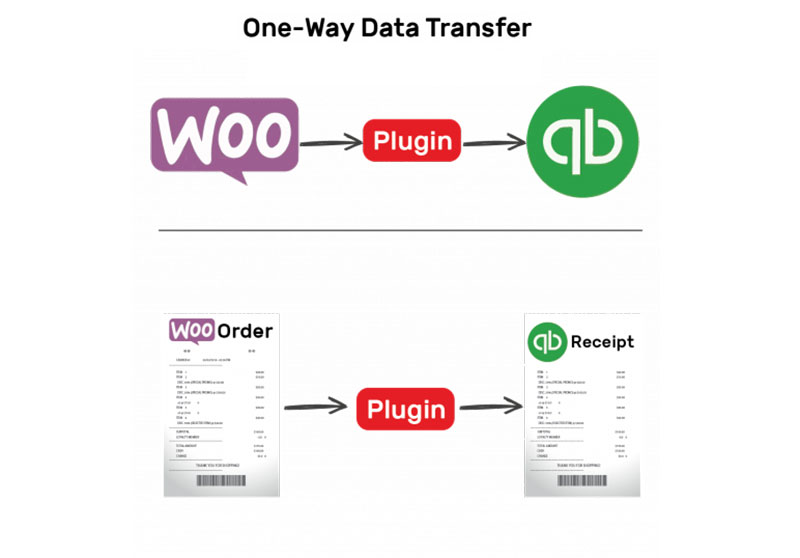 One-way transfer integrations are used to transfer data from one platform to the other. These are basic integrations that transfer specific types of data, such as sales receipts from WooCommerce to QuickBooks. It's an economical way of handling one-time transfers and enables us to automatically transfer all the data we need.
If you own an e-commerce store with WooCommerce, then one-way transfers may be all you need. However, if you're planning on connecting QuickBooks to other stores or if you have a POS, then a two-way integration will be more useful.
Two-Way Sync Integrations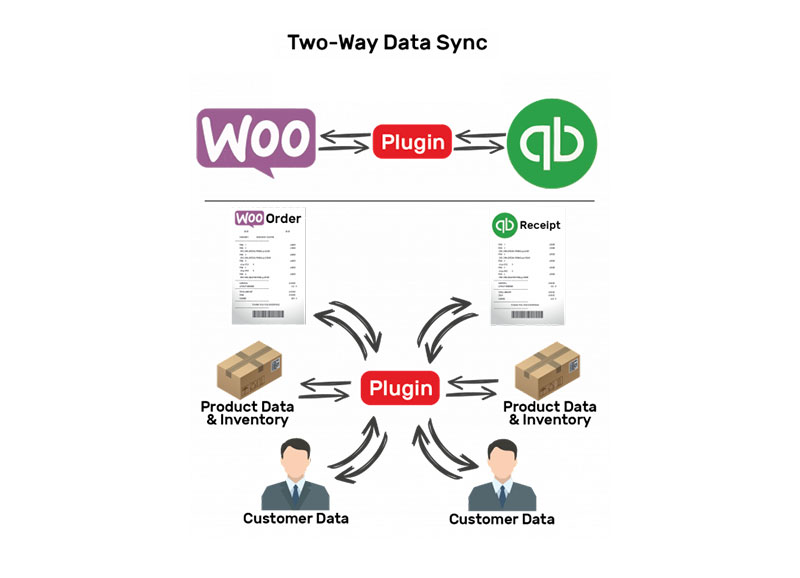 These integrations are slightly more complex as they enable you to update multiple data streams at the same time for two different platforms. This way, both platforms, or both data platforms get updated, no matter what type of data is exchanged, including inventory counts, product descriptions, customer information, order details, and receipts.
It does cost more than a one-way transfer would, but allows more flexibility and the opportunity to transfer data from one system to another.
Your Options
With this awareness you can now choose your options: either to make one-time, one-way integrations that entail a one-time fee or make two-way integrations, usually for a monthly fee.
There are several plugins options that will enable the syncing and some of the best choices are as follows:
WooCommerce to QuickBooks Integration via Plugins
If your business is still in its infancy and the volume of orders is relatively small, you can probably transfer data from WooCommerce to QuickBooks manually. However, when the orders increase it will be difficult to keep track.
Third-party plugins enable the integration between WooCommerce and QuickBooks, which automates the whole process. There are good plugins for this job, like Zapier or MyWorks but the final choice largely depends on your needs.
Here are the top-rated plugins to help you with that integration that are particularly useful:
Zapier
OneSaaS
Webgility Unify Online
Primaseller
MyWorks
Zapier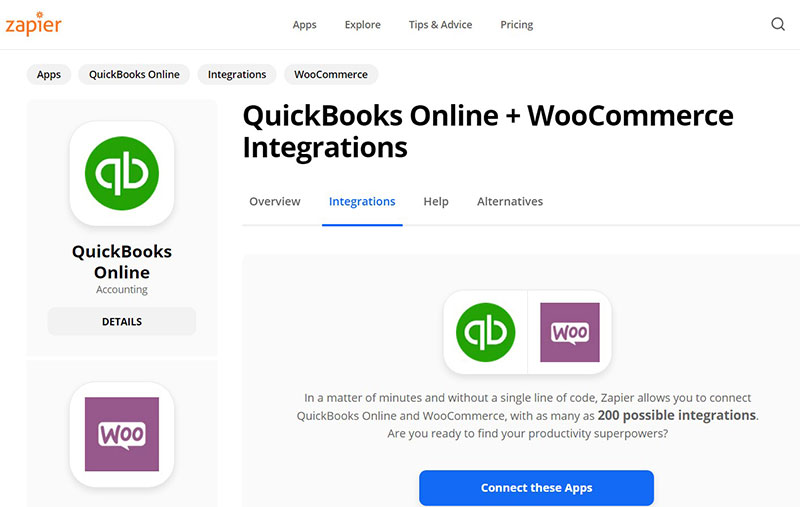 Zapier offers integration between WooCommerce and QBO, easily done once you create a "zap" which will trigger the automatically renewed subscriptions to be integrated as sales receipts.
Zapier is also great for one-time integrations but if you want something more advanced with more integrations, you might need to purchase a Zapier subscription.
OneSaaS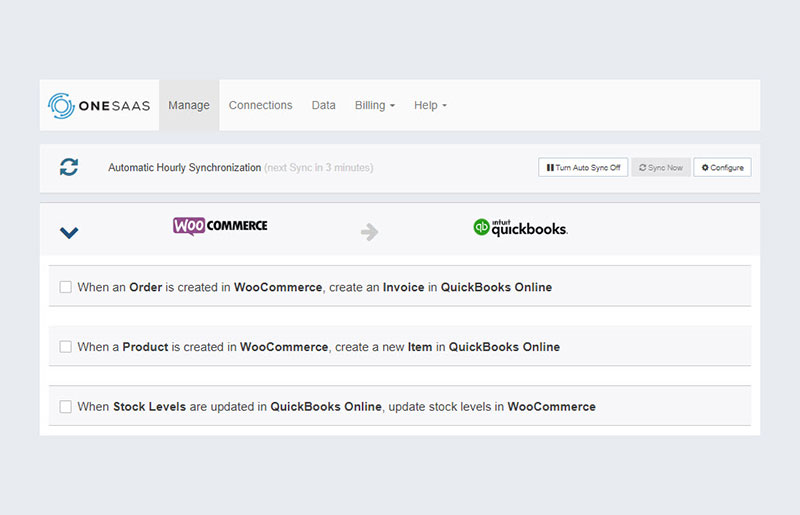 OneSaaS is a great business solution for integrations between platforms and is especially aimed at smaller businesses. It might not have the technical qualities of Zapier, but it's a very useful tool with many great integrations.
Webgility Unify for WooCommerce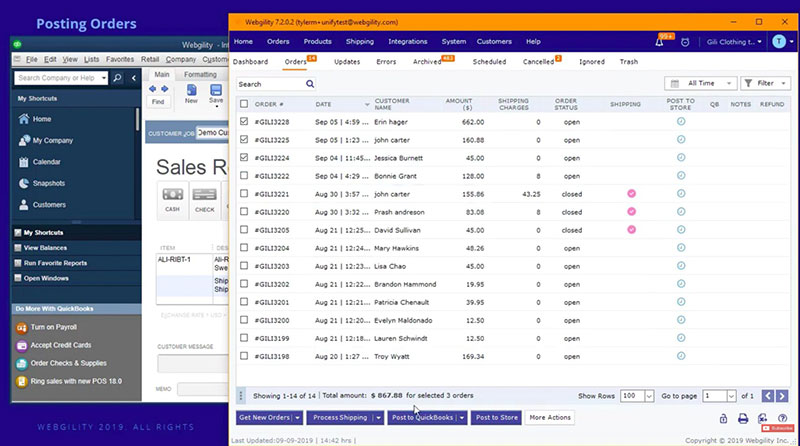 Webgility is aimed primarily for integrations with e-commerce stores across all the biggest online e-commerce platforms, such as Amazon, eBay, Etsy, WooCommerce, and is a great solution for your integrations.
Integrately
Integrately is a 1 click integration platform that helps automate workflows in just a few minutes.
Easily connect WooCommerce with Quickbooks and set up automation for :
Invoice/bills generation,
Sales receipts,
Finding contacts/expenses,
Creating activities, payment orders, and much more.
18x less expensive, it is one of the most affordable alternatives of Zapier. It has a 'zero' learning curve, and the UI is extremely user-friendly.
Primaseller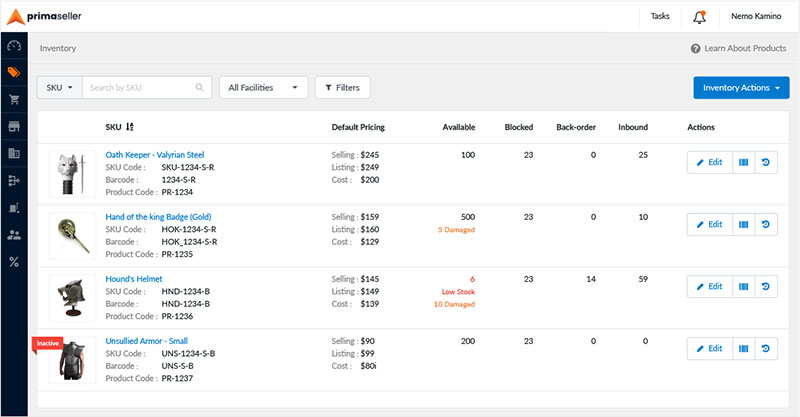 Primaseller is an online service that will support WooCommerce 2.6.x and WooCommerce 3.x. It is easy to set up in your account settings, and it performs integrations very efficiently with its user-friendly interface and intuitive system.
MyWorks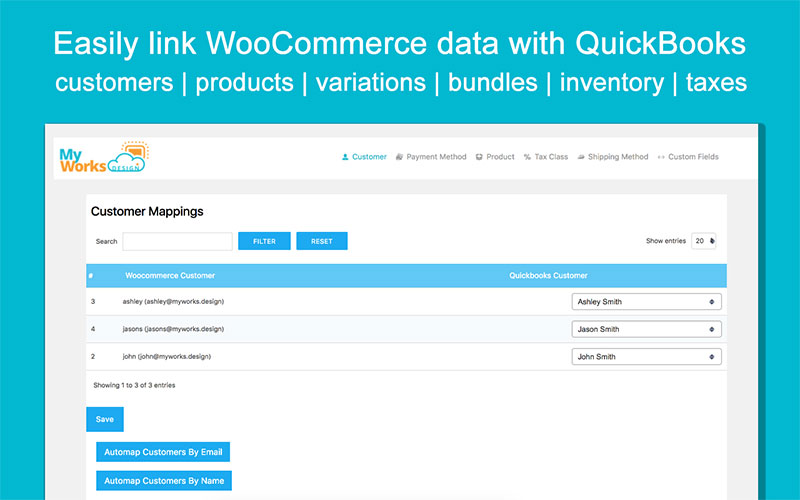 MyWorks is a highly recommended WooCommerce plugin that syncs data from WooCommerce to QuickBooks in real-time, including orders, inventory, customers, and products.
FAQs about the WooCommerce to Quickbooks integration
1. Can WooCommerce automatically sync with QuickBooks?
Absolutely, thanks to a number of plugins and extensions available in the WooCommerce Marketplace, WooCommerce can sync with QuickBooks automatically. These plugins can make it easier to transmit information between your WooCommerce store and QuickBooks, including sales data, customer details, taxes, and more. You can save time and lower the risk of errors associated with manual data entry by using automated synchronization.
2. How do I connect my WooCommerce store to QuickBooks?
You can utilize plugins like QuickBooks Online Sync, ZapERP Inventory, and QuickBooks Integration to link your WooCommerce store to QuickBooks. You must register for an account with these plugins and grant them permission to access both your QuickBooks account and the WooCommerce store. The plugins will connect and automatically transfer data between the two platforms after they have been approved.
3. What information from my WooCommerce store is automatically transferred to QuickBooks?
Normally, sales information from your WooCommerce store is automatically transmitted to QuickBooks, including customer information, order details, payment information, taxes, and shipping costs. Also, some plugins permit the transfer of inventory information, such as stock levels and product descriptions. Depending on the plugin or extension you're running, the precise data delivered may change.
4. Can I customize which data is transferred between WooCommerce and QuickBooks?
The data that is exchanged between WooCommerce and QuickBooks can, in fact, be customized thanks to a variety of plugins and extensions. Custom fields, product categories, and payment methods are just a few examples of fields that you can decide to include or remove. This might assist you in adjusting the data transfer to suit your unique company requirements.
5. Can I manually import WooCommerce sales data into QuickBooks?
Sure, using the CSV file format, you may manually import WooCommerce sales data into QuickBooks. If you don't want to utilize a plugin or extension or if you simply need to transfer data temporarily, this could be helpful. Through WooCommerce, you can export sales data in CSV format, which you can then import into QuickBooks.
6. Is there a limit to how much data can be transferred between WooCommerce and QuickBooks?
The plugin or extension you use will determine how much data may be transmitted between WooCommerce and QuickBooks. The number of customers or transactions that can be synchronized each month may be restricted for some plugins. When choosing a plugin to utilize, it is crucial to evaluate its restrictions.
7. What versions of QuickBooks are compatible with WooCommerce?
The majority of WooCommerce and QuickBooks plugins and extensions are made to function with QuickBooks Online. Some, nevertheless, might also work with QuickBooks Desktop or QuickBooks Enterprise. Before installing a plugin or extension, make sure that it is compatible with the version of QuickBooks that you are using.
8. Does WooCommerce support multi-currency transactions when syncing with QuickBooks?
While syncing with QuickBooks, several plugins and extensions do indeed allow multi-currency transactions. Businesses that operate internationally and need to handle transactions in many currencies may find this beneficial. The plugin or extension will manage the conversion and data transfer to QuickBooks after you set the default currency for your WooCommerce store and the currency for each product.
9. How often does WooCommerce sync with QuickBooks?
Depending on the plugin or extension you're using, WooCommerce and QuickBooks will sync periodically. While some plugins sync data in real time, others might do it once or twice each day. The options for the plugin or extension will let you choose the synchronization frequency.
10. Can I use QuickBooks to manage inventory for my WooCommerce store?
Absolutely, you can manage inventory for your WooCommerce store using the inventory management features in QuickBooks. Directly from QuickBooks, you can make purchase orders, set reorder points, and monitor stock levels. A seamless inventory management solution is provided by some plugins and extensions that enable the transfer of inventory data between WooCommerce and QuickBooks.
Ending thoughts on WooCommerce to Quickbooks
There are many integration plugin options. If you're a small business just starting out, then a simple plugin with one-time fees should be suitable. Then over time as your business grows, consider switching to a paid subscription to manage the higher loads.
Tracking and comparing features of products for your store doesn't have to be complicated. Comparison tables are all you need to help your customers choose between products and compare them, as well as comparing the services you have to offer.
A visual comparison can always make the decision much easier. With wpDataTables, you can create visually stunning tables that will be responsive on all devices. You can set up attributes, columns, and styles for your products, and the users will be able to compare them. Data can be imported from Excel, Google Sheets, CSV, JSON, or XML.
If you enjoyed reading this article on WooCommerce to QuickBooks, you should check out this one about WooCommerce shipping classes.
We also wrote about a few related subjects like WooCommerce shipping plugin, WooCommerce payment gateways, best WooCommerce plugins, WooCommerce vs PrestaShop, the best free WooCommerce plugins and PayPal vs Stripe in WooCommerce.