WooCommerce appointments are the bread and butter for online businesses today. Managing a booking calendar allows you to schedule appointments and service each client on time. However, juggling all the bookings is a craft on its own. It's very easy to overlook something and end up with a booking date that slips through the cracks.
Therefore, WordPress site owners should build a reliable, accurate system for recurring bookings.
For example, you can install a WordPress booking plugin to manage all your bookings. In this way, you can update your Google Calendar and your clients' automatically with all the data regarding your booking availability.
The Most Popular WooCommerce Appointments Plugins
Amelia is a powerful WordPress booking plugin that works flawlessly with WordPress sites of all kinds. It has a minimal, yet powerful appointment booking interface designed to ease your workflow, automate repetitive tasks, and make appointment booking a breeze for your customers.
You can even have email notifications and SMS notifications so that nobody forgets about their appointment bookings.
In order to book an appointment, the complete user interaction takes a few clicks with this WordPress plugin. Moreover, it includes payment gateways like PayPal and Stripe, perfect for those who want to pay in advance to book appointments.
As a business owner, you can monitor KPIs in the WordPress dashboard and analyze other important data to keep a pulse on your business. Amelia is a straightforward, no-nonsense booking calendar plugin and an amazing option for those who want an around-the-clock solution for their WordPress site.
The plugin has an Events Calendar module that is nothing short of amazing.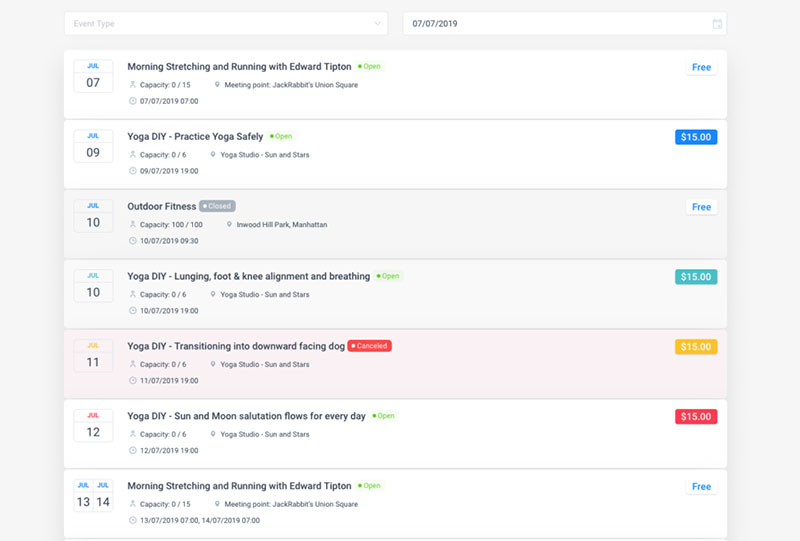 You can now automate your event bookings as well. To be more precise, it means that you will be able to schedule a single day, a multi-day, and also recurring events with Amelia.
Did we mention that you can manage multiple event venues and that you have Google Calendar integration?
All of these and much more are under only one license, no add-ons are needed.
To test things for yourself, I'd suggest checking out the demos and seeing how things look on the front end as well as in the back end.
Medical/Health booking page demo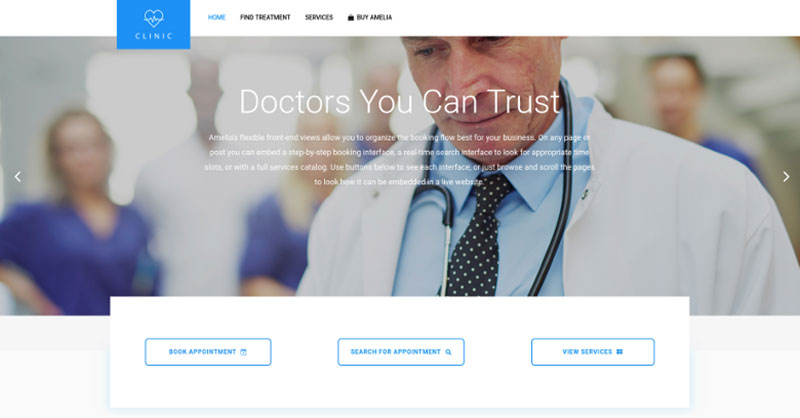 A website of a fake private clinic, where a visitor can read about provided medical procedures and services, and schedule an appointment.
Barbershop booking page demo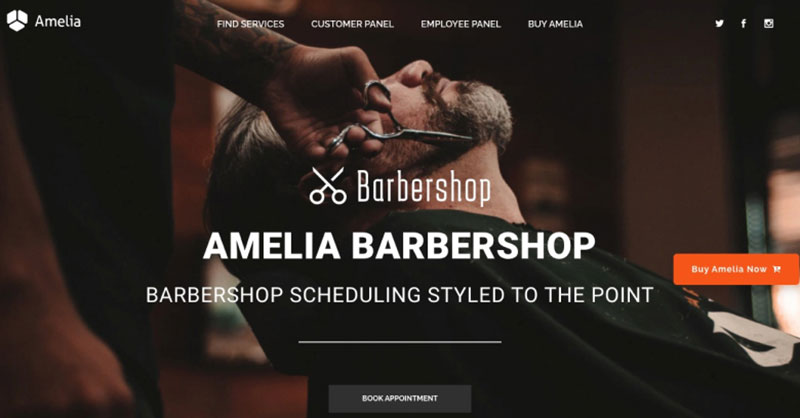 A dummy WordPress website for Barbershops with online booking – a nice and easy implementation with the Bridge theme and the Amelia WordPress booking plugin.
Fitness Gym / Yoga booking page demo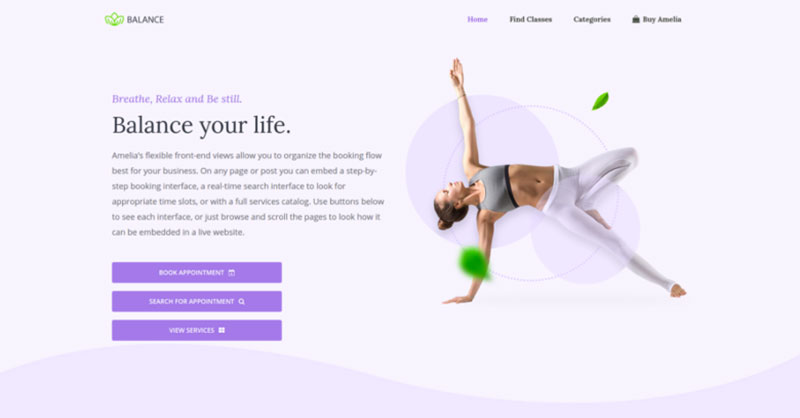 A pseudo Yoga/Gym website where you can browse through possible Yoga classes, schedule individual or group training, and book a package of appointments.
Spa booking page demo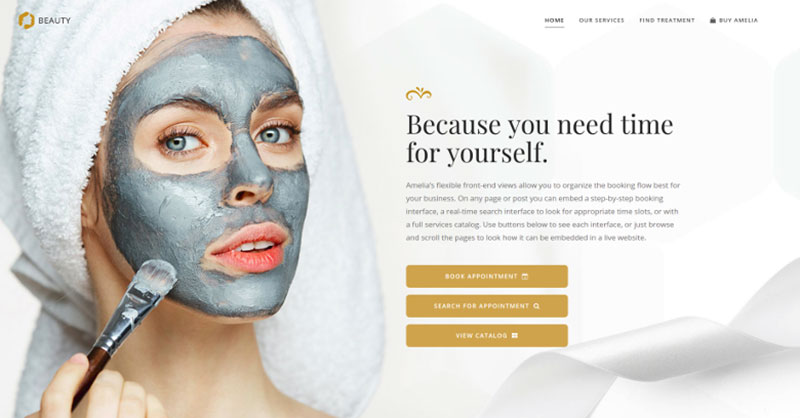 A dummy cosmetology website – look through different cosmetic procedures and treatments, pick an employee and book an appointment.
Consultant booking page demo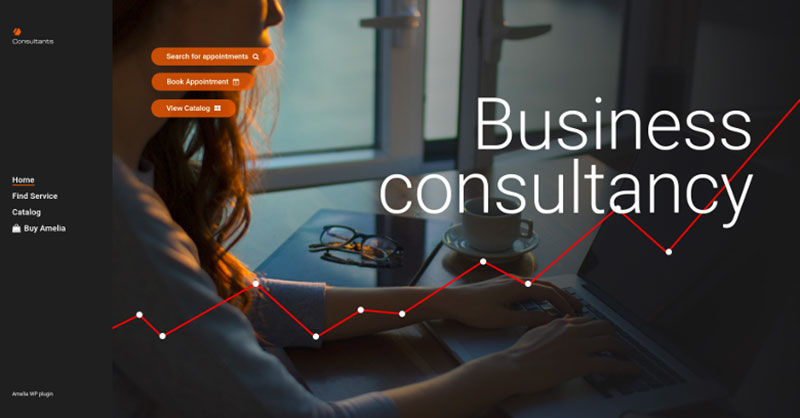 A pseudo Business Consultant / Coach / Lawyer website, where a customer can browse through provided consultancy and lawyer services and book an appointment.
Hands down, this is the one you should pick from this list of the best WordPress booking plugins. Yet, you can check out the other options as well to see for yourselves why Amelia is #1.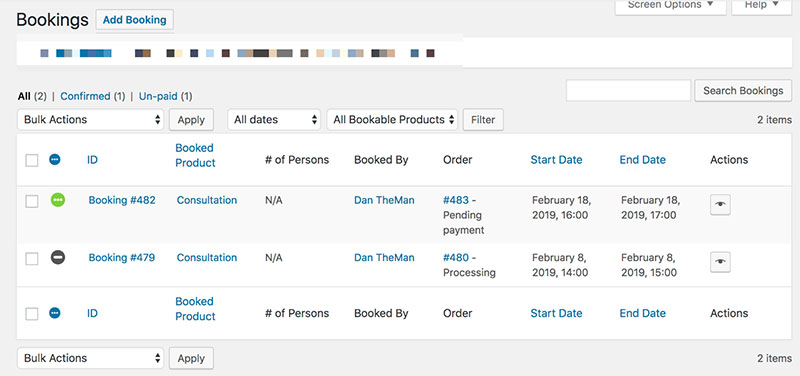 All sites utilizing WooCommerce as their core can find much use in this WordPress booking plugin. Hence, install the handy add-on to expand your availability tab. Next, visitors can interact with the booking plugin and start occupying booking slots.
This official plugin is also quite flexible. Its smart design simplifies bookings for brands of all shapes and sizes. Also, it's a great choice even for in-person coaching services. Fitness instructors can benefit from it too.
There's a free version of WooCommerce Bookings, though in a very limited scope. The paid versions start at $249 per year, while you'll have to reserve $449 for up to 25 sites. Hence, this tool is not cheap, though there's a fairly long 30-day money-back guarantee period.
Highlights
Convenient for all types of companies
Provides data about the user's time zone to solidify booking dates
Utilizes an auto-alerts system about an upcoming appointment
Sync all Google calendar events with ease
Very popular bookings plugin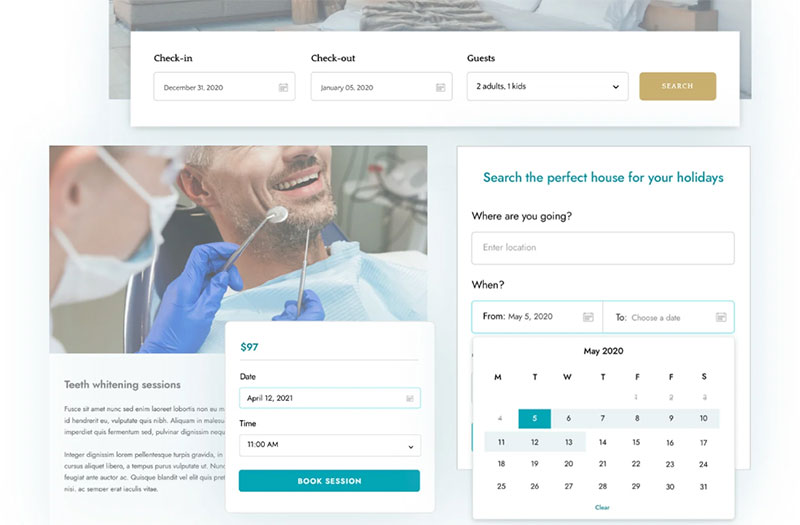 This is another expert-level add-on for your WooCommerce shop. With it, you can slim down the entire booking process and implement it fast. As such, it is a favorite among clients and providers alike.
YITH supports various types of services and you can tailor it to your availability rules. Hence, set up a booking page that presents all relevant info at a glance. Plus, it comes with an advanced search bar you can use to hone in on a particular service. Next, oversee any booking duration by inspecting the bookings calendar.
The YITH plugin one-site costs $179 per year. However, the deal also includes constant support and regular updates. As a result, this WooCommerce booking plugin offers excellent value for money.
Highlights
Set daily and hourly booking rates for all available facilities
Denote a limited number of days that a single user can book via your site
Create an auto-approvals system that activates once the user confirms their appointment
Manage booking cancellations by selecting a time period for their eligibility
A handy appointment booking calendar for anything from a nail salon to a psychotherapist's office

PluginHive streamlines the entire WooCommerce appointments process with its slew of smart features. Hence, you can quickly fill up your calendar with any bookable product. Next, you can inspect the booking cost against several factors. For example, PluginHive accounts for the type of additional services included and the number of guests.
Then, you can manage each slot in detail. You can select how many bookings you allow in a slot and gauge them by a time unit. Thus, input their duration in minutes, hours, or days. Also, make the users know how soon they can cancel bookings before the date.
PluginHives' initial plan allows support for up to 25 sites. However, you can also opt for the $99 package that's valid for only one domain.
Highlights
Use the WordPress plugin to set up single and group bookings
The app sends notifications by email to the client
Google calendar sync options
Integrate partial payments for a better customer experience
Insert enough buffer time before the next appointment
Apply custom booking statuses and fields for all calendars
An advanced booking search widget that can save you time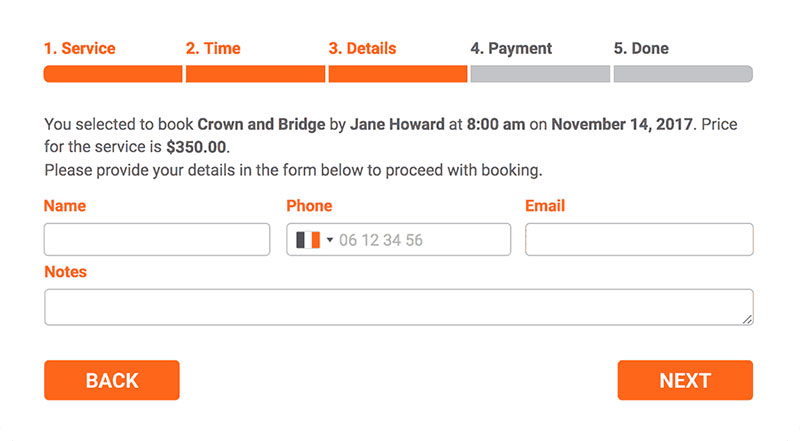 All WordPress sites can use this plugin to optimize their design for both desktops and peripherals. Bookly Pro also seamlessly integrates with a WooCommerce business regardless of the niche. Hence, it is compatible with businesses as diverse as spa centers and law consultancy offices.
Bookly Pro comes as a free tool and as a paid full-version plugin. You can change between them at any time. So, if you want to access the full version, it'll cost you $89.
Highlights
Build up a practical booking calendar
Tailor the form users need to fill out to schedule a booking
A useful search function
Handle all customers and relegate resources on time
Includes a handy data analysis tool
Friendly customer support team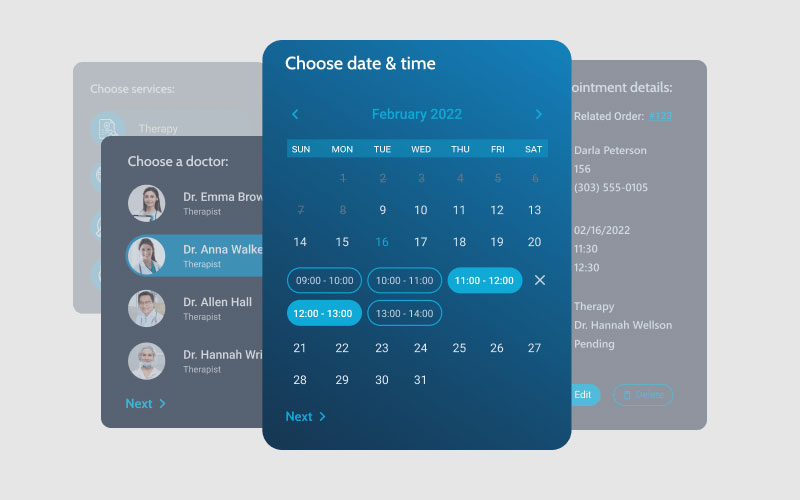 This is a robust WooCommrece appointment plugin that you can easily master. When in use, you can create stylish new forms and install a reservations system. To find out how to do so, consult with the comprehensive wizard upon booting the app. Next, underline the number of days off and buffer periods.
JetAppointment is an integrative platform as well. For example, you can use it alongside both Elementor and Gutenberg. Hence, you can switch between native WordPress builders at will. However, for the best results, it's best to install the JetEngine plugin as well. That is a dynamic tool that helps you make taxonomies and custom fields.
Generally, JetAppointments costs $19 per year. However, after subscribing to the Crocoblock service, you can get both packages for only $130.
Highlights
Underline the available services and specify all terms
Utilize the payment gateway to streamline the client retention process
Allow auto-reminders to alert users before the date
Easily schedule Zoom calls by sending links
Secure time slots when needed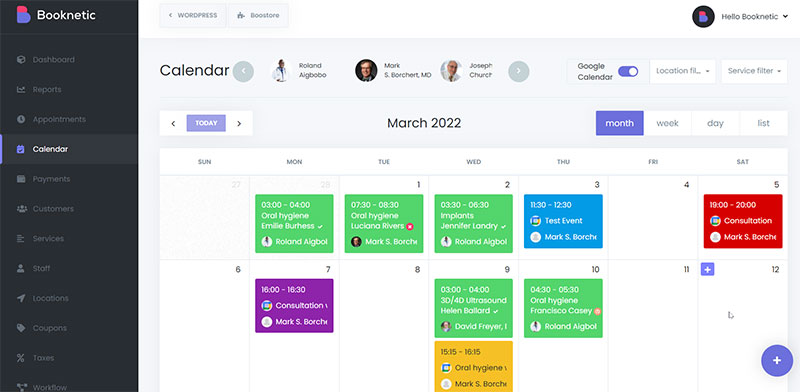 This popular plugin provides modern methods to simplify your booking and appointment system. It is a versatile tool that various kinds of businesses can utilize. Nowadays, you'll find plenty of hotels, offices, and even dance instructors that stick to Booknetic.
Furthermore, it is a fully customizable app allowing for a personal touch. Hence, you can create new booking forms and evolve the overall customer experience. To that end, you can also use the special system for sending coupons and other promo items.
WooComeerce business can use Bootnetic for SMS bookings and sync it with Google calendar. Plus, the plugin supports a myriad of payment options. For example, you can use any of your PayPal, Mollie, and Stripe accounts. Either way, you can access all of Booknetic's advanced tools like the Divi Page Builder.
Thus WooCommerce appointments plugin comes in two forms. For the regular version, you'll need to set aside $79. However, the expert SaaS version calls for $489.
Highlights
Up-to-date layout and back-end foundations
Intuitive drag-and-drop principle
Set up custom fields, working hours, holidays, etc.
Input info about employees and locations
Quickly send new offers and discounts
Option for recurring bookings
Simple Google Calendar integrations
Use SMS as notifications
Build up an internal WordPress network for the whole team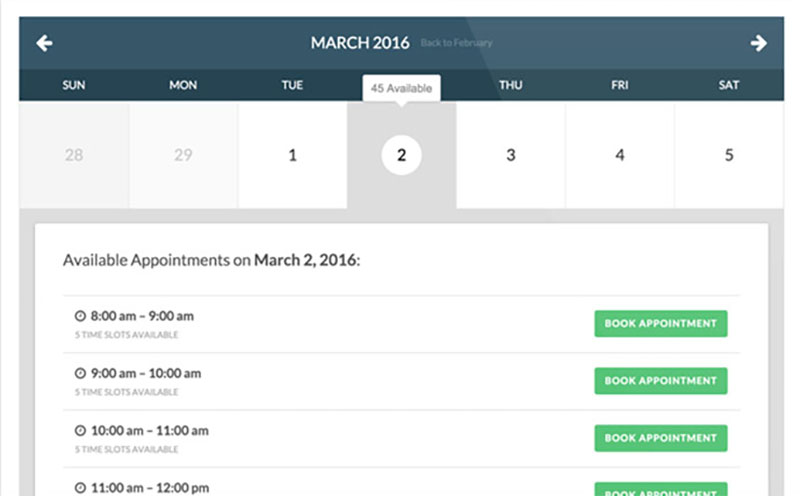 This is one of the most lauded WordPress booking plugins. With it, you can freely manage booking dates with great accuracy and convenience. Plus, you can customize various email sequences to keep all clients in the loop. The same goes for your team's transparency and smoothing out the daily workflows. At the same time, pair it with Google Calendar for proper project monitoring.
Booked's premium and only version costs $49 for a single domain. However, it comes with unlimited free updates.
Highlights
Ensure full transparency by sharing all client calendars with the rest of the team
Update all templates to create various custom fields
Apply color coding for better visuals
Oversee all buffer periods for a feasible action plan
Allow customers to interact with their booking plans
Use email notifications for timely alerts
Practical admin section
Input shortcuts to quickly access relevant calendars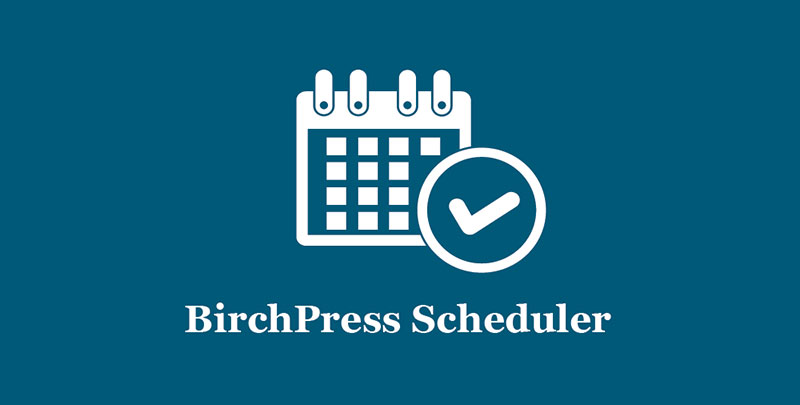 This comprehensive app helps you funnel all current appointments into a single directory. Then, you can give access to your customers to update their plans. Also, you can pair the app with popular solutions like Google Calendar and Outlook.
There are four versions of BirchPress Scheduler available. For a single site, you can use the $75 plan. Next, the Pro Business Edition costs $150. The Pro Business Plus Edition comes at $200 for a single site, while the Developer Edition asks for $300 for 10 sites max.
Highlights
Easy synching with Google Calendar
Quickly import and exports appointments
Native WooCommerce pairing
PayPal-compatible
Automate emails to notify all employees and clients
Apply various colors to highlight certain sections
Make group bookings with ease
Several options to customize the booking forms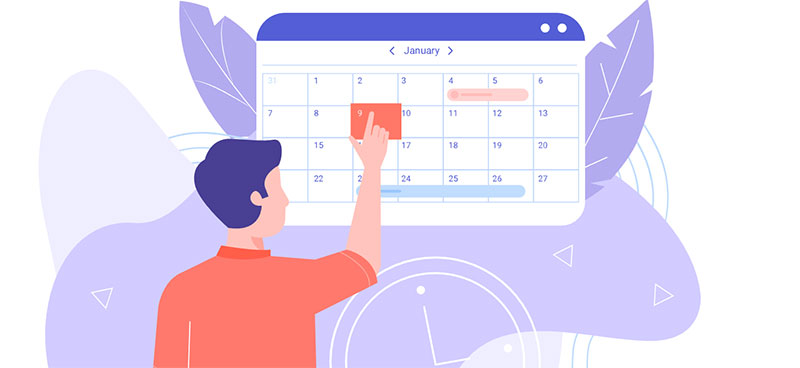 This is a very compact plugin that'll take you no time to install and get used to. Plus, it's one of the most common WooCommerce appointment plugins worldwide. It allows for coherent rental plans for various items, vehicles, and clothing. Plus, there's the neat "request a quote" feature.
After installing the app, you can select among the many ready-made templates. Hence, you can equip your site with many specific features to one-up your peers. For example, apply the Uber-Like Layout for a unique look. Lastly, the plugin costs only $29.
Highlights
Customize all time slots and pricing plans
Utilize an in-depth inventory management system
Beginner-friendly interface
Compatible with dozens of world languages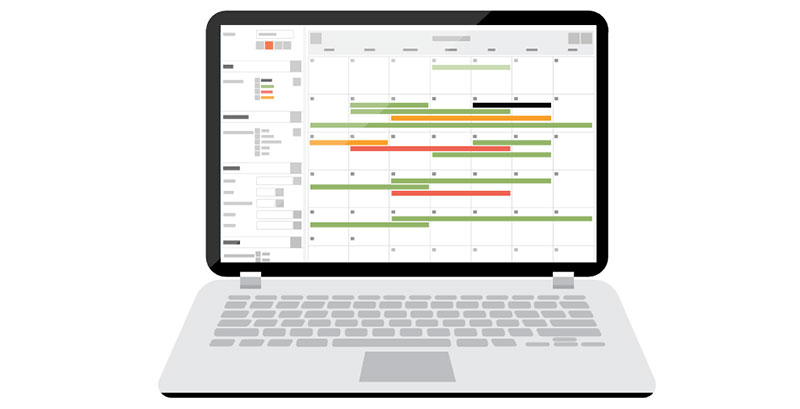 This WordPress plugin offers simple solutions for making reservations on your site. Also, it is a flexible tool, allowing you to swap time zones and currencies. Then, use the built-in CSS editor to alter the app's appearance at will.
PinPoint costs $70 for a single site, while there are discounts for bulk orders.
Highlights
Excellent fit for all companies regardless of the number of employees
Convenient admin options
The calendar uses only live data to update all inputs
Categorize the bookings by hours and days
Integrates with Google Calendar, Outlook, and iCal
Supports eight payment methods, including Stripe and Wepay
Practical multilingual support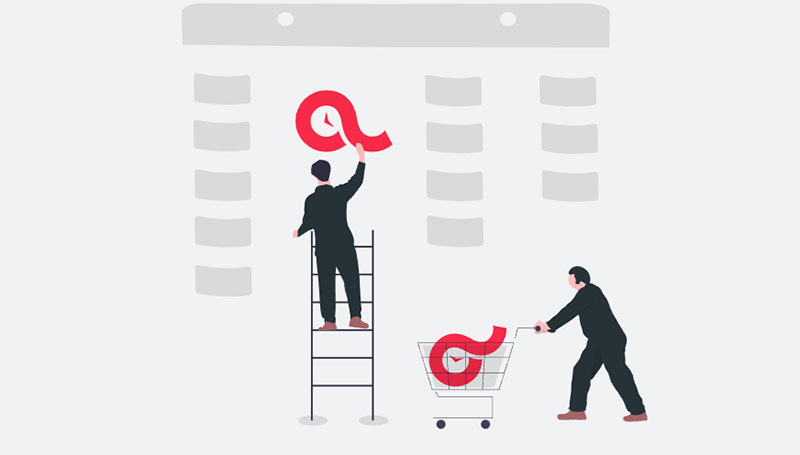 This forward-thinking plugin provides a wide array of time-saving tricks. For example, you can apply flexible scheduling for all products and services. Then, set up several WooCommerce payment options, use smart notifications, etc.
Booking WP is easy to master and sports a clean interface. As a result, you can freely use it regardless of your training. However, tech-savvy users will get the most out of this app.
The pricing plan for Booking WP follows three categories. There's an option for single-site support for $89. Lastly, there are the $129 and $229 versions for 5 and 15 sites, respectively.
Highlights
Make customer fields and grant users access for full transparency
Denote all upcoming holidays and time-offs clearly
Supports multiple currencies for online payments
Converts all dates to the timezone in question fast
Provides keyboard shortcuts for a smooth workflow
FAQs about

WooCommerce appointments
1. What is WooCommerce Appointments and what does it do?
You may provide appointment booking and scheduling services on your WooCommerce store by using the plugin WooCommerce Appointments. Businesses can easily manage their appointments, personnel, and availability while offering clients a simple booking process.
2. How can I add appointment booking functionality to my WooCommerce store?
You only need to install and activate the WooCommerce Appointments plugin to provide appointment booking features to your WooCommerce store. Once activated, you may define availability schedules for staff members, create services, and begin accepting appointments.
3. Can I use WooCommerce Appointments to schedule appointments for services that require payment?
Yes, WooCommerce Appointments allows businesses to charge clients for their appointments by supporting payment integration. For services like spa treatments or consultations that need a down payment or full payment up ahead, this function is helpful.
4. Is it possible to set up custom availability for each staff member?
Absolutely, organizations may create unique availability calendars for each employee using WooCommerce Appointments. By doing this, companies may streamline the appointment-making process and guarantee that staff employees are available when needed.
5. Can I send reminders to customers about their upcoming appointments?
Yes, WooCommerce Appointments has a reminder tool that enables companies to automate the email or SMS reminders they send to clients. Customer satisfaction is increased and no-shows are decreased because to this functionality.
6. How do I integrate WooCommerce Appointments with my existing calendar system?
It is possible to combine WooCommerce Appointments with well-known calendar applications like Google Calendar or iCal. By integrating appointments with your current calendar, the plugin's integration feature makes sure you never double-book or forget an appointment.
7. Can customers reschedule or cancel their appointments online?
If the company permits it, WooCommerce Appointments does indeed let clients schedule or cancel appointments online. By automating the process, this feature makes things easier for customers and can lighten the load on businesses.
8. How does WooCommerce Appointments handle time zone differences between the customer and the business?
The customer's time zone is automatically determined by WooCommerce Appointments, which then shows the available appointment slots in their local time. By doing this, it is made sure that the customer and the company are on the same page about the appointment time.
9. Are there any add-ons or extensions available to enhance the functionality of WooCommerce Appointments?
Absolutely, WooCommerce Appointments can have its functionality improved by a variety of add-ons and extensions. Custom fields, group appointments, and staff permissions are a few popular extensions.
10. Can I generate reports and track appointment data with WooCommerce Appointments?
Absolutely, WooCommerce Appointments offers thorough analytics and reports that companies may use to track appointment information. This includes data on staff usage, cancelled appointments, and revenue generated. This information can be utilized to streamline the reservation process and raise overall company productivity.
Conclusion on these WooCommerce Appointments Plugins
Automating the online booking process can be a real game changer for most startups. Plus, it's a great way to eliminate the room for human errors. Therefore, business owners can rest easy knowing they can focus on their other daily challenges. Nowadays, there are many popular WooCommerce plugins that streamline this process greatly.
When opting for a product, ensure to inspect which pain point it addresses the best. For example, not all plugins allow for an auto-alerts system via SMS. So, consult your team to finalize the number of areas you need help with first of all. Next, look for those features in specific and build a list of viable candidates. Finally, you can also group the plugins by their respective asking prices.
If you liked this article about WooCommerce appointments, you should check this one about the best WooCommerce product table plugins.
We also wrote about similar topics like WooCommerce redirect after checkout, WooCommerce product variations, how to change the WooCommerce number of products per page, WooCommerce hide category from the shop page, and the best WooCommerce extra product options.