Marketing your business through online channels is a key to success. If your business model requires customers to make bookings and appointments, this function can be efficiently managed with a WooCommerce plugin.
WooCommerce allows you to add in a booking system to your WordPress website, making it easier to contact potential clients and launching your business' online presence. These plugins are extremely helpful in expanding your business as quickly as possible.
The following article created by our team at wpDataTables will explore various WooCommerce booking plugins useful for online stores and simplifying the booking process for your products or services.
Amelia WordPress Booking Plugin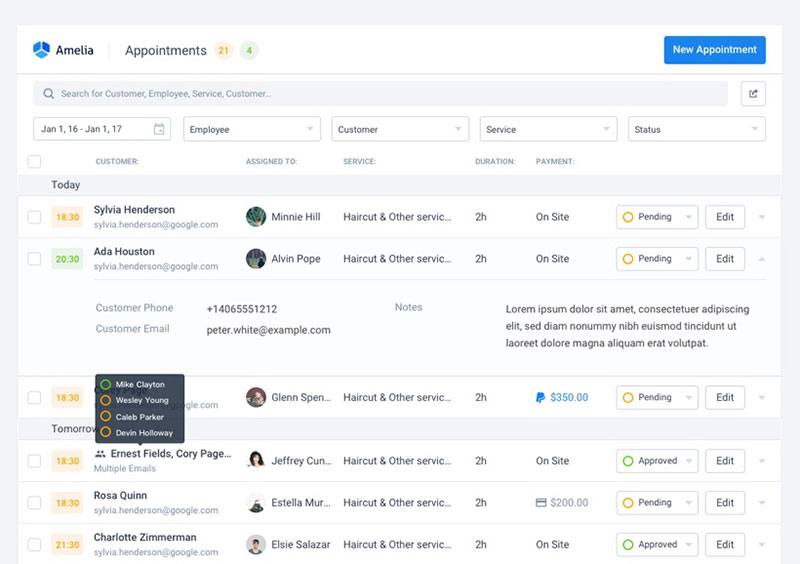 Amelia is a powerful solution to the problem of adding a booking plugin for multiple locations or branches. This WordPress plugin allows customers to make an appointment at their chosen location.
Amelia allows you to manage multiple commercial locations from a single account. You can create calendars for each branch so customers select the site they prefer and book a convenient time. This is useful for businesses that depend on appointments, such as clinics, gyms, and spas, or for professionals who travel to their clients.
Any business that provides a bookable product or service can easily install and use WP Amelia. Business owners benefit from its user-friendly interface, as it becomes fully automated once installed and is easy to manage.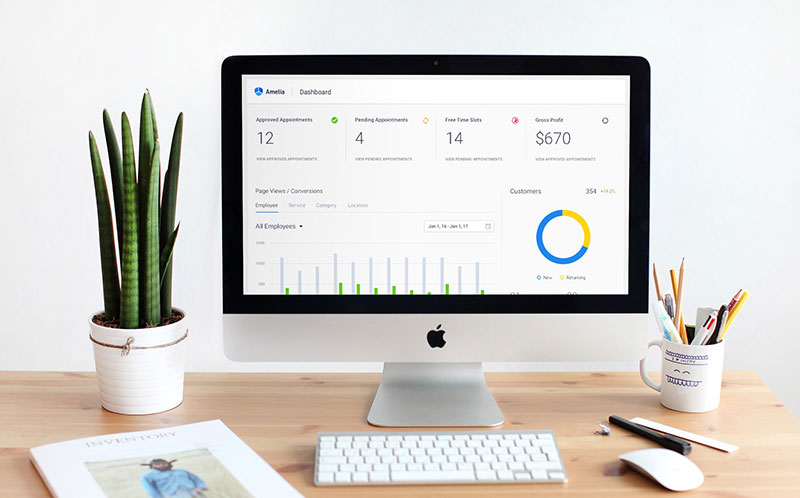 Some of the benefits of this appointment plugin are:
Promotional coupon codes and discounts for bookings
Google Calendar integrated to sync and keep track of appointments
Ability to include multiple branches for bookings at various physical locations
Includes holidays on the booking calendar to indicate when the business is closed
Detailed reports of conversion rates of appointments
Custom schedules to allow flexibility for special occasions
WooCommerce Bookings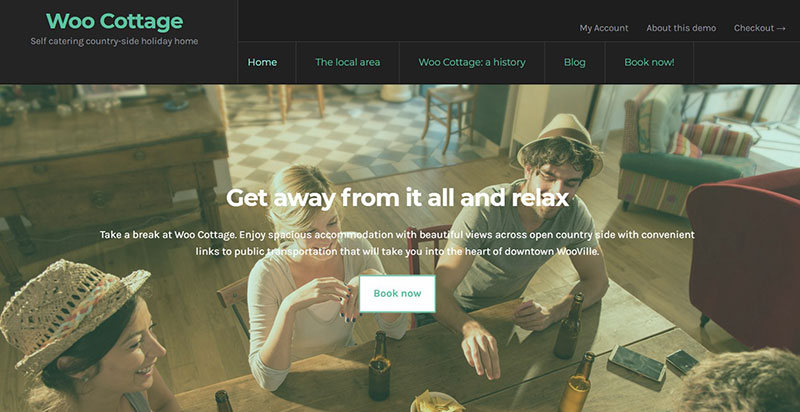 The official WooCommerce bookings plugin offers a simple way to enable scheduling and reservations on your e-commerce website.
The extension allows your website to feature a product and offer a time, booking duration, or a date-based reservation. The plugin offers specific time slots or customers can choose a time convenient for them. You can also filter the booked slots and update appointment availability from the admin dashboard.
You can control the permitted number of attendees per appointment. Furthermore, the system allows you to immediately grant appointment requests or, if cross-referencing other booking systems is needed, you can seek admin approval through the backend login.
WooCommerce Appointments by BookingWP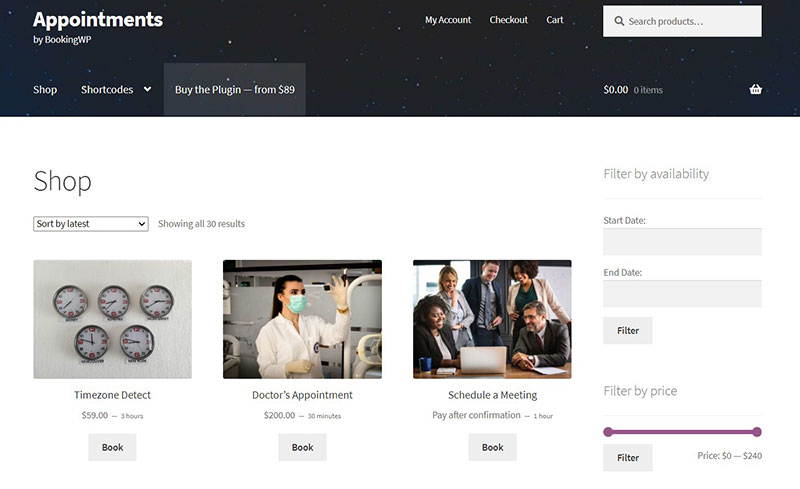 The WooCommerce Appointments extension was developed by BookingWP. Although it is not available for purchase from WooCommerce, it is fully integrated with that platform.
WooCommerce Appointments offers a range of exciting features. Its cohesion with WooCommerce and Google Calendar enables customers to view your available time slots that are synced with Google Calendar and make their booking accordingly. Customers may perform some free actions through the site, and also make payments through the built-in portal.
This plugin is easy and quick to set up and manage. The interface is basic enough for beginners, but may also be configured for an advanced programmer to use.
This plugin also comes with extra fields, such as checkboxes, inputs, uploads, options, and color swatches. These help to provide extra cost and slot-time options and allow you to adjust the appointment time and cost.
Events Manager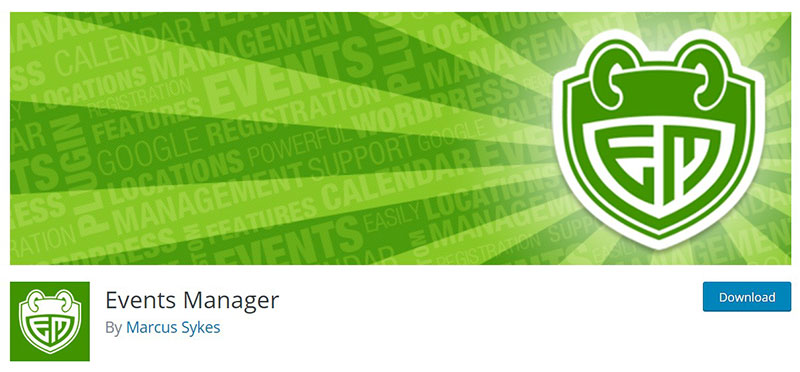 This comprehensive plugin helps you manage events on your WordPress website. This extension lets you create an interface for easy event registrations, including both recurring and long-term events. Events Manager offers a complete solution for approving or rejecting bookings and managing all your booking functions.
The appointment plugin enables specific locations to be allocated to each event, and bookings can be sorted based on their specific location. You can also customize other categories or attributes for each event.
The system also includes Google Maps integration and many other features.
YITH Booking and Appointment for WooCommerce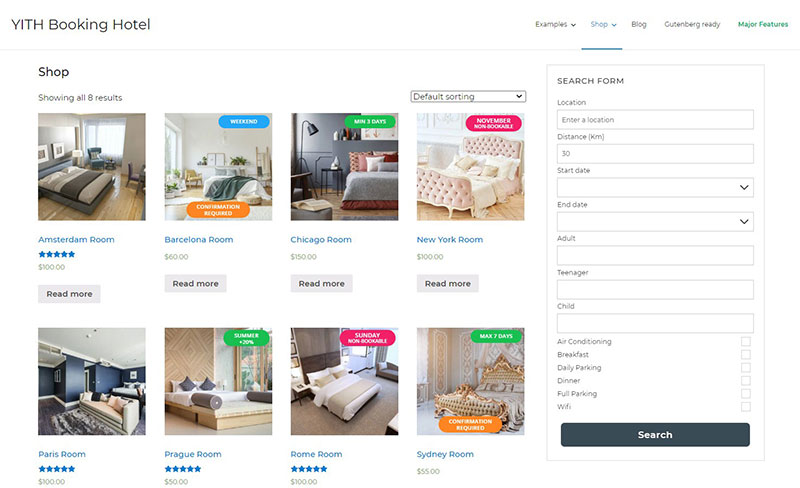 YITH Booking and Appointment for WooCommerce is a simplified booking plugin useful for both customers and vendors. It is a straightforward and effective booking platform that allows unlimited bookings without affecting the site.
This plugin is not restrictive and can support many types of e-commerce sites. The administrator can create a range of bookable products or services and adjust the prices accordingly.
Its key features include:
Easily managing bookings for apartments, rooms, and other living facilities by setting their daily or hourly booking rates.
Setting the minimum and the maximum number of days available for booking by individual visitors.
Approving reservations as soon as they are confirmed or requested by the customer.
Setting the maximum timeframe in which the cancellation of bookings is allowed.
Managing bookings for services such as nail salon and beauty parlor appointments or physiotherapy sessions and syncing these dates with Google Calendar.
Hotel Booking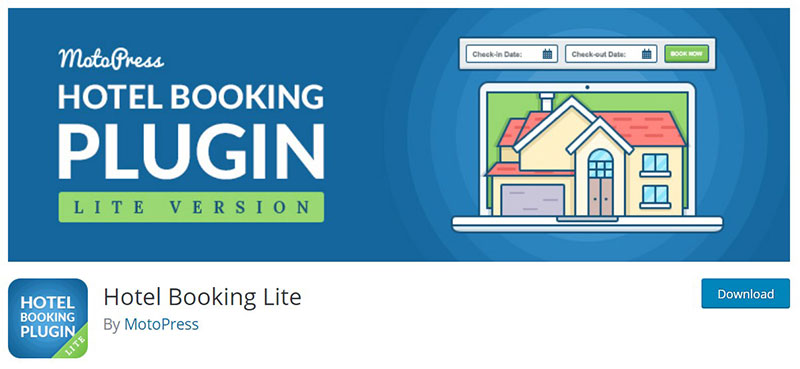 The MotoPress Hotel Booking plugin provides an effortless and user-friendly reservation experience for visitors to hotel websites and their owners. This booking management system provides an efficient online solution for running accommodation businesses, such as hotels, hostels, B&Bs, apartments, guesthouses, and resorts. There is no limit to the number of types of facilities that can be listed.
The extension is useful for building unlimited search availability forms, as well as creating custom seasons and offering various rates. The Hotel Booking plugin lets you display and upsell extra services, set taxes and fees, create discount coupons, and use shortcodes and widgets. You can customize each lodging on offer, to attract guests by creating perfect descriptions, displaying a photo gallery, and uploading videos.
Booked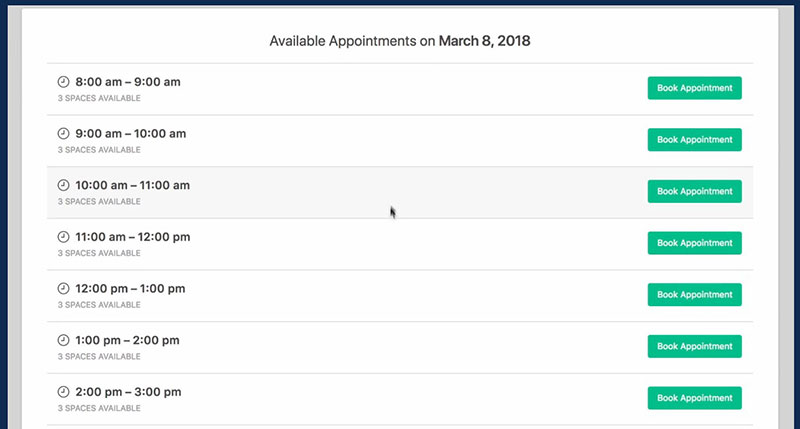 The Booked plugin is sold through CodeCanyon and is great value for money. It allows paid guest and registered booking types. The unique interface displays the available appointment slots in both list and calendar views, and can be translated into other languages.
Appointment calendars can be created specifically for each individual, so the plugin is especially useful for businesses with multiple representatives. For example, a fitness academy can create a booking platform for each of their trainers, enabling customers to easily book appointments with their favorites. Each representative can customize their profile with special colors and fields to display a personal theme.
Booked has an elegant and modern frontend interface that integrates easily with other add-ons like Payments with WooCommerce, Front-end Agents, and Calendar Feeds.
WooCommerce Easy Booking
This plugin allows booking rules to be incorporated on the booking page. There is a field that accommodates booking start and end dates, and another allows set prices for nightly or weekly time frames.
There are four major features of this WooCommerce appointment plugin:
Availability Check can be used to manage stocks and availability.
Duration Discounts facilitates the application of discounts to bookings.
Disable Dates allows the exclusion of specific dates from the calendar.
Pricing integrates booking prices for multiple dates and ranges of days.
Booking and Appointment Plugin for WooCommerce by Tyche Softwares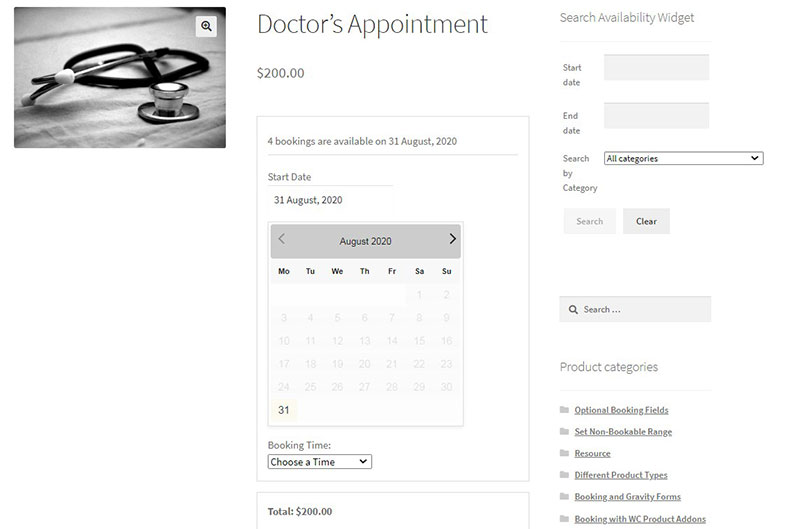 This premium plugin includes a powerful search widget that enables customers to search for specific available dates and times. It will help transform your website into a modern and systematic booking system. It simplifies the setup process for booking options, and business schedules can be quickly loaded onto the site.
The system's real-time check feature continually updates the appointment calendar so if a time slot is reserved, it shows as unavailable. This eliminates double bookings and avoids customer frustration.
The add-on allows customers to choose specific hours or days for the appointment. Admins can also create different slot timings for different days, and mark holidays as unavailable for bookings and appointments.
Booking Calendar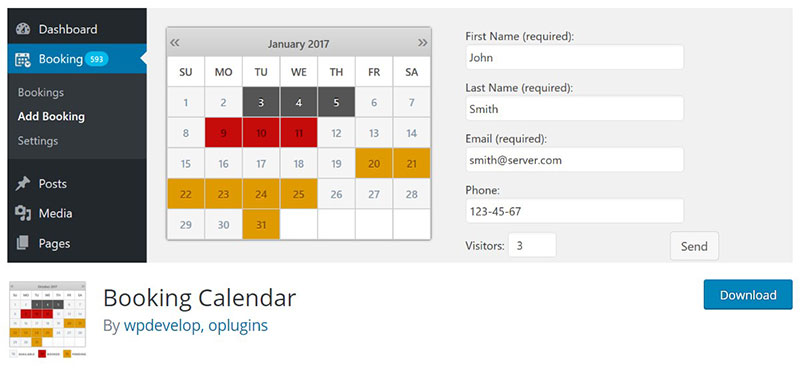 Booking Calendar is an appointment plugin that offers cohesive booking systems that display available appointment times. It also provides the option of adding a booking form to the site to collect pertinent client information before the appointment.
Administrators can choose to approve or decline bookings from the backend and the admin panel displays an overview of all the bookings on the site.
WooCommerce Bookings and Appointments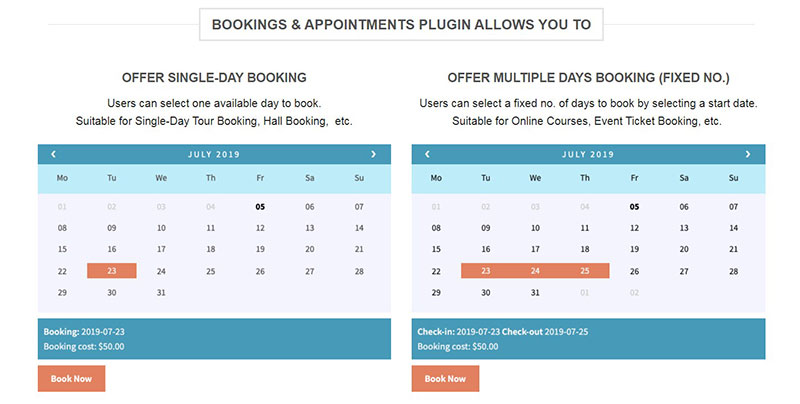 This premium plugin allows users to convert time, products or services into bookable resources. It is compatible with many types of businesses and is available directly from WooCommerce itself.
The plugin enables you to create time slots in minutes, hours, days and months. The display options can toggle between specific fixed periods or the calendar month. You can control multiple bookings of one time slot by specifying the maximum number of bookings permitted per session.
You can also control the booking opening and closing times with the fixed period option, which is useful if the business runs on fixed time slots.
AweBooking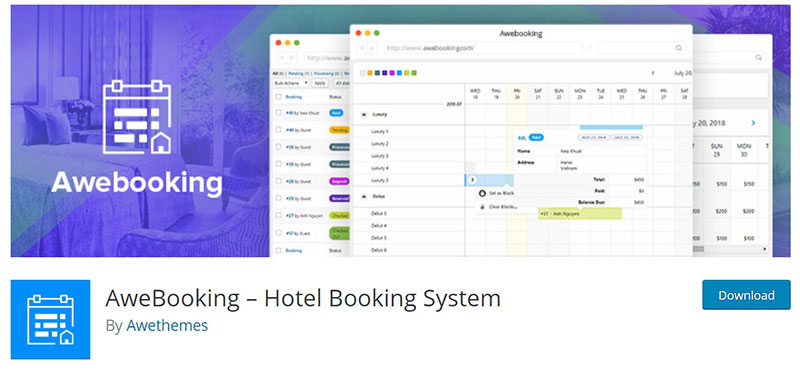 This plugin is commonly used for accommodation booking websites. The setup and installation process is simple and straightforward.
The plugin displays different room types and integrates multiple business locations' calendars to manage all reservations in one place. You can add optional extras into the booking platform to upsell the reservation.
The plugin offers other tools such as Room Availability Management, Check Available Widget, email notifications, and the liberty to add shortcodes.
This extension is an excellent solution for businesses in the accommodation and hospitality industry.
Pinpoint Booking System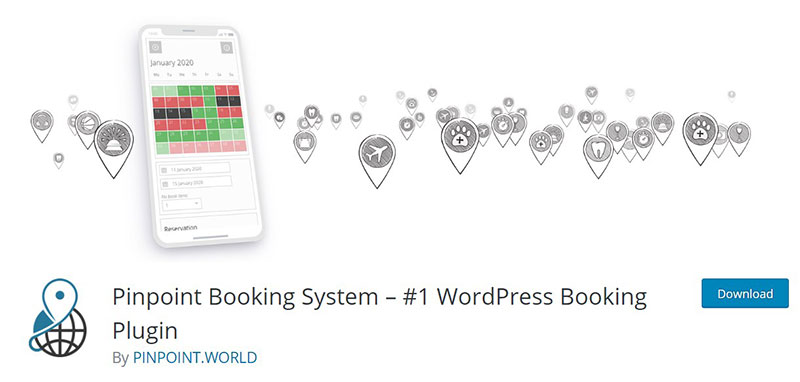 The Pinpoint Booking System provides an uncomplicated scheduling solution for both the customer and administrator. The plugin includes a seamless feature called the one-page booking process that allows you to hold customers until the booking process has been completed.
Both small and big businesses can use this plugin. You can customize bookings in various timeframes, making available the number of minutes, hours or days you choose. The visitors' details are also displayed in the calendar according to their time zone.
Uniquely, this plugin is AJAX powered so users will not have to refresh the page during the booking process.
Pinpoint integrates perfectly with WooCommerce for easy installation, set up and management. It can also be integrated with other platforms like Google Calendar and AirBnB.
WooCommerce Appointments by Bizzthemes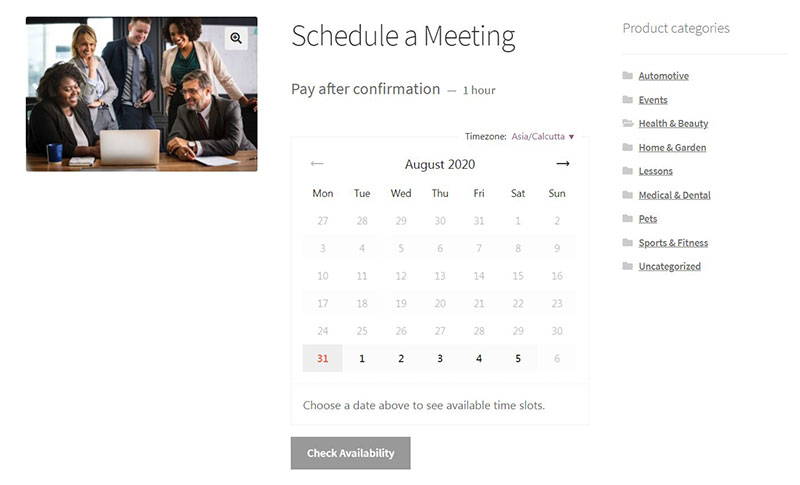 This plugin was designed specifically for handling appointments in WooCommerce, and it integrates smoothly with WordPress as well as Google calendar.
The code was written neatly so it's easy to customize the plugin. It is compatible with most popular add-ons and includes a time zone feature that automatically converts to the customer's geographical location.
The plugin allows the scheduling of appointments for multiple days in a single booking. The extra add-on fields enable you to adjust the duration of appointments by minutes or hours. You can also restrict appointments to the next 7, 10 or any other number of days.
Ending thoughts on the best WooCommerce appointments plugins
Using a WooCommerce plugin to manage bookings and appointments gives you an advantage, and there is a multitude of options available to suit any of your business needs.
For many businesses, accepting bookings online is crucial for success. An online booking platform will save resources through time and manpower and improve your customer service.
If you enjoyed reading this article on WooCommerce appointments plugins, you should check out this one about how to set WooCommerce related products.
We also wrote about a few related subjects like WooCommerce redirect after checkout, how to set up WooCommerce test mode, WooCommerce grouped product, WooCommerce variable product, WooCommerce product variations, how to export export WooCommerce orders, how to change the WooCommerce number of products per page, WooCommerce hide category from shop page and the best WooCommerce extra product options.