With one billion users, Microsoft Excel is the most widely used spreadsheet software available. It has proven to be the best option, whether it is for creating small tables, processing large datasets, or enabling live data functions. The Excel file formats .xls and .xlsx have become universal standards for saving and exchanging data.
It may come as a surprise then that it is not a straightforward process to embed an Excel spreadsheet into a website.
Yet, there is one WordPress Excel spreadsheet plugin that can make it easier for you to add spreadsheets to a WordPress post or page.
Importing Excel Data into WordPress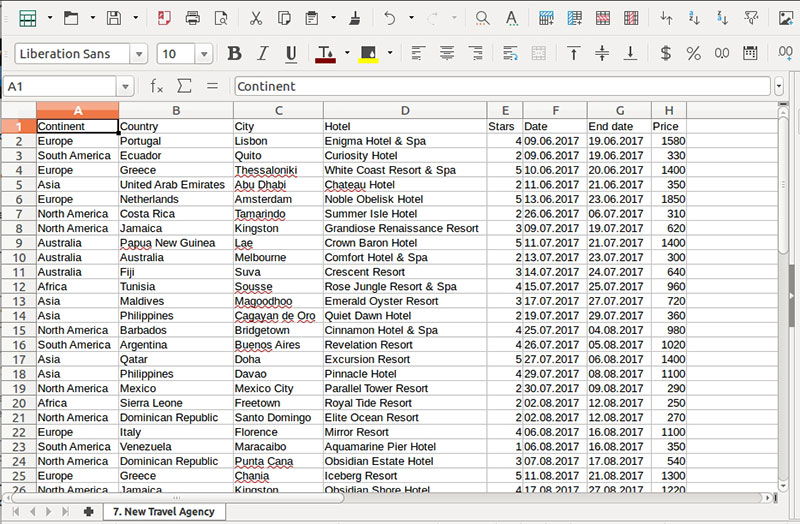 Using an Excel plugin or add-on is one of the easiest ways to work with. Some allow the user to import an Excel calculator, a live chart, or a smart form into a WordPress website or blog.
It allows the user to share data, compare prices, or perform other related actions. Visitors will receive the information in a straightforward and understandable format.
Many of these plugins make life easier. But wpDataTables makes the whole process smoother and less complicated.
wpDataTables is not only designed to import native .xls and .xlsx files but is also compatible with other spreadsheet sources. It allows the use of CSV, XML, Google Sheets, and JSON documents.
After creating a table in Excel and importing it into WordPress, the following changes can be made:
Column's name;
Column's order;
Deleting a column.
Please note, however, that formulas and merged cells are not supported when used in Excel-based tables.
Generally, XLS and XLSX files are processed a little slower than CSV files and Google Sheets. Especially for larger files, using a different file format is best. MySQL tables are highly recommended for these cases.
It requires attention because some of the formatting elements in the parent file will not be reflected after importing. Fonts, color, size, fill color, and others will not be copied, but most of these can be personalized later in wpDataTables.
The tables that are linked to the original Excel are not saved along in the database. These linked spreadsheets are therefore not editable in wpDataTables.
Creating Tables
The input file should have an XLS or XLSX format. Microsoft Excel can be used to prepare it. Alternative Office suites are OpenOffice and LibreOffice among others. The most important thing is to use the correct extension.
1. Create a wpDataTable and upload the Excel file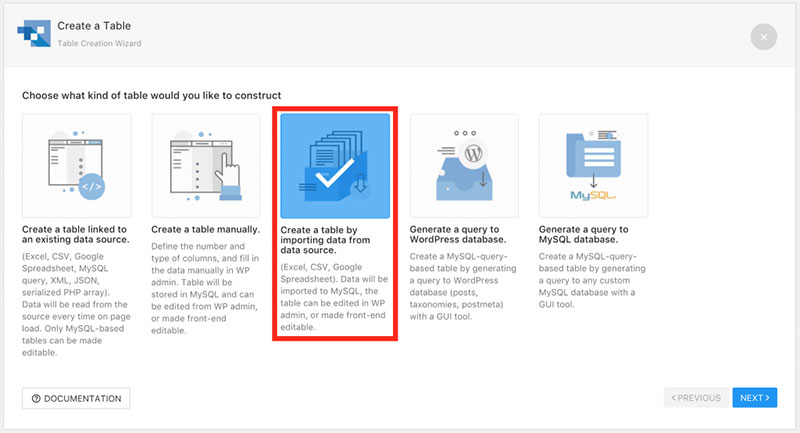 Now, create a wpDataTable in the WordPress admin environment
Go to WordPress admin;
Open wpDataTable;
Click Create a table;
Select Create a table linked to an existing data source;
Name the wpDataTable in the Table title field. This title will help in identifying the table;
Select the Excel file as Table Type;

Click Upload file;
Open the WordPress media library;
Upload the .xls or .xlsx files previously prepared;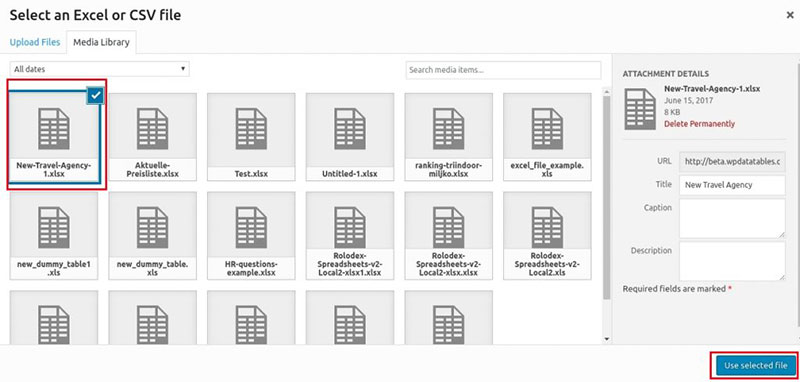 Then click Use in wpDataTable;
Upon clicking Save wpDataTable will recognize the column structure and save the file.
2. Additional table and column settings

The definition of the additional table and column settings is optional. These settings include table responsiveness, layout, and table tools. Additional settings for individual columns are data type, filter, display name, among others.
This link gives more information regarding the details of the different table features. For documentation describing the different column features, please follow this link.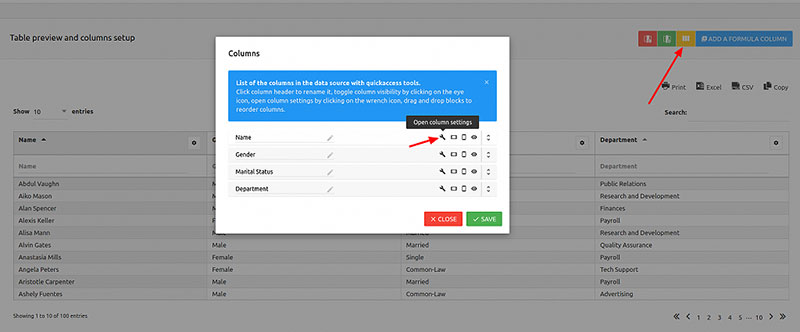 In the example provided, the filter type for the "Star" column was set as the Number range. This was done by using the Column setting option, which can is accessible in two different ways:
Clicking the Column settings button;
Clicking the yellow button at the top of the table.
The resulting settings window allows the user to rename, reorder, and toggle visibility of the columns.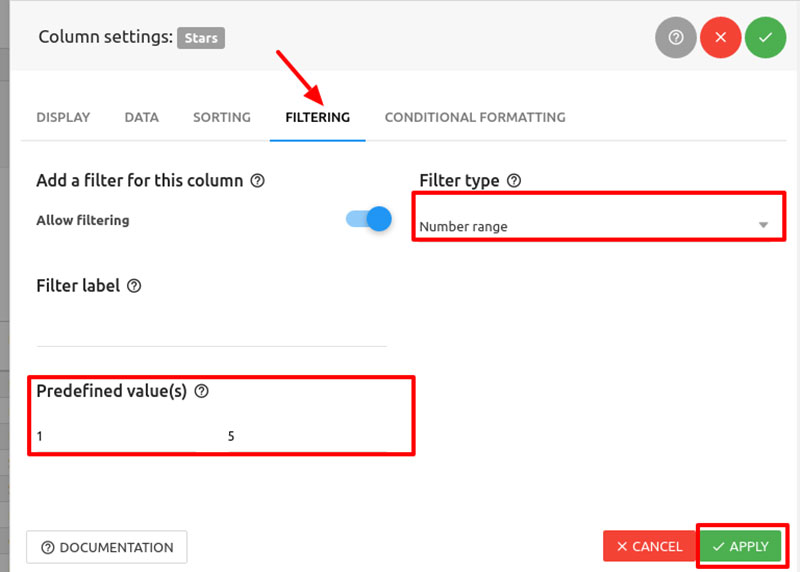 Within the window, click the Filtering tab and select Number range for the "Star" column. Default values can be set for the predefined filter values upon page load.
In this example, it can be set between one and five. After setting the values in this window click Apply to save the changes.
3. Insert the wpDataTable in a page

After creating the wpDataTable and customization, the spreadsheet can be inserted into a post or website:
Create a new page, or open an existing one;
Place the cursor in the post or page;
Click the Insert a wpDataTable;
Select the desired table. Alternatively, the wpDataTable shortcode can be copied and pasted;
Save the post or page.
When opening the page front-end, the Excel table generated with wpDataTable will appear in WordPress.
Other Data Import WordPress Plugins
Import Spreadsheets from Microsoft Excel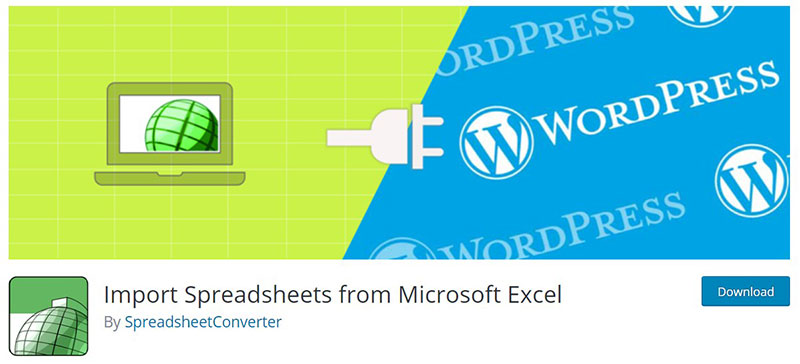 Import Spreadsheets from Microsoft Excel is a WordPress plugin. With it, a user can import live calculating tables from Microsoft Excel to a WordPress page.
This WordPress Excel spreadsheet plugin is not just an Excel viewer. It works like a compiler that can create an embedded interactive Excel spreadsheet in your HTML website. It synchronizes all formulas, so the table is constantly updated.
Excel tables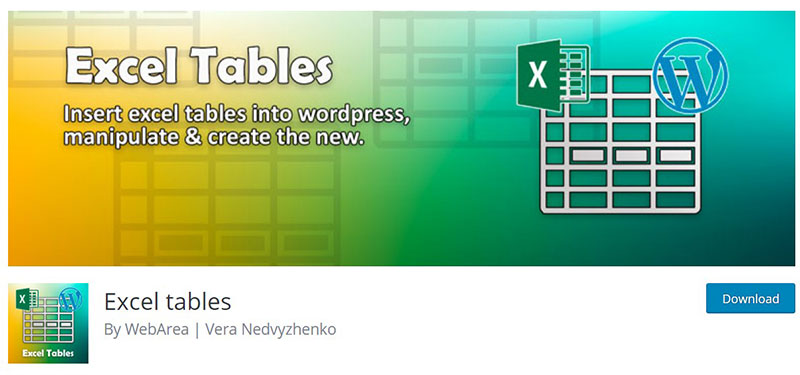 Importing Excel spreadsheets into a WordPress page becomes easy with the Excel tables plugin.
It is a matter of uploading the Excel file into the media library. The plugin converts the spreadsheet into a data table. The data table that is generated can then be inserted into a post or page by copying and pasting the shortcode.
WP All Import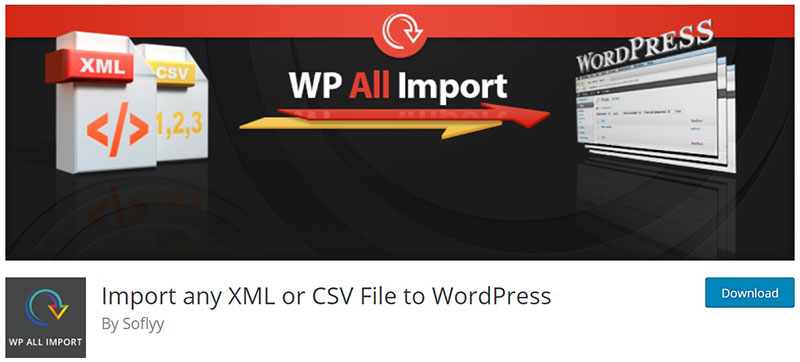 WP All Import is a WordPress import/export plugin that can handle different data types. It has a clear advantage because of its intuitive data arrangement process. Organizing is easy because of the drag-and-drop feature.
WP All Import can do more than importing tables. It can transfer information from a legacy CMS to WordPress. It can also be used to build a store with an associated data feed that can provide live stock quotes, sports scores, or property info for a real estate portal.
TablePress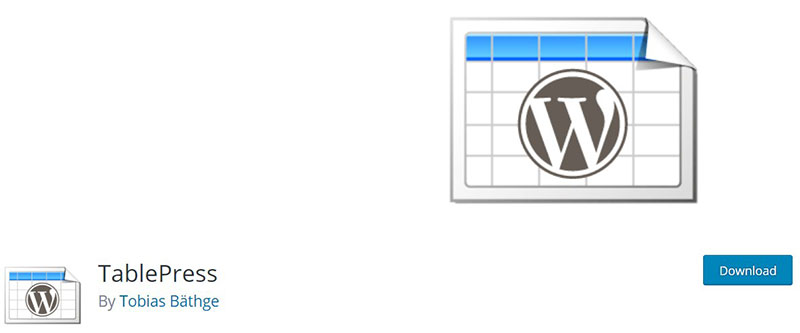 The last WordPress Excel spreadsheet plugin in this list is TablePress. It can embed Excel tables into posts, pages, text widgets. A copy and paste of the shortcode will do the trick.
TablePress has a familiar interface in the style of a spreadsheet. Working with it is uncomplicated and coding skill is not necessary.
This Excel plugin can import and export to and from CSV, HTML, JSON, and XLS/XLSX.
Ending thoughts on using a WordPress Excel spreadsheet plugin
This article described how easy it is to import an Excel spreadsheet into a WordPress page.
With the wpDataTables plugin, you no longer need to recreate a data chart or table from scratch to publish it online. You can import it easily and publish it on your WordPress website.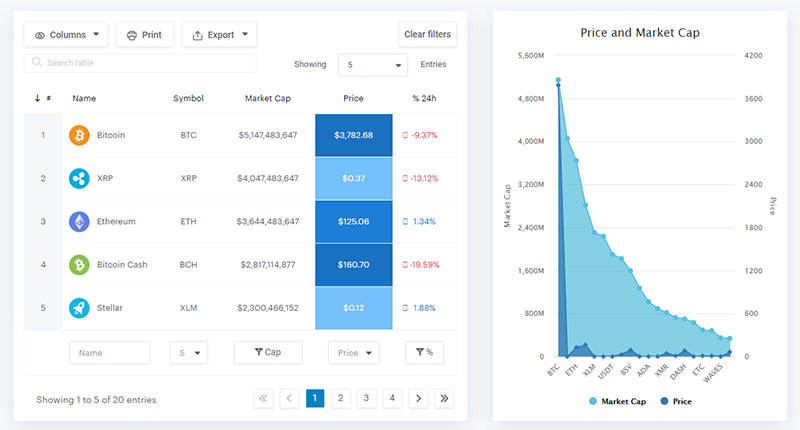 If you enjoyed reading this article on how to import data with a WordPress Excel spreadsheet plugin, you should check out this one about charts vs tables.
We also wrote about a few related subjects like table background color, Bootstrap tables, How to center a table with CSS, HTML tables, responsive tables with CSS, CSS tables and jQuery table plugins.