If you have a great team behind your operation, you probably want to show them to the world on your WordPress site. This is very easily accomplished with a good WordPress team plugin.
This article created by our team at wpDataTables will showcase 14 different quality plugins, each of them with unique capabilities to suit your needs..
Some have the capacity to show off your team members on a separate page, and you can place that page wherever you want on your site; e.g. under the "About Us" page, or on a separate "Our team" page.
WordPress team plugin options
Team Builder Member Showcase

Team Builder Member Showcase can help you create "Meet the Team" page with ease. It comes with 15+ multiple design templates to create and display your team on the website. It gives idea of who exactly you'll be working with. It's an easy and effective way to create your team member showcase. It can be used to showcase or display your employees, team members, founders of company, staff, partners etc.
TeamPress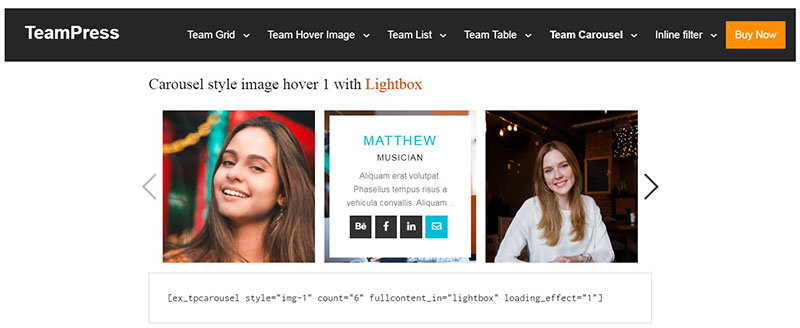 TeamPress is a premium team member plugin developed by CodeCanyon that allows you to display your team members in a very trendy fashion.
It has a responsive page design that features AJAX filters so that every time your visitors want to interact with one of the members of the team, they won't have to leave the site. The plugin also features an interface where you can create new members like you create new posts.
You can also add content, images, create and choose categories, and additional information about each team member, such as the virtual phone number, and their position within the team.
AWSM Team Pro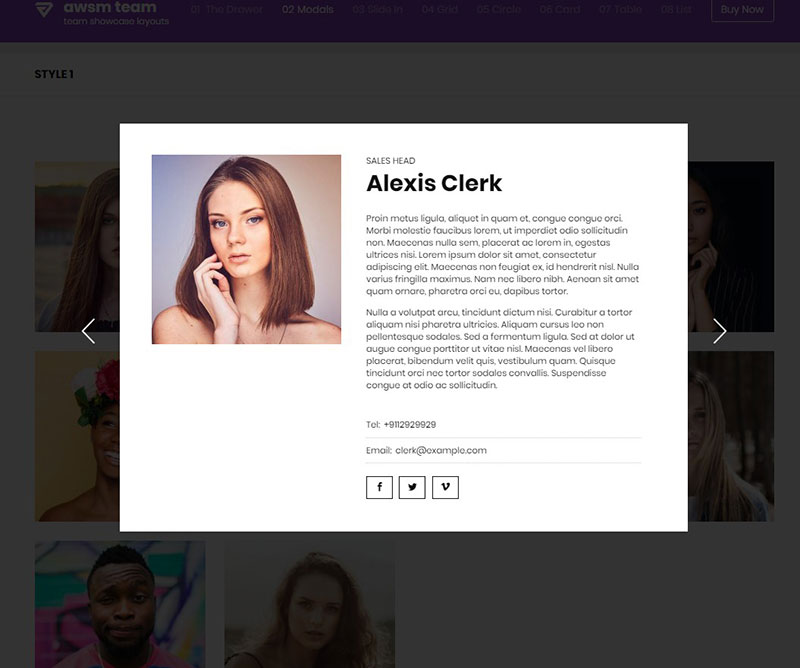 AWSM Team Pro is a highly versatile plugin developed by CodeCanyon and is worth its price. It has 8 presets to choose from when you are setting up your site, each of which is unique and stylish.
This WordPress team plugin is very easy to use and enables you to effortlessly create new members and customize their pages. Also, there are also several visual customization options to make your team page very attractive.
Creative Team Showcase for WordPress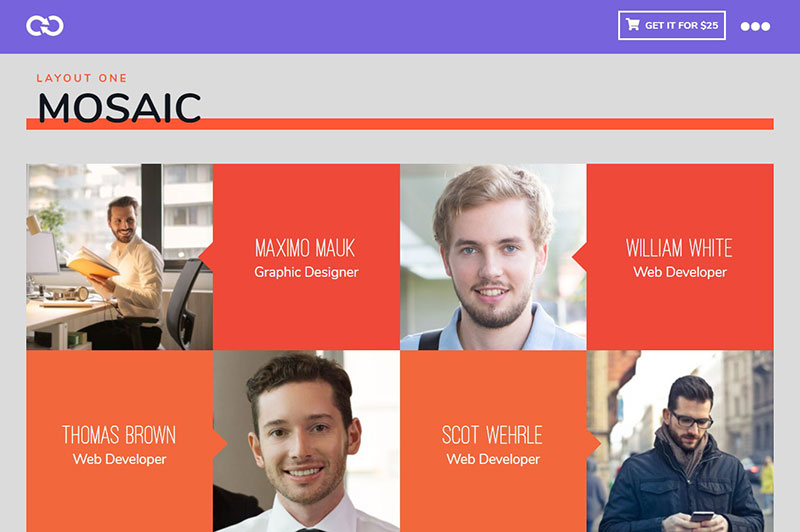 As the name suggests, this WordPress team plugin allows plenty of creativity for showcasing your team members. It has 6 different layouts, featuring various designs and all are fully customizable. These include mosaics, square and circle grids, wave animations, inline and hexagon previews, and many more.
It features a control panel to easily regulate your plugin and pages. You can choose from various colors for rows, headers, names, titles, and you can simply drag and drop team members to the page to add them.
TLP Team Pro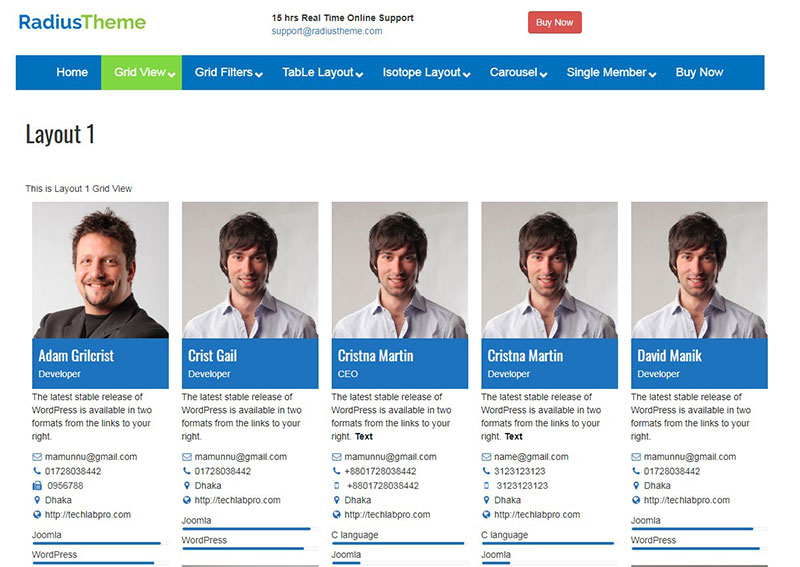 This is one of the largest WordPress team plugin packages available. There are 33 various layout options; including a carousel slider, grid, table, isotopes, and more. It features a very responsive and colorful design that you can also customize to a certain extent.
You can resize the images at will, and also customize certain fields. It translates well and links to social media such as Twitter, Facebook, Linkedin, and others. The layout options are outstanding.
WordPress Team Manager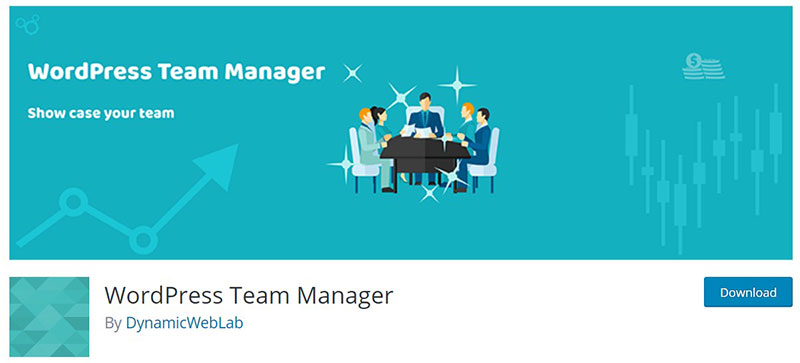 This is a very intuitive and uncomplicated plugin that will show off your team members, which allows you to build your team from scratch by simply adding new members. You can decide to showcase your members on your posts, or on a separate page.
It has the ability to customize image sizes and shapes and edit the given layouts to your own preferences. Access to social media is very easy with social media links that you can add to profiles.
Total Team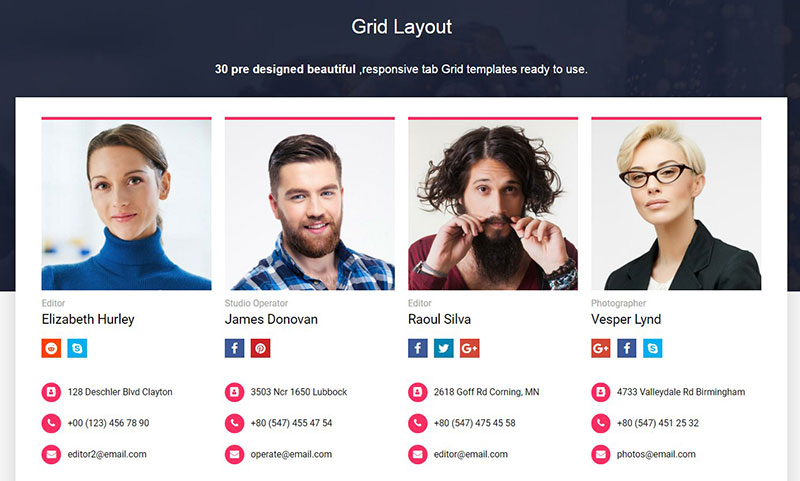 This is a premium WordPress team plugin that offers plenty of flexibility in creating your own design. Firstly, it has 7 layouts that you can customize and more than 50 templates, allowing you to create unique team member pages.
You can add various information about the members, including quotes, skills, dynamic titles, external links, bio, images, videos, and even Google Maps, for the individual member pages if you don't want to embed Google Maps in WordPress manually. Overall, this plugin allows you perhaps the most customization possibilities and includes a shortcode builder to provide you with shortcodes.
Heroes Assemble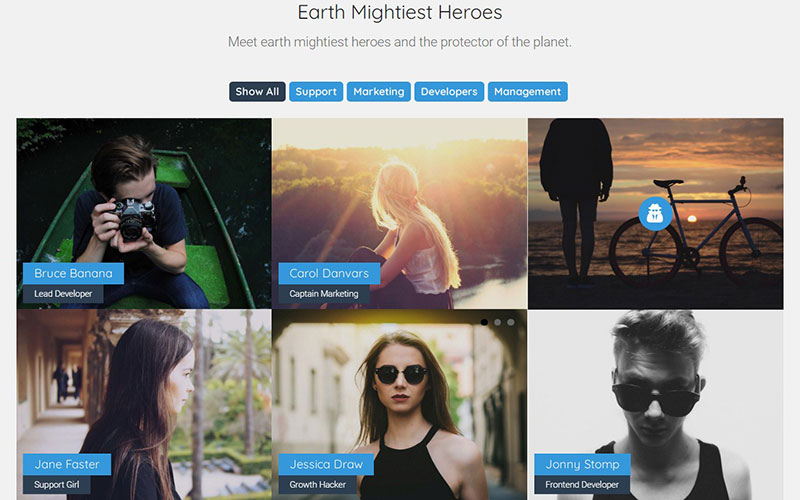 The name says it all: you can give your team members the hero treatment with this plugin, and display them in their best light. It has a rarely seen feature in the skill bars where you can add custom bars and values. Heroes Assemble is undoubtedly one of the most fun plugins to use.
Also, there are several visual customization options you can make, along with eight different grids and 12 different color skins to choose from.
Team Members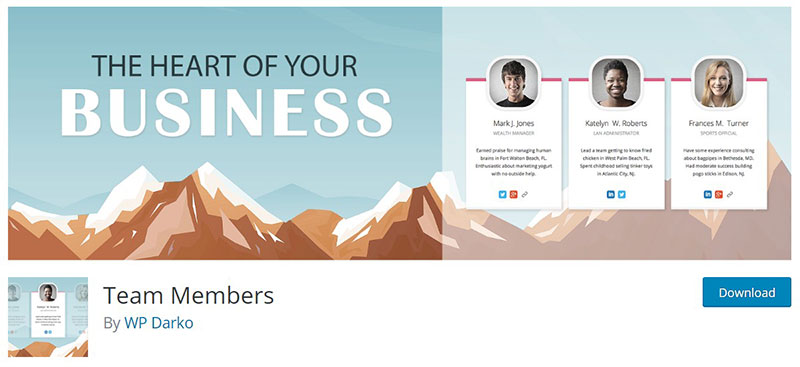 This is a free WordPress team plugin, and well worth your time. It enables you to add the "Teams" bar on your webpage, where you can show off your team members with their photos, position, bio, and social profiles.
The team's section can be displayed wherever you want on your site. It is a simple but highly effective plugin.
Team Builder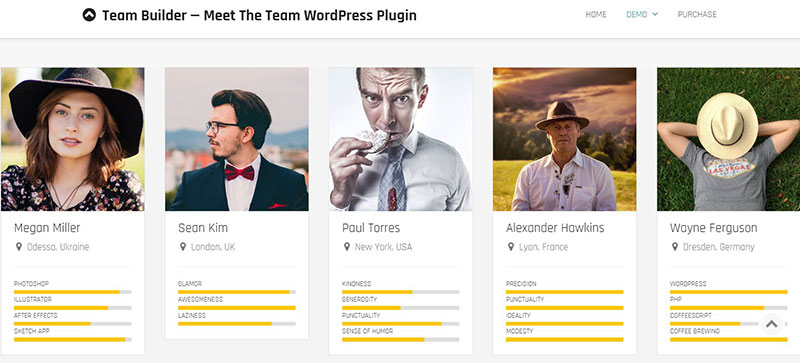 This WordPress team plugin will give you full control over your team page. It comes with a very powerful admin page where you can control everything. There are also 5 theme options provided by the plugin itself and the ability to customize further.
There are pre-made layouts ready for you to use, but they still offer many options for those who prefer to customize everything. You will be able to customize by colors, fonts, spacing, and arrangement of the elements on the page. There are also some very fancy effects to add, as well as links to social media.
You also have the chance to sort your members based on categories and departments. Skill bars work well for creating a responsive and unique design.
WP Team Pro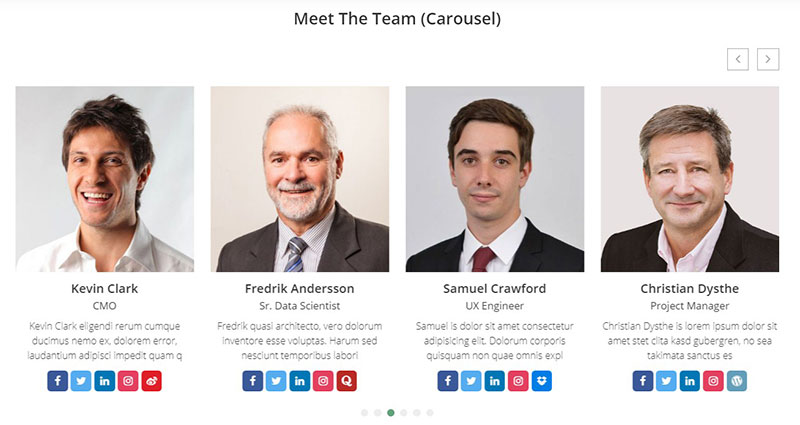 This impressive WP Team Pro plugin has hundreds of customization options, operates based on shortcodes, which are generated and then utilized on your site. You can display each member of your team very simply by adding some information about them to your site. It comes with 8 presets and 14 different member details.
Not only is this plugin highly functional, but also looks great. You can even improve the look if you wish to add your own personal touch to the design. There are many customization options for the existing impressive layouts.
Team Showcase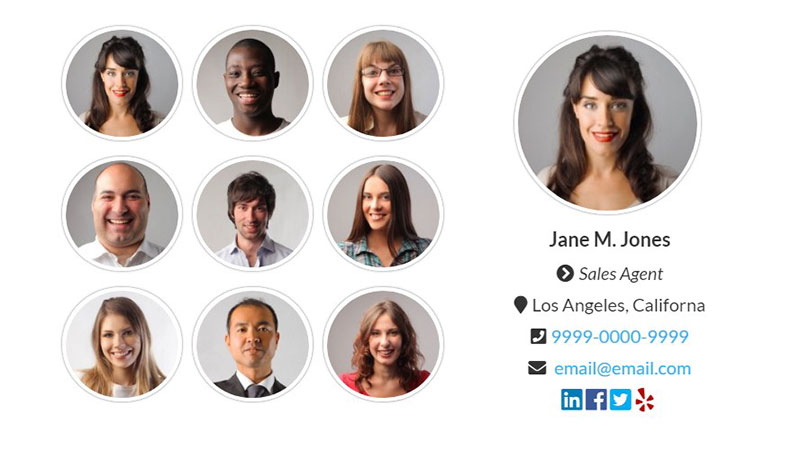 Team Showcase is a premium plugin that allows you a lot of flexibility for showcasing your team members. You can customize your members' pages with text or images. The developer is very reputable, and they have produced similar plugins to this one, so they have plenty of experience.
You can easily drag and drop members to your page, and then add details about them.
My Team Showcase

This is one of the highest-rated plugins on this list and for good reason. This is a high-quality product with 15 different layouts options. These templates include grid, slider, and filter layouts, but you can also customize them to meet most of your needs. It also features a very attractive design, so your members are displayed in a very appealing way.
This plugin is certainly top of the range because of the many options it offers: you also have the ability to add CSS layers, and skill bars next to your members.
Cherry Team Members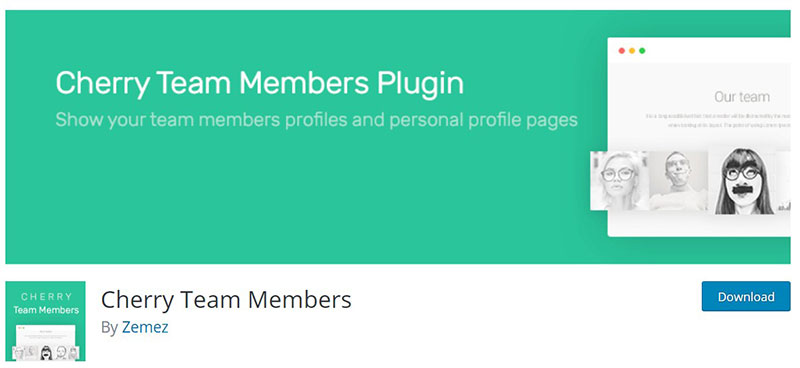 This free plugin from TemplateMonster allows you to showcase your members, their personal information, their skills, position within the company, and location, which makes it easy for others to contact your members.
It is fully compatible with other plugins, such as Elementor Pro.
Modern Team Showcase Premium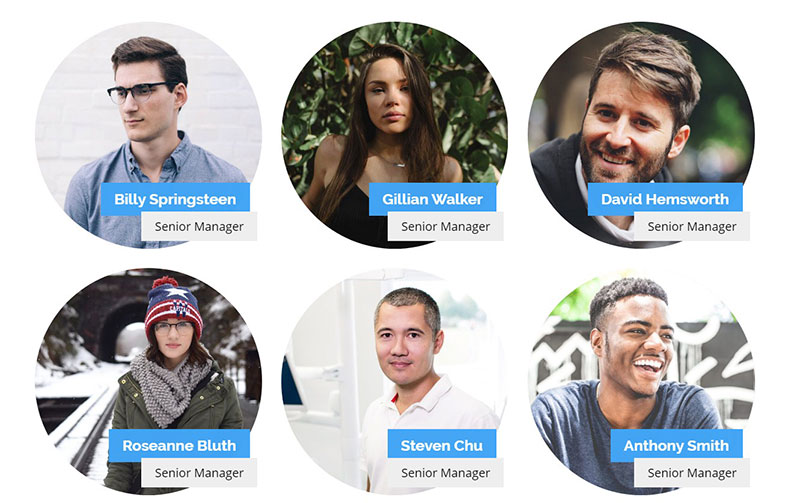 The final option is the Modern Team Showcase Premium. As its name indicates it is a premium plugin, but well worth its price. It features a modern design and a very manageable template editor. The customization options are almost endless, with many layouts to choose from.
It also features a tutorial system to assist in the learning process.
FAQs about WordPress team plugins
1. What is a WordPress team plugin and how does it work?
An add-on program called a WordPress team plugin enables teams to communicate and cooperate on WordPress websites. Typically, these plugins include functions like user administration, task delegation, project tracking, and team communication. They function by interacting with the WordPress framework and extending the capabilities of the already-existing website.
2. Can team members be added and removed easily in a WordPress team plugin?
Absolutely, the majority of WordPress team plugins make it simple to appoint and dismiss team members. Administrators typically have the ability to control user accounts and give team members particular roles, such as editor, contributor, or administrator. What actions each user is permitted to take on the website is determined by these roles.
3. Are there any security concerns with using WordPress team plugins?
WordPress team plugins are always at risk for security flaws, just like any other third-party software. Nonetheless, a lot of plugins are created with security in mind and frequently updated to fix any security vulnerabilities. It's crucial to pick a reliable plugin from a dependable developer and to keep it updated with the most recent version.
4. What kind of features does a good WordPress team plugin offer for team collaboration?
Task management, user roles and permissions, project tracking, team communication tools, file sharing, reporting, and analytics should all be included in a solid WordPress team plugin. Teams can monitor their progress toward project objectives and maintain organization with the aid of these capabilities.
5. Can a WordPress team plugin be used to manage tasks and deadlines for team members?
Absolutely, a lot of WordPress team plugins have functionality for managing tasks and deadlines. They let team members distribute tasks to one another, establish due dates, and monitor progress toward completion. By doing this, you can make sure that projects are finished on schedule and that everyone on the team is aware of their roles.
6. Are there any free WordPress team plugins available in the market?
The market does really provide a variety of free WordPress team plugins, including WP Project Manager, TaskBreaker, and WP Team Manager. These plugins often provide fundamental team communication tools like user roles and task management, but they might not be as feature-rich as alternatives that cost money.
7. How can a WordPress team plugin help in improving team communication?
By offering capabilities like team messaging, project comments, and file sharing, WordPress team plugins can aid in enhancing team communication. These tools make it simple for team members to communicate with one another, exchange ideas, and work together on projects.
8. Can a WordPress team plugin integrate with other project management tools?
Several WordPress team plugins are compatible with Asana, Basecamp, Trello, and other project management software. This enables teams to use their favorite project management software while still taking advantage of the WordPress team plugin's collaborative tools.
9. What kind of reporting and analytics does a WordPress team plugin provide for team performance?
The reporting and analytics capabilities of various WordPress team plugins varied, but they may contain stats like user activity, job completion rates, and project timeframes. These tools support teams in monitoring project goals and pinpointing opportunities for development.
10. Can a WordPress team plugin be customized to suit the unique needs of a team or organization?
Certainly, a lot of WordPress team plugins include customization possibilities to meet the particular requirements of a team or organization, including custom fields and workflows. Additionally, some plugins may offer connectivity with additional tools or APIs from third parties, enabling even more customization and automation of team activities.
If you enjoyed reading this article on WordPress team plugin, you should check out this one about WordPress google reviews plugin.
We also wrote about a few related subjects like SoundCloud WordPress plugin, WordPress media library plugin, WordPress file upload plugin, WordPress news plugin, WordPress button plugin and WordPress contest plugin.