Nowadays life cannot be imagined without social media. Today not only that it connects families and friends, but it is also a crucial element in any kind of business. Therefore, if you have a website or you intend to make one, social media is a must.
One of the most popular social networks is Instagram App. Instagram was at first based mostly on visual media – photos, videos. Today Instagram also includes stories, advertisements, shopping. Instagram account is not just a personal profile anymore. There many accounts of people doing many different types of business.
When it comes to connecting people with a certain brand, Instagram is a great tool. It eases making contact and it also offers a customer more detail about a certain brand. You can contact someone in no time with an Instagram account. And as we all have Instagram App installed on our smartphones, it will also speed up getting in touch with someone.
Knowing all the good traits of using social media and Instagram, you will surely want to include it in your WordPress website. This is why we highly recommend you add an Instagram widget to your site. Therefore, you must have asked yourself how to add Instagram to WordPress? No worries. It is very easy and we will explain it in this article.
One of the best things about adding Instagram to your WordPress website is that it connects directly with your Instagram account. Adding an Instagram widget to your website will also bring up to website look. It is a simple but effective visual element. If you display some of the Instagram feed this may increase the interest of the website visitors. Website and your business will gain a lot if you display your feed (several Instagram images for example).
Of course, you must keep your Instagram account updated. If the account was last updated too long ago, this might seem strange and unreliable to a website visitor. Instagram content has to be fresh. On the other hand, if you add new posts regularly, this will create trust among you and your customers. Add new material, such as images and videos. Keep up with trends, create a new content often enough, and you will make a great impression.
So, let's finally explain how to add Instagram to WordPress. First of all, you will need a WordPress plugin. The plugin will ensure the functionality of the WordPress website. Also, you will be able to make changes without having to hire a developer.
These are some of the best Instagram features: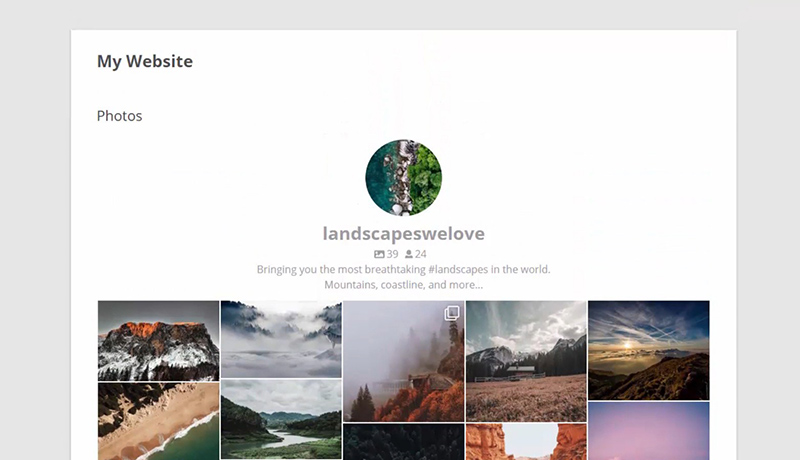 Amazing design
Various themes and layouts options
Social Engagement
Faster load time
Visual moderation system
Instagram shopping
Follow button
Multiple Instagram feeds
and many more.
If you want to boost your account and WordPress website without too much effort, display Instagram feed on your website. Add an Instagram widget to your homepage will also help you in engaging with your customers. It is easy and doesn't require too much work to add an Instagram widget and it has a lot of benefits. These are the steps to take if you want to know how to add Instagram to WordPress. We hope this small tutorial will be helpful in adding an Instagram widget to your WordPress.
Step 1: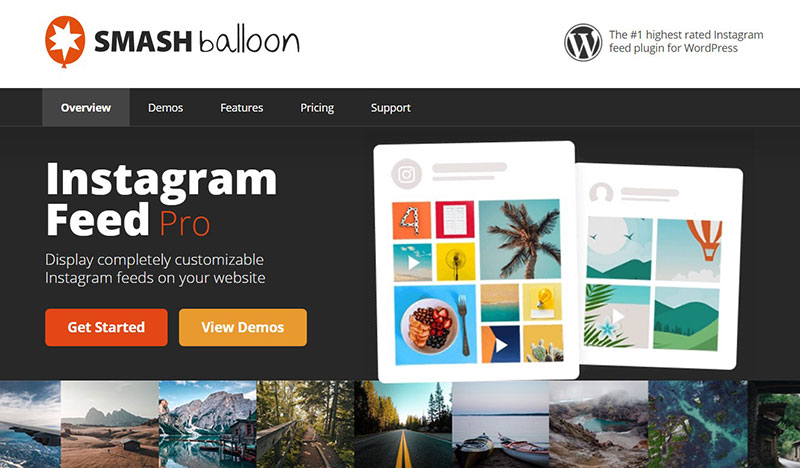 If you want to add this feature to your WordPress website, you should know it doesn't come for free. Adding an Instagram feed to the WordPress website requires a special Instagram feed plugin. You will need to buy your own copy of Instagram Feed Pro. As soon as you buy the plugin, you will be able to download it to your computer. After that, you will need to go to WordPress editor and upload it to your WordPress site. As soon as the upload is done, activate the plugin.
Step 2: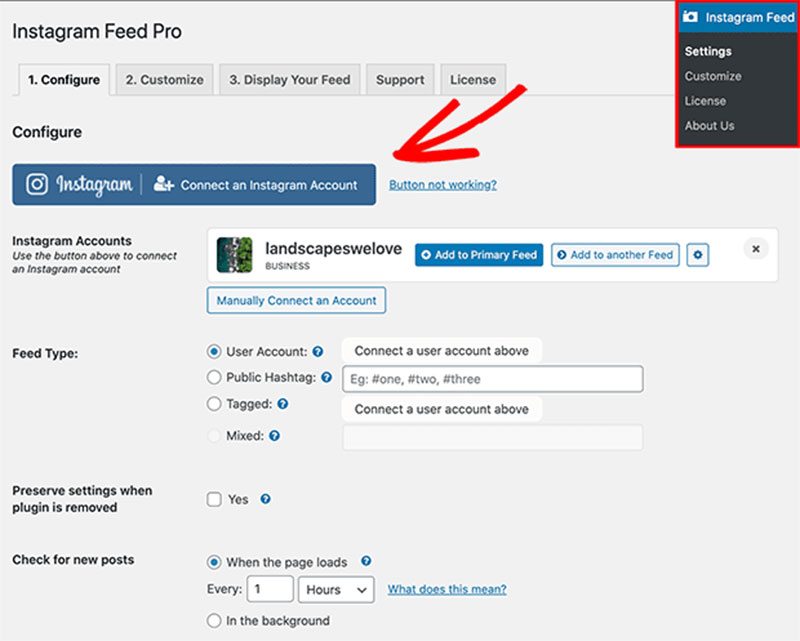 After you activated the plugin, you will want to connect your Instagram account and WordPress. To do so, switch to the admin panel on WordPress and click on the Instagram Feed menu. This will give you access to the plugin's Settings page.
Search for the Connect the Instagram Account button in the Settings list. Clicking this button will automatically give you an access token to connect with the Instagram account you are using.
Step 3: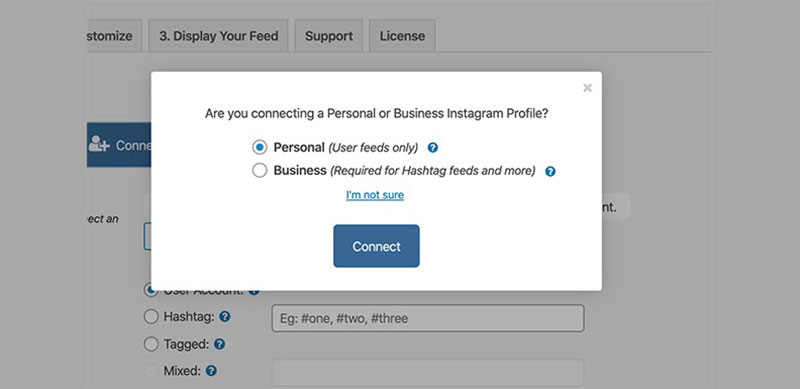 As soon as you click the connect button, certain windows will pop up on your screen. Simply follow what they say to link your Instagram account to the WordPress website. In one of the windows, there will be a question if you would want to connect your personal or your business Instagram account to your WordPress site. In some cases, depending on the type or purpose of the website and Instagram account, you have to create a business profile. This goes for shopping websites or profiles, hashtag feeds.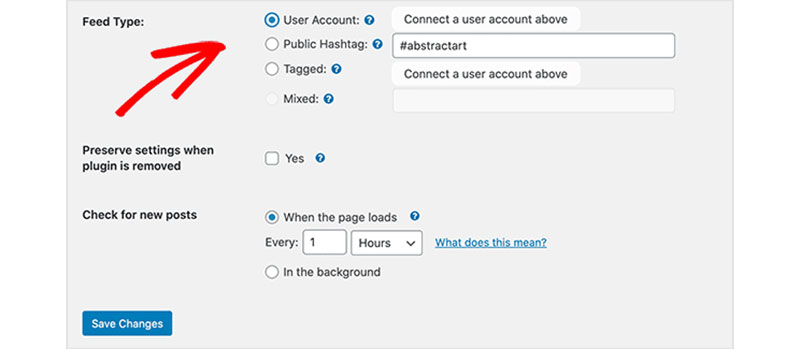 If you already have a business account, then select the right account type and click Connect to proceed. After this, your account will be connected to the WordPress website.
This Instagram feed plugin is very useful for people who just started working with WordPress. With this plugin, you won't have to go to settings and connect the website and Instagram account manually. Instagram feed plugin will do all the work for you.
Step 4: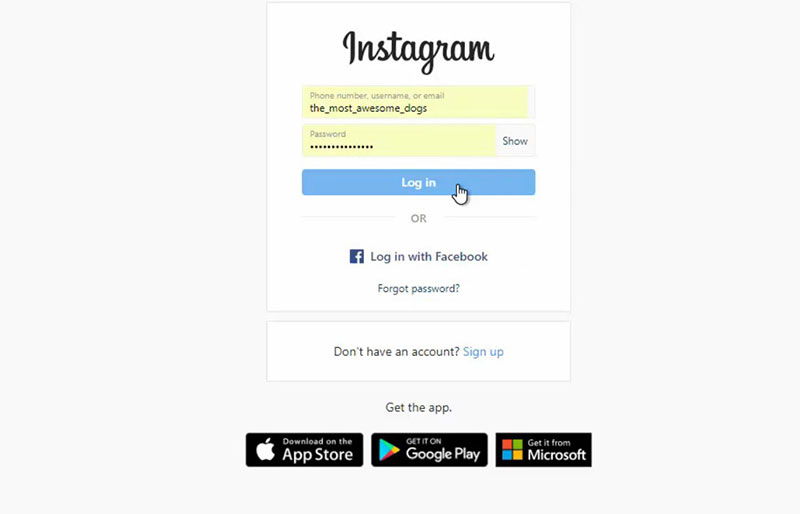 You should have your Instagram account credentials prepared. If you by any chance don't have the Instagram login data, you can link the profile and plugin manually. In this case, you will have to input the Access Token and User ID and click Connect to This Account.
If you don't know where to search for Access Token and User ID, search for and click on the "Instagram Login and Get my Access Token User ID" button. The next step is to click on Authorize and you will get the requested data.
Step 5: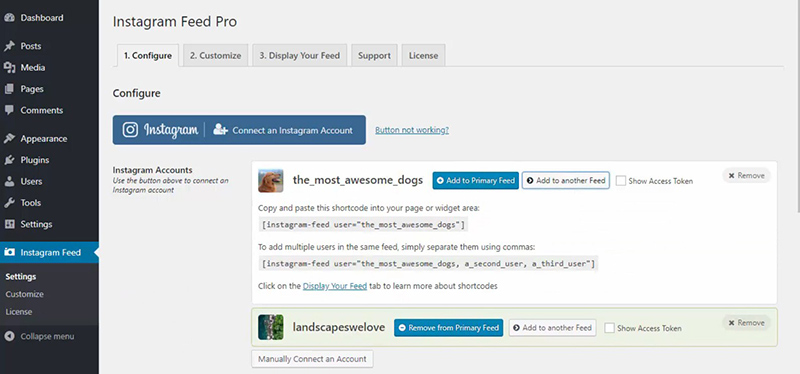 You will remove your account name and buttons from your primary feed and add them to another. In this manner, you will be able to have multiple Instagram feeds customized and displayed at the same time.
Step 6: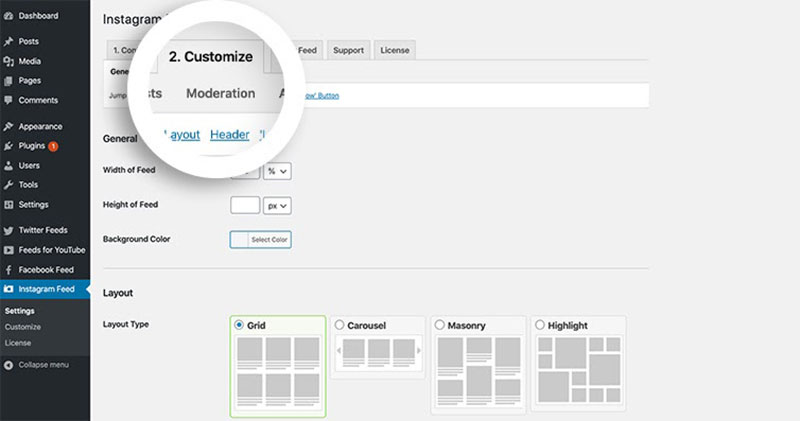 The next step will require you to go to the Display settings tab. Here you will find various options for configuration and customization. These will allow you to create a suitable display for your Instagram feeds.
Here, on the same page, you may also select a type of Instagram content you want to display in your Instagram feed widget. This includes: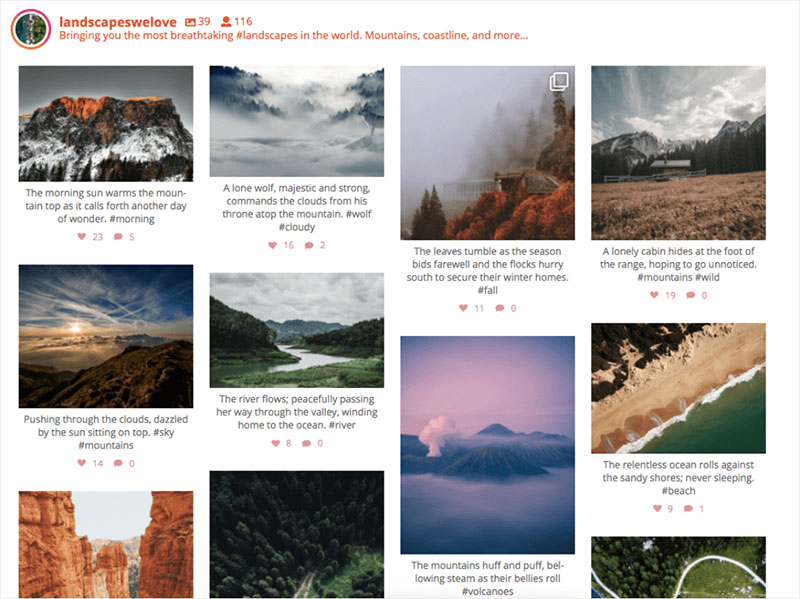 Feeds with Instagram photos from a particular hashtag
Video posts
Your standard Instagram feed
Tagged Photos feed
Shopping feeds (here you can link Instagram photos and product pages)
Mixed feeds with various feed types
After you decided what feed type you want to use, be sure to save changes before moving to a new page.
Step 7: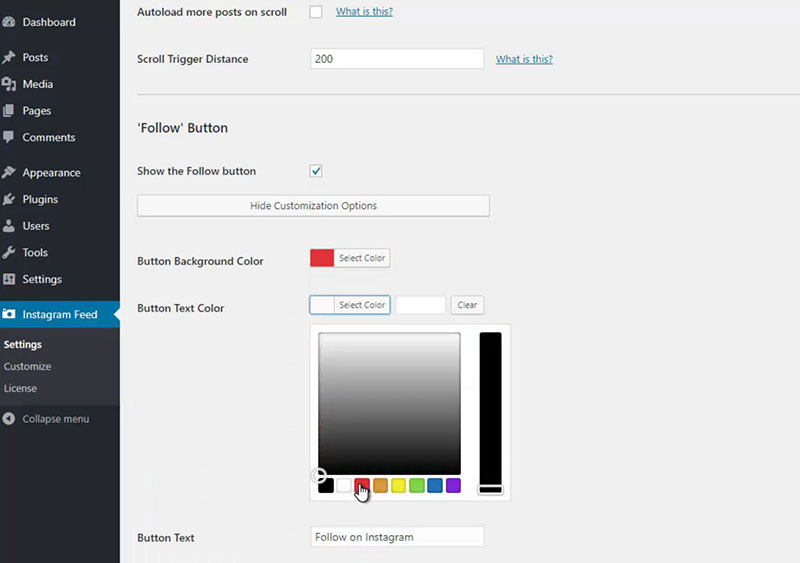 Search for the layout settings in the second tab. One of the best traits of the Instagram feed plugin is in the various options for customization. With a few clicks and without any special technical knowledge, you are free to organize the layout however you like.
On this page, you create the look of your Instagram widget, the theme, and its style that will appear on your homepage. How you display your Instagram is as important as what posts you choose to show on the page. Of course, don't forget to save changes after every step you finish.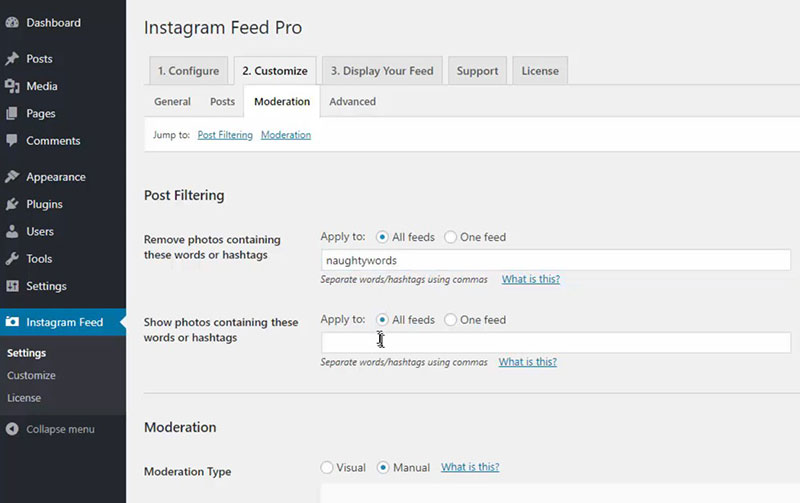 Here are some of the options for customizing the Instagram feed widget on the WordPress site:
Dimensions of your feed (width and height)
Background color
Header button
Follow button
Number of Instagram photos that will appear in the feed
Layout type
Feed style refers to displaying your feed in a certain way. For example, posts can be presented in a four-column grid and users will be able to see 20 photos. If they want to see more they will have to click "load more".
Step 8:
After finishing all the previous steps, it is time to finally add an Instagram widget to your WordPress site. There are three ways to embed the Instagram feed widget to your feed with the Instagram feed plugin:
Option 1 – WordPress block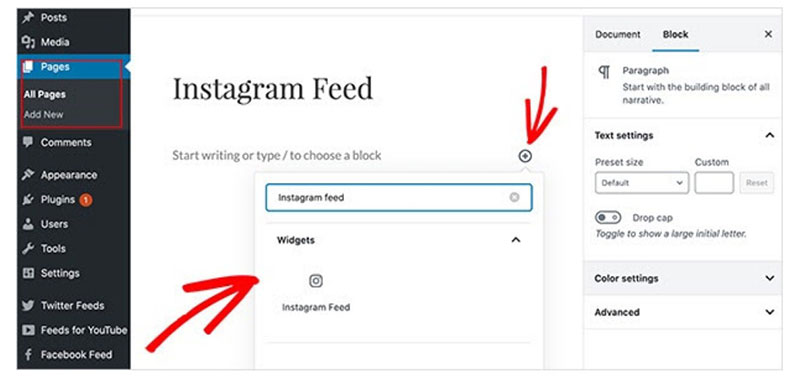 If you want to add a new page to your Website with the WordPress Block editor, the first thing you have to do is to go to Pages and click Add New. After you do that, use this Block editor to easily insert Instagram Widget display your feed to posts or pages. To add it, click the block. Check out the page preview first and then go and Publish it.
Option 2- Shortcode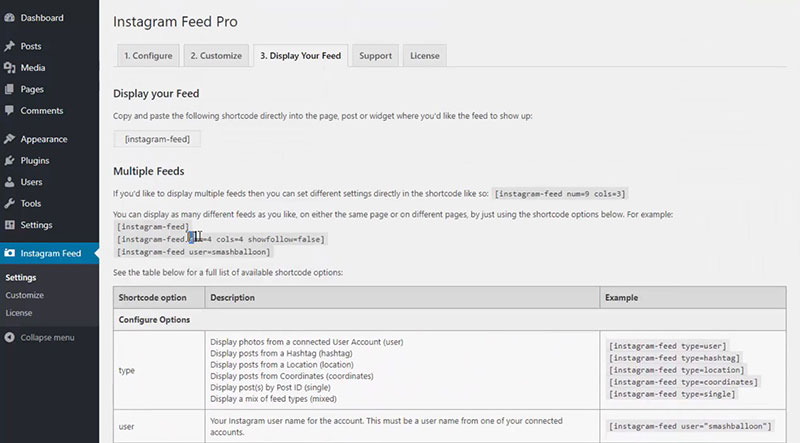 Use the classic WordPress editor and Instagram feed shortcode to display your Instagram posts. You are free to do this anywhere you like within the WordPress theme.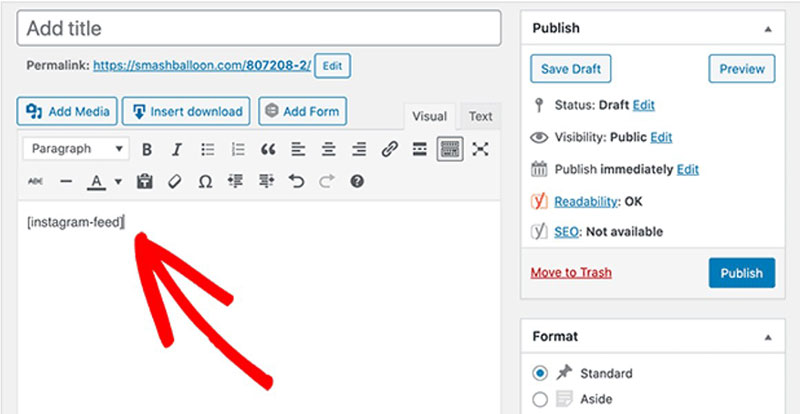 Find the Instagram Feed Settings page and look for a Display your feed tab and copy the shortcode. Simply paste the Instagram Feed shortcode directly into the post or page editor. Publish to save all the changes and this way you will make your Instagram feed live.
Option 3 – Instagram Feed WordPress Widget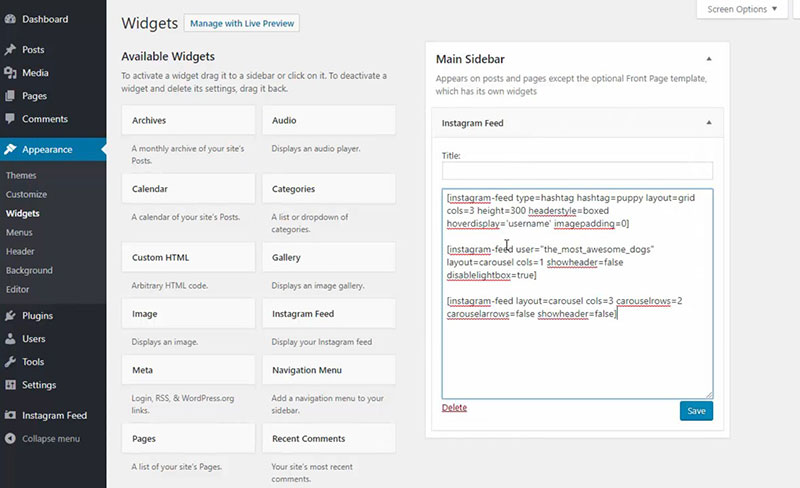 Look for the Appearance tab in the WordPress dashboard and after opening a menu look for Widgets. When you find the Instagram Feed Widget, simply click, hold and drag it to the sidebar. Go to a preview and you will see your Instagram photos in the sidebar area.
Of course, you can also input videos. All you have to do is to copy Instagram's code generated for every post and simply paste it in a proper place in the editor. Look for an icon next to Add comment section, click Embed and paste the code there, in the WordPress text editor.
It is a big plus if you also know how to use HTML code. This could be very helpful for some details. For example, you can set the video to play at a specific time, or adjust the post grid to fit better on your page.
Knowing how to add Instagram to WordPress can have lots of benefits. For starts, adding the Instagram widget to WordPress will surely increase the exposure of your site. You can display both older Instagram posts and photos. This will leave an impression of the longevity and seriousness of your business. It will also contribute to the general look of your page. It will give it more color, vividness, and dynamic.
If you enjoyed reading this article on how to add Instagram to WordPress, you should check out this one about how to remove dates from WordPress.
We also wrote about a few related subjects like how to create a comparison table with WordPress plugins, how to hide the author in WordPress, how to upload an HTML file in WordPress, where are WordPress pages are stored and how to embed a Facebook video in WordPress.