So, you finally decided to use the WordPress Instagram widget as a part of your website marketing strategy, but when you actually search for the plugin, you are offered an overwhelming amount of them. How can you know which one of those WordPress Instagram plugin options is the best pick for you?
We can help you with that!
Instagram can provide a lot of content for your website or blog since it is a visual social medium, and thankfully, using an Instagram plugin makes getting that content much easier. You can even have an Instagram widget for WordPress that displays photo feed in the sidebar or footer areas of your website, or in the posts themselves.

We have listed a number of both free and premium WordPress plugins that allow you to display photos from a specific Instagram profile to your website. Some of them have additional creative options such as using a lightbox, Instagram slider widget, portfolios, and others.
Of course, if you decide to make a small investment into premium a WordPress Instagram plugin, then you are looking at a lot more options for how you want the content to be displayed on your site.
We know that you are dying to learn how to add Instagram to WordPress! Let us take a glance at the tools that can help you show your photo content.
Let's pick a WordPress Instagram plugin

The simplest and one of the most powerful plugins of the bunch. Spotlight Instagram Feeds is the only plugin in our list with a live preview and simple point-and-click design editing.
Connecting your Instagram account, designing the feed, and embedding it on your site takes all of 3 minutes according to the positive user reviews.
You can create as many feeds as you need and connect multiple accounts. Plus, it offers responsiveness options so your feeds look great on all devices.
Upgrade to Spotlight PRO for more layout designs, hashtag feeds, filtering, moderation, and more.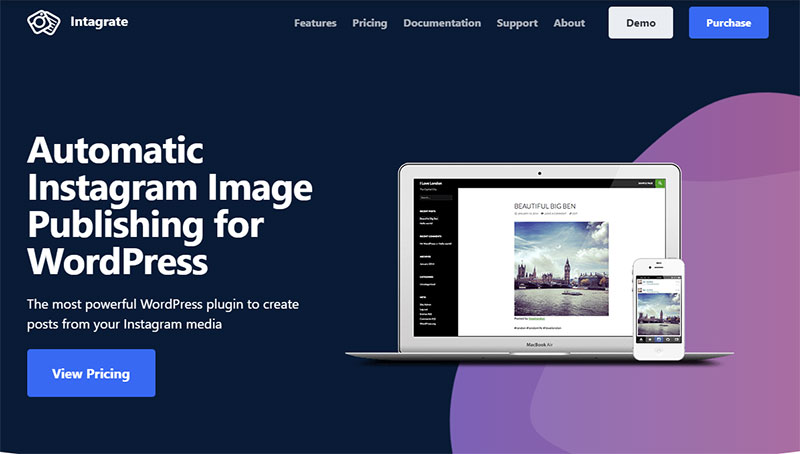 Intagrate is a powerful WordPress plugin to automatically integrate Instagram images and videos into your WordPress site.
It creates WordPress content, such as posts, using Instagram images. It does not just display an Instagram feed in a widget or shortcode, it is a full-blown content creation tool.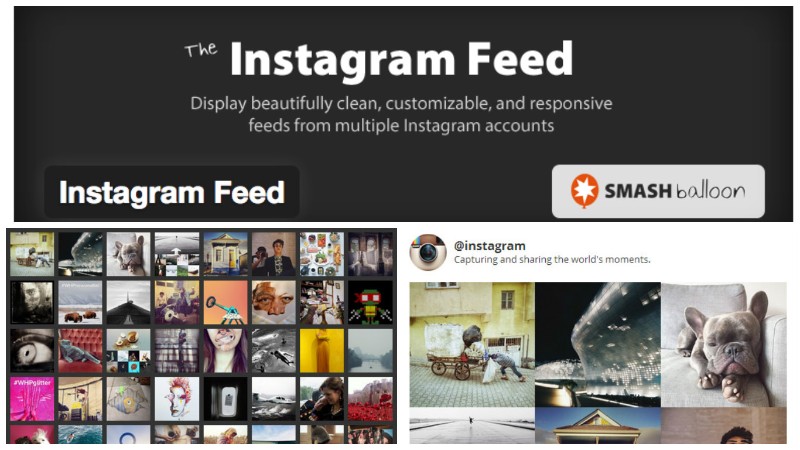 Ah, Instagram Feed! This fella might be one of the best free WordPress plugins out there. It has an excellent user rating and a dazzling amount of active installs. And for a reason.
The plugin enables you to display photos from any non-private Instagram accounts, and you can even create several feeds throughout your website. Each of them can show pictures from different Instagram users, creating constant content from various sources.
Instagram Feed also has a feature that enables you to change both the width and height of the photos. Following the latest trends, the plugin is very mobile-friendly and is continuously updated to keep up with Instagram changes.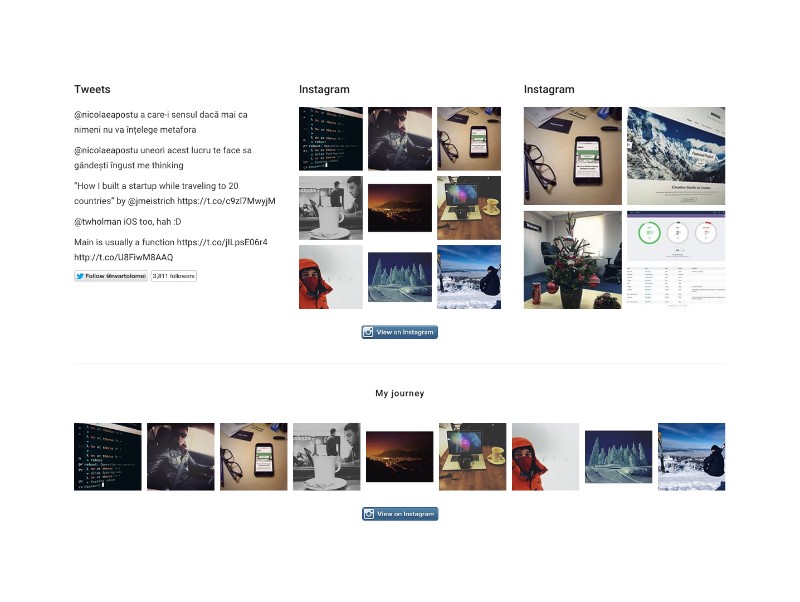 There is not much to this plugin if you are looking for something other than displaying your Instagram photos on your WordPress website. But, if that's what you are looking for, then this simple plugin might be the one for you.
Setting it up is pretty straightforward as it does need any authentication to your WordPress Instagram integration. Just enter the basic details of your Instagram account and then choose where you want to display this widget.
The plugin has an unnoticeable effect on your website's loading time. It has less active installs than the previous plugin on this list (around 200,000 happy users), with quite a positive user rating.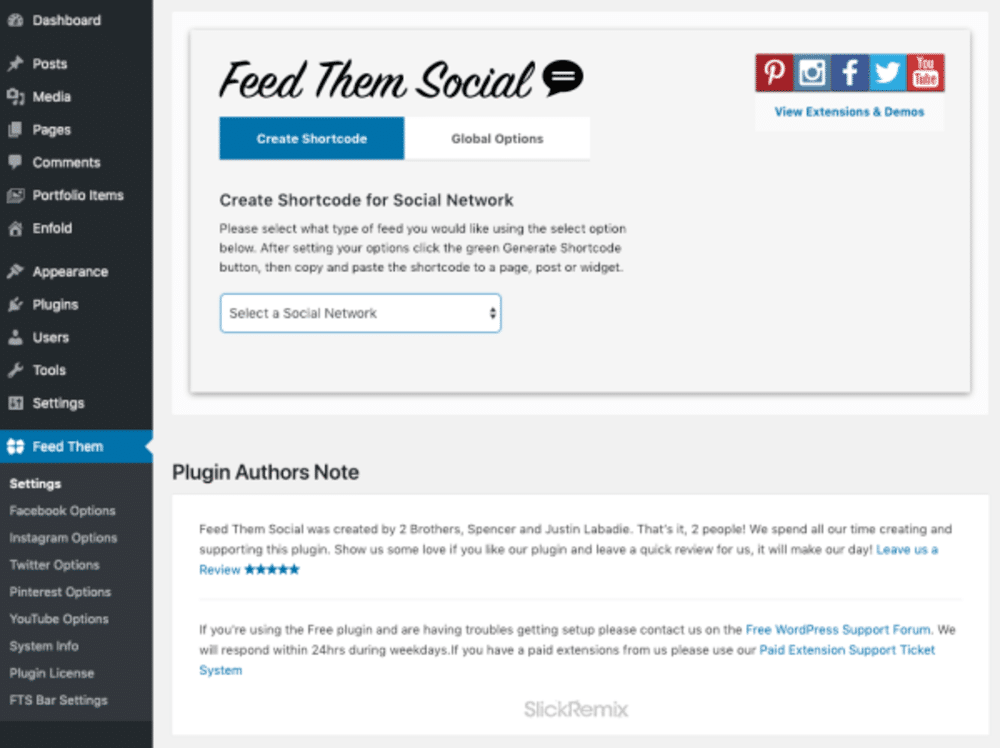 Jack-of-all-trades, also known as Feed Them Social, is a plugin that works with all the top social networks: Instagram, Facebook, Twitter, and Pinterest. It offers high flexibility and customization, with excellent responsiveness across many devices.
If you are looking for a single plugin to manage and display photos from multiple networks on your website, look no further.
Feed Them Social might be the best free Instagram widget for WordPress if you only need to display the following content:
Instagram – feeds,
Facebook – feeds, albums, groups, and events,
Twitter – feeds,
Pinterest – boards, pins, and latest pins.
The content can be linked from both your account and from others, and shown in your website's posts, pages, and sidebar. What more can you ask for?
The premium version has additional features such as displaying content from YouTube video feeds and Facebook video feeds and carousels.

Okay, to some, there are some downsides to including your Instagram feed's photos. Sometimes they appear with unappealing box and distracting image descriptions. It can be a deal-breaker, but the AccessPress press plugin removes all those unwanted additions.
The plugin offers a couple of layout options for your images such as Instagram slider widget, lightbox, and basic gallery layout.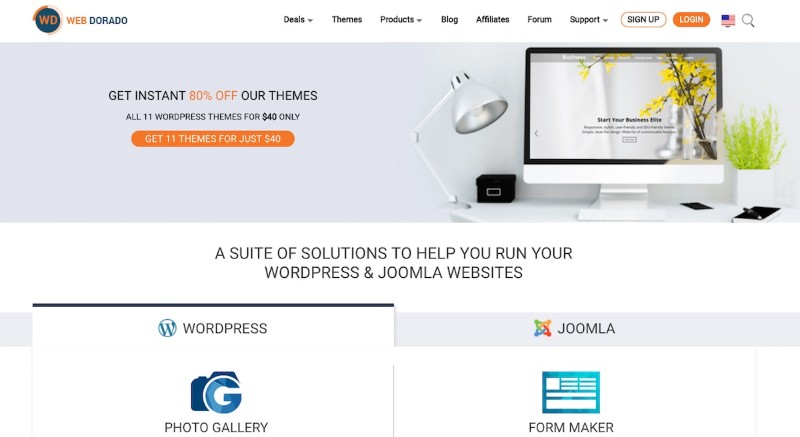 Developed by Web Dorado, this plugin comes in both free and premium versions, but both offer the Instagram feed options. In addition, if you are interested in having customizable themes, lovely filmstrip layouts, advanced filtering options using hashtags, as well as a comment section, take a look at this one.
The great thing is that it offers different plans if you wish to use the plugin on your other websites.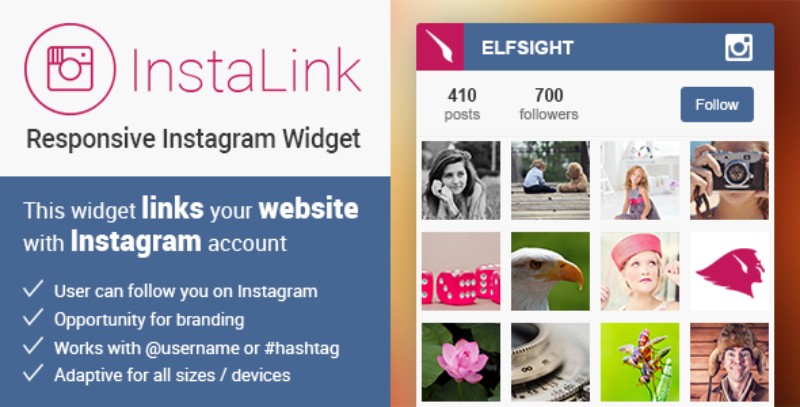 Here's another popular WordPress Instagram widget. It turns your post or a sidebar into a beautiful and responsive photo gallery! The plugin allows you to quickly customize color, image sizes, and image headings.
InstaLink gives you three ways to display Instagram photos on your website:
by username,
by hashtag,
by username filtered by a hashtag.
You can install the plugin using WordPress shortcode, Visual composer element, and WordPress widget. In case you need help, the plugin offers support for 16 languages, which is impressive.

Simple, free, and stylish!
Alpine Photo Title has features such as, customization using multiple styles, lightbox features for slideshows, free storage which improves page loading time, and more! Of course, it displays your Instagram photos in a sidebar, post, or page.
Ending thoughts on choosing a WordPress Instagram plugin
Empowering your WordPress website using an Instagram photo feed is a great way to have a constant flow of content and engagement for your users and followers. Reaching out to social media audience can increase the number of your website visits, ranking you higher in search engines.
All of the plugins we listed can help you achieve just that with minimal to no investment. Besides one of these plugins, you should also try an app for editing your Insta photos. One that comes to mind is Instasize.
If you enjoyed reading this article on WordPress Instagram plugin, you should check out this one about the best Pinterest WordPress plugin options.
We also wrote about a few related subjects like WordPress social media plugin and installing the Facebook pixel on WordPress.