Website readers might want to compare two products or more before purchasing. This makes a comparison table a crucial element of a website.
In other words, comparison tables work by creating the opportunity to generate more potential customers. It is also essential for SaaS projects and startup pages.
This is especially true if there are several packages with comparable attributes available to clients. Having a visual table and a comparison chart to compare one product or service with another can lead to more purchases.
Using and setting up a comparison table or a comparison chart should take little time. Ensure that it is appealing and that it shows what other products or services are available.
Being creative is essential to drive more traffic and prospective customers.
There are two ways to incorporate a comparison table or a comparison chart on a web page. The first is to use HTML or write code, the second is to use a comparison table plugin.
This article will take a closer look at the second option, using a comparison table plugin.
Even though there are many different plugins available, it doesn't mean that anything will do. For example, most of these below don't even have the option to create comparison charts.
Every website has a different niche and a different background design. This being so, it's necessary to find the right comparison table for your website.
WordPress Comparison Table Plugins
wpDataTables
Responsive Pricing Table
Elementor Addon Elements
Pricing Table by Supsystic
WP ComPEAR
CSS3 Compare Pricing Tables
Easy Pricing Tables
Pricing Table Plugin by Plugmatter
WRC Pricing Tables
TablePress
WPPricing Builder
ARPrice
League Table
AAWP
Pricing Table by PickPlugins
WP Table Builder
Arena Products Store
Go Pricing
Ninja Tables
Now let's look at them in detail.
wpDataTables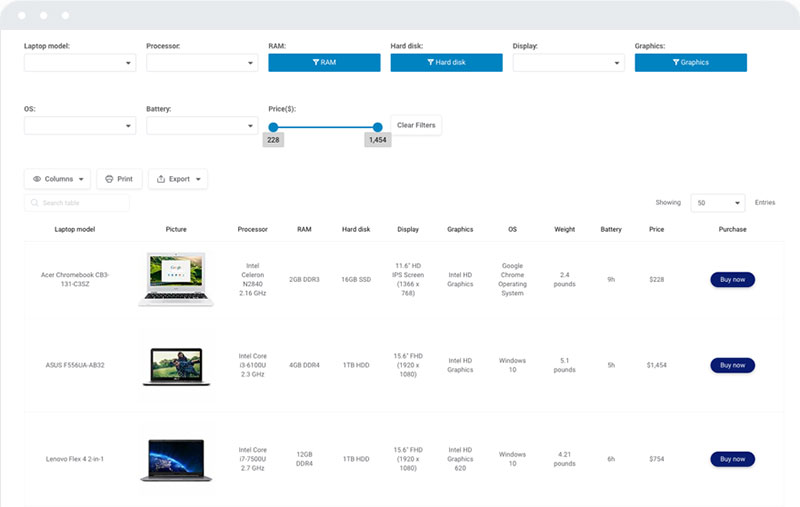 wpDataTables is the #1 WordPress table plugin. It allows site owners to build responsive tables, among other types of tables and charts (like a comparison chart, in this particular case).
And it's really easy to create a table:
You provide the table data
Configure and customize it
Publish it in a post or page
This table plugin allows you to seamlessly import data from a wide range of sources, including Google Sheets and Excel, as well as CSV, XML, and JSON files.
In addition, this WordPress table plugin includes a number of other common useful features that are frequently found within spreadsheet applications.
A few of the advanced features include:
The list of features for wpDataTables is insane. You should check out the features page that the table plugin has.
And here are some of the interactive tables you can create with it
You need to have a look at some of the other tables from the showcase section.
Statistics Tables with Charts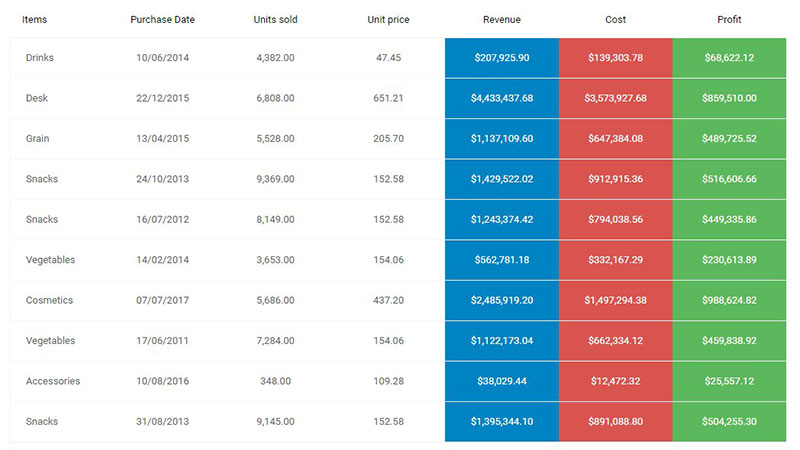 wpDataTables is used to generate a graphic representation of statistical data as charts.
Cryptocurrency Rank Table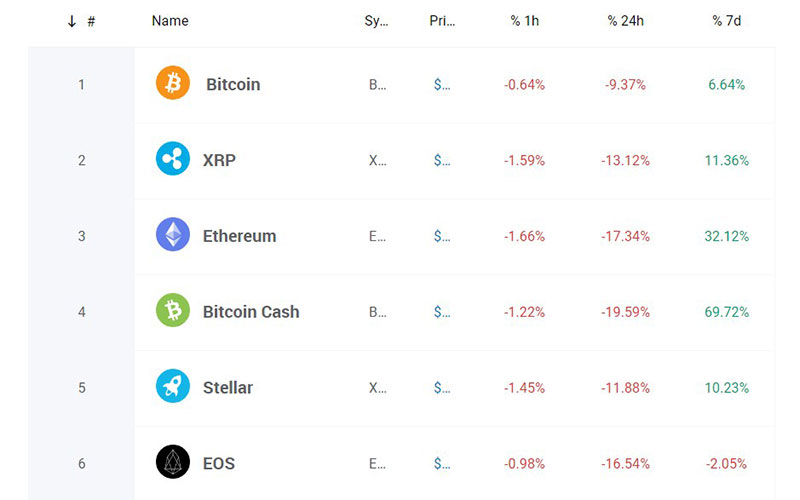 In this example, cryptocurrencies are ranked in a table using wpDataTables. You can add this type of crypto table to your site with a few tweaks.
Financial Reports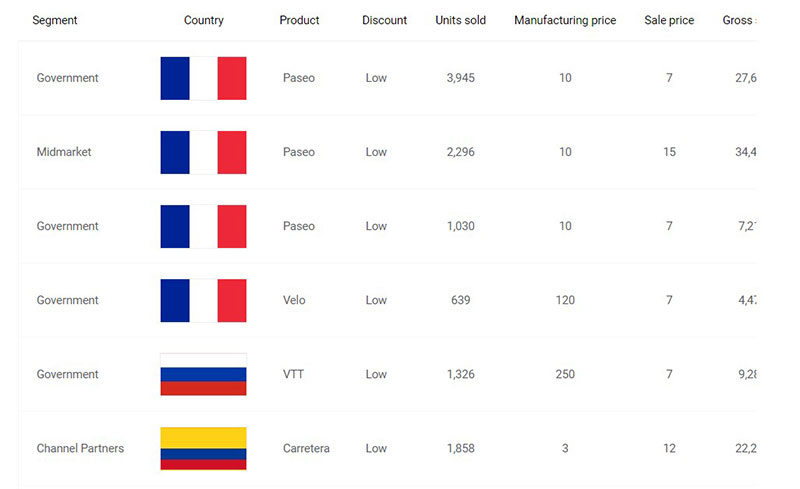 The plugin is used to create a table that shows financial data per country. Obviously, it can be adapted to presenting different types of financial data.
Book Catalog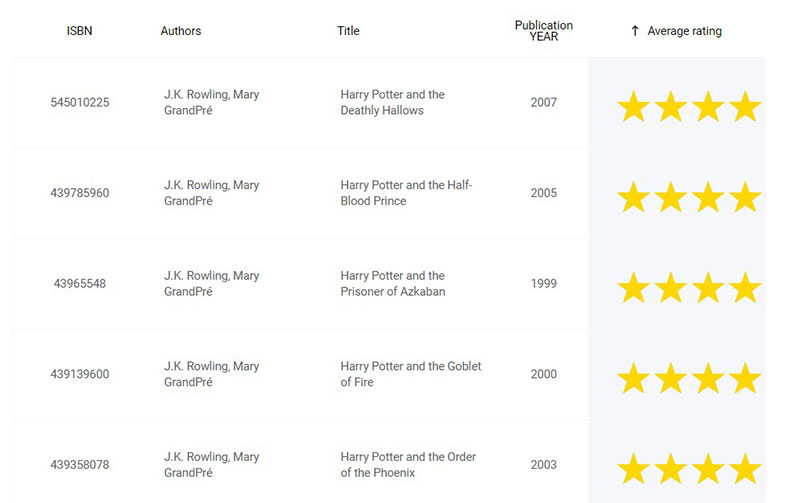 This table style works well for an affiliate site or an online book store.
Mutual Funds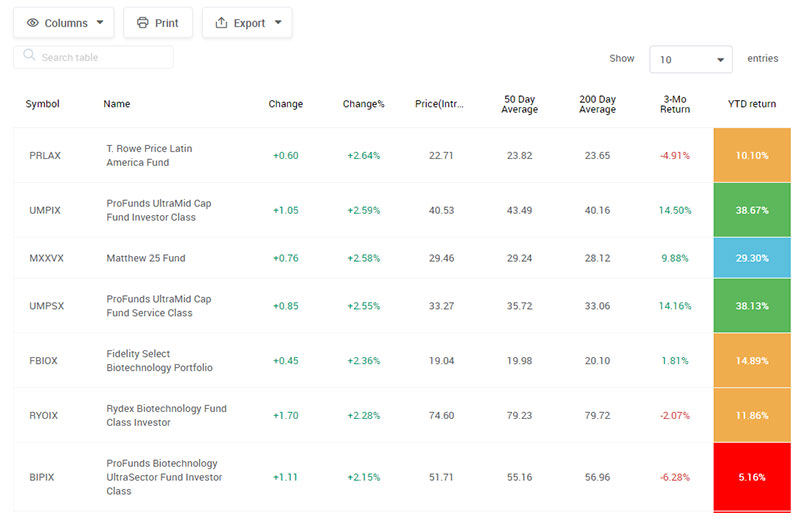 wpDataTables can create a list of mutual funds, sorted by performance.
Catalog of Drivers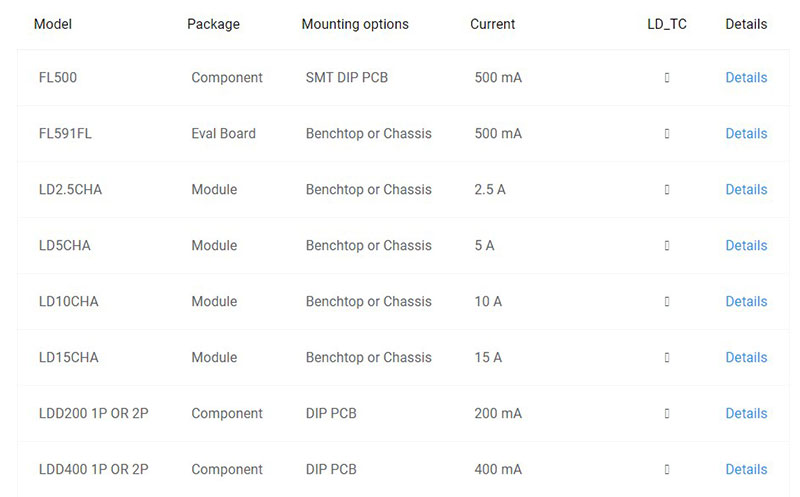 wpDataTables is used to show driver configuration.
Oh, and after all those table examples that you saw, it's worth mentioning that you can also convert the data from your tables into interactive comparison charts.
For your charts, you can use the Google Charts rendering engine, if that's the one you're used to. However, you can also use other chart types like the Highcharts library or Chart.js, depending on the chart design that you want to pick.
If that didn't convince you to try wpDataTables, you can check out the other WordPress table plugins from this article.
Responsive Pricing Table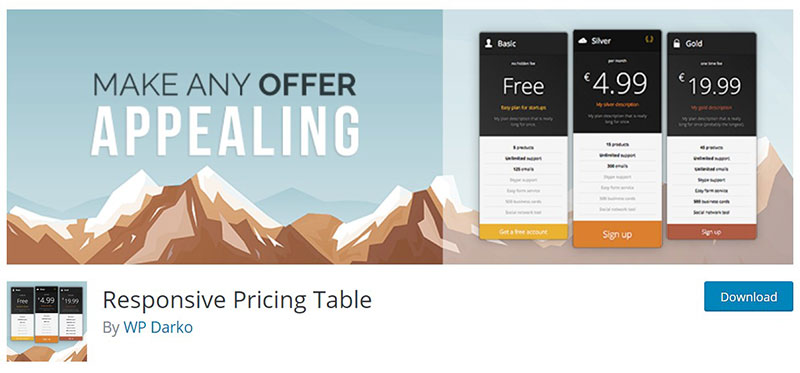 Using this plugin is simple. It comes with a "Pricing Tables" tab in the admin panel.
That enables users to place the pricing table anywhere on their website. The color options allow users to customize the table according to their preferences.
Place it in a sidebar section using a shortcode. What's more, it is free, so it's worth a try.
It integrates naturally into the WordPress Dashboard. This helps it look like part of the website rather than a third-party add-on.
Adding pricing and other details to the table is hassle-free with shortcodes. Its user interface engages visitors and prospective customers.
Elementor Addon Elements
This plugin has drag-and-drop editing. There is an extensive set of widgets to choose from when adding texts and blocks to the comparison table.
The Elementor Addon Elements give more options to customize web pages.
With Elementor's new widget, it is now possible to add and customize a WordPress comparison table. Users can choose different types of widgets or tables from Elementor at any time.
To save the comparison table as a page template, it's best to use Elementor Blocks for Gutenberg.
Use the post made with default block or Gutenberg by inserting the comparison table. So, that means you have the option not to use the entire Elementor in all web pages.
Pricing Table by Supsystic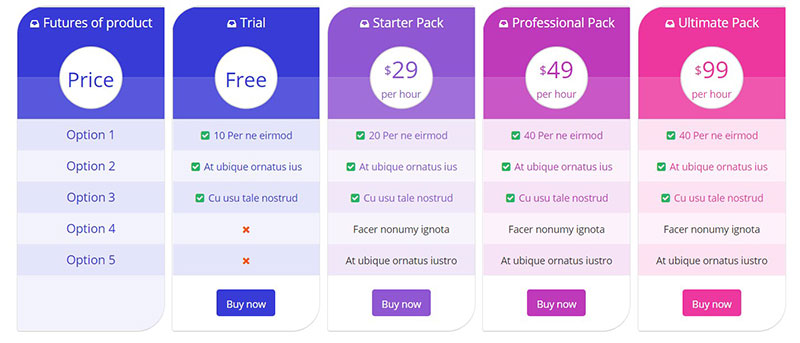 This is a pricing table with a colorful background. It is customizable to suit the user's preferences or the website's theme.
Programming skills aren't necessary to use this plugin. Features include animation effect, custom CSS, and preset templates.
Its drag-and-drop builder enables users to create attractive tables. Use these to display different pricing options.
It's possible to add description columns, head rows, and footer rows. Users can also add more rows and columns for prices and packages.
WP ComPEAR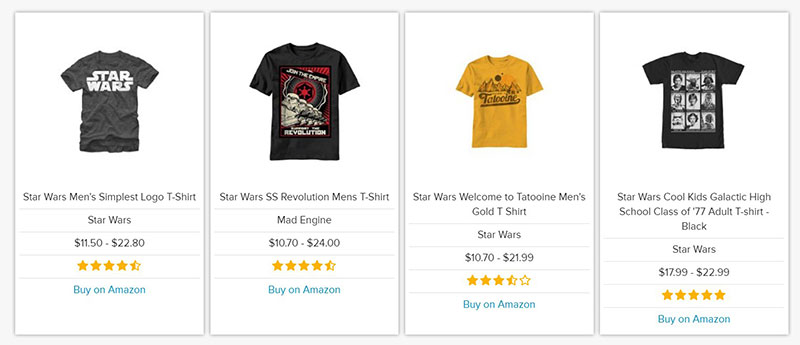 This plugin allows users to create vertical and horizontal tables. With WP ComPEAR, one can make static and interactive drag-and-drop comparisons.
This allows visitors to choose which products to compare. By dragging items to the table visitors can see the pricing for each item.
Another feature of this plugin is its customization ability. Users can create unlimited tables and unlimited comparison criteria.
They can customize the table background and column width. It's also possible to change the table from static to sortable, and vice-versa.
CSS3 Compare Pricing Tables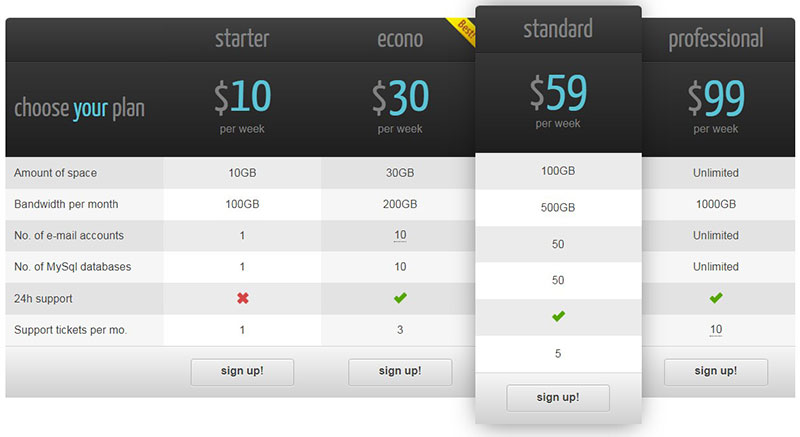 This is a simplified version of other pricing table plugins. It offers the essential features to create an intuitive and responsive comparison table.
Since this is lightweight, its parts and functionalities are straightforward.
The main focus of the plugin is the table design. This means that the user has complete control over the pricing table structure.
It comes with a variety of corner ribbon styles and hover effects. This allows users to create an attractive comparison table.
It is a responsive plugin. There are several designs and it supports table cells with images.
Easy Pricing Tables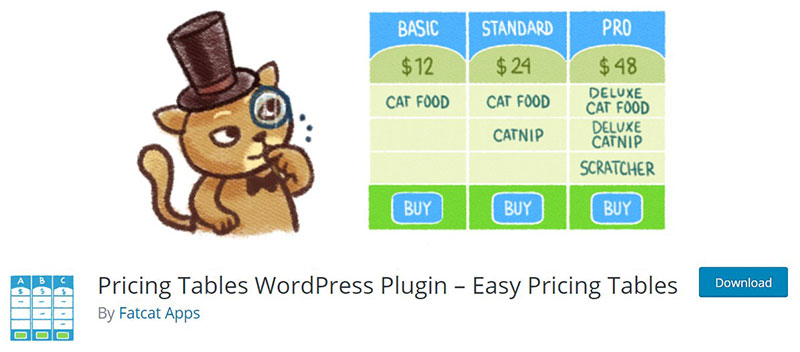 This Easy Pricing Tables plugin has exclusive features. It results in creative and professional-looking tables.
The tables have a user-friendly interface. This serves to motivate visitors and potential clients to make purchases.
To use this plugin, create a table first. Then, using shortcodes, place the table on the website.
Any updates made to the table will auto-update on the website. This helps to keep the page current and in-sync.
Pricing Table Plugin by Plugmatter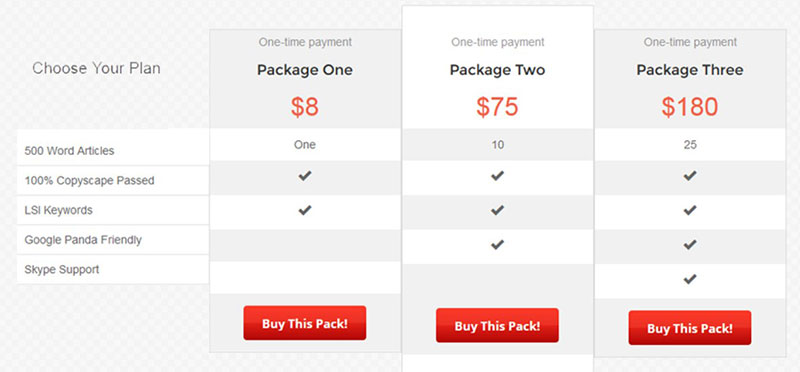 The Pricing Table Plugin enables users to increase their conversion rate and revenue. This occurs through the pricing table supported by the WordPress website.
It improves the visual appearance of a page and helps visitors to see what the website offers.
The developer based this plugin on the latest CRO studies and behavioral research. It is easy to use and responsive, with hardcore conversion optimization features.
Coding skills are not necessary to utilize this plugin.
It comes with ten customizable templates, editable buttons, two template structures, and more. Google Events Tracking and A/B split testing functionality make this plugin interactive.
WRC Pricing Tables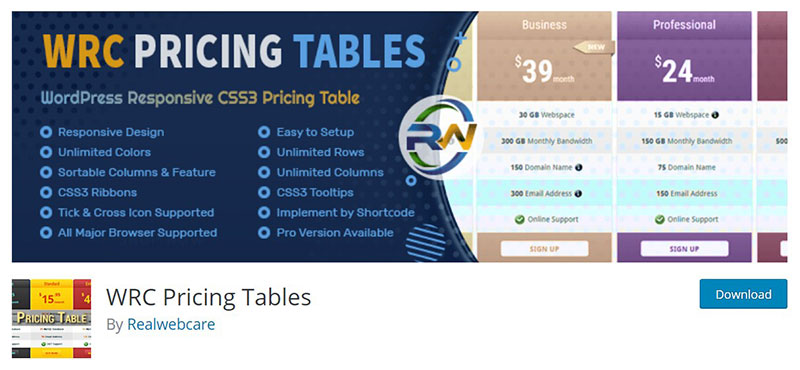 The purpose of this plugin is to provide or display a comparison or pricing table on a website. It has unlimited pricing table designs with an easy-to-use interface.
It is possible to use shortcodes individually on both posts and pages.
2 Ways to Present a Product's Features and Prices:
Display the product's features individually
Use a comparison table to differentiate the compared products' features
Users can modify or customize the pricing table from the admin page. They can also select different colors using the color picker.
The plugin offers several types of ribbons and link buttons. With each package, the admin or editor can set ribbons and tooltips.
TablePress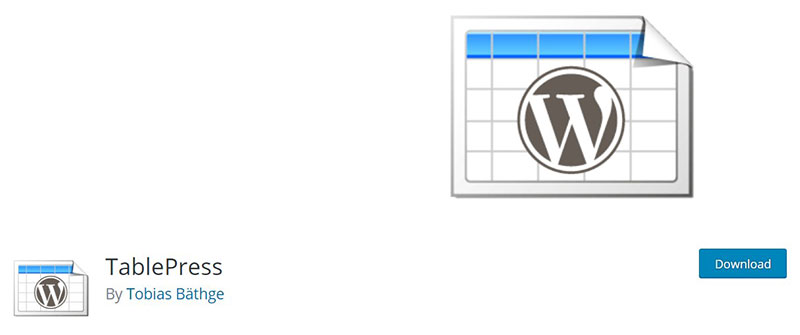 This plugin complements different niches. It enables users to customize and manage the tables based on their preferences.
It also allows them to place the table anywhere they want – in the website's posts, page, and text widgets.
It has a spreadsheet-like interface, so the data is sortable via the various table fields. By using an additional JavaScript library, it is possible to filter and paginate the comparison table.
Users can import tables from HTML formats, JSON, CSV, and Excel. Backing up tables using this plugin is also hassle-free.
The plugin is free to use, including the extensions available for premium features.
WPPricing Builder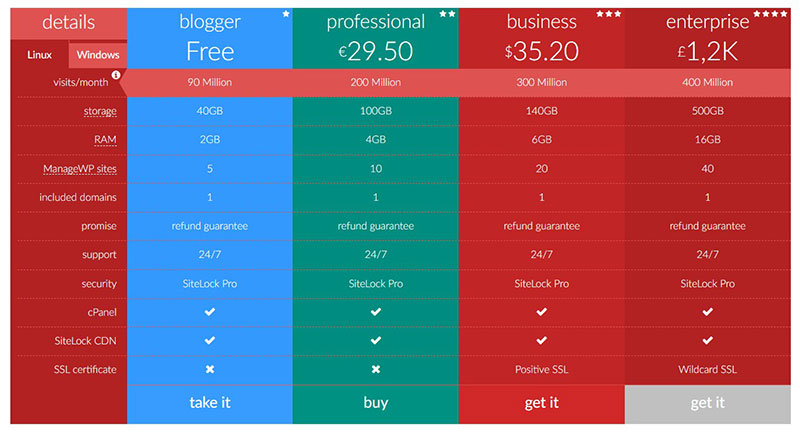 WPPricing Builder comes with 89 professionally designed templates that users can choose from. Or they can build their own comparison table through the drag-and-drop builder interface.
They control what description or texts to include in the table area. They can also select the setup for styles, columns, and attributes.
With its additional color theme generator, users can create a unique table. It also features FontAwesome icons that users can place anywhere on the table.
ARPrice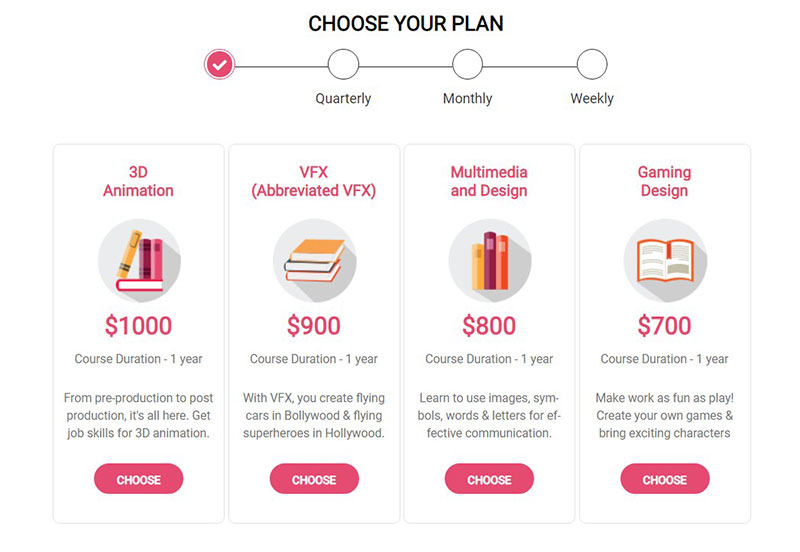 This is ideal to showcase profiles on a company team page or compare products and prices.
The user can preview 100 different themes in the plugin to see which works best on their website. Since it is fully-responsive and flexible, they can use it on any screen.
It comes with a variety of color schemes, web fonts, and custom icons. The toggle switch features enable users to customize the pricing table.
They can also modify the table to display monthly or yearly pricing. Moreover, they can track the clicks and views their tables receive.
League Table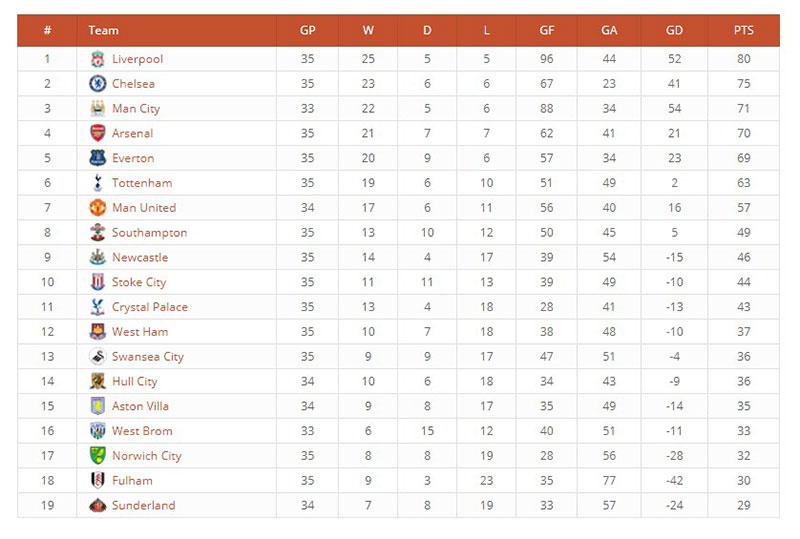 Users can choose from 135 customizable options. These include filtering, color, pricing table, product comparison, and sortable columns.
Users don't need to start from scratch or write codes to have a pricing or comparison table on their websites. Importing and exporting data in this plugin is possible.
The embeddable spreadsheet editor makes it easy to manage the tables. The interface is fast and smooth.
Users can copy or import from an external spreadsheet or document. It is also possible to customize the tables, including size, typography, and color.
AAWP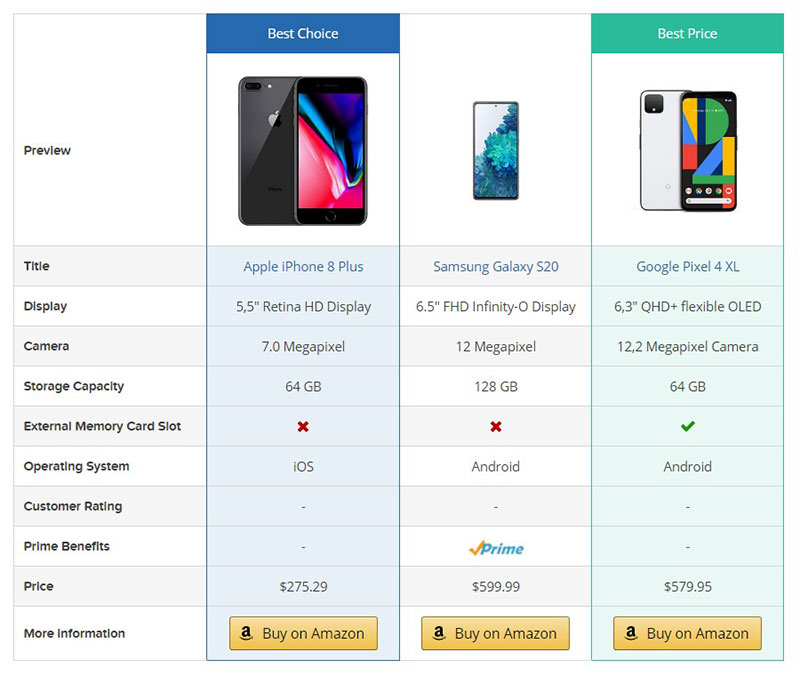 Users can manually add data from the Amazon website or let the plugin fetch the data for the compared items automatically. This is the ideal plugin for website owners who have products or items on sale on the Amazon page.
This plugin has a drag-and-drop builder. Users can create customized product comparison tables with unique features and designs.
It comes with conversion-oriented click-to-action buttons to auto-generate the tables.
Pricing Table by PickPlugins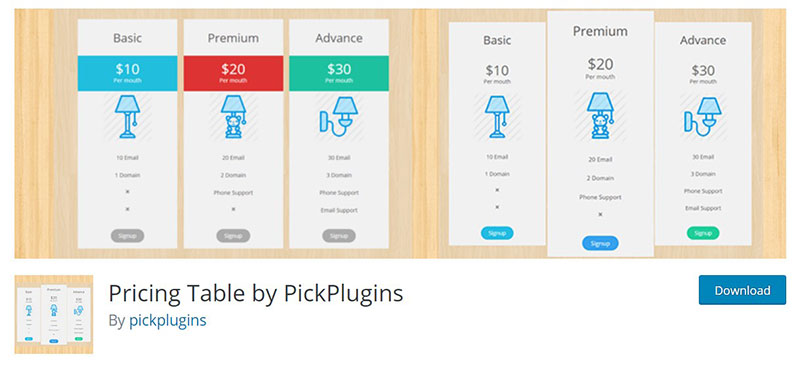 If users want to have a pricing grid on their website for free, this one is ideal. It comes with support for several features, such as the themes and style of table items.
One of its main features is the unlimited pricing tables with complete columns and rows. In each column, the user has the option to place videos or images.
Shortcodes enable users to put the pricing table anywhere they want. They can also select the pricing table background color and custom headers.
WP Table Builder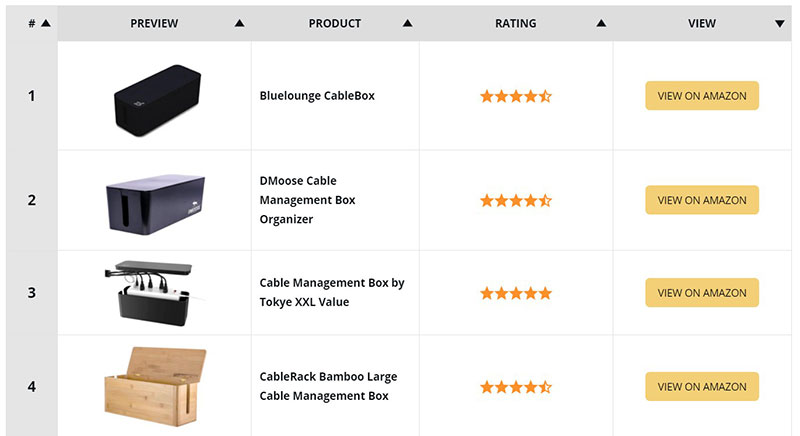 This is another type of comparison table plugin that works as a drag-and-drop builder. It is ideal for small businesses, startups, affiliate marketers, and bloggers.
The drag-and-drop features allow users to customize their comparison table.
Users can arrange the elements to the web sections of where they want to place the pricing table. It is very convenient as they only need to drag and drop these tables and elements.
It is mobile and user-friendly. Great for those familiar with WordPress page builders like Thrive Architect and Elementor.
Arena Products Store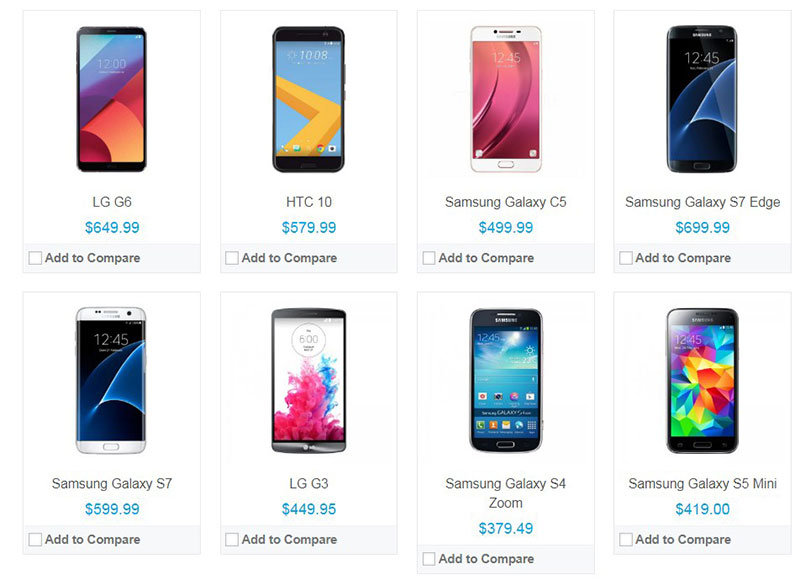 Arena Products Store plugin helps create user-friendly and unique pricing or comparison tables. The developer created, not only a comparison table but a whole store.
Users can employ the comparison table feature that will make a great add-on to their websites. To get started, first create and set up general product attributes.
Afterward, decide which of these products to include in the comparison tables. Users can create their own by clicking on the "Compare" button.
This plugin is ideal for people who want full features to display tables and new sets of products.
Go Pricing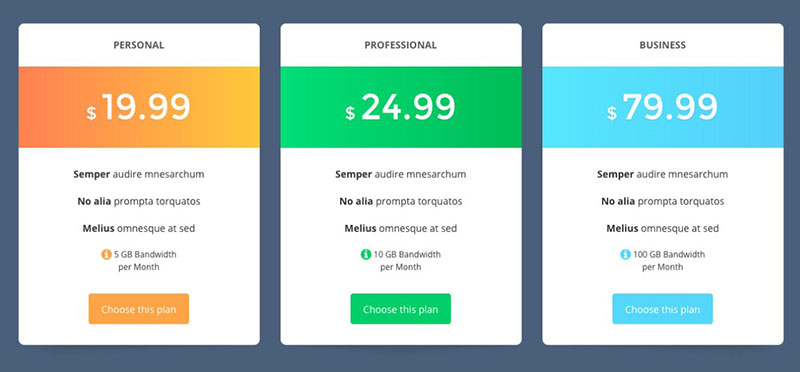 This plugin comes with several features for creating a comparison table. Developers make regular updates to ensure the plugin works to its full potential.
Go Pricing has more than 2000 free icon fonts for users to choose from. On the corner of specific columns, they can add ribbons to present the "best" and best seller products.
It comes with tons of style and animation.
Users can import more than 250 premade demo tables to their website. This means it is not necessary to have coding skills or to create a table from scratch.
Ninja Tables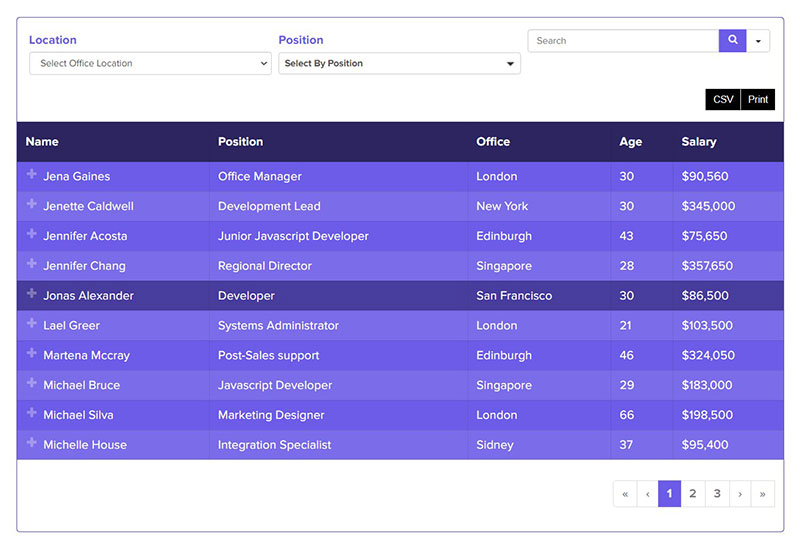 This plugin will help web owners add tables and use the best elements for a better outcome. It is responsive, fast-loading, and appealing to visitors.
Ninja Tables is flexible, making it suitable for any website niche. It is useful for movie reviews, sports stats, and product listings.
Its enhanced table style will attract visitors to the website's pages.
Users can customize the comparison table, including its contents. Thus the table complements the website's background.
The table presentation is limitless as the plugin supports all kinds of content.
FAQs about comparison tables
1. What is a comparison table, and how is it used?
A comparison table is a specific kind of table that is used to compare and contrast two or more objects, goods, or services according to predetermined standards. It is a useful tool for providing information in a clear and succinct manner, facilitating readers' decision-making.
2. What are the benefits of using a comparison table in a presentation or report?
Comparison tables offer a number of advantages, such as assisting readers in quickly and easily comparing various possibilities, giving complex data a visual representation, and making it simpler to spot similarities and contrasts between goods or services. They are used in a variety of settings, including marketing, product development, and consumer research.
3. How do you create an effective comparison table that is easy to read and understand?
The right comparison criteria must be chosen, the table must be well-organized and simple to read, and it must provide clear, succinct information in order to be effective. Also, it's critical to provide the data objectively and impartially, avoiding any attempts to twist the facts in order to support a specific good or service.
4. What are some common mistakes to avoid when creating a comparison table?
Using too many criteria, including extraneous information, failing to provide clear and succinct information, and utilizing biased language or imagery are some frequent faults to avoid when producing a comparison table. Also, it's crucial to check that the data is accurate and current and that the table is presented correctly.
5. What are some key elements to include in a comparison table to make it more useful?
Clear titles, uniform layouts, meaningful criteria, accurate and current data, and an overall balance of positive and negative aspects are essential components of comparison tables. Also, it's crucial to make sure the table is simple to read and comprehend and that the various comparisons are made in clear terms.
6. How do you choose which criteria to use when creating a comparison table?
The context and goal of the comparison table must be taken into consideration while selecting the right criteria. Price, quality, features, performance, reliability, customer service, and user reviews are a few typical considerations.
It is crucial to select measurements that are applicable, significant, and simple to compare across various goods or services.
7. What are some examples of industries or situations where comparison tables are particularly useful?
In markets or circumstances where consumers must choose wisely from a variety of possibilities, comparison tables are very helpful. Consumer gadgets, financial services, healthcare options, and lodging are a few examples. Moreover, comparison tables can be used in B2B settings like vendor selection and procurement.
8. Can comparison tables be used to compare non-numerical data, such as product features or customer reviews?
Absolutely, non-numerical data like product characteristics or customer feedback can be compared using comparison tables. Instead of using numerical data to illustrate the many alternatives in these scenarios, the table may instead employ symbols or other visual clues.
The presentation of the data must be clear and consistent, and any subjective data must be appropriately identified as such.
9. How can you use a comparison table to highlight the strengths and weaknesses of different options?
By integrating factors that are especially pertinent to the decision-making process, a comparison table can be utilized to illustrate the benefits and drawbacks of various solutions.
For instance, factors like location, facilities, and cost may be crucial when comparing various travel hotels. Readers may quickly and easily choose which solutions satisfy their needs and preferences by providing this information in a clear and succinct manner.
10. What are some tips for effectively using a comparison table in a group discussion or meeting?
It's crucial to make sure that everyone has access to the same information and that the comparison table is simple to read and comprehend when using it in a group discussion or meeting. Allowing each participant to contribute their own criteria or offer input on the preexisting criteria may be helpful. Also, it's critical to maintain objectivity and refrain from endorsing any specific goods or services.
If you enjoyed reading this article on creating a comparison table, you should read this one on how to scan the WordPress database for malware.
We also wrote about a few related subjects like the WordPress database schema, WordPress database plugins, statistical tables, WordPress pricing table plugins, doing a WordPress database cleanup, data table examples, WordPress chart plugins, or how to find and replace an URL in a WordPress database.