SEO, short for Search Engine Optimization, is the process that makes your website content more attractive for the bots of a search engine, such as Google. If the search engine perceives the site to be relevant, useful, and authoritative on a given topic, it places it higher on the SERP (Search Engine Results Page). This is why so many people try to make their content SEO-friendly – to be in the top results of a search, based on a specific keyword.
Another element that matters tremendously in the SEO process is the sitemap. A WordPress sitemap acts as a literal map of your website, where all of your website's pages and categories are listed. Besides helping users, a sitemap can improve your website's SEO as Google and other search engines use the sitemap to understand your site's structure. This article created by our team at wpDataTables to learn more about the WordPress sitemap and why it's so important.
What Is a Sitemap?
The definition of a sitemap is pretty clear– it is a map of every single piece of content that's present on your website. Simply put, it is a page that lists the categories, pages, or even posts, no matter how deep within your site these can be found.
Both search engine bots and users can make use of this sitemap to find what they are looking for, and to get a quick glance at how everything is structured. Search engine bots consider websites that have a sitemap more organized and, thus, easier to crawl. Considering how beneficial it is, there's no reason not to generate one. Thankfully, the process of creating a WordPress sitemap is extremely simple and doesn't require much effort.
If you want your website to pop up in the first results of a search, you definitely need to use a sitemap – alongside other SEO best practices, of course. When search engine bots notice that there are pages and posts which aren't organized on a website, they automatically assume that the site isn't very professional.
What Types of Sitemaps Exist?
The basic types of sitemaps are HTML and XML. Here is a short description of each: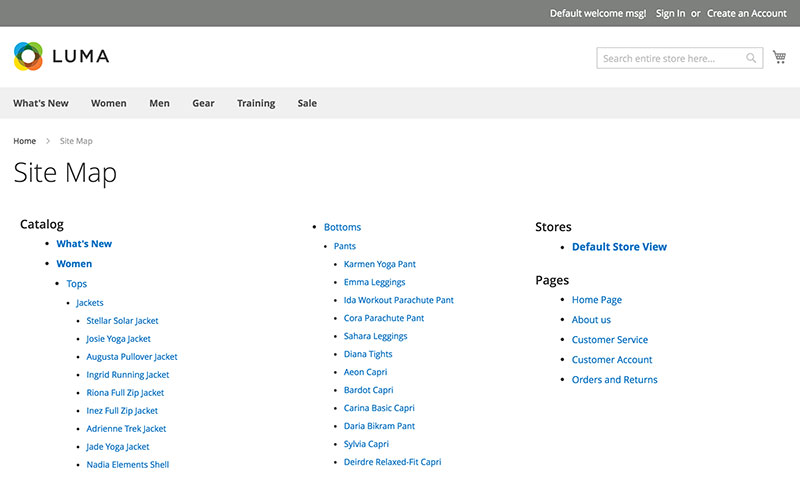 HTML sitemaps are sitemaps that users can read too. The sitemap will appear as a regular page on your website that can be accessed by anyone who visits the site. Users can access the sitemap in order to navigate to a specific category, page, or post rapidly, without using the navigation bar or search feature.
XML sitemaps, on the other hand, can't be accessed by users and they are exclusively created in order to help search engine bots recognize the content on your site. They come in a format that is easy to read by a search engine, which is XML. This sitemap will also contain metadata that holds great importance in SEO in terms of need-to-know info like how often the site is updated.
Next, we will discuss aspects related to Yoast SEO plugin, which is the tool that is going to help you create a sitemap for your own site. This is an example of Yoast.com's XML sitemap: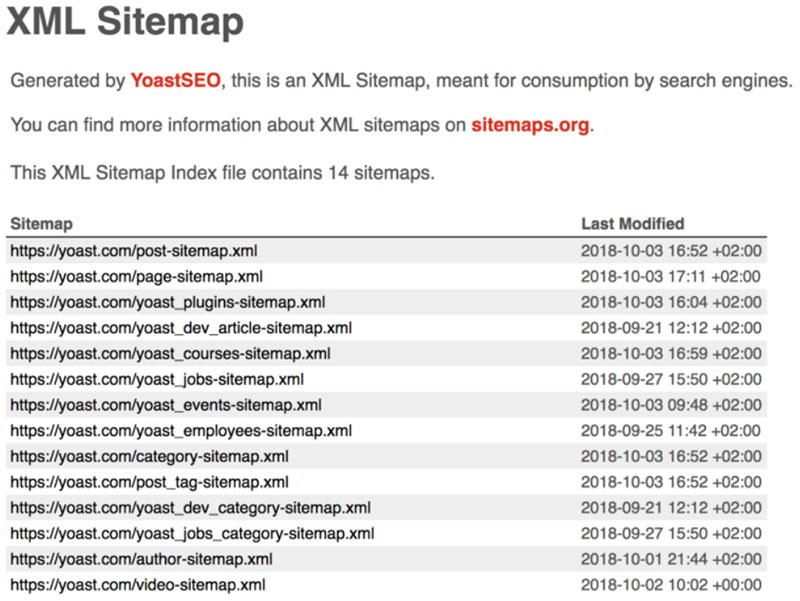 Why Would You Need One?
The SEO relevance of a sitemap is evident, but you should know the process behind it for a fuller understanding. Search engines will decide what keywords fit your content the best and – based on that – they will place your website up or down on the SERP. Googlebot will recognize your website's sitemap, as well as the keywords, and it will crawl and collect info about your site accordingly. This is why these bots are called crawlers. It's important to acknowledge the fact that having a sitemap is not the only SEO approach you need to gain success, but it is a great place to start.
Which Pages Should Be Included on Your Sitemap?
You don't have to include every single page of your site in the sitemap if you don't consider these pages relevant. You need to pick the pages that are indeed valuable for the search engine and for the user (if you build an HTML sitemap). Also, if you want Google to read your sitemap, but not add the sitemap itself to the search results for your site, you can add a "noindex" tag to it. Search engines will still be able to use the sitemap, but it won't be indexed. When you use Yoast SEO to build your sitemap, the process of selecting pages to include becomes easy.
Not including all the pages can affect your site negatively as well. For instance, if you have more than 500 pages on your site,of which only 20 are considered relevant and contain quality content, search engines might believe that most of your website is based on low content and only a few pages are high-quality. Thus, the search engine might place your site amongst the least important search results. This is why you need to choose the pages that you will include in the sitemap with care.
How Can You Create a Sitemap Using Yoast?
Talking about creating a Yoast SEO sitemap, you probably need some instructions on how to do it. The Yoast SEO plugin is used to create XML sitemaps for any WordPress website. You just have to install it and follow the instructions. You can see the setup process below.
Setting it up
Download Yoast SEO plugin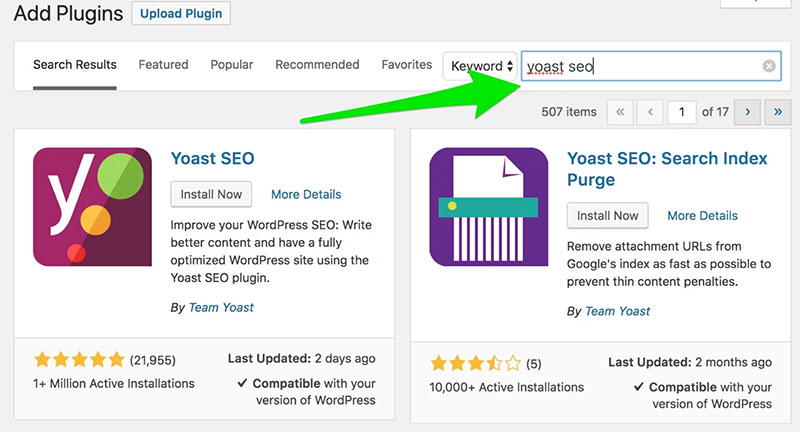 To do this, go to your WordPress Dashboard and navigate to Plugins. Click on Add New and simply search for Yoast SEO. The name of the plugin will lead you to it and you only have to click Install Now. When the plugin is installed, you will have to hit Activate to make it work.
Enable the sitemap option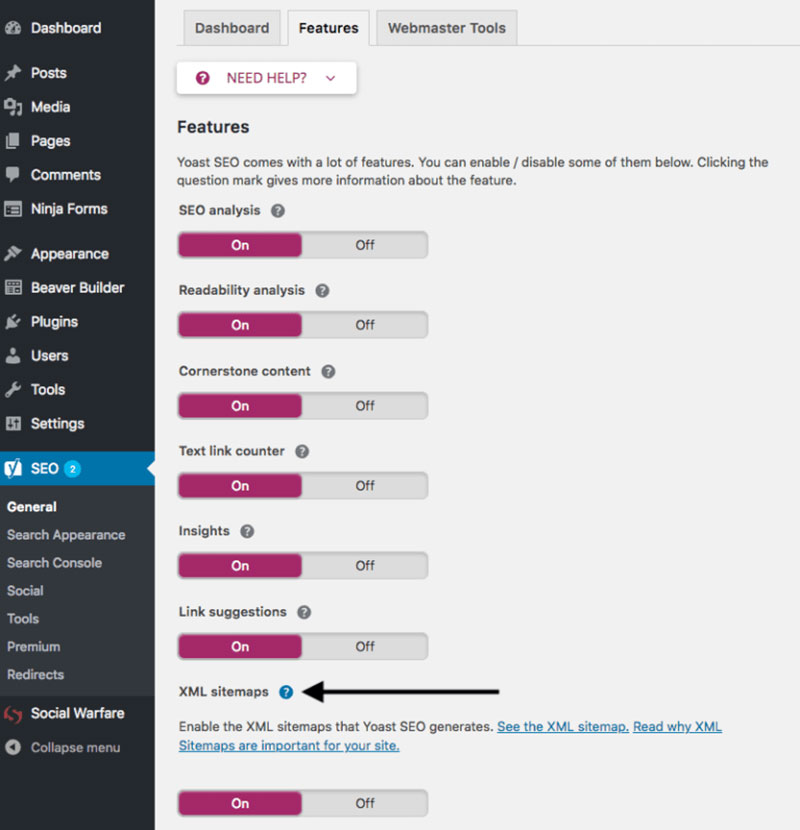 Navigate to the Admin Menu of your WordPress, go to SEO and find XML sitemaps in the list. When you find the option, note this message: "Check this box to enable XML sitemap functionality". Check the box for "Yes".
Visualize the sitemap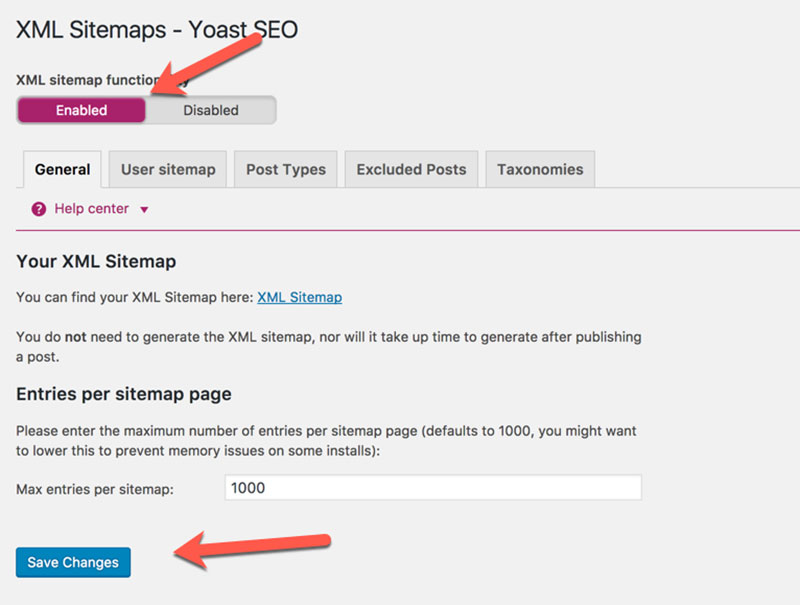 To check out the sitemap that the Yoast SEO plugin generated automatically, you need to click on "See the XML Sitemap". It's as simple as that. The option will redirect you to the sitemap and you can check whether everything looks good or not.
Make any necessary changes
You may not be completely happy with the default XML sitemap generated by Yoast. Luckily, a Yoast SEO sitemap can simply be edited within the plugin, to include or exclude the content of your choice. To do that, navigate to Search Appearance in your Yoast settings panel. Check out the XML sitemap index and review the content included here.
Can Google Find Your Sitemap?
These are two ways to make your sitemap visible to Google.
Submitting the sitemap to Google Webmaster Tools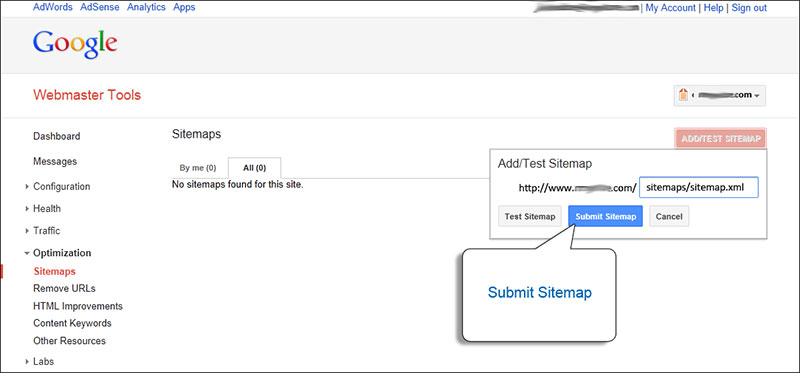 You can submit your sitemap directly to Google Webmaster Tools by:
Signing in to your Google Webmaster Tools account
Go to your website
Hit "Crawl" and then "Sitemaps"
Remove the existing sitemap, if any
Add a new sitemap
Type in sitemap_index.xml in the text box
Submit
Googlebot will soon start to crawl your website according to the new sitemap.
Submitting the sitemap to Google Search Console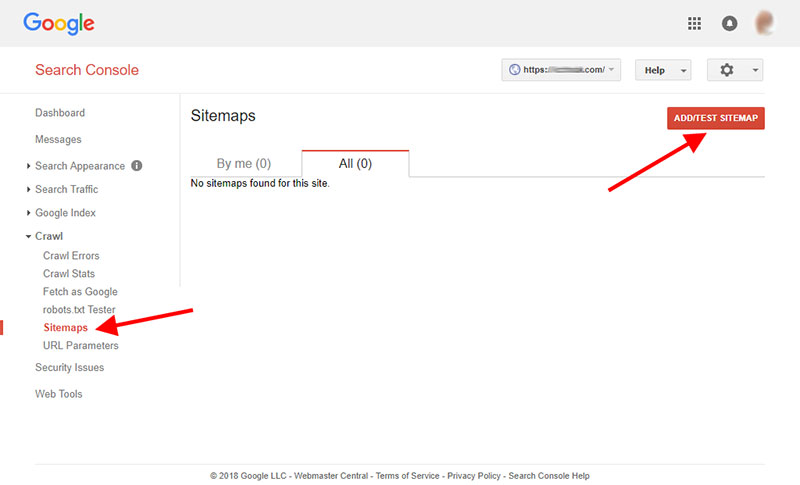 You can also add the sitemap to the Google Search Console, which might make Google crawl your website faster. To do so:
Sign in to your Google Search Console
Select your website from the sidebar
Click on Index
Navigate to Sitemaps
Remove the outdated sitemap
Add your new sitemap
Submit
The steps are very similar to Google Webmaster Tools but Google Search Console is the new Webmaster Tools, so it might be more effective to add the sitemap here.
Summary
Now that you built a Yoast SEO sitemap, your website should be perceived more positively by search engines. It doesn't take much knowledge or a lot of time to include a sitemap on your website, so don't skip this step. Keep in mind that adding a sitemap is even more important for larger sites, as they are more difficult to crawl and make sense of without one. As your site grows, you should periodically check to see if your sitemap is still adequate and update it if necessary.
If you enjoyed reading this article on Yoast SEO sitemap, you should also check out WordPress sitemap and rich snippets.