Providing a secure payment option for your customers is an extremely important aspect of e-commerce that every web page owner should worry about. For WordPress, there are no default payment options that you can incorporate straight from the platform, unfortunately, but the great thing is that there are a ton of very useful WordPress payment plugin options that you can utilize.
Keep reading more about this topic in this article created by our team at wpDataTables and learn how to choose the best one.
Why a Good WordPress Payment Plugin is Crucial
Having a safe and secure payment option is not only important for the customers, but for the business owners as well. It is now more important than ever to ensure a safe payment platform that ensures business owners make revenue online, while also ensuring that customers make payments as safely as possible.
A WordPress payment plugin should be utilized for all types of payments. Whether it's for buying and selling products online, donations,or various subscription payments, almost every site on the Internet has a sort of payment platform. Since online payments are such a crucial part of modern businesses, it is wise to spend a bit more time and money on a sensible and secure payment plugin.
It all starts with choosing the right plugin for your site. It can be hard to choose the plugin that will best suit your site, as some plugins might not fit in with your website's theme, while others can disturb the structure of your website completely.
There are many WordPress payment plugin options to choose from, and it can be intimidating for a total beginner to pick the right one. To help you out, we have some requirements and recommendations for you. Here, we will take a look at the best WordPress payment plugin options you can choose from.
But how can you pick the right one for your website, and what are some considerations you should keep in mind when choosing a plugin?
How to Choose a WordPress payment plugin
There are some important features of a plugin that you should consider when choosing the right one for your site, such as:
Does your eCommerce payment plugin already have built-in payment gateways?
Which payment gateway do you prefer, and do you already have an existing account? Are you willing to create an account?
A good payment plugin should support various countries that customers come from, which can increase your customer pool significantly.
The cost of a plugin can also play an important role when choosing the right one. Plugins range in price, from free, to reasonably priced, to pricey but with some significantly better features.
Best WordPress Payment Plugin Options

This robust premium WooCommerce payment gateway plugin allows your online store to integrate Authorize.net easily. Since it is compatible with major cards like MasterCard, Visa, American Express, Discover, JCB, and Diners Club, your potential customers will choose your store as they can pay with their trusted services.
Your customers can choose to pay via eCheck seamlessly with this handy plugin! Since this robust plugin comes up with a handful of customization options, you can configure the checkout page accordingly for presenting to the customers.
Since refunds and cancellations are quite normal in the e-commerce businesses, you can proceed and capture partial and full refunds in simple clicks. Accepting recurring payments is very easy with its subscription support feature. For making the checkout faster, it has an option to save their card details safely.
And the transaction amount will not reach your account until the funds are captured from the customer's account using authorized captures. And yes, your customers will not be redirected to any other webpage during the checkout. They will be redirected to your store itself even after the checkout.

Since many customers choose Amazon Pay as their favorite payment method, this handy plugin comes up with advanced features to offer the best Amazon Pay checkout experience. With this feature-rich premium Amazon payment gateway plugin, you can customize your checkout page by adding the Amazon Pay checkout button, banners, and many more.
You can seamlessly initiate partial and full refunds in simple clicks. This plugin replaces the traditional checkout with Amazon Pay checkout as well as makes the checkout experience smoother with a minimum number of clicks. Your potential customers will not leave your site after the checkout and they will be redirected to your store right after the checkout!
WPPayForm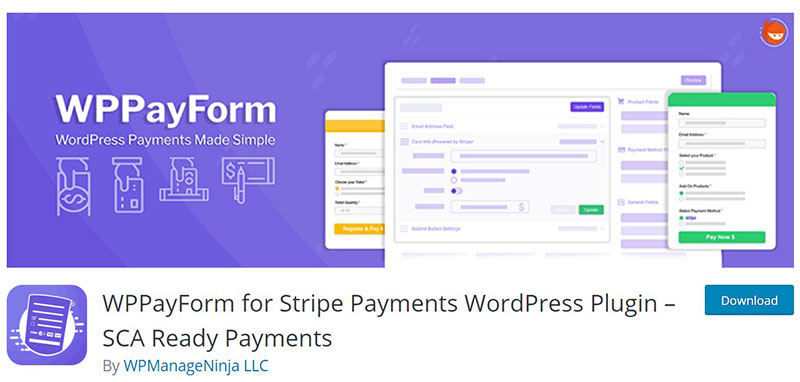 WPPayForm is a great plugin that can make your payments significantly easier. The user interface of the plugin is very simple and very intuitive for beginners, while also providing quite a complete experience. This is a great plugin for new website builders and users.
The plugin has a free version that has some very useful features on its own. Firstly, the free version offers stripe integration, which is very important. However, if you need integration with Paypal then you will need to spend some extra money on the premium version. Other features include six starter forms and 22 input fields. This plugin is a complete choice.
Stripe Payments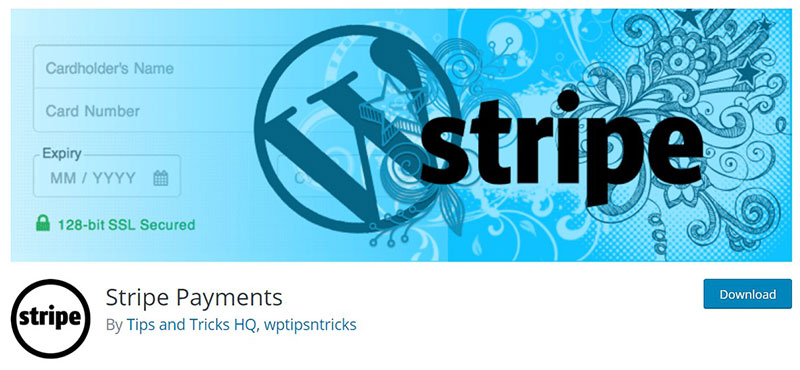 This WordPress payment plugin is one of the newer options on this list, but it is also one of the fastest-growing. It offers a secure stripe payment gateway, and it has a "remember me" feature that the users can utilize for making payments much easier the next time they visit your site. The great thing about the plugin is that it enables its users to create appealing and responsive designs while also keeping the payments very secure. So, if you're worried about payment safety, Stripe Payments would be a good option. Be sure to note that Stripe charges a fee for payment processing. learn more about the fee using a Stripe fee calculator.
WP Easy PayPal Payment Accept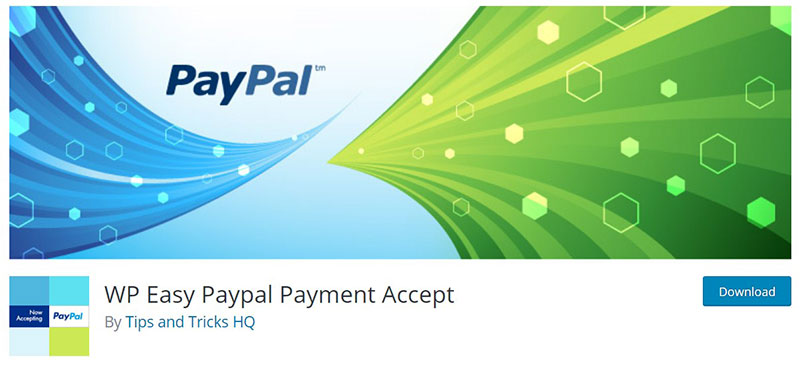 WP Easy PayPal Payment Accept is a very useful WordPress payment plugin that enables visitors to make payments on your site through PayPal without signing in or logging in. This can be very important, and can save time for users.
Additionally, WP Easy PayPal Payment Accept allows for more ways to go about payments on your site. One option is to use short codes to connect the payments on your site, while you can also decide to call the payment option from a template file.
In addition to PayPal, this WordPress payment plugin accepts various other types of payments. You can also customize the plugin in many ways – by changing the image of the payment, or by creating a specific page that users will see after payments are made.
WPForms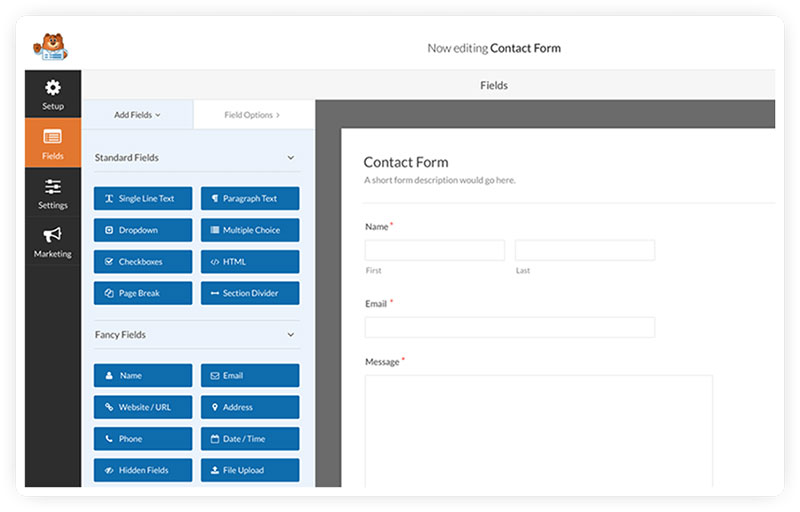 This option is a bit different – it uses the drag&drop technique that lets you build your own designs for plugins. That makes it very popular amongst newer website designers and is used by millions of various websites online.
The Pro version allows for PayPal and Stripe payments, and it can also be used for creating very simple donation or order forms that you can use on your site. All in all, this is one of the best options that you can use on this list.
eMerchantpay for WooCommerce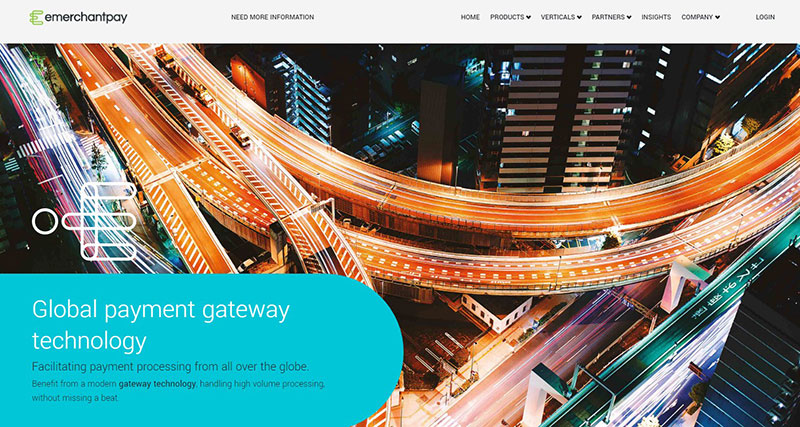 For WooCommerce, the eMerchantpay is a great payment plugin. It allows its users to accept payments from a wide variety of credit cards, and it offers users a very secure payment gateway by incorporating a simple, but effective API integration.
This plugin is definitely worth trying, and you can use it to create a very secure payment system, while also keeping your customers happy by allowing them the wide spectrum of payment options. Above all, it is a simple, yet very effective plugin to use.
GoURL Bitcoin Payment Gateway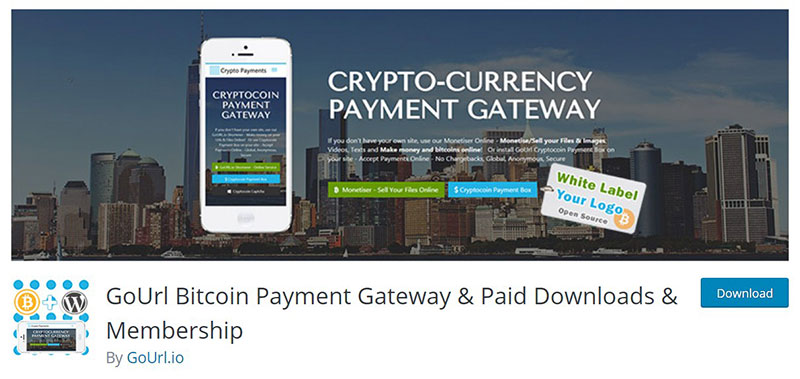 Bitcoin is getting more and more popular, and this payment plugin is definitely the right choice for you if you want to incorporate this rising currency into your gateway. This plugin not only works for Bitcoin but supports other cryptocurrencies too, such as Litecoin, Speedcoin, Peercoin, Bitcoin Cash, and some others. You can incorporate the plugin in many ways, such as for product payments, page views, memberships, and more.
WP Simple Pay Pro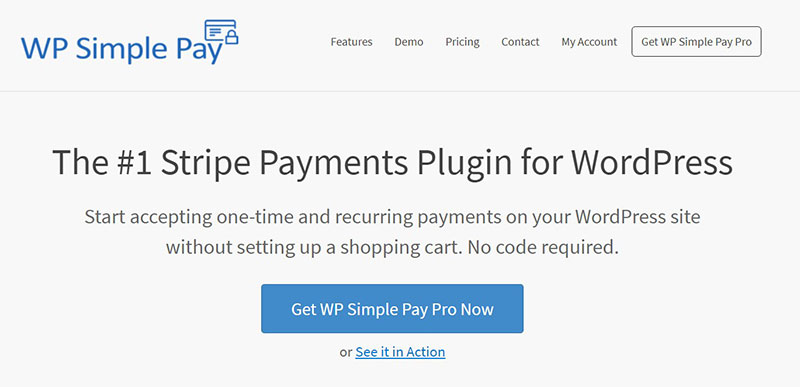 If you want instant payments without shopping carts, then this plugin is the way to go. You can collect payments for your products right away, or you can collect payments on the long term instantly. In fact, it is one of the best plugins for business owners – small and large, and for various personal business owners, such as developers.
You will also appreciate the honesty and the ability to acknowledge faults by this plugin, as they will offer you a refund after 30 days of use if you are not entirely convinced that it's the plugin for you.
WooCommerce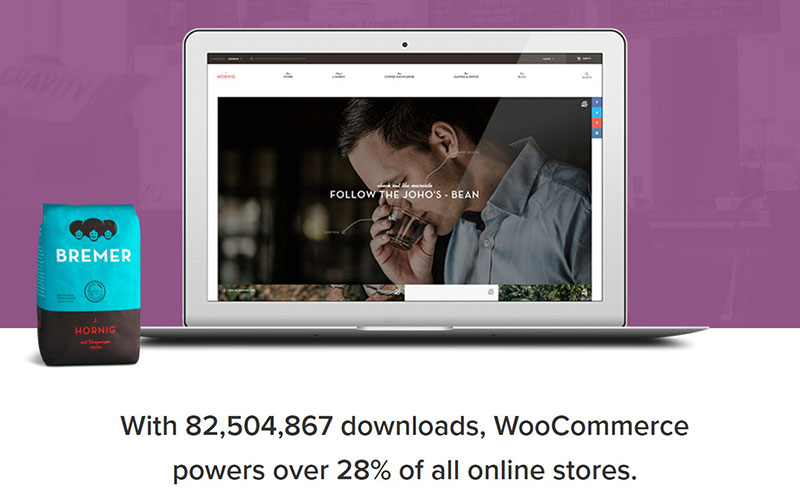 If you own an e-commerce website or any other type of online business, you have probably heard of WooCommerce. It is one of the most widespread WordPress payment plugin options in the world, and is used by millions of websites to collect payments for products, services, subscriptions, digital goods, and more.
There is a multitude of payment options for WooCommerce, but PayPal and Stripe are chosen as the default payment options that WooCommerce incorporates.
Contact Form 7 – PayPal & Stripe Add-on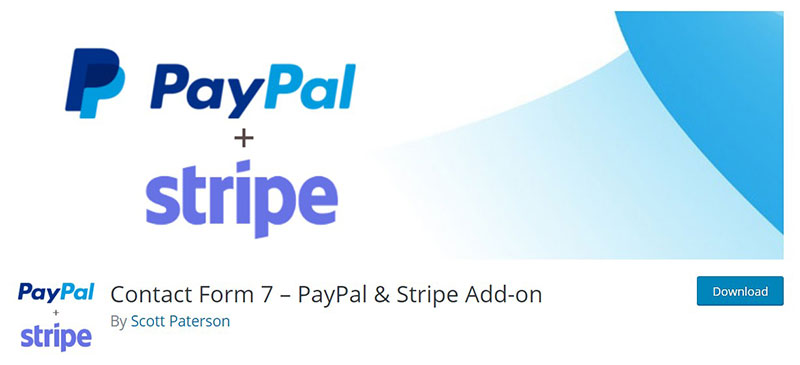 Another plugin that you have probably already heard about is Contact Form 7, and that is for good reason. This plugin is known as perhaps the best contact form plugin for WordPress that also allows you to utilize the PayPal and Stripe add-on to accept payments from those two platforms. This add-on will only work if you have the plugin (Contact Form 7) already installed on your system.
In addition, you can opt for the pro version, which is a massive upgrade from the basic version of the plugin. While the basic package is more than enough for smaller businesses and starter projects, the pro version brings a lot to the table – the ability to send emails upon payment, to connect multiple items from Contact Form 7, and the ability to charge for shipping.
WordPress Stripe Plugin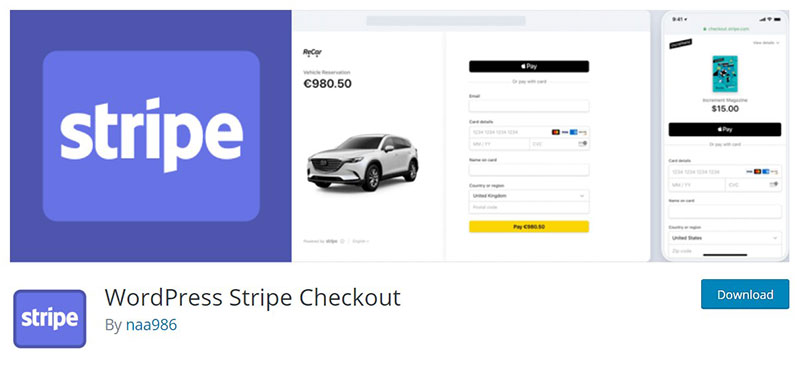 Stripe is one of the most popular payment options, and you can now incorporate it into your WordPress site with this WordPress payment plugin option. You will be able to receive payments for your products and services with Stripe with this plugin, and you will enable the users to make them all on one page without having to leave your site.
The plugin allows payments from almost all the major credit card providers, such as American Express, Visa, Mastercard, and more. Also, the payments will be completely secure, as the plugin uses HTTPS connections to complete payments, and these require the use of secure SSL certificates.
WordPress PayPal plugin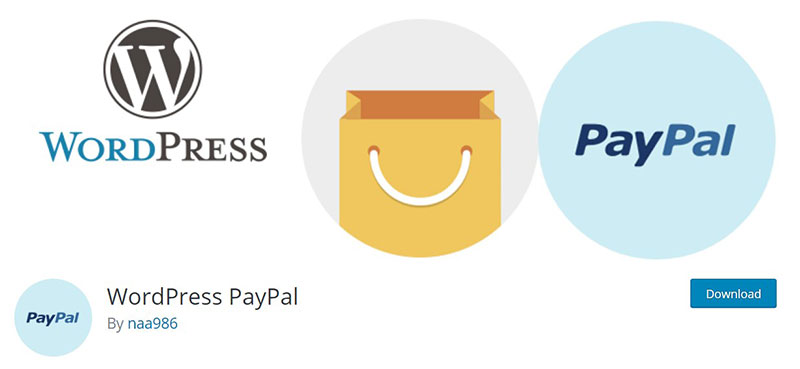 The PayPal plugin for WordPress payments uses shortcodes to make payments happen. It is one of the better plugins for subscription-based websites, and you can use it for making continuous payments on a daily, weekly, monthly, and yearly basis.
There are some other customization options – you can, for example, allow the option to add more items to the cart, offer discounts, change currencies, and more. You can also use multiple-use shipping costs and tax costs, which you can add to payments.
MemberPress

While this plugin comes with the integration of Stripe into your WordPress site, you can also use various credit cards and PayPal payments by using an add-on. While you might have to pay for this plugin, and some people might be discouraged by the price, it is certainly worth it. That is especially the case if you have a subscription type of site where you need to manage subscriptions on a daily basis. This plugin is one of the best plugins to use for subscriptions.
WP Full Stripe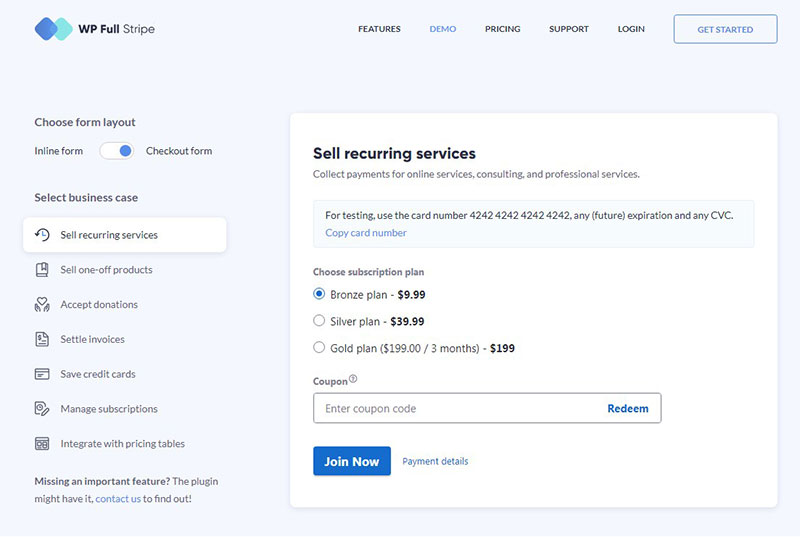 The best thing about this WordPress payment plugin is that you can easily add payments to your site without having to integrate any third-party payment websites. That allows for much quicker payments. What is more, there is a free version of the plugin; while it might not have all the capabilities of a premium plugin, there are some very useful features that the free version offers.
Namely, the free version allows for drop payment forms, and other forms using Ajax, allowing for very easy and secure payments. These payment forms can easily manage the payment options and many payments, and they can choose between donation payments or direct payments for products or services.
Fondy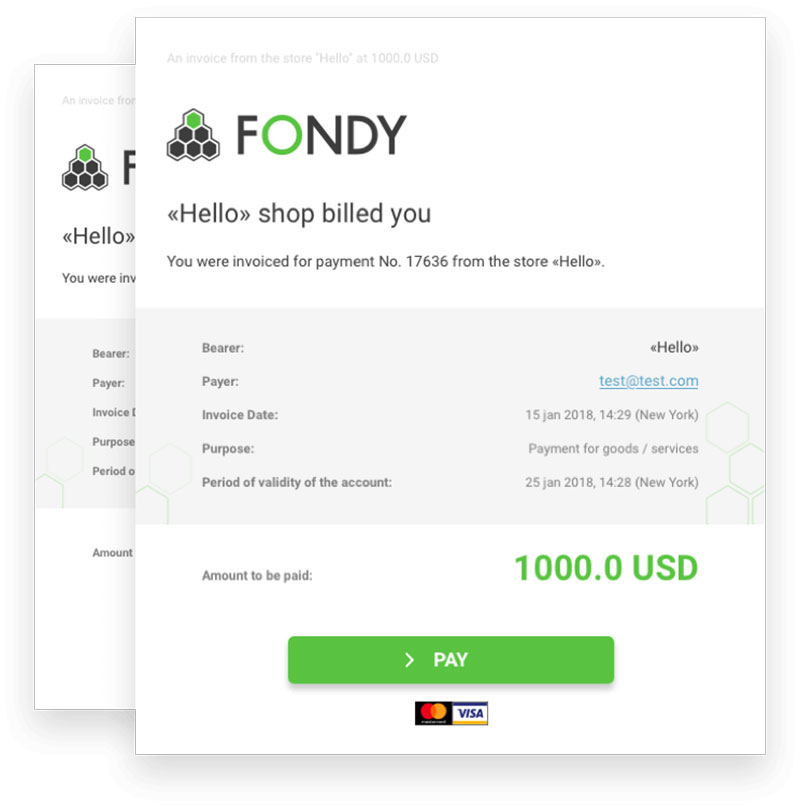 Very easy to set up and use, the Fondy payment plugin is one of the best options for WooCommerce users especially. It uses a secure gateway with many various currencies implemented, which allows for a flawless payment system.
The best thing about this plugin is definitely the simplicity of it. It takes only a few minutes to set it up properly, and it is very effective as well. It is highly secure and allows you to have full control over your payments.
WooCommerce QuickPay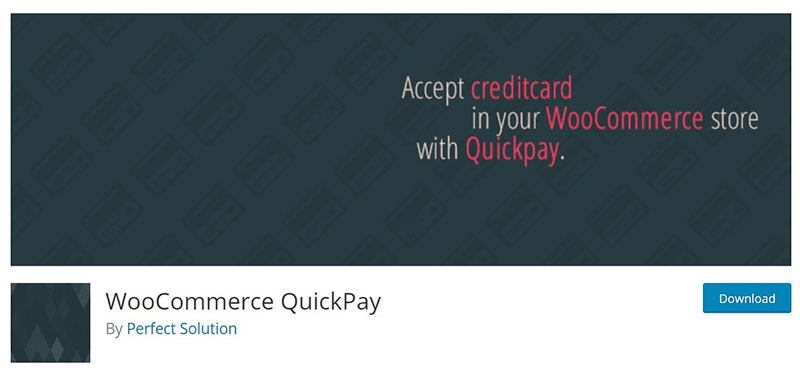 This is one of the best plugins for WooCommerce that allows you to incorporate the QuickPay Gateway into your payment system. It's not very complicated to set this plugin up, and you can start using it in minutes. In addition, the plugin often gets regular updates, which brings the best experience possible to your site. The API options of this plugin also allow the user to overview the payments very easily and to manage them in a relatively simple manner. What's more, it is completely compatible with the latest version of WordPress, as it receives constant updates.
Easy Digital Downloads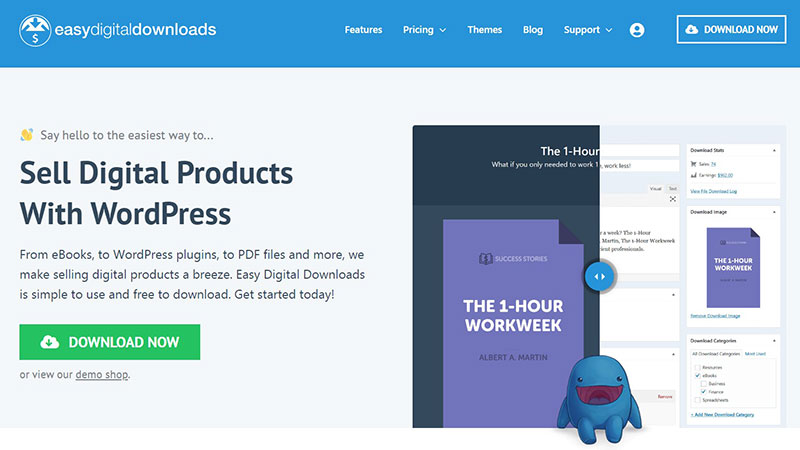 For selling digital goods and products, this plugin is definitely worth a go. It advertises a very streamlined experience with some very useful features, and it gets rid of all the unnecessary features that WooCommerce incorporates for selling digital goods. Plus, you can accept payments via Stripe with this plugin.
The three main gateways incorporated into this plugin are PayPal Standard, Amazon Payments, and the Test Payment. There is also the Stripe extension of the plugin that you can install and use for your payments on your site.
WordPress Simple PayPal Shopping Cart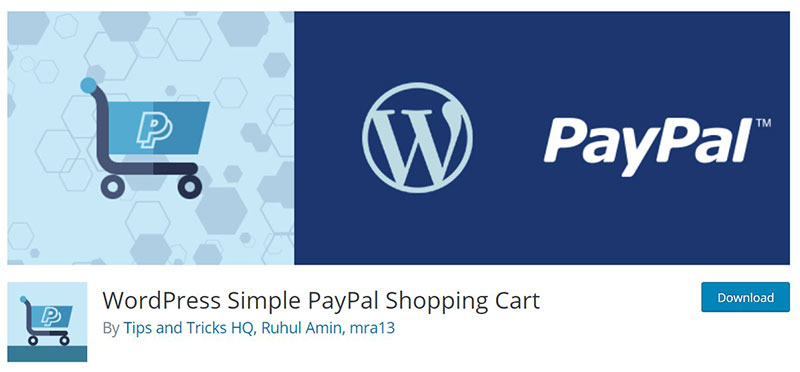 If you want a relatively light plugin that won't slow down your site, then this one is definitely the way to go. It is light, but still robust enough for making payments safe. The best thing about this plugin is the shopping cart customization – it allows users to add items to the cart very easily with the "add to cart" button, and a very quick PayPal checkout by adding a button for checking out.
Also, if you are into selling photographs, then this plugin has something for you. You can simply and effectively sell photographs by using the NextGen Photo Gallery plugin. Smart shopping carts and the ability to add items to the cart and checkout easily is one of the best features of this plugin.
Stripe Payment Terminal WordPress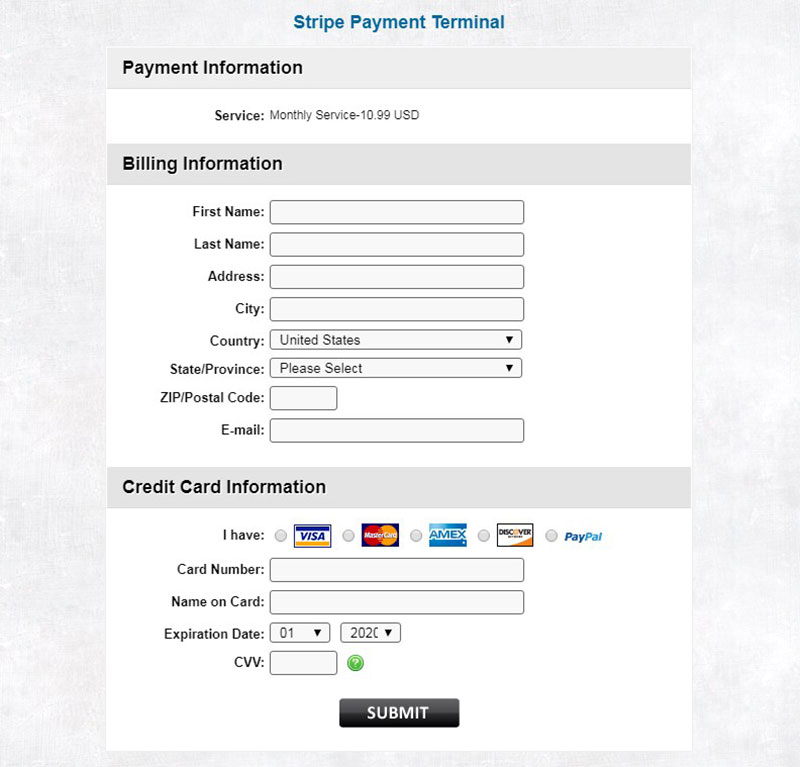 The Stripe Payment Terminal WordPress payment plugin is a good plugin that you can use to manage subscriptions on your site. Along with recurring payments that can be done constantly, you can accept one-time payments as well as trial options.
You can easily incorporate payment buttons into your structure for quick payments anywhere on your website. This WordPress payment plugin is certainly a good choice.
2CheckOut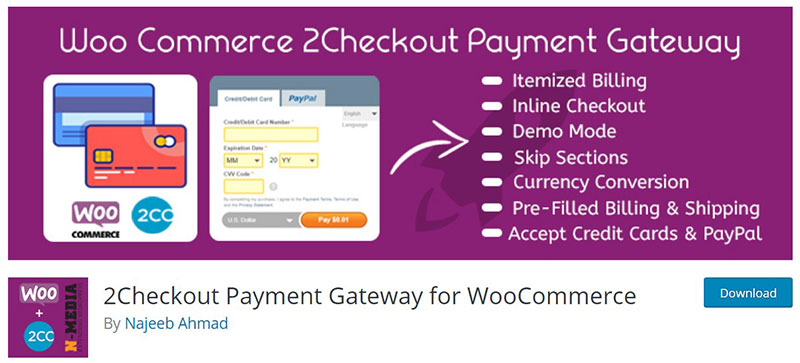 If you are looking for a premium experience, then this is the option for you. It has all the standard features that many plugins offer, while also incorporating some very unique and useful features. Included in these features is currency conversions and transactions in the international sphere. In addition to that, it offers fantastic language support – 15 languages are supported, and 87 currency options are supported, allowing for international payments. Plus, you can offer debit and credit card payments, PayPal payments, and other payment options.
WP Simple Pay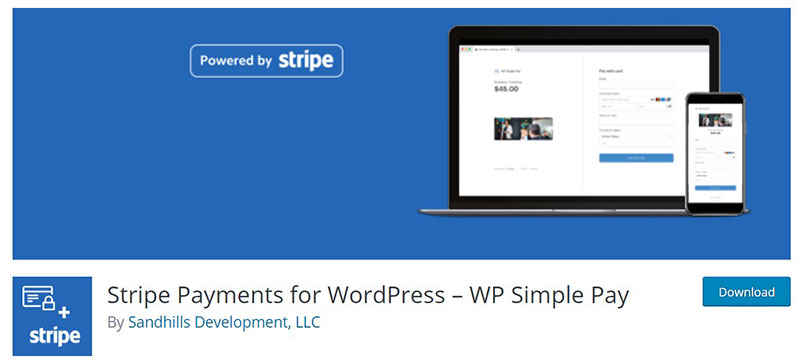 Simplicity and user-friendliness are two of the best features of this plugin. You can now accept payments from various payment options using Stripe. The simple payments are definitely one of the best things about this plugin, as you will be able to accept payments without the need to create shopping carts. The loading times are fast and the payments are totally secure. You can also offer discounts by adding coupon codes and custom fields, allowing for better customer data collection.
Quick PayPal Payments

For quick and secure PayPal payments, this WordPress payment plugin is an exquisite choice. The large variety of payments and fast payments can be made by filling out forms. What is more, they can be done relatively quickly by using shortcodes.
You can add in various payment currencies,and you can use instant payment notifications. It is also a highly-international plugin, as it supports many languages. Adding custom forms is also enabled with this plugin, and it offers a wide range of shortcode options.
PayPal "Buy Now" button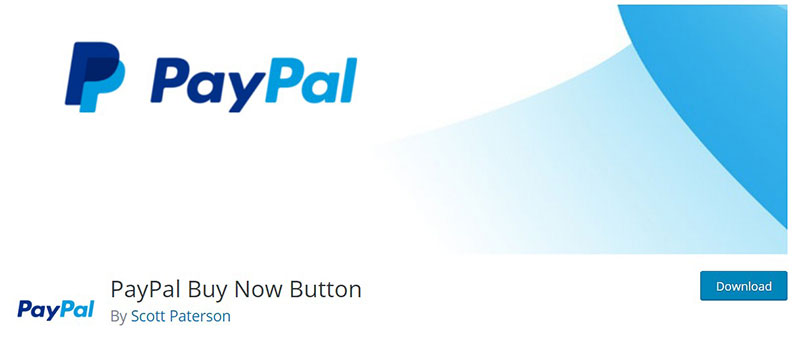 This plugin allows you to add a "buy now" button, which makes payments and buying options more streamlined and much faster. You can do this by adding a PayPal button, which allows you to buy items very quickly. You can also heavily rely on PayPal by using the interface of the payment service, which is known to be one of the best and most secure around. All in all, this WordPress payment plugin is definitely a great option if you want to create a good, quick payment option without all that extra 'fluff'.
Ending thoughts on these WordPress payment plugin options
Having a good payment plugin is a crucial thing to have on your e-commerce website. It allows for secure and quick payments, which gives you the ability to sell more of your products and services, and keeps your customers' information safe.
A good and secure payment system is one of the staples of a reliable online merchant, which can increase and enhance your reputation massively. There is something for everyone on this list, and hopefully, you will be able to choose a good payment plugin for your needs.
If you enjoyed reading this article on WordPress payment plugin, you should check out this one about WordPress archive plugin.
We also wrote about a few related subjects like WordPress popup plugin, WordPress coming soon plugin, WordPress scheduling plugin, WordPress cookie consent and WordPress timeline plugin.