If you own a small hotel or a family business that rents out vacation homes, and you want to accept bookings online, you need a good website with a great theme to inspire visitors to book their holiday with you. This can be accomplished with a good vacation rental WordPress theme.
WordPress has hundreds of high-quality themes readily available, including vacation rental WordPress themes. Your online project can become a success with one of the themes offered on this list. Some are not as popular as others, but that's only because they're not getting enough recognition for the quality they provide.
This article created by our team at WpDataTables will analyze the best vacation rental WordPress theme options:
Vacation rental WordPress theme examples
Bellevue: Hotel + Bed and Breakfast Booking Calendar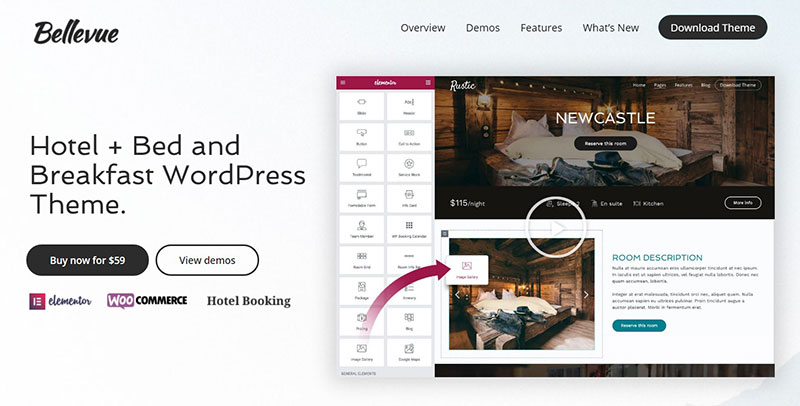 This is the best theme if you own a hotel or a bed and breakfast business. It enables you to show your booking calendar to the users, making it easy for them to book and plan their stay with you and is equally useful for small and large businesses.
It is a well designed attractive theme, with an easy drag and drop builder. There's a live theme customizer, which shows your changes.
Villagio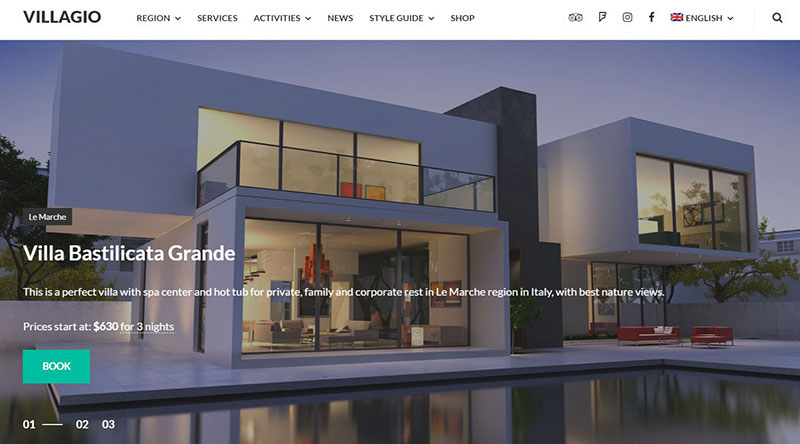 Villagio is a vacation rental WordPress theme that's available for renting multiple properties. This theme offers exceptional functionality and the balanced design has a readily accessible search availability form. You can make several rental properties rentable on the main page.
This theme also works well to promote your rental vacations. As the name suggests, this theme generally features villas, but it's not limited to these only. It's functionality means you can complete the project very quickly. As it's powered by the MotoPress Hotel Booking plugin, the financial aspect of your business can also be easily managed.
Kastell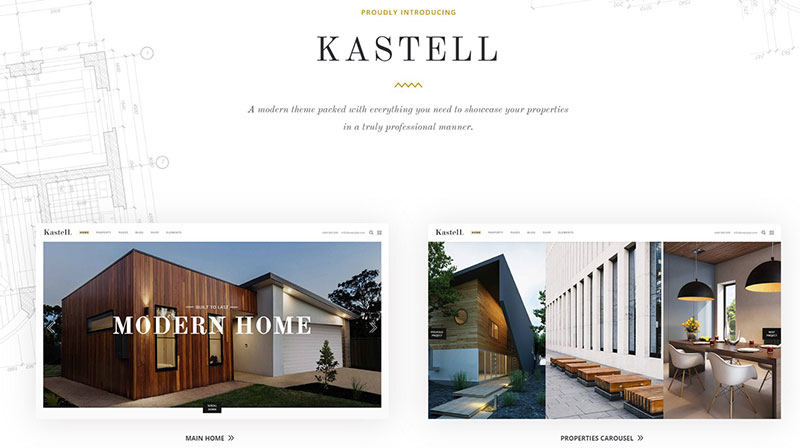 Kastell is one of the best themes to use if you're listing a single property. It features a very intuitive design that prioritizes the images of your property and makes it stand out. You can include photo galleries, photos, videos (including 360 degree videos), and amazing background images.
Above all, the theme will also look stunning on mobile devices. You can show off your property, make it available for rental, and attract plenty of customers. It's also WooCommerce compatible, which means you can also sell items from the site.
Nixe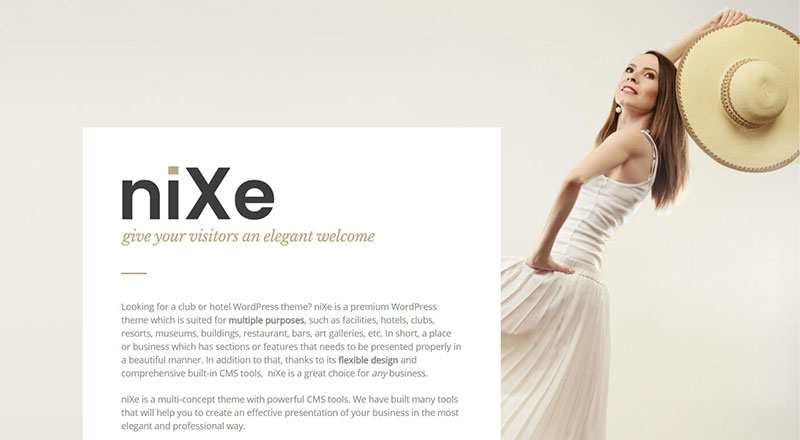 Nixe is a very versatile vacation rental WordPress theme option. You'll be able to list hotels, various rental facilities, villas, clubs, resorts, bed and breakfasts, apartments, and much more. It has an attractive outlay and a great selection of tools and features that will make using your website easier.
You can display your rooms or properties in three different styles: classic, animated, and full-screen. Creating the subpages and rental presentations is incredibly easy with an intuitive drag-and-drop system to create and add features to the theme. Above all, the website or the theme is SEO optimized, meaning that your website will be very high in ranking, which is vital for rental websites.
Divi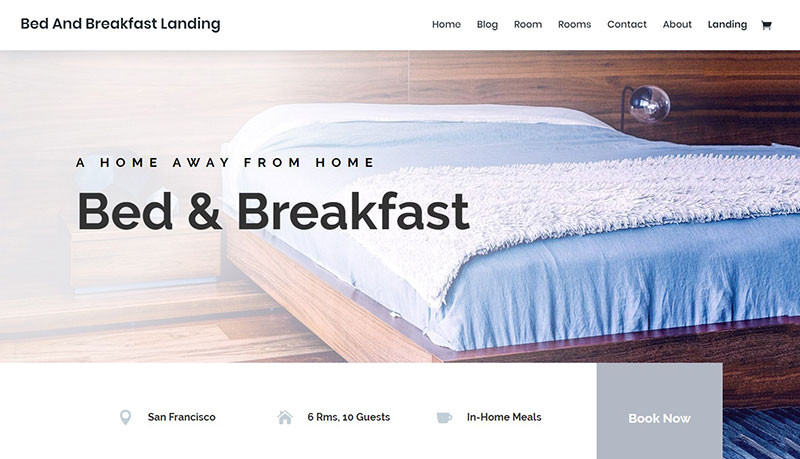 Divi offers almost endless customization options. It has a real-time editor with dozens of different methods and options for customization. Plus, you can add something unique to the theme, such as a custom text or font, making your website extraordinary and more relevant to customers.
Everything is customizable: fonts, colors, as well as the CSS settings, such as the CSS animations. The theme is very responsive, so you can quickly create stunning websites and rental offers.
Booklium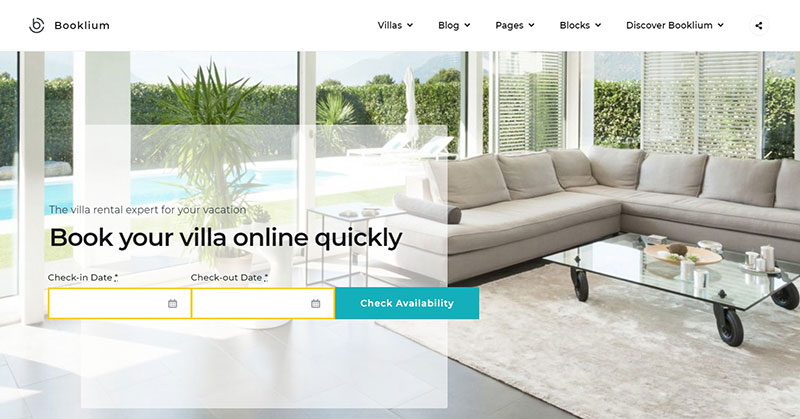 Booklium is a great option for property owners who rent out their properties on a regular basis, regardless of the type of accommodation they offer, including villas, single properties, hotels, and bed and breakfasts.
The default theme is elegant, but there are many customization options so you can choose exactly how you want it to look. There's a side roll menu option, as well as different layouts for rooms and other options.
The theme includes a demo enabling users to decide whether it's what they want. If you don't want to do it manually, then everything can be set up for you.
WP Rentals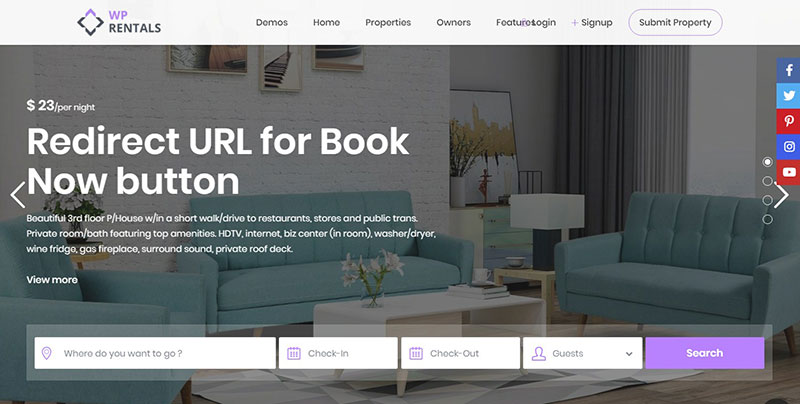 WP Rentals has incredible versatility, including seven different demos, making it a great choice for a variety of users. It's an excellent theme for offering a beach rental, hotel booking, or even a weekend city getaway rental.
It's compatible with the Advanced Booking System, so your customers can book their stay in advance. Building your website is easy with some other features such as compatibility with PayPal and Stripe, so you can accept online payments for the bookings.
Real Estate 7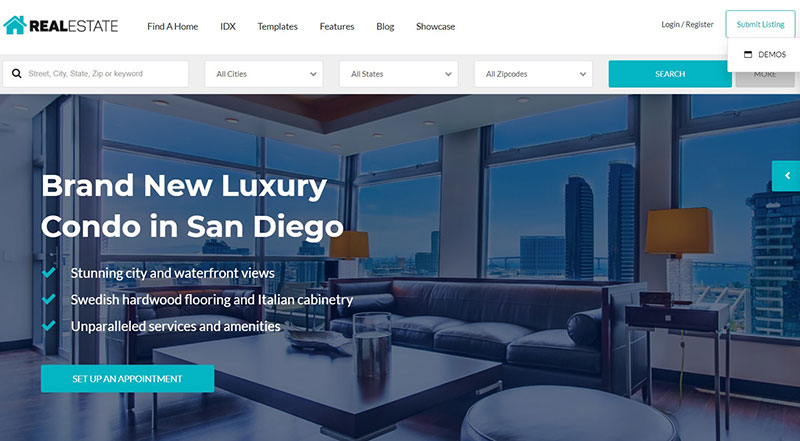 Real Estate 7 has been around since 2008, so it's an industry-leading theme. The developers have a lot of experience, and you can rely on this theme to make your property rental stand out.
The customers can easily get acquainted with your rentals, and building the portfolio is also smooth. There are various demos and plugins to choose from, and a feature that lets you show the availability of your rooms, which is useful if they're frequently rented out.
Delux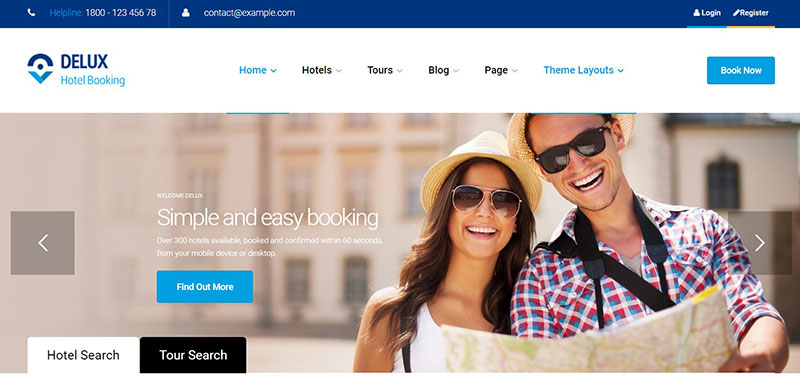 Delux is an online hotel booking theme with various useful features and capabilities that allow you to easily manage your rentals and hotel. It also has the option to control the connected activities, such as travel and tours. It's mobile-friendly and easy to use, plus it is SEO-ready to optimize your online presence.
There's a drag and drop builder that lets you create a stunning rental layout for displaying your rental vacation home. The homepage has 3 different layouts to choose from. High-quality images are displayed as the theme is compatible with Slider Revolution. This theme is highly recommended for hotel rentals.
AlpenHouse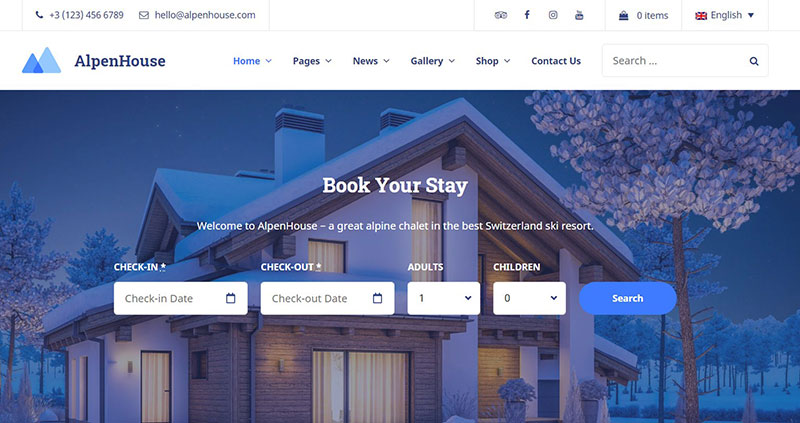 The AlpenHouse theme is perfect for guest houses, chalets, inns, and short-term rentals. It has a professional design with various optional alternatives. You can directly control your bookings with 1-click sample data import.
This theme focuses on various ski resorts and chalets, but not exclusively, because it offers several customization features that allow you to add hotels and other rentals.
Milenia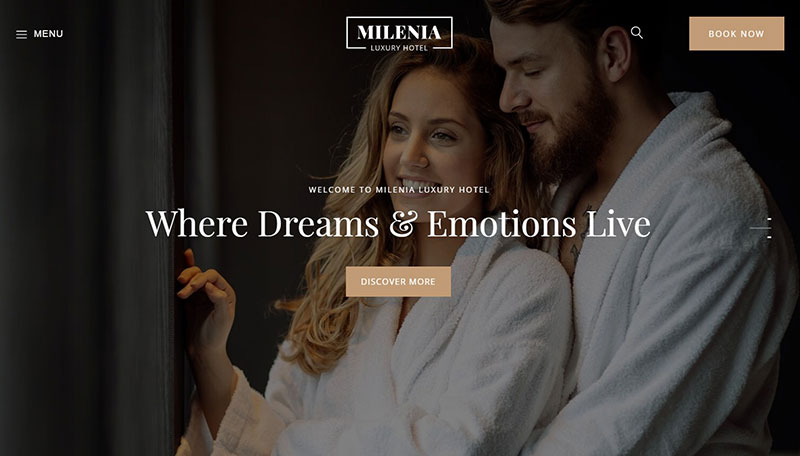 Milenia Luxury Hotel offers five different homepage designs and a variety of website demos providing design options for your website. It also has templates for luxury rentals as well as for smaller businesses and accommodations.
It enables you to offer bookings straight from your website which is excellent for your rental business and customer service.
The Happy Inn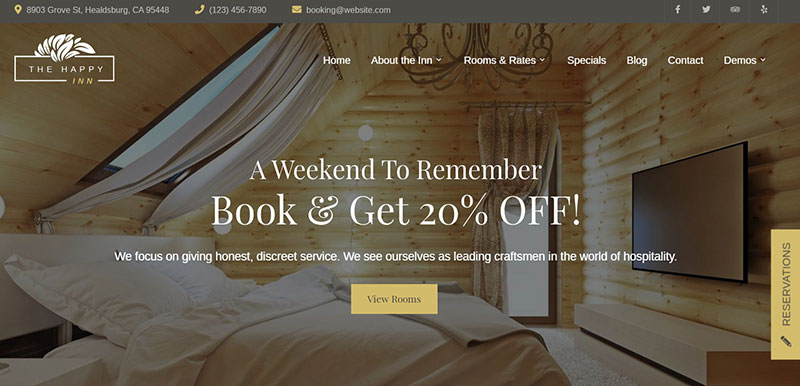 The Happy Inn enables you to customize the page with a live page builder in the theme. There's a premium slider, and custom colors to choose from. You can also easily embed Google Maps to allow your visitors to know where you are.
First, the visitors will be able to see your hotel, then the option to choose their preferred room. It's a smooth and elegant theme with support for various other plugins and features, including MegaMenu, and Elementor.
Sunway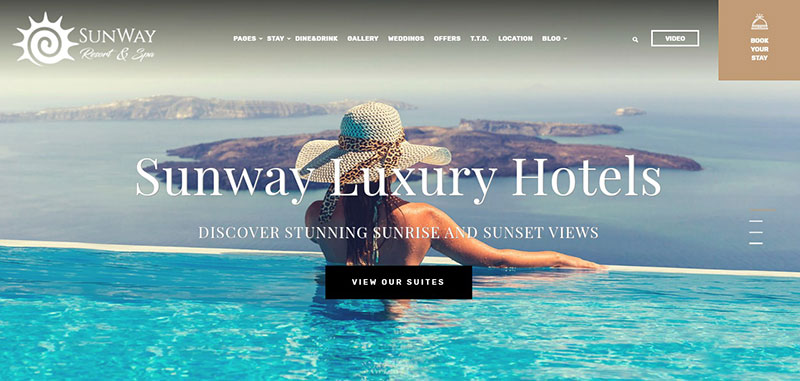 Sunway is the perfect theme to help you create an Airbnb-like business. It's a vacation rental WordPress theme that enables you to make great profits in the long-term. It's great for renting out various types of vacation rentals, including rooms, cabins, inns, residence, hotels, B&Bs, and much more.
The theme is built with the help of MotoPress, which is an excellent plugin that adds a lot of functionality to the website. Above all, it offers plenty of customization options, and a clean, user-friendly design. It's excellent for mobile devices, and SEO-ready, meaning that your site will rank higher than most other rental sites in your area.
Riverside Resort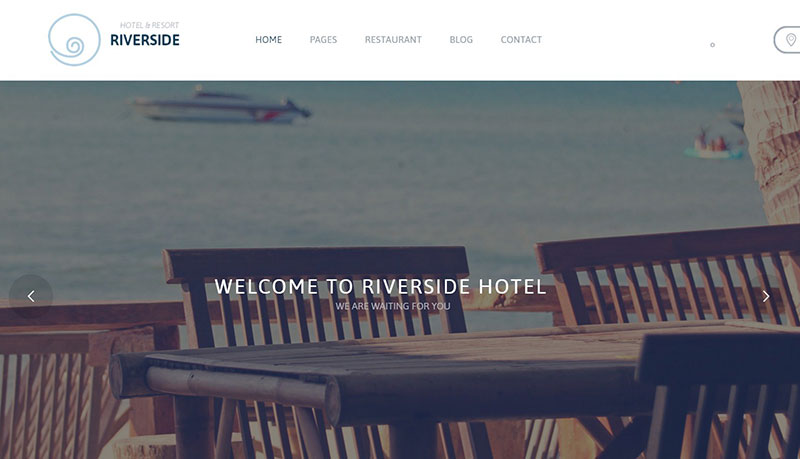 The Riverside Resort theme is primarily made for vacation homes, hotels, and various vacation rentals.
Visitors can easily book their stay with you on the website itself with a simple reservation panel, and make various requests regarding their rental. There are also various subpages to choose from, such as rooms, spas, meeting rooms, or other fixtures that your customers might want to use.
You can also showcase everything about your rental: the rooms, individual spas, smaller areas, as well as the entire hotel.
If you enjoyed reading this article on vacation rental WordPress theme, you should check out this one about how to delete WordPress themes.
We also wrote about a few related subjects like radio station WordPress theme, Amazon affiliate WordPress theme, the best theme for Elementor and WordPress theme detector.