Designing a radio station website is definitely a challenge due to their specific needs, such as music players and the ability to add many images for album covers.
You can create a digital broadcast station or standard FM station online by using a radio station WordPress theme, which removes all the hard work as they are designed especially radio stations.
The right radio station WordPress themes will help get your station noticed, achieve listener goals, build your brand, and promote events.
Keep reading more in this article created by our team at wpDataTables and discover some premium radio station WordPress themes.
Pich the best radio station WordPress Theme from here
Onair2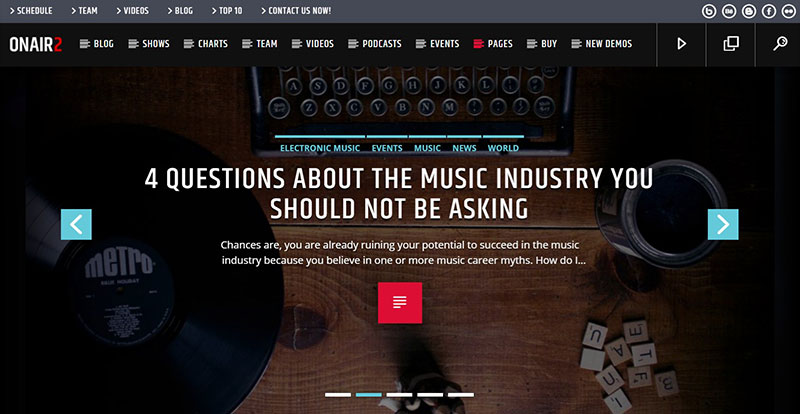 Onair2 is a very highly rated and extremely popular theme used by radio stations, because it looks fantastic and is highly customizable, with multiple theme choices and editing tools for the standard template.
Explore the demo site to see the design and how it looks. You can create 11 different kinds of posts, including publishing upcoming concerts or albums, and keep it all organized in the WordPress dashboard. Onair2 has an excellent music player, which is one of its best elements as your listeners can use it to hear your station online, or you can add pre-recorded content if you wish.
Rare Radio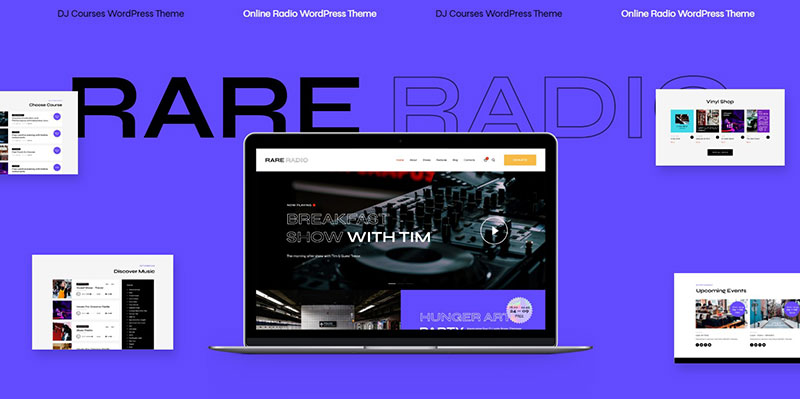 Rare Radio contains multiple different templates to use as a starting base for your radio website.
They offer useful demos for many kinds of music sites including radio station websites. You can save time by selecting a radio station demo as a fantastic start to your site.
Import a demo into the WordPress dashboard, then add a weekly schedule to your site, which makes it easier for listeners to see when different DJs are on and what your programming schedule is. You can also add profiles for your radio hosts and DJs, or a module to promote upcoming events.
MESH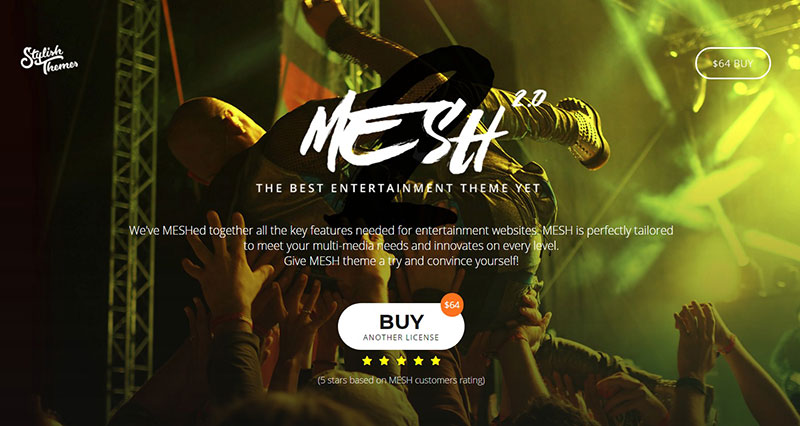 MESH is popular because of its incredible audio player offerings, which can be added to different parts of your site for easy access. It features an event planning system to set up new events effortlessly. MESH's flexibility makes it suitable for many entertainment forms.
Website owners may want to create sections for each show, to provide further detail of the schedule and about the hosts, to enable their audience to connect more with the hosts. A social media presence is crucial to the success of any radio show, so MESH supports social network links that let you share songs, clips, or update your listeners.
Pulse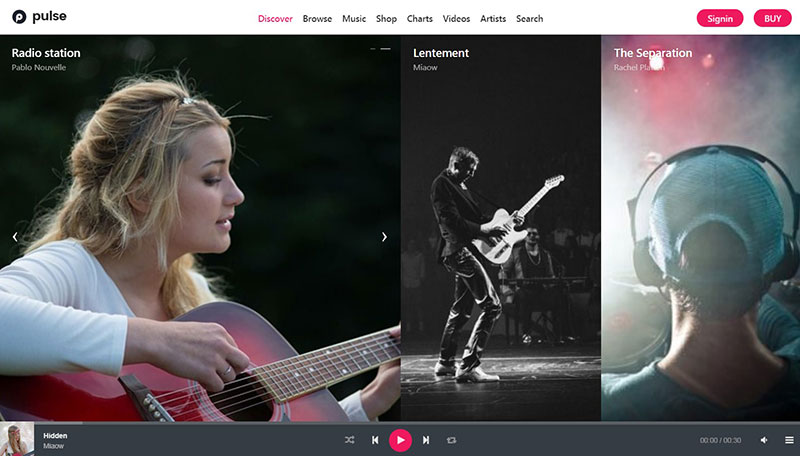 Pulse is a responsive popular WordPress radio station theme, which manages many types of audio and radio. Using WooCommerce with music integration enables you to sell audio files to customers.
It also allows users to make their own playlist for your site, and features an accessible modern theme that is sure to make your site popular.
Music Club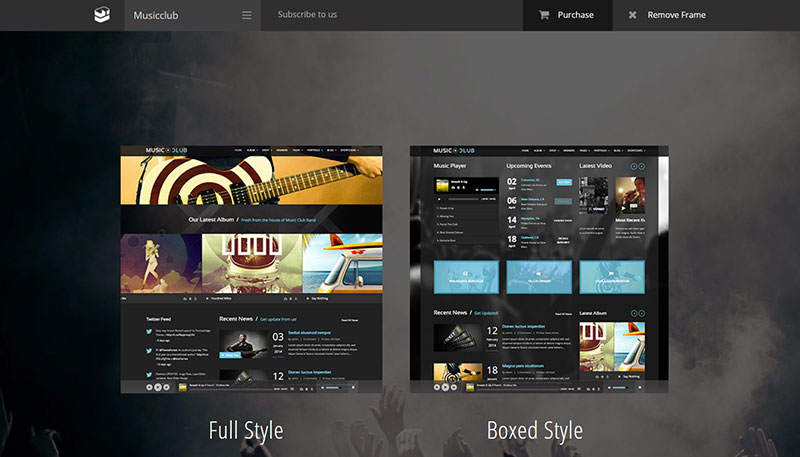 MusicClub is a professionally designed theme created just for WordPress and can be used for making parties, clubs, music, radio sites, and more. It can even feature a blog and comes complete with radio station elements that can be hard to find on any other theme.
It is one of the few themes with a floating music player in addition to the regular boxed music player. Just like a music label or radio station, you can add in entertainment and other events to the site. Music Club offers a post type just for events that has a ticket button for fans wanting to buy tickets.
Sounder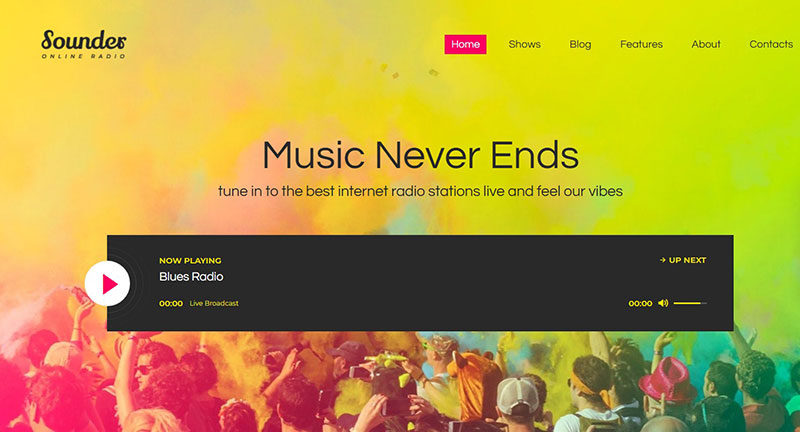 Sounder is a captivating WordPress radio station theme with bright colors that add interest to your site. Sounder is designed for those who want a modern and bold radio station website.
Sounder's design was created to attract visitors and will help you reduce the bounce rate for your site.
MusicPlay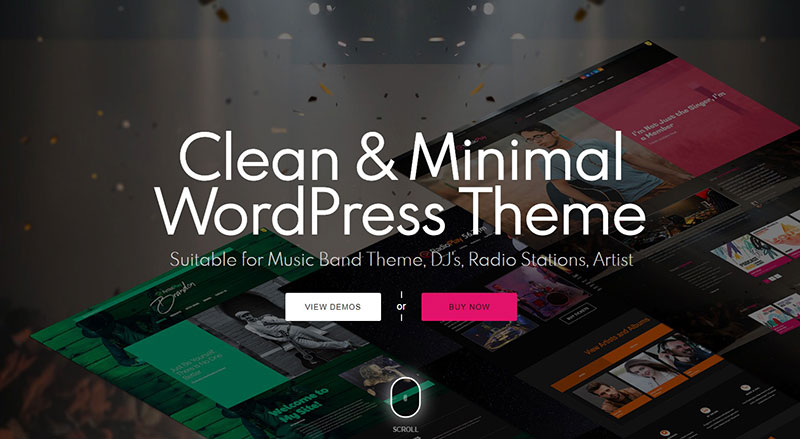 MusicPlay was created especially for radio station websites. It has a colorful, bright design that would suit most types of stations.
The templates are modern and stylish, therefore making any site look completely unique.
MusicPlay has layout demos that you can experiment with, thus helping you to decide which ones would fit best. MusicPlay has several templates with large audio players that can be used to stream shows.
Bridge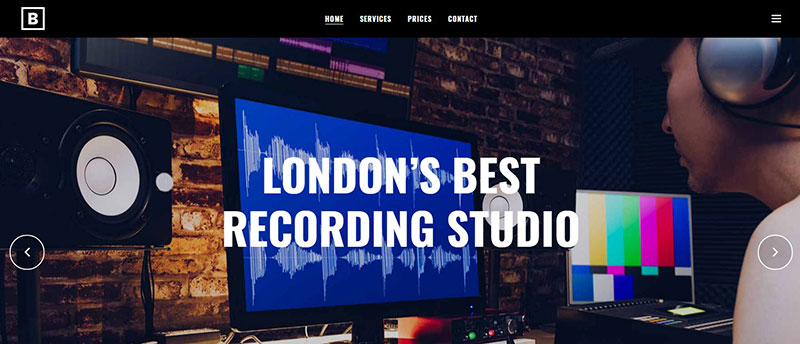 Bridge is one of the best WordPress radio themes. Use this theme to create a functional, easy to navigate website. Bridge offers many great tools to create a fabulous website, along with several demos to choose from.
Bridge can be used on different kinds of stations. Simply choose a template and enhance it to suit your needs. The page builder is intuitive, so customizing your site is uncomplicated.
Beaton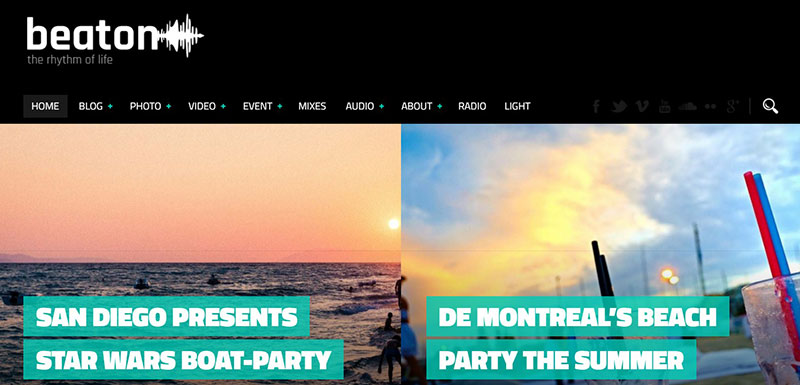 Beaton's strength is in its sound features. It can display many music formats with ease. The ability to upload unlimited photo albums enables you to create a seamless user experience with music and artwork.
Create an unforgettable website that can stream your radio station live, upload videos, DJ mixes, and create events.
Sonik
Sonik is suitable for most types of music-based businesses. They provide many radio station templates and demos.
The radio station website design looks fantastic; its theme focuses on videos and events. It has integrations and animations that add to the overall effect. As radio is live entertainment, it's important that your site focuses on schedules and events, allowing the listeners to experience your radio shows live.
It functions beautifully with the WooCommerce plugin, allowing for an online shop so add any merchandise, songs, or albums for sale.
Vice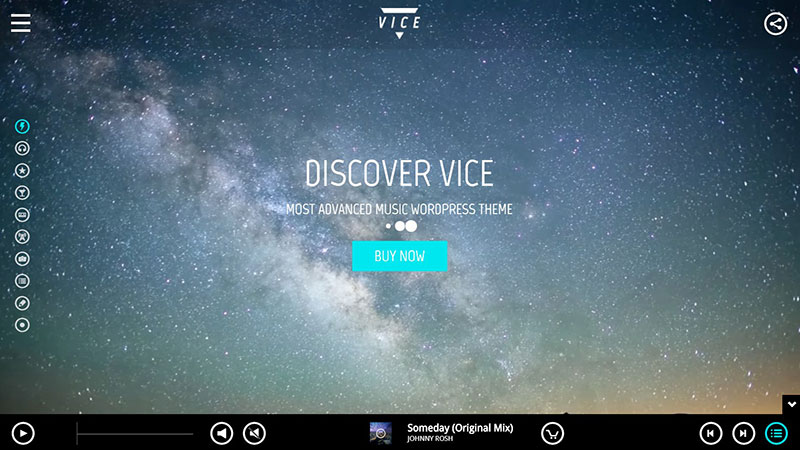 Vice is one of the best WordPress themes for radio shows; it's excellent for creating sites for DJs, bands, producers, and musicians. It is responsive and completely customizable to your needs.
Regardless of your radio station's genre, Vice will have the right template. The homepage features a full-width design that looks highly professional, so use it to create a fantastic website for your visitors.
The menu bar has a great layout,which is hidden until the user clicks to expand it. This, in turn, makes your site cleaner and less cluttered. The social share button is a floating one that can be seen throughout the site. This facilitates content sharing when a listener loves a specific song on your site.
StereoClub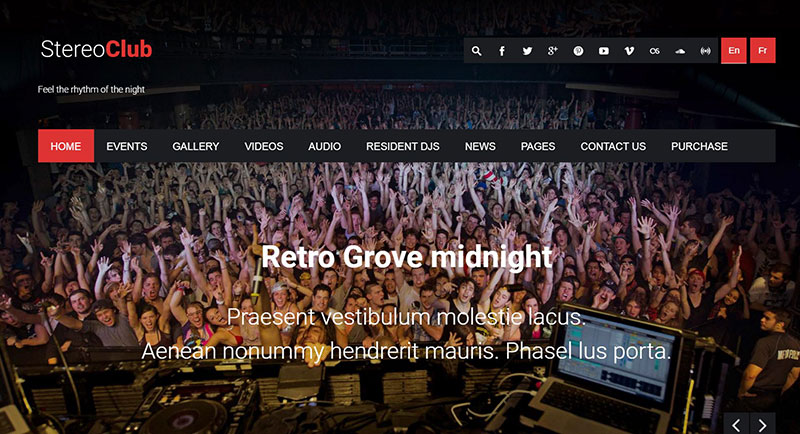 StereoClub offers modern and powerful features, perfect for a DJ, band, or radio station site. Upload images, listen to music, or promote up and coming artists. These multimedia sites look amazing.
StereoClub comes with several pricing options, offering the normal Standard version as well as a Developer edition. Both versions have the main features, but the Developer adds extra customizations; such as adding HTML files and layered photoshop files. The Developer edition has a one time fee and you can use StereoClub on multiple projects and sites.
Chords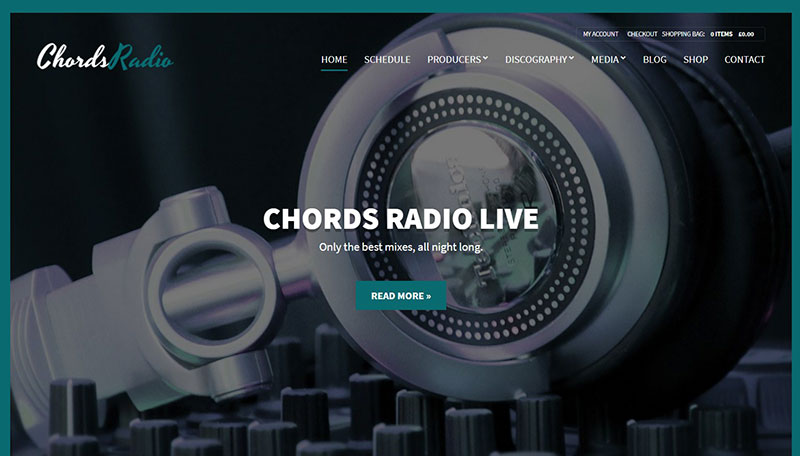 Chords provides a template for creating all sites related to music, requiring no coding skills. One of the best aspects of this WordPress theme is tracklisting management. It also lets listeners stream your radio station live.
The tracklist management section lets you make playlists, and then embed these anywhere on your site. The music player gives you the option of adding popular music to feature on the homepage with a custom SoundManager2 built-in player.
FAQ on Radio Station WordPress Themes
Are Radio Station WordPress Themes Mobile-Friendly?
You bet they are! Nowadays, it's like a no-brainer, right? Everyone's glued to their phones, so if you're launching a radio station website, it's gotta look slick on mobile devices.
Most themes out there are responsive, meaning they'll adjust seamlessly whether someone's tuning in on their desktop, tablet, or smartphone. And that's super crucial 'cause, let's be real, no one wants to pinch and zoom just to hit the play button.
Can I Stream Live Broadcasts Through These Themes?
Absolutely, live broadcasting is the heart of radio, isn't it? When you pick a WordPress theme for your station, make sure it's got features that support live streaming.
Most of them do, and it's all about making it easy for your listeners to catch their favorite shows in real-time. Some themes even come with nifty plugins that let you show what's currently playing or up next. Pretty cool, huh?
How Customizable Are Radio Station Themes?
Oh, sky's the limit! The beauty of WordPress themes, especially for radio stations, is that they're super flexible. Want to change colors, fonts, or layouts? Go for it.
Want to add a unique touch with your station's logo or brand colors? No problemo. Most themes come with a visual composer, so even if you're not a tech whiz, you can still make your site look just the way you want.
Do These Themes Support Podcasts?
Yeah, they do, and it's awesome 'cause podcasts are all the rage, aren't they? Whether you're dishing out talk shows or music mixes, these WordPress themes often come with podcast-friendly features.
It's all about making it easy for your audience to find and listen to episodes. Some themes even have cool plugins that let you manage and display your podcast episodes in a really slick way.
What About SEO? Are Radio Station Themes SEO-Friendly?
SEO, my friend, is like the secret sauce to getting noticed on the web. And yeah, most radio station WordPress themes are built with SEO in mind.
This means they've got clean code and they're designed to be easily crawled by search engines. Plus, you can amp up your SEO game with plugins and by dropping in those LSI and semantically relevant keywords we talked about.
Can I Sell Merch on My Radio Station Website?
Cha-ching! Yes, you can. Many WordPress themes come WooCommerce-ready. So, if you've got some cool station merch or maybe some exclusive content you wanna sell, you can set up shop right on your site. It's a neat way to rake in some extra dough and let your fans rock your brand.
How Easy Is It to Set Up a Schedule on These Themes?
Easy peasy. Most radio station themes come with schedule plugins or features. This means you can show your listeners what's on when, and keep 'em hooked.
It's all about giving them a reason to come back, right? A good schedule display can make your site look professional and keep your audience in the loop.
Are There Any Free Radio Station WordPress Themes?
Sure, there are freebies out there, but you know how it goes—you often get what you pay for. Free themes might be a good starting point, but they might lack some of the bells and whistles you get with paid themes.
Plus, support might not be as robust. But hey, if you're just dipping your toes in the radio station waters, a free theme could be a decent launchpad.
Can Listeners Interact with My Radio Station Site?
Interaction is key, and yeah, many themes have got you covered. From contact forms to social media integration, it's all about making it easy for your listeners to reach out and connect.
Some themes even support community forums or listener polls. It's all about creating that vibrant, interactive space where your audience feels part of the tribe.
How Often Do I Need to Update My Radio Station WordPress Theme?
Keeping things fresh is important. Theme developers usually push out updates when they add new features or patch up security stuff.
It's a good idea to stay on top of these updates 'cause, let's face it, you don't want your site going haywire during prime time. But don't stress, updating is usually just a click or two, and you're good to roll.
Take Advantage of the Best Radio Station WordPress Theme from this article
Music stores, streaming sites, and audio players are common components of radio websites. To draw in more listeners, you need to be acquainted with all these features so your users can listen to your radio station anytime from anywhere, purchase merchandise, and play music.
These are the most outstanding radio station WordPress themes that can easily help you create a fantastic website. The amazing options panels on these themes will help you customize your site, to create the absolutely perfect site for your station. You don't need coding or web development skills to create a stunning site. Simply download the right WordPress theme.
If you enjoyed reading this article on radio station WordPress theme, you should check out this one about how to delete WordPress themes.
We also wrote about a few related subjects like Amazon affiliate WordPress theme, the best theme for Elementor, vacation rental WordPress theme and WordPress theme detector.