If you are planning to add a WordPress countdown timer to your site, you should know about some things. Adding a countdown timer will help you keep your visitors informed about the state of your website or the state of a promotion that you are currently running.
Third-party plugins are the perfect method to add a countdown timer. wpDataTables is glad to present to you the most relevant pieces of information about them.
Table of contents
Normal countdown timers or evergreen timers
Before choosing a timer for your website, you need to understand the differences between a countdown one and an evergreen one. The two timer types are differentiated by some factors you should know about so that you can choose the proper one for your website.
The normal countdown
A normal countdown timer is a regular timer that tells the date or time that is previously set by the user. No matter who visits the website, the countdown timer is the very same for all. This means that it is a universal countdown timer that displays the same date and time for all the users who stumble upon it.
The evergreen countdown
There is a more complicated type of timer that is based on a complex technique which is called evergreen. The evergreen countdown is used in marketing to instill a sense of urgency for people who see it. Each person that visits your website will see a different date and time, as you create a countdown for each of them. It is a great marketing strategy to turn leads into buyers.
Most free WordPress countdown plugins only offer a normal countdown option, but there are some which grant you the opportunity to add an evergreen one as well.
Premium WordPress countdown plugin examples
Red Countdown – Circular Countdown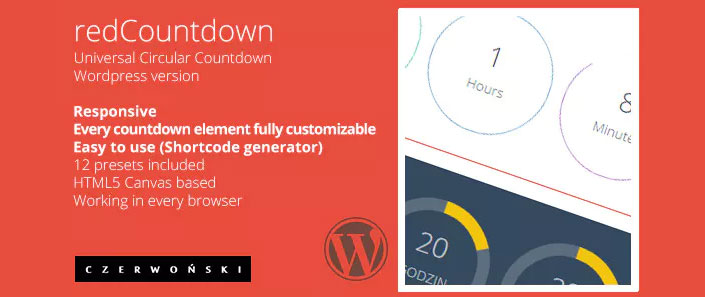 Making a countdown is a lot easier with Red Countdown. It is a response WordPress countdown timer that offers you the chance to create circular countdowns for your website. The plugin generates a shortcode that is compatible with all themes and browsers. The integration is done very quickly and easily and it is also highly customizable. All the countdowns are circular, but there are twelve presents from which you can choose. More than that, they can be customized even more once you select the present. Rendering the circles is done through HTML5.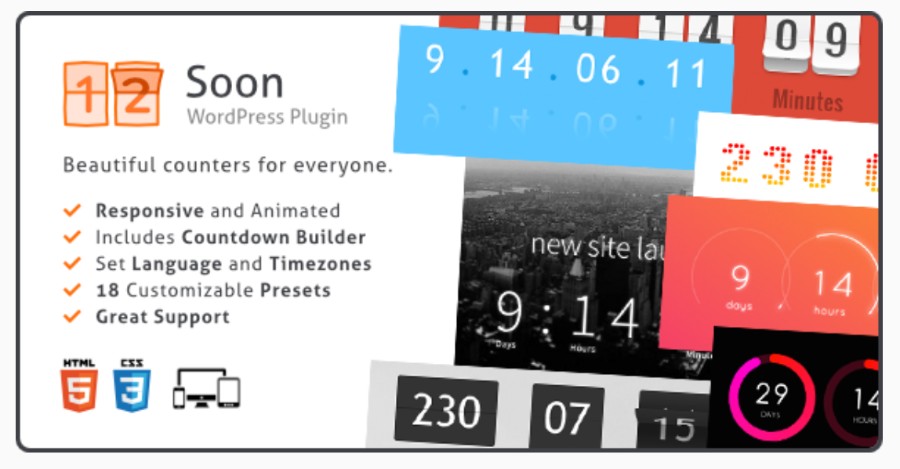 If you look for a very simple plugin timer, then Soon is the answer for you. It counts the time from a specific date to another date and it has multiple presents to choose from. This is an embed countdown timer, which means you get an embedded visual builder for the counter. There are even multiple clock faces which you can select after your own preferences. Again, the countdown timers are highly customizable. The plugin can be used as a simple clock too.
WooCommerce Sales Countdown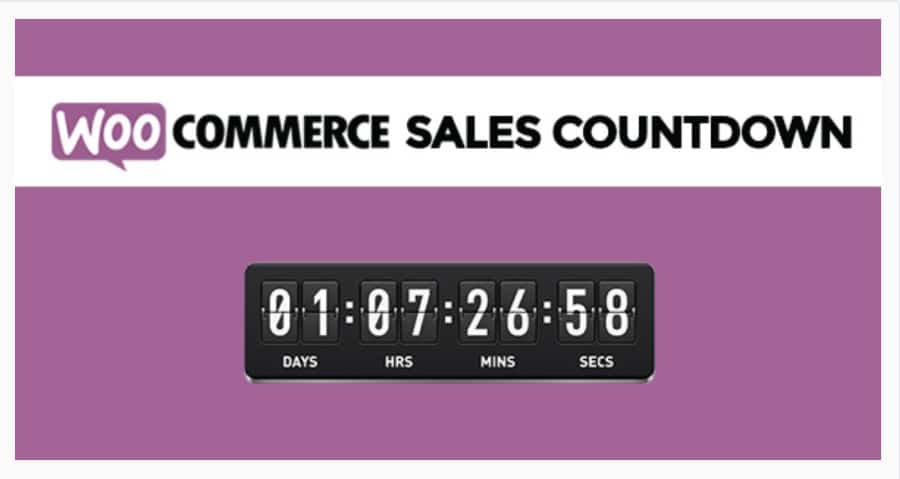 Another WordPress countdown timer that deserves a spot in this list is the WooCommerce Sales one. This is a plugin that is specialized in sales campaign promotions in WooCommerce. The plugin helps you set up a countdown timer for a certain product that is on sale. The customer will know how much time he has to buy that product, creating a sense of urgency that was mentioned before. This is a type of evergreen timer function.
You can also use the plugin to create a regular countdown for your website. The functions and features that this plugin has made it extremely useful and easy to use. It is recommended for eCommerce websites, as it helps to boost sales on certain products.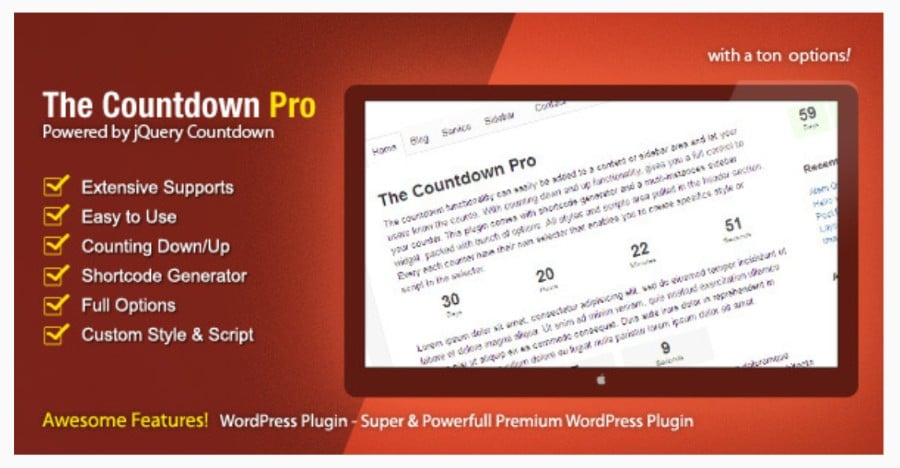 The Countdown Pro plugin is easy to use, and it is customizable. The countdown timer can be added either on a page or on a sidebar. The viewers of the website see the same countdown which means it is a regular one. This WordPress countdown plugin generates a shortcode which can be modified as you like it.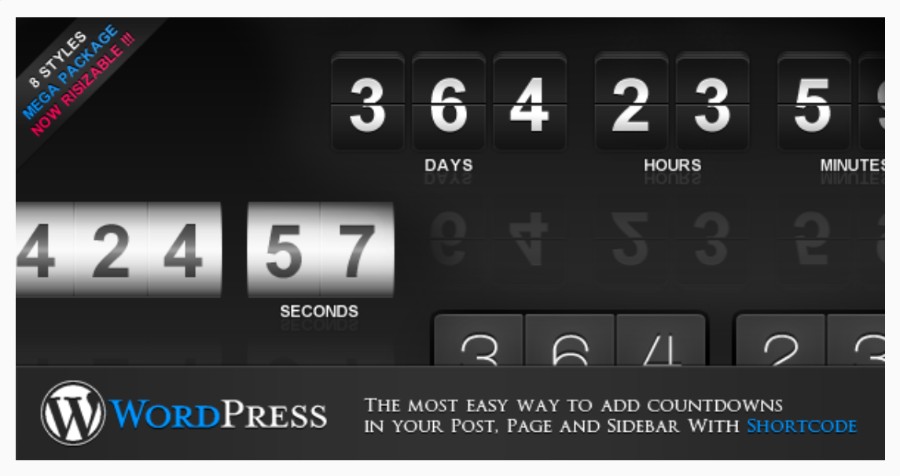 A WordPress countdown plugin that anyone would enjoy is the jCountdown Mega Package for WordPress. It can be customized through the shortcode option, which means you can add the counter anywhere on the website, as well as modify its looks. The plugin includes a counter that has hours, minutes, seconds and dates, depending on the preferences you select.
Free WordPress countdown plugin examples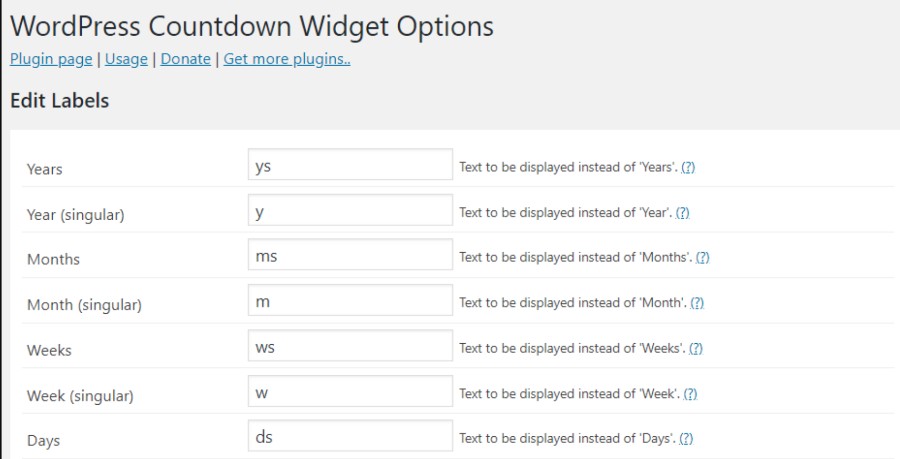 The WordPress Countdown Widget plugin is entirely free, and it has basic functions. The plugin works with jQuery countdowns or count-up timers. You can use either of these as a widget or modify the shortcode as you like it. Adding custom CSS might be required to make it match your theme's settings.

The WordPress countdown plugin from Supsystic is a very responsive one, but it is specific for coming soon pages. The coming soon template also contains a countdown timer, which makes it great for events that require one.

The T(-) Countdown plugin is another popular free option that is based on a changeable shortcode. It is a widget that generates a countdown timer and can be added anywhere on the site. The shortcode can be modified through a custom HTML code. The styles can be modified by adding your own CSS.

This is a very responsive free plugin that has many stylish designs you will definitely enjoy. They come in the free package and it is also customizable. You can choose different scenarios for each countdown you set, as it reaches the zero moment.

As the name says it, this is an evergreen WordPress countdown plugin and it has two options: adding a normal timer or an evergreen type to your website. The visitors will be tracked via cookies or IP addresses and the timer will differ for each of them. The regular timers are not as responsive as the evergreen ones, so choose this plugin only if you need an evergreen timer.
Ending thoughts on WordPress countdown timer options

There are many plugins you can choose from, so do your research and select the one that is right for your website's goals and purposes. They can truly make a difference in the long run, which means you should take your time when selecting it.
If you enjoyed reading this article on WordPress countdown timer examples, you should check out this one about WordPress coupon code plugins.
We also wrote about a few related subjects like WordPress calendar plugin options, WordPress wiki plugin, WordPress editor plugin and WordPress quiz plugin.
And if you want to check out the cool products that we've created, we've got the best WordPress table plugin out there and the WordPress booking plugin with the smoothest UX.