Have you ever stumbled upon a website that simply amazed you? There's a good chance that the website owner uses a WordPress theme. Naturally, finding out what that theme is could be of great convenience for you. Instead of developing a theme from scratch or looking for a similar one for hours or even days, it would be much easier to use a WordPress theme detector to find out exactly what theme that website is using so you can use it too.
A WordPress theme involves more than just looks. It also has to do with how responsive the website is, how well it scales when switching devices, how it is perceived by search engines, and more. Good, well-built themes can change the entire experience that a person has with a website, and that's why so much effort goes into picking the right one. If someone's done all this before you and the theme they are using is the perfect match for your goals, finding it instantly will bea huge time-saver, right? Well, this is now possible by using a theme finder.
How Are WordPress Theme Detectors Used?

If you visit a website and you instantly go: "what theme is that?", then it had the right impact. Even though you might not want to use that exact theme, curiosity makes its presence felt and urges you to find out what it is.
Keep reading more about this topic in this article created by our team at wpDataTables.

What WordPress Theme Detectors Should You Use?
What Theme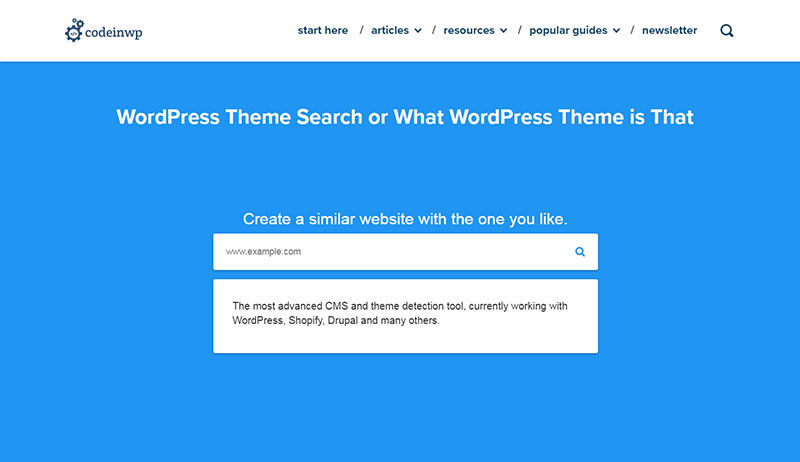 If you've never heard of Inspired Magazine before, you need to check it out now. It was developed by CatalinZorzini who is also the man behind What Theme. This tool was launched quite recently and can detect themes from WordPress, Drupal, Joomla or even Ghost.
The sources of themes that this tool can detect are numerous, which earns What Theme first place on this list. It can detect the theme, its author, what version is used on the respective website, what license it has, and more.
What WordPress Theme Is That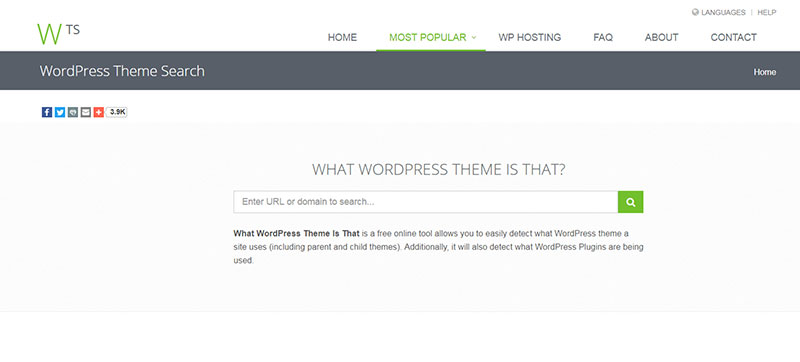 Named after the question that goes through your head when you see a beautiful website, What WordPress Theme Is That is a comprehensive theme finder. It is a free online WordPress theme detector that finds out details about both the theme and the plugins existent on a website.
The tool is very easy to use. You just have to insert the link of the website you are interested in and the tool will return details related to name, description, version, and many others about the theme and plugins used. It is a great tool, considering that some WordPress plugins can alter the looks of a website entirely.
WPSniffer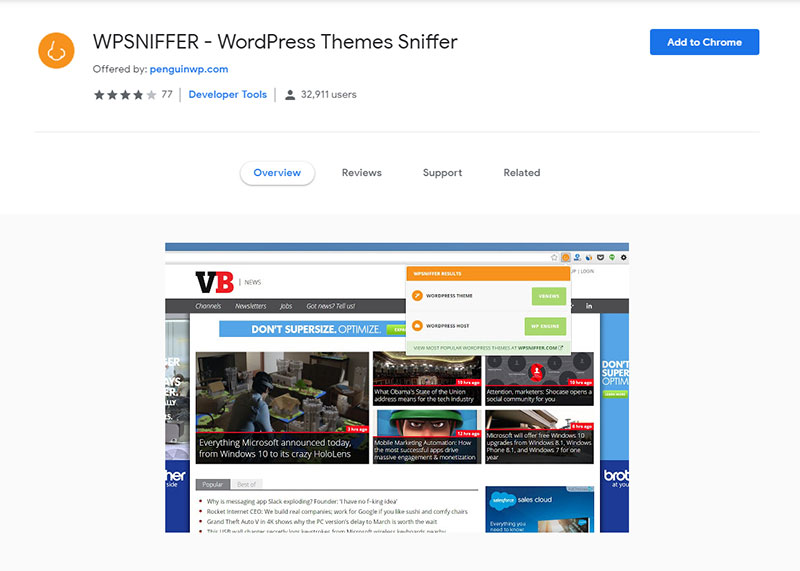 For those who don't want to go through the trouble of accessing a theme detector website to find out details about the themes used on a site, this WordPress theme detector will do the job. It acts as a Chrome extension that – once added to your browser – can be used at any moment during your web navigation. An icon appears in your toolbar and you can click it when you want to know what theme is used on a site.
After clicking the icon, you will be redirected to a Google results page that contains all the information you would need about the theme. The name of the developer is unknown, but one thing is for sure – the process behind it is very simple. The tool checks each site's source code for the text"X WordPress Theme"and retrieves results based on it. As simple as that!
WordPress Theme Detector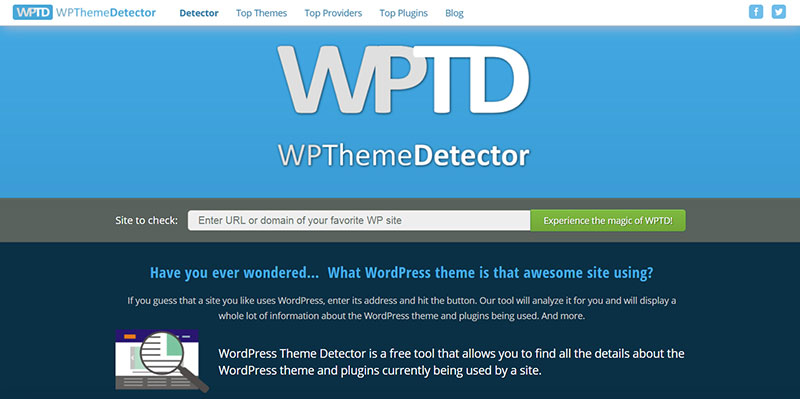 The name of this tool is pretty self-explanatory. WordPress Theme Detector can find what themes and plugins are used on a WordPress site. The tool can differentiate between parent and child themes, which is very convenient. The special feature of this tool is that it redirects you to the source where the theme/plugin was purchased in the first place. There, you can find details about how much it costs and what features it comes equipped with.
WordPress Theme Detector by Satori
This theme detector is also able to detect the difference between parent and child themes. It can identify themes by entering the URL of the site and it offers all sorts of relevant details, including version, license info, tags, and more. WordPress Theme Detector by Satori is similar to the other theme finders presented above.
ScanWP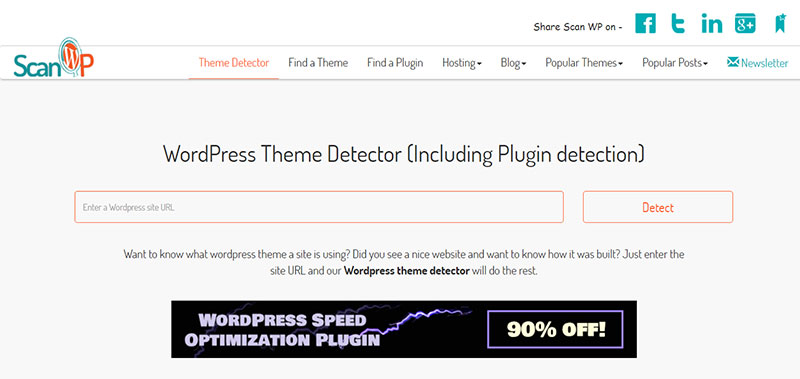 Another free WordPress theme detector, ScanWP is the tool you need to use if you are interested in buying the theme directly, right then and there. Besides the regular information you would receive like name, theme version, and tags, you will also be directed to the source of the theme where you can see its price and purchase it.
Some Extra Tips
You can use a WordPress theme detector for multiple purposes. The first one is obvious – finding the theme and using it for your own website. Other purposes include staying updated on the latest trends in theme design and responsiveness or analyzing how a regular theme can be tweaked to look different. The tools presented in this article are quite similar when comparing them in terms of ease of use. The differences are highlighted by what features each one brings to the table. Some of these tools can link you to a purchase source while others can't, but this is useful only if you are planning to buy the theme.
Even so, a WordPress theme detector is not enough if you want to find intricate details about a theme. In order to do that, you will have to dig through the code lines behind the theme and analyze each section of the source code. This practice is useful for theme designers that want to improve as well. Theme detectors are a great way to find basic details about a theme, but some extra effort is required to understand the processes behind it.
Summary
All the theme detector tools presented above are responsive and easy to use, so don't stress about which one to use. You can try more than one and stick with the tool that is most convenient for you. Some of these tools utilize very simple mechanisms, like extracting theme information from the CSS file of the site. Others, like Built With, are much more complex and can't be easily duplicated.
If you enjoyed reading this article on WordPress theme detector, you should check out this one about how to delete WordPress themes.
We also wrote about a few related subjects like vacation rental WordPress theme, radio station WordPress theme, Amazon affiliate WordPress theme and the best theme for Elementor.