Imagine a wardrobe with all the clothes and accessories thrown in one big pile. Finding the right shirt would be a long and tedious job.
In fact, trying to find any item would take a lot of precious time.
It is much easier if the clothes and accessories are organized into categories. Looking for a shirt would only require going through the pile of shirts.
The categories in WordPress are based on the same principle. It is easier for visitors to find interesting posts when they can sort them by categories.
A poster can assign the same category to related posts.
WordPress has a default post type called Post. But the user has the option to assign a specific category type.
This guide will show how to edit categories in WordPress.
What Are WordPress Categories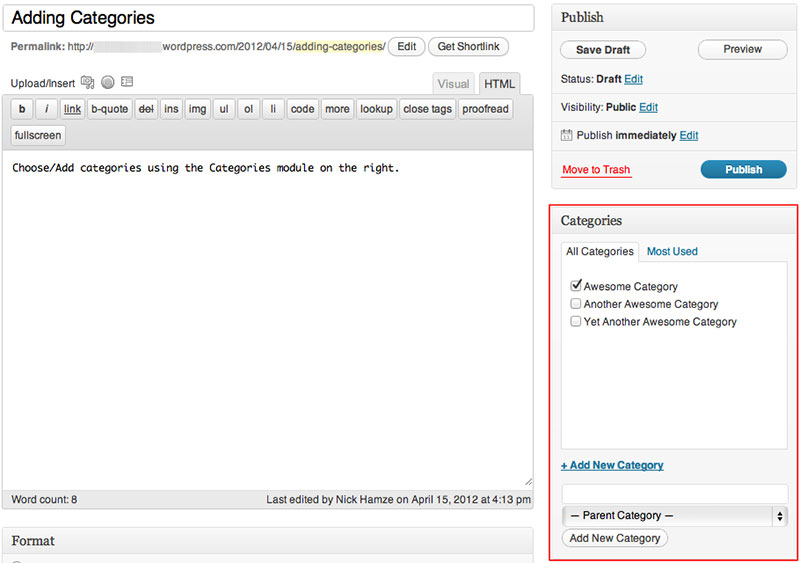 This first section will explain in more detail what WordPress categories are. Subsequent sections get into the practical details of the editing of post categories.
WordPress uses two different systems for post identification. One of them is tags and the other categories.
With tags and categories, a user can group related posts. They are like labels for content.
Categories are crucial in the way WordPress works.
For example, a news-related blog can use categories to label its content. These may include national, international, sports, and culture.
Most of the time, there are a limited number of categories in WordPress. Tags are normally used more freely.
With categorized posts, visitors can explore the content of a blog or website with ease.
By default, WordPress gives the Uncategorized label to a new post. A user can edit, add, or remove categories as desired.
To change default categories go to the admin panel. There is an option Settings > Writing.
WordPress Categories vs. Tags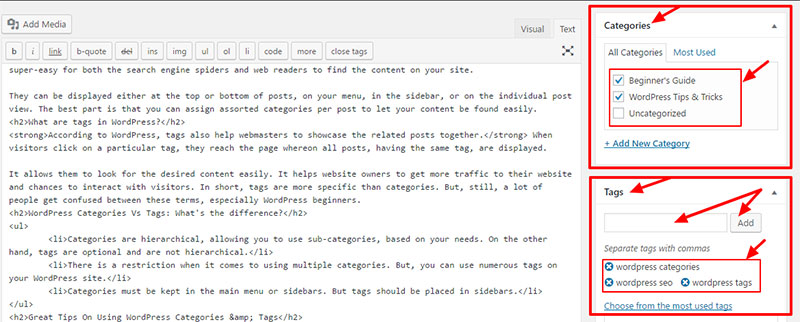 The difference between a category and a tag is difficult to understand for many. Simply put, a tag is more specific than a category.
To give an example, think of a movie blog.
The user can use categories to identify posts by movie genre, like comedy, horror, or romance. The same posts are further identified with tags that refer to the actors or the director.
Or take the instance of a car blog. Categories could be sedan, sports, SUV, and truck.
Then tags can refer to details of the cars, like double exhaust, heated seats, and reverse camera.
Ideally, WordPress posts should have no more than two category labels. That makes them easy to find and access.
Use as many tags as needed to describe the content of the post. There is no practical limit to them.
With this in mind, read on to find out how to edit categories in WordPress.
How to Edit a Category in WordPress

To change a WordPress category or to change the category setting can be confusing at times. This tutorial will make it simple.
It describes how to change the name of an existing, and a parent, category.
WordPress has a Quick Edit option. To find this option go to the Categories section in the WordPress dashboard.

This section shows a detailed view of all the categories currently in use. Below the categories is the Quick Edit option.
By clicking this option a menu pops up. Here, change the name and the Slug.
Save the settings and that is all.
Edit a Category Using the Edit Option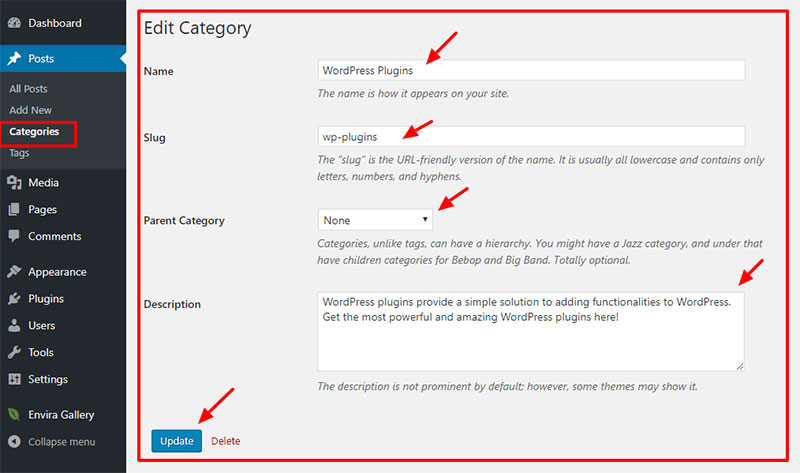 Go to Posts and Categories. There, users will find a list of categories.
From this page, it is possible to create new categories and change their descriptions.
The option to edit appears by hovering over a category with the mouse. When the option appears, click on it.
This will open a page that looks very much like the Categories page for adding one. The fields are already filled in.
Change the following items as needed:
Name
Slug
Parent category
Description
After making the changes, click Update to save them.
With this information, it is clear how to edit categories in WordPress. Do this at any time when the need arises.
Rename Category in WordPress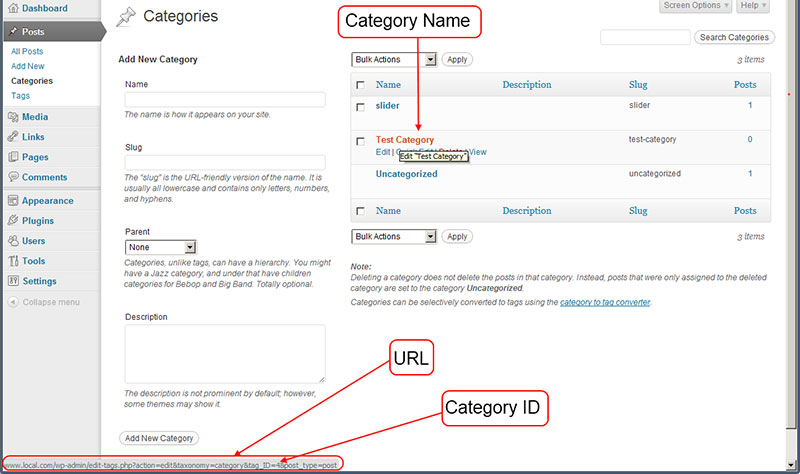 Renaming a category is not difficult. Make a new category or change the name of an existing category to a new one.
After that add posts to the category.
WordPress assigns an identification number to the category. This means that they are not identified by their name.
So if a category gets a new name, the posts with that identification number are still listed under the new name.
When using the self-hosted version of WordPress:
Go to Posts
Click Categories.
Find the category.
Click Edit.
Change the name.
Change the Slug as needed.
Add or Change the Category Description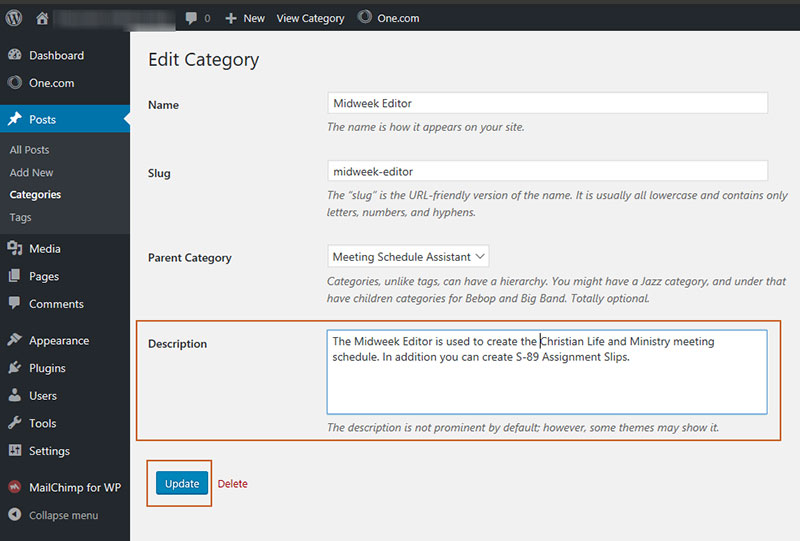 On WordPress.com, click Update. The method is almost the same as outlined above.
Change the category description as desired.
However, with this method, it is not possible to change the Slug. It will become the same as the category name.
Delete Categories in WordPress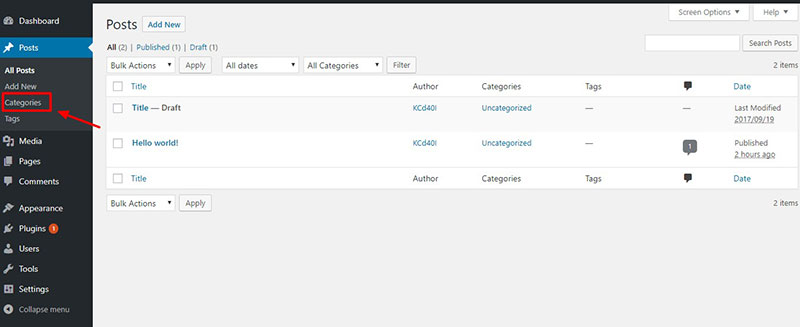 When a category gets deleted, the associated posts will receive the default category. Go to Settings, and then Writing to change the default category.
There is a screenshot of how it looks above.
To delete a category in WordPress:
Go to Posts
Click Categories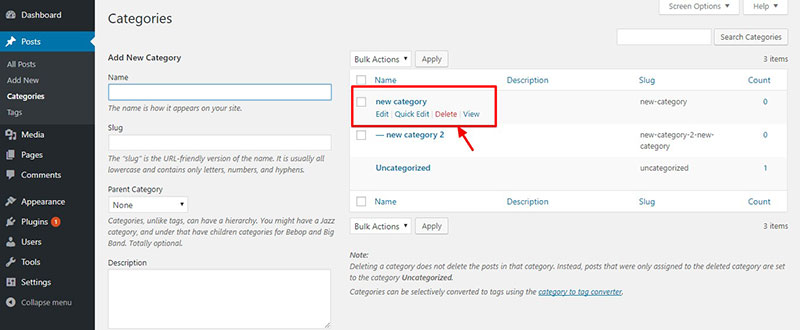 Move the mouse over the category in question
Click Delete
To add, edit, or delete a category in WordPress is not hard to do. Try it for yourself.
Ending thoughts on how to edit categories in WordPress
This post described how to add, delete, and edit categories in WordPress.
This is important to know because categories play such an important role in blogging. It helps users and visitors to find what they are interested in.
There is no limit to the number of categories on a website. But a word of caution here.
Do not clutter the website with too many. Keep it organized and remove categories that have become irrelevant.
Remember that WordPress uses a second system to label posts as well. These are the tags.
Some WordPress themes also use their own system of categorizing. However, the general principles of adding, deleting, and editing are the same.
If you enjoyed reading this article on how to edit categories in WordPress, you should check out this one about how to make a phone number clickable in WordPress.
We also wrote about a few related subjects like how to check the WordPress version, how to upload an HTML file in WordPress, how to embed a Facebook video in WordPress, where are WordPress pages stored, why is WordPress so hard to use, how to hide the author in WordPress and how to delete WordPress themes.