A contact form is an absolute must-have for any website, and choosing the proper type is a matter of importance. Even though it seems like it's not that difficult to select a simple contact form, this detail can make a difference in the long run. Fortunately, you don't have to build contact forms yourself, considering how many plugins are available for this purpose. The myriad of options is narrowed down to a few examples in this article by our team at wpDataTables.
Because each plugin has its own pros and cons, it's best to compare all the options that you have and select the one plugin that is suitable for your needs and requirements. If you want to learn more about contact forms and which plugins are the most appreciated among WordPress users, you are in the right place.
Why should you create a WordPress contact form?
All websites should include a contact form, notwithstanding their specifics. People may want to contact the owners of the website for various reasons, even when the site simply provides information.
Offering a contact form to users makes this action easier both for you and for them. Visitors can get in touch with you much faster, without having to leave the site, and you can manage all their requests from one single place. If visitors have to spend more time contacting a website's owner, they might end up not doing it at all.
Convenience is the main reason why people use a WordPress contact form, but there is also more to it. You can integrate your WordPress contact forms with various apps, such as those that provide email marketing services or sales tools that are important for your business.
What features do WordPress contact form plugins have?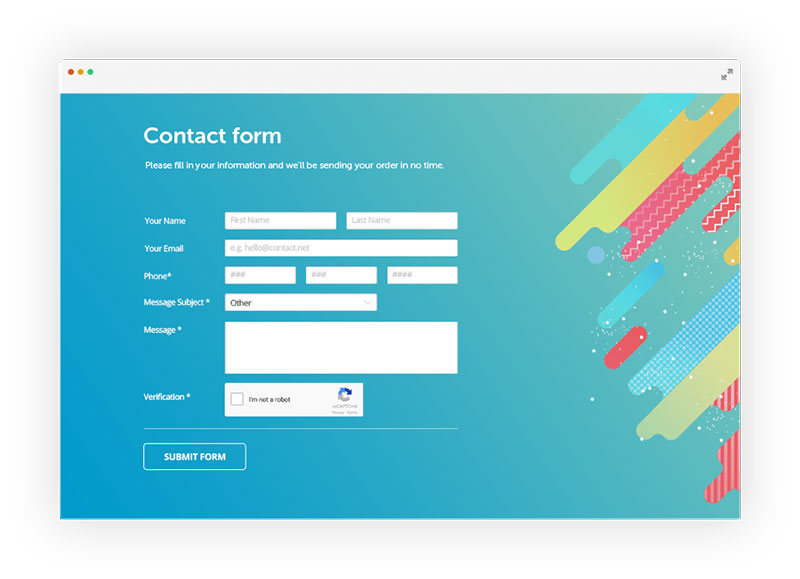 The most elementary WordPress contact form would include a few fields that require relevant information from a user, along with a simple design. This is enough to gather information, but it might not be the most effective. WordPress contact form plugins, conversely, are more advanced in terms of field selection, design, submission,and other aspects. Here is a list of the features that a good WordPress contact form plugin should have:
Customizable forms – forms can be designed according to your needs, with multiple feeds and branding details.
Visual elements – good WordPress contact form plugins feature a visual editor with drag-and-drop elements; they are great for non-tech-savvy users that want to get the job done as fast as possible, but they are not necessarily required.
Conditional logic – it is important to choose a plugin that allows you to hide parts of the form once the user makes certain decisions while filling it; this is a requirement for websites that have visitors from different audiencesegments.
Notification systems – it would be an advantage if the plugin also sent a confirmation to the user once the message was delivered, read or answered.
File upload – this is great for customer support, where users need to describe their problem with proof such as screenshots.
Scalability – the contact form should ideally be responsive and look great on all screen sizes.
Identifying and stopping spam – WordPress contact forms are the perfect target of spammers, so a plugin that can identify and stop form spam is more recommended.
How to choose the proper contact form plugin?
WordPress contact form plugins come in all sorts of variants. A website owner should choose the contact form plugin that is the most suitable for their situation. For instance, if you are using an email marketing tool such as Drip or MailChimp, the one feature that should convince you to use a plugin is third-party integration. Because some publishers require highly-customized forms, they need to choose a plugin with the desired functionality. A good example would be the situation of NGOs, which need to feature specialized fundraising contact forms.
All WordPress contact form plugins are different in terms of features, but they all have one purpose – to generate the perfect contact form. Skipping through the characteristics of multiple plugins will surely help you with making a good choice for your website. By reading the list below, you will be able to make a head-to-head comparison of the most popular WordPress contact form plugins.
Examples of WordPress contact form plugins
Formidable Pro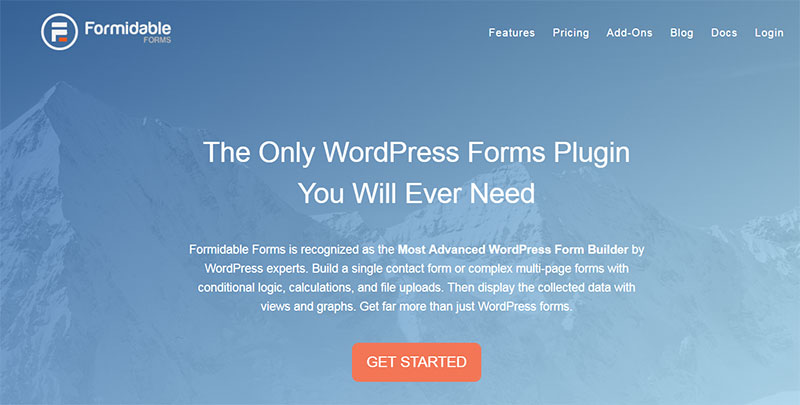 If you are looking for a plugin that is capable of building complex WordPress contact forms, Formidable is the plugin for you. Formidable not only allows you to gather visitors' information but also enables you to display all the submissions on your website, along with a host of other options.
The form builder is drag-and-drop, which means that you can create a contact form within minutes. It is a convenient plugin for those who've never created a contact form before, as it offers free pre-built templates that you can start with and customize if needed.
By using this plugin, you can create as many contact forms as you'd like and customize each of them according to your needs. The form stylizer is easy to use, too – you can select between different field labels, floating labels, and colors.
Kali Forms – The Powerful & User-Friendly WordPress Form Plugin

The Kali Forms WordPress form plugin makes it easy for and to create and tweak both simple and advanced contact forms. We truly believe that Kali Forms is one of the best and most powerful form builders available. The user experience is extremely smooth and the plugin was built from the ground up with performance in mind.
Getting started is extremely easy, thanks to the pre-designed form templates, you can have a number of forms including a regular contact form set up in under a minute. But using the Kali Forms Builder makes creating forms even from scratch, such as file upload forms, just as easy…
In addition to this, the plugin doesn't limit you to creating simple forms. Thanks to the built-in conditional logic and advanced fields available on any Kali Forms Pro plan, creating multi-step forms that make use of conditional logic to streamline the experience of filling out a form on your website and ensure that no unnecessary fields are shown when they aren't necessary.
Kali Forms Pro plans start at just $39/year, learn more and upgrade today.
weForms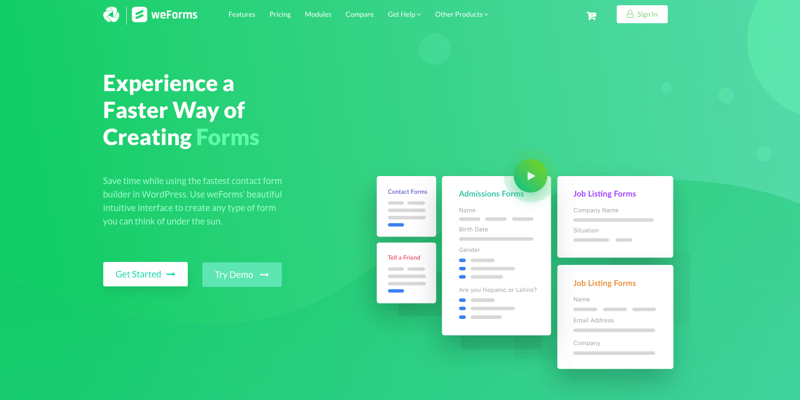 weForms is one of the best and faster form builder solutions out there which provides a smooth user experience. It is easy to use drag & drop form builder plugin with extream customization opportunities. Within a few moments, you can build and prepare your form with a lot of custom fields.
weForms provides over 33 types of custom fields, a rich collection of pre-built forms and the plugin also has integration with 20+ modules that would enable you to create and customize a form in a way you would love!
With weForms, you can automate your e-mail marketing, get insights through Google Analysis, receive payments through PayPal and Stripe and more outstanding facilities just like these.
Integration with Slack, Hubspot, Zoho, Trello, MailPoit, calculation, WordPress ERP and many more are also available. What you need as a start-up, mid or enterprise-level organization, weForms offers all the functionalities.
weForms has both the free and pro version. With 10,000+ trusted users and tremendous UI design, it's growing fast. So, have a look now and explore!
WPForms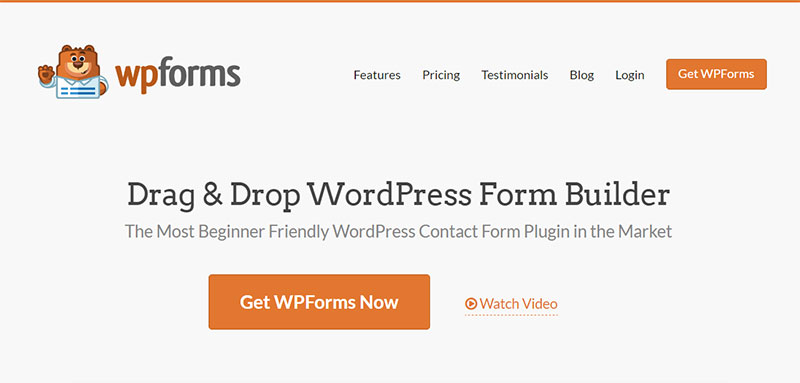 This WordPress contact form plugin has numerous features that can be used to personalize the forms on your site. Although the plugin is feature-rich, it has a simple and convenient interface. All the necessary elements can be added to the form using the drag-and-drop method. Contact forms can be created quickly from scratch or users can opt for the pre-built templates.
WPForms can be used by anyone who wants to add a contact form to their site, regardless of how tech-savvy they are. The job will be done in minutes, with a high level of customization. Moreover, the plugin can be integrated with email marketing service providers, and it can also be used to collect payments on bookings and orders.
FormCraft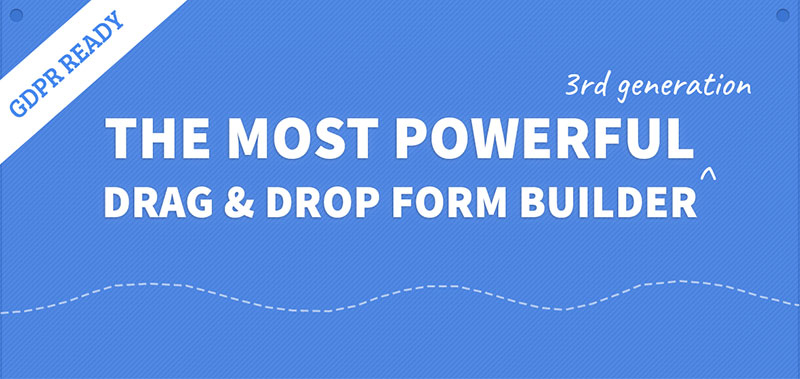 FormCraft is another WordPress contact form plugin that features a drag-and-drop builder. Because it is so easy to navigate, this plugin is perfect for users who want to rapidly create a form to suit their needs. Compared to the other plugins listed here, FormCraft offers a few more advanced features such as adding popup forms, the ability to use formulas, and the option to create payment forms in a separate page.
FormCraft is a great choice for business websites that also have to include embedded maps or other widgets within the form. The plugin is also suitable for creating multi-page contact forms. Additionally, FormCraft can generate valuable insights regarding the contact form interaction.
Woorise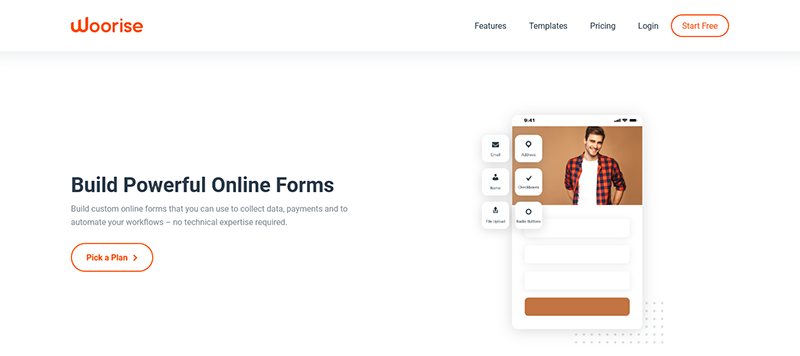 Woorise is an all-in-one lead generation platform that allows you to build simple or advanced contact forms from a modern form builder. To make the process even easier Woorise includes more than 50 templates to start with and customize further to meet your style and brand.
Woorise WordPress plugin is the most lightweight and fast plugin for both the back-end and front-end. Because Woorise stores the data in their secure servers It will not affect your WordPress website performance or speed.
With Woorise you can create not only contact forms fast but a wide range of interactive campaigns for your business including promotional campaigns, quizzes, lead magnet campaigns, calculators, NPS campaigns, marketing and feedback surveys, event registration, and signup forms, collect payments and subscriptions and much more.
Woorise also integrates with popular marketing platforms such as Mailchimp, Hubspot, ActiveCampaign, Aweber, Google Analytics, Bitly, Zapier, PayPal, Stripe and many more.
Ninja Forms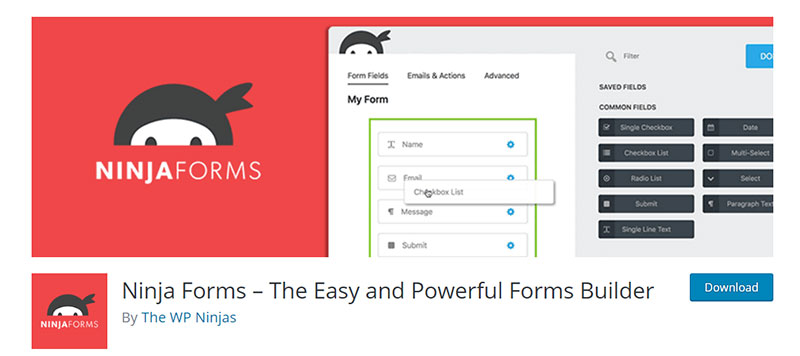 Ninja Forms is a user-friendly plugin, similar to FormCraft. It features a drag-and-drop menu and it offers paid extensions that you can opt for if you need them.In the long run, it can save you money because you only need to pay for the extensions if you need them.
Ninja Forms has no less than 40 add-ons. You can choose one based on your needs: conditional logic, multi-page forms, front-end forms, file upload forms, and so on.
Contact Form 7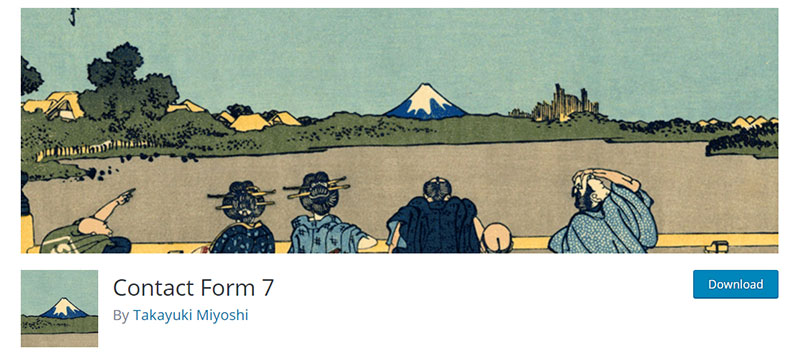 Contact Form 7 is generally regarded as the most popular contact form plugin. It has a long history behind it and remains the top choice for a wide range of users, from amateurs to professionals. Contact Form 7 is a minimalist, yet sophisticated, plugin that is ideal for users who desire simple yet catchy contact forms.
The code that powers Contact Form 7 is very stable, which means you won't have to worry much about encountering errors leading to undelivered mail. Besides this attribute, the biggest advantage of Contact Form 7 is that it's free. After you install Contact Form 7, you are granted access to a fully functional contact form creation suite, with the ability to use third-party plugins to even further extend Contact Form 7.
The only downside of this plugin (for some) is that it has an HTML-based interface, which means that the user must know a thing or two about HTML language to use it to its full potential.
Gravity Forms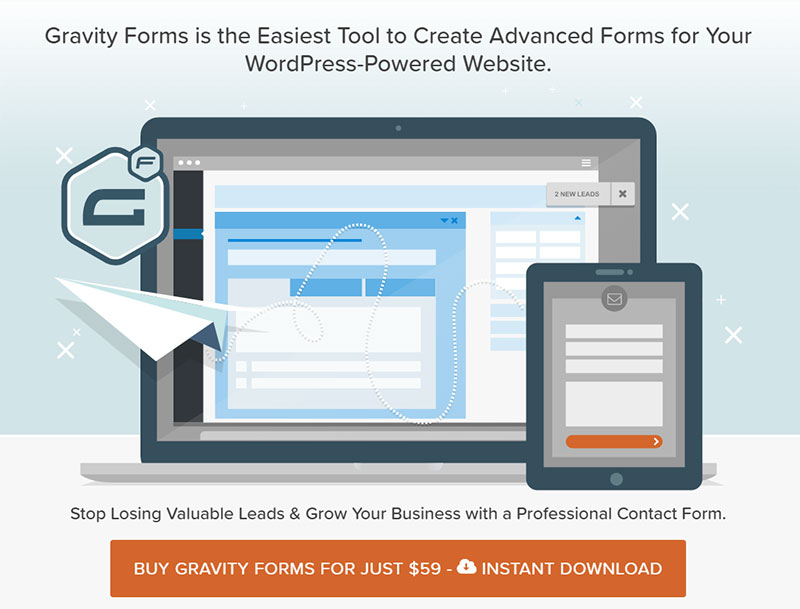 This is a premium plugin for creating contact forms that is worth the money. Gravity Forms has all the features you would need to create advanced, personalized WordPress contact forms. For example, you can activate file uploads in an instant and let users choose their street addresses from a convenient drop-down menu.
For those with unique contact form requirements, Gravity Forms includes advanced fields like time and date for setting appointments. And, of course, you also have access to all the standard fields like radio buttons and text boxes.
HappyForms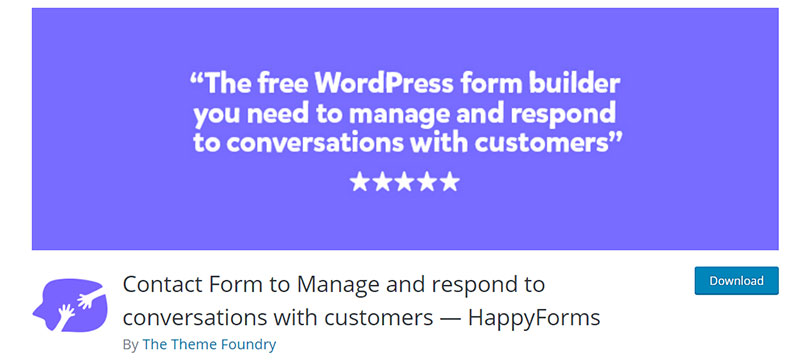 HappyForms is a new WordPress contact form plugin, but you should give it a shot. The plugin is user-friendly and neatly built into the WordPressCustomizer which most users are familiar with. You can simply navigate to the Customizer and create the form that you desire with the help of the live preview. HappyForms is a great option for quickly getting a contact form up and running with no stress. Oh, and it's free!
Bonus: If you need mobile friendly forms with additional features, you can check Mobile Forms.
If you enjoyed reading this article on WordPress contact form options, you should check out this one about WordPress chat plugin options.
We also wrote about a few related subjects like WordPress directory plugin, hello bar for WordPress, WordPress client portal plugins, store locator WordPress plugins and WordPress review plugin.