Many WordPress site owners contemplate changing the structure of their WordPress permalinks without considering the side effects of mishandling such a challenging undertaking: reduced SEO performance, old external links, and broken internal links.
But first, what are permalinks? If you want to learn how to change permalinks in WordPress, you need to understand the permalink definition first. A WordPress permalink is a URL generated on a predetermined structure that is unique to each post or page on your WP site.
To benefit from changing WordPress permalink settings, you need to set a robust updating system first. This article teaches you how to change permalink in WordPress, explains why WordPress custom permalinks are good, and explores the different types of permalinks.
Take a look at the permalink settings we use here at wpDataTables.
What is a permalink? Why change your WordPress permalinks structure?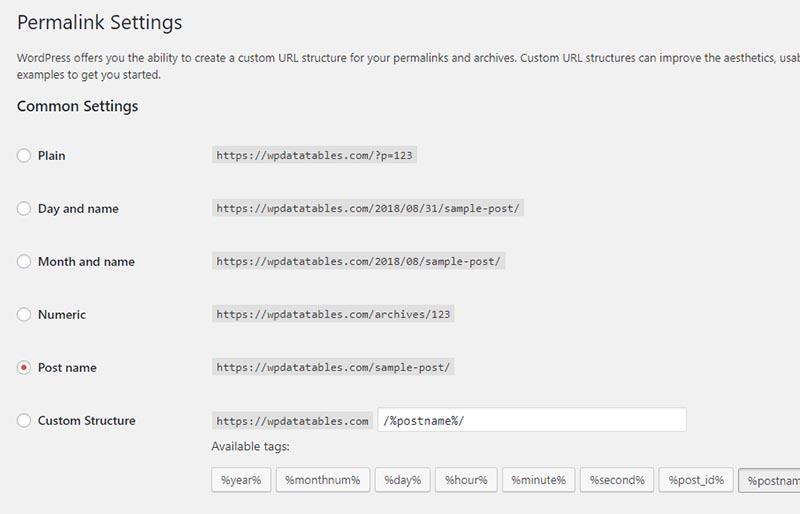 What's the best way to define permalink? A permalink is the portion of a website address located immediately after the domain name. The best way to understand is by example.
Take this WordPress post URL, http://www.wildlifenetwork.com/understand-the-world-around-us/. www.wildlifenetwork.com is the domain name and what follows the domain name, understand-the-world-around-us, is the permalink that will most likely lead to a post.
The Purposes of WordPress Permalinks
Typically, permalinks are essential for the following reasons:
Permalinks present visitors with a synopsis of the content of your website's page or post without them accessing that content.
Search engines use permalinks to find a page, a post, or a topic based on WordPress URLs exclusively.
Permalinks offer search engines and visitors a permanent location where they can access the respective content and read it.
A permalink is a unique identifier for each sample of material on your website, which allows you to stay well-organized when it comes to keeping track of your content.
Changing Your WordPress Permalinks' Structure
You can quickly achieve a custom structure for your WordPress permalinks if you learn how to manipulate the Settings in the WordPress dashboard. From Settings, go to Permalinks, and you will be presented with several options of how you want to show your permalinks.
The default permalink structure on WordPress is the day and name option. However, you can customize this structure according to your preferences, always making sure that the permalink clarifies the focus of your page/post content both to search engines and your readers.
The challenging part of altering the structure of your WordPress permalinks is not making the change itself, which is a simple process of selecting one option or another but understanding the consequences of altering the default structure of your WordPress permalinks.
The Three Main Types of Permalink Available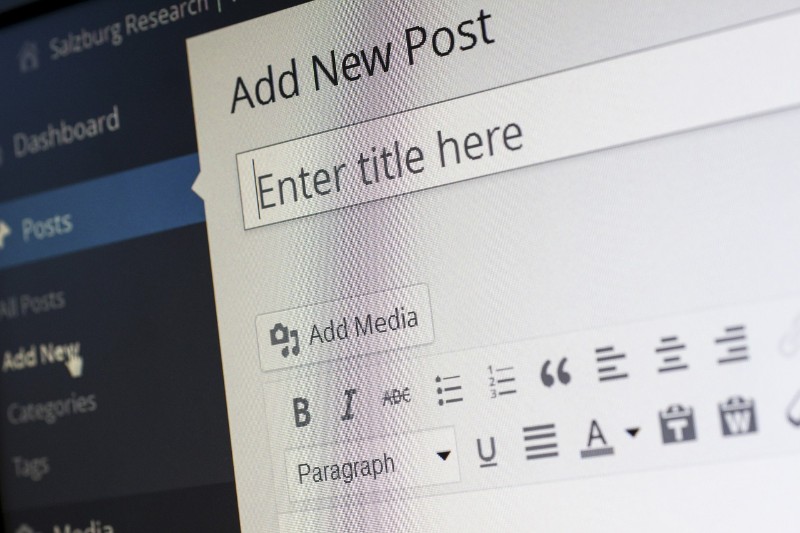 The Ugly Permalinks
WordPress' default option generates a type of permalink that is not readable by people, and it mainly contains numbers and symbols. It looks something in the lines of http://www.example.com/?p=111, which completely lacks words and meaning for humans.
Almost Pretty Permalinks
Almost pretty permalinks or pathinfo permalinks are improved versions of ugly permalinks that consist of a domain name, index.php, date, and post name, where date and post name are the identifiers relevant to the respective post: http://www.example.com/index.php/yyyy/mm/dd/post-name/.
Pretty Permalinks
As the name accurately suggests, pretty permalinks consist of a domain name and a string of identifiers relevant for that individual post:
http://www.example.com/my-new-post
Search Engine-Friendly Permalink Structure
Except for the default structure, WordPress provides permalink structures that are search engine friendly. To benefit from these clean URLs or pretty permalinks, WordPress must alter the .htaccess file of your website, which will be done automatically in most cases.
However, if WordPress cannot modify your site's .htaccess file automatically, you must alter the file manually. WordPress explains how you can add the code to your .htaccess manually on their website or you can ask your web hosting company to either add the code for you or make the .htaccess file writable for WordPress to add the code automatically.
The structure field of your WordPress permalinks changes as you choose one of the five structures that WordPress makes available for you. You will see ten structure tags, each about: post slug, post ID, category, year, month, day, as well as the rarely used tags for the hour, minute, second, and author name.
When WordPress permalinks are not working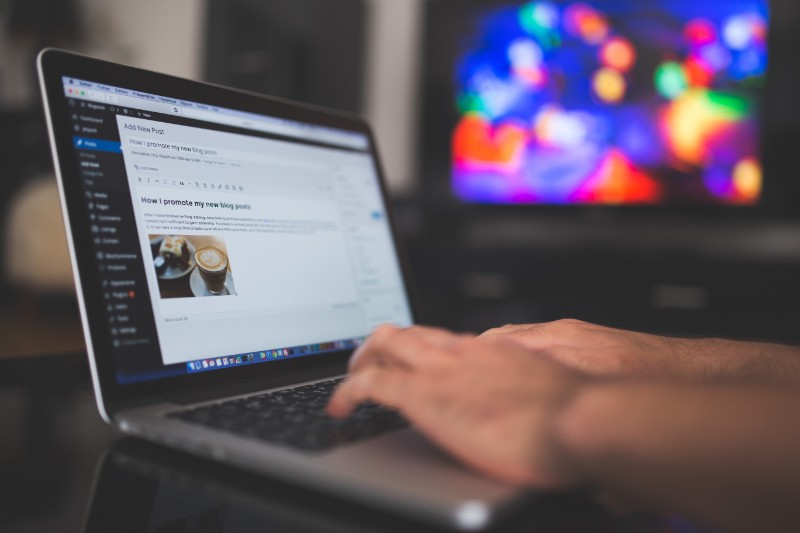 Common issues with WordPress permalinks are automatically solved by the WordPress team. However, some 404 errors occur on the search console of Google when you've migrated your website, which you can typically solve with a simple reset of your permalinks.
Resetting Your WordPress Permalinks
Resetting your WordPress permalinks can be done from the settings page where you need to check the current permalink structure, select a different structure, and save changes.
Once the new settings have been updated, select the desired/ original permalink structure, and save changes again. If you have been using a custom structure, copy the text in the custom structure text field.
Renaming your .htaccess file
Another method to solve permalink-related errors is renaming your .htaccess file directly from the file manager of your host or via an FTP app, such as FileZilla. Make hidden files viewable and rename your .htaccess file, generating a new .htaccess file. You can remove the old one.
Fixing 404 errors related to changed permalinks
If you own an established website, you may want to think carefully about whether you want to alter the structure of your WordPress permalinks. No matter why you want to make the change, you are facing the same problem: readers have been associating your permalink structure with your website for years, and your links have been featured on other websites.
Changing the permalink structure may have an undesirable effect: many 404 errors for users and search engines. The solution? 301 redirects that will redirect search engines and users from 404 pages to your pages using the new permalink structure, which your host can handle.
Besides, there are some plugins that you can use, such as Safe Redirect Manager or Redirection. Sometimes, permalinks structure may need to be changed manually because the system may take your post title and use it as a permalink structure for each post and page.
Ending thoughts on WordPress permalinks
Many issues are best to be addressed before the actual launch of a site, including permalinks. If, for some reasons, you still need to alter your permalink structure after the launch, make sure to stay away from internal and external disruption to your site.
When you opt for changing your site's permalink structure, you must be aware that it is a task that requires a lot of consideration and planning if you want to avoid a major SEO hit and limit problems as much as possible. Make sure you are ready for the challenge!
It is best to do your research and choose your permalink structure before you launch your website and, most importantly, make sure you stick with that structure!
If you enjoyed reading this article about WordPress permalinks, you should also read these: