WooCommerce has become one of the most popular eCommerce platforms for small and larger businesses alike. They commonly offer various online solutions and provide shipments which is why there is an increasing need for having a quality WooCommerce shipping plugin.
Sales are increasing globally every year which means it's vital to have a good, reliable, and effective shipping system. The quality of your shipping can be a factor in the success of your business. Some businesses even opt for free shipping, but it is not viable for everyone.
You need a good WooCommerce shipping plugin to provide the best and most secure shipment. The WooCommerce platform is a popular open-source option, with a variety of WordPress plugins. Read on to check out some of the best WooCommerce shipping plugins in this article created by our team at WpDataTables.
WooCommerce shipping plugins
FedEx Shipping Plugin with Print Label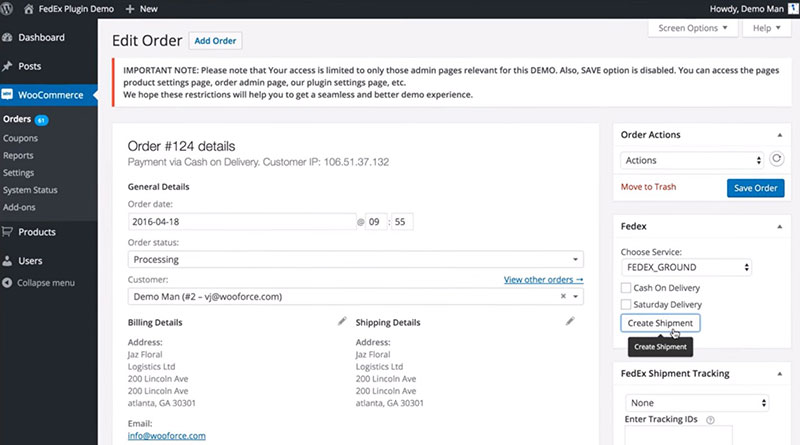 FedEx is a well-known and reliable shipping option, and you will be able to include your own shipment arsenal with this WooCommerce shipping plugin. The print label is also included, which your users can customize. The live shipping rates are visible, and the users may configure their own parcel packing methods.
Additionally, you can offer your customers a tracking service, in order to follow their shipment as well as tailoring the shipping rates to your own needs. If you have FedEx shipments, this is a very flexible option.
Advanced Flat Rate Shipping Method for WooCommerce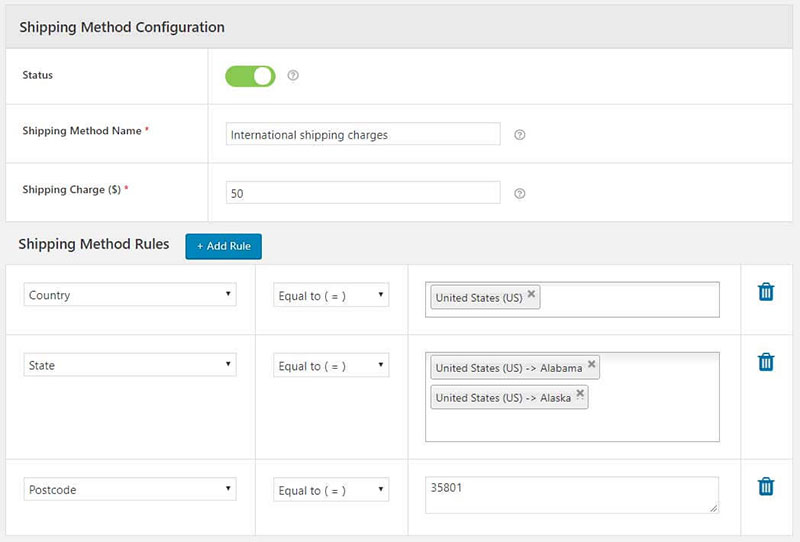 This WooCommerce shipping plugin provides you and your users with full freedom and control over your shipping rates and the various rules giving you the upper hand over your competition.
These rules are then applied to the shipping cart and will be in place for the shipment. There are different types of rules to choose from product type, category type, country of shipping, amount of products for shipment, and shipping class. The possibilities of this WooCommerce shipping plugin are outstanding for you and your users.
UPS Shipping Method by WooCommerce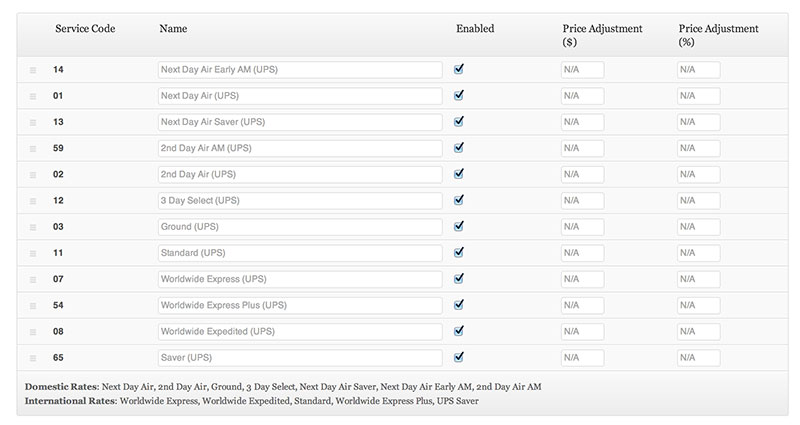 UPS is also a large, global, well-known and reliable shipment provider. You can easily incorporate this shipment option onto your website with this WooCommerce shipping plugin. You can choose from two packing options: Box packing with custom weight, or dimensions with individual packing. This plugin also offers plenty of flexibility to its users.
Professional customer support is continually available if you have any issues with the plugin.The plugin costs $79 for single-site use, with increasing cost for additional sites. Nevertheless, it is good value especially if you offer UPS shipments.
ELEX USPS Shipping Plugin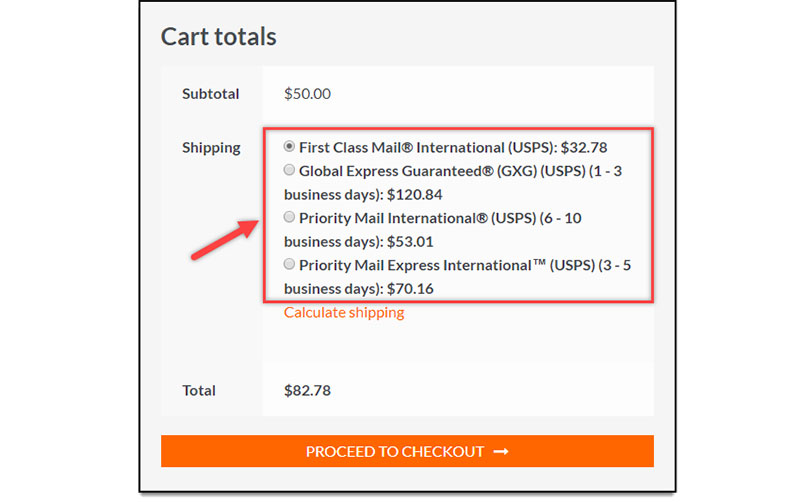 ELEX USPS enables your site to have USPS shipping, which is undoubtedly one of the most popular shipment options within the US. This WooCommerce shipping plugin is also available in most countries that offer USPS shipments.
This plugin shows the shipping rates transparently on your site. When your customer adds an item to their cart, they can see the live shipping rates, which adds credibility to your operation. The rates vary according to the shipping method and the location of the user; however, it is desirable to show the shipping rates realistically and this plugin makes that possible..
WooCommerce Advanced Shipping Packages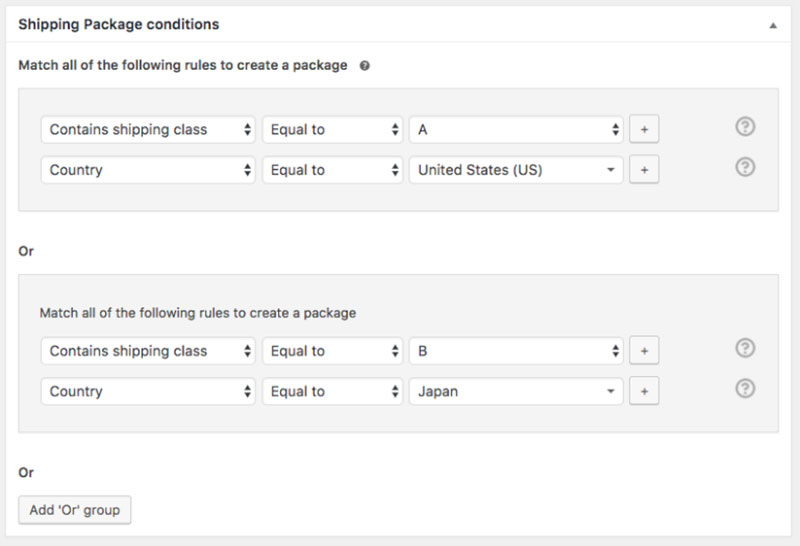 This plugin enables you to separate your carts into various shipping packages, then your customers are able to split the items into separate shipping packages, and process each item separately, as well as see and choose the shipping options for each package.
Furthermore, multiple shipping packages are included, and users have almost complete control over their packages: when they are created, what items can be included within the package, set up the custom name for the package, and choose their preferred shipping methods. This is a comprehensive and versatile plugin packed with very helpful features.
WooCommerce UPS Shipping Plugin by EXTENSIONWORKS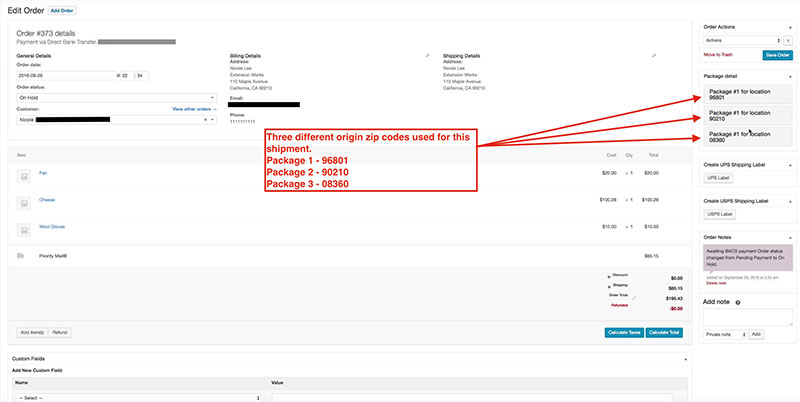 This WooCommerce shipping plugin offers a variety of choices. For example it displays the real-time shipping rates to your customers, which vary depending on factors such as the shipping country, zip code, and different states.
If UPS is one of your preferred shipping methods, this plugin will allow you to make those shipments. It also works with other shipment plugins, such as USPS. Your customers are able to choose their preferred shipping method from a drop-down menu for each item within your store.
This plugin also allows you to offer free shipping for various orders that exceed a certain amount. You can set this amount to your desired rate, and once the order exceeds that amount, the customer can select the free shipping option.
WooCommerce Table Rate Shipping Pro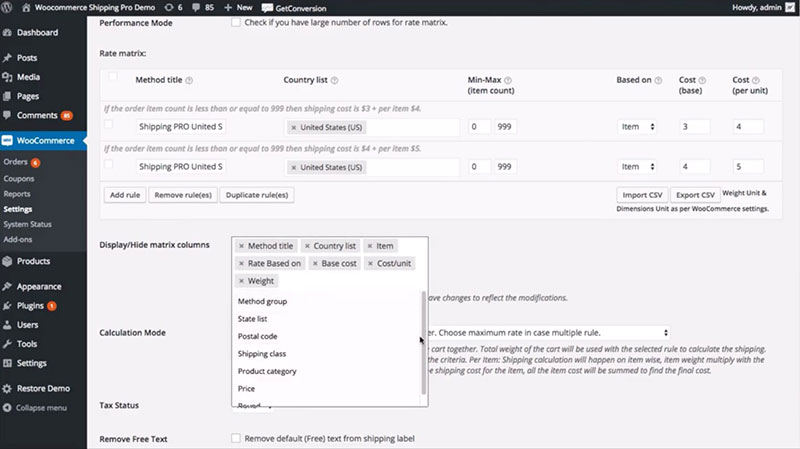 This plugin is useful if you want to base your shipping rates on the item's weight. As the weight of the item increases, so does the shipping fee with fixed rates.
Another method of configuring the rates is to increase the rate with a fixed price for newly added items.
WooCommerce Advanced Shipping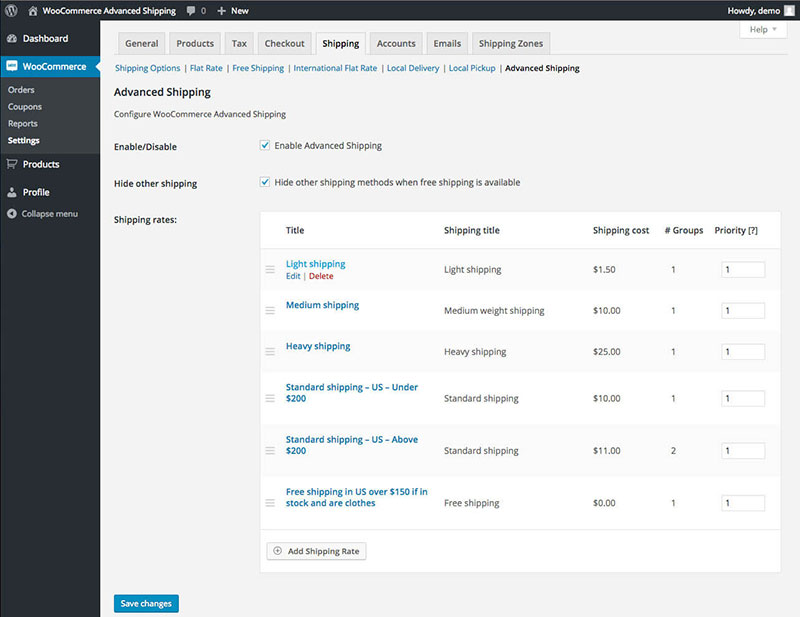 This plugin offers plenty of flexibility when setting your shipping rates. There is a table of shipping rates based on certain conditions. Once the condition is fulfilled, there will be a fixed rate for shipment.
You can also base the shipping on other factors, such as subtotal, quantity, country, or on category. This plugin is very user-friendly and excellent for beginners. Shipping rates will vary on the location, delivery volume, and more.
WooCommerce UPS Shipping Plugin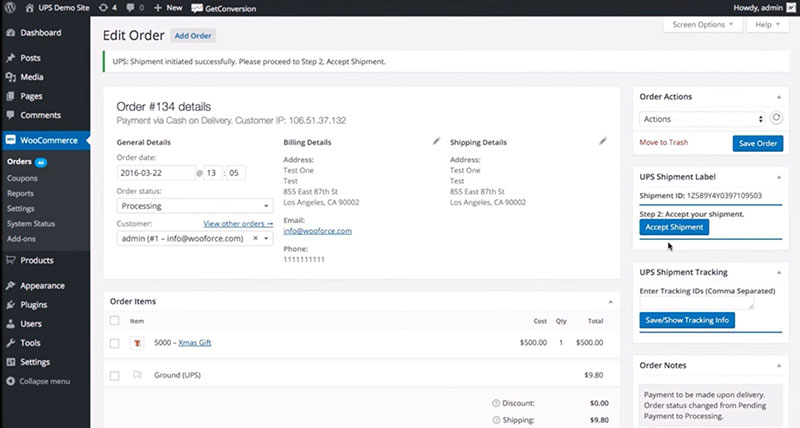 This shipping plugin is excellent for UPS shipments. It enables you to set the shipping rates based on postal codes, shipment weight, and other parameters. The customers can choose from the various shipping options that vary in their conditions and they can easily track their shipments.
The custom-made shipping labels and postage have many customization options. The user can also choose from a variety of custom parcel packing methods and show daily rates, which can be calculated via the UPS calculator.
Flexible Shipping for WooCommerce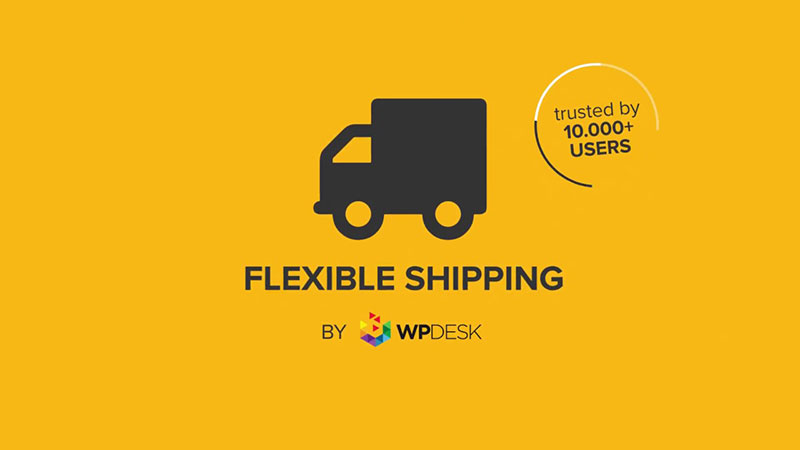 As the name suggests, this plugin offers an array of features and capabilities. It is very easy to install and set up, so you can start using it almost instantly. Users can calculate the shipping rates based on the weight of the product.
The shipping costs will vary and increase if the user decides to add insurance to the shipment. Other features include the management of handling charges, COD shipping method customization for specific zones, creation of endless shipping methods based on various rules, minimum and maximum weight specification for packages, and more. This is one of the best plugins offering the widest variety of features..
WooCommerce Advanced Free Shipping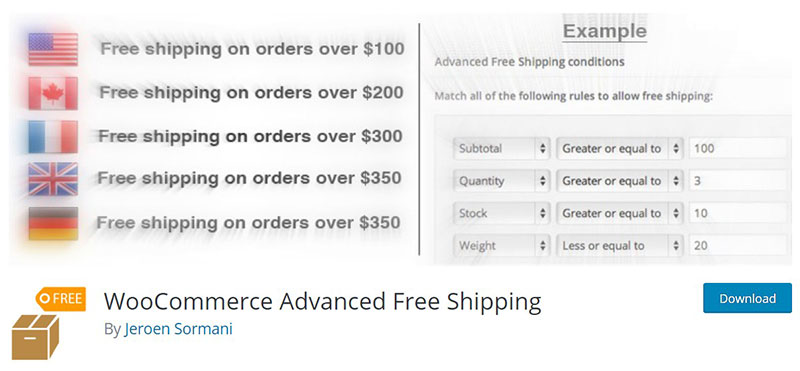 If you intend to offer free shipping on your eCommerce site, then this is the best WooCommerce shipping plugin option. Many users decide to offer free shipping to increase their conversion rates, but need to be careful not to decrease profits. This plugin makes managing the budget easy..
Sometimes, free shipping can be offered only when specific conditions are met. For example, when a certain price is met, the quantity of the shipment, location, shipping class, or product weight.
UPS Shipping Method for WooCommerce by Woomediainc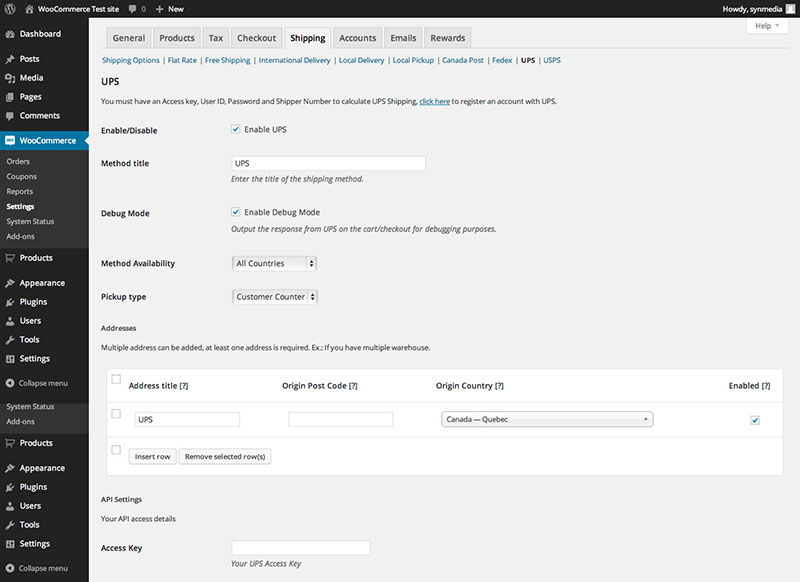 If you are working on a tight budget, you need a cheap and effective plugin for shipment. This plugin is exactly that and it works well for both domestic and international shipments, as well as supporting many currencies, weight units, and dimensions. There is also a box packing algorithm that decides how boxes will be created for various shipments.
The very low price means this plugin is a bargain. The shipping price is determined by the shipping method and location of the shipment.
Ending thoughts on these WooCommerce shipping plugin options
There are many good WooCommerce shipping plugin options to choose from, whether you are working on a budget or you own a larger operation.
If you enjoyed reading this article about WooCommerce shipping plugin options, you should read these as well: