Most websites contain forms of some sort to allow users to communicate with the team or person behind the site itself. WordPress forms work exactly the same way. You create a form to enable website visitors to get in touch with you, for whatever reason.
A simple contact form, no matter its purpose, requires some basic information from the user: their email, the subject of their message, and the reason why they are contacting you.
The downside of having a contact form is that spam abounds on the Web, and an unguarded form is an easy target. Fortunately, WordPress form developers are usually one step ahead and include anti-spam mechanisms to protect your inbox and your sanity.
WordPress contact form plugins can make your job much easier when it comes to creating and designing your own forms. Keep reading more about this topic in this article created by our team at wpDataTables and learn why you should use a WordPress form plugin in the first place and how to choose one that suits your needs best.
Why Should You Create a WordPress Contact Form?
All websites should contain a contact form. Not having one would be folly, because it allows visitors to get in touch with you rapidly, without having to switch tabs and go to another platform (e.g. a mail client or social media accounts).
When users are required to take extra steps in order to reach you, they might well give up in the middle of the process. If you make it easier for them to contact you, there's an increased chance of turning that person into a new client or a valuable partner.
WordPress forms are extremely easy to add on a site, so you have no reason not to include one, regardless of the niche of your website. Besides being convenient, WordPress contact form plugins can automate some tasks that would normally take you a while to do on your own.
How to Choose the Best WordPress Contact Form?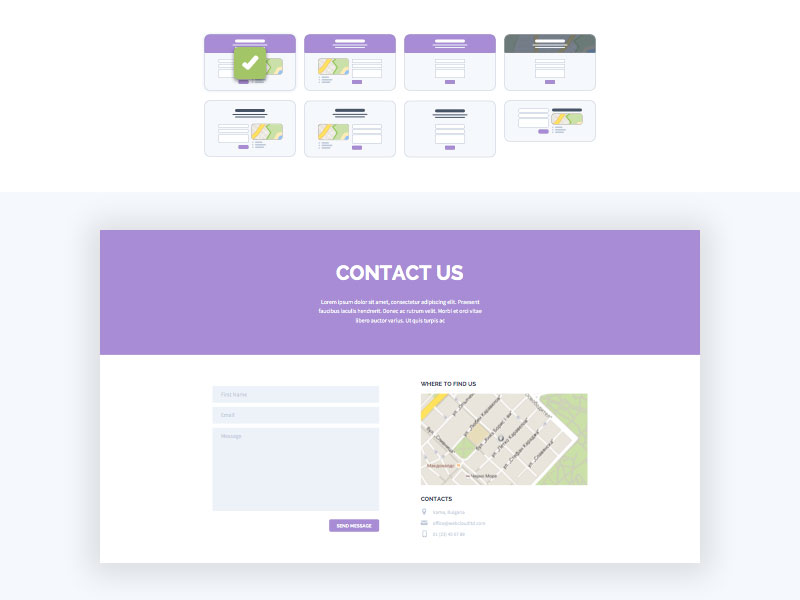 So you've decided to add a WordPress form to your site – now you need to learn how to choose the one that's most suitable for your needs.
Not all contact form plugins have the same functions because they are created for different purposes. Each plugin will bring pros and cons to the table, as with any other software product out there.
Some people need WordPress contact form plugins that integrate with marketing tools like MailChimp or Drip. Other people require contact forms that work well with eCommerce websites where clients need to register and pay for products upfront.
The situations are very diverse, thus requiring different plugins. You'll have to figure out what your preferences are and choose a plugin that meets them.
Before listing a few WordPress form plugins, here are the most popular qualities you should look out for:
A wide array of features – WordPress form builders should include as many features as possible, to suit all goals of a company. The basic template forms you should keep an eye on include: personalized contact forms, payment forms, sign-up forms, and subscription forms.
Low learning curve – Form plugins should have an intuitive interface. People who don't know much about coding and websites might want to use a plugin to simplify their work, so this is definitely an aspect to consider.
Scalable – In a world where mobile phones seem to govern everything, it is important to use a form plugin that can scale to any device size.
Good price-quality ratio – Even though there are free WordPress form plugins out there, you may want to choose a paid plan for better features or a higher level of automation. Make sure that the money is worth it.
Documentation – The developer of the plugin should give enough details about how the plugin can be used and about the features it has.
Support – It would be best to choose a WordPress form plugin that offers the chance to contact the developer whenever something goes wrong, especially if you own a popular website.
Below you will find a list of 9 plugins that can help you with WordPress forms. They are quite different and come equipped with a unique range of features. The list should give you a starting point and help you choose a WordPress form builder that suits your website's goals.
9 Examples of WordPress Forms Plugins
The plugins listed here don't follow any order. They are just examples of plugins that may be helpful for most people from the WordPress community. Read each description and see if any of these plugins fit your requirements:
Ultimate Form Builder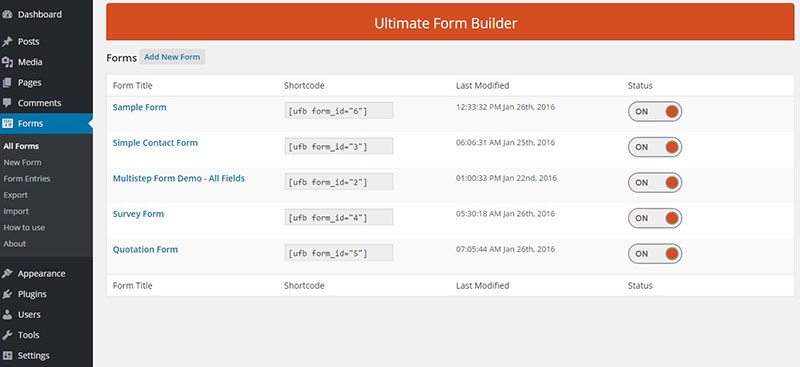 This is a premium plugin for creating and managing WordPress forms. Even though you will have to pay for it, the plugin lets you create as many contact forms as you like. You can start with one of the 10 templates that come with it, or you can design one from scratch.
Ultimate Form Builder is simple to use. It is suitable for both tech-savvy users and those who don't have much experience with technology. For this, the plugin offers a single-step/multi-step wizard for creating a contact form, according to the user's level of knowledge.
You can create contact forms, sign-up forms, call-to-action forms, or even surveys. The plugin covers most needs that a regular website may have. Moreover, it is equipped with a conditional logic system, which means that it hides certain fields when others are filled with information, as required.
WPForms

WPForms is a basic contact form plugin that has a drag-and-drop interface. If you don't want to spend a lot of time creating your forms, this plugin is a top choice. It comes with pre-built templates for your WordPress forms that you can personalize the way you want.
What's different about WPForms is that it allows you to create multipage forms, which are very useful for certain website types. You can manage the submitted forms directly from the plugin's dashboard. Just like Ultimate Form Builder, this plugin uses a conditional logic system.
In addition, WPForms lets users attach files to their forms, an extremely handy feature that some contact form plugins don't offer.
Formidable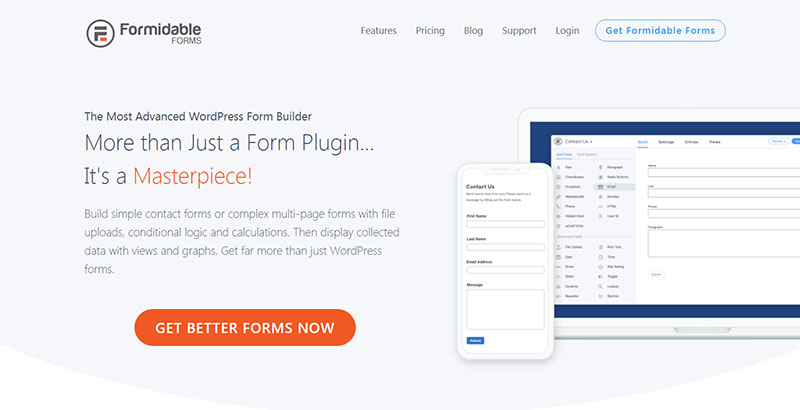 For a sleek WordPress contact form, you might want to use Formidable. It is an advanced plugin that you should use only if your website requires complex forms. In spite of the contact form's complexity, this plugin makes the process of building an advanced form look easy.
What's interesting about Formidable is that it lets you display all the WordPress form submissions directly on your website. This might be a very useful feature for some types of websites, so if it fits your requirements, give Formidable a try. You can collect, edit, filter AND display your data with it.
Ninja Forms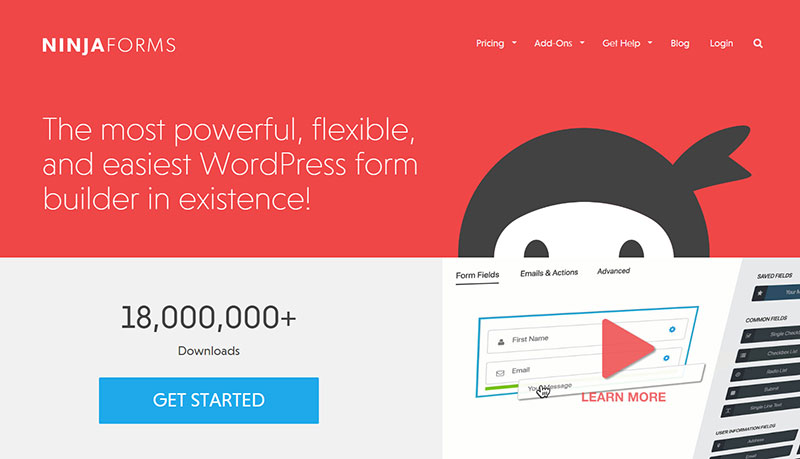 This is probably one of the most popular WordPress form builders out there. It is a freemium plugin, which means that you can use it for free to start with and later expand with premium extensions. As the name suggests, you can create contact forms as fast as lightning.
It requires little to no effort at all and it comes equipped with a wide range of form templates for your website. By adding premium extensions to it, you can create other types of WordPress forms such as campaigns or eCommerce forms.
Everest Forms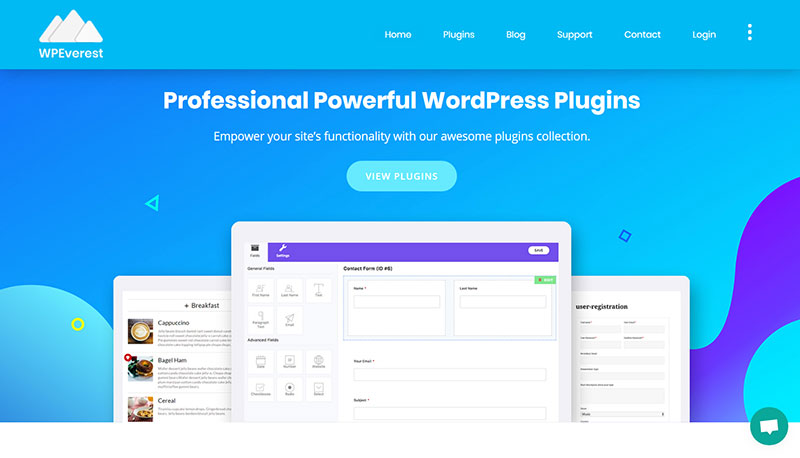 Another drag-and-drop plugin, Everest Forms is the perfect choice for those who need column support. The plugin adds an extra layer of protection to your site by preventing spam using re-captcha.
Similar to the other plugins listed here, you can personalize forms based on the included templates. Its drag-and-drop interface is responsive and perfect for beginner users. A unique feature of this WordPress form builder is that it offers multiple email recipients support.
FormCraft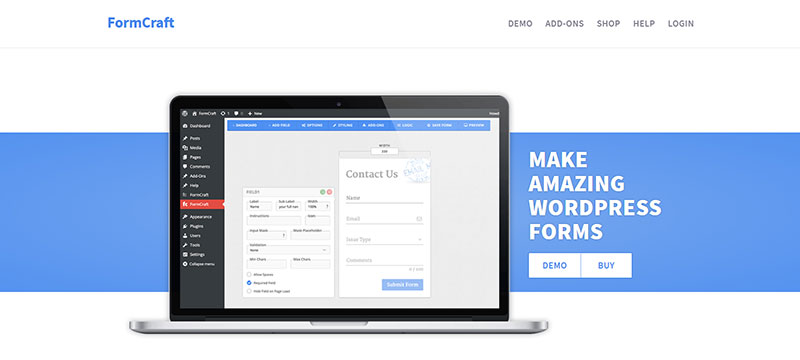 FormCraft is a balanced plugin that is suitable for everyone who is trying to build simple WordPress forms. The plugin comes with included widgets for various extra functionalities. The best part about FormCraft is that you can set up multipage forms. You can also analyze the data afterward and view conversion rates.
Gravity Forms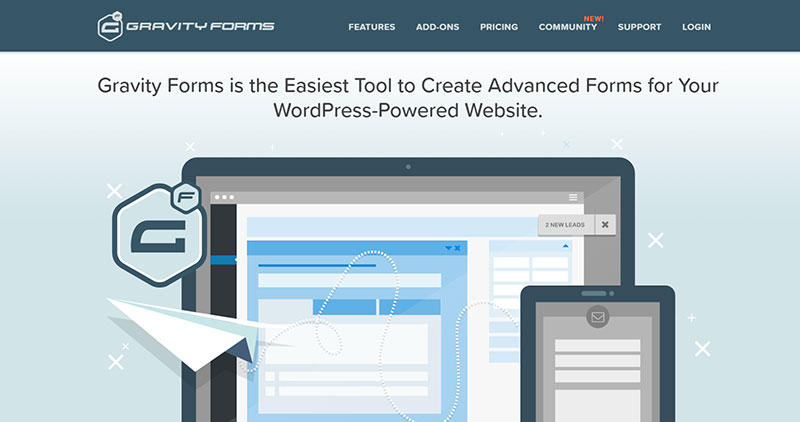 Gravity Forms lets you create various WordPress forms. If you need a quiz for your website, this plugin might be the most appropriate choice. It is also good for surveys. If you own a website that allows submitting content from users, you should know that this plugin comes with a template dedicated for that purpose.
Even better? Gravity Forms powers GravityView, an easy way to turn your form entries into a searchable, editable directory.
Formstack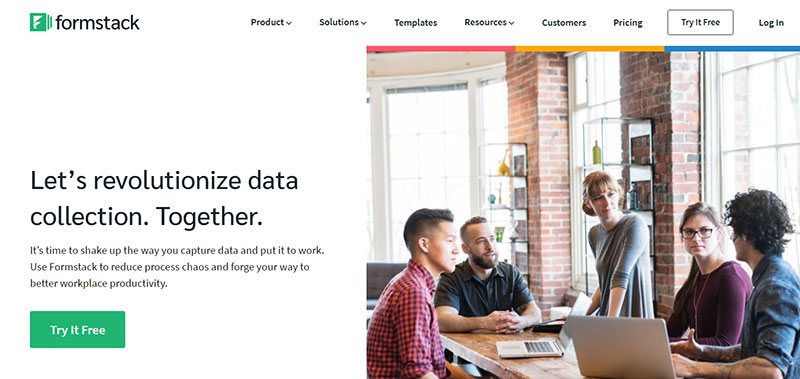 Formstack is a builder that works independently from the WordPress platform. It has a drag-and-drop interface and it can be integrated with marketing third-party apps. Keep in mind that this plugin is not dedicated to WordPress, but it works just as well on WordPress as anywhere else.
You can use it for other purposes as well. This is both a benefit and a downside because you'll encounter some limitations and you might need a higher level of knowledge in the field if you want to take full advantage of what it offers.
Forminator Pro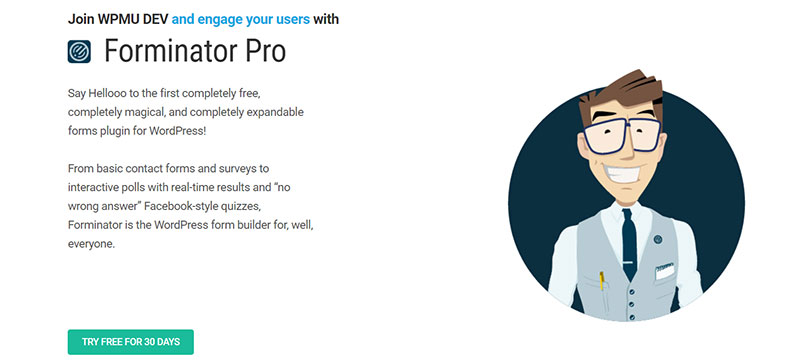 Last, but not least, Forminator Pro is a free plugin with premium features. You can add any type of WordPress form you may like to your website. The interface is easy to use, it is block-based, and you can go from a simple form to a complex one in minutes. If you're from Europe, great news! It respects all GDPR requirements, as well as Gutenberg requirements.
Ending thoughts on these WordPress forms plugins
All the plugins listed in this article are meant to help you create the best WordPress forms and avoid having a bad UX on your contact page. Analyze their features carefully and give the best a go. It's much easier to include forms on your website with the help of a plugin that does everything for you, rather than creating the form from scratch and managing the data on your own. Download one of these plugins now and get started on your beautiful new contact form!
If you enjoyed reading this article about WordPress forms, you should read these as well: