If you are seeking a way to incorporate a forum into your WordPress website, you have landed on the right page. Adding a WordPress forum is a straightforward process for most webmasters doesn't require a comprehensive set of technical skills or knowledge.
You can have the best forum on your WP website by installing and activating a WordPress forum plugin. All you have got to do is to select the best WordPress forum plugin for your specific needs, and you have a wide variety of options waiting for you to take your pick.
WordPress is a multifaceted platform that allows multiples solutions to achieve the same goal. With thousands of design alternatives via a multitude of WordPress themes and templates, it's no surprise that there is an enormous number of WP forum plugins available.
What is a WordPress Forum? Why do you need it?
Forums in general and WordPress discussion forums, in particular, represent a conventional but successful method of communicating in the virtual space. They generate communities in the online universe where members can discuss, connect, share, and offer each other support.
For webmasters, a WordPress forum is a chance to engage their visitors in the life of that community and have them learn as well as contribute to the growth of that online group. WordPress acknowledges forums as the foundation of productive dialogue on their platform.
The considerable development of WordPress has generated a community of its own, which has contributed extensively to reinforcing and nurturing WordPress. In this context, it makes sense to want to add not just any WordPress forum, but the best forum for WordPress.
Advantages of a WordPress Forum:
There are plenty of benefits when you opt for integrating a WordPress forum via the best forum plugin for WordPress. Perhaps the most important advantage is that the best forum sites are platforms where people with similar views to communicate and connect.
Here are three of the most compelling motifs:
A WordPress forum is an easy-to-access platform that lets you deliver quality support services to your users and/or customers by answering their queries.
A WordPress forum is like your users have their own social network or a WordPress message board where they can share thoughts and information, start and contribute to constructive discussions, provide mutual support, or just network.
A WordPress forum brings SEO value because of the unique content of forum threads that compels search engines to index your WordPress website high in search results, which will drive more traffic to your website. SEO mission accomplished!
The Best WordPress Forum Plugins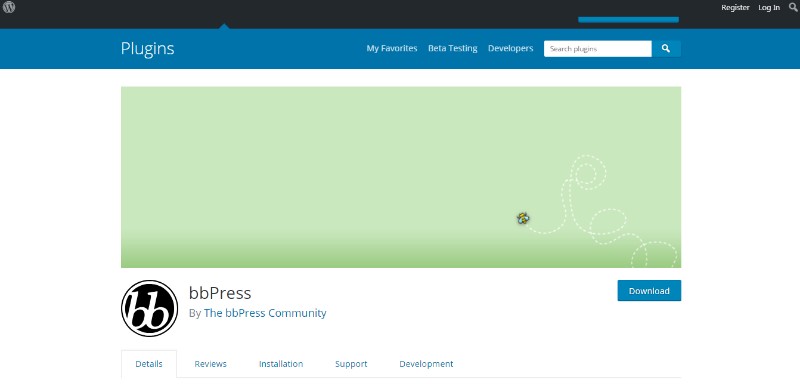 Considered to be the best forum plugin for WordPress-based websites, bbPress is open-source software and the originator of WordPress forum plugins. It was developed by the same masterminds that have built up and improved the existing WordPress software.
bbPress is a down-to-earth, straightforward, quick forum plugin for WordPress with a design conceived to prevent your forum from getting sluggish and overstuffed and keep the server secure in front of hacker attacks. There are also lots of great bbPress themes you can use.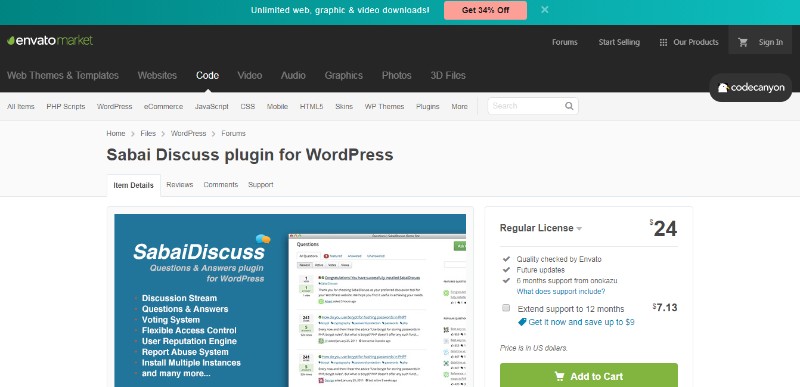 I have a soft spot for the minimalist design features of the Sabai Discuss for WordPress. It is the classic WordPress forum plugin, but rather a Q&A plugin that is very much like a forum plugin, which is why I've roped this type of plugins into this list.
A flat design Q&A plugin, Sabai Discuss for WordPress allows users to ask questions for other users to come up with answers, which creates threads/topics in a similar way a forum does. Admins could share knowledge-filled Q&Q threads and assist other users.
Given the flat design of Sabai, categories can be hierarchized accordingly. This plugin has a reputation system in place that displays the users providing the most useful answers.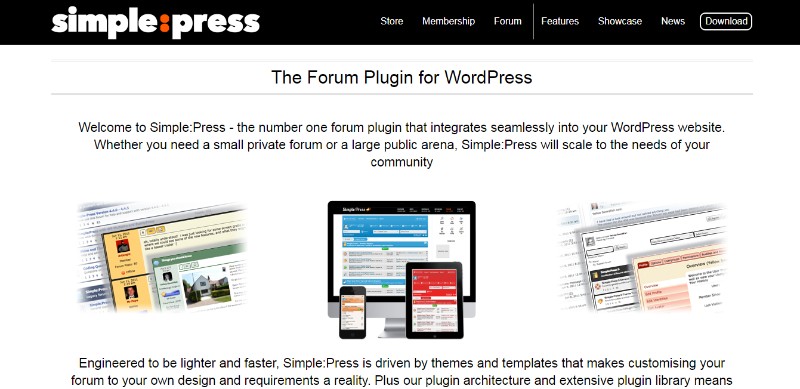 Created by a third-party, Simple:Press is a WordPress forum plugin that integrates directly with the WordPress platform. It is a free plugin that comes as a downloadable zip file that you can then upload to your WordPress website's plugin zone without any extra hassles.
Simple:Press features a forum-guide on their website that allows users to understand better how to install, activate, and manage the plugin for the best results. Other features include: classifying users via badges, uploading and adding your users' Gravatar profiles, post moderation, and the utilization of shortcuts/shortcodes to simplify the moderation practice.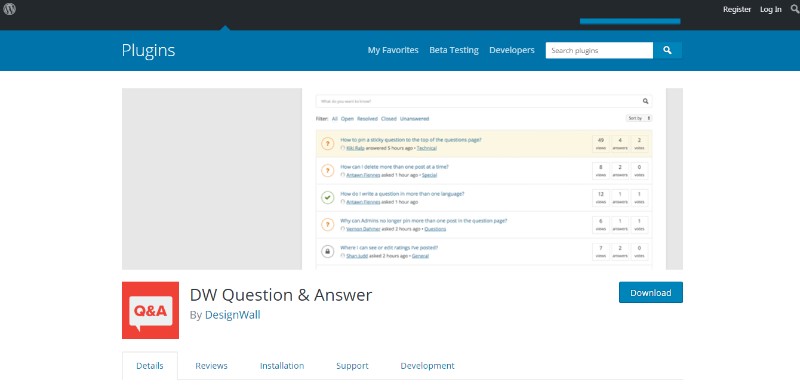 A Q&A plugin for WordPress, DW Question & Answer is a plugin that has a neat appearance and simple methodology with stylish features including shortcodes and reCAPTCHA. It supports various languages and includes a robust email notification system.
Sticky queries highlight the most recent topics. Some questions may appear as private if users index them as such to discuss the topic within an exclusive group inside the forum's network of users/participants.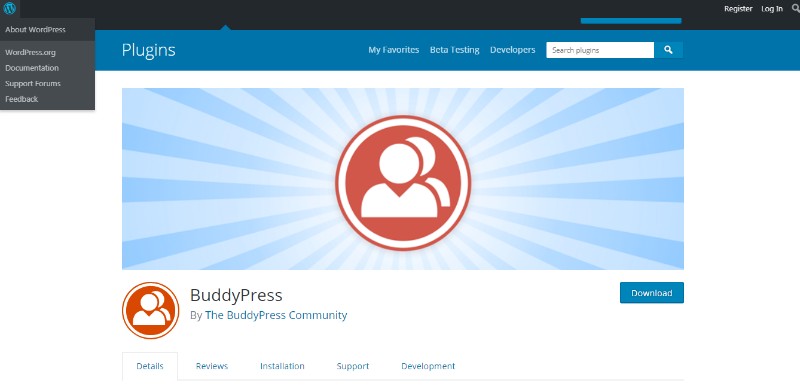 Just like bbPress, BuddyPress is the go-to open-source WordPress community plugin. Envisioned and created by the same group of developers, BuddyPress is the ideal plugin for a WordPress forum in the form of a virtual community, or social network if you want.
It allows the creation of user profiles, lets users organize/join dedicated groups (schools, sports team, businesses), as well as send or receive private messages, friendship requests.
Equipped with a simple to navigation interface, BuddyPress is easy to insert in your website. A mini social network wrapped as a plugin could be the syntagma to describe BuddyPress best.
Once set up, this plugin can metamorphose individual visitors into members of a community that share the same values and principles. By joining BuddyPress and bbPress, you can have it all: a forum and mini-community for people to cultivate a little more social relationships.
BuddyPress is unlike any other WordPress forum plugin because it possesses every slick feature that you would usually expect from a social network: favorites, status, mentions, etc.
BuddyPress allows customization according to your brand, which might result in a social website that targets your niche.
FAQ on WordPress Forum Plugins
Why would someone need a WordPress forum plugin?
Well, here's the deal. When you're running a WordPress site and you want to amp up user engagement, a forum can be a game-changer. It lets your audience connect, chat, and share their insights. It's like throwing a virtual party, minus the cleanup.
What's the big deal with bbPress and BuddyPress?
So, bbPress and BuddyPress are like the rockstars of the WordPress forum world. bbPress keeps things simple, giving you a straightforward discussion board. On the other hand, BuddyPress? It's more like a social network for your site. Pretty cool, right?
How does user registration work in these plugins?
Alright, here's the lowdown. When you've got a forum up and running, you don't just let anyone stroll in, right? You've got user profiles, registration forms, and sometimes even cool user avatars. It's like a VIP club, but everyone's invited. Just gotta sign up first!
Can I customize my forum's appearance?
You betcha! WordPress forum plugins often come with their themes or, you know, those forum customization options. Want to match it with your brand? No problemo. Sprinkle some creativity, and you've got a unique discussion board look.
Are these forums mobile-friendly, like responsive design?
Oh, absolutely! We live in a world where folks are glued to their phones. These plugins know the game. Most of them come out of the box with a responsive design. So, no matter the device, your online community looks fabulous.
How do I tackle spam in my forum?
Ah, the age-old internet problem. Luckily, many forum plugins come with built-in spam protection. Some even have moderation tools. So, those pesky bots? You've got the upper hand. Keep that forum tidy and spam-free.
Can forums help with SEO?
You know what? They sure can! Forums mean fresh content, and search engines love that. Plus, with the right forum SEO strategies, your discussion threads could be a magnet for organic traffic. So, SEO and forums? Yeah, they're pals.
What's the story with private messaging?
Private messaging is like passing notes in class, but digital. Many WordPress forum plugins offer this feature, letting users have side chats away from the main topic threads. It's a nifty way to boost user interaction.
Do I need special hosting for a forum?
Good question! While most standard WordPress hosting will do the trick, if your online community really takes off, you might wanna consider beefing things up. Think of it as upgrading to a bigger party venue. More guests, more space needed.
How do I make my forum safe and secure?
Safety first! Always update your plugins. And yes, that includes your forum ones. Some plugins offer advanced security features, but also consider strong passwords, user roles, and maybe some security plugins.
Ending thoughts on choosing the best WordPress forum plugin
This article presents the best-rated WordPress forum plugins, and you can use as a guide to handpick the one that aligns best with your business objectives and technical requirements.
We can't choose for you, but we can safely say that bbPress is the best free forum plugin and, given the fact that it comes with over 100 extensions, you stand every chance to access every feature that you may want or need.
If you enjoyed reading this article about WordPress forum plugin, you should read these as well: