Want to grab your website visitors' attention and increase your conversions? Check out our easy guide on how to add a popup on WordPress in just a few minutes
Popups are a feature of WordPress that I constantly suggest to my clients. While popups have the potential to boost conversion rates and lead generation, they can be difficult to implement if you lack experience in doing so. I'll show you how to install WordPress popups and make the most of them in this article.
Understanding Popups
First, let's define what a popup is and why it's useful for your WordPress site before we get into the nitty-gritty details.
What is a Popup?
Popups are a type of window that appears on top of the primary page of a website. Put up a message, make an offer, or get people to fill out a form.
WordPress popups improve your site's performance in a number of ways: they bring in more customers, generate more leads, advertise sales, get more people to sign up for your newsletter, and boost engagement.
Benefits of Using Popups on WordPress
Increases conversions
Generates leads
Promotes special offers
Encourages newsletter signups
Increases engagement
Types of Popups Available on WordPress
Slide-in popups
Welcome mat popups
Notification bar popups
Inline popups
Setting Up a Popup on WordPress
Let's get started with installing a popup on your WordPress site now that we've covered the fundamentals.
Installing a Popup Plugin
Get a popup plugin set up first. I've tried a few of the plugins in the WordPress plugin repository, and OptinMonster is by far my favorite.
In case you don't agree with me, I've added below a list of WordPress popup plugins that you can pick from.
OptinMonster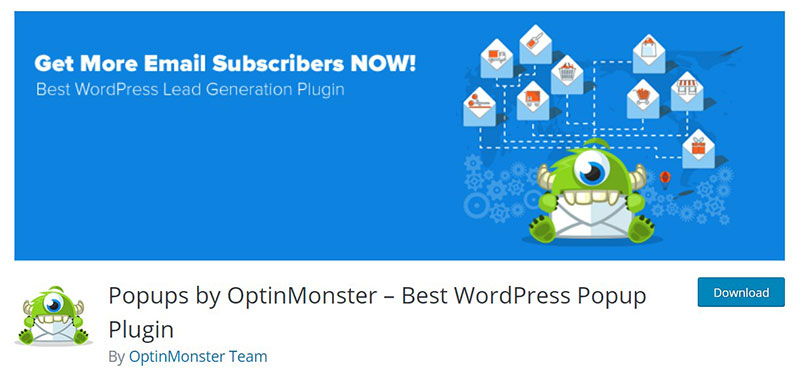 OptinMonster is a popular WordPress popup plugin. It features a very intuitive popup builder that lets you drag and drop files, which is perfect for creating popups from scratch. You can also base it on one of the built-in templates.
OptinMonster is a plugin that is available for a multitude of platforms, not just for WordPress, as it is a standalone popup maker. Additionally, this plugin is a perfect option if you need A/B testing included, as well as multivariate testing. This plugin includes all the essential features needed to expand your e-mail list easily and with style.
Ninja Popups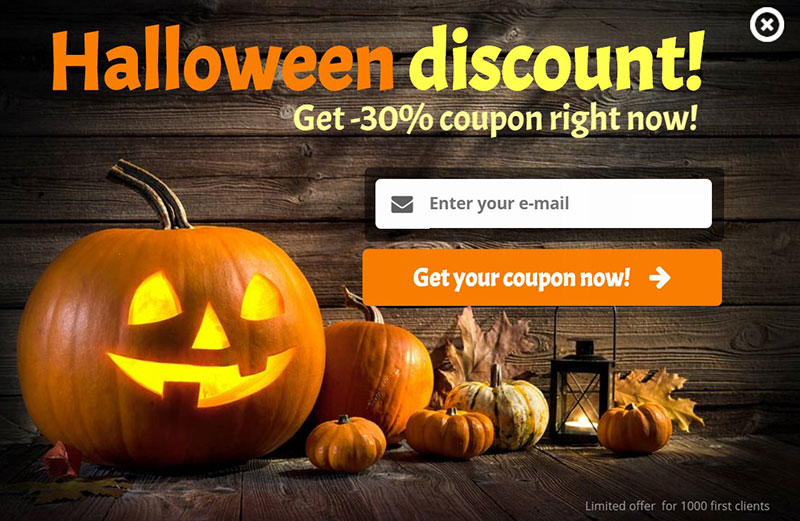 Ninja popups are one of the best-optimized WordPress popup plugin options. This plugin has been out for more than 6 years, but receives constant updates and new implementations, so things are always fresh and new.
Like the OptinMonster popup plugin, this one features a drag-and-drop builder for your plugins. You can create new plugins from scratch, or you can base one on one of the 70+ templates that are offered within this plugin. There are also more than 70 animation effects that you can use to build your popup.
SumoMe ListBuilder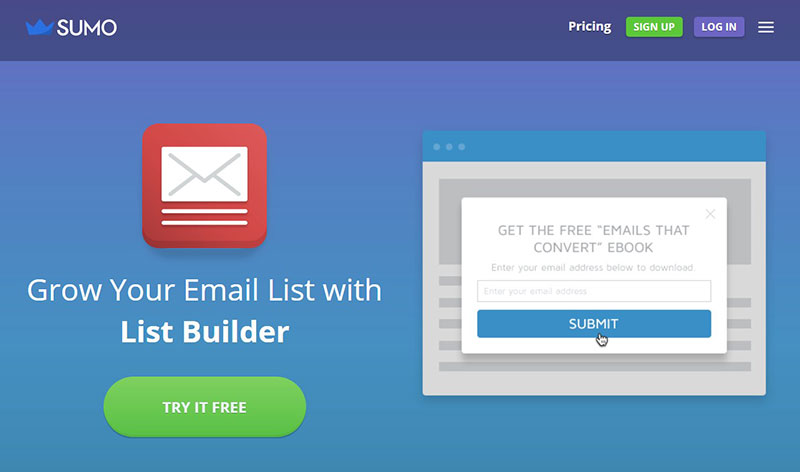 This plugin is certainly one of the easiest plugins to use. With SumoMeListBuilder, you can set up your own plugin within minutes. In addition to how quickly it will allow you to set up your plugin, it is free to use. You can have a basic popup made in 5 minutes, which is astonishing.
The free version allows you to customize certain aspects like the position of the popup window and the frequency at which it is displayed. If you opt for the premium version, you get even more useful features – full customizability, dozens of templates and more data collection options.
TrustPulse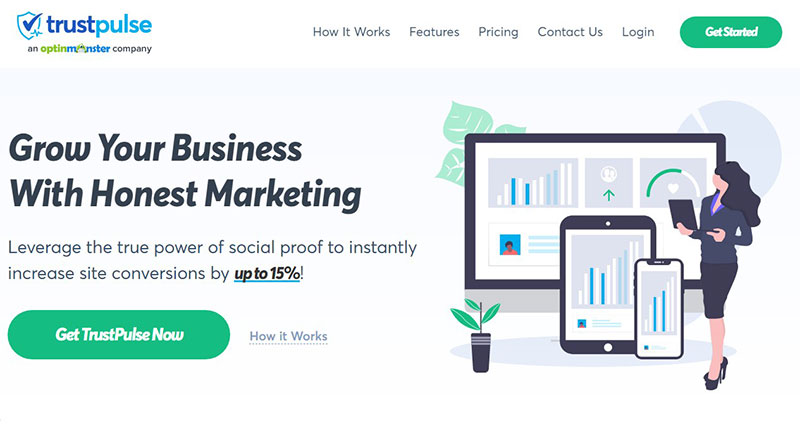 TrustPulse is the ultimate social proof popup on this list. It is a great popup that allows you to expand your mailing list. But it offers much more than that. Because of its adjustability, it had to be included in this list of the best popup plugins.
This popup plugin will let you display social proof notifications and popups that will trigger the FOMO effect with users and thus encourage more of them to stop missing out. They are designed in such a way that they encourage trust by displaying social proof. These are all reasons why it is included in this list.
MailOptin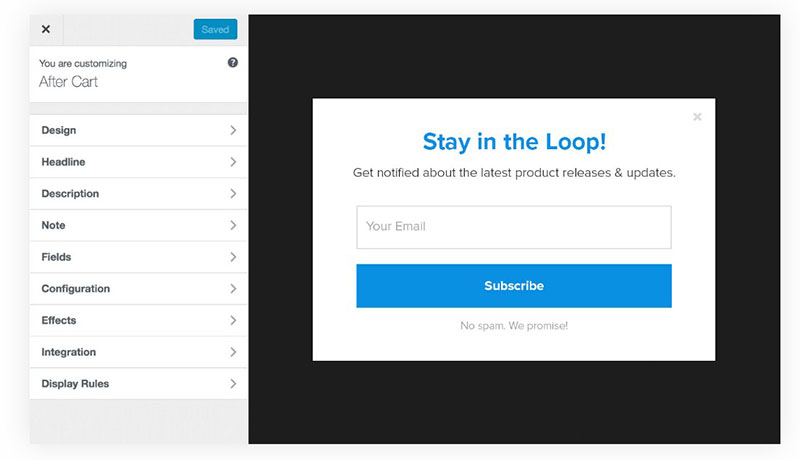 MailOptin is one of the newer popup plugin options on this list. It is also one of the fastest-growing ones. This plugin incorporates many different ways of interacting with users – from popups to notification bars, embedded forms, slide-ins, sidebars, and many more.
The multitude of choices is definitely an advantage to you for expanding your mailing list. It uses the WordPress customizer, and thus, it is very easy and intuitive to use for your WordPress site. In addition, there are dozens of attractive templates to use.
Convert Pro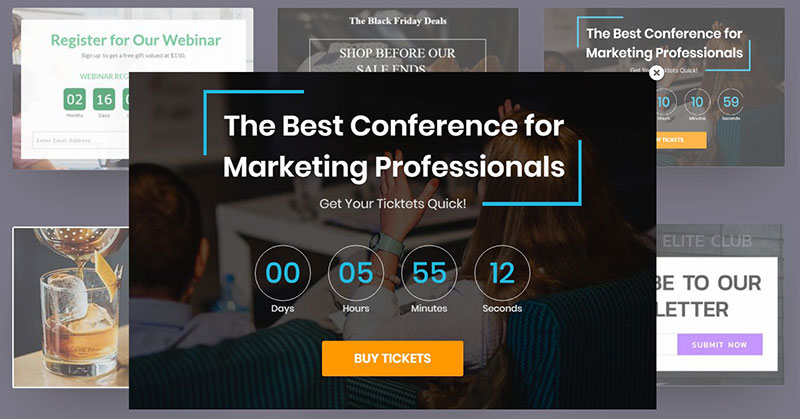 This WordPress popup plugin is the enhanced version of the Convert Plus plugin. That version is itself the improved version of ConvertPlug. The Convert Pro is arguably the best version of this whole franchise, as it features an immense amount of features and builds on the whole design and idea of the initial ConvertPlug tool.
Bloom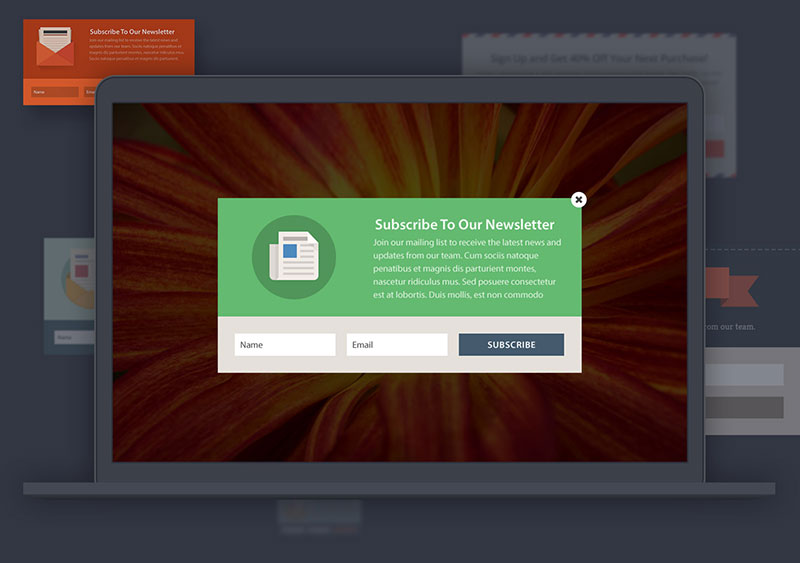 Designed and created by Elegant Themes, the Bloom popup plugin is an awesome tool to create visually stunning and appealing popups from scratch. Working with popups and creating new ones has never been easier due to the appealing dashboard that Bloom offers.
There are more than 100 different templates to choose from, all of which you can customize and tailor to your needs, plus they mostly feature the trigger and target options. The plugin also offers a demo version which lets you test the plugin before purchasing.
Layered Popups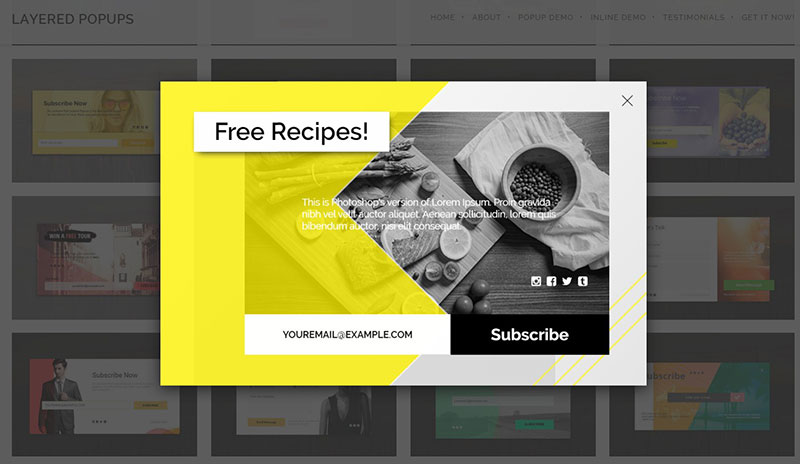 One of the best plugins for creating layered popups. There are more than 200 templates to choose from and can be customized to suit your needs. The amazing thing about this plugin is that it features subscription forms for AJAX, which can easily lead to more conversions. These forms will work with 80 different mailing providers.
The plugin will also let you raise the plugin upon user's inactivity, and upon AdBlock detection. It will also trigger when the user scrolls down the site.
Popup Builder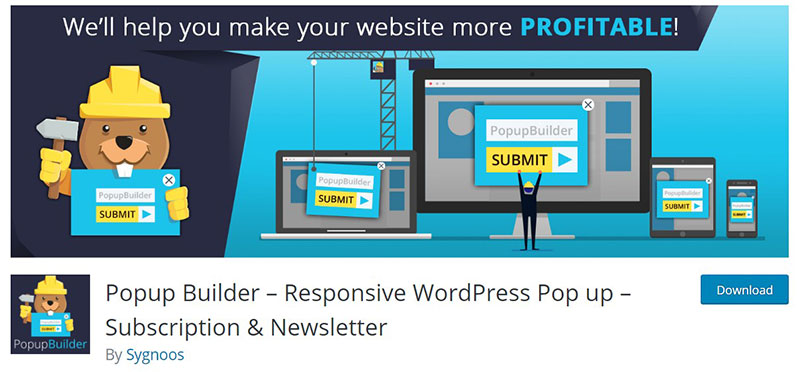 This plugin uses one of the most impressive popup builders on this list. You will be able to create amazing popups with highly-customizable features. You can change just about anything about the popups with this plugin.
You will have the ability to add infinite popups with the Popup Builder. Additionally, you will be able to change colors, themes, sizes, and many other things. What is more, this plugin offers features like Facebook Popups, custom Image Popups, HTML popups, and more. All this makes Popup Builder one of the best WordPress popup plugin options out there.
Elementor Pro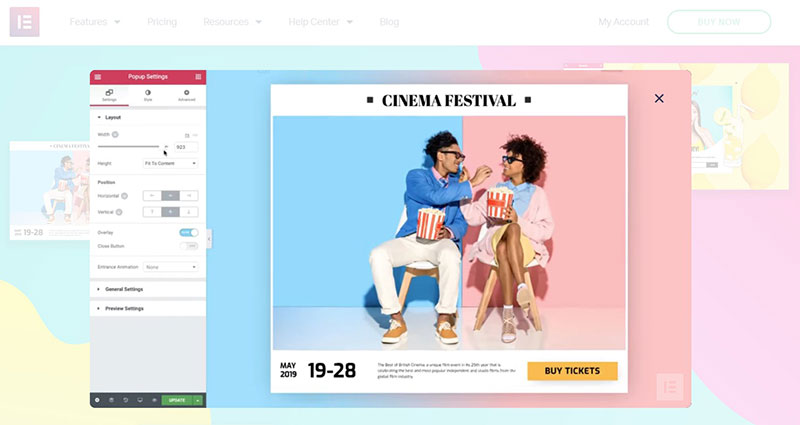 Elementor is the basic version of the plugin, and the Elementor Pro is an advanced version of the plugin with many additional useful features, including allowing you to use the Popup Builder feature.
Elementor itself is one of the more popular plugin options on the list, with more than a million sites using it. Elementor Pro is a useful upgrade that offers a very good page builder. There is also the drag-and-drop builder, which makes Elementor one of the best plugins to use.
JetPopup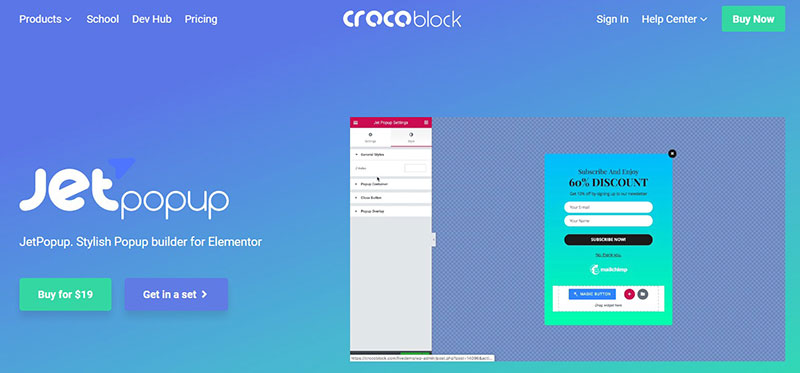 The universal nature of JetPopup makes it a very popular choice. It is surely one of the more highly-customizable WordPress popup plugin options to use. Firstly, it uses a variety of shapes that makes its popups unique. What is more, it can be customized so that it appears at different times. For example, it can be shown when the user enters the site, or you can choose to show it when the user leaves it.
JetPopup features an interesting popup maker plugin where you will have the ability to control just about any aspect of a popup. The plugin can be used to create custom widgets for newsletters, countdowns, popups for discounts and specials, and more.
PopUp Domination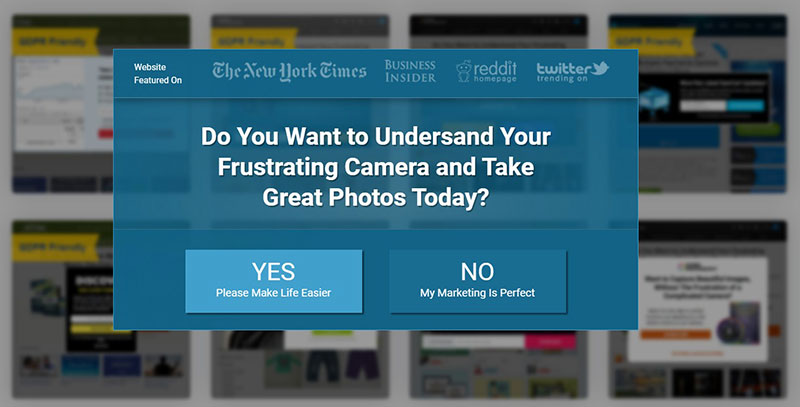 This mid-priced popup plugin is a great option for improving your opt-in numbers. The great thing about this plugin is that A/B testing is included, with many good targeting strategies. The only downside of this plugin is that some of the templates do look quite old, however,you can make your own very easily.
You can totally customize the way this popup is displayed, and to which users. For example, you can choose that it is displayed after a user spends a certain amount of time on the WordPress website, or if a certain click has been made. These targeting options are great for choosing your customers. Also, you have the option to target users based on geolocation, or device.
If you have websites with high traffic, this popup might not be the best for you. But for low-traffic websites, this plugin is perfect.
Icegram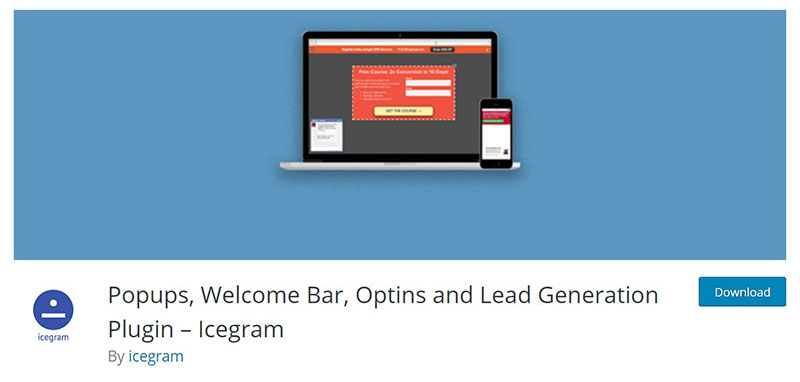 Icegram is a new popup maker plugin that can be used for increasing your mailing list while also improving your conversion rates. This popup maker can create very good popups, as well as a good mailing strategy and impressive CTA buttons that will impress your users.
This plugin is great because you can create popups from the WordPress dashboard itself. The amount of triggering and targeting options makes this plugin a must for many designers. The downside is that the user interface needs improvement, but that is only a minor issue that is negligible with the quality you get.
Thrive Leads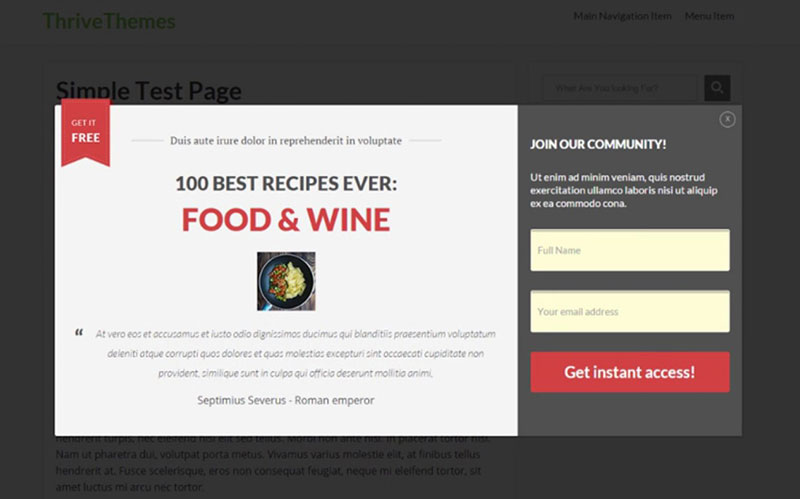 This WordPress popup plugin is created with conversion rates in mind. It favors performance, and that is seen by the amount of opt-in popup forms, and features it has. It has many useful opt-in types and inline forms, as well as a 2-step opt-in and slide-in form. What is more, there is a drag-and-drop editor included in the package, allowing you to make your own popups. Also, you will get A/B testing and analytics.
Thrive Leads is a standalone popup maker. It is, though, incorporated into the WordPress dashboard, which lets you use the plugin straight from the dashboard.
HubSpot's plugin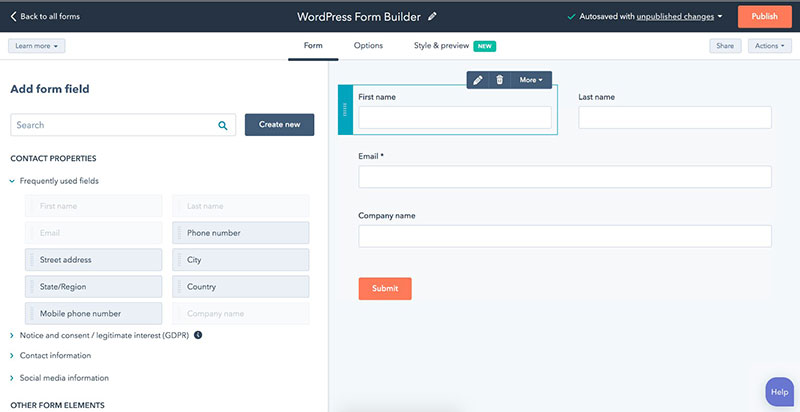 Hubspot is a very popular tool used by many businesses to attract more users and allow a better experience. In fact, it is used by more than 100,000 different businesses from all over the world, and it features a very high-quality popup plugin that you can use to create attractive popups.
The best thing about it is that it is easily incorporated into WordPress. The tool is very easy to use, as you can create any type of popup you want, and you can freely edit the text and images on your own. This allows for custom-created popups and widgets that impress your users.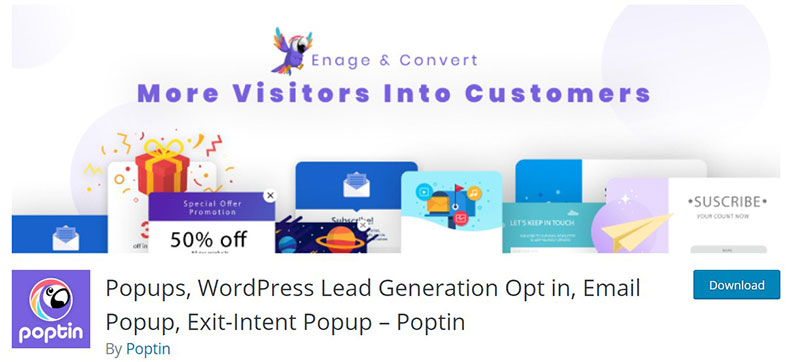 This free WordPress popup plugin is a great option for advanced trigger options, like the exit trigger option and more. That will allow you to create more leads and sales, while also setting up a very good newsletter. You can easily create popups with a special drag-and-drop interface. Also, it allows you to set up a special message sender, like an automatic "thank you."
PopUp by Supsystic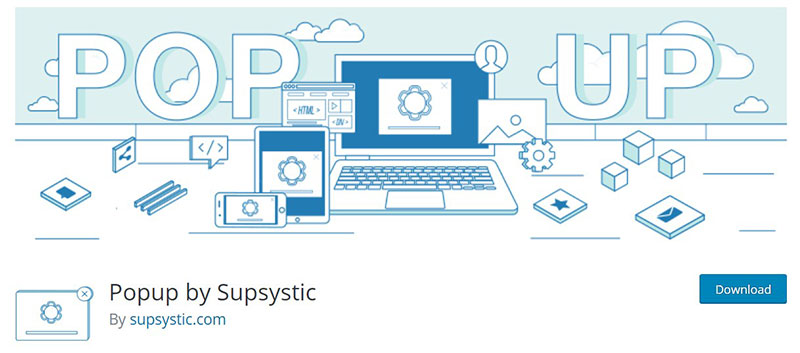 This popup plugin features just about everything you would need from a popup plugin. Developed by the team of Supsystic, the plugin has some very nice capabilities, such as connectivity to social media, various forms for contacting, google maps integration, sliders for images and other content, PDF and HTML popups, and many more useful features. For a free plugin, that is quite a lot.
But that's not everything. The plugin allows you to customize the appearance of the popup, and also allows for A/B testing and some very good effects for better visual representation. There is a lot to like about this plugin, and above all, it is free.
WP Popups

With the easy and intuitive template builder you will be able to create and customize your popup with just a few clicks. No coding skills needed!
Is the perfect solution to show important messages such as EU Cookie notice, increase your social followers, add call to actions, increase your mailing lists by adding a form like mailchimp or to display any other important message in a simple popup.
ConvertPlus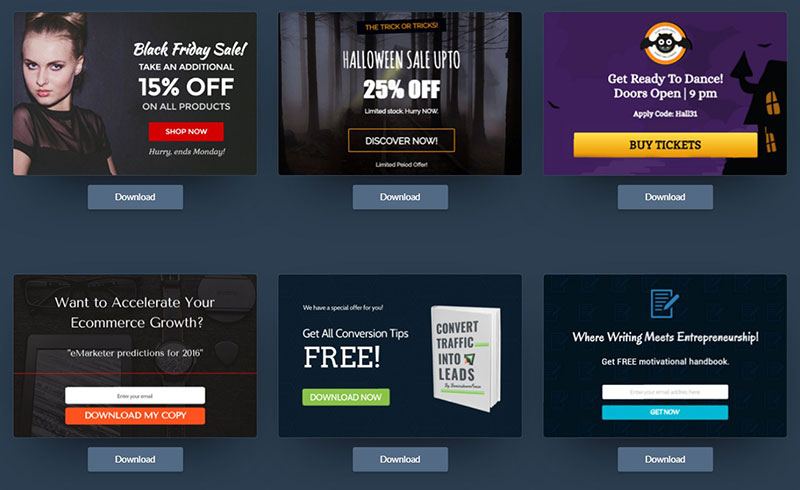 Developed by Brainstorm Force, the ConvertPlus plugin for making popups is a great option if you are looking for a very versatile plugin. Besides a popup maker, you also get the option for making notification bars, sidebar widgets, and much more.
Also, you will get more than 100 templates. The great thing about these templates is that they look great, and you can use the WordPress customizer. If you are looking for a good WordPress popup plugin, then you can't go wrong with ConvertPlus.
Like many other plugins on this list, this one features trigger and target options that many people like to have, while also including A/B testing and analytics.
Exit-Intent Popups by OptiMonk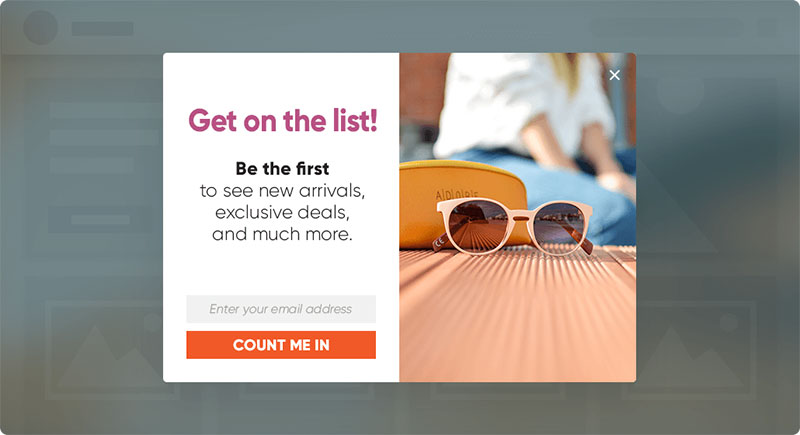 If you are struggling with premature exits from your site, then this one is for you. It allows you to retain customers on your site, while also expanding your email list by giving your visitors an option to subscribe to it before they exit the site.
It makes for a convincing popup that attracts users to your site and brings them back.
Popup Maker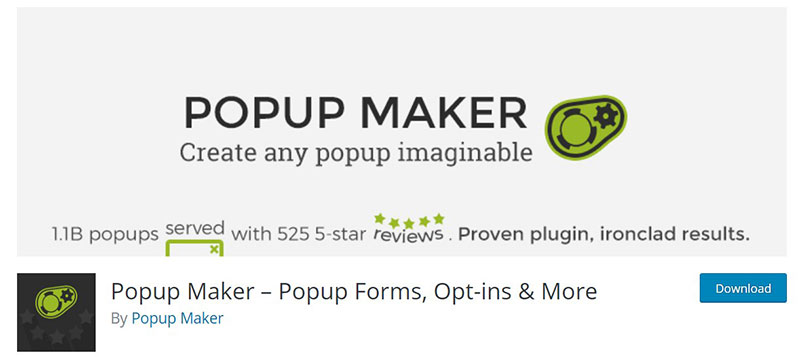 Popup maker is a fantastic way to boost your conversions. Not only do you get a very sophisticated popup form maker, but you also get many more options included, such as opt-in forms, notification boxes, and many more.
Additionally, the plugin offers direct implementation to WooCommerce, which is a fantastic feature to have, as many users like to use that platform.
Choosing the Right Popup Plugin
When choosing a popup plugin for your WordPress website, consider the following:
Ease of use
Features offered
Compatibility with your WordPress theme
Customer support
Configuring the Popup Plugin
Once you've installed the plugin, configure it by following these steps:
Connect your WordPress site to the plugin
Choose the type of popup you want to create
Select the goal of your popup
Choose a template or create your own design
Add the necessary content, including images and text
Customize the display settings
Preview the popup before publishing
Creating a Popup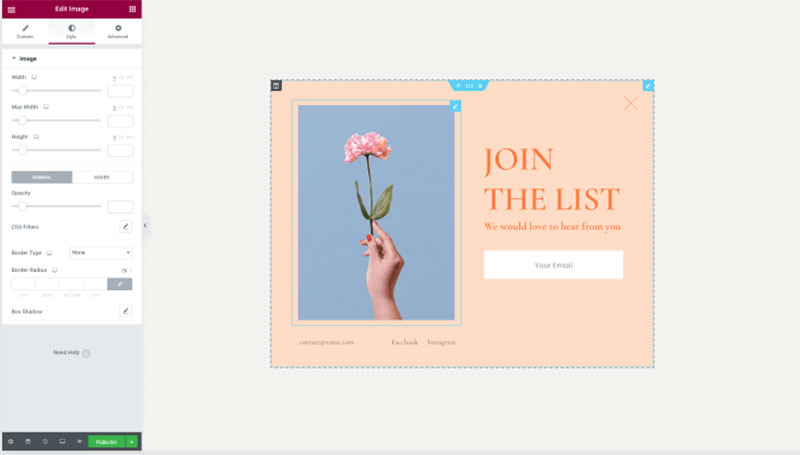 Now that you've configured the plugin, it's time to create the actual popup for your WordPress website.
Choosing the Right Type of Popup
Choose a prompt that helps you achieve your aims. Choose a "Subscribe" popup, for instance, if you wish to gather email addresses.
Selecting the Right Content for Your Popup
Choose items that will interest your readers. Popups are a great way to draw attention to specific aspects of your offer, such as a discount.
Creating a Catchy Headline
Create a catchy headline that explains exactly what your popup is about. Write succinctly and directly to the point.
Adding a Call-to-Action Button
Your "call to action" button needs to stand out and be simple to find. Make use of language that calls for immediate action to compel site visitors to take the desired course of action.
Configuring the Popup Display Settings
To make sure the correct individuals see your popup at the right moment, you'll need to configure your popup settings.
Choosing When the Popup Should Appear
Set the timing for your popup. During page load, after a predetermined length of time, or just before a visitor leaves your site are all viable options.
Choosing Where the Popup Should Appear
Locate on your site where you would like your popup to appear. On a per-page, per-post, or per-category basis are all viable options.
Choosing Who Should See the Popup
Choose the people who will see your popup. There are various options, such as all visitors, new visitors, and repeat visitors.
Designing Your Popup
You should put some thought into the design of your popup if you want it to be successful.
Choosing the Right Colors
Make your popup stand out by using colors that complement your brand. You may make your call-to-action button more noticeable by utilizing colors that contrast with each other.
Adding Images to Your Popup
If you want your popup campaign to be noticed and remembered, use some relevant photos. It is recommended that you choose high-quality photographs that are related to your offer or message.
Adding Custom CSS to Your Popup
You can make your popup more in line with your brand's aesthetic and functional if you have a firm grasp of CSS.
Testing Your Popup
Make sure your popup is fully functional before releasing it to the public.
Previewing Your Popup
You can see your popup's appearance on your site before you publish it with the majority of popup plugins.
Testing Your Popup on Different Devices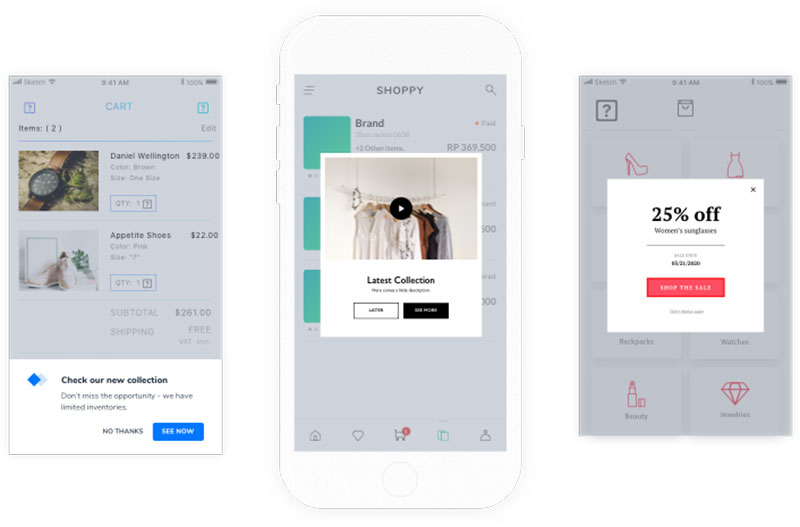 Your popup should be tested on desktop, mobile, and tablets. This will make sure that your popup is presented correctly and works properly on all devices.
Making Necessary Changes Based on Test Results
If your popup doesn't perform as expected during testing, feel free to tweak it and try again.
Publishing Your Popup
Putting your popup on your site is the next step after making it and testing it.
Setting Up the Popup Publishing Options
You get to decide when and where on your site your popup will appear. Moreover, you can set a maximum exposure period for your popup, ensuring that it only appears once per visitor.
Previewing the Published Popup
In order to ensure that your published popup looks and behaves as intended, you need first preview it in your WordPress dashboard.
Making Changes to the Published Popup
A published popup can be updated by making changes in the popup plugin and publishing the changes.
Measuring the Success of Your Popup
Evaluating whether or not your popup is productive for your business requires tracking its performance.
Setting Up Popup Analytics
Important data like conversion rate, click-through rate, and impressions can be monitored with the help of the built-in analytics provided by the majority of popup plugins.
Interpreting Popup Analytics
Learn what's working and what isn't with your popups by analyzing the data. Use this data and use it to fine-tune your popup settings for maximum effect.
Making Changes Based on Analytics Results
Make tweaks to your popup ad based on analytics data to see what works best.
Troubleshooting Popups
Your popups may not function as intended no matter how hard you try. Common error messages that crop up on your screen, and the solutions to them, are as follows:
Common Popup Errors
Popup doesn't display
Popup displays incorrectly
Popup displays too frequently
Popup displays on the wrong pages
Solutions to Popup Errors
Check your plugin settings
Check your display settings
Clear your cache
Disable conflicting plugins
Contact the plugin support team
What Does a WordPress Popup Plugin Do?
Popups can be a bit of a double-edged sword. If they are done properly, they can be a very effective strategy for improving conversion rates. When done poorly, popups can be an annoying and unwanted feature on your website.
Choosing the right popup plugin out of all the WordPress plugins built for this task is perhaps one of the most important things you can do. A good popup maker will allow you to provide premium user experience while also maximizing conversions and allowing for better personalization.
Popups can be highly effective for improving your e-mail marketing strategy. They can be improved by incorporating appealing and attractive popups that will not annoy users. That is often the problem of generic popups, as they can be annoying and/or boring to users. Luckily, there are many WordPress popup plugin options that manage to create popups that won't turn your users away.
The great thing about many of these WordPress plugins is that they are highly customizable. Many also have built-in analytics; but arguably the most important feature is targeting and trigger options. So what exactly is targeting and trigger?
Targeting refers to the position of the popup within your site, and who will be able to see the popup. This feature is essential for targeting the users you think need to be targeted. You can target users by geolocation, devices, traffic sources, and pages.
Triggers are another important feature of a good plugin. Triggers are basically all actions (page scrolls, clicks, scroll depths, time on page) that need to be done for the popup to appear.
Ending thoughts on how to add a popup on WordPress
On this list of best WordPress popup plugin options, there is something for everyone. If you are looking for a premium plugin with extensive options, unique templates, and fantastic graphics, then you are covered. But if you are looking for a simpler, yet effective option that is also free, then there are plenty of options for that as well.
Hopefully, you will be able to find the right popup maker for your needs and maximize your conversions with attractive and appealing popups.
If you enjoyed reading this article on how to add a popup on WordPress, you should check out this one about WordPress payment plugins.
We also wrote about a few related subjects like WordPress archive plugin, WordPress coming soon plugin, WordPress scheduling plugin, WordPress cookie consent, WordPress booking plugins, and WordPress timeline plugins.