By now most of you have heard about MailChimp as it is one of the world's leading email and newsletter service provider. Do you know that you can implement it easily on your WordPress website? Knowing how to use MailChimp to build your email list is one of the best ways to attract more traffic to your website.
It seems to be a must-have skill for most bloggers and website owners. In the text below, we will teach you how to use the MailChimp WordPress plugin to do exactly that and much more.
Are email lists that necessary for my website?
Short answer – yes!
Sending updates when you publish a new blog post or newsletters to your subscribers is the best way to build credibility and traffic to your website. Unfortunately, creating an email list is not something that is done overnight, and it depends on many factors, but mainly on the quality of your content.
The email list is that critical to bloggers who earn revenue from ads on their pages.
Naturally, there are many newsletters and list building service providers, but in this tutorial, we decided to talk about choosing best MailChimp WordPress plugin because of the following reasons…
Why use MailChimp for WordPress websites?

Using a MailChimp plugin is currently the most beginner-friendly email marketing service, and it is easy to use and has quite a lot of WordPress integrations.
But how does MailChimp work?
It has an integrated ranking system that sorts your subscribers by their activity level. The ones that always open your emails will have a better rank than those who rarely or never open them. How cool is that? Also, you can create groups of your subscribers based on email open rates, demographics etc.
The plugin also offers more than enough beautiful templates for all of your newsletter needs! You can just drag and drop your design, set up RSS to email subscriptions, then monitor your email campaign performance in an analytics report. All of that can be ready within minutes.
Last but not least, the MailChimp service is free if you have less than 2000 subscribers and send less than 12,000 emails per month. After reaching that limit, you will be asked to upgrade your account and pay for additional services.
Making the MailChimp WordPress integration
So, you decided to integrate MailChimp into your WordPress website. Great! There are two types of MailChimp WordPress integration – using a code and using email subscription forms.
Using a code
Using plugins comes with a big downside. Sometimes, they can cause a possible conflict with your WordPress theme, which can lead to a lot of issues. If you do not want to risk it, consider installing MailChimp manually.
It is a lot of work, but webmasters and web designers strongly advise doing so.
Go to the Embedded Forms tab found in the Signup Forms section of your list. There you will see that you can customize your form using an HTML code. Once you found your desired design, copy and paste the code into any section of your site.
It takes a while but gets the job done without causing any issues.
Using email subscription forms
Using this process to deal with subscription forms is the most common way to do it. Before we dive in, keep in mind that some of the listed plugins could create a conflict with your WordPress theme. Proceed at your own risk!
All the plugins we list below have a very high rating and quality support, so that might calm some of your worries.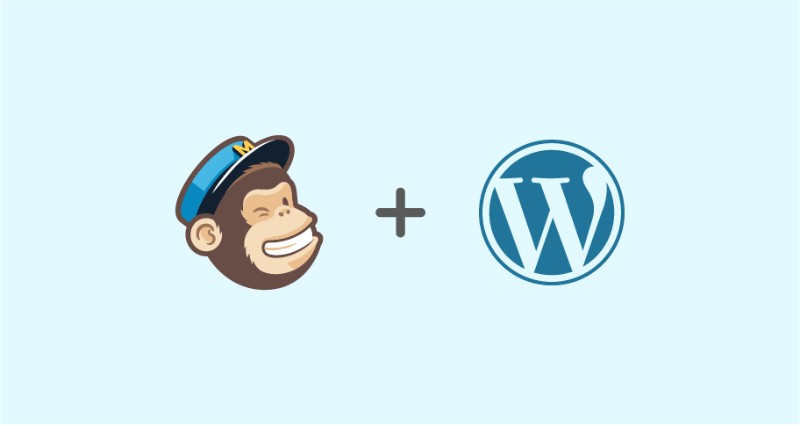 Your website's visitors should have an easy time with subscribing to your content, and this plugin allows them to do just that. What a simple way to grow your email lists, right?
MailChimp for WordPress is one of the highest rated plugins that allow you to integrate a clean and customizable subscription form to your website.
Grab an API using your MailChimp account, and type it in the MailChimp Setting tab of the plugin. After doing that, you can go ahead and enable or disable checkboxes which you can customize the way you like. You can even allow users to choose which list to subscribe to.
The plugin allows you to write better newsletters using various features.
Using this MailChimp WordPress plugin lets you create beautiful looking sign-up forms that are user-friendly and mobile optimized. Another great thing is that the plugin can be integrated with others from this list!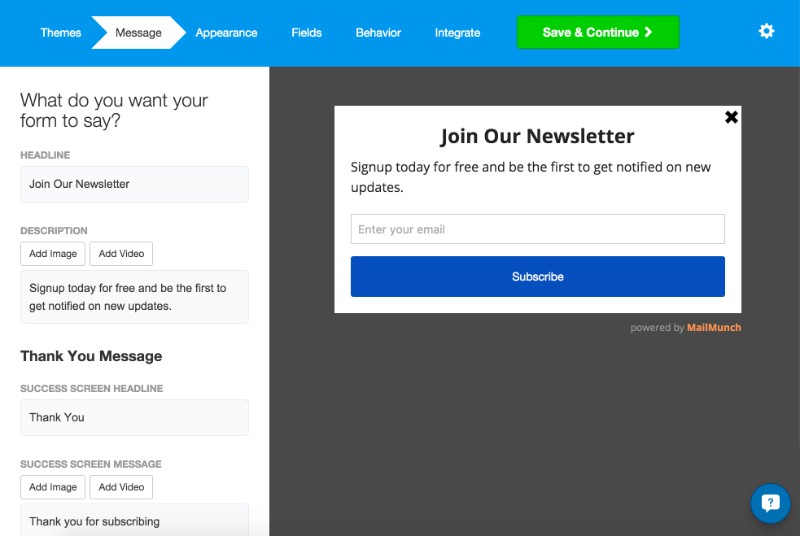 This plugin makes adding new sign-up methods for your MailChimp email lists to your WordPress site. You can use this plugin to build various forms and pages such as a WordPress MailChimp popup with exit, sidebar widget, top bar, scroll box, and landing pages.
You can add the MailChimp WordPress form to posts, pages, or sidebars. The plugin is easy to install as it requires no API keys, it automatically connects to your MailChimp account, it includes a landing page builder, supports interest groups, and so much more.
Give this plugin a go!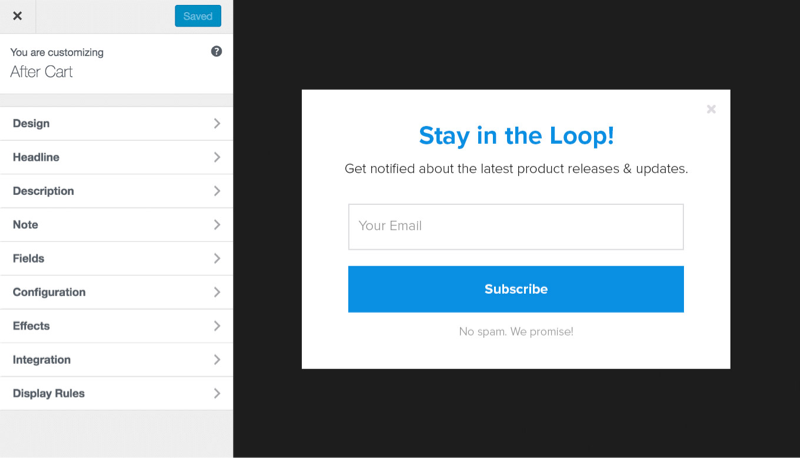 MailOptin allows you to exponentially grow your mailing list and display targeted messages across your WordPress website with popups, slide-ins, in-post email signup forms, and sidebar widgets. It helps you keep them engaged by sending them event-triggered emails such as new blog post notifications, welcoming new users, email digests etc.
MailOptin exit intent trigger converts abandoning visitors into subscribers by your optin campaign at the precise moment they are about leaving your website.
If your opt-in form displays too early, your reader might not yet be willing to subscribe, and waiting too long will make you lose out on a new lead. Its page-views and time on site triggers give you fine-grained control over the display of your optin campaigns.
MailOptin full integration with MailChimp means that your new subscribers will automatically be synced to your MailChimp list and automated email campaigns delivered to them.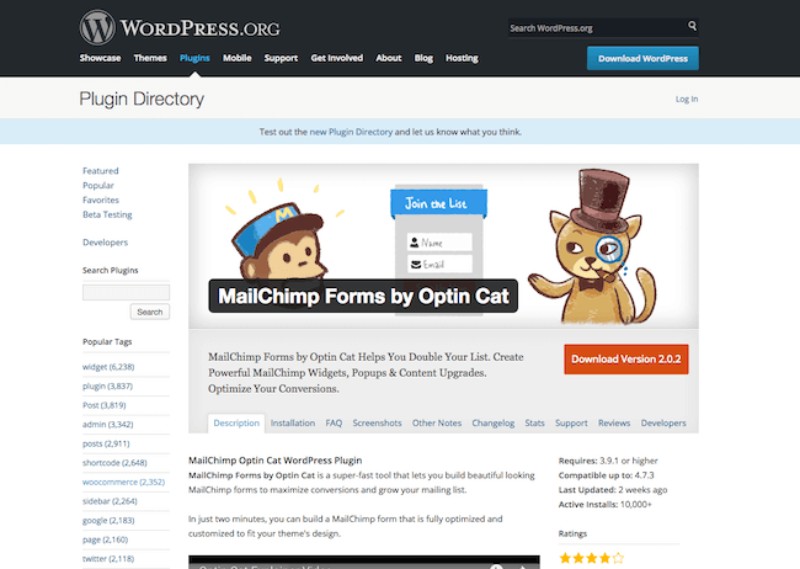 A great plugin that adds MailChimp forms to your website. Developed by Optin Cat, the plugin allows you to build pretty forms, grow your mailing lists and maximize conversions within minutes.
Using this plugin, you can build a variety of forms, such as post boxes, sidebar widgets, and lightbox pop-ups. And like the previous plugin, you can create an unlimited number of them for your website!

This plugin connects your MailChimp account and your website using the API key and pulls in all of your email list information.
Like other MailChimp form plugins, Easy Forms also allows you to create an unlimited number of sign-up forms which you can add to the usual sections of your website: posts, pages, sidebars, and others.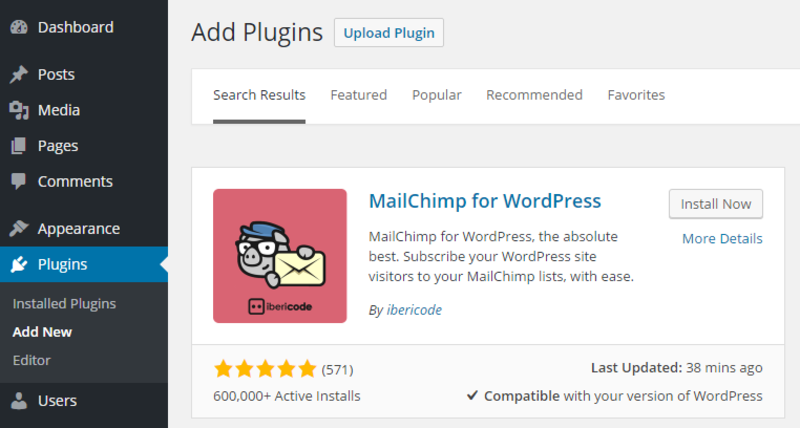 Here is another simple, yet useful plugin.
MailChimp Activity allows you to check how your email lists are doing right here on your WordPress dashboard. When you install it, the plugin will show you a new dashboard widget that has a bar-graph or line-graph showing you changes on MailChimp lists.
The plugin adds a sneaky, neat, aesthetic, and customizable opt-in bar to the top or bottom of your website page. Using MailChimp Top Bar is a great way to boost conversions and collect email addresses for your mailing lists, without being too obtrusive.

This plugin integrates WooCommerce and MailChimp in a cool way. It automatically subscribes customers to a MailChimp list and, if you so desire, to interest groups after the customer has created, processed, or completed order.
The plugin is great if you have foreign buyers as it has several opt-in settings that are compiled by international laws.
WooChimp – WooCommerce MailChimp Integration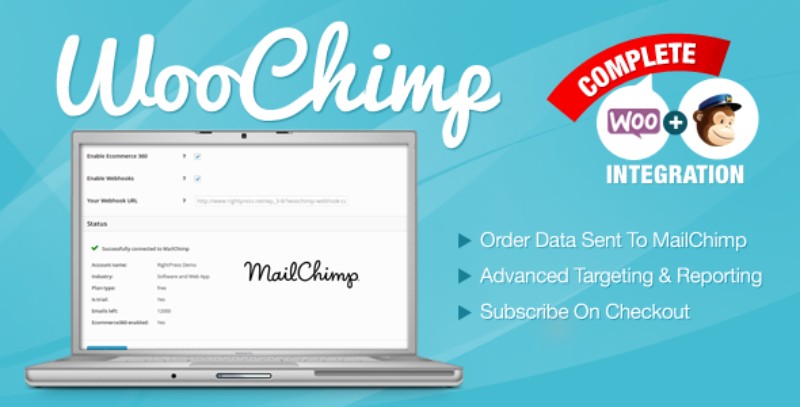 A lovely little plugin for your e-commerce website! There is no reason not to integrate MailChimp into your WooCommerce store, and WooChimp does just that!
The plugin connects WooComerce to your MailChimp account, providing the customer, product, and other data. Having that information allows you to take adequate marketing actions, increasing your sales and customer satisfaction.
And, you may have seen this coming; it adds a signup option to your website's checkout.
FAQ on using MailChimp in WordPress
How do I integrate MailChimp with WordPress?
Well, it's not rocket science! First, you'll need a MailChimp API key.
Once you've got that, there are several WordPress plugins like MailChimp for WP plugin that make the integration a breeze. Install the plugin, enter your API key, and you're pretty much set. Easy, right?
Can I embed a MailChimp form into my WordPress site?
Absolutely! Once you've designed your form in MailChimp, you can grab the embed code. Then, head over to your WordPress dashboard, and you can paste this code into a post, page, or widget.
If you're using Gutenberg, there are even MailChimp blocks to make this process smoother.
What's the deal with the MailChimp shortcode in WordPress?
Ah, the magic of shortcodes! The MailChimp shortcode is a nifty little thing that lets you insert your newsletter sign-up form wherever you like in your content.
It's like a shortcut for your MailChimp widget without the hassle of diving into code.
How do I personalize emails sent from WordPress via MailChimp?
Personal touch, right? With MailChimp automation in WordPress, you can use merge tags to personalize emails.
This means addressing subscribers by their first name or tailoring content based on their preferences. It's all about making your email campaigns feel more… well, personal!
How do I ensure my MailChimp forms in WordPress are GDPR compliant?
Great question, especially in today's digital age. Most MailChimp plugins for WordPress offer GDPR compliant form options.
When setting up your subscribe form, look for GDPR fields or checkboxes. It's all about getting explicit consent and being transparent with your subscribers.
Is there a way to sync my WordPress users to my MailChimp list?
You bet! With the right MailChimp integration, you can automatically sync your WordPress users to your MailChimp list.
This means every time someone registers on your site, they can be added to your email list. Super handy, huh?
Can I send my WordPress posts to MailChimp subscribers?
Totally! With MailChimp RSS to Email, you can automatically send your latest posts to your subscribers.
Set it up once, and every time you publish, your content gets delivered straight to their inbox. It's like having your own personal news delivery service.
How do I segment my email subscribers in WordPress?
Segmenting is the key to effective email marketing. With MailChimp, you can create different segments or groups in your MailChimp audience. This could be based on user behavior, sign-up source, or any other criteria. It's all about sending the right message to the right people.
What if I want to use a different design for my MailChimp form in WordPress?
No worries! MailChimp offers a variety of email templates. You can customize these in MailChimp and then use them in WordPress. Whether you're going for a minimalist look or something flashy, there's a design for you.
Are there any cool extensions or add-ons for MailChimp in WordPress?
Oh, for sure! The world of MailChimp extensions is vast. From advanced analytics to e-commerce integrations, there's a lot you can add to supercharge your email list building efforts in WordPress. Dive in and explore; you might find some real gems!
Ending thoughts on how to use MailChimp
Any successful blogger and website owner will tell you how powerful email lists are. Integrating your WordPress website and MailChimp's email service is a good foundation for growing your lists and keeping in touch with your audience.
We hope that you will find the listed plugins useful and that you enjoyed this quick read. If you still don't want to use this service, Mailchimp has more alternatives you can try. You might consider comparing Mailchimp vs. HubSpot to make an informed choice for your needs.
If you enjoyed reading this article on Mailchimp for WordPress, you should check out this one about WordPress CRM plugins.
We also wrote about a few related subjects like PDF viewer for WordPress, WordPress download manager plugins, WordPress translation plugin, WordPress FAQ plugin, WordPress redirect plugin and WordPress migration plugin.