Do you want to password protect WordPress? This short article will teach you how. You can either password protect your WordPress site entirely, an individual post, or just a category. It all depends on what your personal needs are.
WordPress is the most popular CMS out there, and internet security is an issue in 2019, even for this platform. Google blacklists no less than 10,000 websites each day because they contain malware, not to mention that the number of phishing websites is five times higher.
Given these stats, it's easy to see why most website owners seek to learn how to better protect their websites.
The best solution can be summarized in just 5 words: password protect your WordPress site! It's not difficult to do and it keeps your website (or parts of it) protected at all times.
Keep reading more about this topic in this article created by our team at wpDataTables and learn why and how to do password protect for your wordpress site.
Is Website Security That Important?
If you are still not sure whether you should password protect WordPress or not, you should know some facts. Almost 30% of the websites are managed using WordPress. That means millions of sites. And because it is so popular, it attracts hackers.
WordPress is a sure target for people with harmful intentions and a hacked website could lead to serious consequences, especially if it is a business site.
Your information can be stolen, your site can be filled with malicious software which can affect your site's visitors and lead to a tarnished reputation, or worse – you can be asked to pay ransomware to the person who broke your site.
Currently, hackers target all sorts of websites, with more than 90,978 attacks happening per minute. The good news is that there are some simple ways to keep your WordPress site safer. Here's when you should look up these words: "password protect WordPress site".
The internet is full of information about this topic, but most of it is summarized here:
What Is Password Protection?
Password protection keeps a part of your site or your entire site secured. You can password protect WordPress sites, posts, categories, or pages. Password protecting a website is perfect for those who want just a limited number of people to have access to it (or a part of it).
This applies to situations like long duration maintenance, testing processes,members-only areas, and similar cases.
In this article, you will learn how to password protect WordPress:
Posts or pages
The entire website
Categories of your site
Specific bits of content on your site
How Can You Password Protect an Individual WordPress Post?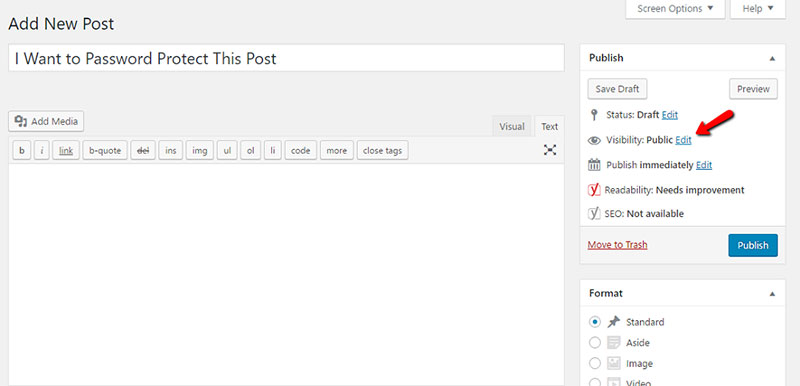 This is the first method you should learn when it comes to password protecting WordPress. It is also the simplest one because WordPress has a built-in function for it. You can password Protect WordPress posts by using this function that not many people know about.

Navigate to the Visibility section in your WordPress Editor. Here, you should see the Edit button. Click it and select the password protect option. When you publish or update the post, the changes will apply, and your post will become password protected.
This means that only people who have the key can access it.
How Can You Password Protect a WordPress Site?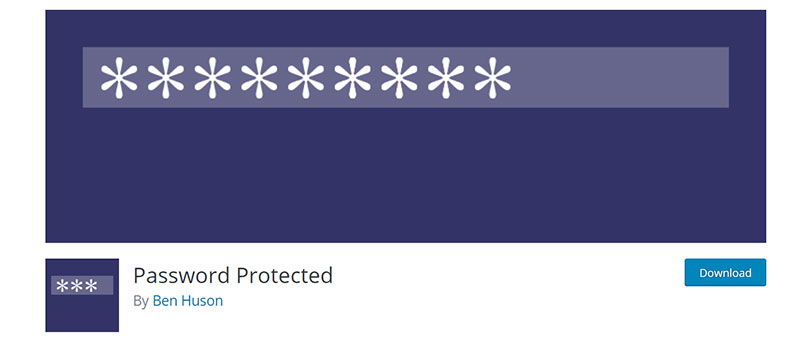 For posts, there is that in-built function you can use. For entire websites, the situation is not as simple. You will have to download and use a third-party plugin. One of the recommended plugins is Password Protected. The entire process is described below: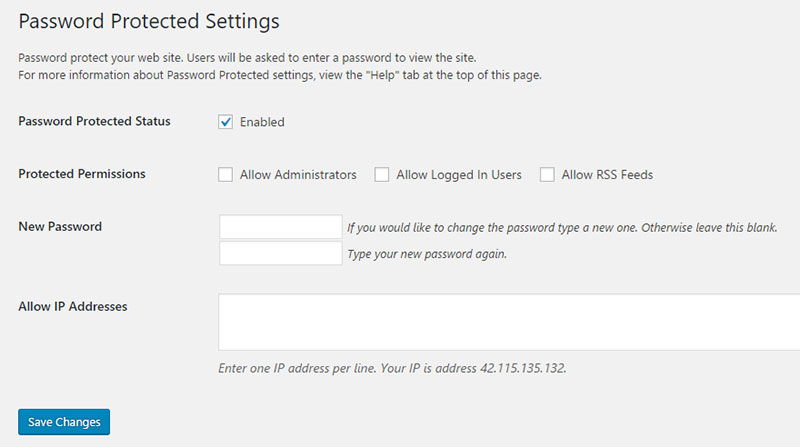 Download, install and activate the plugin using the provided link
Navigate to Settings and choose Password Protected
Using the plugin is simple – you can enable and disable it whenever you want
You can set up preferential permissions by allowing certain people to visit the site without having to enter a password each time, by whitelisting their IP address
Lastly, you can change the password whenever you want
Once you click Save, your website will be restricted. Anyone who accesses the site, besides the whitelisted IPs, will need to enter a password.
How Can You Password Protect WordPress Categories?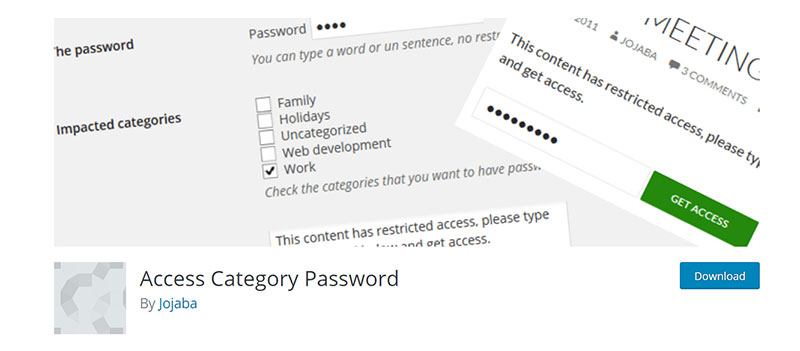 If you don't want to password protect your entire website, you can also apply the restriction to a certain category only. This is less drastic, and it can be done using Access Category Password. The steps involved in the process are: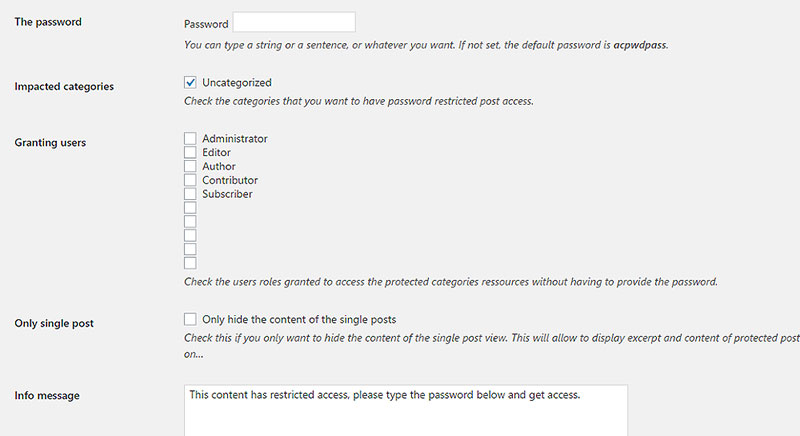 Download, install and activate the plugin
Just as in the previous case, you need to access the settings
Set up a password
Select the categories that you want to password protect
Apply exceptions, such as allowing certain user roles to access the website without using a password
Check "Only single post" if you want the post content to be displayed on the archive pages
Configure the message that appears when users are required to insert the password
How Can You Password Protect Specific Content?
If you look up "password protect WordPress site" on the internet, you will mostly find general tutorials that teach you how to add passwords to a site, or maybe a category/a post. This article will also teach you how to password protect specific bits of content inside a public post.
Yes – it sounds tricky, but it is not as difficult as you may believe.
For this, you can make the post visible to all people and protect a part of the content with a password. This would work great for content that is exclusively available for people who are part of a group, for instance (only for members).
Such posts make visitors curious about what you are presenting, without allowing them to make use of the important part of the post until they become a member or take a desired action.
Only those who have the password will be able to see that exclusive part. This is a very useful feature and it can be done using plugins as well.
Here are two examples of plugins that will help you with this task:
1. Password Protect Selected Content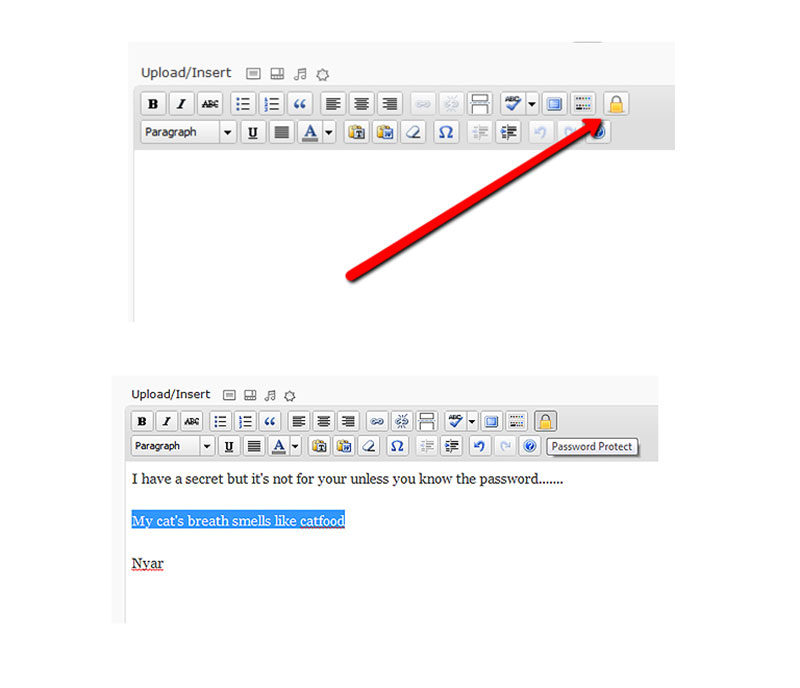 With Password Protect Selected Content, you can password protect different types of content, including media files or links. It is a simple plugin that has just a few settings. It's great for quickly protecting partial content.
2. WP Share To Unlock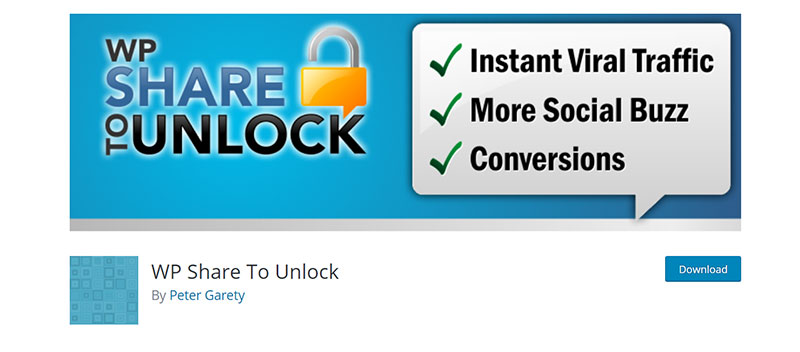 This is a free plugin that is a bit different from the first, but it is great for marketing purposes or for growing your audience. The content from the post will be unlocked only if the user performs a social sharing action.
You can add Facebook, Twitter, Instagram, and so on. Instead of entering a password, they need to perform that action.
Password Protecting Downsides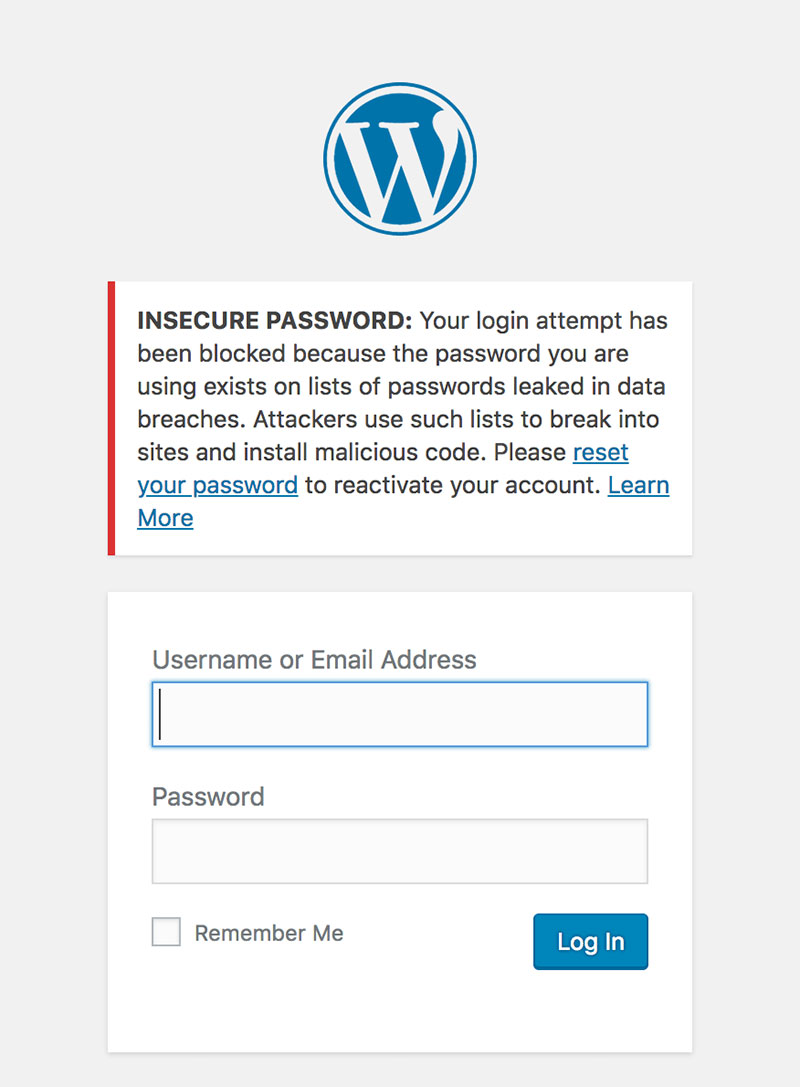 Even though it can be useful at times, password protecting a WordPress site has its downsides:
All users will need to insert the same password
This means that users can easily communicate with each other and share the password. There is not much secrecy going on. It would be helpful to set up a unique password for each user that has access to your site. You can do that by using plugins that turn your website into a membership-type site.
Passwords are not always secure
To combat this, you might need a two-factor authentication system. Passwords can be cracked or found out quite easily, making the website vulnerable. Enabling a two-factor authentication system will add an extra layer of security to your site and make it a lot safer for visitors.
Conclusion
WordPress security is a matter of great importance today. Even though the CMS itself is pretty secure by default, it's best to add extra layers of security to it, especially if your website hosts a lot of important data. When it's as easy as outlined in this article, there's no reason not to.
If you enjoyed reading this article on how to password protect WordPress site, you should check out this one about how to change font color in WordPress.
We also wrote about a few related subjects like how to disable comments in WordPress, website maintenance cost, WordPress stuck in maintenance mode, WordPress multisite, WordPress header, WordPress dashboard login and WordPress tagline.