WordPress table plugins are versatile tools for presenting information clearly. You may need them to share data, compare prices, or transmit tabulated data.
wpDataTables is one of the best WordPress table plugins available. Yet wpDataTables alternatives are available that achieve similar results. Or, do they?
This post provides a list of decent WordPress table plugins that you might consider an alternative to wpDataTables. A collection of detailed information will save you a lot of time and help you find the right wpDataTables alternative for you.
Before getting into the alternatives, let's see the plugin that we're in need of an alternative for.
wpDataTables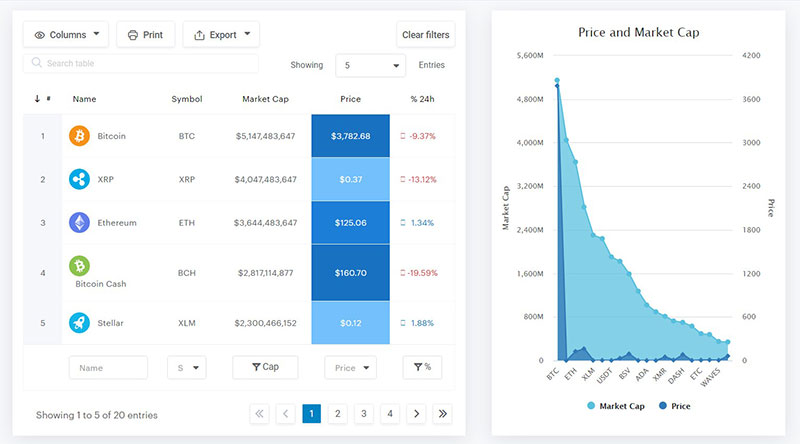 It's safe to say that this is one of the best WordPress table plugins that you can use.
It allows site owners to create responsive tables, among other types of tables and charts.
And it's really easy to create a table:
You provide the table data
Configure and customize it
Publish it in a post or page
This table plugin allows you to seamlessly import data from a wide range of sources, including Google Sheets and Excel, as well as CSV, XML, and JSON files.
In addition, this WordPress table plugin includes a number of other common useful features that are frequently found within spreadsheet applications.
A few of the advanced features include:
The list of features for wpDataTables is insane. You should check out the features page that the table plugin has.
And here are some of the interactive tables you can create with it
You need to have a look at some of the other tables from the showcase section.
Statistics Tables with Charts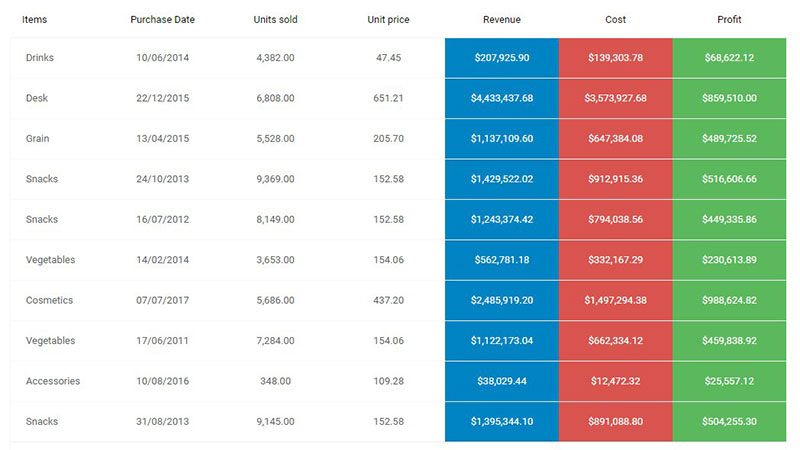 wpDataTables is used to generate a graphic representation of statistical data as charts.
Cryptocurrency Rank Table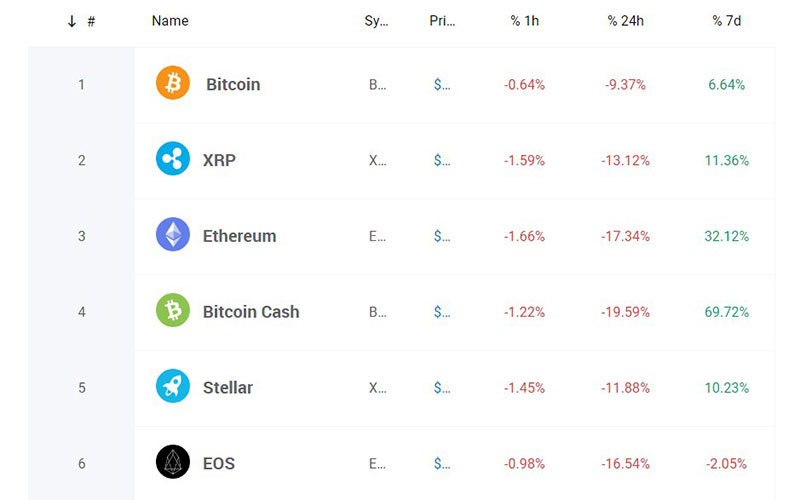 In this example, cryptocurrencies are ranked in a table using wpDataTables. You can add this type of crypto table to your site with a few tweaks.
Online Laptop Catalog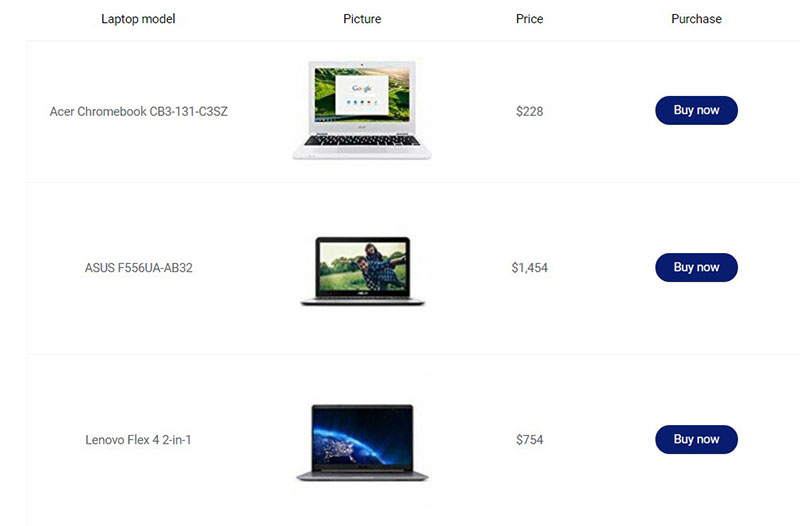 This table can be used for product comparison. For example, if you have a WordPress site where you are presenting and promoting products, the table can display the characteristics of the most popular products.
Financial Reports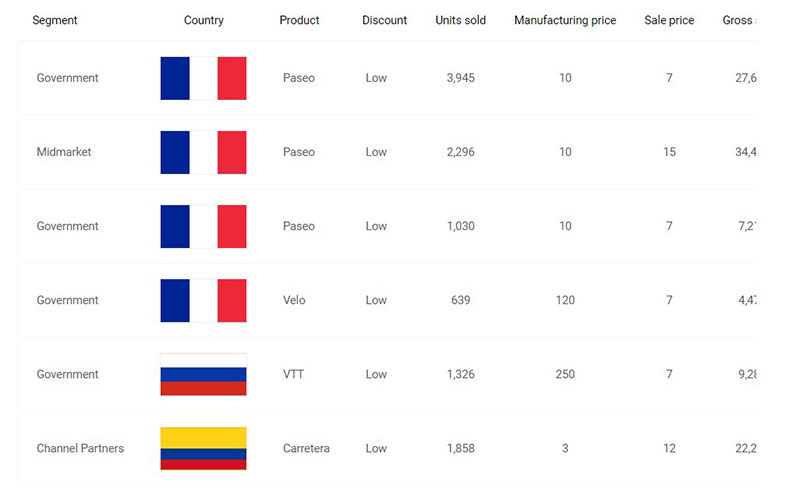 The plugin is used to create a table that shows financial data per country. Obviously, it can be adapted to presenting different types of financial data.
Book Catalog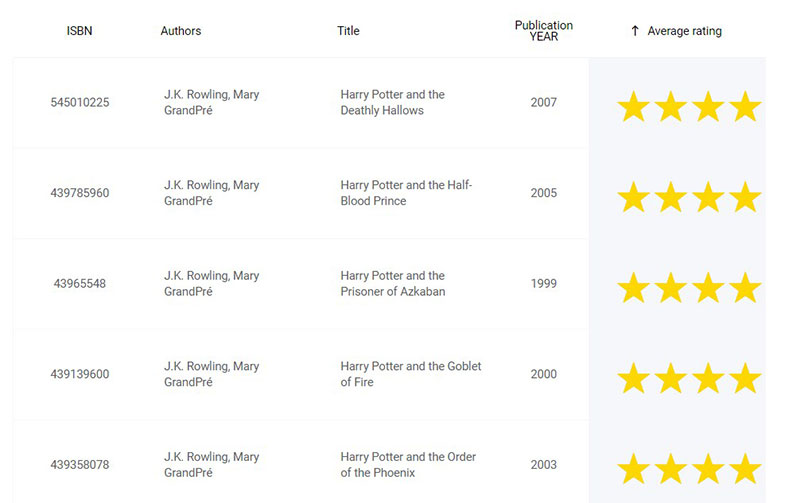 This table style works well for an affiliate site or an online book store.
Mutual Funds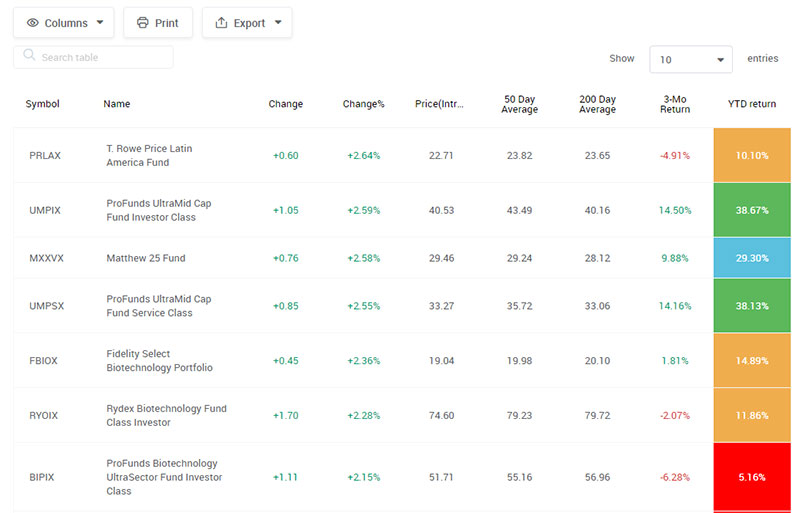 wpDataTables can create a list of mutual funds, sorted by performance.
Catalog of Drivers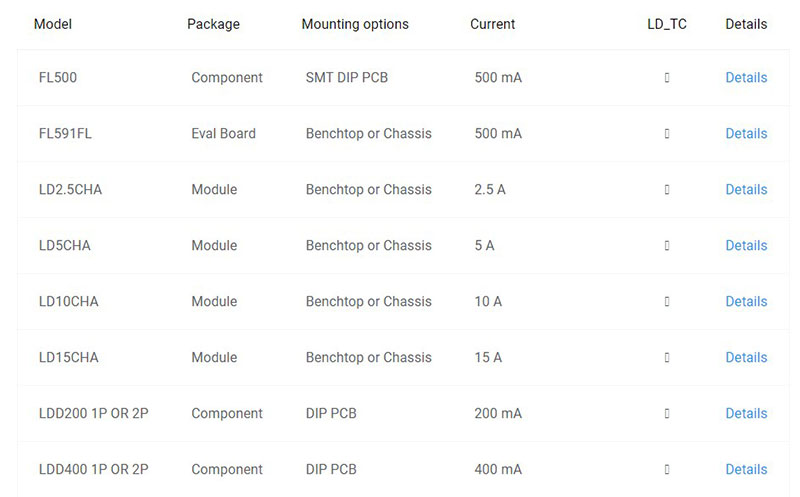 wpDataTables is used to show driver configuration.
Oh, and after all those table examples that you saw, it's worth mentioning that you can also convert the data from your tables into interactive charts.
For your charts, you can use the Google Charts rendering engine, if that's the one you're used to. However, you can also use other chart types like the Highcharts library, Chart.js, or the newly added ApexCharts which looks really neat.
If that didn't convince you to try wpDataTables, you can check out the other WordPress table plugins from this article.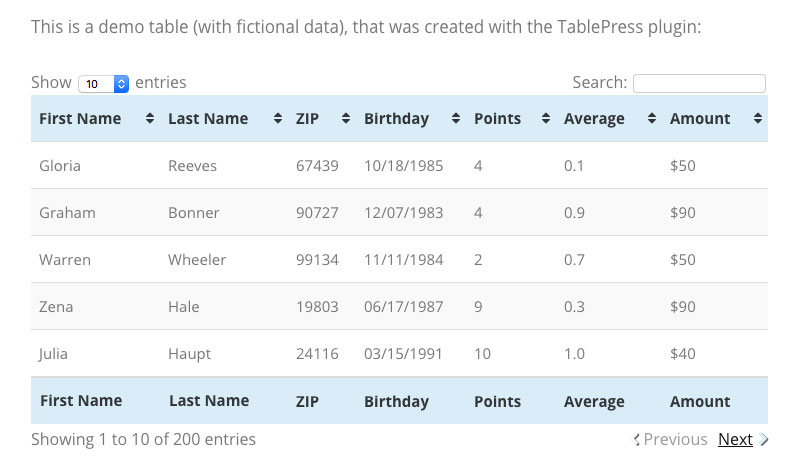 TablePress is a straightforward data table generator for WordPress. The ease of adding a table to WordPress websites has made it very popular. The counter has passed 800,000 downloads. And no wonder, considering that TablePress is a free plugin. Don't expect too much out of it. After all, the fact that it's free is also its downside.
This wpDataTables alternative adds a page to the WordPress Admin interface. And there, you can design and start creating tables.
You can type or import data from a spreadsheet file. A few customization options include exporting the table in different Excel formats.
You can expand TablePress' functionalities with one of the 19 plugin extensions.
TablePress' standard features include:
Animated row highlighting
Header and footer selection
Add visual information by inserting links or images
CSS table styling
Table colors
Rowspan, colspan, search, filter, and horizontal scrolling attributes
Pagination
Responsive tables
Excel-like interface
Accepts different data formats (HTML, images, JavaScripts, links, numbers, text)

This League Tables plugin has more than 135 customization options. You can sort columns, add colors, and filter functionality.
You can easily design your League Table by exporting and importing data without starting from zero. Editing your table is even easier with the embedded spreadsheet editor.
The editor is practical, thanks to the spreadsheet interface and advanced features. For example, multi-column sorting allows you to present the table's information in order.
The League Table plugin uses shortcodes you can embed anywhere on your page, post, or widget. Thanks to specialized Gutenberg blocks, Gutenberg users will also enjoy this table plugin.
Some of League Tables' prominent features are:
Support for mathematical formulas in all table types
Exporting as XML files
Unique multisite support
Responsive interface. It automatically hides and shows less important columns depending on the size of the screen
Spreadsheet editor. The user can copy and paste data straight from Microsoft Excel and Google Sheets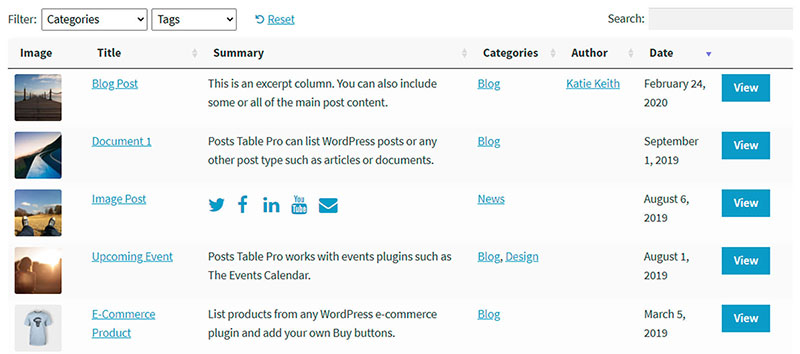 This WordPress table plugin adds tables to your posts and pages. However, it does not have an Excel interface.
Posts Table Pro has several advantages. You can add anything to the tables, like text, images, links, buttons, audio, and video. You can even add entire posts or pages, along with categories, authors, and other metadata.
Posts Table Pro helps you organize your WordPress content in a tabulated format. And that is very helpful if you combine custom post types. You can also use it with a plugin to create custom post types.
Some of Posts Table Pro's primary features are:
Add tables to your main blog pages and archives
Integration with other third-party plugins
Default pagination
Embed audio and video files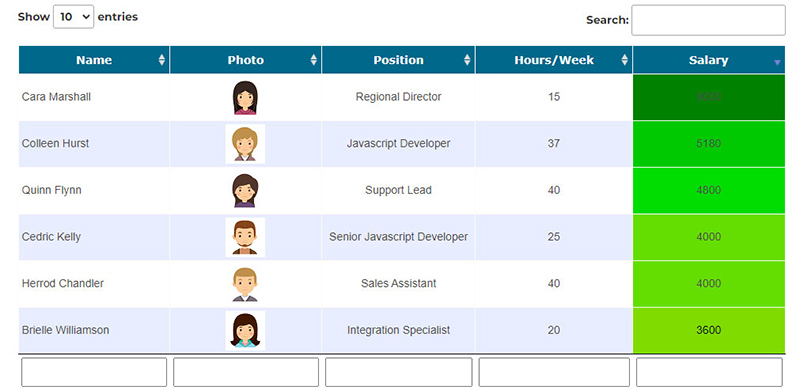 Data Tables Generator by Supsystic is a reliable tool for making large tables. This large tables generator offers endless rows and columns and frontend editing. And you can add sorting, searching, and pagination to your table for easy navigation.
The Data Tables Generator by Supsystic creates SEO-friendly tables. It has many advanced features from which to choose.
Unlike many other WordPress table plugins, this one handles large amounts of information, same as wpDataTables, but with way fewer options. You can arrange it how you want, and the plugin makes it look good.
Some other advanced features are:
Interactive charts and graphs
Attractive colors and full customization control
Frontend editing of individual cells
Better navigation with pagination, search, and sort functions
Import from Excel, Google Sheets, CSV, and PDF
Responsive tables for different screen sizes
WooCommerce integration to make WooCommerce product table pages
Mathematical formulas to calculate numerical values
If you want to make tables directly in your WordPress page editor, MCE Table Buttons is an excellent choice. This plugin creates tables from within the WordPress dashboard. After making your data tables, the MCE Table Buttons plugin creates a shortcode. You then paste this simple shortcode anywhere on your page or post.
This WordPress table plugin does not provide advanced features as wpDataTables does. Its purpose is to create simple tables with no special effects. However, you can do all of it from the familiar WordPress dashboard environment.
Below is a short list of MCE Table Buttons' features:
You can work without shortcodes, creating and embedding tables with the WordPress content editor.
After adding MCE Table Buttons, the plugin adds a button to the WordPress content editor. So you can make tables in the editor without switching between tabs.
The dropdown menu offers simple table management options. This menu has options like add or merge cells and insert/delete table buttons.
The MCE Table Buttons plugin is free.
You do not need coding experience to use this table plugin.

TableGen is a free and basic WordPress table plugin. You create data tables with third-party table software and export them to TableGen. You can also use CSV, HTML, JSON, XLS, and ZIP files and export them from TableGen in CSV format.
It is easy to use but a little disappointing if you are used to advanced features. For instance, there are no styling options, and you cannot format cells or add images or links to the tables.
The plugin is available in a free version. But you can get a premium plugin extension for $10 with eight table themes and extra customization options. The table plugin options not included in the free version allow you to make slightly better designs but it's still not as good as wpDataTables.
The basic version's features include:
Design compatibility
Straightforward to use
Export table or data
Expandable functionalities
Import table or data
Elegant user interface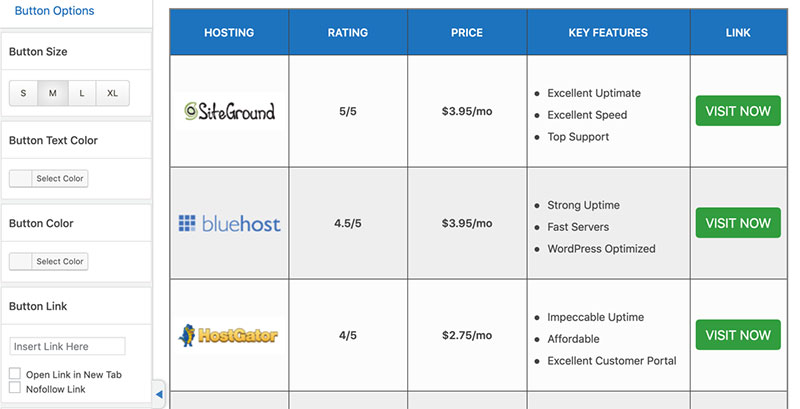 If you want a bare-bones table plugin, you will like WP Table Builder. You can add text, buttons, images, lists, ratings, HTML, and shortcodes to your tables. And WP Table Builder has a practical drag-and-drop table builder.
WP Table Builder is a free and straightforward table plugin. It is excellent for adding a table of contents or pricing table to your post or WordPress site.
The drag-and-drop builder enables you to add your content or import data from CSV or XML files. After creating the table, WP Table Builder generates a shortcode you can add to your WordPress site.
Some of its key features are:
Add buttons, images, text, and star ratings to cells
Add table sorting functionalities
Table style customization
Visual drag-and-drop builder for creating tables


Ninja Tables is another wpDataTables alternative plugin for WordPress. Its advanced features are table borders, fixed layout, hover rows, stackable tables, and striped rows. Additionally, Ninja Tables has a drag-and-drop table builder.
This WP table builder has over 100 table styles, CSS libraries, and unlimited color schemes. You can make SEO-friendly tables that appear in standard search engines.
Ninja Tables gives users a choice between Bootstrap 3 or 4 or Symmetric UI styling libraries. You can also select borders, colors, descriptions, and titles in the options menu.
Shortcodes are useful for embedding elements into your WordPress page. A Ninja Table feature generates shortcodes for your table. You can even import and export data tables to and from other plugins. It also works well with Data Tables Generator, TablePress, and Ultimate Tables.
Here is a brief list of Ninja Tables features:
WooCommerce Integration
WP Fluent FormNinja Tables integration
More than 100 tables styles, including Amazon affiliate product tables
It is also performance-optimized, which helps load tables faster.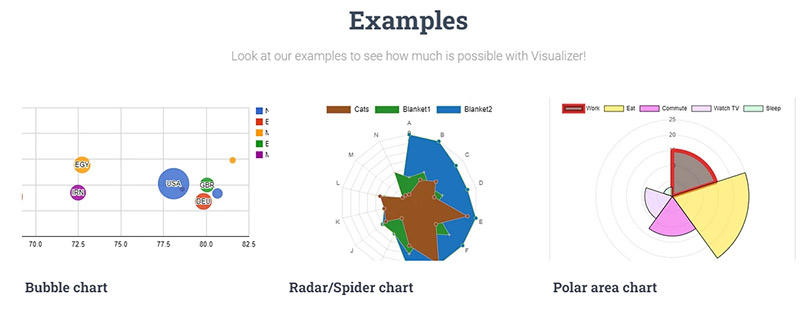 The last example on this list of WordPress table plugins is Visualizer. This free plugin offers nine chart types: bar, geo, line, pie, and charts. The plugin's primary focus is presenting data visually.
Visualizer uses Google Visualization API and HTML only. That results in colorful and responsive tables that look good across browsers. A premium version provides six more chart types.
Even with the free version, colorful charts and diagrams provide animation options. If you want, you can make basic tables, too.
Here are some of Visualizer's core features:
Cross-browser compatibility and responsiveness
Customizable animations, chart styles, chart titles, colors, layouts, zoom, and tooltips
Import CSV files from Excel or Google Sheets
Live table editing
Private charts
Shortcodes
Supports ChartJS, DataTables.net, and Google Visualization API
Different animated diagrams and charts
Basic tables
Concluding Remarks on the Best wpDataTables Alternative
Many wpDataTables alternatives are worth your attention. So deciding which of these WordPress table plugins to choose instead of wpDataTables is not an easy task.
Of the many wpDatatables alternative options, at least one will work for you. Which one is best for making suitable tables for your website?
If you need more information, visit each plugin's website and check its features section and see how they compare to wpDataTables.
In the end, you should think well if you actually need a wpDataTables alternative.
If you enjoyed reading this article on the best wpDataTables Alternative, you should check out this one on creating a Google Forms results graph.
We also wrote about a few related subjects like how to merge cells in HTML, how to create a survey table with wpDataTables and Forminator, how to design a table, how to create a heatmap table with wpDataTables, and WordPress pricing table plugins.