When it comes to WordPress tables, they have always been a challenging part of web design. WordPress pricing table options are no different at that. Making beautiful and at the same time, fully functional tables in WordPress requires a specific set of skills as well as tools.
So what are the characteristics of the best table?
The best pricing tables are responsive tables that are simple and that differentiate between features and prices of the products and services that you are offering.
You have to make sure that the users can immediately see the value of your products and services if you want them to complete the purchase.
So how can you design a quality pricing table that will help you with your pricing page? You can either build it from scratch or use a WordPress table plugin that will do all the heavy lifting for you.
So let's take a look at some of the best pricing table plugins.
Premium WordPress pricing table plugins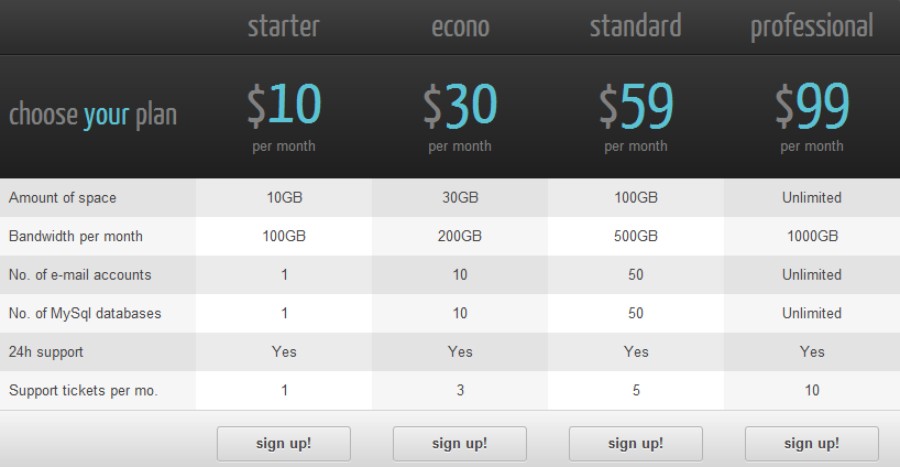 If you want to design a beautiful and responsive WordPress table, using a plugin such as CSS3 Responsive Pricing Table could be of great use to you.
This premium table solution requires no coding knowledge, and it is compatible with Multisite WordPress installations as well.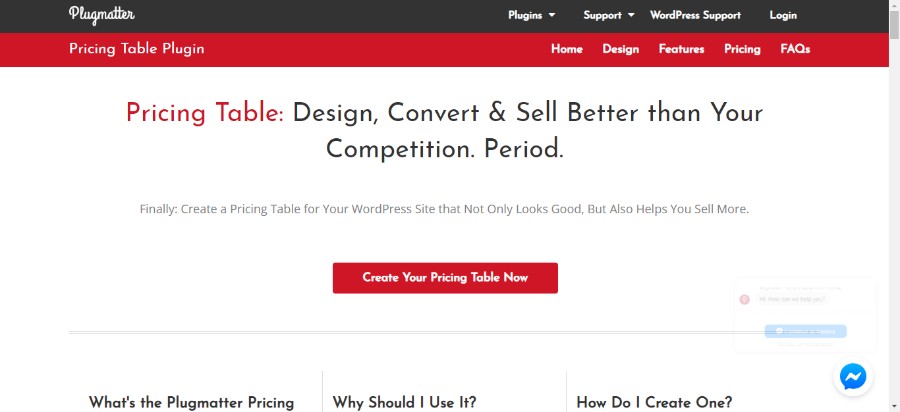 One of the main points of having a pricing a WooCommerce pricing table on your site is to convert casual visitors to paying customers. However, in order to be able to create table designs, you need to use a plugin such as Plugmatter Pro.
This premium WordPress tables plugin is not only easy to use, but it also comes with a handy conversion optimization feature backed by behavioral research and CRO (conversion rate optimization) studies.
To make things even better, you need zero coding knowledge to be able to create comparison tables with this tool. It comes with a set of easy to use table templates that are fully customizable for your needs.
You can choose from three different subscription plans and start creating pricing tables.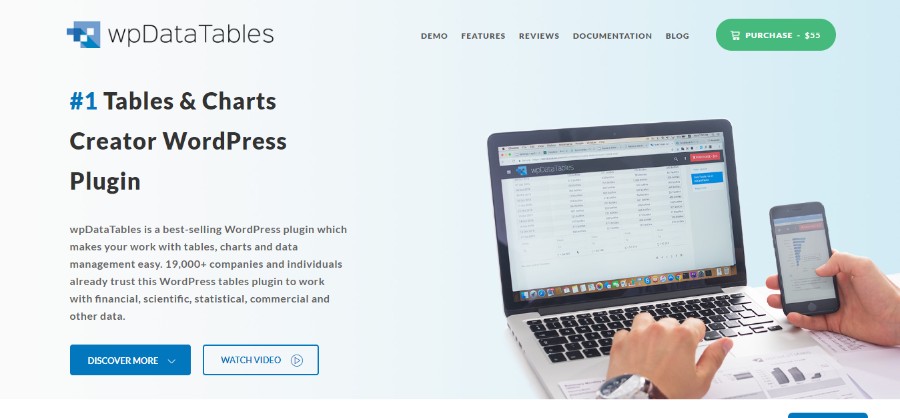 wpDataTables is hands down one of the best plugins you can use if you need to create extensive tables with lots of rows. It does not matter if you are selling 10 or 10,000 products.
With wpDataTables, you will always get responsive pricing tables that will look beautiful across all devices and screen sizes.
Aside from allowing you to manage a massive amount of data, this pricing table plugin comes with a great set of other useful features including responsive tables, a powerful admin panel, different data sources (everything from Excel and CSV files to MySQL queries and XML or JSON).
wpDataTables has new features released on a weekly basis. It's an easy to use WordPress table plugin that you can use to create comparison tables, as well as lots of other types of tables for your data.
You can test the plugin yourself on its demo page or you can check out the free version that is on the WordPress repository.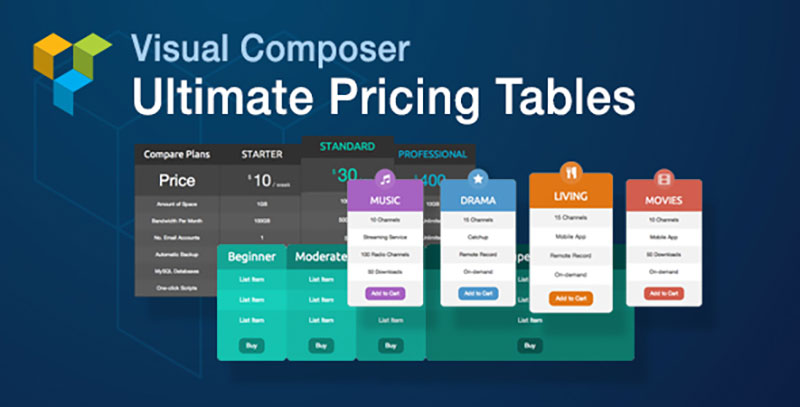 If you are using themes created using the WP Bakery page builder (the former Visual Composer), this handy little pricing table plugin is exactly what you need.
It allows you to choose a pricing template, customize the table's background, choose the colors that fit your brand, etc. Basically, you can adjust your pricing table template in any way that fits your needs and the overall design of your website.
This add-on turns your pricing table design into an excellent call-to-action source. In addition to that, it comes with some neat little animation effects as well as the Font Awesome Icons that will help you create unique designs.
We have to mention that some users have found the toggle feature a little bit confusing. This feature lets you toggle the amount of space between the different plans in your table.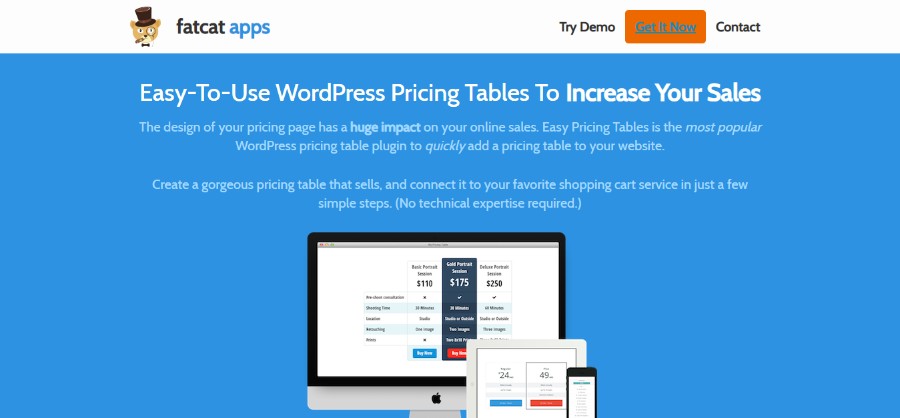 With the Easy Pricing Tables plugin, you can easily create a pricing table in a matter of minutes.
You can choose from 10 excellent responsive table templates where you can display your product information without cluttering it.
All you have to do is install the pricing plugin and get started; no coding knowledge is required here.
The Easy Pricing Tables plugin also offers Business and Agency plans that have pricing toggles that let your customers view the rates you're charging for a particular service in different currencies or different durations, as well as Google Analytics add-ons.
If the plugin turns out to be less than you expected, you can get your money back with the 60-day money-back guarantee. The Personal license will cost you $29 and it can be used on one website to get access to the design templates and email support.
Free WordPress pricing table plugins
If you do not feel like investing in the best pricing table plugins (although, we advise you to), you can choose the best pricing table plugin for WordPress that you can get for free.
Let's take a look at some of the good options:

This is another great free WordPress plugin for corporate websites and landing pages. You can color all elements with the color of your choice, add cool icons, or subscribe to the PRO version if you feel like you need more features.
The free plan of this responsive pricing table plugin, however, is unlimited and you will be able to do most of the things with it to customize your WordPress website pricing.

If an easy drag and drop pricing table builder is what you are looking for, Pricing Table by Supsystic might be just the thing you have been waiting for.
With this drag and drop plugin, you can add images and videos, modify the design of the pricing blocks, choose from a collection of button styles, etc.
If you opt for a premium version, you will get a premium price table template set for designing unique price tables WordPress.
With the WRC Pricing Tables plugin, you can build a pricing table WordPress free of charge, customize it in the drag & drop way, add an unlimited number of feature rows and package columns, rearrange the rows and columns with your own CSS code, etc.
You will get a responsive pricing table that is easily customizable, including the colors of the content blocks, the ribbons using a color picker, and so on.
If you are not entirely satisfied with this free pricing table WordPress plugin, you can always go pro with the premium version that includes 11 pre-designed skins, the ability to import and export tables, PayPal button integration, and pricing toggles.

This useful plugin by ARPrice comes with a powerful real-time table editor jam-packed with amazing features that will help you create an amazing pricing table for WordPress.
The design is fully responsive, supports Google Fonts, and includes a live preview for both desktop and mobile versions of your tables.
You can choose the WordPress pricing table plugin PRO version that comes with the additional customization options, integrated analytics, toggle buttons, over 200 table templates, etc.
It is also compatible with Visual Composer.

Pricing Table by Shaon is a free pricing table plugin. It allows you to build responsive and detailed tables with lots of cool elements and content blocks.
You can customize the rows and columns in many ways; reorder them, insert tooltips, or even clone an existing table. Then you can add the tables to the pages or posts using shortcodes.

Not only is PriceFish an amazing plugin for creating a pricing table, but it is actually a whole set of cloud services including a comprehensive analytics tool. This is important because it will help you track the performance of your pricing tables and make changes to them on the fly.
To be able to start using PriceFish Pricing Tables, you will have to complete a free registration on the PriceFish site.
Ending thoughts on these WordPress pricing table options
Having a pricing table on your website has a whole set of perks that will help you convert the visitors into paying customers. So how to add a pricing table in WordPress?
You can create a table in WordPress without a plugin which is a harder way because it means building the whole thing from scratch, or you can use a pricing table WordPress plugin of your choice. Check out the WordPress plugins free of charge that we have mentioned in this article, as well as the pricing premium plugins on the list if you feel like you need additional features.
If you enjoyed reading this article on WordPress pricing table plugins, you should check out this one about WordPress table generator plugins.
We also wrote about a few related subjects like how to insert a table in WordPress, how to create a table in WordPress without plugin, WordPress table plugins, how to create the Premier League table, DataTables alternative and JavaScript table library.