A WordPress backup plugin can be a lifesaver. You should routinely backup your WordPress website in order to make sure you don't lose your data.
Hacks and crashes happen. It's not something anyone can really plan for. Some of the causes of website failure include:
Infection with malware. This can cause your host to shut down your site to prevent the problem from getting worse.
Your credit card expired and your payment for site hosting didn't go through, causing the host to delete your account. Think of it as cyber eviction.
Blackouts, fires, floods, or security breaches affect the data center that houses your site's server.
The host accidentally deletes your site's file. This is much more common than any of us want to believe.
A misplaced comma in the site's code knocks the whole thing down, but you can't figure out what is causing the problem.
These are some of the most common reasons that you want a WP backup for your site. Starting over from scratch is a nightmare and may well be impossible, depending on the complexity of your site.
You may be thinking that you can rely on your host's backup. This is not a good idea and you're likely to be disappointed if everything goes wrong. You may think your web host has everything together and is responsible for your backups, but that is just not necessarily true. You host may only do a backup every once and awhile. They may not know if they've even made a backup, which more than likely means that they haven't made one. They may not even know how to restore a backup.
Make sure you look carefully at your web host's terms of service. Most hosts will place the ultimate responsibility and liability for backups on the customer and the customer alone. In the case of your website, this means you.
You can always choose to go for managed WordPress hosting. This is a more expensive chose than a WordPress backup plugin. Even if you do choose to pay extra for this route, make sure you check on the place where the data is stored. Something can happen to the hosting company of their datacenters, just like with your original website. You need to know that the backup is stored somewhere safe.
The best choice is to have a WordPress backup that you can control. Relying on your web host can be too fraught with complexities. You can find a lot of great plugins that will help you make sure your site gets back online after the worst happens. Here are some helpful backup plugin tips and some of the best WordPress backup plugins on the web.
Be Prepared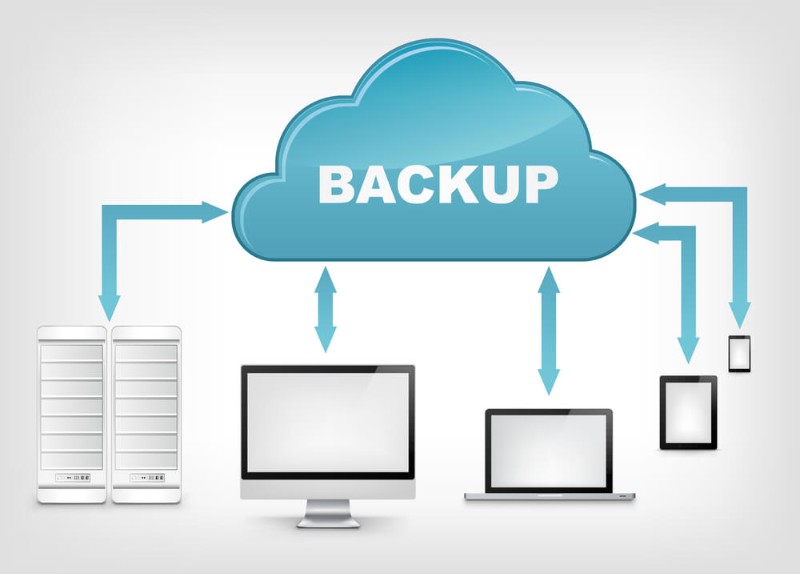 Make sure your chosen WP backup plugin provides a complete backup of your site. A lot of WordPress database backup plugins only backup some your site. They may back up your database, but they don't back up your customized theme files or media library.
You should have a plugin that creates thorough backups of every aspect of your site, including the database, media library, themes, plugins, and anything else you have. It should also be totally automated so you can schedule automated backups at regular intervals. It should also be easy to restore our site from the backup no matter what you need to get it back up and running.
Premium or Free?
There are plenty of good, effective free WordPress backup plugins, but some that have more, extended features like off-site cloud storage are going to cost you. Look into the pros and cons of both types. Remember, that while free is tempting, you do get what you pay for.
Best WordPress Backup Plugin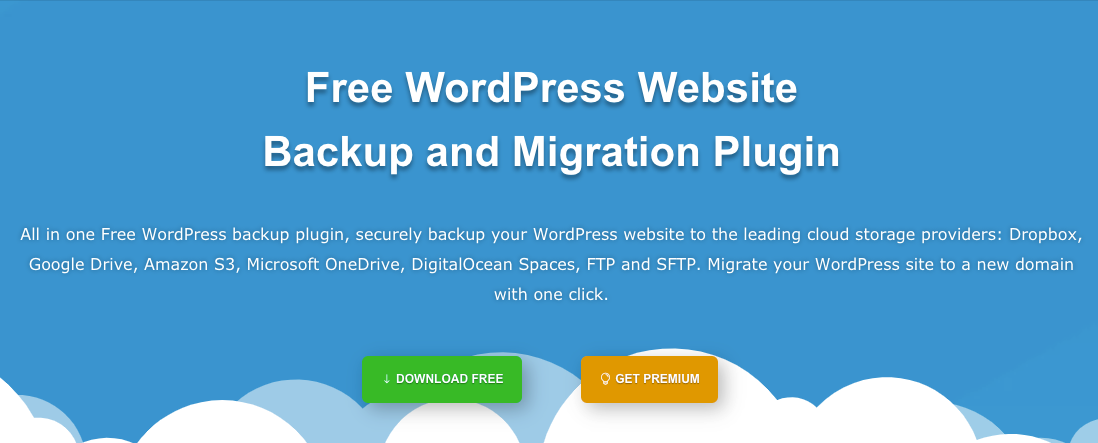 WPvivid is a free all-in-one WordPress backup & migration plugin. It comes with all the basic features you will ever need to back up and migrate a WordPress site, all for free. It supports all the leading cloud storage providers like Google Drive, Dropbox, OneDrive and more. With just one click, you can restore your website back to normal in a disaster situation.
The pro version offers tons of customization options that allow you to customize everything such as content types, storage folders, and schedules when backing up and migrating a website. You can also create staging sites and push the staging to live, run incremental backups and more.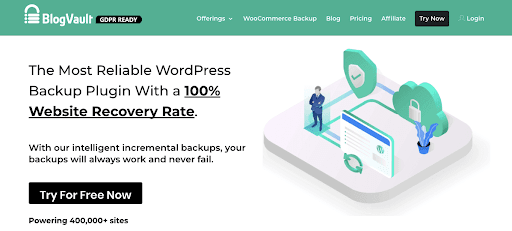 Trusted by over 400,000+ WordPress websites, BlogVault is the most reliable WordPress backup solution. It takes a complete backup of your WordPress website and it's the fastest website recovery tool with an average time of less than 5 mins. BlogVault offers Daily Automatic Backups that you can also Schedule as per your convenience. There is an option for On-Demand Backups too. For large websites, it offers Incremental Backups and for WooCommerce sites, Real-Time Backups. The backups are archived for 365 Days and Restoring them is easy and hassle-free. With BlogVault, you have the option to Store backups Off-site, Migration your site, and Stage it for testing purposes. Other features that you can utilize include White Labelling, Client Reporting Uptime, and Performance Monitoring.
BlogVault is perfect for not just single site owners but also developers and agencies. It's a premium service and the basic plan begins with just $7 per month.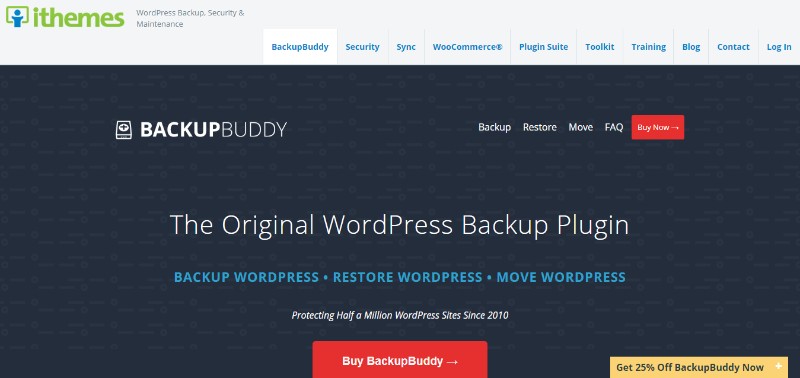 This is the most popular premium WP backup plugin. It offers scheduled backups of your site that can be set for daily, weekly, or monthly backups. It will store your backups on Dropbox, Amazon S3, Rackspace Cloud, FTP, and Backup Buddy's cloud service called Stash. You can also get I emailed to you, with stash, you can get real-time backups.
This is not a subscription-based service. There is no monthly fee. The WP backup plugin can be used on the number of sites stated in your plan. With Backup Buddy, you also get access to support forums, routine updates, and 1GB of cloud storage for your backups.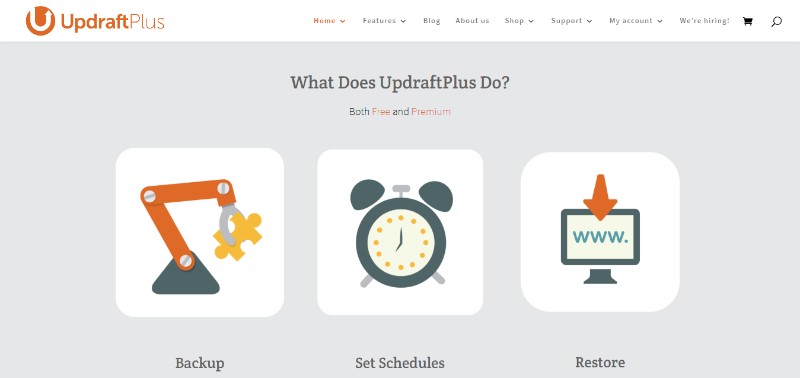 This is a free WordPress backup plugin. With it, you can create a complete and thorough backup of your site. You can have it stored in the cloud or download it to your computer. It supports both scheduled and on-demand backups. You get to select which files are backed up. It can upload your backups to Dropbox, Google Drive, S3, Rackspace, FTP, SFTP, and email.
This is probably the best free WordPress backup plugin. You can also get a premium version that includes add-ons to clone or migrate the site, database search and replace, as well as multisite support. It also comes with priority access to support.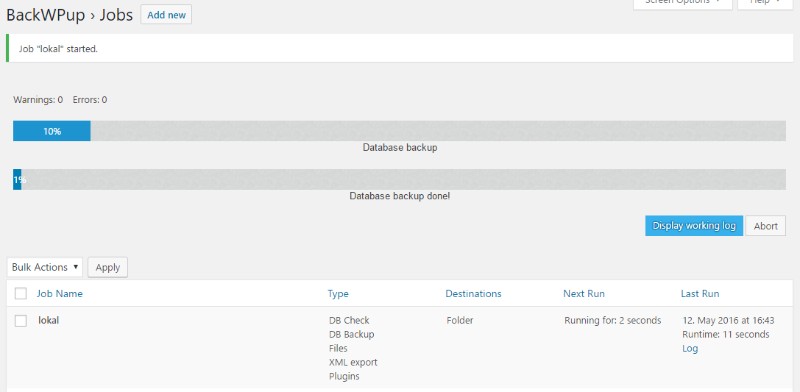 This is another free WordPress backup plugin. It can store your backup on Dropbox, Amazon S3, Rackspace, FTP, email, or on your computer. It is very easy to use and allows for you to schedule automatic backups based on how often your site updates. It's also very simple to figure out how to back up a WordPress site and restore it with this WP backup plugin.
The premium version, BackWPup Pro, includes priority support, allows for storage of backups on Google Drive, and a few other great features.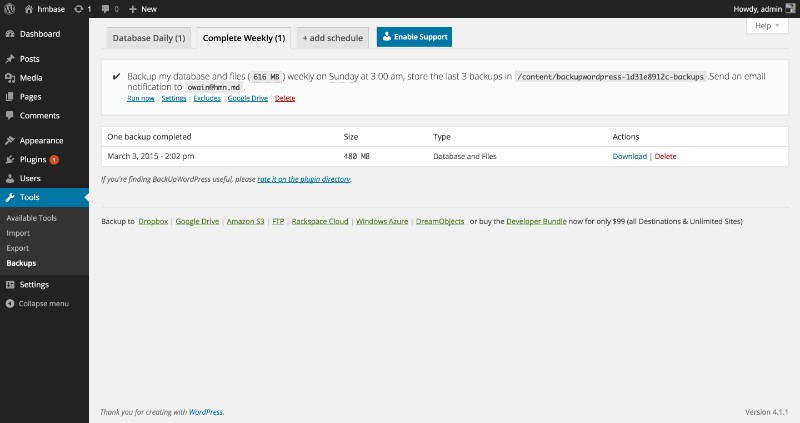 This WordPress backup plugin allows you to schedule automatic backups. You can create different schedules for your database and files. The free version, however, will not allow you to place your backups in cloud storage. If you want to have your WordPress backup to Dropbox, Google Drive, FTP, or any other cloud storage, you need to purchase an extension for that particular service. You can purchase each extension separately or bundle them together.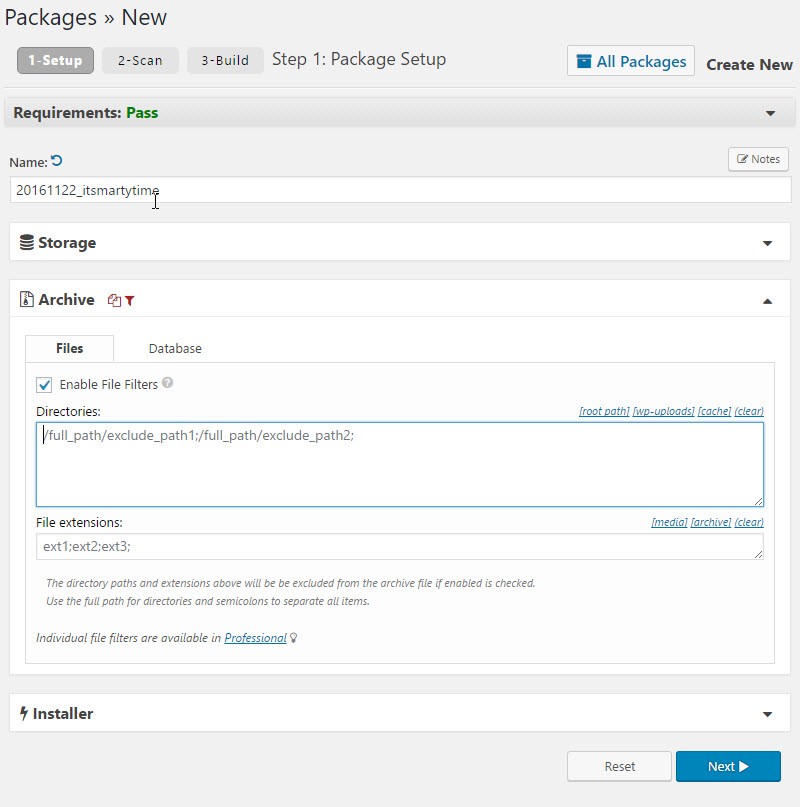 This is a WP backup plugin that focuses on cloning or migrating websites. It also is one of the best WordPress backup plugins. With the free version, you can manually backup your entire site or just parts of it.
The premium version, called Duplicator Pro, gives you the ability you run either instant or scheduled backups. With it, you can also back up to cloud services. It also includes an email notification system so it will alert you to any issues it has.
Ending thoughts on WordPress backup plugin
A WordPress backup plugin can save you from a very large headache. There are many great options out there. See if any of these will work for you!
If you enjoyed reading this article about WordPress backup plugin, you should read these as well: