WordPress download manager plugins are very important for anyone who is looking to run a real website on the platform.
As one of the best platforms for hosting websites or blogging, we at TMS Outsource can say that without a doubt WordPress is one of the most powerful content systems out there.
It manages over 27% of the web. With a few external file download plugins, you can make sure your WordPress site is optimized to provide users with the file downloads they need to from your website.
WordPress' original user interface does, in fact, offer a WordPress download manager. It's not the best, most efficient or easiest to use a secure download manager, however. It also doesn't have a lot of features available on newer WordPress download manager plugins.
These plugins have grown increasingly popular for good reason. They allow you to easily ass password protection, track how many downloads there have been, organize your files, and stop unregistered users from downloading the files.
Many of them also offer a feature where you can track file revisions, or even collaborate as a part of a team. You can also use many of these plugins to both manage and sell digital download. Take a look at some of the best WordPress download plugins!
Before checking these plugins, make sure you check out our #1 Tables & Charts Creator WordPress Plugin that we've created, wpDataTables.
WordPress Download Manager Plugins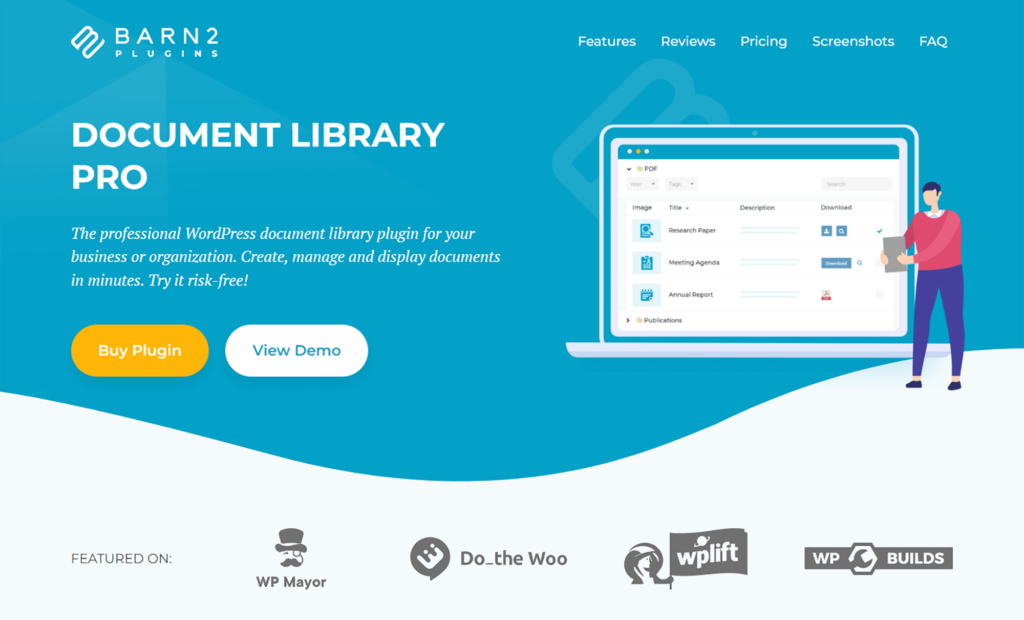 This hugely popular plugin from Barn2 is an excellent choice for managing downloads in the WordPress admin, and also for displaying them to your users on the front end.
It supports any file type and you can add downloads manually, using drag and drop, by CSV bulk upload, or even allow users to submit downloads to your site. Once you've added the downloads, you can easily manage them by structuring them into categories and tags, or additional custom taxonomies.
On the front end, you can choose between a searchable table or grid layout to display the downloads – plus a folder layout which displays downloads in a collapsible tree format format which is similar to the folders on your computer.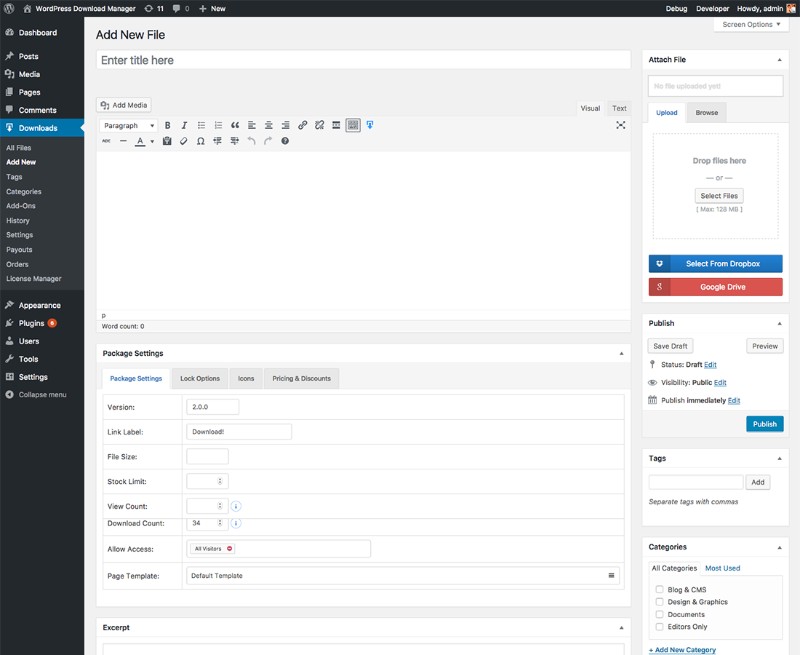 This is a free version of the widely used WordPress Download Manager. It includes password protection, limited viewing, and can be used on multiple domains. With the WordPress file manager plugin's password protection feature, you can password protect a full package of files or each specific files in the package. Overall, it's very easy to use. It's also quite actively updated. It is currently a very popular download, with over 100,000 active installs and a 4 out of 5-star rating.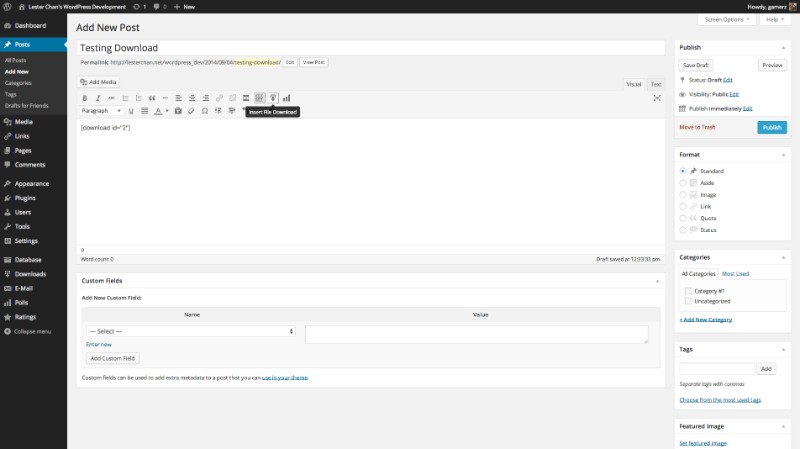 This free WordPress download manager plugin was created by Lester Chan. While it does not have a long list of features, it is still a very good option, especially if you don't want or need all the bells and whistles found on many other WordPress file manager plugins. It currently has over 10,000 active installs and a rating of 4.6 out of 5 stars.

This free WordPress file manager plugin is very easy to use. The user interface is intuitive. You can upload and manage the downloadable files with minimum effort. It also allows you to easily insert download links into posts and pages. The fundamental goal of download Monitor that informed its design was that it is there to help users keep their files organized and offer a way to track those files. It tracks download counts and logs user download attempts, allows for member-only downloads, includes a quick-add panel so you can add files when editing posts, allows you to add multiple file versions to your downloads and includes shortcodes to output downloads in different formats including plain text links, buttons, and boxes.
You can also get several premium extensions for WordPress download manager, including Email-Lock, which gives you an option to require a user to enter an email address before they are able to download the file. WordPress Download Monitor has over 100,000 active installs and a rating of 4.4 out of 5 stars.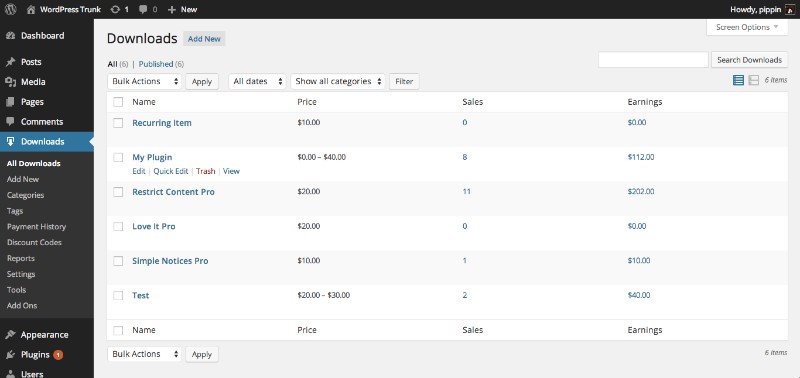 This is a great WordPress download plugin for those using a WordPress site for e-commerce. It allows you to not only manage downloads of your files but also manages multiple file downloads per downloaded product. This is the solution you've been looking for if you have different prices for multiple products or even bundles of products that are sold together. Easy Digital Downloads has Pay Pal and Manual as the default payment options, but you can add other for a fee. This WordPress file manager comes with a cart system for purchasing multiple downloads at once, can provide user purchase history and ability to re-download files, and also allows for multiple files per downloadable product. It has over 60,000 active installs and a rating of 4.8 out of five stars.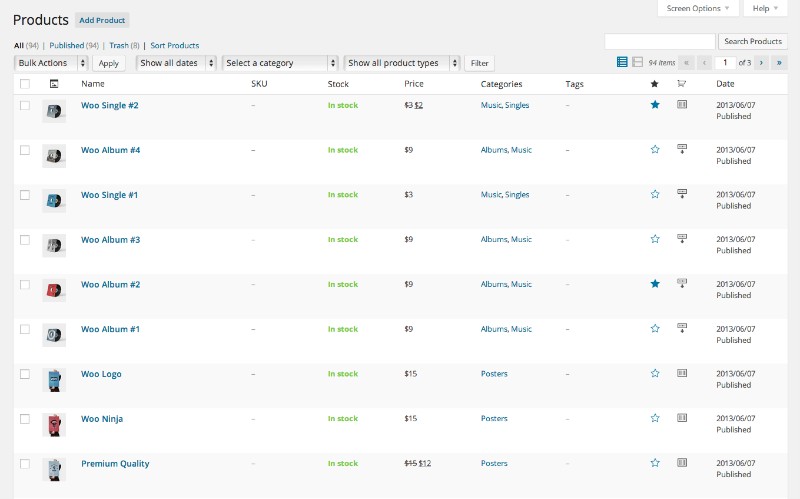 This is a free eCommerce WordPress file manager plugin that can be smoothly integrated into your site. It's one of the most populate Commerce plugins out there. It offers the owner of the store complete control over how it looks and functions on their site. It has over three million active installs a rating of 4.6 out of 5 stars.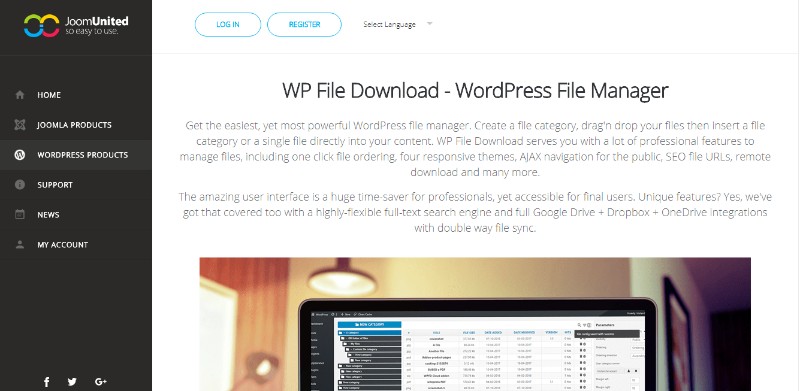 This WordPress download manager is one of the most beginner-friendly. It still has a lot of features, but it presents them in a way that's simple and easy to understand. It isn't free, however. The basic version costs $24. It comes with many features, including drag and drop file insertion, responsive themes, as well as click file ordering and AJAX public side navigation. It can be integrated with Dropbox and Google Drive.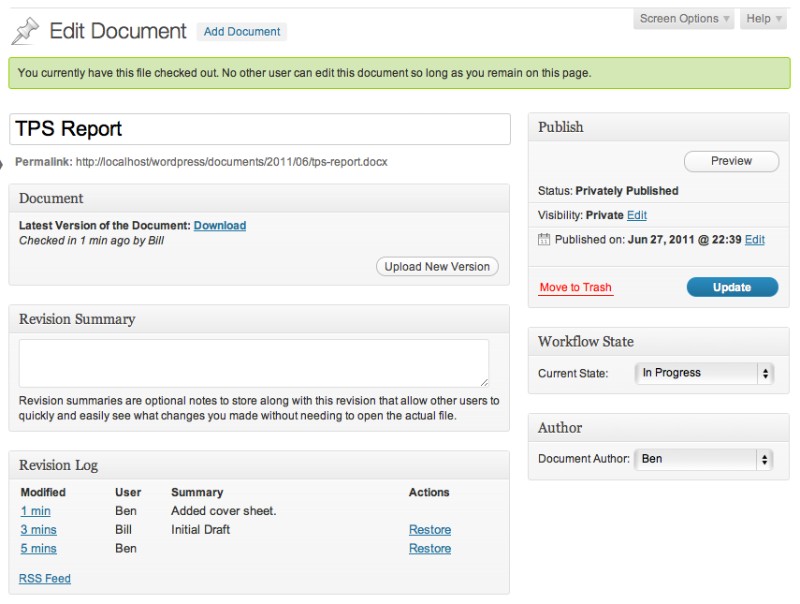 This is a fun and easy to use file manager. It allows for you to place files for download as well as track changes that have been made to it. Use it on your own or with your project team. It manages documents as well as image files, spreadsheets, and even sheet music. It has more than six thousand downloads and has a rating of 3.5 out of 5 stars.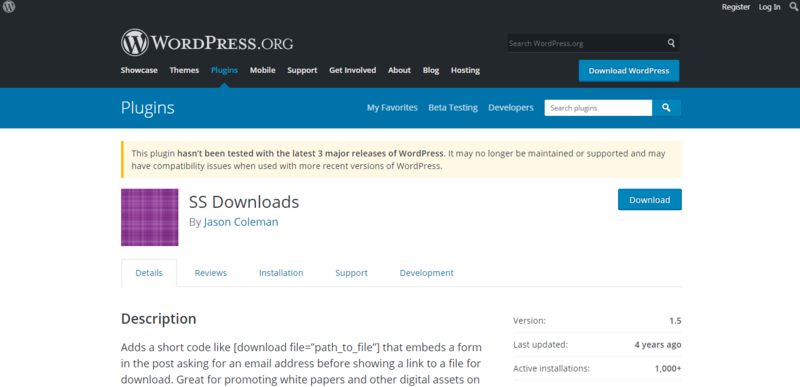 If you're looking to get a users' email before a download is available, this is a good plugin to use. It's very simple to use. Just embed a shortcode where you will be featuring a link to the file download and you're good to go.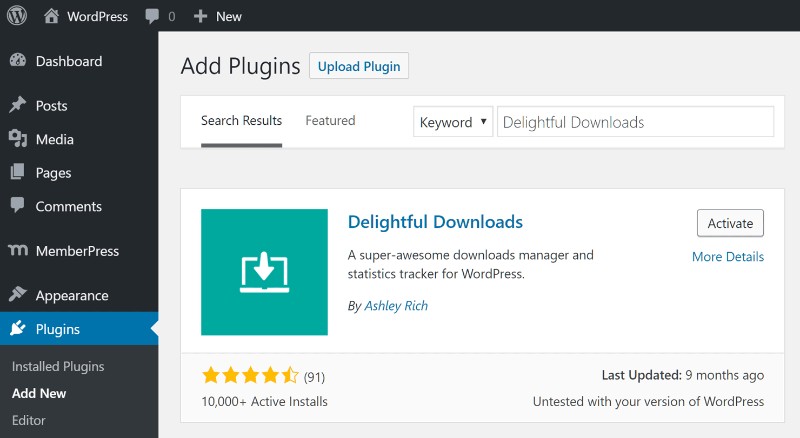 This file manager plugin allows you to add in links, buttons, and other download info to your posts, pages, and your widget bar. It allows you to track download stats from the WordPress dashboard. It was created by Ashley Rich at Delicious Brains. It has over 10,000 active installs and has a rating of 4.7 out of 5 stars.
FAQ on WordPress download manager plugins
What Exactly is a WordPress Download Manager Plugin?
Well, let's break it down. A WordPress download manager plugin is, in essence, a little piece of software magic that gets added to your WordPress site. Its core function?
To help you control, track, and serve up files that users might want to download. From ebooks to software patches, these plugins keep things neat and tidy.
Do I Really Need a Download Manager for My Blog?
Think about it this way. If you're only ever going to offer, say, one tiny PDF, maybe not. But the moment you dive into digital download plugins territory with multiple files, things like file expiration settings and download logs and analytics become invaluable.
It's all about the user experience, and you definitely want that to be top-notch.
How Do These Plugins Help with Digital Goods?
Ah, great question! If you're into selling or offering digital products like eBooks, music, or even courses, then these plugins are your best friends.
They seamlessly manage digital goods and even handle things like membership download access or setting up password-protected files. Trust me, you'll be thankful for this lifesaver.
Can I Track Who's Downloading What?
Absolutely! With download logs and analytics, you can see who's been nabbing which files. It's a fantastic way to gauge what your audience loves.
And if you're thinking about the security side, some plugins also give detailed logs about user activities. Think of it as your own little download counter.
Are My Files Safe with These Plugins?
You bet they are! One of the best things about WordPress file management with these plugins is the emphasis on security.
Features like secure file downloads, file access control, and, as mentioned, password-protected files ensure that your goods remain in safe hands. No unwanted prying eyes here.
What if I Want to Categorize My Downloads?
You're in luck. Most of these plugins let you organize files with download categories and tags. So, if you've got a heap of content, from worksheets to tutorial videos, you can keep things tidy and easily searchable. It's a bit like having a WordPress document library, but fancier.
Can Users Upload Their Own Files?
Some plugins do allow frontend file uploads. So, if you're thinking of a community-driven site or need user submissions, check out plugins with this feature. But always remember, safety first! Ensure you've got measures in place against any malicious uploads.
Does it Integrate with E-Commerce Solutions?
Many do, yes! If you're into selling digital products, these plugins often play nice with WordPress e-commerce downloads. So, you can have users shop, pay, and download all in one smooth process. The convenience at its best.
Can I Control Download Speeds or Link Expiry?
You've got the power! Some advanced plugins offer features like download speed control or even setting file expiration settings. So, if you're doing a limited-time offer or just want to manage bandwidth, you've got options.
What If My Files are on Another Server or Cloud?
No worries! Many of these plugins offer remote file storage integration. So, whether your stuff's on Dropbox, Google Drive, or some other cloud, you can still link them up and serve them out via your WordPress site. Super handy, right?
Ending thoughts on choosing a WordPress download manager
WordPress is a great platform, but its native file manager leaves a lot of being desired. Use these WordPress secure download managers to help you get the most out of your site and connect to as many users as possible in the best way possible.
If you enjoyed reading this article on WordPress download manager plugins, you should check out this one about WordPress CRM plugins.
We also wrote about a few related subjects like WordPress translation plugin, WordPress FAQ plugin, PDF viewer for WordPress, Mailchimp for WordPress, WordPress redirect plugin and WordPress migration plugin.