Driving much traffic to your website is a great achievement, but it means nothing unless visitors perform your final call-to-action. A WordPress testimonial plugin may be just what you need to get your previous customers' testimonials work in your favor.
You don't need visitors to land on your website and admire your stylish design; you need visitors to do an intended action that will improve your bottom line, whether it means buying your products or services or signing up to a subscription list.
Visitors are not easy to persuade into performing one task or another. They come equipped with a full dose of skepticism, which requires a lot of persuasive skills on your part. The performance of a website depends on your ability to make visitors trust you.
In today's internet age, you have multiple tools at your disposal to help you build credibility as a business and one of the most useful tools in this respect is a WordPress testimonial plugin that allows you to share the positive experiences of previously satisfied clients.
Best-Rated WordPress Testimonial Plugins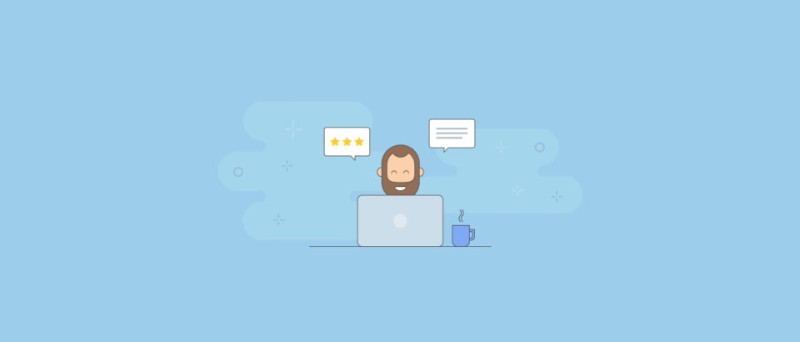 WordPress testimonials are essential if you want to increase your website's credibility. You can incorporate a testimonial into your website as a standalone WordPress testimonials page, a WordPress testimonials widget, or a slideshow. It's your decision.
Displaying testimonials is not rocket science, but collecting testimonials is an entirely different business. However, you can collect WordPress testimonials, as well as social testimonials via recommended WordPress plugins that do an excellent job in this respect.
The internet is packed with testimonial plugins. Each of them pretends to be the best testimonial plugin WordPress you could ever wish for, and much more. In our opinion, the best WordPress testimonial plugin should meet a set of specific requirements.
The best testimonials plugin for WordPress should be trendy and enjoy rave reviews, it should frequently be updated, its developer should provide excellent support, and it should come equipped with a set of functions that make it unique among other testimonial plugins.

Easy Testimonials is a user-friendly WordPress testimonial plugin. Considered a basic WordPress testimonial plugin, Easy Testimonials comes equipped with numerous functions, and, with 80,000 downloads, it's one popular plugin.
With a 4.6 stars overall rating, it displays testimonials via a custom testimonial widget for website. It allows you to feature your testimonials on any page through shortcodes. Also, you can generate shortcodes from the settings menu as well as customize display options.
Easy Testimonials has a great feature that makes it a top-rated WordPress testimonial plugin. It enables you to decide the way testimonials are displayed. You have 30 styles to pick from, and you can customize how you display testimonials without being a CSS-genius.
Easy Testimonials allows you to enter personalized CSS codes if you prefer polishing up the display even more. Transparent, as well as easy to use, this plugin is accompanied by complete documentation just in case you need additional clarifications.
Furthermore, clients testify that the developer responds quickly to any potential problems.

Testimonials Widget is considerate a popular WordPress testimonial plugin packed with a full set of features. In addition to testimonials, you can use this plugin to show reviews or portfolio projects on your WordPress powered website.
It is a multifaceted testimonial plugin, and you can display testimonials consisting of text, images, and videos. Furthermore, testimonials widget supports tags and categories, as well as review schema for rich snippets.
Testimonials Widget allows you to show your testimonials via widgets, shortcodes, or functions in your theme files. Testimonials Widget is a WordPress testimonial plugin that is perfect for developers looking to show a full spectrum of client testimonials.

With Testimonial Basics, you can include testimonials quickly without any sophisticated configurations. You don't need to be a CSS expert to personalize the look of your testimonial: you have several styling options, among which 9 distinct typefaces.
Actual users say that this WordPress testimonial plugin doesn't require a Ph.D. to configure or use. It is ideal for those who don't like getting too deep into coding or don't want to waste time understanding how everything works.
Testimonial Basics is compatible with Gravatar and a five-star rating system. If the customer sharing a testimonial has a Gravatar linked to their email address, you don't have to upload any images. Testimonials Basics will do that for you directly from Gravatar.
You can gather testimonials directly on your website with input forms, including widgets or shortcodes. You can also use widgets or shortcodes to display testimonials. Testimonials Basics is offered in German, Dutch, French, and Spanish in addition to English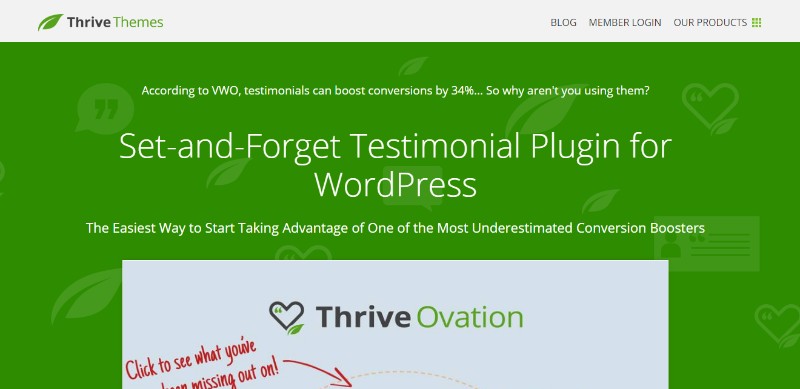 Thrive ovation is a versatile WordPress testimonial plugin that lets you collect as well as display testimonials on your website. It's a plug-in that allows automatic display of testimonials following approval.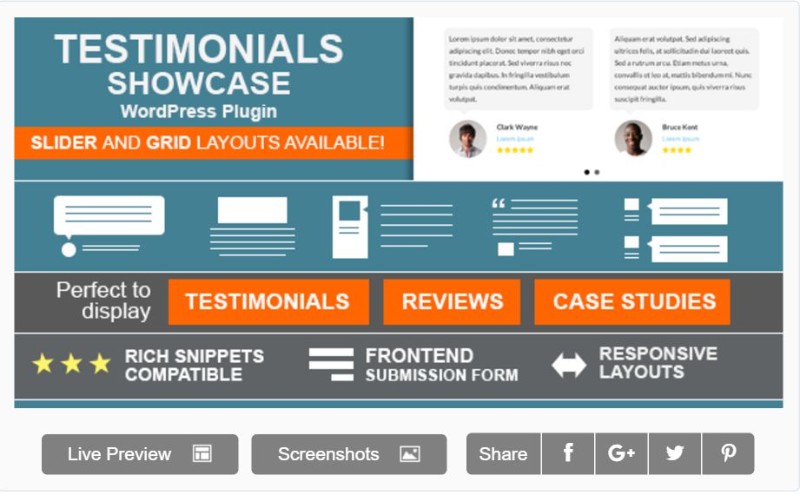 A premium WordPress testimonials plugin, Testimonials Showcase is developed by Carlos Moreira and lets you show testimonials either as sliders or grids. Equipped with 5 inbuilt templates, this plugin permits customization of images and layout settings via the interface.
Testimonials Showcase supports a star-based rating system as well as review schema for rich snippets. Via a frontend collection form, this plugin lets you collect testimonials and allows you to create a dynamic content from a range of available testimonials.

A free WordPress testimonial plugin, the Testimonial Rotator allows you to show testimonials as posts on your frontend. The developer of this plug-in sells a set of premium themes for customization instead of concealing the best features behind a premium version.
You can randomize your testimonials, add star ratings, and create and insert different rotators via a shortcode or widget. The standard version of the Testimonial Rotator includes two free themes. You can create a custom theme if you are equipped with coding knowledge, or you can buy a premium theme from the developer.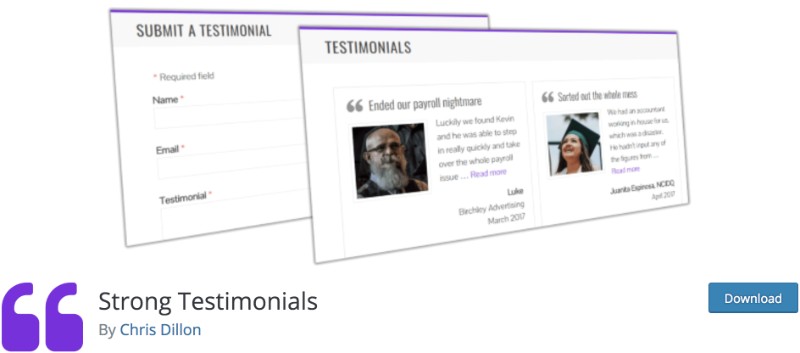 A highly customizable WordPress testimonial plugin, Strong Testimonials gives access to several display modalities including grid, slider, and single column. Equipped with a custom form, this plug-in lets clients share their testimonials and reviews directly on your website.
Furthermore, Strong Testimonials embeds Twitter, Facebook, and YoutTube to help you collect reviews from social media.

A very simple WordPress testimonial plugin, BNE Testimonials provides a sidebar widget and shortcode for you to display your customer testimonials. Display options include plain list and slider layout continuing your WordPress theme's display style.
Ending thoughts on finding the best WordPress testimonial plugin
Irrespective of what action you want your visitors to perform on your website, you need customer testimonials to increase your conversion rate. These plugins enable you to reach your desired goals.
If you enjoyed reading this article about WordPress testimonial plugin options, you should also read these: