No matter the topic, there is at least one online course out there that can give you more information about what you are interested in. Educational technology advancements are truly impressive today and not taking advantage of modern teaching tools would be a shame, for teachers and students alike. If you want to share your own knowledge with the world in a nifty, course-like manner, you can use a WordPress LMS.
LMS is short for Learning Management System and, with WordPress, you can implement your very own LMS with nothing more than a plugin, which includes all the necessary features to help you create a great learning experience on your website. WordPress LMS plugins are easy to use, and they enable you to create and manage your own online courses using a platform you may already be familiar with.
The features of these plugins include creating new classes, sharing coursework, assigning homework, and even using quizzes to evaluate students. They are the strongest online learning tools you could use for your WordPress site. Continue reading to learn more about them.
Why should you use an LMS plugin?
Using a WP course plugin is easy and efficient. It will help you with structuring your lessons, separating them into modules, creating quizzes, uploading resources, and more. WordPress LMS plugins are the perfect way to integrate online learning to your website without hassle. You can simply download the plugin, add it to your site, and start exploring its options.
The standard WordPress system is not as effective when it comes to creating online courses. It doesn't have that many capabilities and it may end up not looking as professional as you'd wish. If your purpose is to create and then sell your courses in the online environment, you will have to put a lot of effort into making your website look professional and immersive.
An LMS WordPress plugin can also feature advanced grading systems and feedback options. Such features are very convenient for online learning providers. They tend to attract more students thanks to the swiftness with which progress and performance reports can be generated.
Yet, not all WordPress LMS plugins are created equal, and we know you want just the best LMS for WordPress. What's left to do is choosing the most suitable one for your situation.
What features you should look for in a WordPress LMS plugin?
Building courses: before anything else, you should look for a WordPress LMS plugin that has a comprehensive tool for building courses. The plugin should offer an option to upload videos, PDFs, or any other content sources that you find relevant, and then just click Publish.
Tracking course progress–a feature that tells students how far they've reached until completion. It's important to have a progress tracker to keep students motivated to go on with their learning and assess their level.
Enrolling new students–the admission process has to be a smooth and professional one to attract new potential students. Also, the WordPress LMS plugin should help you keep track of how many students enroll and what preferences they have.
Content dripping–the material has to be properly sectioned. Providing students with all the material at once is not an effective method for online learning. Find a WordPress LMS plugin that has the content dripping feature instead.
Finance tools–a good WordPress LMS should have integrated finance tools to help you manage commissions, payments, affiliate programs,and/or coupons. Giving out incentives can help to gather more students to join your online course.
Email automation–notifying students about their progress through email is another useful feature that a WordPress LMS should provide you with.
Payment gateway support–adding multiple payment methods is helpful for students who want to pay lower fees or who are from regions where not all gateways are supported.
Homework tools–see if the WordPress LMS plugin that you want to use offers a feature for sending assignments to the students and receiving them once they are finished.
Now that you know all about the importance of a WordPress Learning Management System and what features you should look for, it's time to choose the best WordPress LMS plugin for you. See the list below and choose the best LMS for WordPress, based on your needs and requirements. Our team at wpDataTables, lists all the plugins here should help you teach students to learn a new topic efficiently.
Comparing the best WordPress LMS plugins
WP Courseware
WP Courseware is a popular WordPress LMS that has a drag-and-drop interface. You can create courses by simply dragging the elements you need in the template. The plugin comes with a series of features that make it easy to use and suitable for all sizes of courses, and each course can be separated into modules and units.
You can also drip content and create advanced quizzes for each module or unit, which makes WP Courseware on par with the most modern teaching methods available. What is interesting about this WordPress LMS plugin is its great personalization tools. You can create courses specifically for the needs of a student in just a few minutes.
Ideal for:People who look for a flexible WordPress LMS with powerful features.
Drawback: There is limited payment gateway support (only PayPal and Stripe).
LearnPress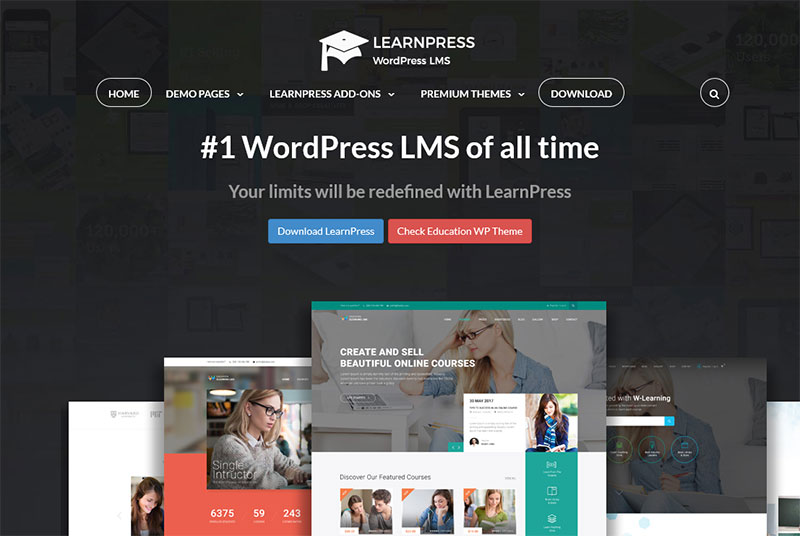 With LearnPress, you can edit all aspects of your courses and manage them effectively in the long run. This is a WordPress LMS with a lot of free tools that are perfect for beginners who want to launch their own online course for the first time. Right off the bat, it includes support for creating lessons and quizzes, and, for feedback and discussion, it allows you and your students to communicate with a forum section powered by BuddyPress.
If you like the plugin, you can expand it later by purchasing services that meet the new standards of your course. When you go for the premium version, you get:
Sending course certificates after walking through an entire course
Content dripping add-ons
Management tools for better tracking
Ideal for: Anyone who doesn't want to spend a fortune on their debut online courses.
Drawback: There is no setup wizard to help users through the processes.
LearnDash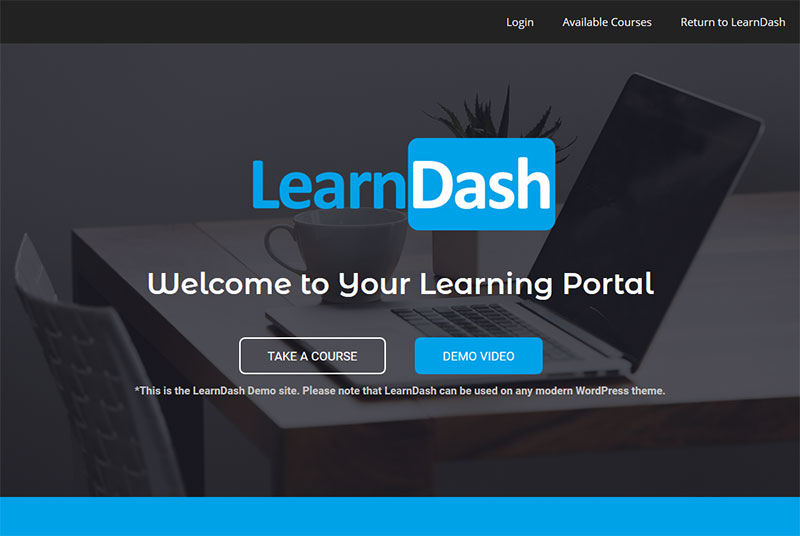 LearnDash is among the most popular WordPress LMS plugins out there. It is an easy-to-use plugin that has plenty of features to choose from. The interface is drag-and-drop and intuitive. The types of courses you can create with this WordPress LMS are numerous: multi-courses, lessons, topics, quizzes and more. You can also schedule content for the entire length of a course through the content dripping option.
The online learning experience is supported by methods such as gamification, social learning and micro-content which seem to be highly appreciated by students at the moment. LearnDash has a system that allows students to unlock courses based on how many points they have earned throughout the course. This increases motivation and user engagement. Students can also track their progress at every step of the learning process.
Ideal for: People who want to get the best out of a WordPress education plugin that is feature-packed and allows third-party integrations. Additionally, you can take a look at LearnMate, perfect theme for LearnDash.
Drawback: For advanced payment options, LearnDash needs to be integrated with WooCommerce or similar third-party plugins.
LifterLMS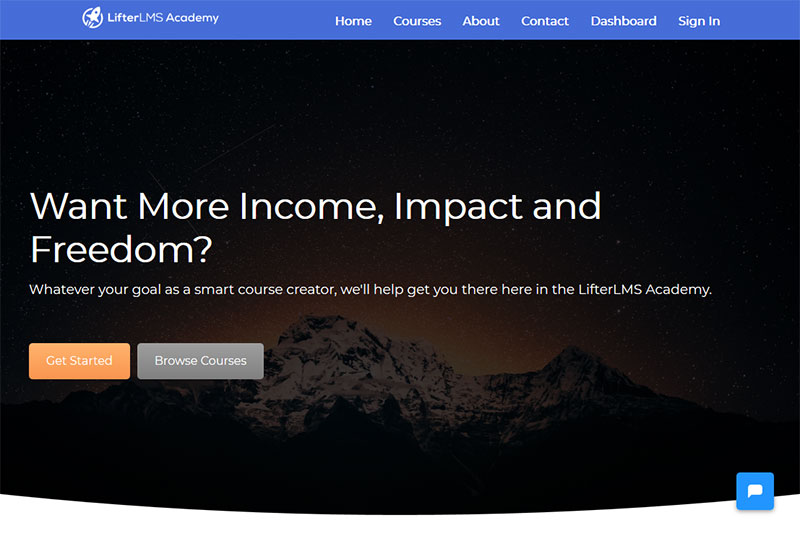 With LifterLMS, users can figure out how much of the course they completed by following the progress bar included. It is a great WordPress LMS for training programs that include a lot of courses. It can be expanded easily, by adding memberships or prerequisites. The coursework can be personalized based on the user's needs.
It is a highly-customizable WordPress LMS that is convenient to use and has enough features to keep students engaged. Moreover, coursework can be customized for both one individual only or entire groups of students. It can be used on mobile phones as well.
Ideal for: People who are looking for a scalable, well-supported WordPress LMS.
Drawback:It can get expensive if you need a lot of add-on features.
Sensei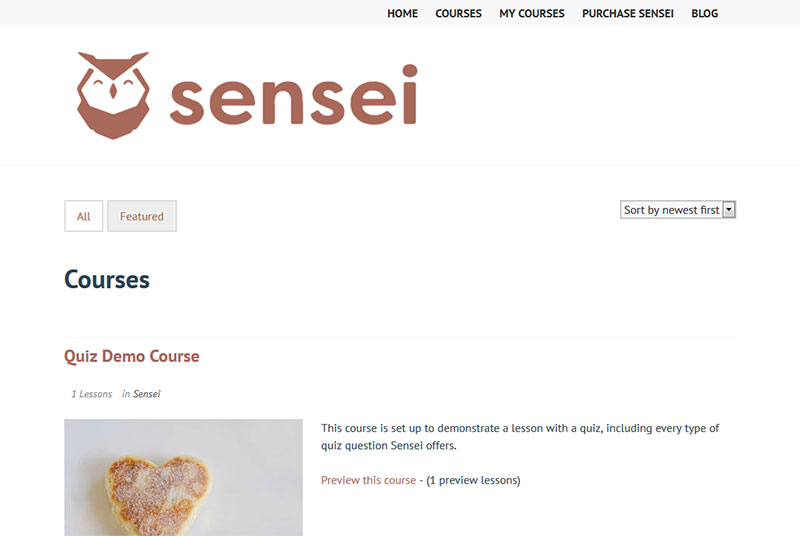 Sensei is the WordPress LMS plugin that you want to try if your coursework has to be split into lessons, but you don't need many of the bells and whistles of other LMS systems. You can configure each lesson based on your requirements. The interface is very similar to WordPress's main post editor, so it will be easy to get used to it fast. It is a simple yet very responsive plugin that any online coach should try at least once. It's easy to navigate, which makes it great for people who want to put together a course in the shortest time.
Ideal for: Users who already have a WooCommerce store and want to integrate it with a WordPress LMS.
Drawback: The features are not very numerous, there is no built-in membership functionality, and there's no possibility of purchasing add-ons.
CoursePress Pro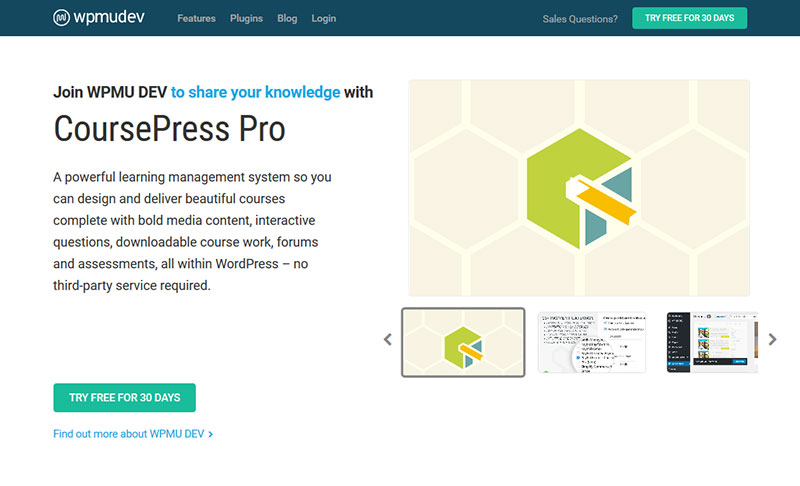 CoursePress Pro is a WordPress LMS plugin that is suitable for all people who want to upload creative courses. The course templates are stunning, and the plugin is feature-packed. You can add interactive questions instead of pre-built quizzes, along with a host of other nice-to-have features. It is a flexible, customizable plugin that makes online learning easy to manage and control.
Ideal for: Anyone who wants to create (and sell) a course quickly and easily.
Drawback: The payment options are not very flexible.
FAQ on WordPress LMS Plugins
What's the Real Deal with WordPress LMS Plugins?
Alright, so you've probably heard about these WordPress LMS Plugins, right? They're like this cool toolkit for transforming your WordPress site into a full-blown learning management system.
People use them to create and manage online courses, and honestly, it's pretty fantastic. It's like having a virtual classroom right there on your website.
Do They Really Support Different Types of Content?
Absolutely, they do! The best part about these plugins is their versatility. You can upload videos, quizzes, PDFs, and slide presentations – you name it. It's a game changer for creating diverse and interactive learning experiences. This way, you're not just stuck with text on a page; you can really get creative and engage your students.
Can I Track My Students' Progress?
Oh, you bet! These plugins come with built-in tools that let you keep an eye on how your students are doing. You can see their course progress, quiz scores, and all that good stuff. It's like having a dashboard for learning, giving you all the insights you need to help your students succeed.
How Does the Payment Stuff Work?
So, when it comes to making some money off your courses, these plugins have got you covered. You can integrate them with different payment gateways like PayPal or Stripe, and boom – you're in business. It's like having a cash register right there on your site.
Is It Hard to Set Up?
You might think it's gonna be this big, complicated process, but it's actually pretty straightforward. Most of the plugins come with user-friendly interfaces and step-by-step guides. It's like they've thought of everything to make your life easier.
Can I Offer Certificates to My Students?
Absolutely, yes! It's like the cherry on top. You can create and award certificates to your students when they complete a course. It adds this extra layer of professionalism and recognition to your eLearning platform.
How About Quiz and Assessment Tools?
They've thought of that too! You can create all sorts of quizzes and assessments to keep your students on their toes. It's like having a virtual teacher's assistant. These tools help ensure that your students are really grasping the material.
Do I Need to Be a Tech Whiz to Use Them?
Not at all. You don't need to be a coding genius or anything. Most of these plugins are pretty user-friendly, and there's a ton of resources and communities out there to help you out. It's like having a support network at your fingertips.
Can I Customize the Look and Feel?
Totally! You've got control over how everything looks, so you can make it blend seamlessly with your site's design. It's like being an artist and a teacher at the same time. You can really put your personal touch on it.
What If I Get Stuck?
No worries! The great thing about these plugins is that there's a lot of support and documentation available. Plus, there's a whole community of users out there. It's like having a bunch of friends who've got your back.
If you enjoyed reading this article about WordPress LMS Plugins, you should read these as well: