Why do you need a WordPress newsletter plugin? When you target an audience that's already expressed an interest in what you do by signing up to your email list, you increase your chances of converting leads to clients, which is why it is essential to develop an email list.
When users subscribe to your WordPress newsletter, you've already drawn their attention to what you do and what you offer. When you stay in touch with your subscribers via newsletters, you work on turning their interest into the action you need them to perform.
A WordPress mailing list plugin lets you collect email addresses and send-out compelling content. You first need to 1) get their attention and 2) convince them to sign up to our email list, which proves their willingness to learn more about what we can do for them.
Is a Newsletter Necessary for Your WordPress Site?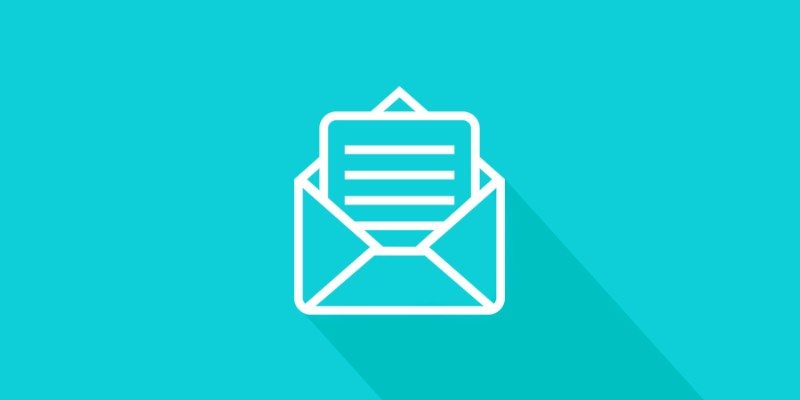 Although creating and putting into practice an email marketing campaign involves a lot of work and knowledge there is no doubt that staying in touch with your target audience via newsletters is a strategy that, as a business owner, you should apply.
Radicati states in a report that the world will feature as many as 3 billion email users by 2020 while the number of emails sent out daily will reach 257 billion. Beyond the staggering figures, the report proves the impact of email campaigns on any business' bottom line.
Staying in touch with users that are already interested in your business adds a personal touch to your marketing strategy. E-mail campaigns encourage users to perform your calls to action, which is why newsletter campaigns enforced by WordPress newsletter plugin are good for business irrespective of the field in which you operate.
Eight Reasons Why Your WordPress Site Needs a Newsletter Campaign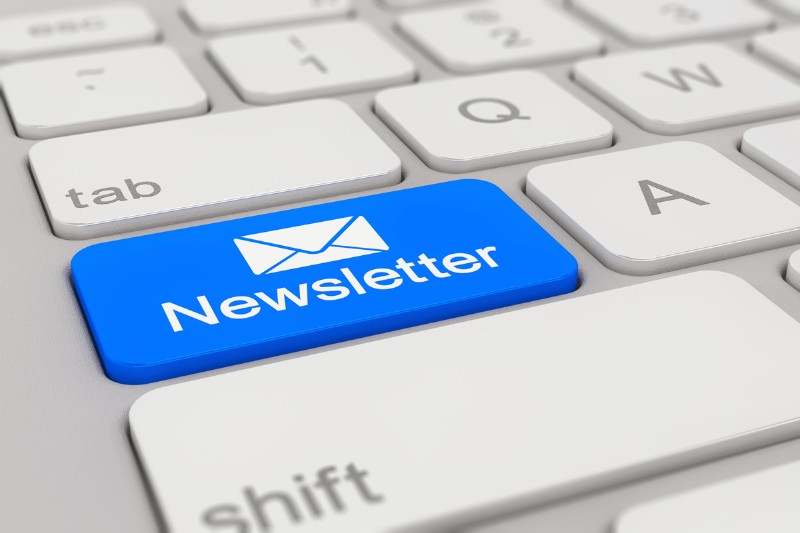 Here are some of the most important reasons a business requires a newsletter campaign supported by a newsletter plugin for WP:
Creating a newsletter campaign involves a similar type of work that developing and managing a website involves, which makes email campaigns some of the most accessible marketing solutions that developers/business owners could engage into.
Adding the best WordPress newsletter plugin to your website will put to good use that long list of email addresses of users that have already proven their interest in being shown more about what your product/service can do for them.
Email subscribers consist of existing and potential customers. Therefore, newsletter campaigns will target both categories of customers encouraging brand loyalty, converting leads into actual customers, and bringing on ongoing revenue.
Newsletter campaigns powered by a reliable and solid WordPress email plugin are also beneficial as far as improving brand visibility because they allow you to remain at the forefront of your industry via high-quality, always fresh newsletters.
You will not have to break the bank to create newsletter campaigns for your business as newsletter campaigns are quite cost-effective.
Once you install the WordPress email plugin, it will not cost you much to send out a unique newsletter weekly.
Newsletter campaigns are multi-purposeful marketing tools. They introduce special offers, present new products, promote new blog posts, and more.
A newsletter campaign allows you to send out to your subscribers much more than a simple email.
You can personalize newsletters to target a specific segment of your subscribers list, which you could break down into segments based on demographics, location, behavior patterns etc.
The WordPress email plugin will do much of the work for you!
Sending out a newsletter will let you collect a lot of data for your business and therefore will help you improve your business outcomes by applying what you learn after an in-depth study of the analytics.
You can find out how many people open the emails you are sending out, what type of device they are using to access their emails, which of your links have engaged more clicks, and much more.
Active Lead Generation vs. Passive Lead Generation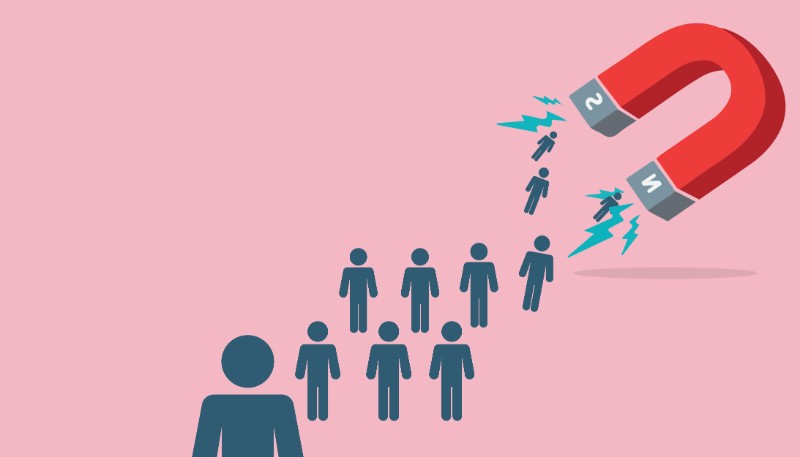 There are two approaches that a business owner/site developer may embrace when it comes to collecting email addresses from their website visitors:
Passive Lead Generation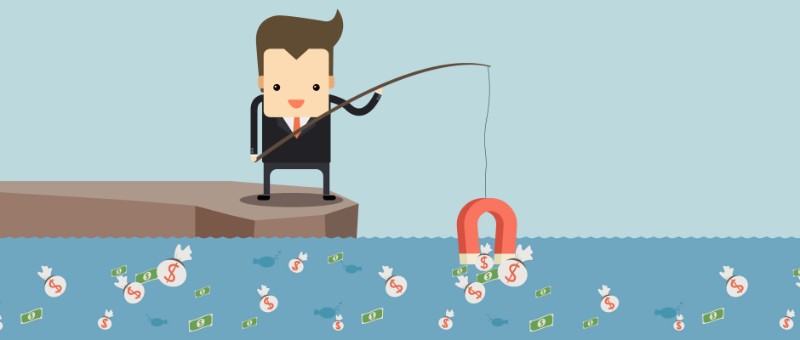 A developer or a business owner may decide to collect email addresses in a passive manner. That means that the decision of subscribing to your email address is in the hands of the users. They go a subscription box is placed in the sidebar, footer area, or inside an article.
Passive lead generation allows your users to carry on with whatever tasks they are performing on your website. They make a voluntary decision to subscribe to your email list. Passive lead generation is a non-aggressive strategy of collecting emails.
Active Lead Generation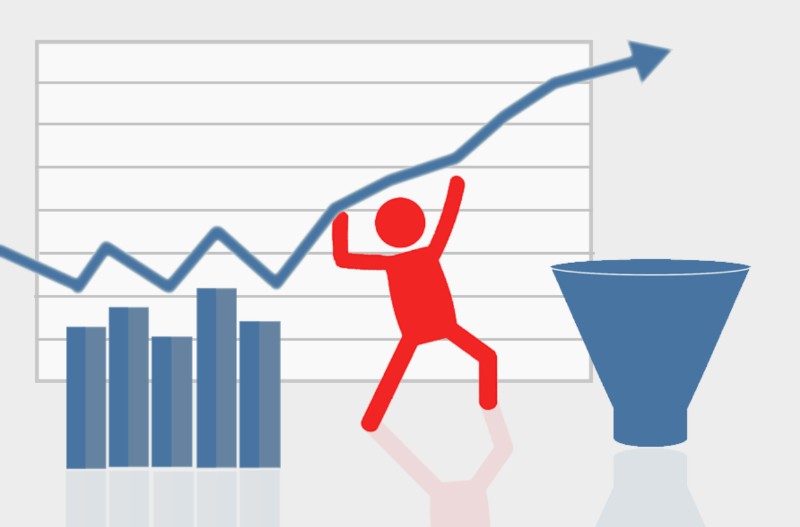 Active lead generation, on the other hand, is an aggressive pop-up-based strategy of collecting emails for your subscribers' list. Pop-ups are frustrating and aggressive in nature.
They drive users to abandon whatever the action they're engaged in and interests them on your site to perform one of two actions, i.e., closing the pop-up window or subscribing. Experts believe that assailing users with annoying popups the minute they land on your page may not be an effective strategy for collecting emails, especially for new businesses.
Give users a chance to learn what your business is about, figure out who you are and what you offer before you ask them to sign up for your newsletter. You need to focus on conveying your business value via high-quality content before asking for a call to action.
The value of your business is different depending on the industry in which you are operating. Ways to show value:  free reports, photos, videos, articles, eBooks, icons, etc.  Before asking for an email address, make your users enjoy your content and see what you offer as a solution to the problem to which they came on your website to find a solution.
Best WordPress Newsletter Plugin Solutions

Launched in 2013, OptinMonster is a bestselling WordPress email plugin installed on over 300,000 websites. Features that Optinmonster offers to developers include but are not limited to A/B split testing, Exit Intent popups, several form types, and other great characteristics.
OptinMonster allows quick and simple generation of high-converting contact forms, including animations via the MonsterEffects feature.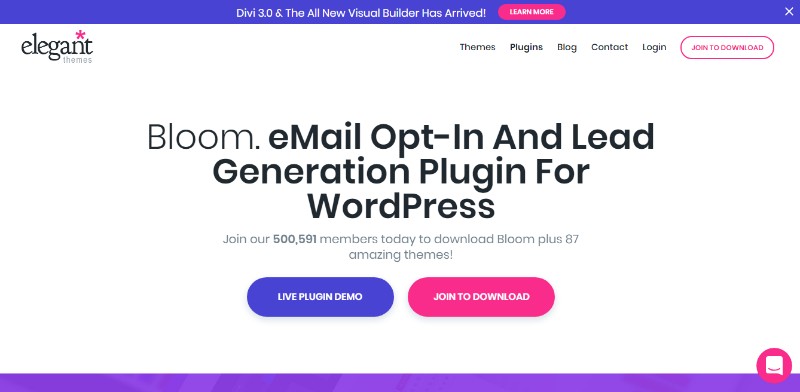 Bloom is a WordPress newsletter plugin designed by Elegant, which supports some of the trendiest WordPress themes featuring over 350,000 paying customers. Bloom has an appealing design and introduces over 115 templates.
Bloom supports no less than 6 distinct pop-up form types, including widget area, fly-ins, popups, in-line with content, content lockers, and below content.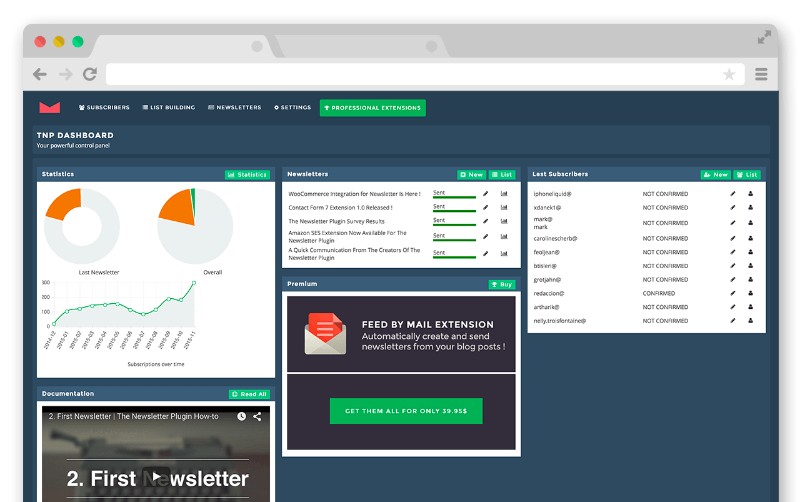 Newsletter is a free WordPress email plug-in that you can use to integrate a newsletter into your blog. Its developers promise to attract an unlimited number of subscribers for your email list and send out an unlimited number of newsletters.
Key features of this WordPress newsletter plugin include customizable themes, tracking functions, and single and double opt-in methods. For added extensions, you can go for the premium version against a $97-fee (agency plan) or a $29.97-fee (blogger package).
The premium version provides you with access to all premium extensions. You benefit from a number of unlimited installs on any of the blogs you own.
With 100,000 active installs according to Plugin Directory, Newsletter is a well-designed plugin marketed via a professional-grade walk-through video.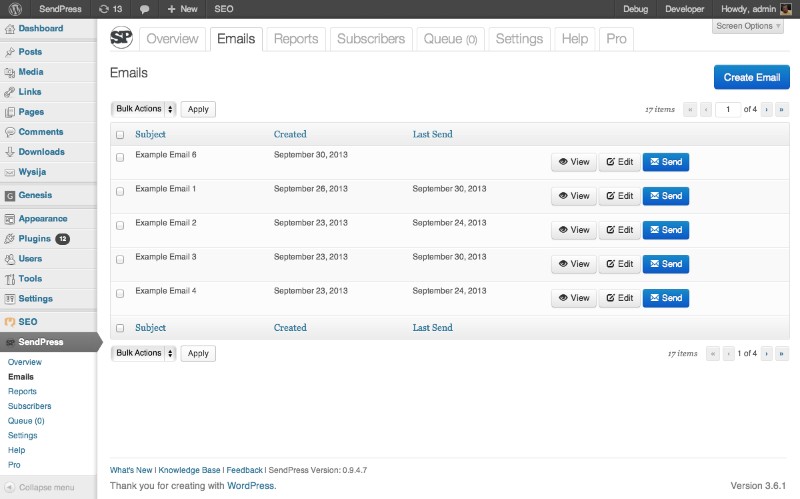 SendPress is a newsletter WordPress plugin that allows the customization of newsletter templates in such a way that the resulted templates align with your blog's style.
With SendPress, you can edit newsletters just as you edit blog posts on your website.
Additional features include the ability to synchronize lists to WordPress and individual newsletter tracking. The standard version is free while the premium version starts at $99.
SendPress is ideal for a typical blogger but may not be a good fit for a retailer or a professional service provider. Featuring a 4.6-star rating, SendPress boasts over 10,000 installs as per Plugin Directory.

MailPoet is a feature-packed WordPress newsletter plugin with autoresponder as well as advanced segmentation tools, and stats tracking. It offers a drag-and-drop, HTML-free experience. This particular newsletter plugin has 90,000 active websites on their new version 3. MailPoet has plans that start at $10 a month with sending.
The concept behind MailPoet targets heavy users. MailPoet already has a reputation as the best and most popular WordPress plugin in the professional user category with a 4.3 stars rating on their version 3.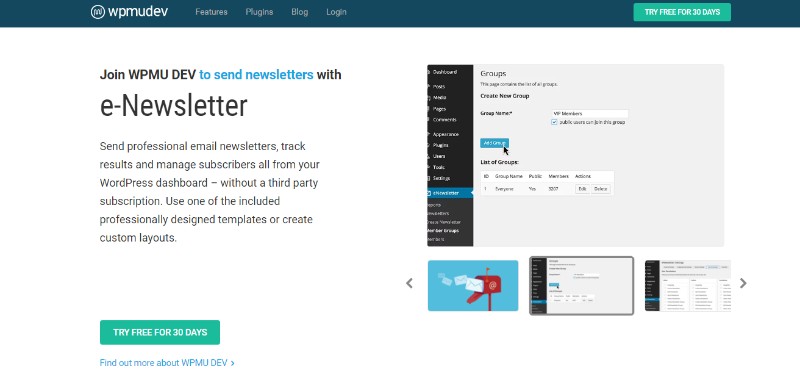 e-Newsletter is a multi-purpose WordPress plugin that allows you to track newsletter campaign results with no third-party subscriptions necessary, as well as generate and send out professional newsletters and manage subscribers.
e-Newsletters is a complete, highly versatile marketing plugin that doesn't require specialized knowledge to use and understand. It features 7 professional templates and a set of useful features, such as a live as-you-build-it email preview function.
It enables developers to produce an unlimited number of subscriber groups, allowing subscribers to select the group they want to be in and letting you choose the intended subscriber group for emails.
Ending thoughts on installing a WordPress newsletter plugin
There's no doubt the newsletters are highly effective tools designed to improve your ability to reach your intended audience. Newsletters are much more cost effective than search marketing and much easier to implement than social media campaigns.
Newsletters let you stay connected with existing clients, help you increase your chances of converting potential customers into actual customers, and ultimately give an added boost to your business reputation.
Most importantly, newsletters represent an opportunity to grow your business and generate more revenue, and a plethora of WordPress newsletter plugins help you make the most of this effective marketing strategy
If you enjoyed reading this article about a WordPress newsletter plugin, you should read these as well: