Whether you are a business, freelancer, or hobbyist, having your own website is a necessity these days. It is vital to have an inviting, clean, and functional website, using tables and charts to display information. Lists of ingredients for food bloggers, opening hours for businesses, or product price lists all require tables to make the important information on your website readable and easily accessible. WordPress is a popular choice, however, the question will arise of how to create a table in WordPress without a plugin.
WordPress powers around 37% of the internet and they do offer plugins to create easy tables, but there are many reasons why a plugin might not be the best option.
You may want more control over the design, and WordPress.com plugins are kept behind a paywall, so you have to upgrade to a paid account in order to use them. Thus, many WordPress developers want to know how to create a table in WordPress without a plugin.
In this article, we will explain easy ways you can create a table for your website, without having to use a plugin.
Creating a table in WordPress without using a plugin
Google Docs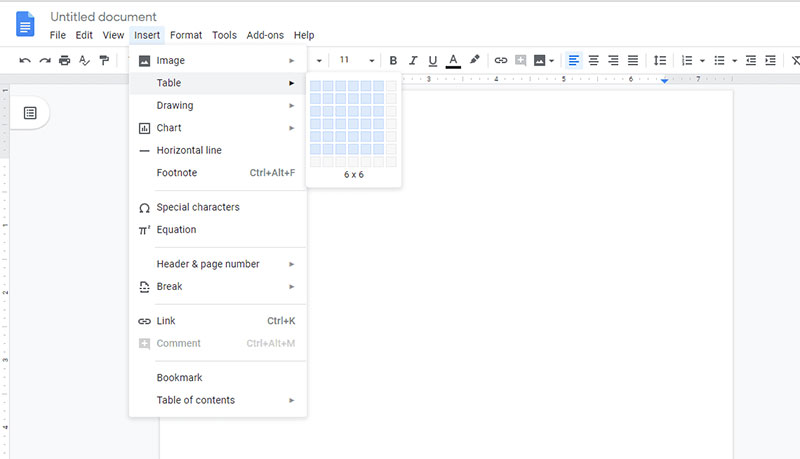 Google Docs is a popular word processor for professionals. It combines the power of software like MS Word, including multitasking tools for flexible teamwork, with a flexible system of tools and integrated cloud teamwork functionality.
It is simple and straightforward to create a table in Google Docs and import it to your WordPress site. You can also make an import CSV to google sheets if it is required.
Simply create the table as you would normally in any word processor. Then copy and paste it into your WordPress page visual editor, and manually correct any formatting issues that arise. The step by step process is as follows: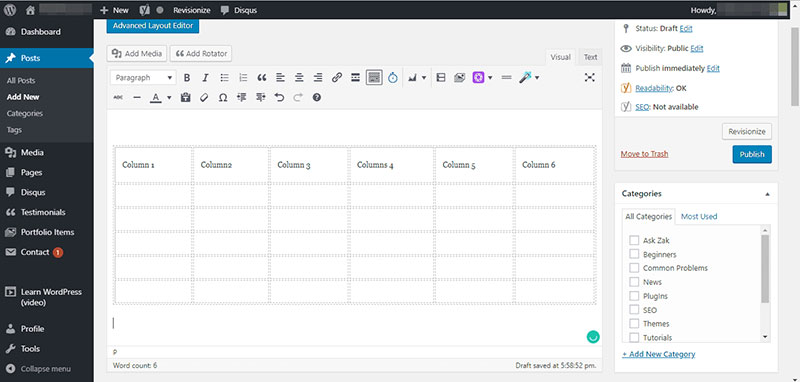 First, in Docs, click the Insert button at the top of the document, then hover over the table option and select the dimensions for your table.
Next, while still in Google Docs, enter the information into the table which makes formatting easier, and you won't be able to change the rows and columns later on in WordPress.
Now simply copy and paste the table into the WordPress visual editor. This is one of the simplest and easiest ways to create a table in WordPress without a plugin.
HTML Code
This method is a little more technical and requires some basic understanding of coding, specifically CSS.
First, create a new page or post on WordPress, then copy the code below.
<table style="text-align: center; height: 152px;" border="1″ cellspacing="0″ cellpadding="0″ width="390″>
<tbody>

<tr style="background-color: #e9e9e9; font-weight:bolder;"><td>Title 1 </td>
<td>Title 2</td>
<td>Title 3</td>
<td>Title 4</td>
</tr>

<tr>
<td>Detail One</td>
<td>Detail Two</td>
<td>Detail Three</td>
<td>Detail Four</td>
</tr>

<tr>
<td>Detail One A</td>
<td>Detail Two A</td>
<td>Detail Three A</td>
<td>Detail Four A</td>
</tr>

</tbody>
</table>


Switch to the HTML option in the WordPress visual editor, then paste the code. Change whatever information you want to be shown in the table.
Click preview to see the result. You can adjust the width and length by dragging the cursor as you would normally.
NOTE: You can add columns by using this code:
<td>Your Info</td>
And add extra rows by using this code:
<tr>
<td>Detail One</td>
<td>Detail Two</td>
<td>Detail Three</td>
<td>Detail Four</td>
</tr>
Then publish!
Online Table Generators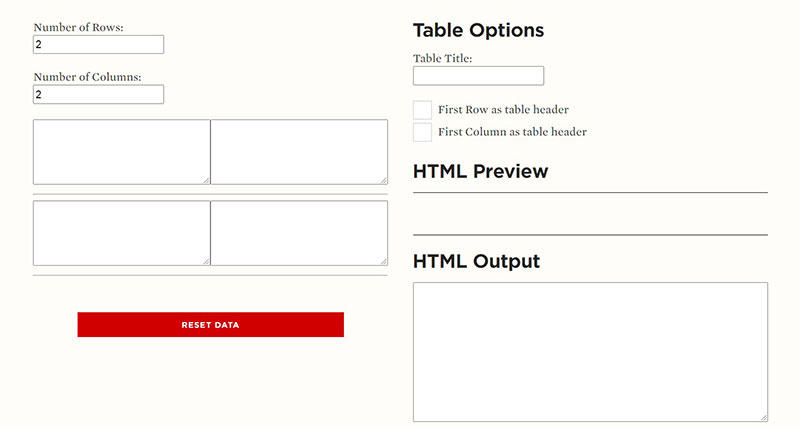 A quick Google search will reveal many simple table generators, often only needing you to enter the dimensions you require, then your information and a table is produced. Then simply copy and paste into your WordPress editor.
The benefit of this method is that online table generators often will adapt and change to fit your WordPress editor when you paste it in, thus less reformatting work is required.
New WordPress Block Editor – Table Block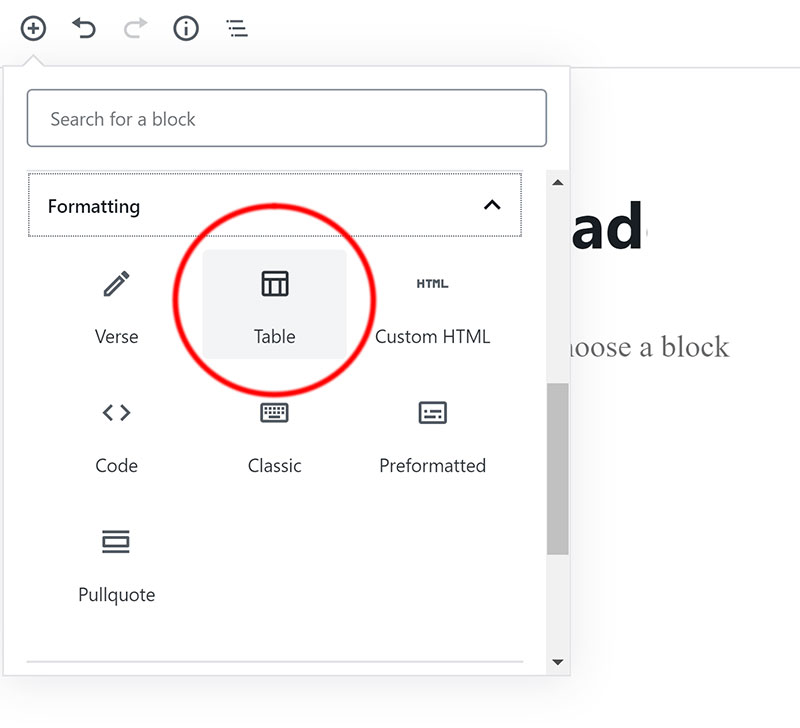 WordPress recently updated its famous editor to the new block format, which splits sections and paragraphs of content into individual blocks which can be edited separately to the rest of the document. It makes the editing experience more modular and dynamic.
It also makes it much easier to create a table in WordPress without using a plugin or having any coding ability.
First, click on the "+" that should be located wherever you can type, or at the top of the editor. This will let you choose a new block to insert.
Type "/" then "table" to search for the table block.
A table will appear, which you can edit and reformat however you wish.
EXTRA TIP: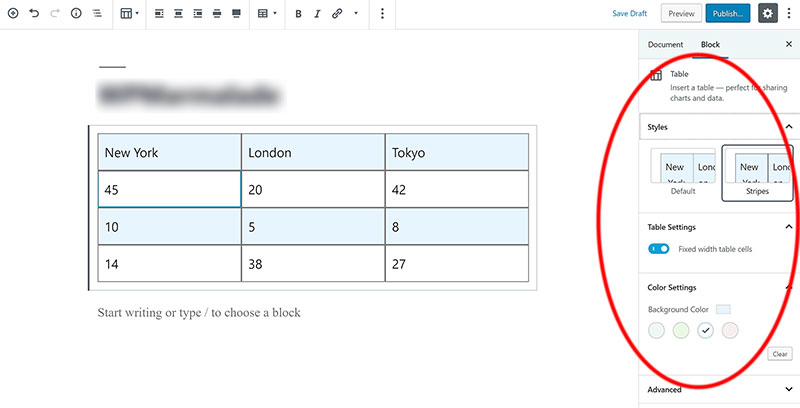 If you need to insert an image side by side with your table, simply insert a table block into one column and an image block in the other, which will create a nested table with no need to adjust the formatting or alignment!
Now you can create a table in WordPress without using a plugin
Tables are a perfect way of presenting all different kinds of information, organizing it so it's easy to read, functional, and accessible while remaining comprehensive and logical.
It is likely if you have a website of any kind, you will need a table at some point.
We've seen how easy it can be to build your website without the need for plugins.
These tips should help you to find a suitable option for free online table generators, or using HTML code to make your own.
However, if you do need a plugin to create a table on your WordPress post or page, the following one is recommended.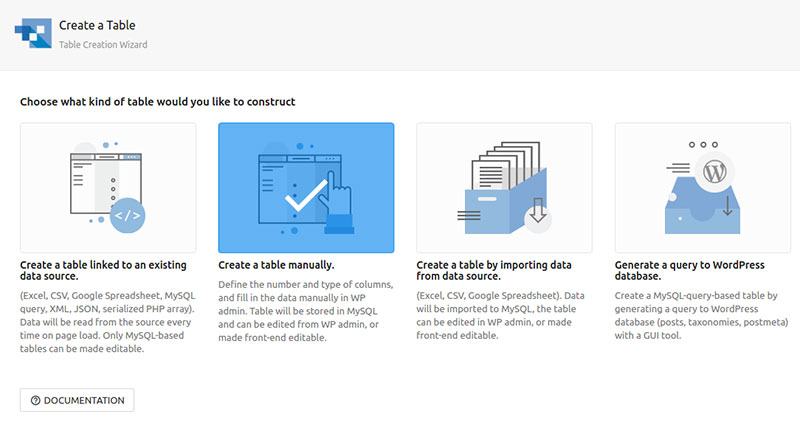 The wpDataTables plugin is already utilized by more than 30,000 users and is very trustworthy. It creates responsive WordPress tables to organize the data.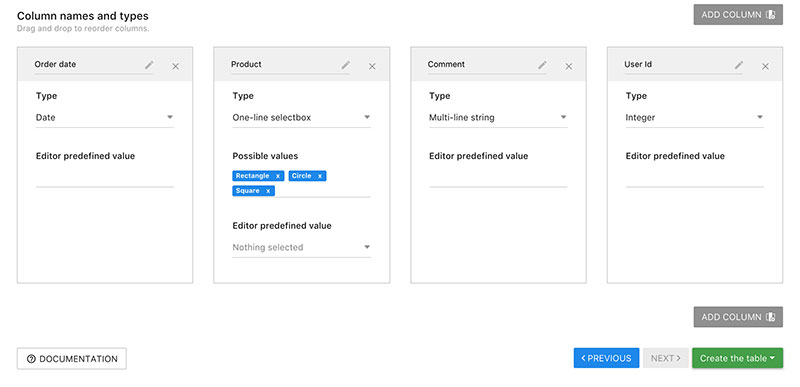 It also creates charts involving real-time data that change accordingly. You can create a line, column, or pie chart using the charts rendering engine available.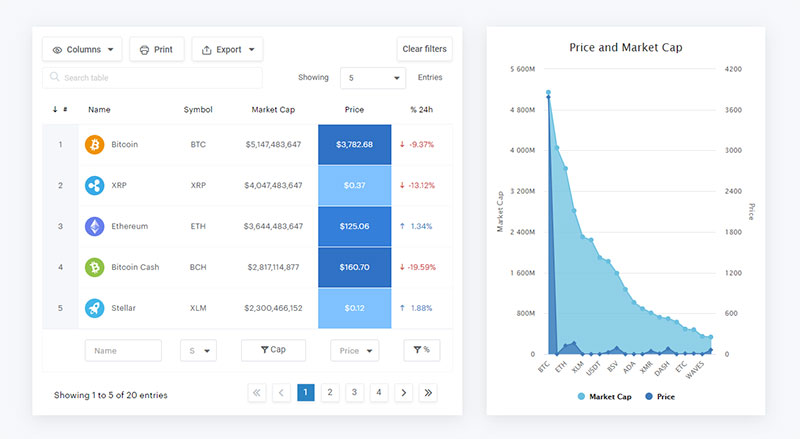 You can view a demo here to test-drive it quickly.
Ending thoughts on how to create a table in WordPress without a plugin
You can use any of the above-mentioned options, all effective and easy, and suitable for most users. However, if you require flexibility and power to handle large amounts of data on your WordPress site which has a plugin, you can use wpDataTables.
If you enjoyed reading this article on how to create a table in WordPress without plugin, you should check out this one about WordPress table generator plugins.
We also wrote about a few related subjects like WordPress table plugins, how to create the Premier League table, DataTables alternative, JavaScript table library, how to insert a table in WordPress and WordPress pricing table plugins.