Most WordPress websites use tables to more easily present information or data to improve the user experience and make data more comprehensible.
However many WordPress owners don't know how to insert a table on their website. The visual editor included in the WordPress interface does not offer the option to create tables. It can be done by inserting HTML and CSS code into the website, but few website owners are comfortable with that option.
This article will show you how to insert a table in WordPress without any knowledge of HTML and CSS. Follow the tutorial for sure results.
How to Insert a Table in WordPress Using a Plugin
One of the easiest and most intuitive ways to insert tables in WordPress is via a plugin. It doesn't require any coding knowledge and takes very little time.
The plugins are made in such a way that you can create tables no matter what WordPress theme you use or your knowledge of programming. wpDataTables is one of the best plugins to build tables.
Inserting a table in WordPress with the wpDataTables plugin makes it easy to create, customize, and manage your tables without coding because all the coding is already done. Simply choose your style and insert the table.
This is a step by step guide to inserting tables in WordPress with the wpDataTables WordPress table plugin.
Step #1: Create Table Data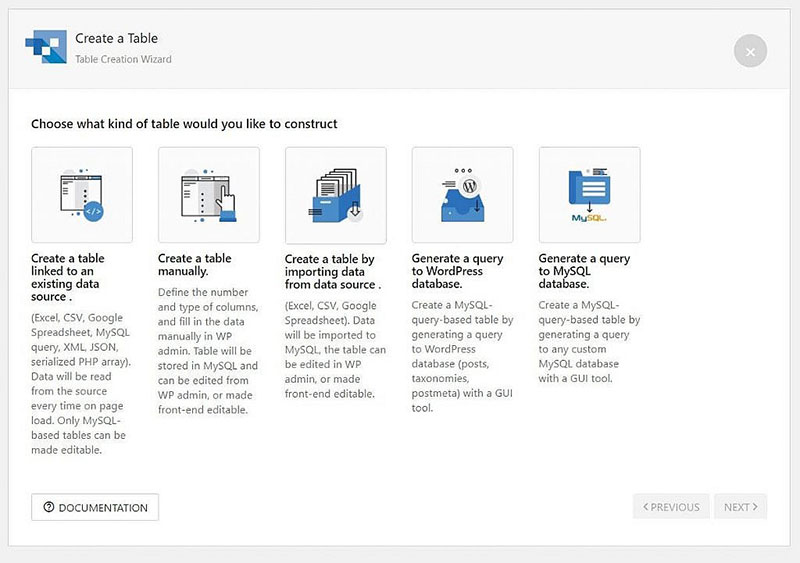 Firstly, prepare your data ready for the table. If you don't have it, create it. You can use data from almost any type of platform, including Excel, CSV, Google Documents, XML, JSON, MySQL query, and more.
You can also manually create a table using the GUI, and link it to a live data source. This will make sure that your table is dynamic and the data stays updated. The next process is customization.
Step #2: Customization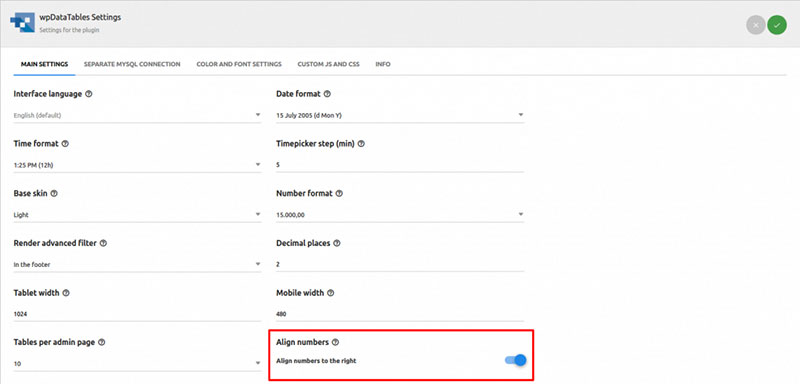 The WordPress table plugin makes it easy to design the new table. There are a few checkboxes and selectable colors to customize it; you can design the table to suit your overall design and theme.
Other customization options include the interface language, time and date formatting, custom JS/CSS, alignments, and more. It's simple to create responsive tables that will also work well for mobile devices, which is now very important to include.
This step to customize your table and make sure it is responsive requires care and time.
Step #3: Publish the Table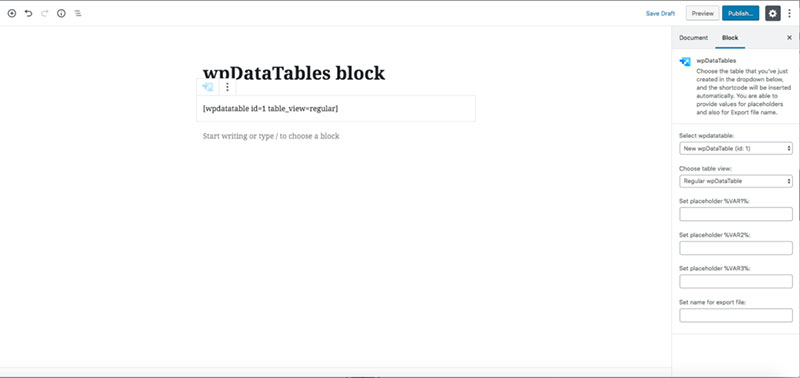 The last step is to publish the table in a post or on a page. Inserting the table into a post is easy using the Gutenberg editor, WPBakery Page Builder, Elementor, or other platforms. When you're satisfied with the final result and you want to complete the process, go ahead and publish.
Enabling Filters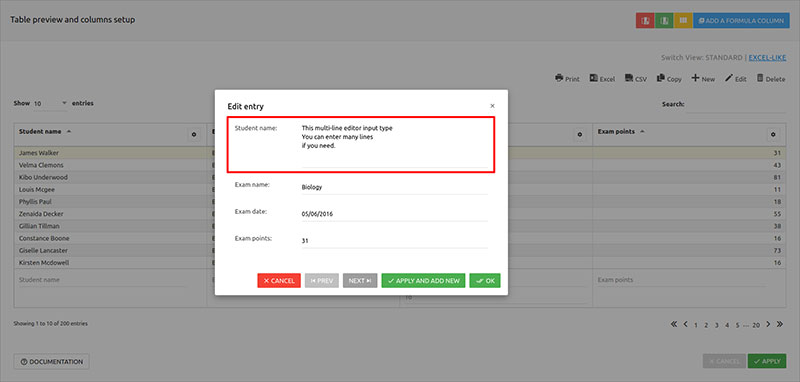 It's crucial to include various filters to make your table more functional, intuitive, and easier to navigate. For example, you can enable the users to filter the table to show only the items they want. It's an incredibly helpful feature when you have a large database, and you want to include books or other databases with a lot of entries.
The wpDataTables table plugin also enables you to update or edit the table from the front end. First, enable this option under the "Editing" section, and you can set various users who can edit the table. Additionally, you can authorize your visitors to add content to the table, depending on the credentials you give them.
How to Add Tables in WordPress without a Plugin
What? You don't want to use a table builder for adding tables in WordPress posts?
No problem.
It's possible to insert tables in WordPress without a plugin, although it's a less simple solution. Here's how:
Method #1: Via Google Documents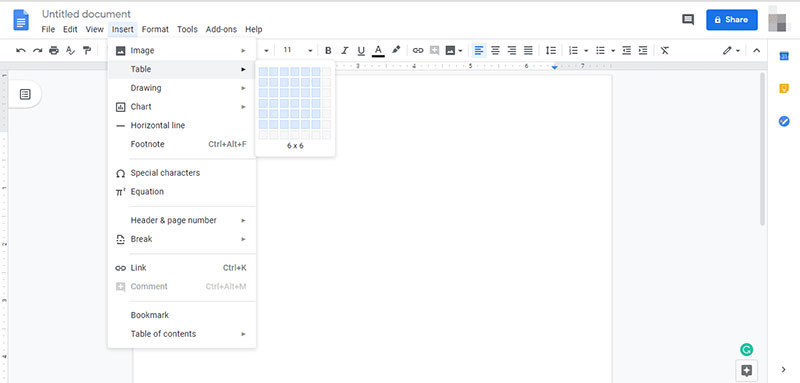 Here's a step-by-step tutorial for how to add tables with Google Docs, one of the more commonly used options.
First, create a Google document or sheet.
Then, go to Insert > Tables.
Next, select the number of rows and columns you want to add.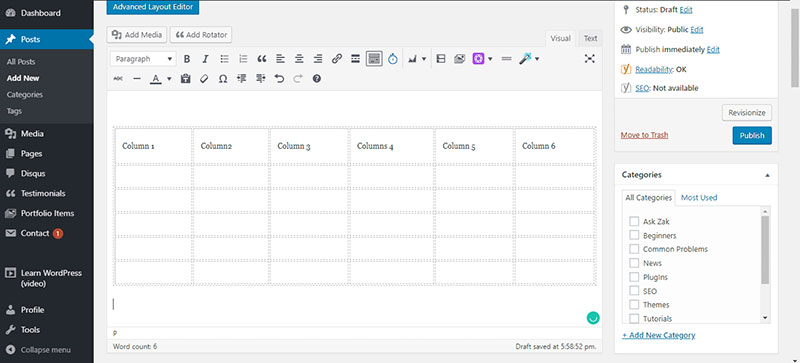 Hit enter, and add data to the new table. You can copy and paste the columns and rows from the Google Doc to the table. Now, the table is almost ready.
There are no customization options here, which is why using a WP table builder is a better option. These tables won't be as responsive as some other tables. On mobile devices, the table content will most likely look weird.
Method #2: Via the Gutenberg Editor

The Gutenberg editor is a great way to add content to the WordPress site, and you can easily add tables in WordPress posts with the 5.0 version. Here's how.
When you're editing the post or page in Gutenberg, select the Add Block option.
In the Formatting group, you should see the Table block. Select this option to add the table to the site. Then select the number of rows and columns. Lastly, click on Create Table.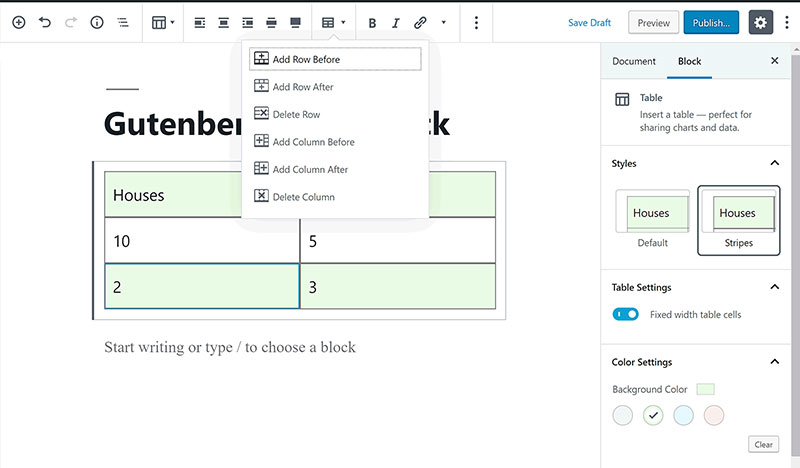 You can still customize the rows and columns used in the table via the Table block's toolbar. There's also some useful additional options on the left-hand-side.
This is how the table will look from the front-end.
The table still looks basic, and you'll need some CSS knowledge to make it look better, which will take more time, and is easily avoidable with a plugin like wpDataTables.
Method #3: Via Table Generators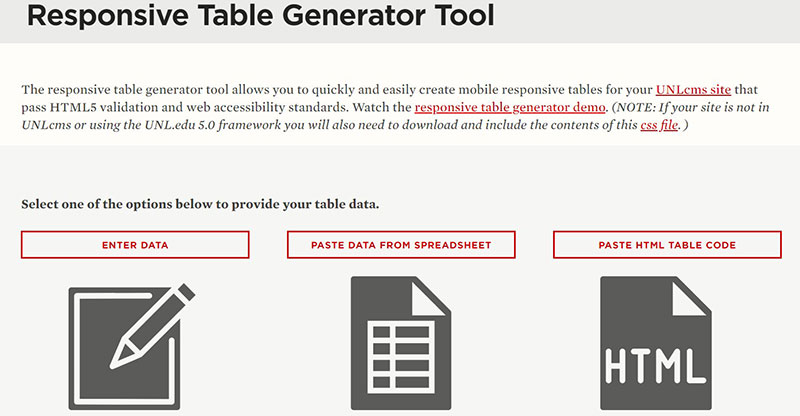 Table generators are an interesting option to add tables in WordPress posts. Generators are useful for those who cannot code HTML and CSS.
You can create a decent table with a table generator. Simply choose the design and appearance of the table, and then, the HTML of the table will be generated. You add tables in WordPress by copying this HTML code into your page or post.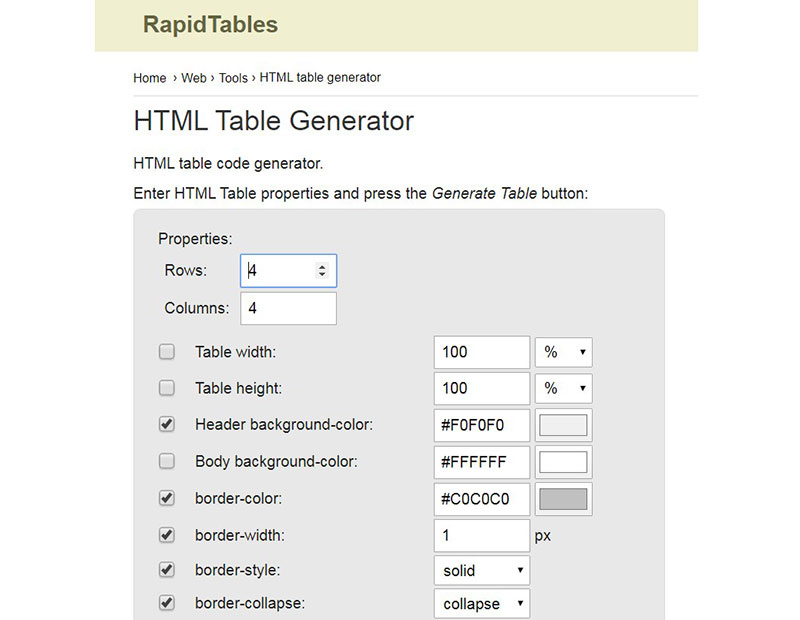 Table generators can create interesting tables with some customization options, although the styling options are somewhat limited. Responsive Table Generator and Rapid Tables are among the better options.
Why Adding Tables without a Plugin is not Optimal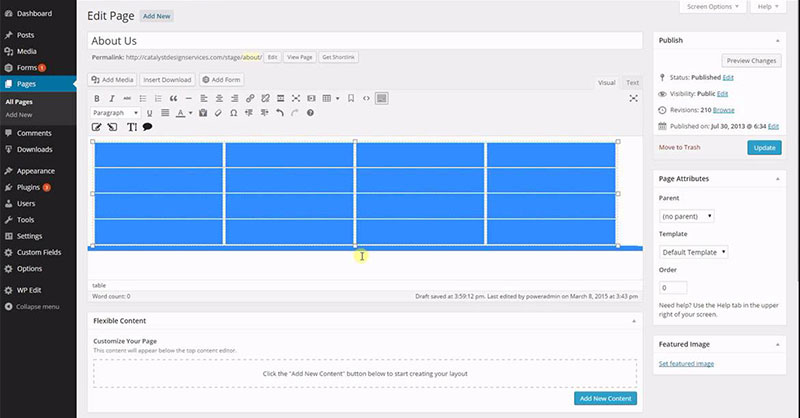 The best reason to use a plugin to add tables in WordPress is that without it, you will spend hours on customization, and the options are somewhat limited.
Yes, you can create a table and add it to a WordPress post, but it won't be eye candy at all.
Also, the tables will likely be less functional, without an option to sort the data. Additional technical problems may arise, which can only be solved if you have coding knowledge. The tables generated without a plugin will not look as natural and professional.
Ending thoughts on how to insert a table in WordPress
If you want to add professional and responsive tables, then the wpDataTables plugin is a great option. Creating tables is easy, and you'll display useful data instantly with almost endless customization options for your WordPress tables.
If you enjoyed reading this article on how to insert a table in WordPress, you should check out this one about WordPress table generator plugins.
We also wrote about a few related subjects like how to create a table in WordPress without plugin, WordPress table plugins, how to create the Premier League table, DataTables alternative, JavaScript table library and WordPress pricing table plugins.