eCommerce merchants are constantly looking for improved marketing strategies. Applying these strategies can help to maximize their sales and increase profits. In an ideal world, customers would spend large amounts of money each visit. WooCommerce related products, up-sells, and cross-sells can aid in boosting customer purchases.
In 2006, as much as 35% of Amazon's earnings resulted from cross-selling and upselling. Research analysts also estimate that 10-30% of eCommerce revenue stems from product recommendations.
There's no reason why these simple strategies shouldn't work for you. What makes them so effective? Why do you need them? And how do you set up the related products, up-sells, and cross-sells on your WooCommerce store?
Learn below more about this topic in this article created by our team at wpDataTables, the best WP table plugin to use for product comparisons.
Convincing buyers to make bigger purchases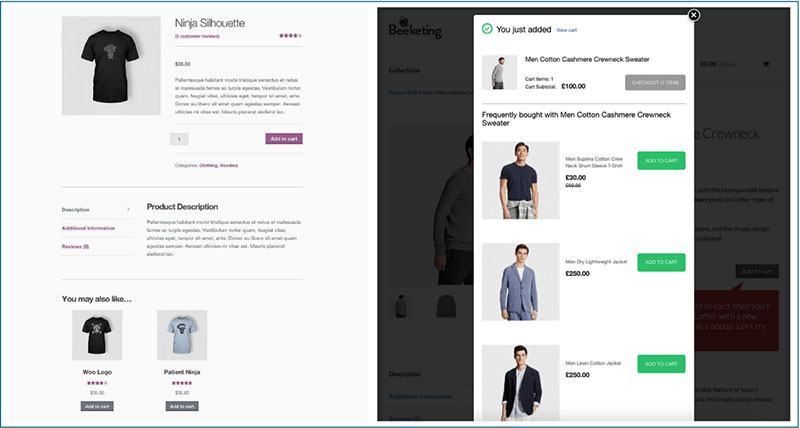 Attracting new buyers to an online store is never easy. It requires spending more on marketing, product development strategy, and SEO. However, it's possible to offer a new product to the present customer base. This strategy adds value to current purchases.
The same strategy would also increase the revenue coming from new customers. Encourage customers to buy more items or buy higher-priced products with product recommendation techniques with the help of live inventory management.
WooCommerce allows store owners to set up related products, up-sells, and cross-sells. These options can influence customer behavior. Customers can choose to purchase another option in the product line (up-sell). Or they may opt to purchase additional products (cross-sell).
In effect, it's a win-win situation. The buyers can obtain higher-value products they'll love. It may even be a product that enhances their experience with the item they came for. The store owner gains an increase in short-term revenue.
For these strategies to be effective, any recommended products or added features should be relevant to the original sale. The customer will readily see the natural link between the two products.
If someone buys a wireless stereo speaker, don't cross-sell them a decorative knife set. Offer something complimentary, relevant, and helpful, e.g. a charger. Perhaps offer a more sophisticated speaker or another related accessory.
These marketing techniques can add significant value to individual sales in your online store. To follow is an individual look at each strategy and how to set them up on a WooCommerce platform.
Related Products – why they work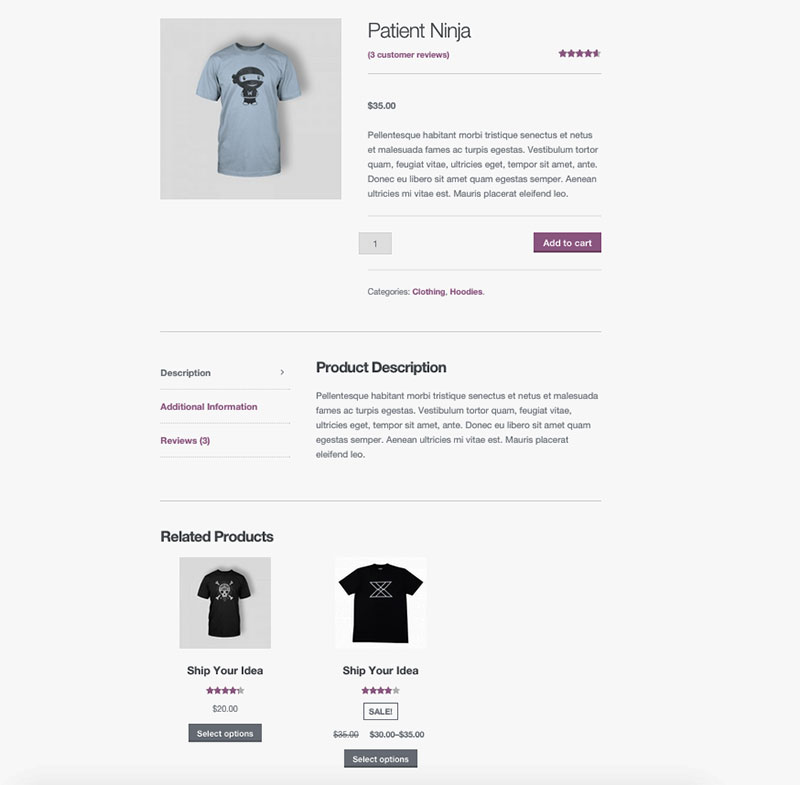 Related products are items that complement each other. A typical example of related products is shoes and shoelaces, or shoe polish.
Displaying related products can encourage customers to increase their spending. It's not being pushy. For some customers, related product sections prove most helpful.
It may highlight items they needed but didn't know were available. They may come across some new products they've never heard of before. Either way, customers have the option to instantly add those items to their carts. It saves them time and effort.
Woocommerce Related Products set up

Products can be related to each other in three ways: by having the same tags or categories, by being up-sells, or by being cross-sells. It is a default set up in WooCommerce.
The platform will choose at random which products to display. Store owners can then add tags to their products and categorize them. This enables stores to offer certain products in relation to a similar item. WooCommerce automatically picks up and displays related products on a product page.
If store owners want to improve management and organization when it comes to such processes, it's best to use an enterprise eCommerce platform if they run a large store.
Up-selling technique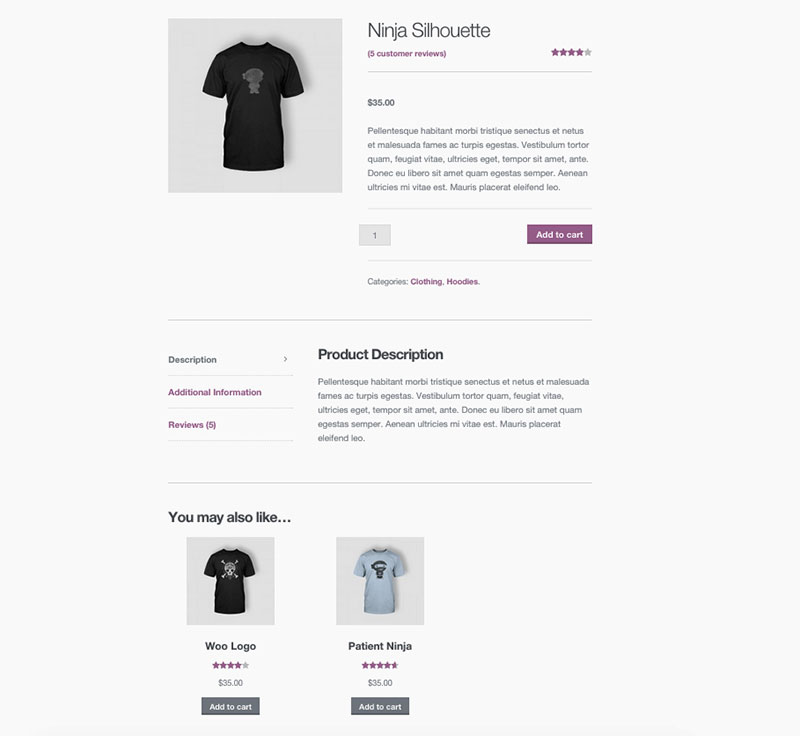 Upselling suggests a more expensive version of the customers' chosen product. As an example, imagine a customer is purchasing a pair of sneakers from last year's collection. Displaying images from the most recent collection of similar, more expensive sneakers could lead to an upsell.
It's often used by eCommerce businesses to increase order value and maximize profit. It can also enhance the customer's shopping experience.
Upselling allows stores to suggest premiums, upgrades, and add-ons that deliver more value to the client. A good upsell always leaves the customer feeling like they won. As a result, retailers build deeper relationships with buyers.
It is much easier to optimize a sale to a pre-existing client, than to someone who has never heard of your brand. According to Amazon, the probability of selling to an existing customer is 60-70%. But the probability of selling to a new prospect is only 5-20%.
It's important to ensure that the alternative product is within a reasonable price range. Customers will rarely pay more than 25% of what they planned to spend.
WooCommerce up-sells set up

Go to WooCommerce > Products. Select the product on which to show an up-sell.
Scroll down to the Product Data panel.
Select the Linked Products tab on the left menu.

Add the product you wish to link to by searching for it.
Update.
Cross-selling technique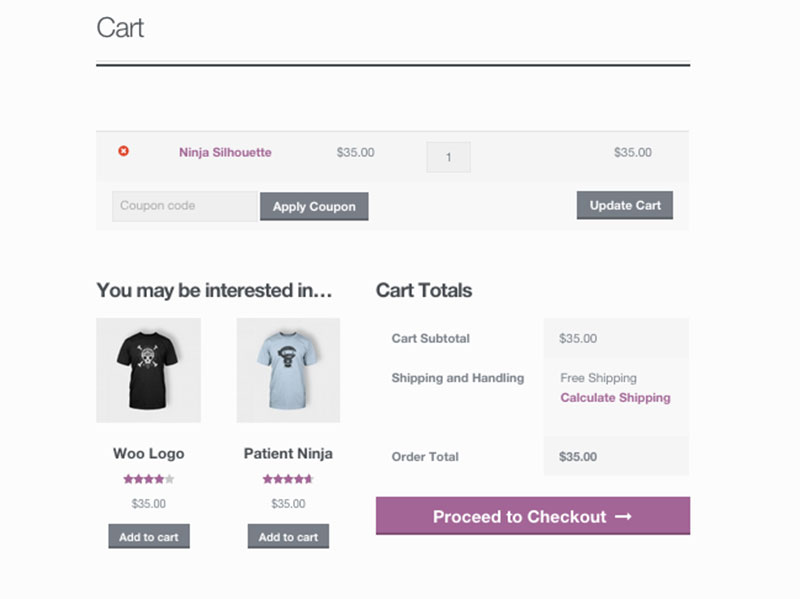 Cross-selling involves suggesting products in addition to those selected by the customer. For example, if they are buying a mobile phone, recommend a phone case as a cross-sell. The buyer should feel that the recommended item complements the product in the cart. Combining them will improve his user experience.
Some typical cross-selling techniques include:
Offering additional services or related products. For instance, if you sell software consider offering a customer assistance service.
Provide complementary items. Amazon uses this method often in their "Frequently bought together" section. An example could be bundling the content and design of an ebook.
Woocomerce cross-sells set up

To add cross-sells to your products, follow the same steps as with up-sells.
Go to WooCommerce > Products and select the product on which to show a cross-sell.
Scroll down to the Product Data panel.
Select the Linked Products tab on the left menu.
Add the product you wish to link to by searching for it.
Update.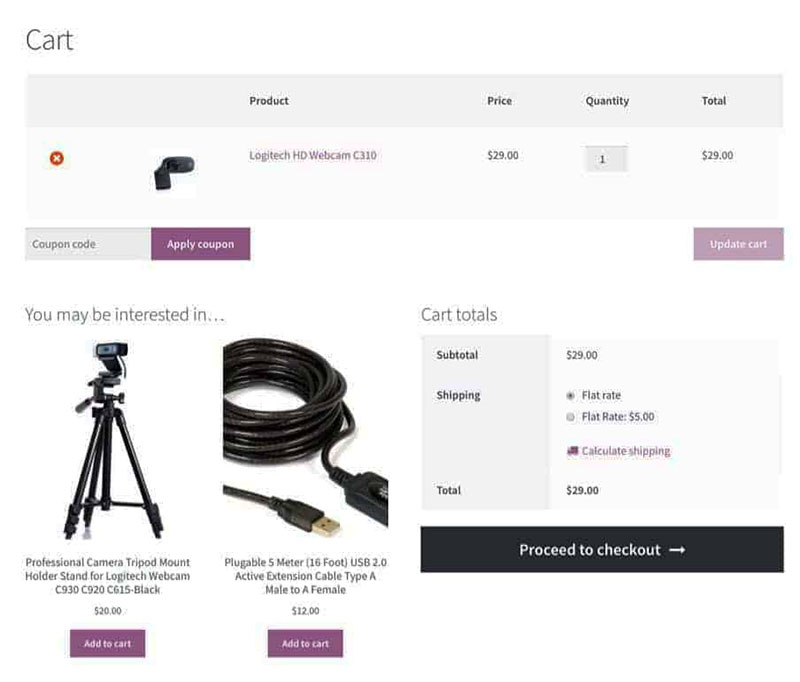 Both up-sells and cross-sells will need to be products already listed in your store. Cross-sell products are promoted on the product page or in the cart during checkout. When the customer adds this product to the cart, all cross-sells will be displayed on the cart page. You can also combine the cross-sells with a rewards solution so that your customers will be more inclined to add them to their cart.
Product recommendation- how to choose the right products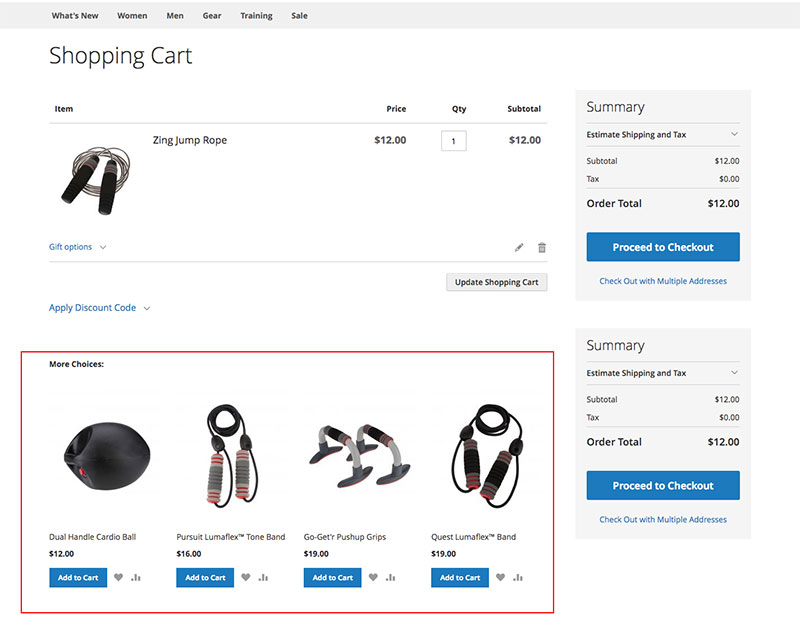 Without a doubt, product recommendations can be effective. These marketing techniques work and can benefit any online store, but there are a few things to keep in mind.
When choosing items for related products, up-sell, and cross-sell strategies, follow these steps:
Pinpoint the interests of the buyers
Test the product strategy well
Choose cross-sell products with care
Ensure the cross-sell products are applicable and relevant
Keep the cross-sell products at a lower price
Sell complementary products
Avoid having too many cross-sell options
Present the value proposition efficiently
Use customer testimonials and reviews
FAQs about WooCommerce-related products
1. What is WooCommerce and how does it work?
With the well-known open-source WooCommerce e-commerce platform, users may create and manage an online store on WordPress websites. It offers a number of capabilities, including product administration, order tracking, interaction with payment gateways, and delivery choices.
With WooCommerce, customers may customize the appearance and feel of their store and add extra functionality as needed by expanding the capability of WordPress through the use of plugins and themes.
2. Can WooCommerce be used to sell both physical and digital products?
Indeed, WooCommerce allows for the selling of both tangible goods and digital ones. It offers a variety of shipping alternatives for physical goods and integration with well-known shipping companies. It enables the production and distribution of digital downloads for things like software, ebooks, and music files.
3. What are some of the key features of WooCommerce?
Product management, order management, payment gateway connection, shipping options, tax calculation, and storefront customization are a few of WooCommerce's important features. Moreover, it gives customers access to a huge selection of plugins and extensions, enabling them to add other services like subscriptions, memberships, and bookings.
4. How do I install and set up WooCommerce on my website?
Users can go to the WordPress dashboard and look for the WooCommerce plugin to install and set up WooCommerce. After installation, customers can utilize the setup wizard to add products, set up payment and delivery options, and modify the shop settings.
5. What payment gateways are supported by WooCommerce?
Payment gateways supported by WooCommerce include PayPal, Stripe, Square, Amazon Pay, and many more. Customers can tailor their checkout process by selecting from a range of payment alternatives, including credit cards, debit cards, and online payments.
6. What shipping options are available with WooCommerce?
A number of shipping options are available with WooCommerce, including flat-rate shipping, free delivery, in-person pickup, and international shipping. Also, users can compute shipping costs and print shipping labels straight from the store dashboard thanks to the interaction with well-known shipping providers like UPS, FedEx, and USPS.
7. How can I customize the look and feel of my WooCommerce store?
By selecting from a variety of themes and templates or by building their own using HTML, CSS, and JavaScript, users can alter the look and feel of their WooCommerce store. Users can also add extra functionality, including product filters, search options, and social media integration, using plugins and extensions.
8. Is it possible to integrate third-party tools and services with WooCommerce?
Yes, WooCommerce gives consumers access to a variety of extensions and plugins from third parties, enabling users to interact with services and tools including email marketing systems, accounting programs, and analytics tools. Additionally, it has a strong API that enables developers to create specific integrations as needed.
9. What kind of support and documentation is available for WooCommerce?
On its website, WooCommerce offers a variety of tutorials, user guides, documentation, and access to a sizable user and developer community that may offer assistance and support. Users can also employ developers to provide specialized help or buy support packages from WooCommerce.
10. How can I optimize my WooCommerce store for better performance and user experience?
Users can apply best practices like image optimization, caching, and minifying CSS and JavaScript files to a WooCommerce store to improve performance and user experience.
Also, they can select a trustworthy hosting company, utilize a content delivery network (CDN), and periodically check and improve the speed and functionality of their website. To enhance user experience and increase revenue, they can also integrate features like product reviews, upselling, and cross-selling.
Ending thoughts on WooCommerce related products, up-sells, cross-sells options
When it comes to eCommerce, the WooCommerce platform is a great option. It offers many useful built-in features that are free. A range of modestly-priced extensions is available that can widen the possibilities even further. For those familiar with WordPress it is easy to navigate.
It's important to mention that cross-sell products won't be displayed for every item added to the shopping cart.
With up-selling or cross-selling techniques, it's possible to follow-up after the purchase. Many online merchants utilize thank you pages, receipts, coupons for repeated orders, follow up emails, and gift cards, or they may opt to purchase additional products (cross-sell) as thank you gifts. Take advantage of all these options and find the one that works best for you and your customers.
If you enjoyed reading this article on how to set WooCommerce related products, you should check out this one about WooCommerce variable product.
We also wrote about a few related subjects like WooCommerce grouped product, how to set up WooCommerce test mode, WooCommerce redirect after checkout, WooCommerce appointments plugins, WooCommerce product variations, how to export export WooCommerce orders, how to change the WooCommerce number of products per page, WooCommerce hide category from shop page and the best WooCommerce extra product options.