A WordPress table generator is a great tool that helps to enhance the readability of a site. Displaying content well leads to a faster connection with the audience. The information presented on the page should be easy to understand.
Some content can be better understood in a table format. This may include a list of products, interesting statistics, or data comparisons.
This visual aid is an important tool and is not only for e-commerce platforms. Many blogs can also benefit from using tables and improving their readability.
Embedding a formatted table onto a platform is easy if using a WordPress table generator plugin. There are many options to choose from.
Before deciding which plugin to use, think about the required features and functions. Then compare the requirements with the offers on the market.
Here is a review of some of the most efficient WordPress table generators and their functions.
The best WordPress Table Generator Plugins
1. wpDataTables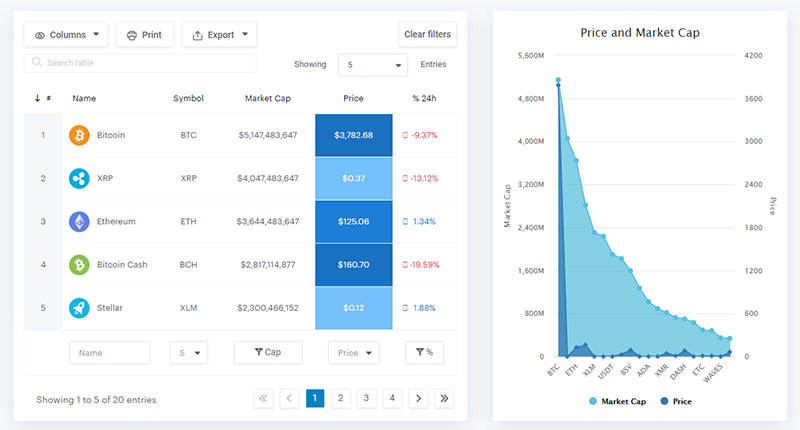 WpDataTables works with any WordPress Theme. It is one of the most popular WordPress Excel-style table generators. It comes in two versions: Lite and Premium.
One of its benefits is the quick and easy setup process. It's user-friendly, so previous coding experience isn't necessary to use this plugin.
It allows users to create dynamic and customizable tables. It can merge cells, add star ratings, and style each individual cell.
Other functions enable the adding and removing of columns and rows, and resizing them. The formatting customization includes changing the color, inserting a company logo, and more.
The Undo/Redo feature is also very useful when creating a personalized table.
The generator offers custom links and custom HTML. It supports Excel, CSV, JSON, XML, and serialized PHP arrays.
The Lite version comes with documentation and tutorials. But there is a maximum limit of 150 rows per table. It also does not allow users to create a table manually.
The Premium version offers additional features that enable users to design highly responsive tables. These features include multiple database support and advanced filters.
It is worth trying the free plugin with all its features first. If it's discovered that the advanced functions are necessary, then opt for the Premium version.
The team and support are professional.
Key features:
Responsive tables by default
Flexible and customizable
Excel-like interface
Advanced filtering
Inline table editing
Visitors filter tables on a per-column basis
Visitors can edit their own rows
Conditional formatting, formulas, and more
Calculation functions
2. Ninja Tables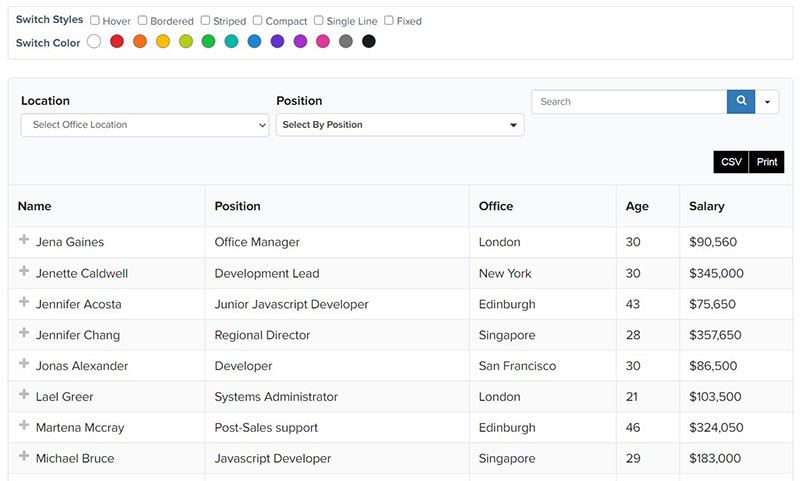 Ninja Tables plugin is a table generator that offers multi-platform integration. It is available in a free and premium version.
It is user-friendly and suitable for any kind of WordPress table.
Unlike wpDataTables, it doesn't use an Excel-style editor. Data is added using a popup.
Users can create a bordered table, striped rows, and even a more compact table. There are many built-in style options featuring drag & drop rows and field types.
The plugin includes frontend editing and WP posts features. It also offers media integration.
Users can import data from CSV or JSON files and also Google Sheets. Customize the table by utilizing color formatting and other options.
It produces tables that display well on any screen size.
Key features:
User-friendly interface
Fully responsive
Import and export from various file formats
Easy copy and duplicate function
Simple paging
Add media
Search functions
SEO friendly
3. Table Sorter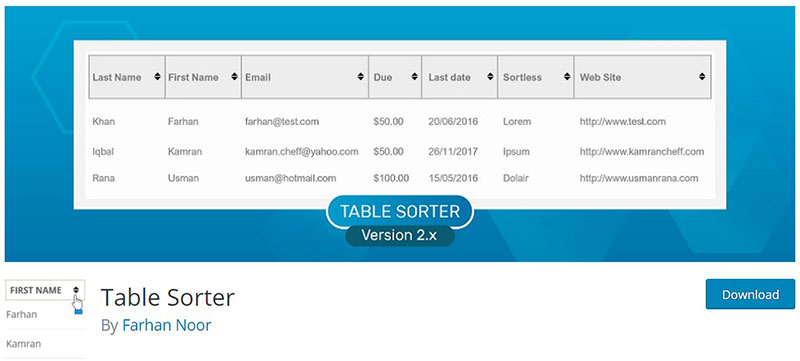 This plugin can change standard HTML tables into sortable tables without page refresh. Use it for any table coded in the WP theme file or created from the WP editor.
The editing options include background and font color customization, text width, and more.
Key features:
Multi-column sorting option
Disable sorting from particular column(s)
Sort multiple columns simultaneously
Cross-browser support
4. Data Tables Generator by Supsystic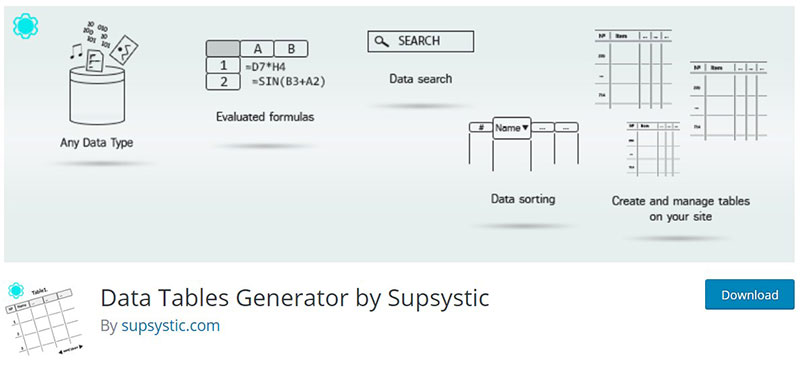 Another plugin that assists with embedding tables on a website is the Data Tables Generator by Supsystic.
This generator offers features such as pagination, searching, filtering, sorting, and more. The tables are responsive, so it optimizes the table layout for any screen size.
It comes with the options of unlimited rows, merging cells, and data formatting. It is available as a free version, or buy the premium version for additional functions.
The Pro version includes diagrams, charts and graphs function, frontend editing, and more.
Key features:
Data sorting
Data search
Calculation functions
Evaluated formulas
Formulas and HTML support
Images, Links & Video support
Responsive modes
Font style customization
Font and background color options
Table export and import from CSV, Excel, PDF, Google Sheets (Pro version)
Table Caption, Header, Footer features
User-friendly
SEO-friendly
5. WP Table Builder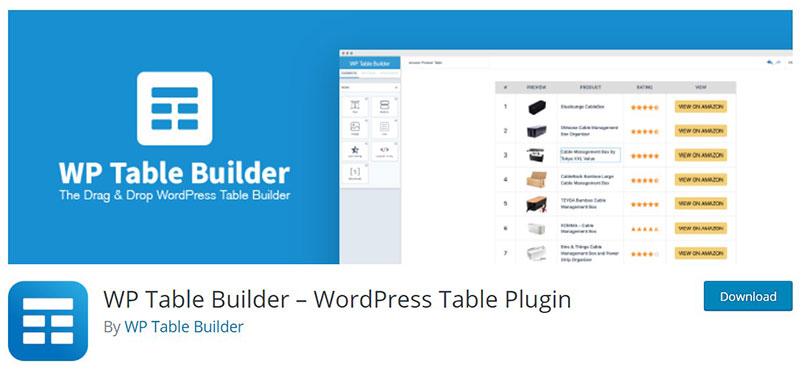 For users creating small tables, the WP Table Builder could prove to be the right tool. It is suitable for sites that include pricing tables, list tables, or comparison tables.
The plugin is intuitive and simple to use, and comes with the drag & drop feature for easy design.
Users can add images and star ratings in a table. It also supports custom HTML and shortcode.
WP Table Builder enables users to edit cells by adding a new row or new column, merging and splitting cells, and more.
Import tables from CSV or XML files, and from the TablePress plugin. It can also export CSV or XML files.
Key features:
Optional manual class
Multi-options pagination
Text messaging function
Ordering system based on alphabetical and numerical
HTML support
Responsive tables
6. Ultimate Tables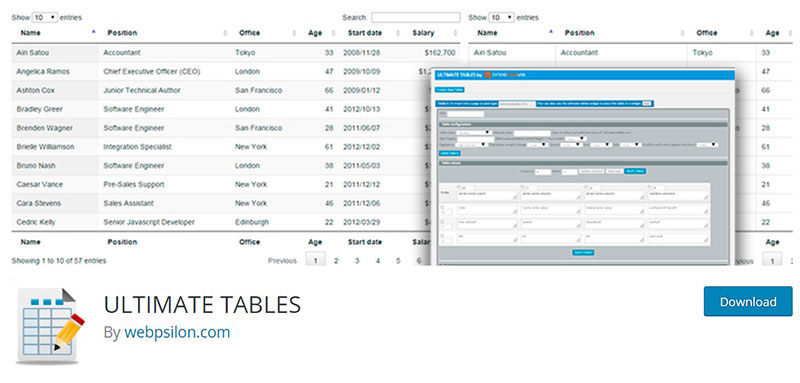 With Ultimate Tables, it's possible to embed one or more tables into a site, post, or article. They are straightforward and can improve the readability of the content.
The generated table can be customized by adding or removing rows and columns. Users can also reorder and delete an existing table.
There are 3 default designs. The tables support HTML code and shortcodes.
This plugin doesn't allow the importing and exporting of data.
The plugin receives regular updates.
Key features
Search option
Alphabetical and numerical order
Pagination with multiple options
Optional manual class
Configurable width and height
Information on several rows and items
7. Magic Liquidizer Responsive Table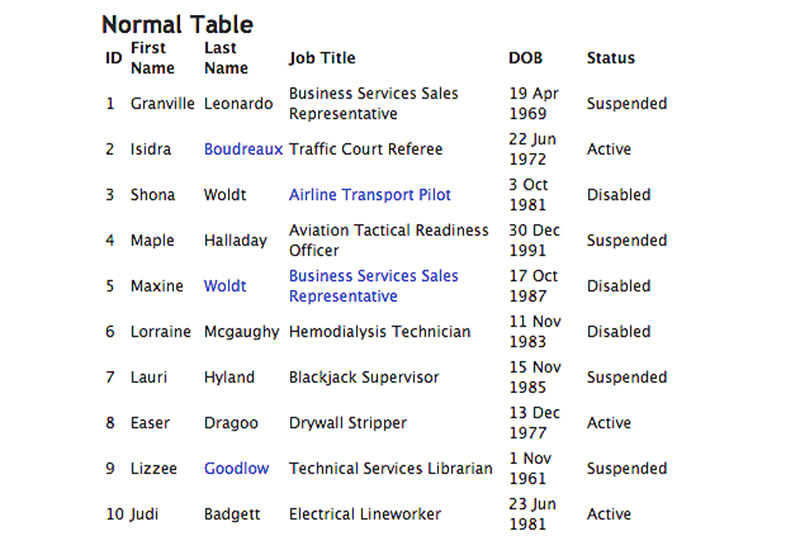 This WordPress table generator has been rated as simple and very efficient. Users appreciate it especially for responsive tables on mobile devices.
Viewing tables on small screens can create problems. With this plugin, the table layout adapts to the screen size.
This function is applied to images, texts, forms, tables, navigation menus, and other HTML elements. It also works well with WooCommerce.
The free plugin comes with the basic features included. Setup is easy to accomplish.
The premium option offers additional benefits. These include advanced SEO features, navigation custom media queries, and more.
Key features
Responsive design
Good developer support
Landscape and portrait view
User-friendly
8. CSS3 Responsive Tables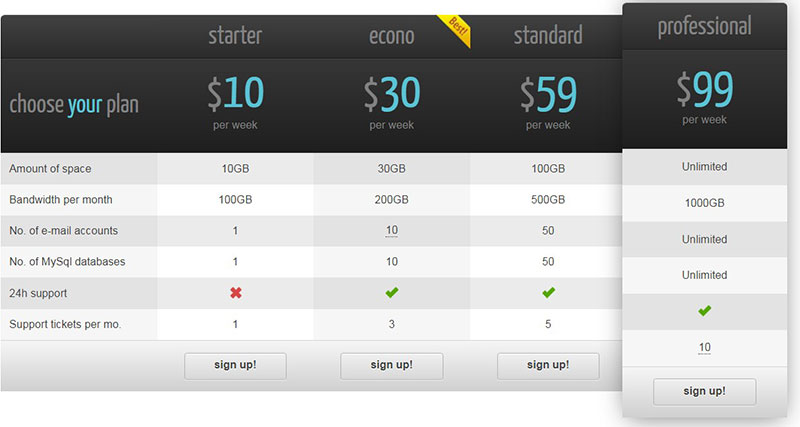 CSS3 Responsive Tables plugin is a great option for pricing tables. It comes with 2 table styles and 20 color versions. It features an intuitive admin panel and different hover styles.
The table editing features include unlimited rows and columns, and active and sliding columns. There are also table cell tooltips, 60 columns ribbons, 42 tick/cross icons, and more.
The design is cross-browser compatible and the plugin is easy to use. It features shortcode import and is highly customizable.
The support team has also received very good reviews.
Key features
Unlimited number of tables on the website
Pure CSS + HTML
Font configuration
Quick Disable/Hide one or many columns from the admin panel
Expandable rows
Documentation
9. Posts Table Pro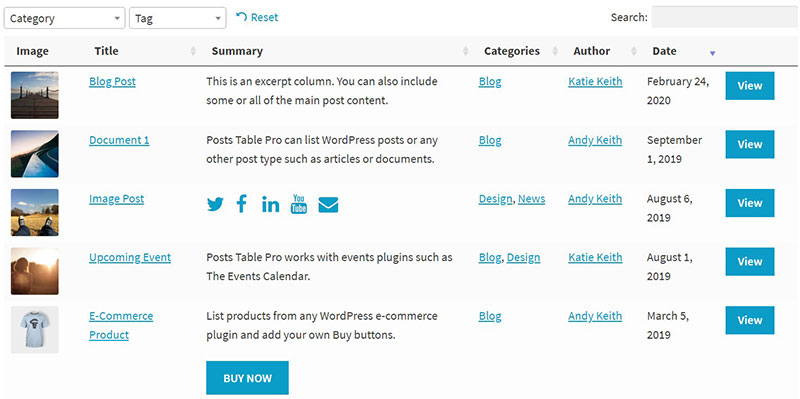 To create personalized tables another option is the Posts Table Pro plugin. It's a user-friendly generator for anyone without experience in coding.
It allows users to make a document library, member directory, music library, or list upcoming events.
The tables have search, sort, and filter functions. The importable data includes posts, pages, and products. List the table content by category, tag, post type, author, and more.
The plugin also has full media support for audio and video file uploads.
Key features:
Dynamic tables
Shortcode support
Pagination
Full media support
Search by keyword, sortable columns, or filters
Multiple plugins integration
Easy to set up
High customization
Fully responsive
Great developer support
10. League Table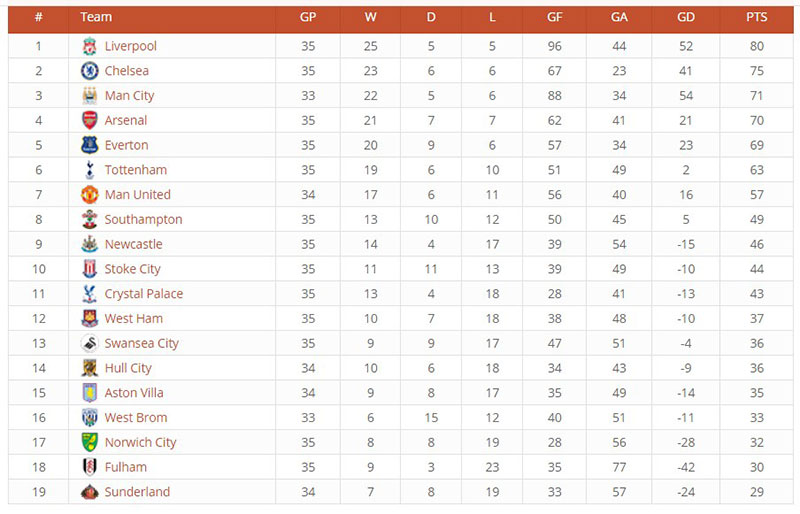 League Table is a highly customizable WordPress table generator with a spreadsheet editor. It can import data from MS Excel, OpenOffice, LibreOffice, and Google Sheets.
It comes with 135 customizable options and is user-friendly. Users can insert images into the table and change its color and fonts.
It is fully responsive, so the tables will adapt to various screen sizes.
The tables can be embedded in posts, pages, custom post types, and more. They offer a multi-column sorting mode.
Key features:
105 options per table, 17 per cell, 13 general options
Cell properties
Mathematical formulas support
Custom HTML support
Shortcode support
Archive tables as XML files
Multisite ready
Multi-language ready
Great technical support
User-friendly
An alternative to this one would be to just use wpDataTables. We built the Premier League table with wpDataTables and it looks stellar.
11. JTRT Responsive Tables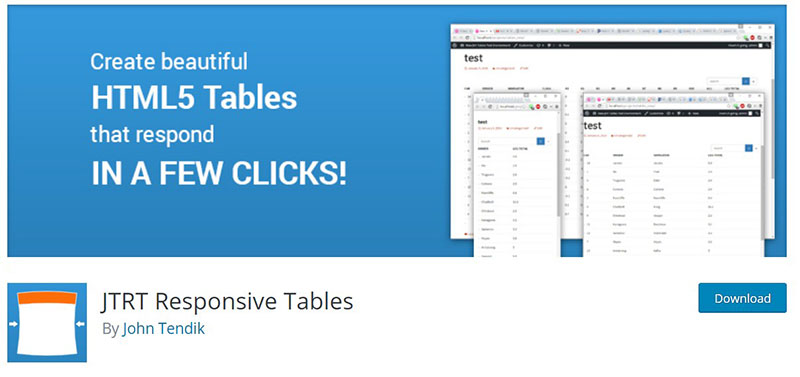 JTRT Responsive Tables is a generator for a quick HTML table design. It can turn Excel CSV data into responsive HTML.
There are 5 custom responsive breakpoint sizes. The plugin enables users to insert links and images into the table.
It comes with a custom shortcode and multiple tables per page support. Users can also personalize the cell borders, alignment, and fonts.
Key features:
Sorting by column headers
Filter function
Search function
Undo/Redo
HTML, images, and shortcodes cell support
3 responsive types
Multiselect cells function
Multi-edit cells option
Backend editing
High customization
Easy to use
Custom breakpoints for each table
Pagination
Custom hover highlight color for rows/columns
Fully responsive
12. Tablenator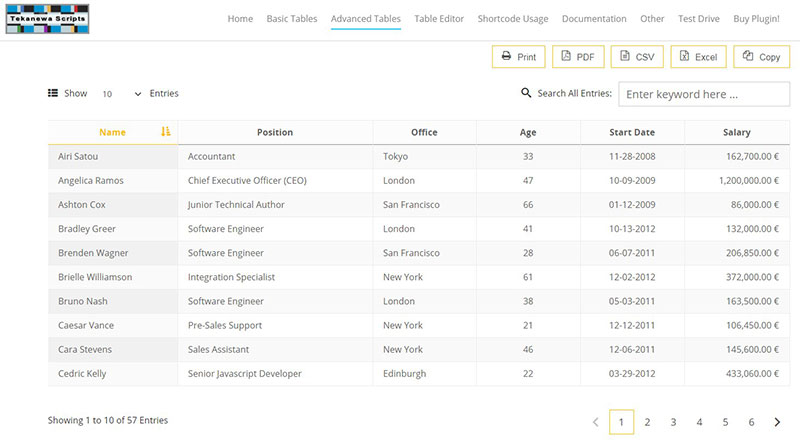 Tablenator is a WordPress & WP Bakery table builder that requires no coding skills. It's easy to set up and is customizable.
It features an Excel-style editor. Users can add new rows and columns, change the background color, edit text, and add images. The plugin has a multi-cell selection function which makes editing easy and quick.
There is a shortcode generator, so users can insert a table even where Visual Composer is not active. It can import data from CSV or TXT files and export it in TXT format.
It comes with pagination, search option, sorting functions, and more. The table layouts are responsive and adapt to different screen sizes.
Key features:
Fully responsive
User-friendly
Interactive tables
Spreadsheet-like editor
Shortcode support
Pagination
Multi-cell selection
Search function
13. Easy Pricing Tables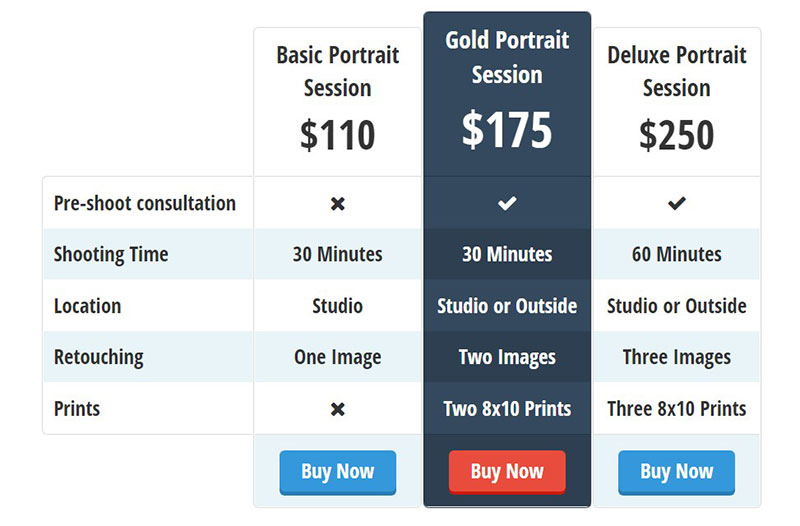 Easy Pricing Tables is a great option for those needing to add a pricing table to their e-commerce site. This can be done in a few clicks.
It includes 10 fully customizable templates. They all are responsive and adapt to different screen sizes.
Users can edit colors, text, feature bullets, and pricing options. It enables toggle and tooltip customization for adding extra information.
The Advanced Pricing Toggles option allows users to display prices in different currencies. It can also show other pricing options, such as monthly and yearly plans.
The tables integrate with PayPal and Stripe. This means that the pricing table takes site visitors to the checkout.
Key features:
Easy to set up and use
Fully responsive on various screen sizes
10 customizable templates
WooCommerce integration
Easy Digital Downloads support
Stripe and PayPal integration
14. WooCommerce Product Table Lite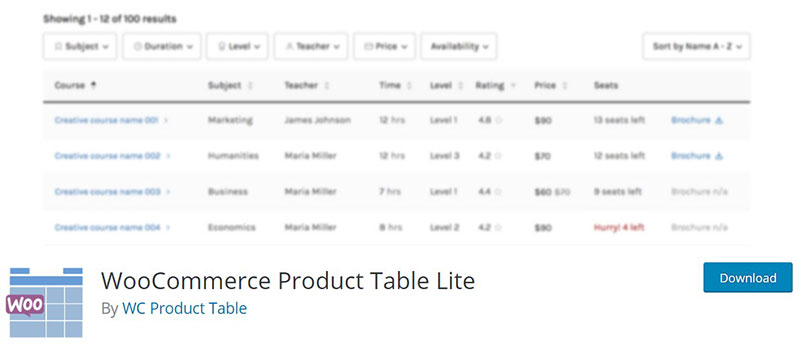 This works well for restaurants, takeaway menus, audio shops, spare parts, and other similar e-commerce sites.
This tool can help to make a Woo-commerce site more user-friendly. It has received high reviews from users.
This plugin is an intuitive editor that offers a responsive layout. Customers can view tables on any screen size.
It creates professional-looking and customizable tables. The generator comes in a lite version and a pro version which includes more advanced options.
An important and useful function is entering rows within columns. This helps to create a more complex table layout for products with many variations.
The Product Table is full of features, very intuitive, and easy to work with. It has excellent documentation. There are also tutorials that provide step by step guidance.
Customer technical support has also received high reviews from users.
Key features:
User-friendly
Shortcode support
Fully responsive layout
Excellent documentation
Rows within columns option
A popup for product variations
Great technical support
Complex table layout
15. Visualizer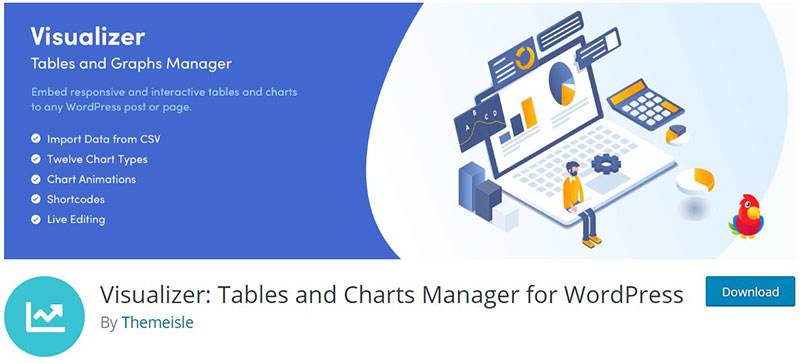 Visualizer is a table and graphs manager. It is useful for converting data into interactive and responsive tables and charts.
It includes multiple chart types and a chart animations function. The free version offers line charts, area charts, bar charts, column charts, pie charts, geo charts, table charts, bubble charts, and scatter charts.
The tables are customizable and responsive. They come with sorting and search functions, pagination, and more.
The pro version includes additional chart types. It has an Excel-style editor and the ability to import from other databases.
It allows visitors to edit charts and users can create charts from their posts, pages, and products. It also offers cross-browser compatibility.
Key features:
Charts and tables personalization
Fully responsive
Sorting function
Search function
Pagination
Chart animation
16. TablePress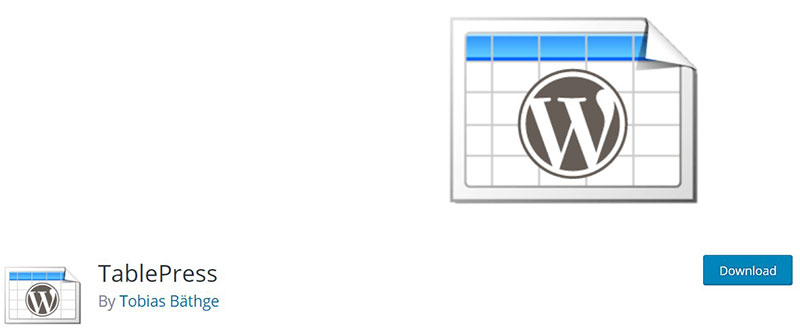 TablePress is a free WordPress table generator that offers an Excel-like editor. It's easy to use even for beginners.
Users can create tables and use the shortcode generator to insert them into posts, pages, or text widgets. The design is responsive, so it adapts the table layout to the screen size.
It offers many features for customization including sorting, filtering, pagination, formulas, and more.
The plugin supports Excel, CSV, HTML, and JSON files for both import and export. It includes a large selection of extensions and is compatible with other plugins.
The technical support is reliable and always helpful.
Key features:
Responsive tables
HTML support
Shortcode support
Search option
Table row ordering
Row filtering
Caption, Header, Footer support
Highly customizable
Spreadsheet-style editor
Intuitive
User-friendly
Excel, CSV, HTML, and JSON files for import and export
17. TableGen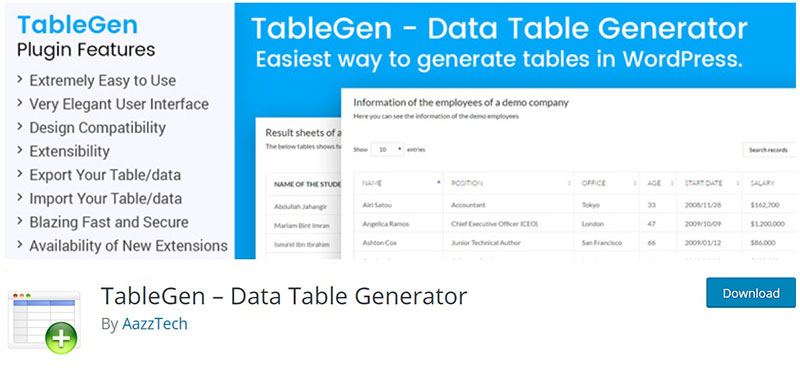 TableGen WordPress plugin is a free table generator. It's very easy to set up and comes with an elegant user interface.
It is fully equipped for interactive table design. It offers sorting, pagination, table width modification, search option, and more. By generating a unique shortcode users can embed the table in their posts and pages.
It supports CSV files for both import and export. The extensions enable JSON, Zip, CSV, HTML, XLS, and other formats for import.
However, users can't insert links or images into the table, and it doesn't come with styling options.
Key features:
Design compatibility
Extensibility
Import from Google Sheets, MS Excel
Export in CSV format
User-friendly
Small size
Regular updates
Fast and secure
FAQ about WordPress table generators
What are the best WordPress table generator plugins?
Well, you see, there are quite a few table generator plugins for WordPress that I'd say are great. My top choices would be:
wpDataTables: This one's perfect for handling large datasets and interactive tables.
TablePress: It's user-friendly and super versatile.
Ninja Tables: A fantastic option with loads of customization features.
Visualizer: Cool for creating responsive and interactive tables.
Can I create responsive tables with these plugins?
Absolutely! These plugins are all about making your tables look good on any device. Most of them, like TablePress, wpDataTables, and Ninja Tables, have options to create responsive tables. You can adjust settings to make sure your tables adapt to different screen sizes, ensuring a smooth experience for your visitors.
Do I need coding skills to use WordPress table generator plugins?
No worries there, buddy! You don't need any coding skills to use these plugins. Most of them have a simple drag-and-drop interface or user-friendly options to create and customize tables. So, whether you're a beginner or an experienced WordPress user, you'll find it easy to create tables with these plugins.
Are these plugins compatible with page builders?
You bet! Most table generator plugins play well with popular page builders like Elementor, Divi, or Beaver Builder. Some of them even have dedicated add-ons or integrations, making it super simple to embed tables in your pages using your favorite page builder.
How do I import data into my tables?
Well, that's a piece of cake! These plugins offer different ways to import data. You can either copy and paste data from Excel, CSV, or Google Sheets, or you can upload a file. Some plugins like wpDataTables even let you connect to external databases or APIs to pull data automatically.
Can I add media to my tables?
Totally! Many WordPress table generator plugins allow you to add images, videos, or even audio files to your tables. Some plugins might need a bit of customization, but overall, it's quite simple to add media content to your tables and make them more engaging.
Can I sort, filter, and paginate my tables?
Oh, for sure! Sorting, filtering, and pagination are essential features of any good table plugin. Most of the popular table generators for WordPress, like TablePress, wpDataTables, and Ninja Tables, offer these functionalities. They let your visitors interact with the table data, making it easier to find the information they need.
Are these table generator plugins SEO-friendly?
Yes, indeed! Many table generator plugins are designed with SEO in mind. They generate tables with proper HTML structure and use schema markup when necessary, ensuring search engines can easily crawl and understand your table content. So, you can rest assured that using these plugins won't hurt your site's SEO.
Can I customize the design of my tables?
Of course! Customizing the design of your tables is a breeze with these plugins. Most of them offer a variety of styling options, like changing colors, fonts, and borders. Some even have pre-designed templates you can choose from. You can create tables that perfectly match your website's design and branding.
Are these plugins regularly updated and well-supported?
Definitely! The plugins I mentioned earlier, like TablePress, wpDataTables, and Ninja Tables, are well-maintained and regularly updated by their developers. They also offer solid support, so if you run into any issues or need help, you can always reach out to their support teams. Just make sure you choose a reputable plugin, and you'll be in good hands.
Ending thoughts on these WordPress table generators
Tables are an important design feature not only for e-commerce sites. They are also useful for document libraries, member directories, music libraries, or lists of upcoming events.
Embedding a table and displaying content in a more readable way has become easier than ever. This is due to the wide selection of table generator plugins available.
Before choosing the one that works best for you, think about the functions that you need.
Many table generators offer basic features and that may be enough for the chosen design.
If a more advanced table generator that creates highly customizable tables is needed, then check the extra features that the plugins offer.
If you enjoyed reading this article on WordPress table generator plugins, you should check out this one about JavaScript table library.
We also wrote about a few related subjects like DataTables alternative, how to create the Premier League table, WordPress table plugins, how to create a table in WordPress without plugin, how to insert a table in WordPress and WordPress pricing table plugins.