When designing a WordPress website, there are many points to consider. Some are obvious, such as using catalogs or lists to display information, or utilizing plugins to create a dynamic webspace. However, some are more subtle, so it's easy to ignore them, but they must not be omitted. An example is starting the footer of your website, and fortunately, there are some built-in WordPress footer plugins for this task.
Why Use a WordPress Footer Plugin?
Some web creators choose to omit adding a footer, as they mistakenly believe that most visitors ignore it. However, while it is true that conversion and interaction rates with footers are lower than elsewhere on webpages, they can be useful tools.
Many savvy web designers use footers to:
Link important posts
Advertise
Add links to other pages or websites
Include legal and copyright information
It can be difficult to sift through the many available plugins to find the right one for your site, so in this article created by our team at wpDataTables lists the seventeen best WordPress footer plugins will help you utilize the space.
The Best WordPress Footer Plugins
1) Royal Footer Bar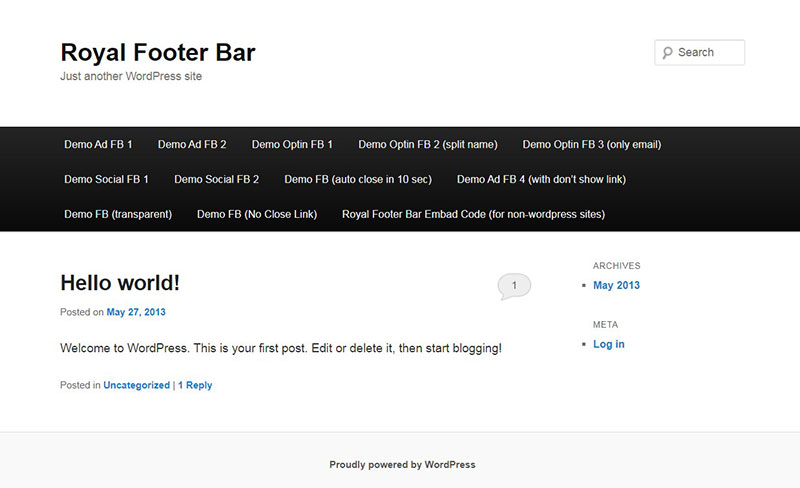 Royal Footer Bar allows you full customization over an email sign-up option. This collects a user's information so that you can contact them in the future to promote the purpose of your website The integration with email services such as MailChimp, AWeber, and GetResponse, makes the process simple and quick.
Building up a customer base is vital for a business, and this plugin helps you add useful tools to achieve your site goals, whether converting users into customers or gaining more subscribers.
2) Header and Footer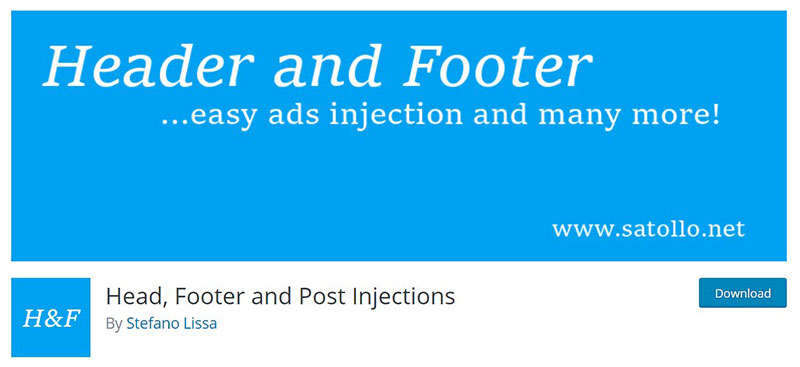 This plugin enables you to add verification codes for services such as Google Analytics, Alex, and Bing all in one place.
It allows you to copy the codes without modifying your theme,so you won't lose them in the future if you redesign your site. As a bonus, you are able to use the codes anywhere on your site, not just the header or footer.
3) Ultimate Footer Builder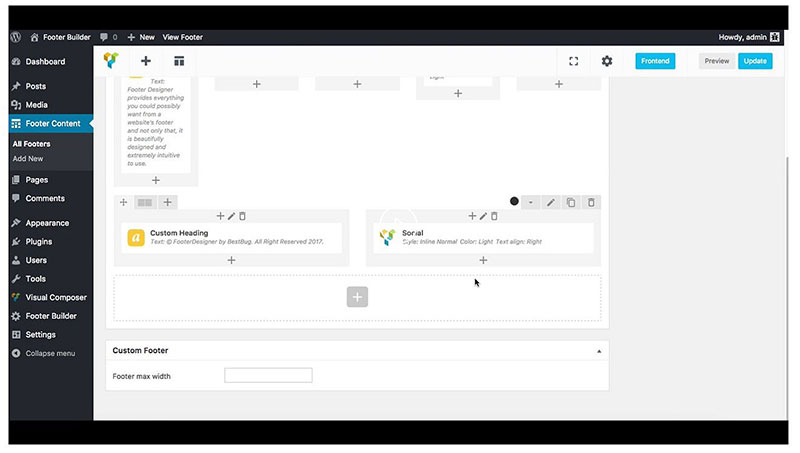 This plugin complements the popular Visual Composer WordPress plugin. It lets you create, optimize, and customize an unlimited amount of designs and layouts for your footer section. It is also compatible with every WordPress theme, so you can simply install it and go.
Responsiveness is its main focus so the load times of your website will be minimally affected.
4) HayyaBuild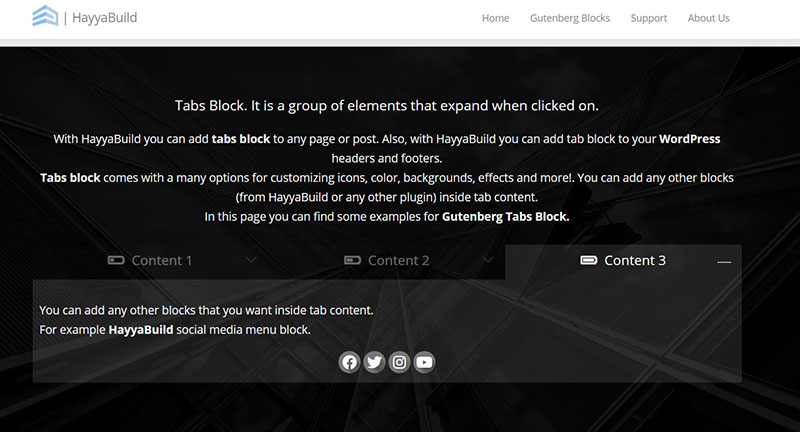 HayyaBuild is a useful all-in-one plugin, that lets you drag and drop footers directly onto your site. You can also create an unlimited number of shortcodes for your website's footer.
This plugin does not require any prior coding knowledge, so the process is very easy.
5) Head and Footer Scripts Inserter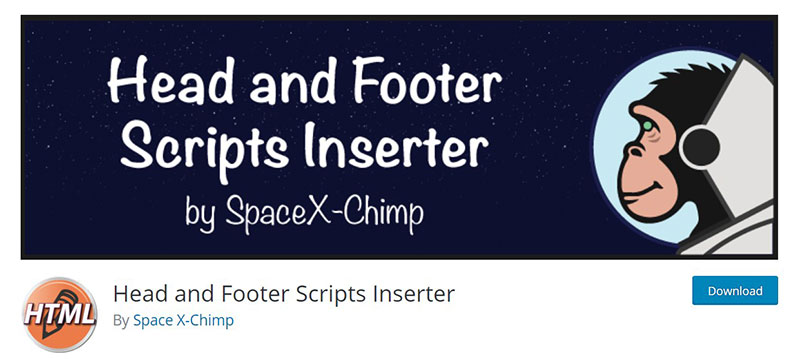 This powerful plugin lets you create and insert custom HTML codes with a third-party editor so your code will work forever, even if you redesign the site later on.
Bonus features include syntax highlighting, line numbering, and more.
6) Header and Footer Script Loader Plugin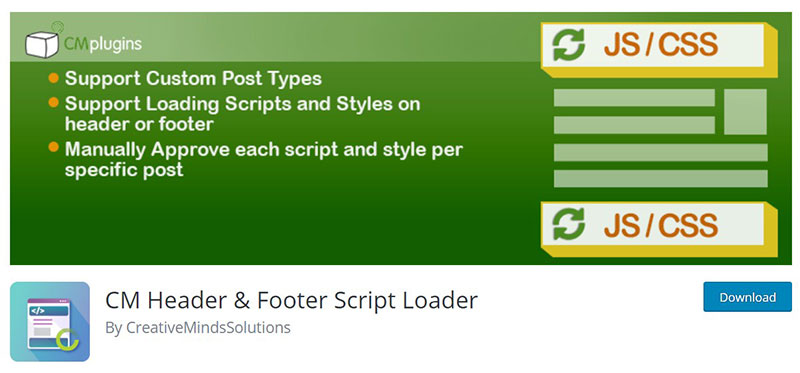 This handy plugin specializes in giving users control over all additional scripts in one place.
Designed by CreativeMinds, it allows you to load pre-made scripts and styles, giving full control over their placement and functionality. This plugin will help you to optimize your site for both desktop and mobile browsing, thus reducing load times by reducing the total number of scripts.
7) YITH Footer Banner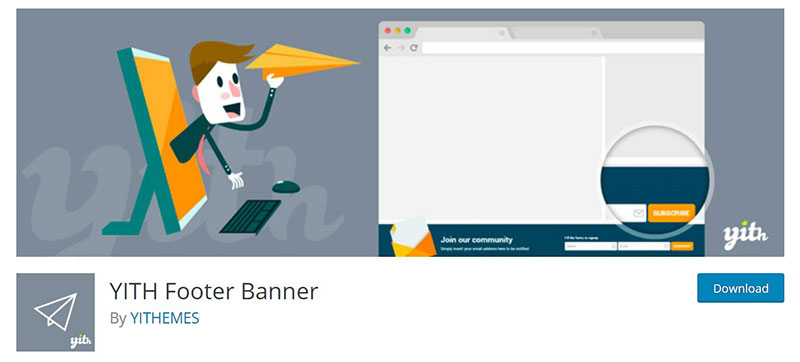 This free plugin gives you the power to fully customize your footer area, create advertisements, collect email information, and more.
The uncomplicated interface allows the user to easily customize their site.
8) Footer Mega Grid Columns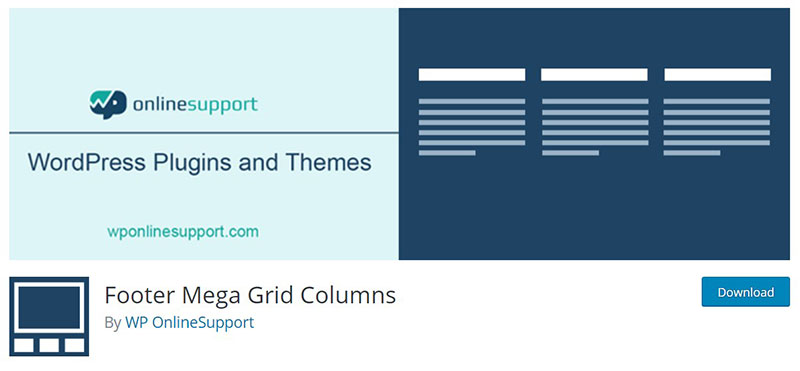 This plugin lets you create and add multi-column grids directly into the footer of your website. It lets you customize and adjust the number of columns, thus opening up many functionality options for your website that would not be otherwise possible.
9) StickyFooterNav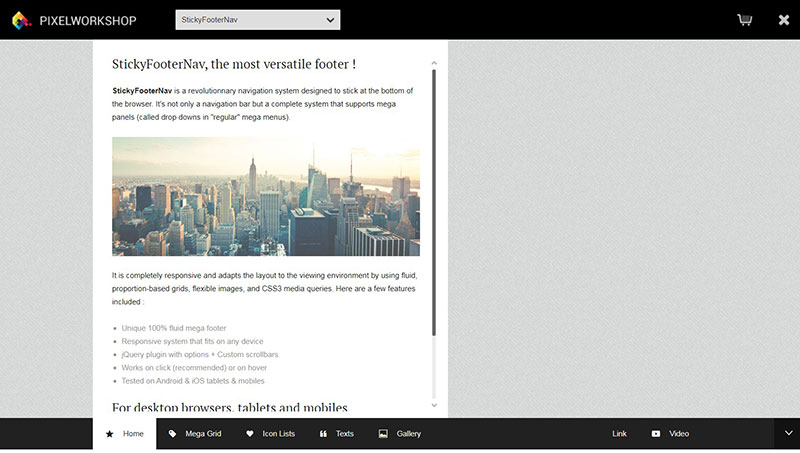 This WordPress footer plugin can help you create a useful menu in the footer section of your website.
StickyFooterNav is a deceptively simple plugin, offering the option to create a mega footer system with one hundred percent responsiveness rating, drop-down options, scrollbars, and much more.
10) Footr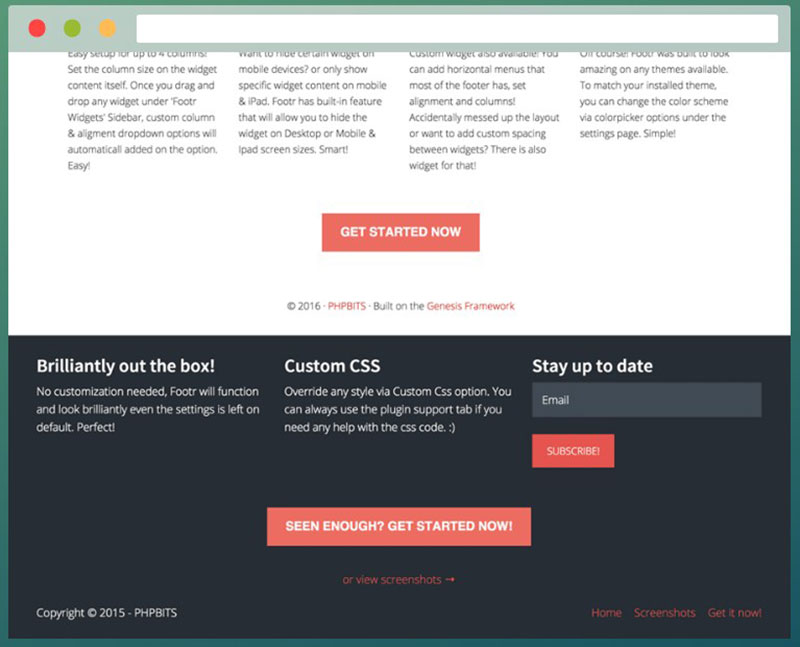 Footr lets you include a sticky footer at the bottom of your site. It will only appear when scrolling page scrolling, so your site appears clean and uncluttered.
This plugin also uses widgets, which are simple and useful tools that offer more functionality to your website, giving the users a dynamic, productive experience on your page.
11) Head, Footer and Post Injections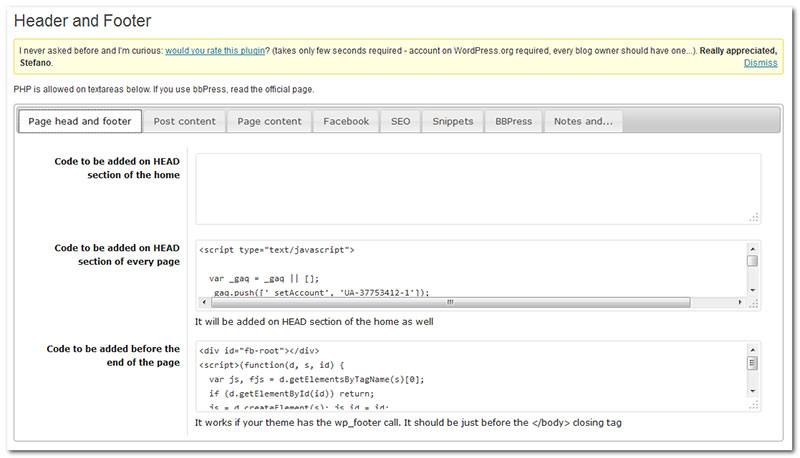 This plugin lets you add banners either over the content of a post or immediately after it. A banner allows you to communicate vital information to your visitors.
This plugin adds banners with ease, and you will not lose the associated code if you redesign your site in the future.
12) AddFunc Head and Footer Code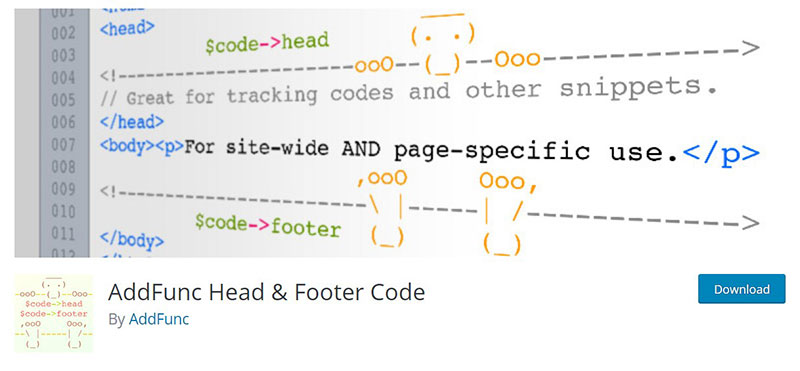 This free WordPress footer plugin is easy to install and lets you take full advantage of tracking services such as Google Analytics and Facebook Pixel tracking, by enabling you to add and edit code throughout your entire site, from posts to pages.
There is a great FAQ section and it offers fast updates to help maintain your website.
13) Monarch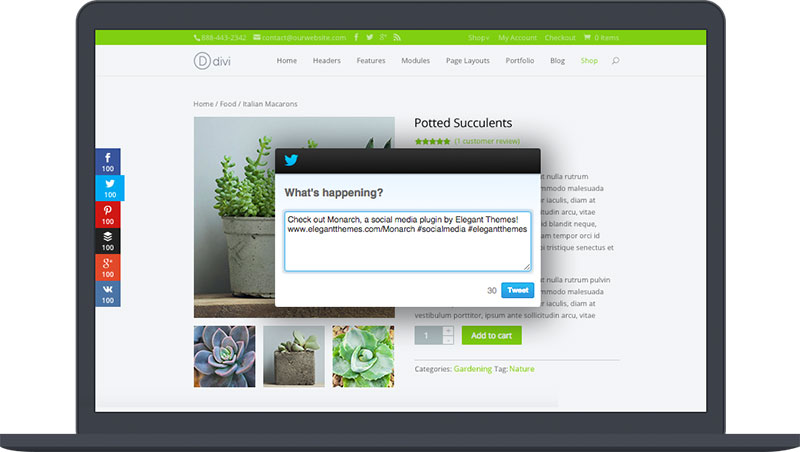 Monarch is a popular and respected plugin designed for social media integration, which is vital for any website, from business owners to hobbyists.
Using a simple interface, you can easily enable users to connect over social media as well as share your content across their own social network platforms. The plugin also offers you full control and many customization options.
14) Remove Footer Credit
While WordPress is a powerful website designing tool, it often leaves you with a WordPress brand stamped in the footer of your site.
This simple plugin gives you the option to remove this and replace it with whatever credit you like, or even to keep it blank. Often, the only way to do this is to go directly into the site code itself, a challenging task for those not accustomed to coding. This plugin bypasses this and allows anyone to access this option.
15) WP leFooter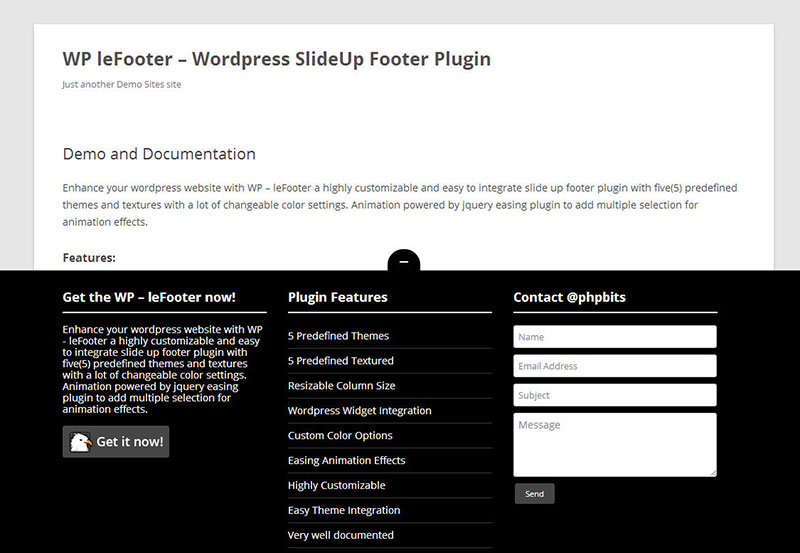 This WordPress footer plugin is rich in customization options, allowing you to make footers that slide up, so your site is more dynamic and potentially more functional.
There are five predefined themes, five textures, many color options, and simple integration with widgets.
16) Insert Headers and Footers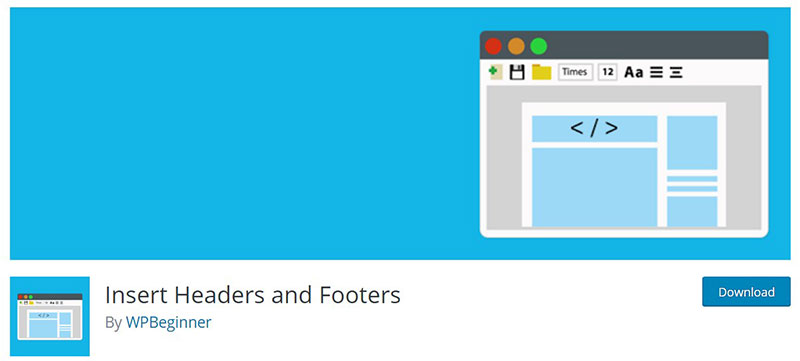 This useful plugin combines the functions of what would normally require two separate plugins. It lets you control the script or code of both the header and footer of your site, so you can easily add integrated functionality with Google Analytics, CSS, and more.
17) Beaver Builder Header Footer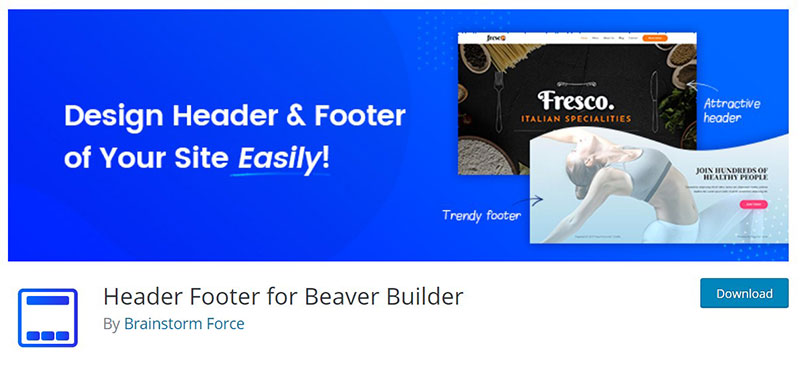 This plugin also enables you to customize the header and footer of your website simultaneously, by giving you control of the tools to design the header and footer and letting you show customized and well-designed pages and templates.
Which WordPress Footer Plugin to use? The Choice is Yours
Not only does a custom footer make your website look more professional, but it can also add functionality to your WordPress site. Whether you use it to help retain customers, as a menu space, or simply to show a custom site credit, it should not be omitted. An effective footer can mean the difference between a casual browser and a paying customer or client. Statistics also show that a well-designed footer can increase customer conversion and lower the bounce rate of your page.
All the plugins in this list all offer easy ways to edit your footer. Each one offers something slightly different, so it is important to consider the actual needs of your site.
After consideration, no doubt you will find a plugin from this list that suits your website. Thus you can take control of one of the most important, but often ignored, details of your WordPress site.
If you enjoyed reading this article about the best WordPress footer plugin options, you should read these as well: