Event planning is a big task and it's not easy to manage the guest list. Fortunately, handling RSVPs can be automated with the right WordPress plugin.
The RSVP plugins allow responses to your invitations to be accepted directly via your website. This article features some of the best RSVP plugins for WordPress, designed to manage events with ease.
This article created by our team at wpDataTables will discuss specific uses for WordPress RSVP plugins and look more closely at the following plugins:
Amelia
WPForms
Registrations for The Events Calendar
RSVP Maker
Event Tickets
Simple Calendar Plugin
RSVP and Wedding Invitation
Events Made Easy
WeddingPress
RSVP and Event Management
The Events Calendar with the Registration Plugin
RSVP Pro Plugin
Meetup Widgets Plugin
Amelia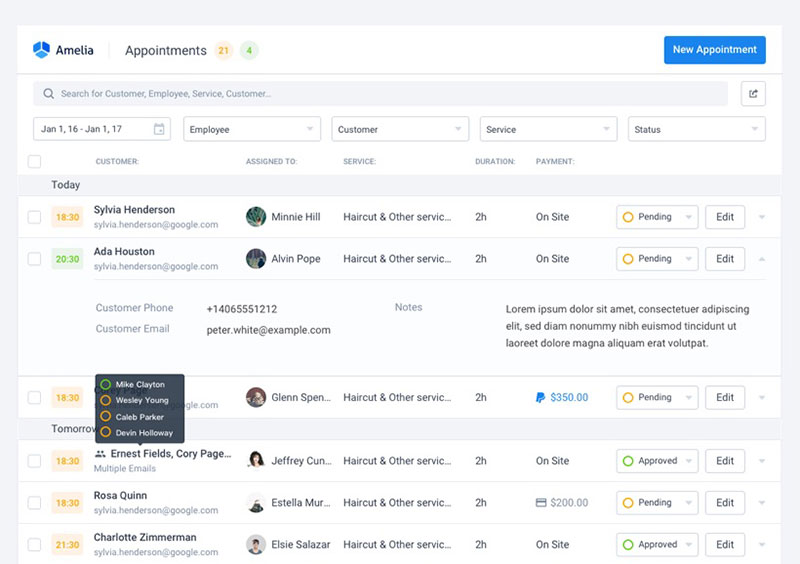 Amelia is a WordPress plugin designed to manage event bookings and appointments. Various post categories are also available for services, locations, and customers, which can be combined and organized in a booking calendar.
Event times may be varied to accommodate different time frames such as one-time, single-day, multi-day, or recurring, and you can manually enter the start and end time of the event. The administrator can also allow specified persons who will be attending the event to make bookings.
The plugin displays a beautifully designed user-interface and the calendars and booking forms are aesthetically pleasing. There is a premium version of Amelia available, which has extra features such as customized calendar designs to align with the theme of the event.
Amelia is one of the best premium calendar solutions on the market and a few features that set it apart from its competitors are:
Easy event management with shortcodes that place the event calendar on your website is available in both the free and paid versions.
The premium version facilitates recurring and multi-day events, as well as booking management with approval and rejection functions.
Email and SMS notifications are available in the free version. There are more comprehensive notification options available in the full version, such as reminders, follow-ups, birthday greetings, and many more.
Amelia is fully responsive.
Registrations for The Events Calendar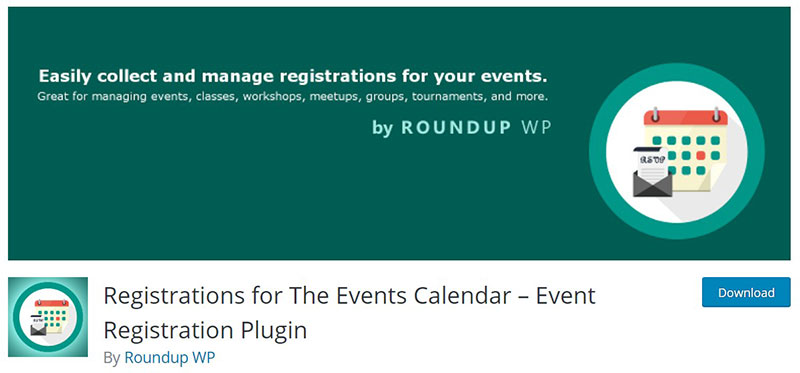 This free add-on is integrated into an existing parent plugin to enable RSVP functionality. The feature allows visitors to the event website to see an overview of the number of existing attendees, then confirm their own attendance by submitting a few personal details.
The plugin tailors RSVP forms to your event then sends an automated confirmation email to the guests with details of the event. Its customization capabilities enable it to create any type of form. The plugin also enables the administrator to view the list of confirmed attendees from the website dashboard.
RSVP Maker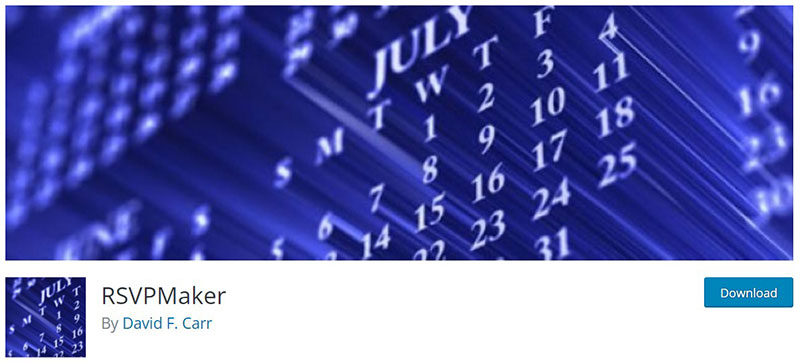 RSVP Maker allows guests to be easily registered for an event. You can also promote events and guests can register their companions as plus ones.
The plugin incorporates the Limited Time Gutenberg block, which is a system that permits the RSVP form to be available at specified times only. It is also integrated with MailChimp, so you can send correspondence to registered attendees of the event. Furthermore, this plugin has a free Excel extension that makes reports available for download in an easy-to-view, printable format.
Event Tickets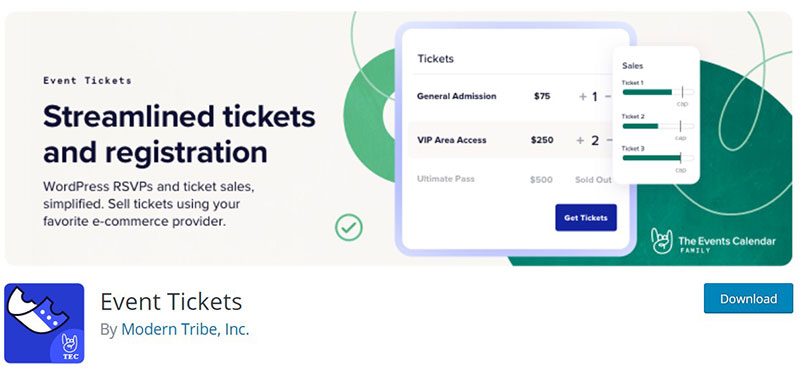 This WordPress plugin lets you create tickets for events, which can be added onto any post or page on WordPress. They can also be included in an RSVP function by selecting the relevant dates and leaving it open for guests to indicate their attendance.
The plugin can also be paired with another WordPress plugin called Events Calendar, where you can add the existing RSVP functionality directly to any posted event listings.
It is worth noting that once the form has been created, it will not be possible to add any additional fields to it.
Simple Calendar Plugin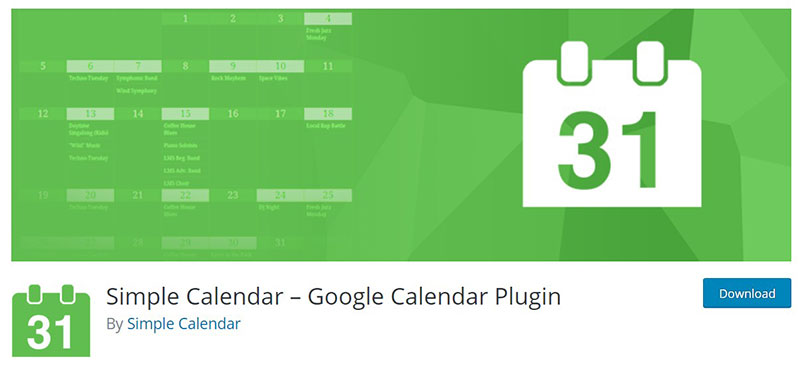 This plugin enables its user to integrate their Google Calendar events with WordPress. It is simple and easy to set up, and features a beautiful design.
Popular features of the plugin are:
Events from any public Google Calendar can be displayed.
The event management happens in Google Calendar, thus eliminating the need to create duplicate events in WordPress.
Fully responsive and mobile-friendly monthly grid and list views.
Combines multiple calendars into single displays.
This plugin is simple in its purpose. The user will not be able to create custom forms, ask for information, integrate an email list, or accept payments.
RSVP and Wedding Invitation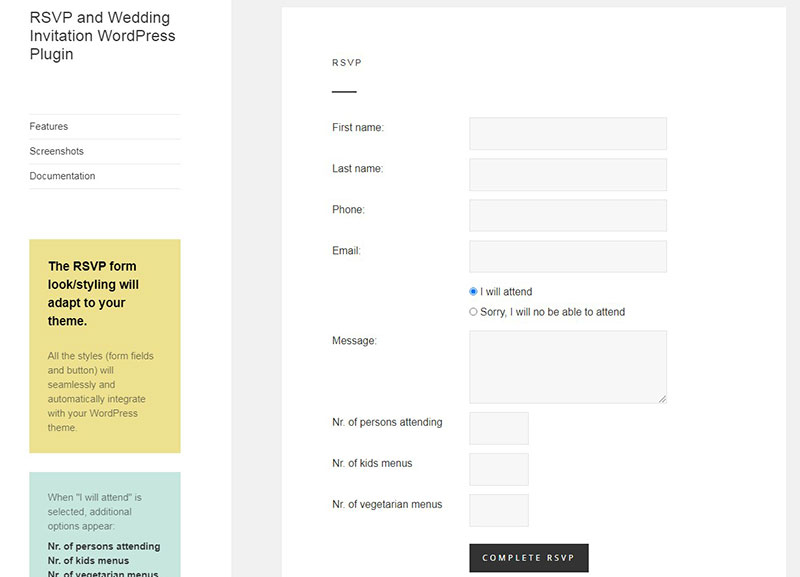 Paper-printed wedding invitations are expensive and this plugin enables you to have an eco-friendly paperless event. As well as planning an upcoming wedding album, which would be again an eco-friendly sample.
RSVP and Wedding Invitation helps users to email their wedding invitations and provides a platform for guests to RSVP via their website. As an added bonus, an invitation card template is already included that can be customized to suit your design preferences.
CSS styles of the plugin make it fully compatible and allow the adaptation of your existing theme. You can also add the RSVP form to any page of your website using WordPress shortcode.
Events Made Easy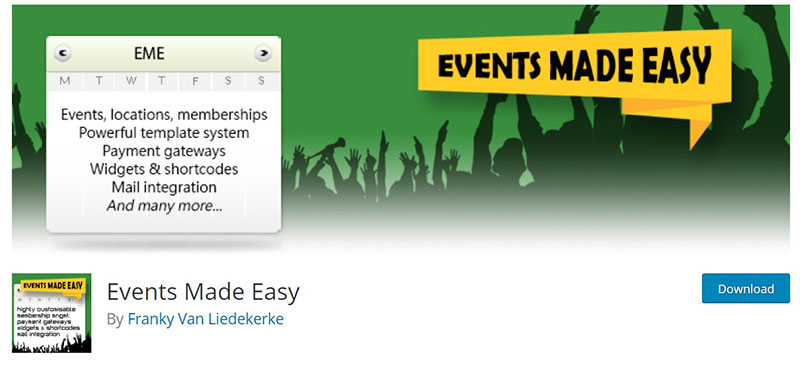 Events Made Easy offers a broad range of tools to help set up new events and configure the RSVP feature.
For example, RSVPs can be made the default for new events and for the number of 'seats' for events. It also allows the user to block late RSVPs after the cut off date, hide fully booked venues, and process payments using gateways such as PayPal and Stripe.
Events Made Easy offers a multitude of options for payment management, calendar configuration, email confirmation templates, and more.
WeddingPress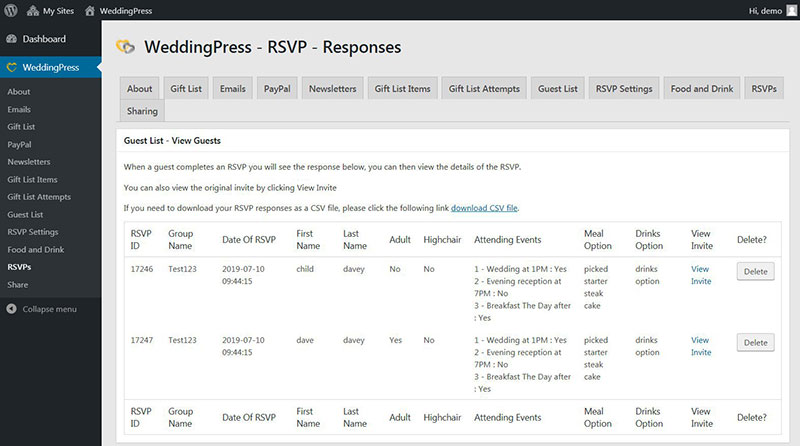 WeddingPress is an excellent WordPress wedding plugin solution. You can manage all wedding micro-tasks, from the guest list to the gift registry.
This extension simplifies the guest list process. You can input the guest list and also choose to send out invitations by email. The invitees will be able to respond through the platform and then they will receive a special RSVP code for unique identification. You can also use a QR code for the event.
Your wedding menu can also be loaded onto the site so that guests can choose their meal and indicate any special dietary requirements. The plugin provides PayPal compatibility, so a wedding gift registry can be included.
RSVP and Event Management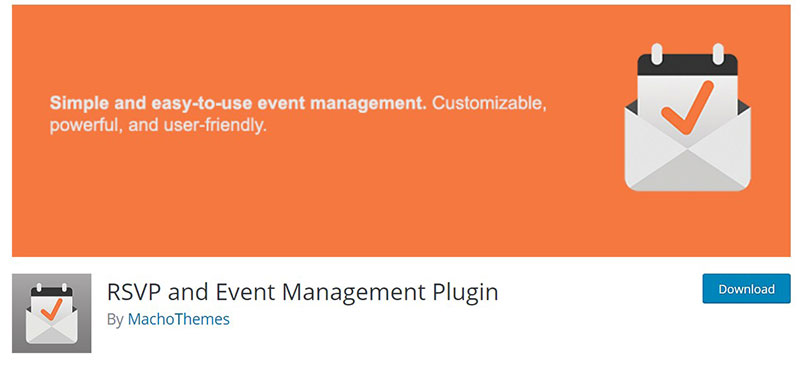 The RSVP and Event Management WordPress plugin offers a powerful event management platform with a completely integrated RSVP system.
Guests can register for your event and there is a check-in function for a confirmed guest list. Registered guests can add additional guests if you allow this option.
You can also make events restricted by adding a passcode to RSVP forms, or create RSVP forms without a passcode and give anyone access.
This WordPress RSVP plugin can send email notifications and add customized questions to the RSVP form.
The Events Calendar with the Registration Plugin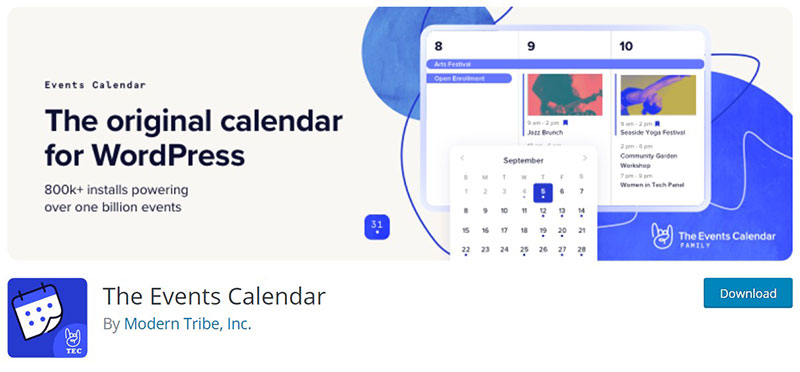 The Events Calendar makes it easy to organize, promote and manage events, and a free add-on includes the RSVP feature. The main plugin lets you create events, save venues and organizers, and integrate the calendar with Google Maps and Google Calendar.
The PRO version allows you to schedule recurring events, search by location, and gives you access to premium support.
RSVP Pro Plugin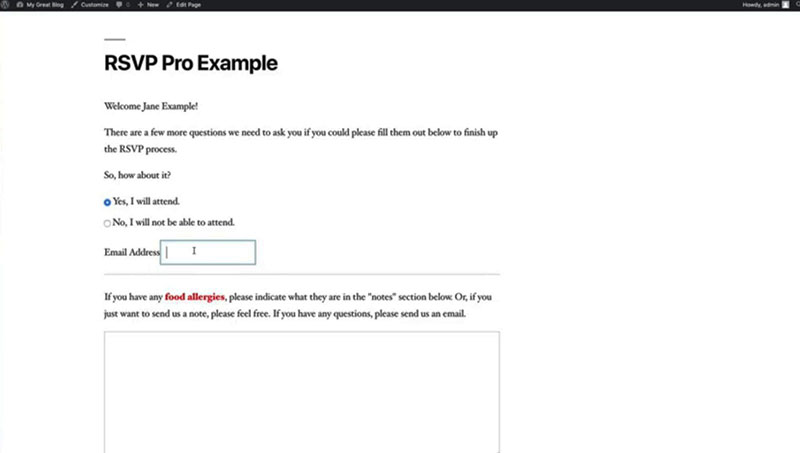 RSVP Pro is a popular plugin to manage invitation responses to events. The setup of guest lists and creation of RSVP forms is easy and you can customize with specific questions. This plugin also enables you to send email reminders and event notifications.
Some of its features include:
Full customization of buttons, links, and texts from the admin panel.
Email confirmation of attendance is sent to guests after the RSVP form is submitted.
Functionality to manage recurring events by storing the data collected from previous events.
Automatic creation of pages for new events.
Meetup Widgets Plugin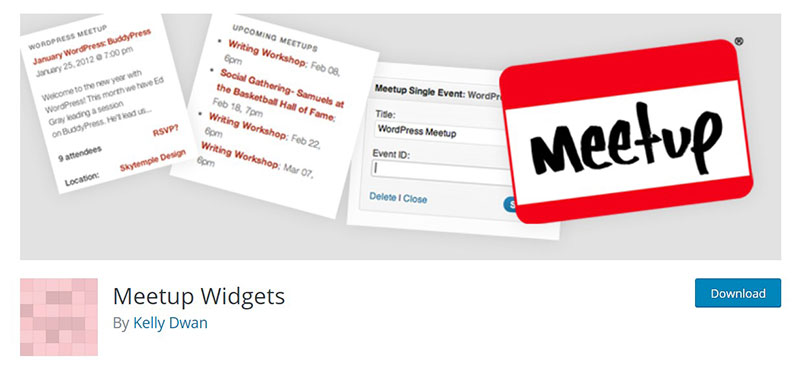 This WordPress RSVP Plugin is a popular platform used by a large number of online communities, because it's great for organizing regular meetups and events. You can use Meetup.com's event management tools including the RSVP feature.
Furthermore, the Meetup Widgets plugin creates two widgets:
A list of events from a meetup group (By ID or URL name. IDs are recommended for multiple groups).
Details about single events by ID are shown and a link to RSVP is provided.
The main disadvantage of this plugin is that guests' information will be shared with Meetup.com.
FAQs about WordPress RSVP plugins
1. What is an RSVP plugin for WordPress?
Website owners can manage event invitations and registrations on their WordPress site with the help of an RSVP plugin. This can involve designing unique RSVP forms, monitoring visitor feedback, and distributing event reminders.
2. How does an RSVP plugin work?
Typically, an RSVP plugin creates a unique form that site visitors to your WordPress blog can use to RSVP to an event. Once the visitor information has been stored by the plugin, you can track responses, notify guests, and modify guest lists from your WordPress dashboard.
3. What features should I look for in an RSVP plugin for WordPress?
It's vital to consider features like customizable forms, automatic email reminders, the ability to restrict the number of guests each attendee may bring, and integration with well-known email marketing platforms when selecting an RSVP plugin for WordPress.
4. Are there any free RSVP plugins for WordPress?
Sure, there are a number of RSVP plugins for WordPress that are free. They frequently have fundamental capabilities like building a personalized RSVP form and monitoring guest replies, but they might not have more sophisticated options like automated email reminders or connectivity with email marketing tools.
5. Can I customize the RSVP form with my own fields?
Indeed, a lot of WordPress RSVP plugins let you add your own fields to the RSVP form. This can involve adding additional inquiries, asking about food requirements or special accommodations, and getting any other data you require from your visitors.
6. Is it possible to limit the number of guests each attendee can bring?
Yes, you may set a cap on the number of guests each attendee can bring with several RSVP plugins for WordPress. This can assist prevent visitors from bringing unwelcome plus ones to gatherings with limited space or resources.
7. Can I send automatic email reminders to guests who haven't responded?
Sure, certain RSVP plugins for WordPress allow you to send guests who haven't replied to your event invitation automatic email reminders. This might help you get more responses and guarantee that the number of attendees at your event is correct.
8. Are there any RSVP plugins that integrate with popular email marketing platforms?
Sure, there are a lot of WordPress RSVP plugins that work with well-known email marketing services like Mailchimp or Constant Contact. This can help you organize your marketing and planning for the event, as well as make sure that your guest list is accurate and up to date.
Ending thoughts on the best WordPress RSVP plugin options
This article has provided a comprehensive list of both free and paid plugins. Using these plugins makes event planning easy. Whether you're planning one big event or you make a living organizing them all year round, it's a great idea to set up a system to deal with RSVPs. A WordPress RSVP plugin can save a significant amount of time and money normally spent on compiling individual responses from invited guests.
This list of free and premium WordPress RSVP plugins gives you plenty of options no matter what type of event you are planning. Simply choose the plugin that best suits your needs.
If you enjoyed reading this article on WordPress RSVP plugins, you should check out this one about WordPress table of contents plugins.
We also wrote about a few related subjects like WordPress documentation plugins, MLS WordPress plugin, WordPress catalog plugin, best WordPress classifieds plugin, WordPress event registration plugin, and WordPress document library plugins.