Want to boost your business's credibility? Learn how to embed Google reviews in this ultimate guide! Rank higher and attract more customers today.
Online reviews have become increasingly influential in modern business. Reviews on Google, in particular, have a great deal of sway over consumers' final judgments.
You can increase your site's trustworthiness and rise in search engine results by including embedded Google reviews.
Here, we'll walk you through the steps required to integrate Google Reviews into your website. This tutorial is written for business owners and marketers who want to learn how to use Google reviews to increase site traffic and conversions.
Understanding Google Reviews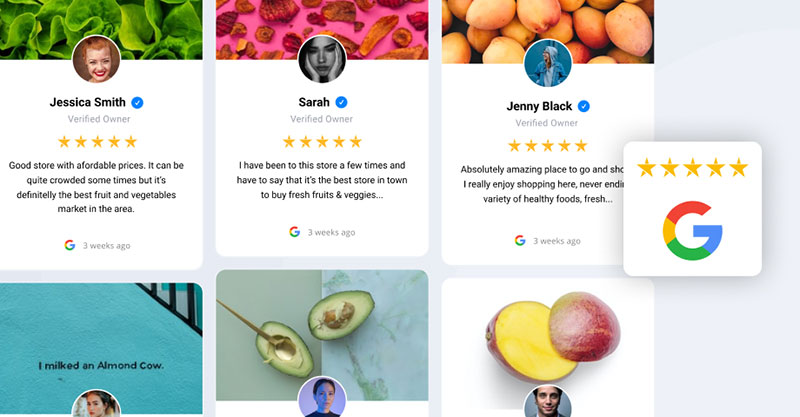 To increase a company's reputation and trustworthiness in the eyes of potential clients, nothing beats positive Google reviews. Customers that have interacted with your company provide these reviews, which can have a major effect on how others see it online.
Better search engine results, more visitors, and more business can all result from satisfied Google reviewers. But, unfavorable reviews can have a significant negative impact on your online reputation, sales, and SERP placement.
Reviews on Google are unique in that they are associated with your Google My Business profile. Customers may easily find them thanks to their prominent placement in Google Maps and Search.
By learning the ins and outs of Google reviews, you can use them to your advantage in gaining the confidence and credibility of your target audience. In the following paragraphs, we'll show you how to set up a Google My Business page, optimize it, solicit reviews from consumers, and embed those evaluations on your website.
Getting Started
You'll need a Google My Business account and an optimized profile before you can begin embedding Google reviews on your website. Here is a detailed tutorial on how to begin:
Establish a Google My Business profile. Visit google.com/business and select "Start immediately" to activate your Google My Business account. In order to proceed, you will need to provide details about your company. You may want to not reveal your street address but instead promote your service area if your company operates online exclusively.
Second, verify your Google My Business page. After signing up, you'll need to verify your business on Google. To do this, you must first submit a verification request to prove that you are the legal owner of the company. A postcard with a verification code will be sent to the address you supplied to Google during account creation. As soon as you get the postcard, you may validate your Google My Business account by entering the code on the dashboard.
Make your Google My Business page as effective as possible After you have been approved, it is time to start maximizing your Google My Business presence. Include images, current hours, and a list of services offered. You may make it simpler for potential clients to find your company in search results by adding categories that define what you offer.
Fourth, have your clients leave reviews on Google. Start asking for feedback from customers after your profile is complete on Google. One way to do this is to use a link generator or email them a direct link to your Google review page.
If you follow these instructions, you may rely on Google reviews to boost your online visibility. How to locate your Google Location ID and incorporate Google reviews into your website is covered in the next section.
Embedding Google Reviews
Doing it the usual way
Displaying positive Google reviews of your company might increase confidence and credibility in the eyes of potential clients. Use the official Google embed code or a third-party review widget to add Google reviews to your website. Here is the method:
Get a Google Place ID You will need your Google Location ID in order to integrate Google reviews into your website. A Google Maps ID is a special code that may be used to locate a specific company. Get your business's Place ID by searching for it on Google Maps and then opening the information panel by clicking on the name of your company. At the panel's footer, you'll see a listing for the corresponding Location ID.
Put the Google Maps Embed API to good use. The Google Maps Embed API allows webmasters with coding experience to incorporate Google reviews into their sites. To do this, you will need to generate an API key and add some code to your site.
Next, implement the verified Google embed code. Displaying your Google reviews on your website is a breeze thanks to Google's official embed code. Access the review request form by visiting the Google My Business dashboard and selecting the "Get more reviews" option. Simply copy the embed code and add it to your site from that page.
Fourth, add a Google Reviews widget. There are a number of third-party review widgets available that will allow you to show off your Google reviews. Even while these widgets often have a monthly subscription price, they provide more personalization choices than Google's official embed code. As one of the most important UI design tips, you should incorporate highlights and shadows to the review widget in order to make it stand out on your website.
Customers' confidence in your business might be increased by incorporating Google reviews on your website. Next, we'll go over some tried-and-true techniques for maximizing your local search engine rankings with the help of Google reviews you include on your site.
Displaying Google reviews on WordPress with a plugin
Google Reviews Pro WordPress Plugin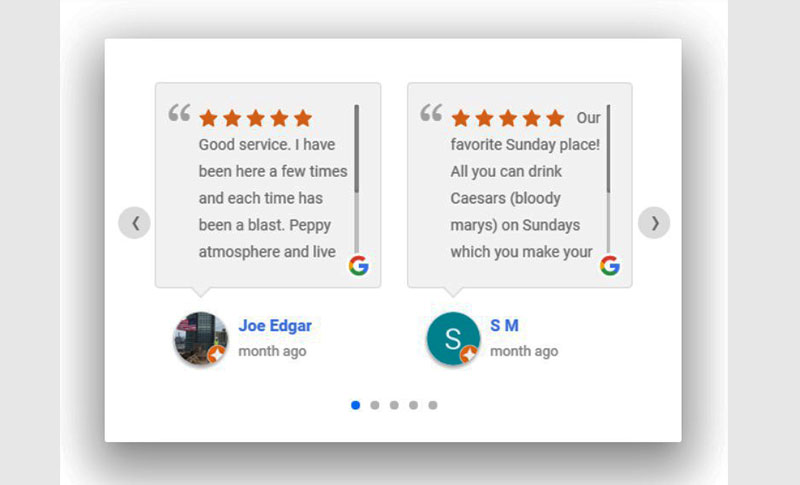 This Google widget keeps reviews in the database and creates tables with information and reviews for businesses. It provides Google snippets to advertise on Google people's opinions about you.
You can choose from 5 formats for displaying the plugin, in a grid, list or slider, amongst other options.
Everest Google Places Reviews

Even the default options are stunning for the Google review widget, Everest, but of course, you can easily customize to suit your website and theme. Everest is versatile and packed with features.
Use a floating layout to highlight your very best reviews, with five template display options. All of these can be shown as a slider or simple list format. If you select the slider, you will be able to customize the navigation and animation.
The badge designs come with 5 different options for your featured reviews.
Google Places Reviews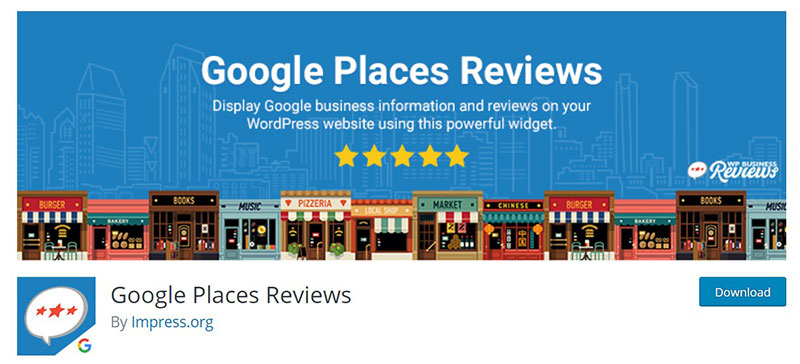 Google Places Reviews is a WordPress plugin that displays your amazing Google reviews.
It suits a wide range of industries, such as retail, real estate, travel, or hospitality who may want reviews displayed on their site. You can increase brand awareness and credibility, by showcasing people's opinions of your business.
Google Places Reviews offers many great features:
Widget themes
Autocomplete for Google Places
Business information
Google Business Reviews
WP Business Reviews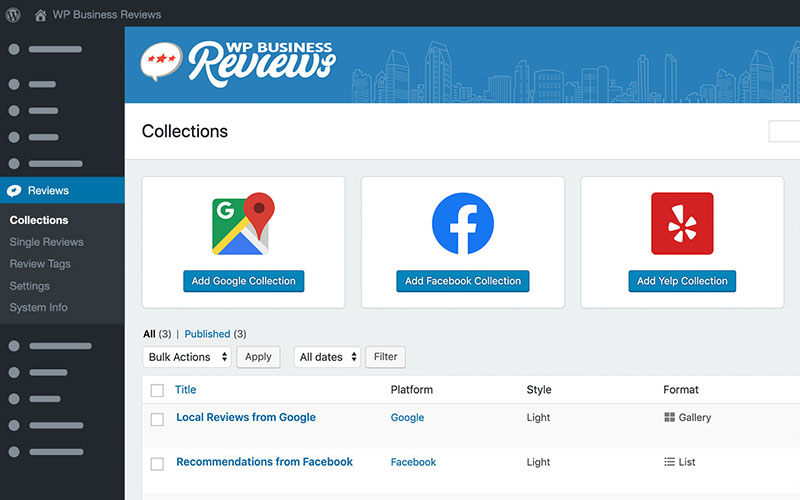 WP Business Reviews gathers and compiles all your reviews from Yelp, Facebook, and Google, so they can be displayed collectively anywhere on your website.
The background color can be customized to your preferences. Selecting the transparent option will definitely showcase your theme.
WP Review Pro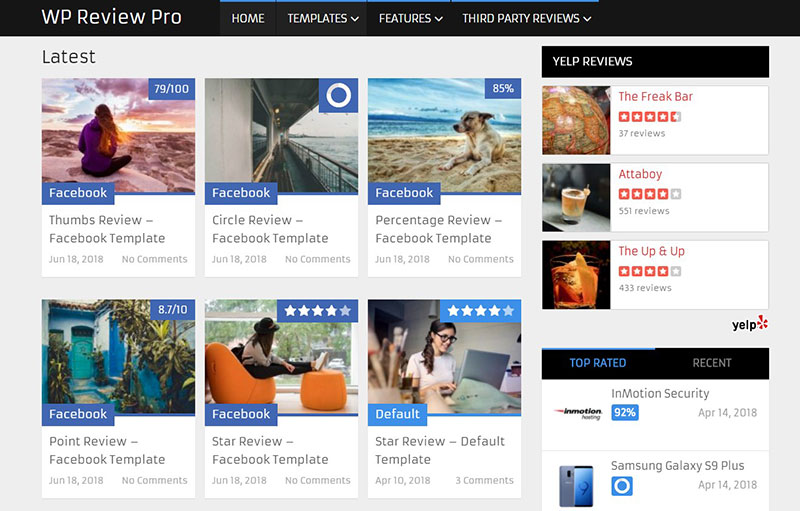 Many bloggers enjoy using WP Review Pro on their sites to appraise or rate products on their websites because it does not slow down the speed of the website. It features an incredible 16 templates which can be completely customized. This Google reviewer makes posting reviews very simple.
You can also change your chosen template to match your site. Choose from any color and select between 5 rating systems.
It also integrates with many other platforms, such as Yelp, Facebook and Google reviews. If you have an eCommerce store, integrate with WooCommerce to show what people think of your products.
Google Places Review Pro WordPress Plugin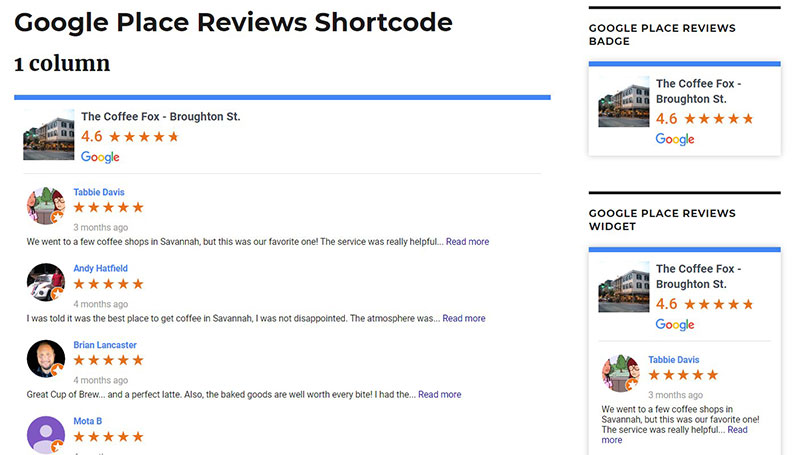 This product will help to improve your Google rankings, by embedding Google reviews on WordPress, either on the body of your site or as a widget.
It ensures that the most recent reviews displayed are always positive, which avoids bad publicity.
Pages containing reviews tend to perform better than pages without, because people like to read about the opinions of others. If these opinions are positive, this is great for your business.
WooCommmerce Google Customer Reviews

This plugin is excellent for your WooCommerce store, by combining your Google reviews and WooCommerce.
It is an easy way of showing your rating on every page, which comes with the Google review badge, so people know it is legitimate and trustworthy.
Taqyeem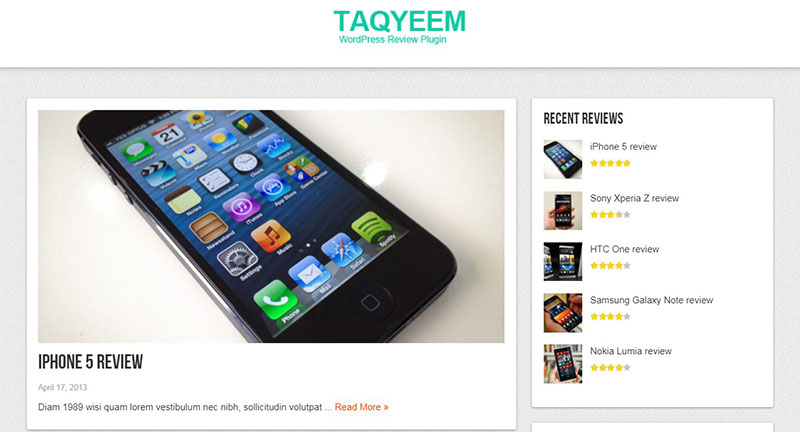 Taqyeem's schema markup enables you to access Google Rich Snippets. Its endless color options allow you to customize this WordPress review plugin, by editing style, font, pictures and more. You can also add ratings and reviews to pages and posts.
The features include different review styles, points, percentage, stars as well as more than 500 Google fonts.
You can also use the right to left feature so your page is readable when translated into other languages.
Reviews and Rating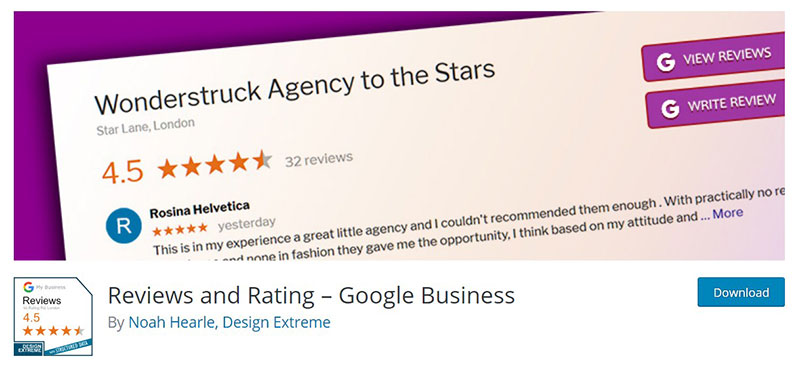 If you have a Google Business Account this plugin will provide lots of impressive feedback in ratings and reviews, so you can show off to the world. It is very intuitive and easy to set up and encourages consumers to leave a review with Google for you.
It includes 28 designs, customization options, live previews, widgets, and shortcodes. You can even hide particular reviews if you don't want them shown to your visitors. The review layouts are completely mobile-friendly and responsive and can be viewed on any device.
Google Reviews Widget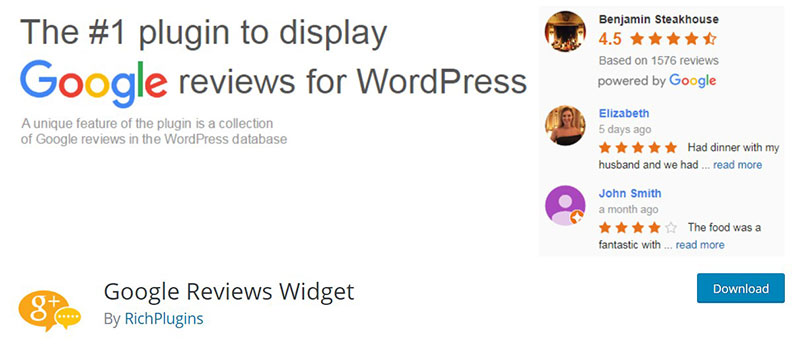 The Google Reviews Widget is the most popular free option for WordPress Google reviews plugins. It stores and showcases up to 5 reviews for any amount of businesses.
This free Google Reviews widget will pare down overly long reviews and keep all reviews in your WordPress database, which results in improved performance and won't slow down your site. You can also add a photo for your business or upload a custom one.
The business version offers more extended features, such as claiming a Google Trust Badge, using the collection builder and Google Rich Snippets.
Google Reviews Slider

The WP Google Review Slider plugin will increase customer opinion and provide excellent SEO. You can create many templates to use in the widgets, pages, and posts of your site. The Google Reviews Slider is one of the very best free plugins for Google reviews, requiring only WordPress version 4.6.
It is easy to use and install and features a slider format which gives all reviews a sleek and polished style.
Best Practices for Embedding Google Reviews
The incorporation of Google reviews into a website is an excellent strategy for gaining the trust and respect of potential clients. There are, however, some guidelines you should follow to make sure the Google reviews you incorporate on your site are search engine friendly and productive in generating new customers.
Make sure the Google reviews you include are legible and pleasant to the eye first. Choose a design that flows well with the rest of your site and makes the reviews easy to read on desktop and mobile.
As a second piece of advice, make it simple for your consumers to submit feedback on Google by providing them with outstanding service. Show that you value your customers' ideas by responding to all evaluations, favorable and negative, in a timely and professional manner.
Finally, optimize your Google My Business page by including keywords relating to your business and area, and then embed your Google reviews to boost your site's local search engine rankings.
If you include Google reviews on your site, you may make them more effective and hence attract more clients by following these guidelines. If you're having difficulties embedding Google reviews on your site, we've included some frequently asked questions (FAQs) below to help you fix the problem.
FAQs on How To Embed Google Reviews
What is an embedded Google review?
When a review is incorporated from Google My Business, it appears on the page or website where it was originally posted. By doing so, companies can boost their online visibility by highlighting their excellent Google review scores.
How do I embed a Google review on my website?
Navigate to the review you wish to embed on Google Maps, and then click the three dots in the upper right corner.
To embed a map, click the "Embed a map" button and then copy the code that appears. To display the review, copy the code and paste it into the HTML of the page or website.
Is it possible to embed multiple Google reviews on my website?
It's true that several Google reviews can be embedded on a website using the same method as integrating a single review.
You can choose between a list or a carousel layout for displaying many reviews at once.
Are there any restrictions on embedding Google reviews?
There are limitations on how and where Google reviews can be embedded. Reviews must be accessible to the general public without any form of editing or manipulation.
On top of that, Google might potentially alter the embedding code at any point, which would have an effect on how the reviews are displayed on the site.
Can I customize the appearance of the embedded Google review?
The embedded Google review can have its look modified with CSS. That way, a company's online presence may have a consistent aesthetic throughout.
Do I need to have a Google account to embed Google reviews?
There is no requirement for a Google account to use the Google reviews widget code that Google provides. To display the review, however, you must have access to the HTML of the website or web page.
Can I embed Google reviews from different locations or businesses on my website?
The same steps you take to incorporate a single review from Google can be used to embed reviews for several locations or businesses.
Will embedding Google reviews on my website affect my search engine rankings?
Although Google evaluations can be embedded on a website, they do not directly affect a site's search engine rankings. Yet, it can have a knock-on effect on rankings if it boosts the reliability and authority of the website.
Can I respond to Google reviews directly from the embedded review widget?
Nevertheless, you cannot reply to Google reviews via the Google review widget at this time. The owners of businesses that use Google My Business must reply to customer feedback.
Are there any alternatives to display Google reviews on my website?
Review widgets and plugins that aggregate content from Google My Business and other sources are also viable options for showcasing Google ratings and reviews on a website.
FAQs about WordPress google reviews plugins
1. What is a WordPress Google Reviews plugin?
With a WordPress Google Reviews plugin, website owners can show Google reviews for their company on their WordPress website. With a variety of customization options, including the number of reviews to display, the rating cutoff, and the review format, the plugin can retrieve and display Google reviews.
2. How can a Google Reviews plugin improve my website's user experience?
The user experience can be enhanced by including a Google Reviews plugin on your WordPress website because it shows that your company is well-respected in the eyes of the public. Prospective clients can learn more about the caliber of your goods or services by reading reviews left by actual customers, which can aid them in making wise judgments.
3. Is it necessary to have a Google My Business account to use a Google Reviews plugin on WordPress?
Indeed, using a Google Reviews plugin on WordPress necessitates having a Google My Business account. Without an account, the plugin cannot retrieve reviews from Google My Business, so they cannot be displayed.
4. How do I install a Google Reviews plugin on my WordPress website?
Navigate to the "Plugins" section of the WordPress dashboard, click "Add New," look for a Google Reviews plugin, and then click "Install Now" to add it to your WordPress website. Following installation, enable the plugin and adhere to the setup instructions.
5. Can I customize the appearance of the Google Reviews plugin on my website?
Absolutely, you can change how the Google Reviews plugin looks on your site. Depending on the plugin, you can alter the number of reviews shown, the format of the reviews, the font size and color, and other visual components to better suit the theme of your website.
6. Is it possible to display only positive reviews using a Google Reviews plugin on WordPress?
You may limit reviews using a minimum star rating in the majority of Google Reviews plugins. As a result, you can configure the plugin such that it only shows positive reviews with a particular rating or higher. Nonetheless, it is typically not advised to conceal bad reviews as this can harm your company's reputation.
7. What happens if a user leaves a negative review through the Google Reviews plugin on my website?
A user's review will show up on your Google My Business page if they submit a bad one via the Google Reviews plugin on your website. It's critical to properly respond to unfavorable comments and resolve the customer's problems. This can show potential clients that you value their opinions and are dedicated to growing your company.
8. How frequently are the reviews updated through a Google Reviews plugin on WordPress?
The settings of a Google Reviews plugin for WordPress determine how frequently reviews are updated. While some plugins may refresh the reviews at predetermined intervals, others may update the reviews in real-time. To make sure that the data on the website is reliable, it is advised to update the reviews on a regular basis.
9. Can I display Google Reviews from multiple locations on my website using a single plugin?
Yes, you may use a single Google Reviews plugin to display reviews from many locales. Users will get a complete picture of your reputation across all of your business locations if you configure the plugin to retrieve and display reviews from all of your locations.
10. Are there any limitations to using a Google Reviews plugin on a WordPress website?
The functionality of the plugin and the setup of your website will determine the restrictions of employing a Google Reviews plugin on a WordPress website. There may be restrictions on the number of reviews that can be displayed at once, display restrictions on specific devices or browsers, and compatibility concerns with specific WordPress themes or plugins.
Conclusion on how to embed Google reviews
One easy and efficient strategy to boost your company's online credibility and bring in more clients is to include Google reviews on your website. Create a solid Google My Business profile, solicit customer feedback, and incorporate that feedback into your website by following the advice in this post. Make sure you reply to consumer comments in a timely and professional manner, and use best practices for maximizing Google reviews you've placed in your site. Doing so can increase site traffic and sales by inspiring confidence in potential buyers.
If you enjoyed reading this article on how to embed Google reviews, you should check out this one about WordPress news plugins.
We also wrote about a few related subjects like WordPress file upload plugins, WordPress media library plugins, SoundCloud WordPress plugins, WP booking plugin examples, WordPress team plugins, WordPress button plugins, and WordPress contest plugins.