WordPress is the top choice among website owners because of how many options they have when it comes to plugins. It can help you create an aesthetically pleasing website without putting in too much effort. It's the perfect start for people who want to present their portfolios or start their entrepreneurship career with a business website.
You can manage the WordPress photo gallery from the built-in functionality, but it might not give you as many options as a plugin would. If you want to get the best out of the photos that you publish, then a plugin maybe the best choice.
Choosing the appropriate WordPress photo gallery plugin can be tricky too if you don't know what to look for in one. These purpose-built plugins offer various features that may or may not be useful for your particular situation. You'll need to figure out what are you expecting from your WordPress photo gallery and choose the plugin that suits these needs. This article created by our team at wpDataTables is here to help. Continue reading to find out more about WordPress gallery plugins and which one to pick.
How to choose the proper WordPress photo gallery plugin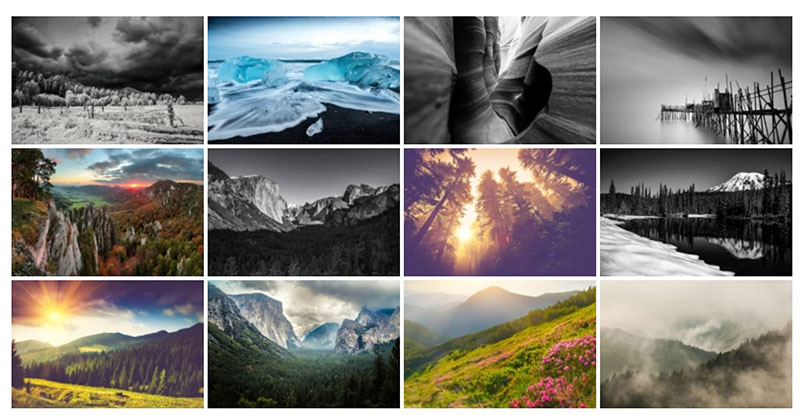 Before choosing a WordPress photo gallery plugin, you must figure out what functionalities are paramount for you. Your WordPress photo gallery should be customized according to your requirements and needs, and not all plugins will be capable of doing what you want. This is why you should analyze all aspects of the available WordPress gallery plugins. You can read more about each of the aspects that dictate how useful a plugin is below.
What features does it have?
WordPress photo gallery plugins should be feature-packed, to make sure that you can handle the photos in any way you'd like, without having to purchase or download another tool for a specific process. The more features the plugin has, the less likely you will need to change it in the future. The best photo plugins enable users to expand their features by purchasing add-ons. This way, you will only spend money on the plugin if you really need the functionality.
How easy it is to use?
Even though some WordPress photo gallery plugins might be packed with all sorts of features, this is not relevant if it is too complicated to use. When editing photos and publishing them on a site, users want to do it as fast and efficient as possible. Look for plugins that are easy to use and that have a well-organized user interface.
Is it fast?
As mentioned, time is a valuable resource for those who manage highly visual websites. The WordPress photo gallery plugin you select will determine how much time you will save when it comes to displaying photos on your site. Choose one that won't force you to compromise your time.
Additionally, some plugins might handle the rendering of the gallery differently, calling all sorts of unnecessary scripts and slowing down your page's loading speed. Avoid gallery plugins that slow down your site.
How often is it updated?
Finally, keep an eye on how often the plugin was updated in the past. Many users encounter compatibility issues when they use a new WordPress release because their plugins are not updated on time. Choose a WordPress photo gallery plugin only if the updates are released regularly.
A list of WordPress photo gallery plugins
NextGEN Gallery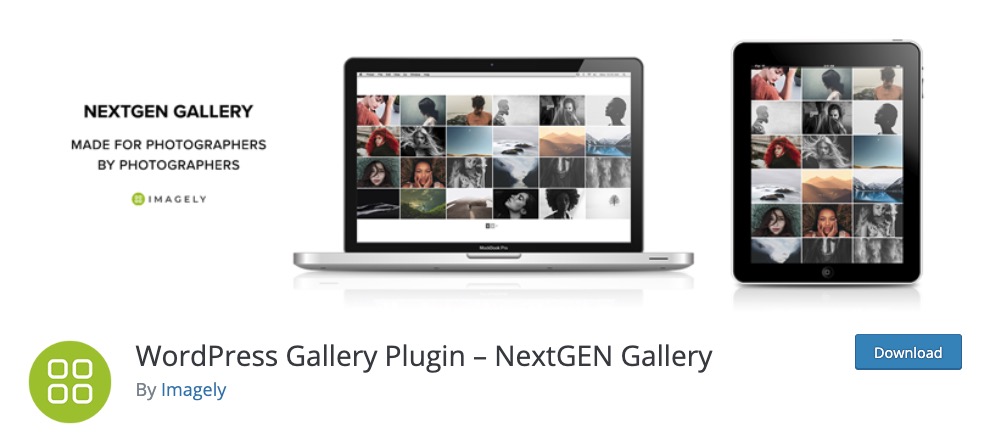 The NextGEN Gallery is probably the most popular WordPress gallery plugin at this time. Even though there are many other gallery plugins that people could use, NextGEN still manages to get more than a million downloads each year, not to mention the fantastic reviews with an average of 4.7/5 stars. The plugin was developed by Imagely, a team of photography experts who know their way around galleries and granted users the opportunity to handle photos just the way they do.
The plugin comes equipped with a management system for photo galleries, exactly like the one used for posts or pages. You can manage photos from within the plugin, which has a friendly interface and many, many options to choose from. The premium version, NextGEN Pro gallery plugin for WordPress offers additional gallery display types, proofing galleries, digital downloads, social sharing, image commenting, and print sales with automated print fulfillment through professional photo labs.
Modula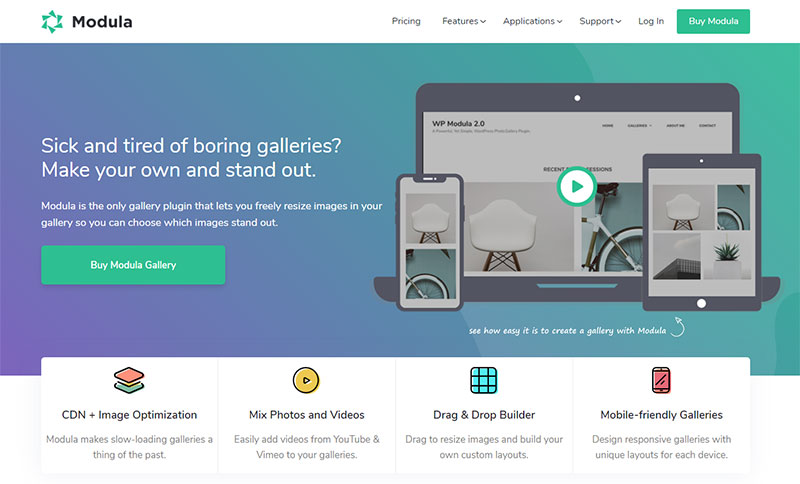 Modula offers a boundless level of customization. For users who want to publish creative photo (and video) galleries, Modula is one of the best choices. It is a flexible, user-friendly plugin that is packed with all the features one would need for creating and managing their WordPress photo galleries.
What's also great about Modula is that all the changes you make can be previewed in real-time, so you don't have to go back and forth to the editing page and your site.
Envira Gallery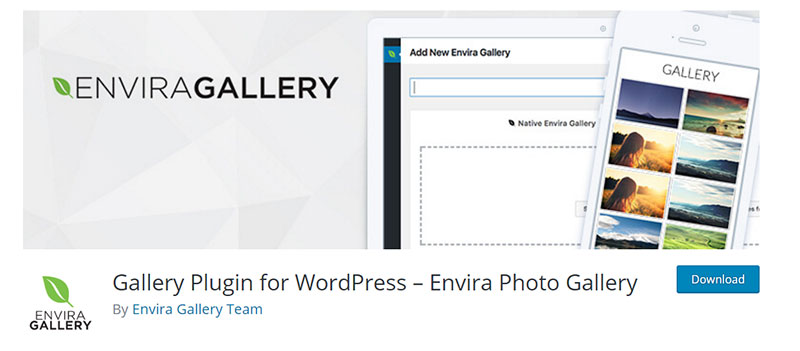 If you are looking for a powerful plugin that is also convenient to use, Envira Gallery might be the answer for you. It comes with multiple photo gallery pre-built templates that can be customized to add a personal touch. The interface is not too crowded, and the plugin has precisely the features one would need to manage photo galleries quickly.
The plugin functionalities can be enhanced by purchasing add-ons. There are more than 20 add-ons you can choose from depending on your needs.
Unite Gallery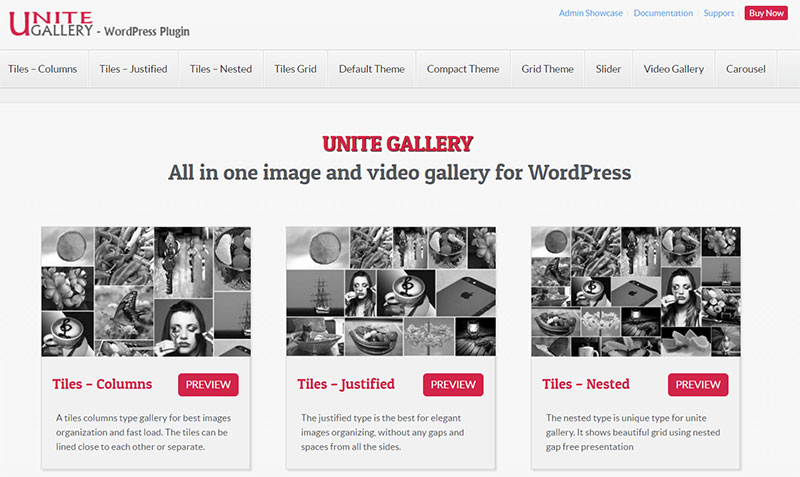 Unite Gallery is another respectable plugin that can handle both photo and video galleries. The features of this plugin are numerous, and the galleries can be heavily customized. Users can choose between ten pre-built layouts or create their own types of photo galleries.
Managing your WordPress photo gallery will become easier with Unite Gallery, given the fact that is has a unique functionality – putting both photos and videos in the very same gallery. If that's what you are looking for, Unite Gallery will do the job flawlessly.
FooGallery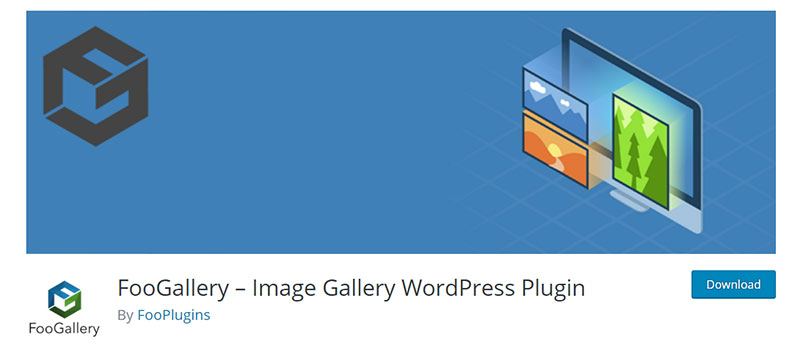 FooGallery is a fast, lightweight gallery plugin that gives you tons of settings to help you create unique photo galleries from scratch. The drag-and-drop interface can be used for organizing existing image content and the settings are advanced enough to personalize your WordPress photo gallery the way you want. FooGallery also includes a handy Gallery Preview.
The plugin has two different versions – free and premium. With the free version you can organize the visual content of your WordPress site into impressive galleries using the pre-built templates. You can customize your gallery's appearance, tweak your caption settings and even add paging. The premium version offers more great features such as additional templates, adding video to the WordPress gallery, and other effects like hover presets and infinite scroll. You can also add in filtering and load galleries from other sources.
Robo Gallery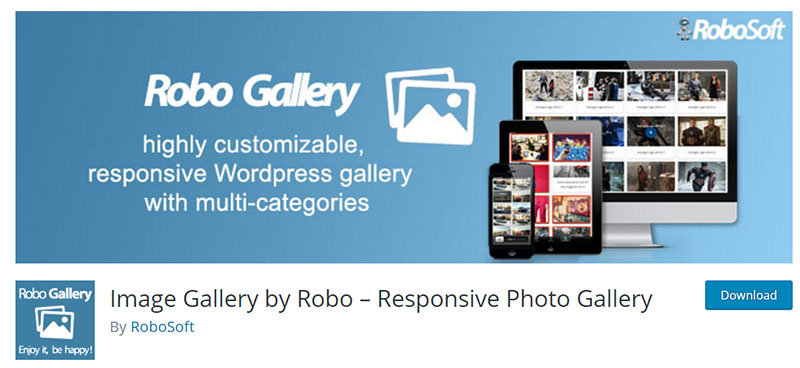 One of the best photo gallery plugins out there, Robo Gallery has features such as adding various hover animations to the photos, changing the thumbnail layout, uploading images in bulk, and more. This is a scalable plugin, which means that the gallery can be visualized faultlessly on all sorts of devices.
Robo Gallery gives users the chance to avoid lazy loading by managing cache and optimizing the photos. You can also add social sharing buttons and swiping effects to your gallery. Additionally, you get all these features for free.
WP Photo Album Plus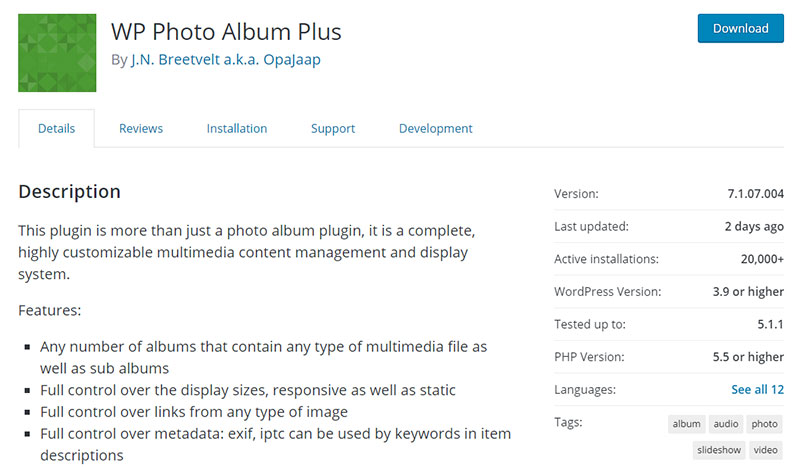 The WP Photo Album Plus is a WordPress photo gallery plugin that allows other people to rate or comment on your gallery. Webmasters look for such features quite often, so if this is what you want to achieve by using the plugin, choose WP Photo Album Plus without second thoughts.
It is equipped with features such as lightbox, Google Maps integration, filtering functions, and other built-in settings that will make your job infinitely easier. It comes with 20 widgets included.
Grand Flagallery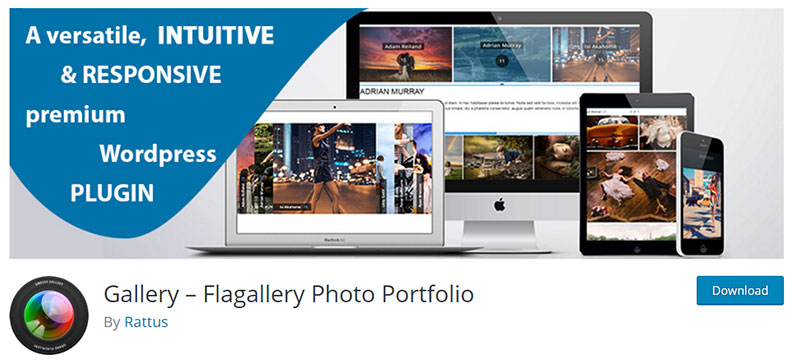 This is a WordPress photo gallery plugin that amazes users through its versatility. It is filled to the brim with features, and its usability doesn't stop at editing and managing a photo gallery. You can use Grand Flagallery for both audio and video content as well. For websites that include video, photo,and audio content, this plugin offers all the features you need to manage them at the same time.
The plugin comes with an extensive guide that should help you browse through all the functions and use them wherever you consider it appropriate. The plugin is very advanced, although the user interface is not the friendliest. You will have to learn your way around it before using it at its maximum potential.
Gmedia Gallery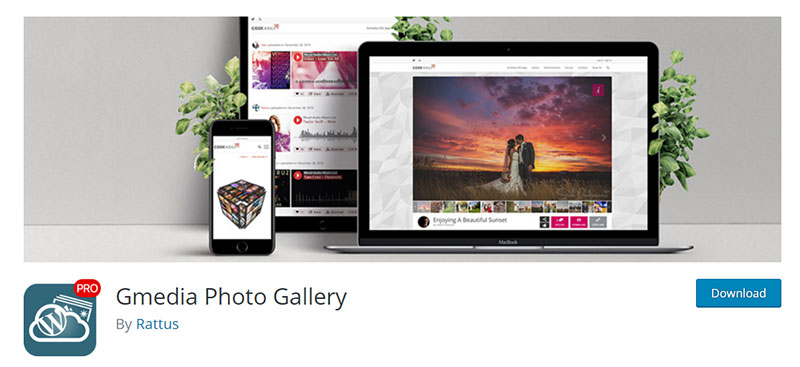 If you want to expand your WordPress photo gallery without having to understand complicated user interfaces or read lengthy guides, Gmedia Gallery will handle the job. This plugin is very adaptable and it comes with features such as managing files on your site, playing music, and creating visually-pleasing galleries or even slideshows.
You can do all that in a few minutes, as the user interface is easy to understand and remember. Furthermore, you can transfer photo galleries from one site to another, which is very convenient for people who own more than one website and would like the gallery moved as it is.
Global Gallery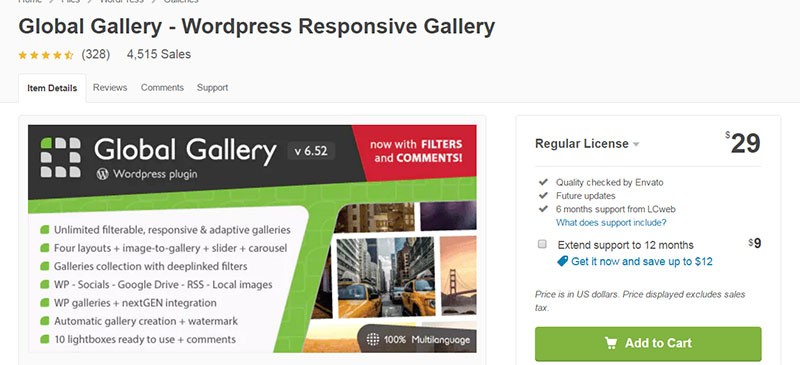 In case you have all of your photos stored on a platform such as Facebook, Instagram, Twitter or Google Drive, Global Gallery promises to make your day better. This plugin lets you upload the photos that you want to include in your WordPress photo gallery from any one of the sources mentioned.
This is a very useful tool that WordPress users should download regardless of how much visual content they include on their sites. You can even display content from other users' social media profiles as well(provided that you've obtained copyright permission).
Photospace Gallery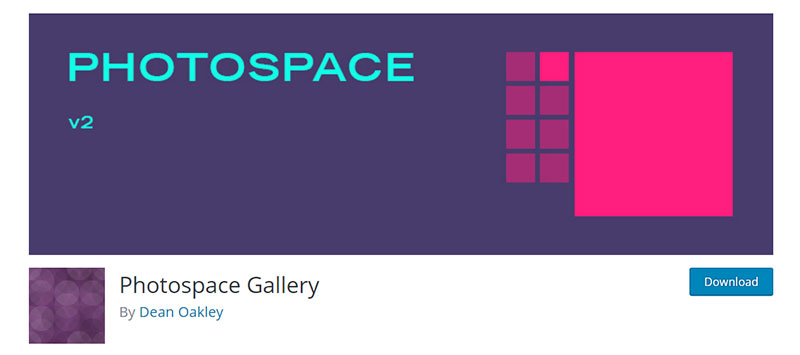 Photospace Gallery is a plugin that adds a series of settings to your built-in WordPress photo gallery. If you'd like to manage the photo gallery within the WordPress platform using the native gallery, this is a good choice. You can upload more than just one image at a time and put them in the right order using drag-and-drop functions.
The plugin has features such as adding titles and descriptions to each picture, modifying thumbnails, adding pagination, and separating images into columns that are also customizable.
Easy Media Gallery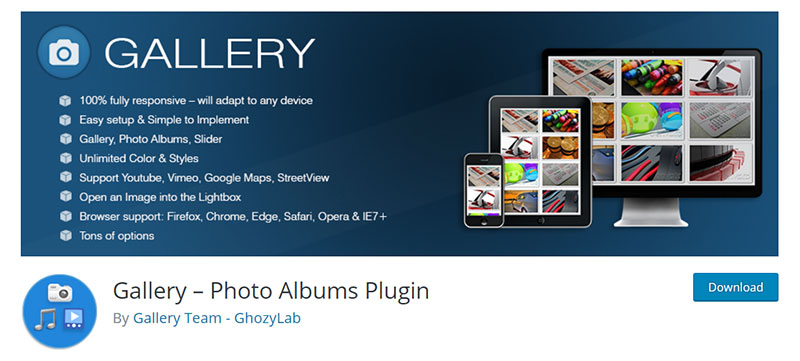 Finally, Easy Media Gallery is a simple WordPress photo gallery plugin that has just the basic features one would need to set up and manage their photo gallery. It has enough features to customize the gallery the way you want, and it is also scalable. The photo gallery will look good on any type of device.
If you enjoyed reading this article about WordPress Photo Gallery Plugins, you should read these as well: