Fonts play an important part in designing a website and they must be chosen with care. A good combination of WordPress fonts can please the eyes of the user and can transmit different messages. Typefaces can express emotion and trigger reactions the same way a color or an image can.
Those who use WordPress are quite lucky because the CMS is very flexible. You can use all sorts of plugins and upload your own fonts if you want. This means that you can choose the best WordPress fonts out there and easily combine them with your site's design.
Whenever you want to change the fonts, you have to think about:
The feel of your website – what emotions you are trying to convey
What type of people visit your website and what kind of style they relate to
Based on these points, you will learn what fonts to use on your website to stir the exact emotion you wish. This article created by our team at wpDataTables presents the importance of fonts, as well as a list of twelve fonts that are usually appreciated by WordPress users.
Give it a quick read and see which WordPress fonts you need.
Are Fonts That Important?
It's hard to overstate the importance of choosing the right fonts for your WordPress site. At first glance, you might think that the typeface used to list your content is not important and you can always use the fonts that come included in your site's theme.
Well, this is not entirely true. Of course, themes contain simple fonts that are aesthetically pleasing, but they might not meet your site's requirements. Since typefaces can be used to convey certain emotions, you want to choose the best WordPress fonts to meet your goals.
Without making an appropriate and carefully considered selection of fonts, your website won't be differentiated from the millions of others in the virtual space. You don't want your website to come across as bland or unoriginal, do you?
One of the most crucial aspects of a website is its personality. A website without personality won't be remembered, and that's the exact result you want to avoid. WordPress fonts can help with conveying a unique message.
Your users will recognize your website's personality based on the fonts you use. Is it bold? Is it elegant? Is it childish or playful? It's your job to decide.

12 of the Best WordPress Fonts
Noto Sans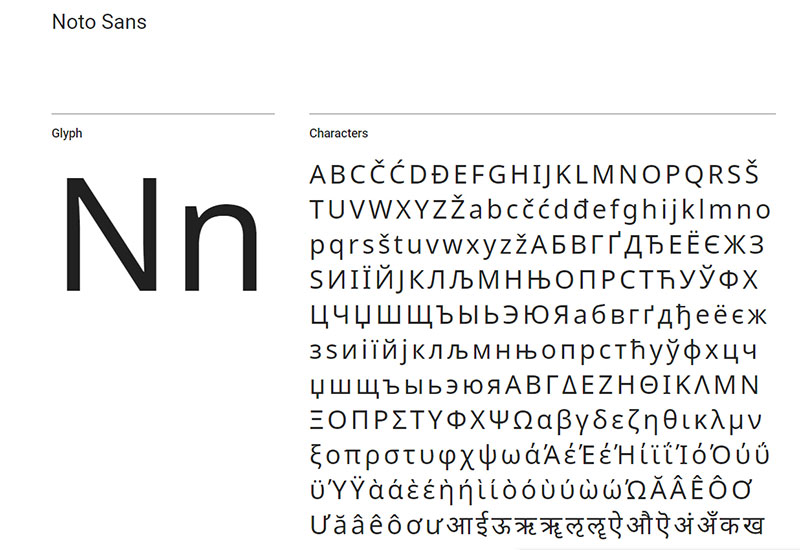 Noto is great if you have a multi-language website, yet you want to maintain the same font on all site versions. This WordPress font supports no less than 30 scripts and it plans to add Unicode to the list as well.
You can choose between Regular, Bold, Italic, or a combination of styles. This sans serif font is actually derived from Droid, so if you know it and you've been using it before, you'll definitely like this one as well.
Roboto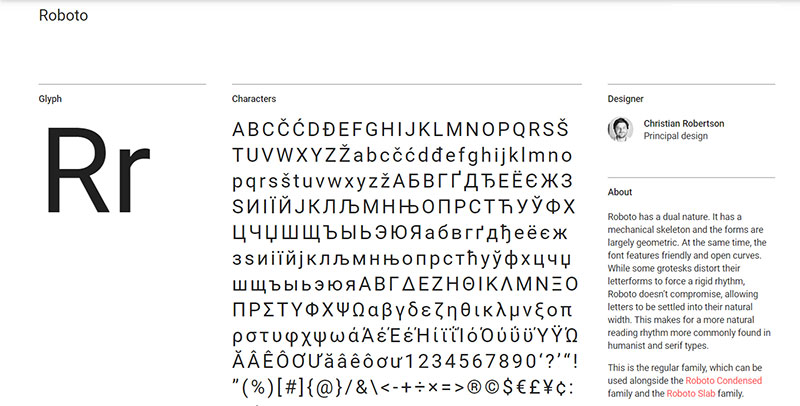 Roboto is one of the best WordPress fonts for modern websites. It is mostly based on abstract geometric shapes and interesting curves. It works well both for titles and body content, which makes it versatile and adaptable to different scenarios.
You can combine it with other Google fonts as well. Roboto also comes in a condensed version, which is called Roboto Condensed and it is popular among WordPress users today.
Mina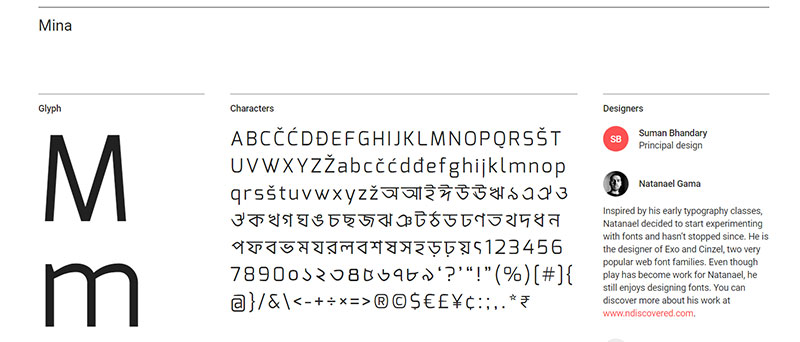 A lot of websites use Mina according to its Google fonts page. In fact, the Google API system discovered that this font was displayed no less than 180,000 times during the past few weeks. Imagine how happy users are with the readability of this WordPress font.
It is a sans-serif font combined with the Banga and Latin families. The former is based on sharp geometric shapes.
You can use this sans-serif font as both Regular and Bold, but it has no Italic version. Mina appeared as an extension of Exo, a font created by Natanael Gama, being part of the Latin family. It is mostly used in a smaller size.
Open Sans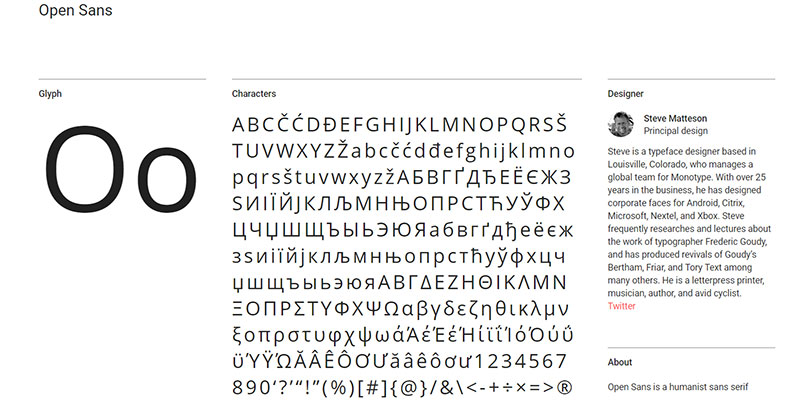 Open Sans was created by Steve Matteson. If you fancy Sans-Serif fonts, Open Sans will play nicely with your overall style. In fact, the Google colossus uses Open Sans on some of its websites and you can see it on printed materials too.
It is one of the cleanest, simplest font choices one can make. Open Sans can be used for all sorts of purposes – websites, mobile interfaces, print materials, and more.
Hey, did you know data can be beautiful too?
wpDataTables can make it that way. There's a good reason why it's the #1 WordPress plugin for creating responsive tables and charts.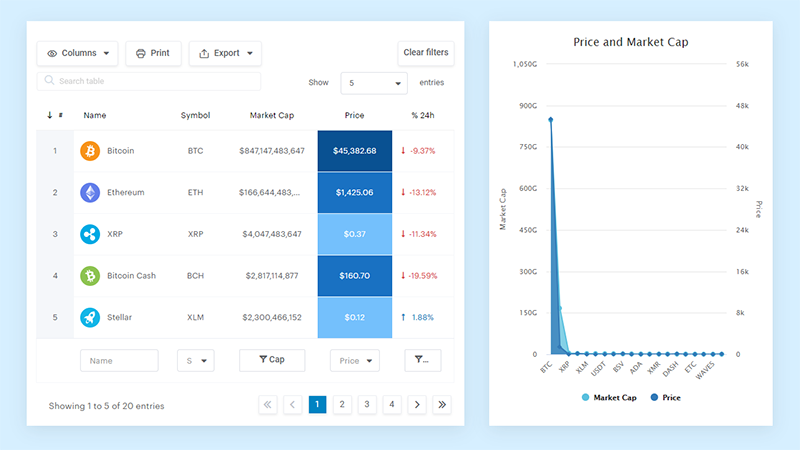 And it's really easy to do something like this:
You provide the table data
Configure and customize it
Publish it in a post or page
And it's not just pretty, but also practical. You can make large tables with up to millions of rows, or you can use advanced filters and search, or you can go wild and make it editable.
"Yeah, but I just like Excel too much and there's nothing like that on websites". Yeah, there is. You can use conditional formatting like in Excel or Google Sheets.
Did I tell you you can create charts too with your data? And that's only a small part. There are lots of other features for you.
Playfair Display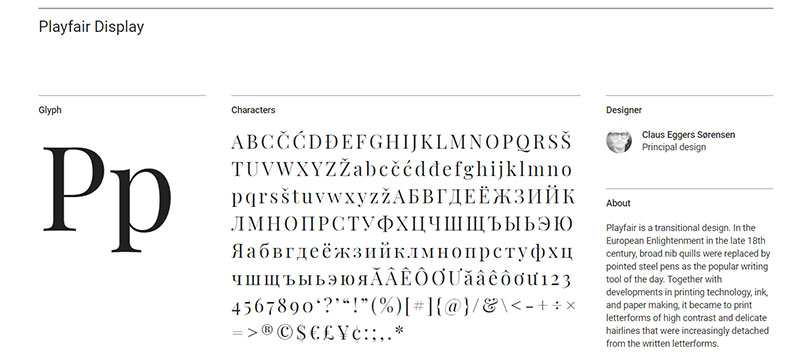 Playfair Display appeared in 2013 as a creation of Claus Sørensen and it's still going strong today. If you need an extra-large font, Playfair will do the job for you.
If you have an image of the 18th-century printing technology writing in your head, you can imagine how this font looks, as it is entirely inspired by that.
It is similar to Baskerville and Martins' Boydell Shakespeare font. Use it only for titles and headlines for maximum impact.
BenchNine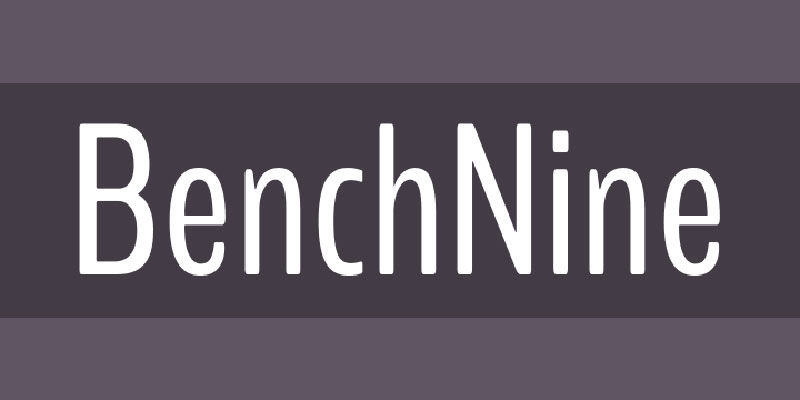 BenchNine is one of the best fonts for blogs that have a vintage look. It is inspired by ink bleeds and borrows characteristics from the vernacular woodcut type.
Slabo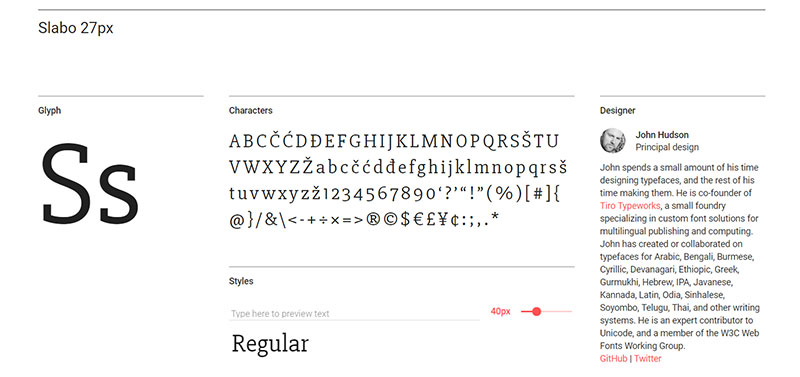 Have you ever used WordPress fonts that are specifically designed for a certain size?
Well, if not, here's your chance to try it.
You can use it for both body text (13px) and headlines (27px), depending on your own needs.
The font was developed by John Hudson and looks best at the specified sizes.
Lato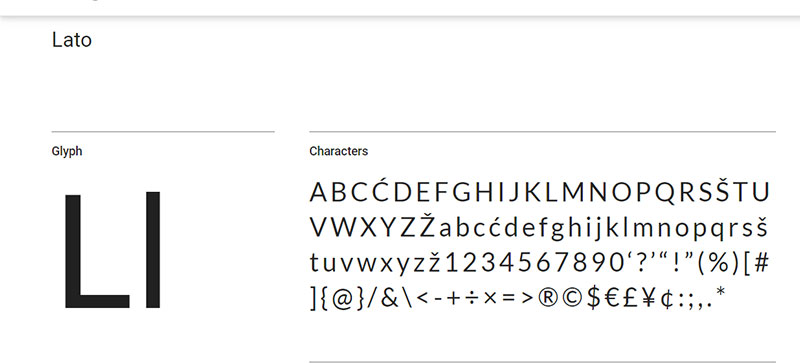 Lato is a hit in the USA – it has no less than 8 billion displays according to the Google API. Lato, which translates as "summer" from Polish, is a Sans-Serif font developed by Łukasz Dziedzic in 2010. The sans-serif font remains popular to this day because of its elegance and simplicity.
If you have a WordPress website and this one didn't come by default with a WordPress theme, it would be quite a surprise
Oswald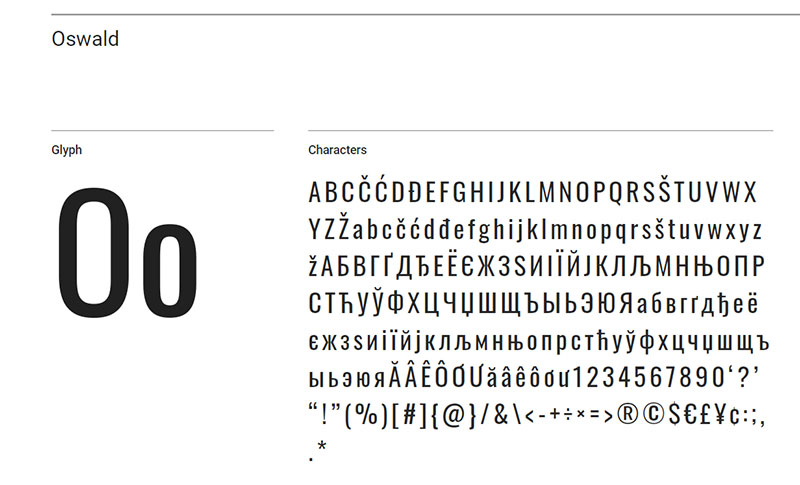 If you are familiar with the Alternate Gothic typeface that everyone was crazy about at a certain point in the past, you'll be happy to learn about Oswald, an updated version of this cherished font choice.
In a world where everyone spends most of their time in front of a device, Oswald is needed to bring us back to the historical writing style. Keep in mind that this font is very tight in terms of letter spacing.
Lora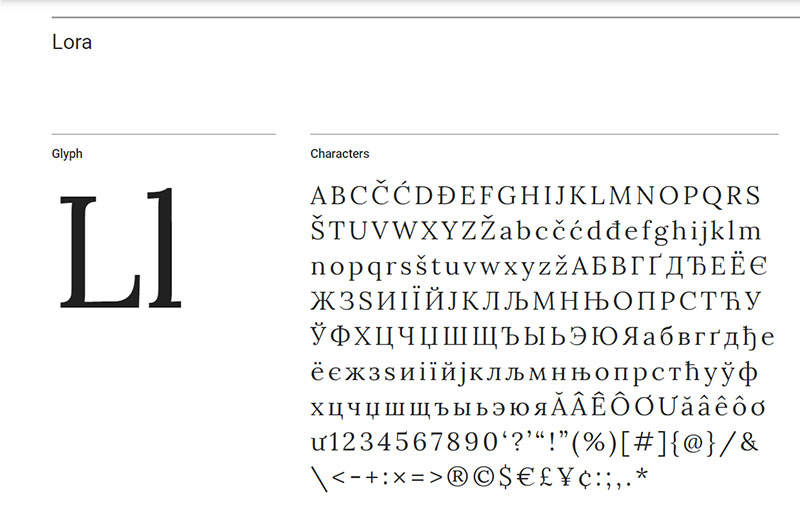 For a more elegant look, Lora is placed among the best WordPress fonts for modern websites. It is a balanced Serif font, inspired by the curviness of calligraphy. The font is well-suited for body text, but you can use it in a combination for headings as well.
It is definitely a memorable font and Lora would look great on storytelling or art-related websites.
Monserrat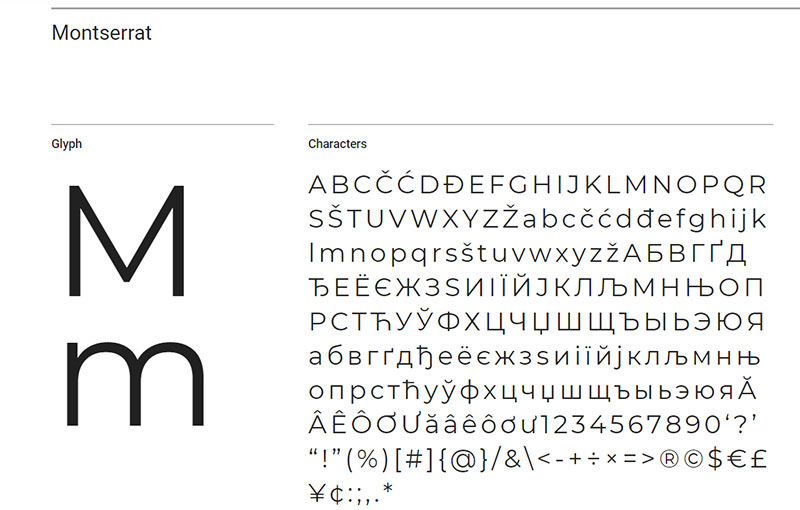 You've almost certainly already seen Monserrat around. It is a highly popular font, used for all sorts of purposes. It is suitable for professional websites that want to keep everything simple, yet easy to read. It is used by around 5 billion websites all around the world.
Combine this font with Lato or Open Sans for an interesting look.
Source Sans Pro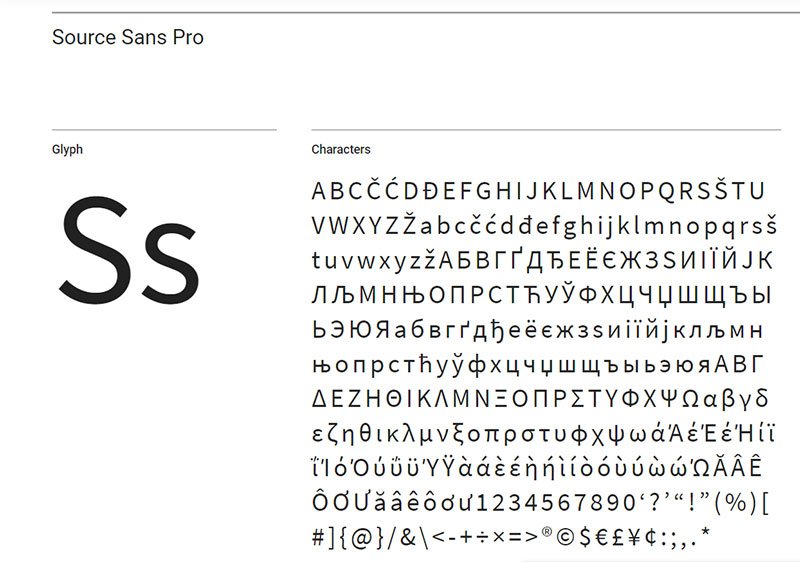 Another one of the best WordPress fonts, Source Sans Pro was developed by Adobe to fit all sorts of user interfaces. Since then, the font is used on 4 billion websites in the US and France alone. Users prefer to combine it with bolder fonts like Oswald or Roboto.
Extra Tip: How to Pair Fonts
You shouldn't rely only on your own tastes when selecting WordPress fonts. There are some tips and tricks that could help you come up with better combinations. Using one single font is too plain and combining fonts can be tricky.
You can either use fonts that are contrastive, like a thin font and a bold one but don't go too far. The fonts have to complement each other.
Fonts that don't have any element in common can ruin the look of your site. The foolproof way is to use fonts that come from the same family. If you want to use a different font for your titles, content, and menu, you need to follow some aesthetic principle.
Don't be afraid to test combinations out before making a final decision.
After you've selected the best WordPress fonts out there, combine them creatively, keeping in mind the following rules of thumb:
Don't clutter your website visually – use one or two fonts and be consistent
Readability should be the number one priority
Pair opposite fonts if you know how to combine them
Pair family fonts if you are a beginner in terms of typefaces
Match the fonts with your website's mood
FAQs about the best WordPress fonts
1. What are the best fonts to use for a WordPress website?
The type of website and the target audience have a big impact on the best fonts to use for WordPress websites. Since they are simple to read on computer displays, sans-serif fonts like Arial and Helvetica are typically a safe choice for most websites.
Nonetheless, because they are readable and have a traditional look, other typefaces like Georgia, Times New Roman, and Palatino are also well-liked. It's crucial to pick a typeface that complements the website's design and business identity while still being readable.
2. How do I choose the right font for my WordPress website?
The goal, audience, and brand identity of your WordPress website should all be taken into account while selecting the typeface.
A decent rule of thumb is to pick a typeface that complements the look and feel of the website while still being simple to read. To find the ideal combo that best suits your business, you can also experiment with different font combinations.
3. Can I use any font for my WordPress website?
In a technical sense, a WordPress website can utilize any font. Certain fonts, however, could not be web-safe or might need extra coding to guarantee compatibility with all hardware and browsers.
When choosing a typeface, it's crucial to think about how usable and accessible it is. If in doubt, go with web-safe fonts or utilize a font storage service like Google Fonts.
4. How do I add custom fonts to my WordPress website?
You'll need to use a font hosting service like Google Fonts or upload the font files to your website's server in order to add custom fonts to your WordPress website.
Once the file has been submitted, you can specify the font family and style to use on your website using CSS. As an alternative, you may simply add custom fonts to WordPress websites without knowing any code by using a plugin like Simple Google Fonts.
5. Are there any free fonts that work well with WordPress?
Absolutely, there are many free fonts available that are compatible with WordPress. A large selection of web-safe, free typefaces that are simple to use and customize is available from Google Fonts. Open Sans, Lato, and Roboto are a few further well-liked free fonts. Before using a typeface, make sure to review its license and usage guidelines.
6. What are the most popular font combinations for WordPress websites?
For WordPress websites, coupling a sans-serif typeface with a serif font or a script font is one of the most used font pairings.
For instance, combining a contemporary sans-serif font like Montserrat with a traditional serif font like Georgia results in a chic and refined appearance. As an alternative, combining a strong sans-serif font like Bebas Neue with a wacky script font like Pacifico results in a creative and interesting design.
7. How do I ensure that the fonts on my WordPress website are readable?
Make sure your WordPress website's fonts are viewable by selecting one with a readable design and the right font size. In order to improve readability, it's also critical to employ a significant amount of contrast between the text and the backdrop and to refrain from utilizing a variety of fonts or font styles that could confuse readers or detract from the content.
8. Can I change the font size and color on my WordPress website?
Sure, you can use CSS code or WordPress plugins like Simple Google Fonts or WP Google Fonts to alter the font size and color on your WordPress page. Increased readability and a more cohesive design can be achieved by changing the font size and color.
9. How do I make my WordPress website look more professional with fonts?
Choose a font that matches your brand and style and consistent font styles throughout your WordPress website to give it a more polished appearance.
Make sure the font is readable and easy to read, and refrain from employing an excessive number of different fonts or font styles. To create a distinctive and polished appearance, you can also play with different font combinations.
10. Are there any recommended fonts for specific types of WordPress websites (e.g. blog, business, portfolio)?
Sure, there are fonts that are suggested for particular WordPress website kinds. For instance, a blog can benefit from selecting a font like Open Sans or Roboto that is simple to read and has a welcoming or approachable vibe. Using a professional and contemporary typeface on a business website, such as Montserrat or Helvetica, may be beneficial.
Using a distinctive and imaginative font for a portfolio website, like Raleway or Playfair Display, may be beneficial. In the end, the font selection should be in line with the goals, target market, and brand identity of the website.
Ending thoughts on these WordPress fonts
Choosing the best WordPress fonts for your site is only the first step. You will need to learn how to use them to match your site's personality, as well as how to combine them to achieve the proper effect. Focus on the font family to pair them easily at first.
Then, you can get more creative and use opposite families and come up with a unique combination. Ultimately, you'll have to decide what message you want to convey through your website, what font family suits that message, and what fonts go well with each other.
If you enjoyed reading this article on best WordPress fonts, you should check out this one about WordPress footer plugin.
We also wrote about a few related subjects like WordPress menu plugin, WordPress login plugin, WordPress gallery lightbox, jQuery plugins, WordPress portfolio plugin and WordPress lightbox plugins.