WooCommerce has many options to create an appealing product placement, from chained products to force sells, grouped products, and more. Product types can also range from simple to variable to give you more creative freedom.
The WooCommerce grouped product option allows you to list different products on the same page. These will be displayed on one page but can still be sold individually. This option is often used to display products with similar features, or a product with different versions. It allows customers to buy several products faster which results in increased sales. This article created by our team at wpDataTables will explain the WooCommerce grouped product option and how to set it up.
What is the WooCommerce Grouped Product Option?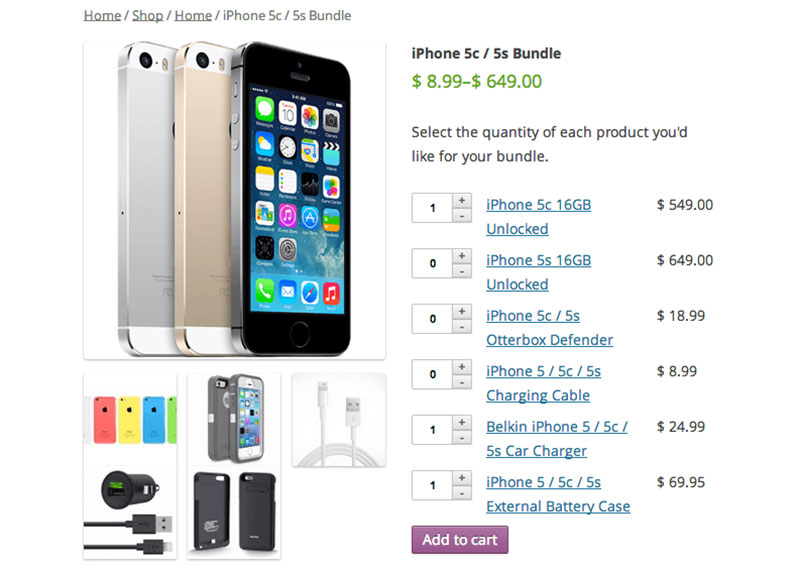 The WooCommerce grouped product option provides a way to group similar products. It displays products together on the main page, but the products can be purchased separately. The intent is to make it easy for a customer to buy similar products that they might be interested in. You can do the following with the WooCommerce grouped product option:
You can use this option to display products that are similar or complementary to each other. This encourages people to buy additional items to enhance the products that they are considering.
You can use the WooCommerce grouped product option to display a product with different ranges or versions. Customers can easily add one or more of these options to their cart without going to several different pages.
The group product option can also be used to allow customers to create custom packages.
The best part of grouping products together is that it doesn't force customers to buy products. Instead, the seller is offering additional items that might interest the customer. This creates a shopping environment that encourages the customer to make additional purchases.
Grouped products are different than bundled products. A WooCommerce grouped product can be bought separately and at a different quantity from the products with which it is grouped. Bundled products, however, are combinations of items frequently bought together, and the customer has to buy the whole bundle, usually at a discounted price.
Examples of Grouped Products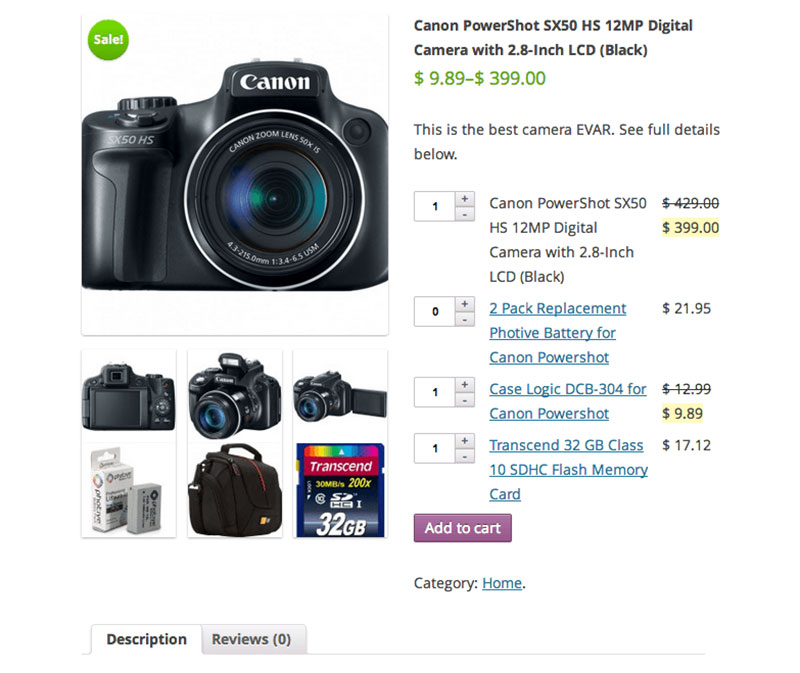 Here are some examples corresponding to the above three ways to use the WooCommerce grouped product option. These examples will further clarify how using the WooCommerce grouped product option will be to your advantage.
Displaying complementary products. For example, if you are selling laptops, appropriate products like a wireless mouse or a laptop case can be grouped with the product. Or if you are selling remotes you can group it with a package of batteries. Both the remote and the package of batteries can be viewed either as a standalone product in your catalog and be displayed on the main product page. If preferred, you can feature the batteries only on the grouped page.
Displaying products of different ranges. For example, you have USB sticks to sell with 32, 64, and 128 MB of storage. The WooCommerce grouped product option allows you to display all of these options on one main product page. Then customers can buy the desired version without going to other pages.
Customers can create custom packages. For example, on the main product page, you can display several different living room furniture items. Each customer can add individual pieces to their cart to create a customized package. Another example is that of makeup supplies. On the main product page, it could list blush, brushes, cotton pads, makeup remover, and so on. Then the customer can choose which of these products they want to purchase by adding them to their cart. In this way, the customer can buy all these different products in one place instead of going to several different pages.
This completes the review of several different applications for the WooCommerce grouped product option. How can you set it up?
How to Create WooCommerce Grouped Products
Setting up grouped products takes a little more effort than other types of products. Each product that you want to group together will need its own simple product page. You will also need to set up the main product page. Here are the steps to create WooCommerce grouped products:
Step 1: Create a main grouped product page
Go to Products > Add New.
Then add a title for the grouped product page. In general, it should be phrased to indicate a set or group of products. For example, "makeup set".
Next, under Product Data select "grouped product" from the drop-down menu. After clicking "grouped product" some fields will change, for example, the price field will disappear. This information will be added to the individual product pages.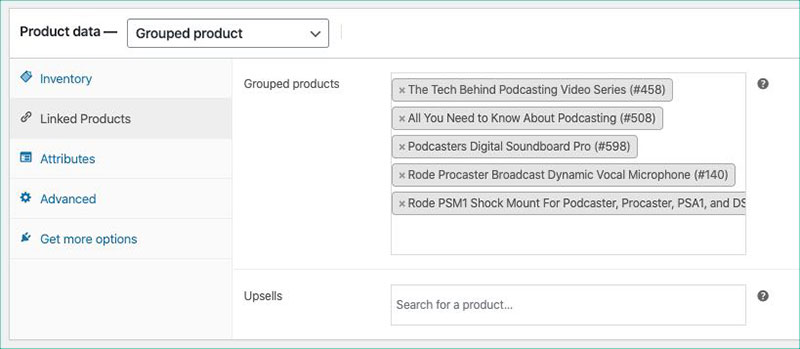 Next, you can add a description, a featured image, select a category, etc., according to your requirements.
Then select "Publish".
This main product page will remain empty until you create individualized product pages or add existing pages.
Step 2: Create individual simple product pages

Create a product page for each version of a product or for every individual item that you want to group together.
Go to Products > Add New.
Next, under Product Data select "simple product" from the drop-down menu.
At this point, you can add a title and the price of the product.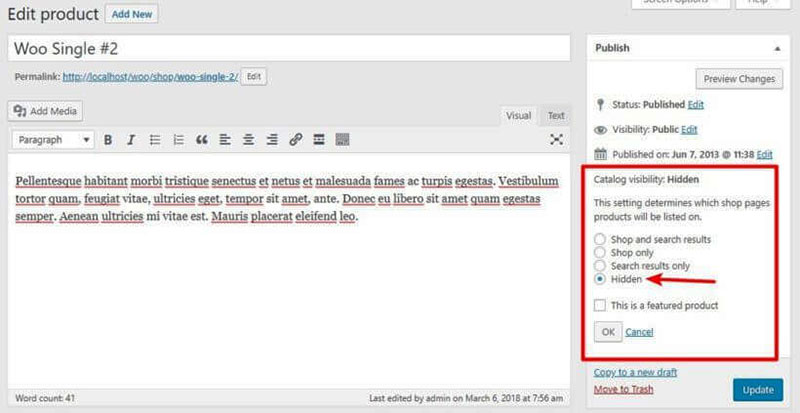 By default, these simple product pages will be visible in your catalog, but you can choose to hide the individual product. Change the product's visibility setting to display and allow it to be purchased only through the main grouped product page. To change the visibility setting go to Catalog Visibility in the right-hand box and select the option "hidden". Then hit "OK" and "Publish".
If you want to display an item as both a standalone and a grouped product make sure to add the needed details like a description and images.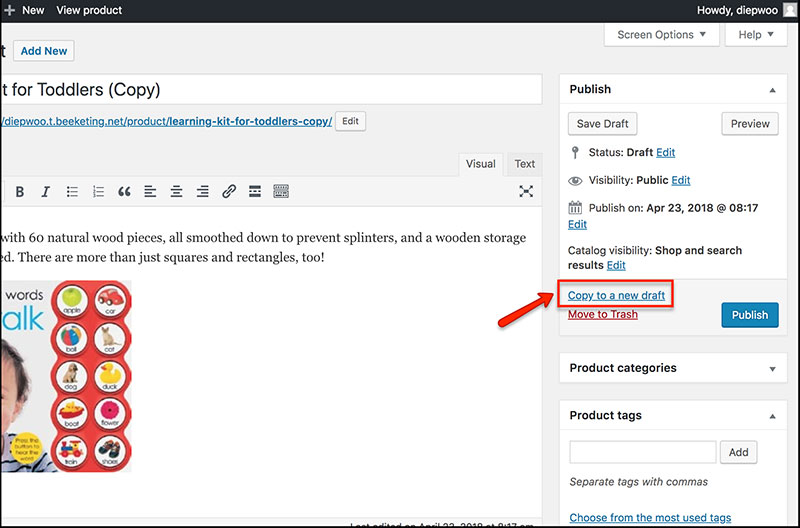 If you are creating pages for different versions of the same product you can cut down on workload by duplicating the simple product page. To do so, in the right-hand menu click "copy to a new draft".
Step 3: Link the simple product pages to the main grouped product page
Go to the main product page.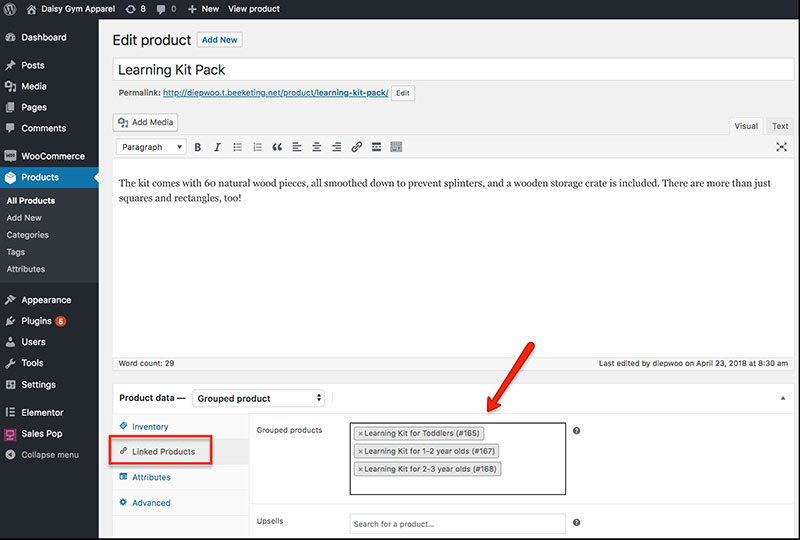 Scroll to Linked Products and under Grouped Products select the products you want to group to this page by searching for their title.
Click "Update".
Or from the simple product page you can go to Linked Products> Grouping and select the main product page where you would like to add the item.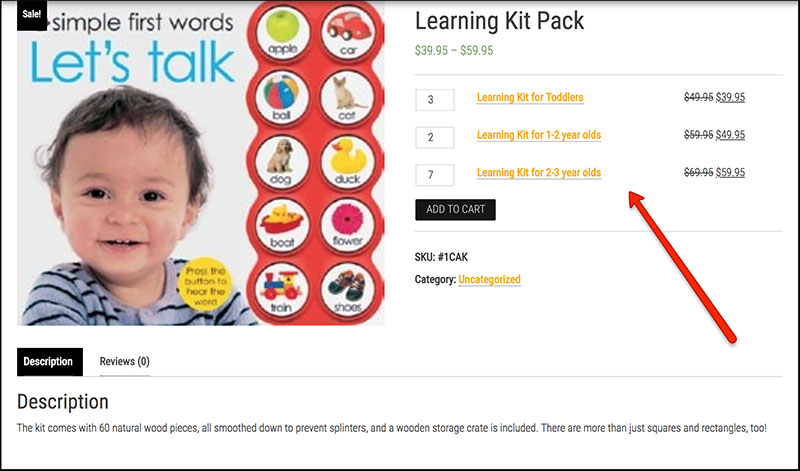 Next, check the live page to verify everything is being displayed as anticipated.
Completing these three steps creates an appealing grouped product page. Now customers can buy a separate quantity of the individual items all from this one page and with one click.
Options for Grouped Products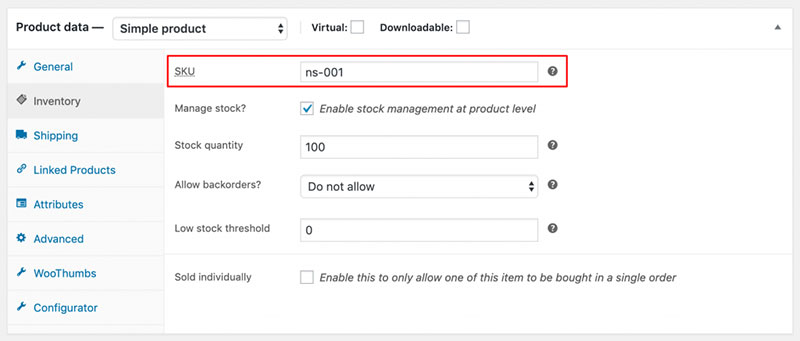 Other options can be added to a grouped product to enhance its description and placement. Here are some options that can be assigned to a WooCommerce grouped product:
You can assign each product a Stock Keep Unit number. This number or SKU is a unique number that helps you to keep track of and prevent the loss of any product inventory. The individual products in a grouped product should have their own SKU numbers.

Another WooCommerce option allows you to recommend additional products for an upsell. Enter the products under the upsells service. These products will appear underneath your grouped products. Recommend products that the customer might like based on what they have selected. They can be similar in type, material, purpose, price, etc.
You can also assign different attributes to define your products. For example, if you are selling the same purse in three different colors, the color should be added as an attribute to each purse. This will show the customer that different variations of the product are available. This is called a variable product.
The menu order option allows you to change the order in which products appear in the menu list. You can highlight the top-selling products by assigning them a higher place on the list.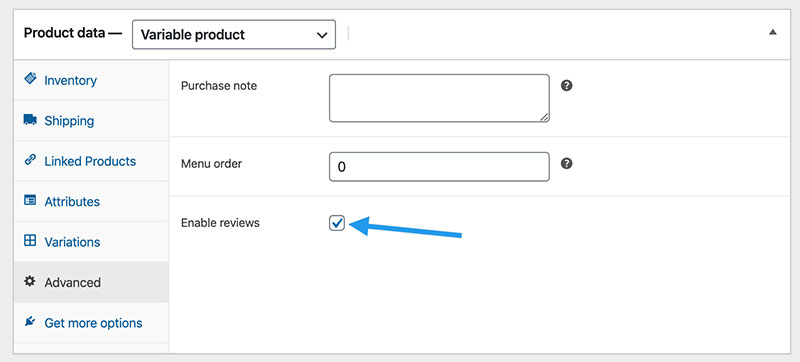 An "enable reviews" option is also available to display user reviews. Enabling user reviews provides unique, customer-generated content useful for Search Engine Optimization (SEO) purposes.
Grouped thoughts on the WooCommerce grouped product option
In conclusion, the WooCommerce grouped product option is beneficial for several reasons. It can be used to showcase variations in the same product, or it can be used to display complementary products. It also can allow customers to create custom purchase packages. It gives customers the freedom to purchase various products without feeling forced to buy them. In whatever way this option is used it provides an appealing and easy way for customers to buy more resulting in increased sales.
If you enjoyed reading this article on WooCommerce grouped product, you should check out this one about how to set WooCommerce related products.
We also wrote about a few related subjects like WooCommerce variable product, how to set up WooCommerce test mode, WooCommerce redirect after checkout, WooCommerce appointments plugins, WooCommerce product variations, how to export export WooCommerce orders, how to change the WooCommerce number of products per page, WooCommerce hide category from shop page and the best WooCommerce extra product options.