If you own a WordPress website and you want to display your best work, you need a WordPress portfolio plugin because the default WP version will not suffice. Adding an image to text is not enough if you want a creative, professional-looking, portfolio to show off your best work.
There are many options that you can choose from because the world of WordPress portfolio plugins is a rich one. Plugins for WordPress portfolios are friendly to newcomers, but they are also easily customizable to allow the creation of distinctive portfolios for each individual.
This article presents you with several WordPress portfolio plugins that you may find useful: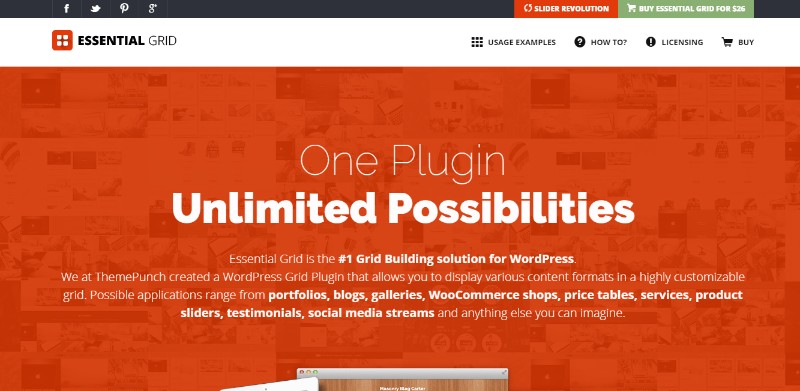 Essential Grid is a WordPress grid plugin that provides unlimited grid building possibilities. You must pay $26 for this portfolio WordPress plugin, and you can get it on CodeCanyon. Many believe that the Essential Grid is the grid plugin for WordPress because of its all-purpose nature.
Essential Grid gives you access to 30 different skins and, if none of them satisfy your tastes, you can always produce specific skins that suit your preferences better. This WordPress portfolio plugin is one of the best WordPress grid plugins with its impressive drag & drop visual editor.
You can save your new skin and export it if you want. The best part? Each of the skins on EssentialGrid has an individual layout and an individual overlay style. Most of the Essential Grid skins are animated as well, a feature that is very appealing to portfolio enthusiasts.
This portfolio WP plugin allows for so much more versatility in creating the portfolio of your dreams because it lets you add audio, video, images, posts, carousels, logos, or WooCommerce products to your portfolio grid. Plus, including a grid into your WP site is a walk in the park!
You can add a grid by choosing the content, which can be pages, posts, gallery, or custom post types, selecting relevant tags or categories, pasting shortcode to the relevant widget area, post, or page. EssentialGrid grids are responsive, filterable, and the option can be turned on or off.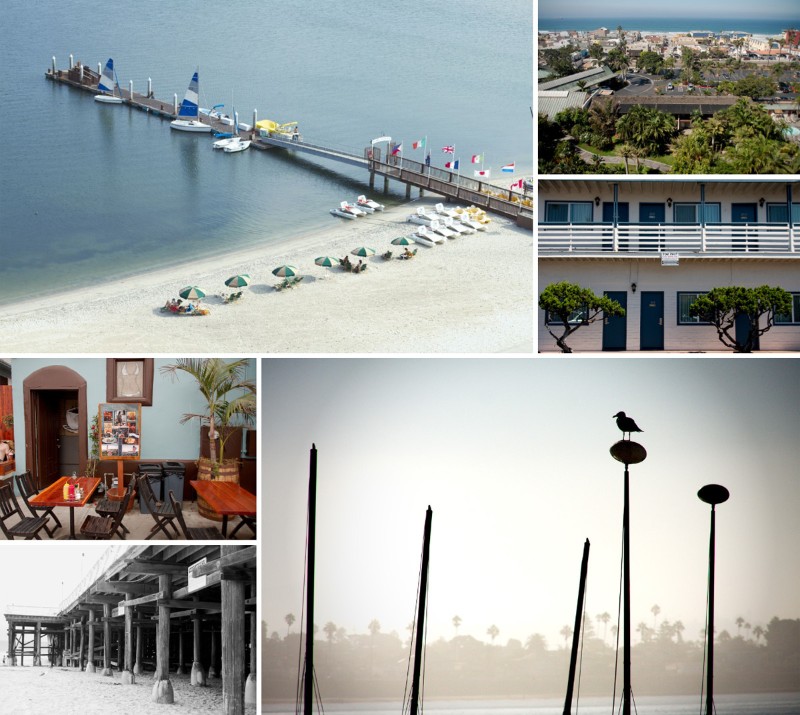 JetPack is one of the best free portfolio plugins that allows you to showcase your best work in an attention-grabbing manner. Coined as a WordPress picture gallery plugin, JetPack provides inbuilt support for tiled galleries making it simple for you to add new galleries to your WP site.
Galleries' styles include tiles, squares, and circles. You can choose multiple columns, customize widths, or enable the single image gallery view. With JetPack, you get to produce fully responsive portfolios. It is very easy to use once the tiled galleries features are activated.
You can now add galleries to your posts as you usually do, only that this time the galleries will be automatically styled in line with your settings for JetPack. Jetpack Tiled galleries Free WordPress Plugin is a free WordPress gallery plugin as the name accurately suggests.

A multipurpose, highly adaptable portfolio gallery builder for WordPress, Easy media Gallery Pro comes in a free version with fewer features and a premium version, which costs only $24. Easy Media is considered a smart portfolio plugin for WordPress due to its many features.
You can enrich your portfolios by adding galleries, carousels, images, photo albums, audio, video, and Google maps. Easy Media optimizes your images for SEO by attaching title attributes and tags. Plus, Easy Media supports 15 different video formats and three different audio formats.
The attributes of this WordPress portfolio gallery plugin include user-friendliness, easy customization of the positioning, access to unlimited colors, and the possibility of improving your portfolio galleries with special effects. Plus, you get responsive portfolios with Easy Media.
You can also make navigation through your WordPress portfolio more efficient by adding filters. Besides, Easy Media Gallery Pro supports ten styles for lightboxes that activate when your users, i.e., your potential clients, click on a portfolio item on your WordPress website.

A free portfolio plugin, Nimble Portfolio comes with a wealth of features for its users. You can add a variety of elements to your portfolio galleries, including pages, posts, images, videos, and custom post types. Nimble creates filterable, fully responsive, and clean-looking galleries.
Featuring eye-catching circular thumbnails, the galleries can have multiple columns. You can also choose the icon to be shown when visitors hover over a portfolio item. When visitors click on thumbnails, the lightbox turns up and presents the expanded audio, video, or image file.
Premium add-ons are available for the Nimble Portfolio plugin, and they currently include four lightboxes, two skins, and one sorting feature extension.

What is a WordPress portfolio if not a means to display your most creative work in the most efficient manner? Elvira Gallery may be everything you've been looking for in a WordPress portfolio plugin. It is a fantastically responsive, fast loading WordPress portfolio plugin!
It comes with simple to customize features and drag & drop portfolio builder. It offers elegant, optimized designs, and it is available for free on wordpress.com as well as in a premium version. Envira is an amazing portfolio WordPress plugin!

Go Portfolio is a premium WordPress portfolio plugin that offers the right value for what you are paying! This is the best portfolio plugin WordPress could ask for and much more! It is packed with features and allows the creation of any number of fully responsive portfolios.
Designed to be compatible with Visual Composer as well as WooCommerce-ready, Go Portfolio is a retina-ready WordPress portfolio plugin with a tidy documentation style. It features a highly developed import and export system allowing you to create an infinite number of portfolios.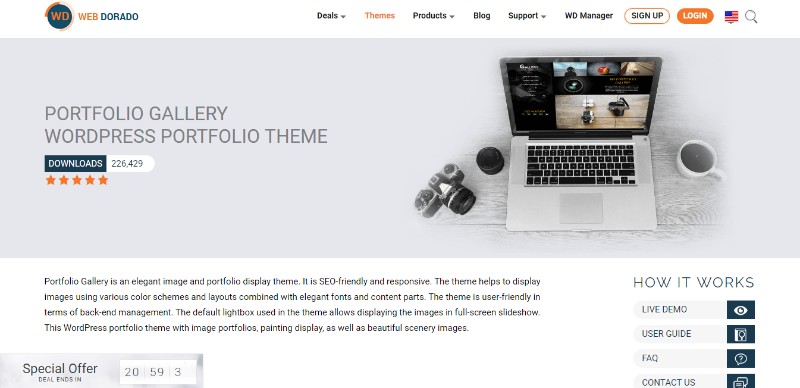 The grid WordPress portfolio is excellent for displaying visual works. This type of portfolio is one of the most efficient portfolios for the practitioners of the visual arts. Featuring 12 different grid formats with individual features, Portfolio & Gallery is a valuable plugin for WordPress users.
Custom features include masonry formatting, lazy loading, and pagination bars, all of which you can choose to match and mix to agree with your needs.

If you worry that you don't know how to use WordPress portfolio plugins, then TLP Portfolio is for you: it is the easiest to use, simplest WordPress portfolio plugin option. Plus, TLP Portfolio comes both in a free version and a premium version, i.e., a freemium WordPress plugin.
TLP Portfolio offers access to several styles for page layouts and grid features. You can utilize shortcodes to switch between custom styles, and you can target the gallery you want to showcase.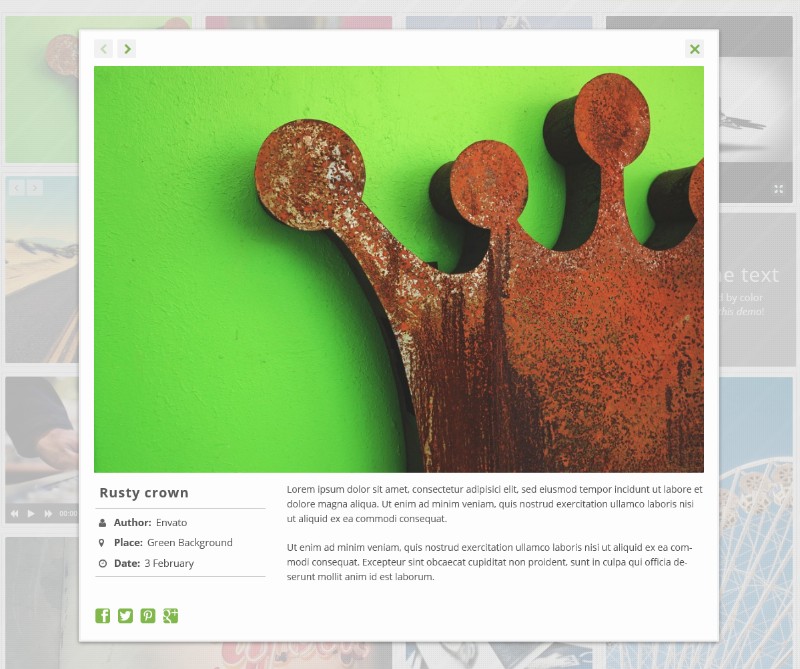 MediaGrid allows you to create filterable portfolios without altering any coding part. It is a portfolio plugin that produces responsive portfolios and has a customizable and translatable backend. MediaGrid is easy to translate and is WPML-certified.
Zoomfolio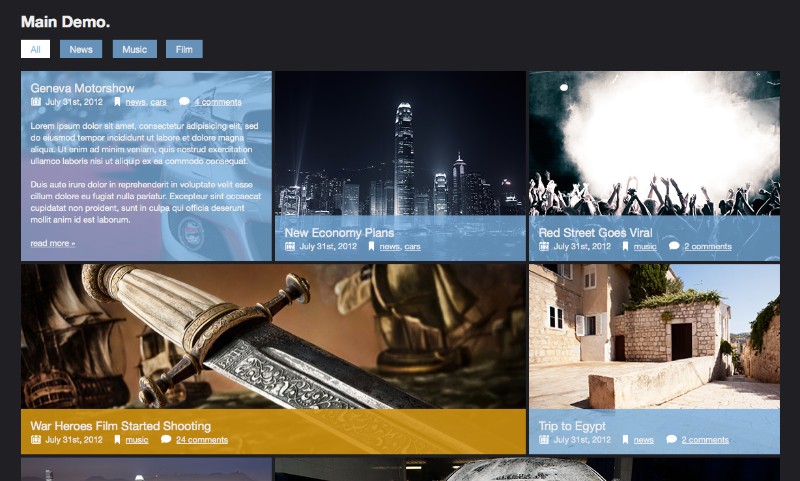 If you are into creative work, Zoomfolio is the WordPress portfolio plugin for you. It is a great plugin if you want to highlight your most recent WP blog posts. The design is easy and endlessly customizable and supports all custom types.

Portfolio Slideshow is a WordPress plugin that does exactly what its name suggests: it adds a slideshow to your WordPress website. The Java-Script-based slideshow is tidy and intuitive and can be easily customized in the premium version.
You can add some pagers to your slideshow if you want to and pagers to choose from include slide and carousel titles and bullets. Portfolio Slideshow integrates with the responsive design of your WordPress theme.
Ending thoughts on choosing the best WordPress portfolio plugin
A portfolio speaks the best of your work. In some industries, a showcase of your previous work is a must if you want to secure new customers. You must understand that the way you choose to showcase your work is as important to your success as the work itself.
WordPress portfolio plugins can help you choose the most appropriate way to display your work. There are plenty of options to choose from, and you can no longer make up excuses for the worn-out, unkempt look of your portfolio.
If you enjoyed reading this article on picking a WordPress portfolio plugin, you should check out this one about WordPress footer plugins.
We also wrote about a few related subjects like jQuery plugins, best WordPress fonts, WordPress menu plugin, WordPress login plugin, WordPress gallery lightbox, and WordPress lightbox plugins.