Menus are one of the few features of a website that simply can't be missing. Regardless of the platform you're using, you cannot build a website without a menu on every page, because without one, navigation becomes impossible.
WordPress comes with a default menu styled according to your chosen theme, but they might not always fit your needs and requirements.
If you suspect that navigation could be improved with a better menu, you will have to select a WordPress menu plugin that lets you add advanced features to your site's navigation system.
Keep reading more in this article created by our team at wpDataTables, about how a good WordPress menu should look, as well as some great WordPress menu plugins to choose from.
What You Should Know About Menus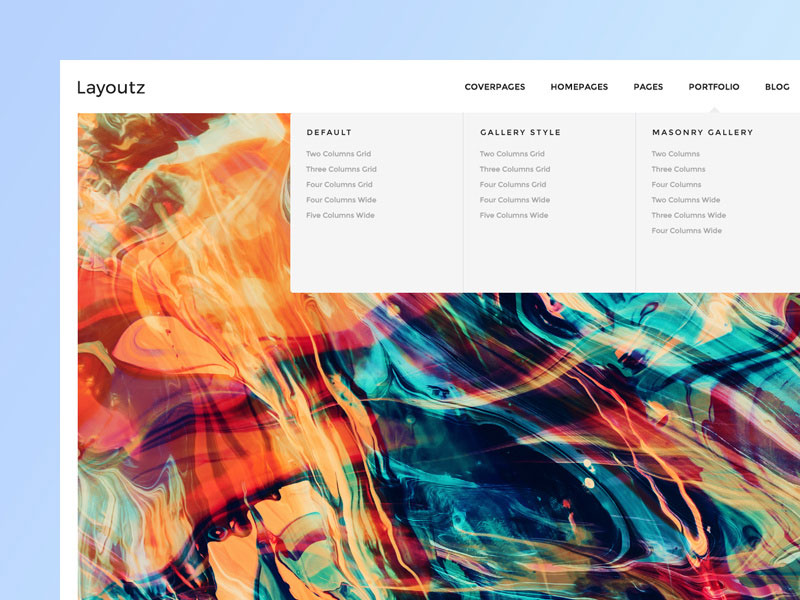 Whenever a person visits your website, they expect to find the content they want in less than a few minutes. To achieve this, you need to work on an effective navigation system.
Websites that have a lot of categories and content included will require menus that are far more complex than the ones that come with the theme you are using.
Menus are little maps that guide visitors through your website from the homepage to the page they want to reach. They represent the master key that unlocks all the different areas of your website and a good menu must be carefully planned and well-structured.
An effective menu is also perceived as a plus by search engines. Combined with a sitemap, menus are a great way to have your website ranked higher. If visitors tend to bounce away immediately after accessing your website, there's a chance that the navigation system is the problem —people can't find what they are looking for quickly.
If you're not good with coding, don't worry —there are plenty of WordPress menu plugins you can choose from.
Why Not Use the Default Menu?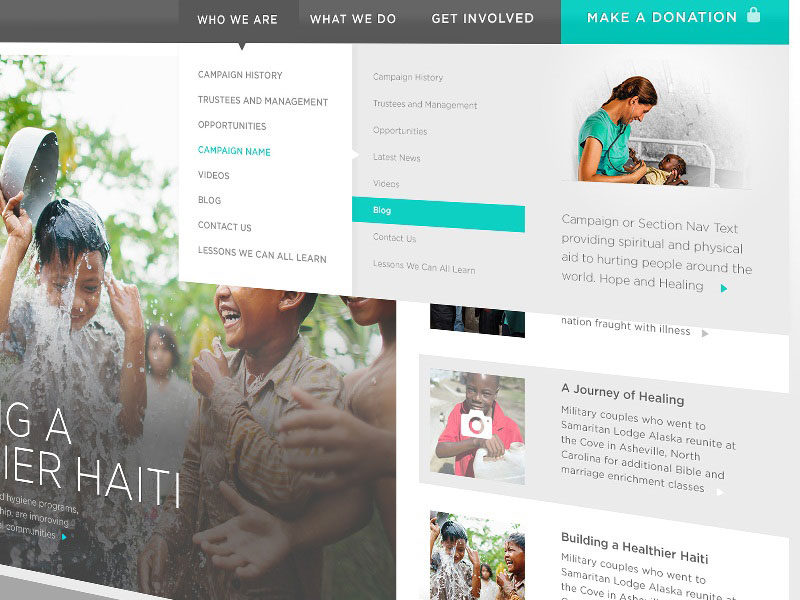 This question comes up a lot because many people think that the best menu is the one that comes included with the theme. This is not necessarily true.
The theme you use may have a purpose that's not fully in line with your goals. Even though the theme looks great and suits your website's specifics, it doesn't mean that the menu is appropriate too.
The functions and customization options on the default menus that come included in the themes you use are quite limited because, being "default", they are designed to be simple.
If you have a complex website that requires you to thoughtfully guide people throughout the content, you may want to opt for a WordPress menu plugin instead. They are far more flexible in terms of features and they typically far exceed the basic functions of a default menu.
The Best WordPress Menu Plugin Options Out There
Now you've decided to use a WordPress menu plugin, it's time to discover your options. We selected a few of the most popularones here, but the choice is ultimately yours.
UberMenu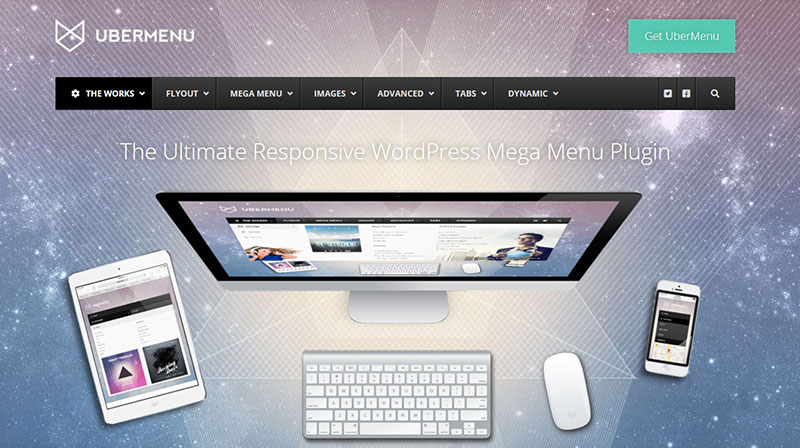 Mega menus have become a popular trend for big websites, especially e-commerce sites. If you have a lot of categories to list, a mega menu would be a sensible choice. UberMenu is the hotcake of this type of menu, as it has more than 70,000 sales and mostly positive reviews.
This trending WordPress menu plugin has enough features to suit all your needs. You can choose between a few pre-built menus, and you can decide exactly how you want your menu to look by personalizing it from scratch.
Responsive Menu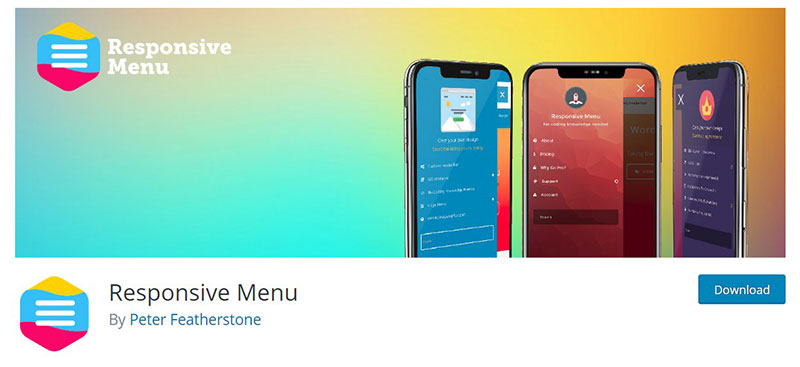 With Responsive Menu, you can create a menu for both mobile and desktop users. The menus are scalable and look great on all screen sizes. With this WordPress menu plugin, you get to customize all the functions you need to ensure effective navigation.
You have more than 70 styles to choose from in terms of titles, depth, font, animations, and more. All the menus are WPML compatible and load very fast. You can use shortcodes to improve them as well.
If Menu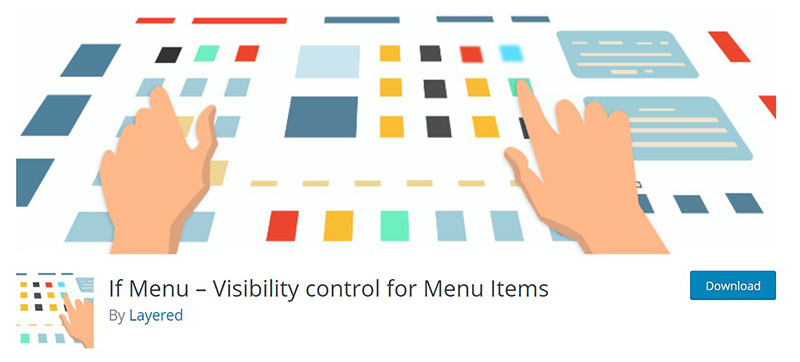 Personalizing WordPress menus with If Menu is a joy. You can make them way more navigable while also changing their appearance with ease. On top of that, you can spice up your menus by adding different functions.
An interesting function that this WordPress menu plugin has when comparing it to others is that you can specify what parts of the menu are visible to all users and what parts are visible only for a certain category of users (say, registered users).
Slick Menu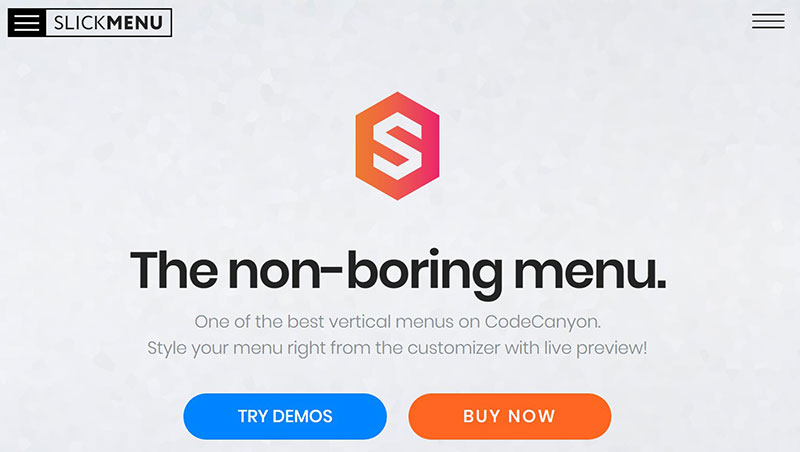 With Slick Menu, you can create all sorts of navigation systems. It's especially great for WordPress dropdown menus, as you can build unlimited levels, each one with its own independent styling.
This WordPress menu plugin is good for people who are building a menu for the first time as it includes a live customizer interface.
You can edit everything within the WordPress Customizer interface, which you may already be familiar with. Slick Menu is user-friendly and creates responsive menus, allowing users to see the changes they make in real time.
Mega Main Menu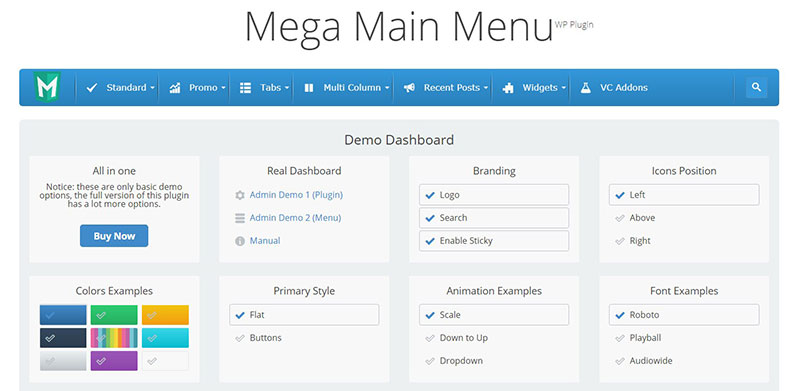 For a WordPress dropdown menu, this plugin gets the job done within minutes. You can choose between 10 different styles with included icons, images, color palettes, and fonts. This is a mega menu WordPress plugin, so you can add as many layers as you want.
What's nice about Mega Main Menu is that it lets you add media in the drop-down areas. For instance, if you want to add an image that fits the category you included in the menu, you can now do that with ease.
Max Mega Menu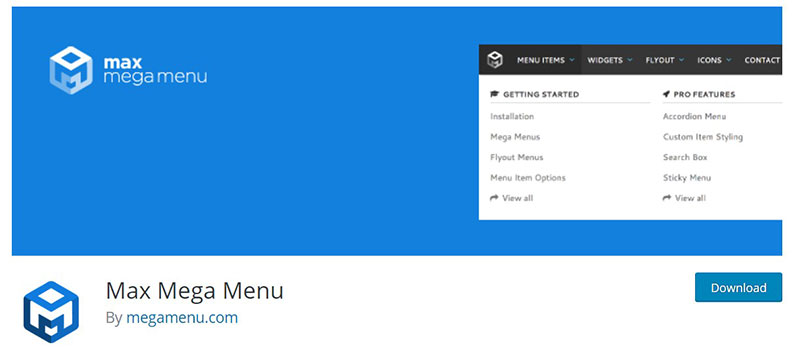 Max Mega Menu turns any existing menu into a mega menu. It's a very responsive WordPress menu plugin and it supports most of the features one would need for their website. You can place images and widgets inside the menu sections and set up click events or transitions.
This WordPress menu plugin comes packed with around 100 customization features and valid CSS3. You can also edit the code yourself if you know how to and use bits of shortcode to personalize the menu even more.
Nextend Accordion Menu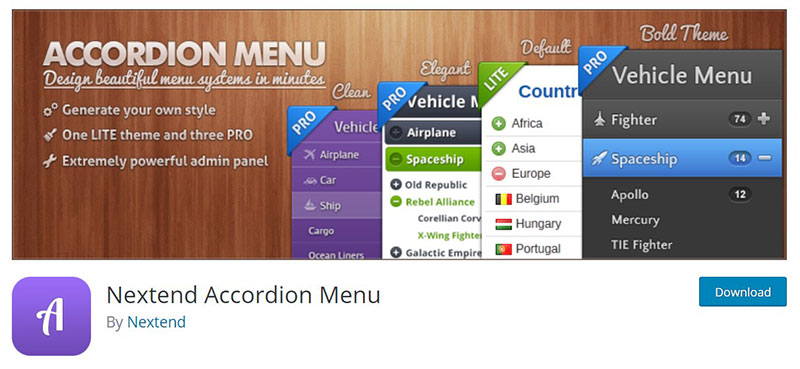 If an accordion menu type is the most suitable for your site, this WordPress menu plugin lets you build a custom one and control its behavior. You can use the default theme that Nextend comes with and you can change it the way you want.
If you get tired of this theme, you can purchase the paid version of the plugin and you'll get three more options to choose from.
Superfly – WordPress menu plugin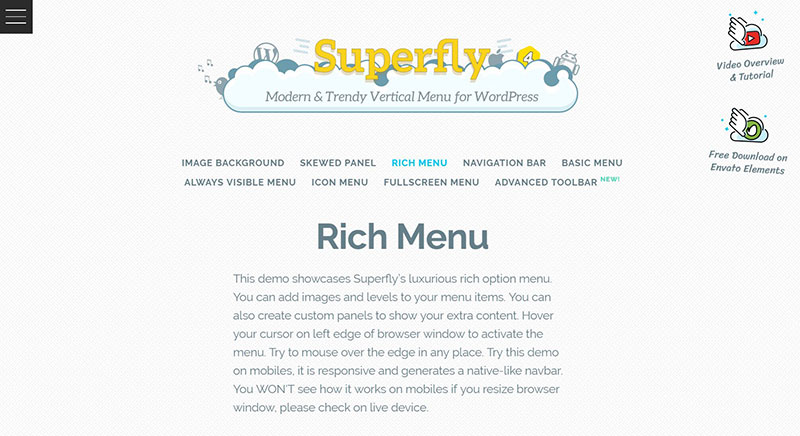 With Superfly, you can either modify your existing default menus or create standalone menus in the styles that come with it. This plugin gives you the chance to build both vertical and horizontal menus, so pay attention to the type you select: horizontal menus are more common than vertical ones.
Although Superfly is packed with all sorts of advanced menu styles, you typically won't use all of them. This is a plugin for those who want to step away from traditional menus and use something much more modern instead.
Advanced Sidebar Menu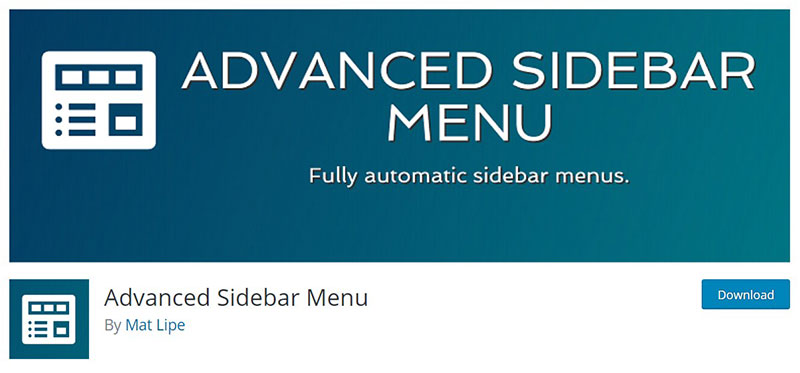 A sidebar menu can be extremely useful for some types of websites, depending on their purpose. If the website is used mostly on mobile platforms, sidebar menus can improve the user experience tremendously.
Advanced Sidebar Menu is perfect for this. It lets you create a sidebar menu in minutes and it has a very user-friendly interface. It's easy to set up, easy to personalize, and it's a good overall choice for those who want to create a decent sidebar menu with no hassle.
QuadMenu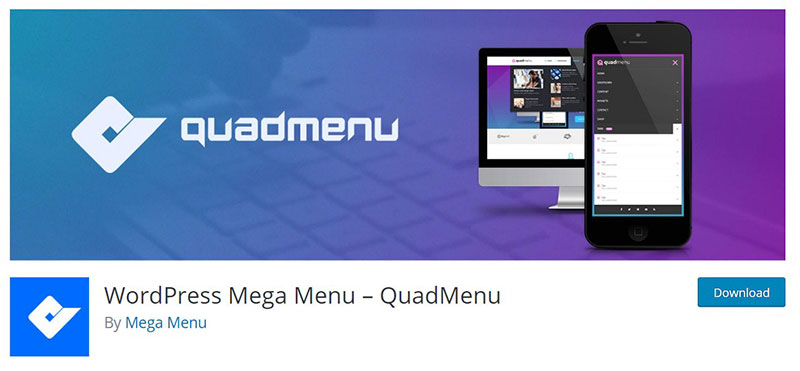 This WordPress plugin is not as powerful as the others listed here, but it's definitely worth taking into account. You can create most menu types, depending on what theme you use. It won't change a lot of aspects of your default menu, but it will enhance the available settings.
It is equipped with features and filters that let you personalize the behavior of the menu when accessed by users, and you can also edit some aspects of its appearance. QuadMenu is a good plugin that should be used by those who don't expect very fancy results.
Ending thoughts on these WordPress menu plugin options
Considering how many options you have when it comes to choosing a WordPress menu plugin, making a decision is tough. Take your time to test out a few different plugins and choose one based on what you expect from your website's menu, as well as what your visitors prefer.
Remember to ask for feedback each time you make a change and see how people react to it. Happy customizing!
If you enjoyed reading this article about WordPress menu plugin, you should read these as well: