Tables are the format for organizing tabular data. Tables are everywhere, even on the web.
When displaying a table on a website, bear in mind that many will be viewing it on a mobile device. So, a table must look good on a desktop computer and on a small screen.
At first glance, publishing a table may seem easy and hardly worth thinking about. It is curious then, that there are a plethora of JavaScript data table libraries available.
It seems that there is a great demand for tools that help to publish responsive tables. A Google search reveals that there are 10,000 JavaScript libraries available for developers.
This post lists 34 of the best JavaScript data table libraries of 2021. Using this list can save web developers a lot of time.
Criteria
First, it is good to review the criteria that JavaScript data table libraries have to meet. The criteria consist of four categories.
Documentation.
A library must have solid documentation. This must show how it was built and allow others to reconstruct it.
Customizability.
A customizable library is better and more useful to users. It should allow the user to add or remove functionalities.
Compatibility.
JavaScripts are in use across many different browsers and devices. So, to be most useful, the library must work on a wide variety of devices.
User Experience.
It should not only work but also be convenient for the user.
Does the plugin fit the product style? This is important for libraries such as date picker libraries.
The 34 Best JavaScript Data Table Libraries
Sortable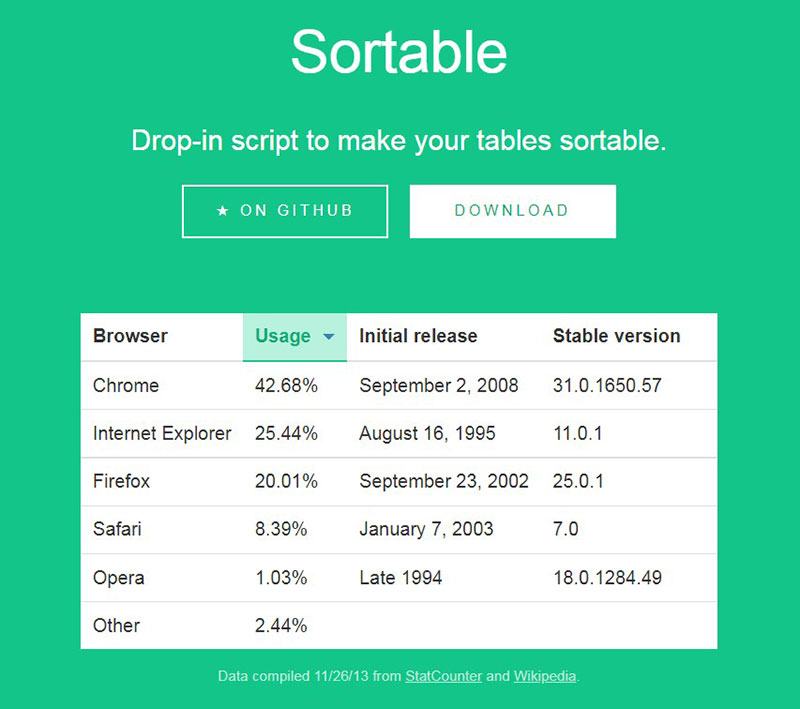 Sortable is super small and is independent of other libraries. It takes up less than 2kb.
It is open-source and uses JavaScript and CSS. It adds sorting functionalities to tables and comes with six beautiful themes.
Besides being small and stand-alone, it ensures that the tables are responsive. It is fast and easy to use.
ag-Grid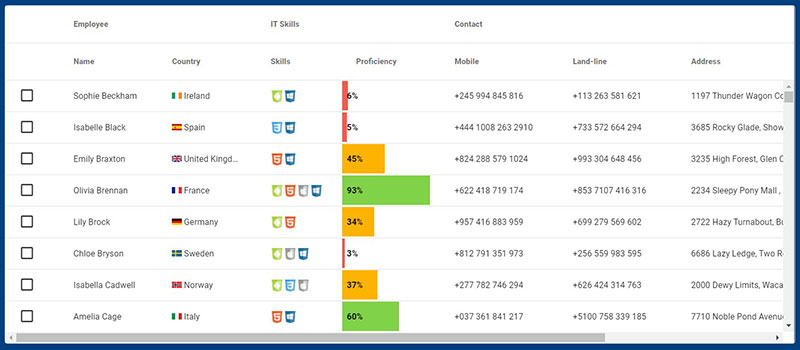 The next selection is ag-Grid, which is a professional JavaScript data grid.
It supports many of the most used JavaScript frameworks. For instance, it supports Angular 1 and 2, Vue.js, and React.
The data grid allows the user to filter, pin, edit, group, select and resize tabulated data. Some of its unique functionalities include:
Create headers
Edit cells
Create cell templates
Perform cell styling and rendering
React-virtualized

React-virtualized is a JavaScript data table library that works best for large datasets. It quickly renders large lists and tabulated data.
It is free and one of the best choices available. It already received more than 22,000 stars on Github.
Other features are the complete documentation and the large community that provides support.
W2Ui

W2UI is a modern and up-to-date UI JavaScript library supported by HTML5 and CSS3. It aims at use by front-end developers for rich, data-based web applications.
It is a complete solution and contains some of the major UI widgets, like:
Popup
Layout
Tabs
Sidebar
Toolbar
Grid
Forms
Field Controls
Looking to create data tables in WordPress?
wpDataTables can do that for you. There's a good reason why it's the #1 WordPress plugin for creating responsive tables and charts.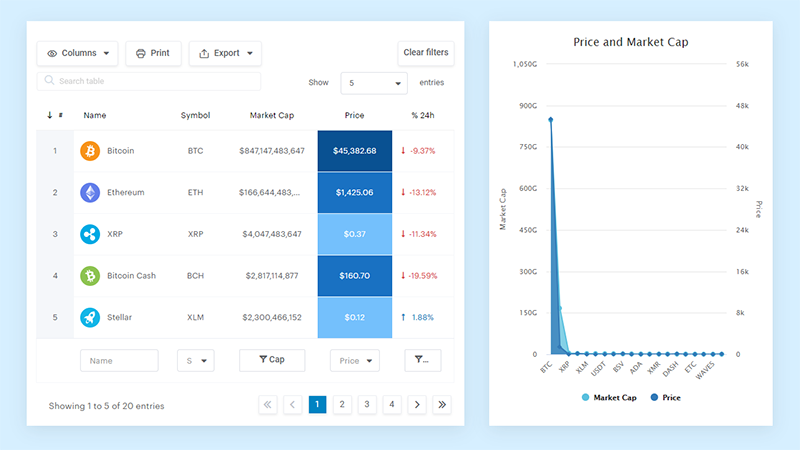 And it's really easy to do something like this:
You provide the table data
Configure and customize it
Publish it in a post or page
And it's not just pretty, but also practical. You can make large tables with up to millions of rows, or you can use advanced filters and search, or you can go wild and make it editable.
"Yeah, but I just like Excel too much and there's nothing like that on websites". Yeah, there is. You can use conditional formatting like in Excel or Google Sheets.
Did I tell you you can create charts too with your data? And that's only a small part. There are lots of other features for you.
Ext JS Grid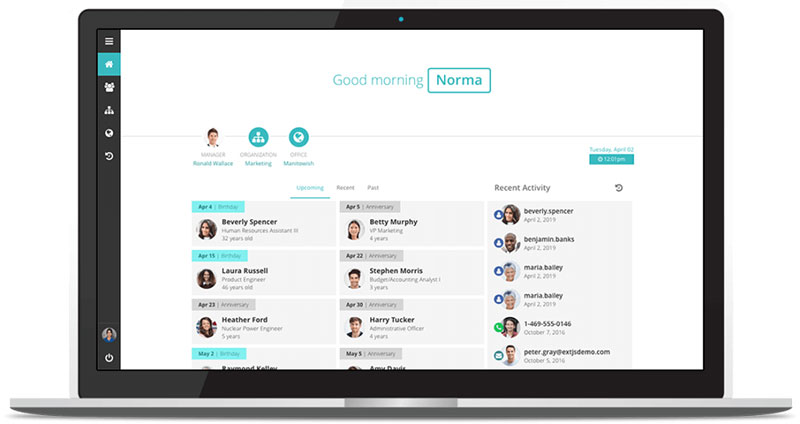 This is a professional high-performance library for making mobile and web applications. It contains the necessary frameworks, tools, and user interface tools to build them.
The components allow developers to add robust analysis tools to applications. It integrates well with other JavaScript data table tools to make the best tables.
Among its many features are:
Customized layouts
Drag-and-drop
Drill down
Editing
Filtering
Grouping
Infinite scrolling
Live data streaming
Locking
Pivoting
Themes
Visualization
Lightweight Vanilla Data Table Component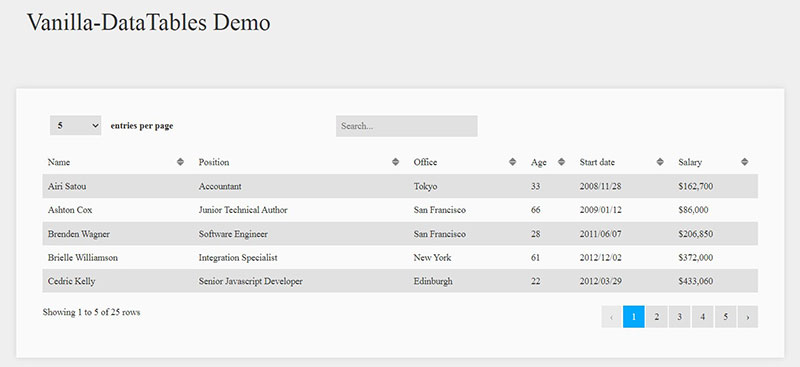 The lightweight Vanilla Data Table Component is small and compatible with Bootstrap. It does not require other software to function. It works well with large data sources.
Some advanced features are:
Editing
Filtering
Ordering
Pagination
webix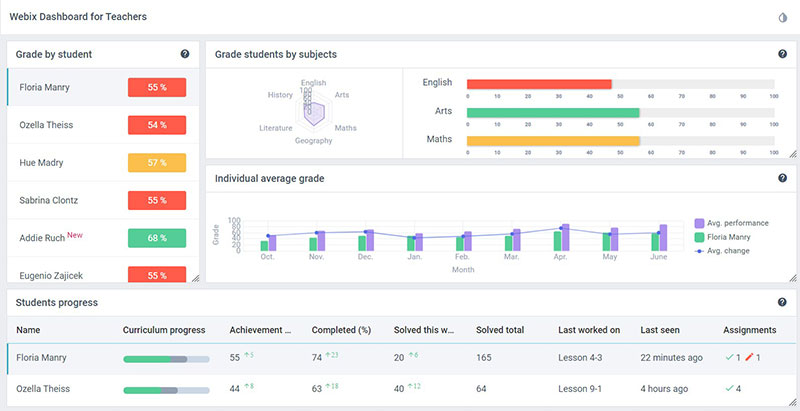 The next data grid plugin is webix. It works well with both complex and simple tables.
It explores different ways of rendering the tables and shows which ones work best. Users can edit the details of the table, for which it has many settings and features.
Advanced features include:
Grid grouping
Header menu
Rowspan and colspan
Sparklines
Sub rows and subviews.
Vertical headers
jQuery King Table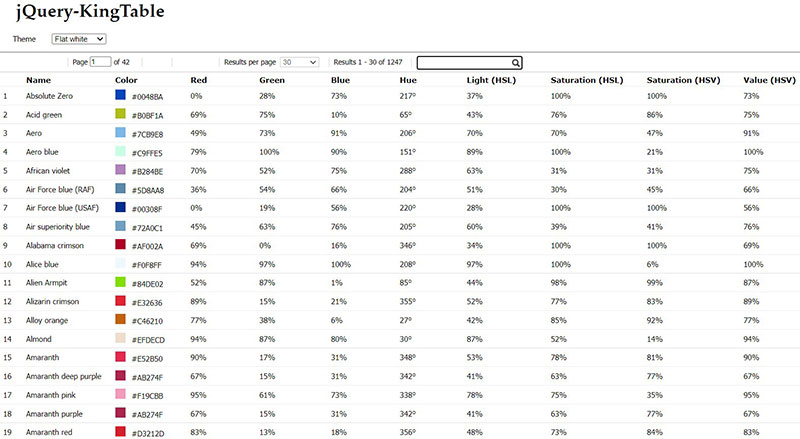 This JQuery JavaScript library helps with creating administrative tables. It supports tables that depend on the input of data.
The JQuery plugin has some interesting features:
Automatically hiding menus
Client and server-side search
Custom filter views
Custom tools
Server-side pagination
Supports JSON, XML and CSV.
Telerik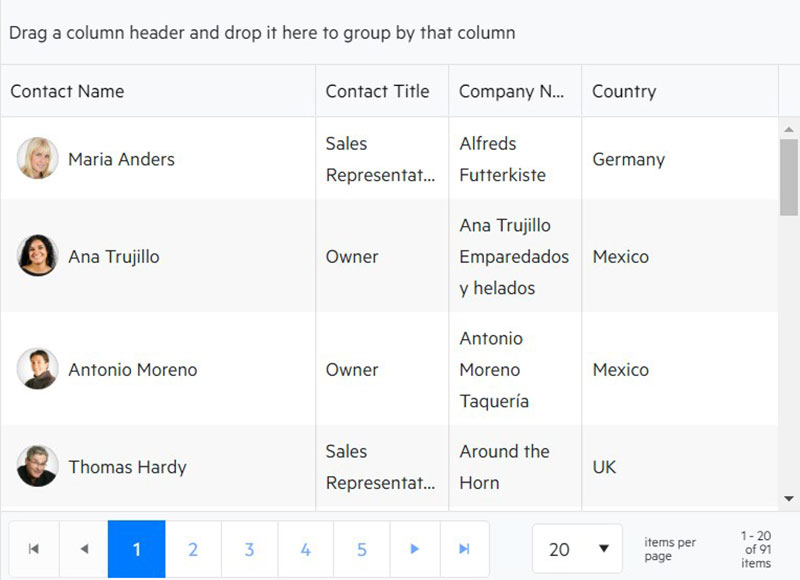 Telerik is the company that is behind the development of the Kendo UI JS framework.
It is a commercial product that aims at web, native, and hybrid applications. It works for a variety of widgets and supports MVC, .NET, and PHP.
Some of the grid solutions that it offers are:
Grid
Scheduler
Spreadsheet
Tree grid
Backgrid.js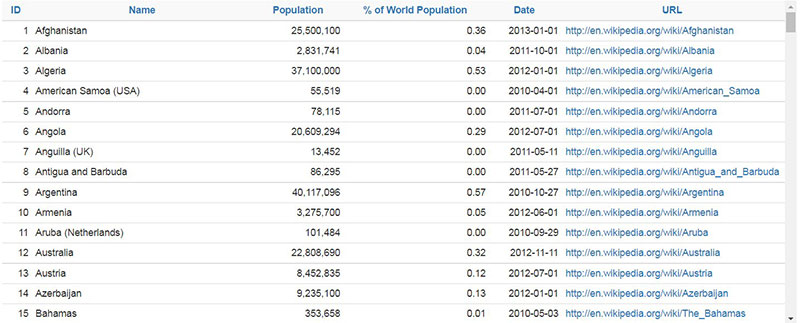 Backgrid.js helps users to make data grids and style them. It is small, fully responsive, and offers a variety of modules.
It allows the user to edit, sort, and display data in a logical and attractive way. Besides the standard function, it allows the creation of customized APIs.
Its lightness makes it very adaptable and reactive. Yet, the core elements help to make data editable and displayable.
React-Table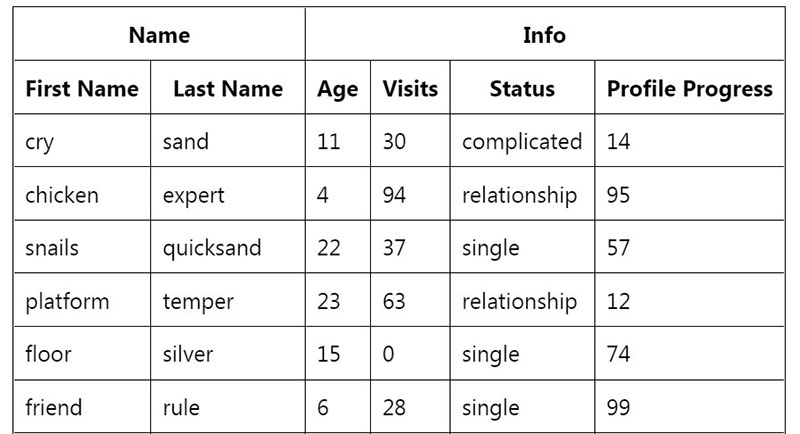 React-Table is a very popular JavaScript library for creating data tables. During the time that it has been available through Github, it has collected more than 14,500 stars.
Even large companies, like Amazon, Intuit, and Google, use it.
This library, which also supports Hooks, is often updated and improved. Despite the fact that it is small, it offers all the most commonly used features for creating tables.
The documentation is complete and contains many practical examples.
Sheetsee.js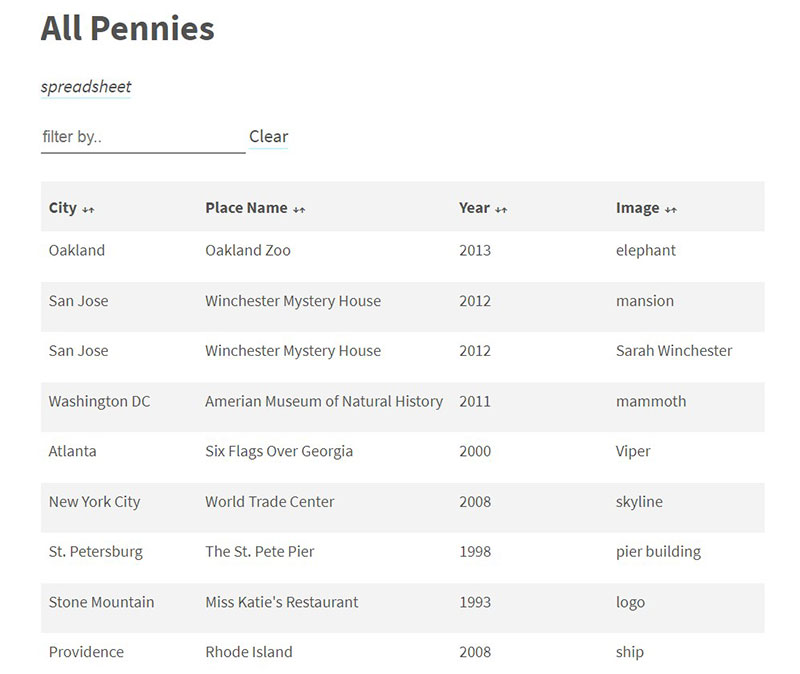 Sheetsee.js connects Google Sheets to a website to visualize tables and other data-driven charts. It is a client-side JavaScript library.
The jQWidgetS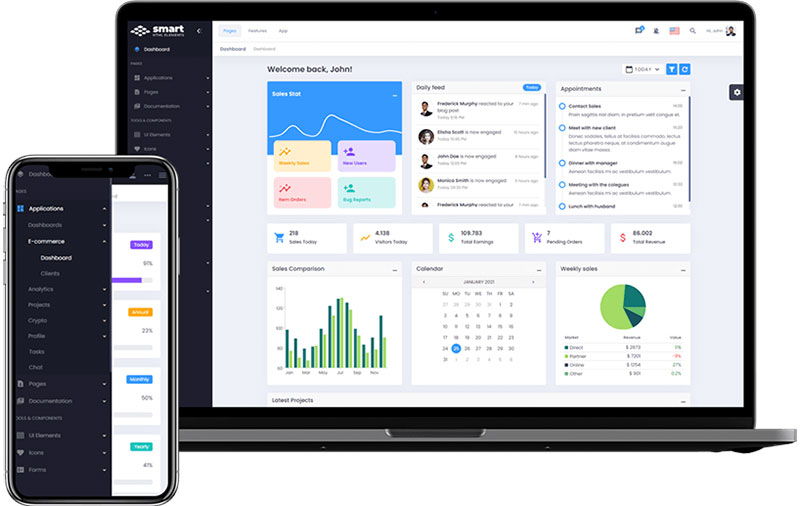 This is a 100% JQuery JavaScript library framework for making responsive web and mobile applications. It makes use of open standards and technologies only, like CSS and HTML5.
It shows excellent compatibility with Angular, KnockoutJS, Typescript, and various server technologies.
PrimeNG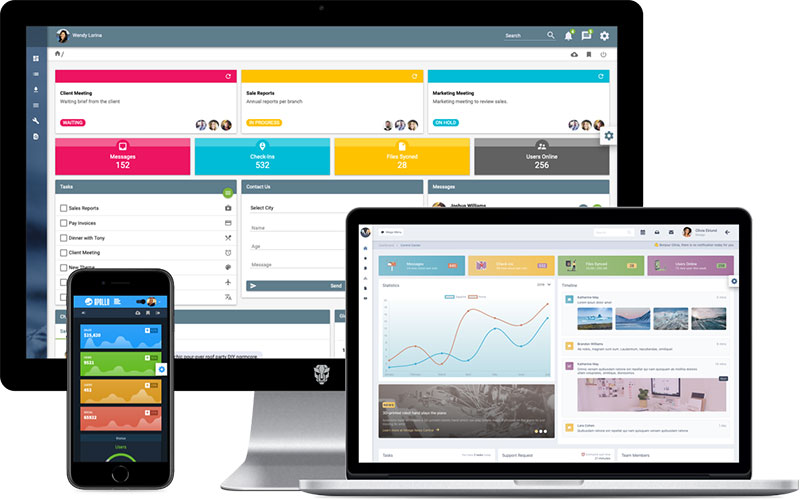 This is a library of various user interface components for Angular. All elements are open-source and free to use for anyone as determined by the MIT license.
The set of tools makes working with larger and complicated datasets easy.
Griddle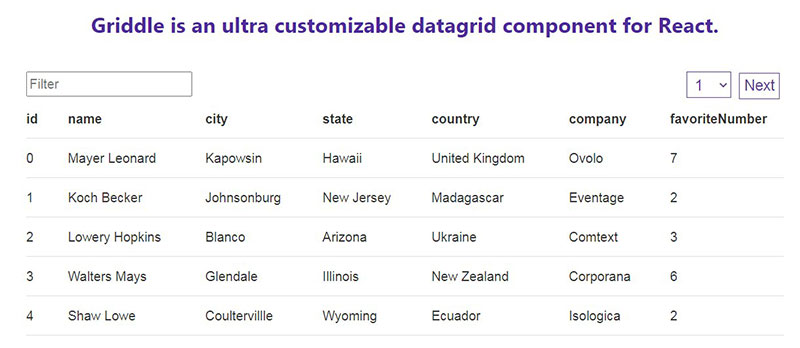 The Griddle grid library for React is very customizable. It does more than arrange a set of data on a grid.
It offers customizability and the option to add plugins. This makes it a versatile tool for rendering data lists.
The basic version comes with all the common functionalities and conventions.
Vuetable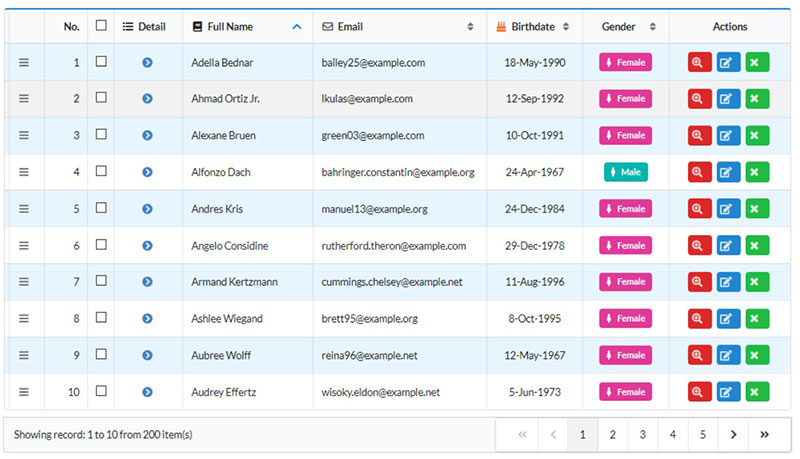 Vuetable is more than a data table. Its core component is Vue.js, which requests JSON data from the server.
It then renders the information as an HTML table.
Further, it adds features like extensible and swappable pagination. There is also an option of adding buttons to rows.
React DataGrid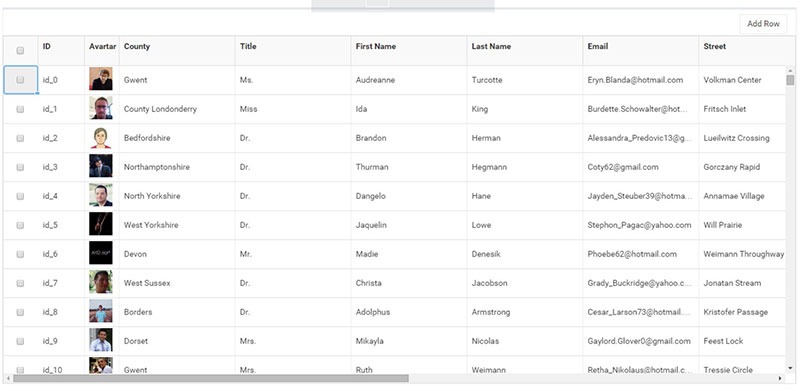 Some of React DataGrid's features include:
Client pagination
Hierarchical grids
Inline footers
Summary filters
With it, users can determine which cells are editable and which ones are not. They can also select what color they will have.
It allows the viewer to select certain rows. It even offers animation and Lazy Load support.
The export function is very versatile. It produces Excel, Text, Word, or XML files.
Handsontable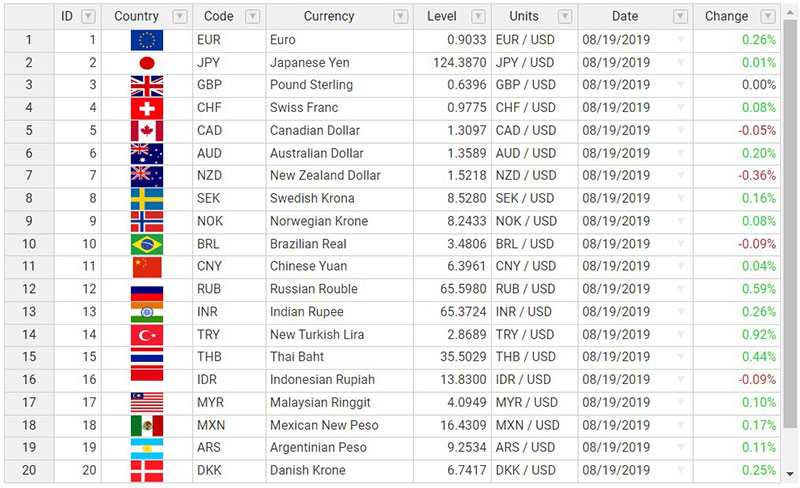 The installation and use of Handsontable are easy. The layout and use of this library are very similar to Excel, which makes it very easy to work with columns and rows.
The API is very complete. The source code is open and customizable to meet any special requirements.
There are plugins available to expand the options that Handsontable offers as standard.
Datasette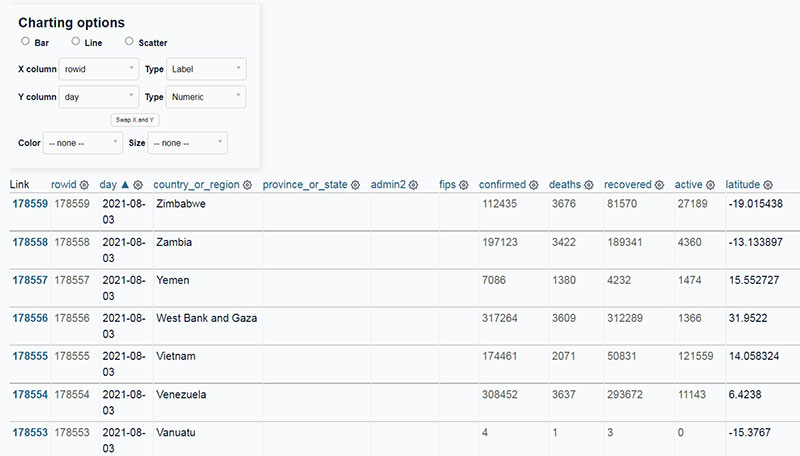 Datasette helps people to organize and publish tabular data.
It does not matter what shape or form the data comes in, Datasette can turn it into a website and API. The output is browsable and interactive tables.
It is a good option for anyone who needs to handle large amounts of information. For example journalists, curators, local governments, and archivists.
Fancy Grid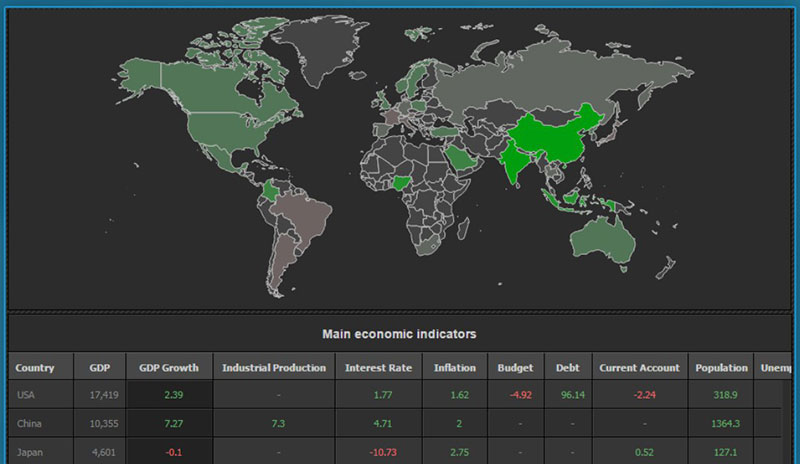 This is a server-based JavaScript data grid library that can also produce charts. It supports many of the most important frameworks, like:
Angular 1
Angular 2
jQuery
VueJS
Web Components.
Fancy Grid has a smart modules system. It detects what is needed and loads the corresponding module.
In addition, it offers some unique features, such as:
Ajax data
Flexible CRUD
Filtering
Paging
Sorting
DGrid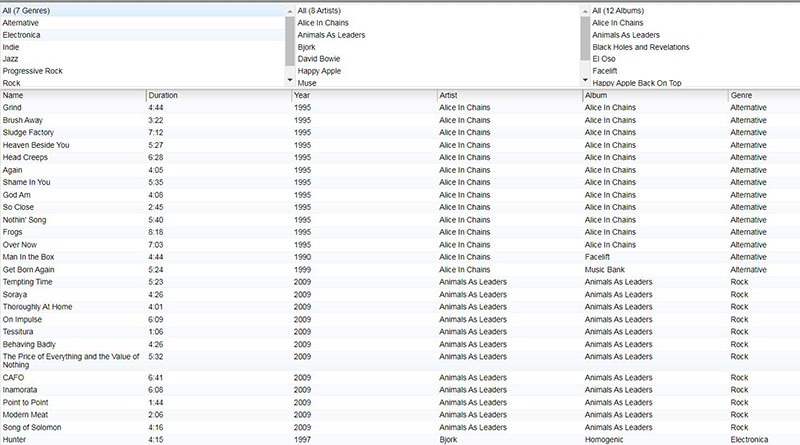 DGrid is the new kid on the block. It is a JavaScript grid library with a new approach to using current browser capabilities and object stores.
Yet, at the same time, it is small, modular, and allows for the addition of extensions. DGrid is available under an open-source license, which makes it free to use and modify.
jsGrid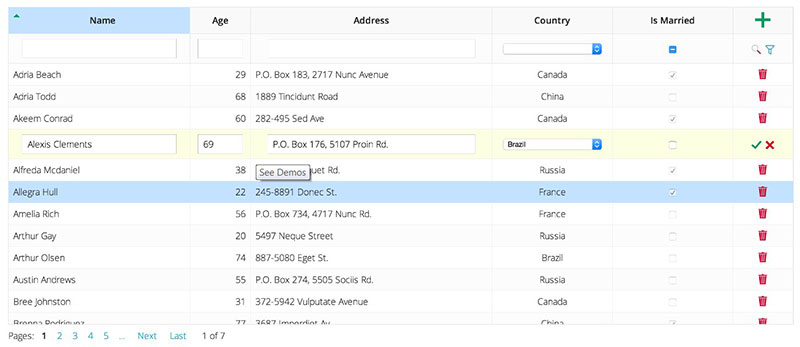 This is a JQuery plugin that a client can install themself. This lightweight library is able to perform several common grid operations.
jsGrid is flexible and the user can customize the components and the appearance. It deletes, edits, filters, inserts, paginates, and sorts.
It is worth noting that the pagination function works on the server-side and on the clients' end. Users can give the cells different types, such as checkbox, numeric, select, and text.
Vuetify Table Component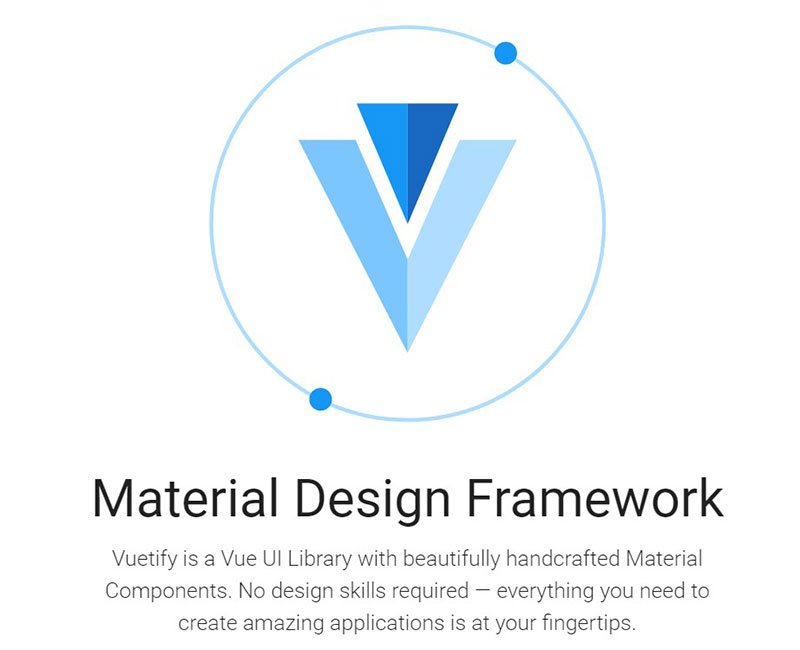 Vuetify Table Component is the ideal tool for developing web and mobile applications. It is important to note that Vuetify supports data tables.
Because it is a Material Design Framework, it is easy to work with and all its components are ready to use. There is ample documentation to support developers working with this library.
There is also a large community to help solve specific problems. Vuetify offers these functionalities:
Inline editing
Pagination
Searching
Support sorting
And much more
jExcel Spreadsheet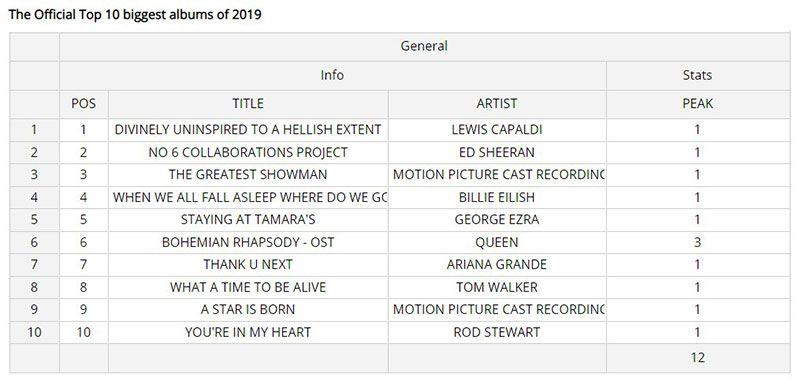 This Vanilla library looks great and provides the best CRUD operations. It works in a way reminiscent of Excel.
It is easy to work with and offers the familiar drag-and-drop functionality.
jExcel Spreadsheet is customizable. The tables that it produces are rich in functionalities.
It allows the user to perform all the standard operations. Additional features are:
Pagination
Multiple column resizing
HTML static elements
Column merging
Material Design Data Table

This JavaScript data table library combines Angular Material and Material Design. It is especially suited for presenting large amounts of data.
It shows data in a similar way to desktop enterprise applications.
KendoReact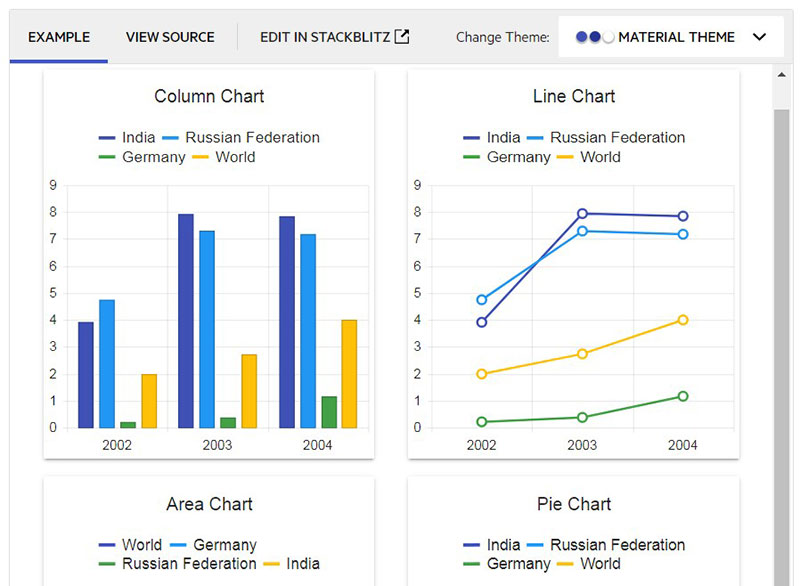 This professional user interface pack helps businesses to make grid applications with React. All user interface components are optimized for React and have zero dependencies.
KendoReact lets its users edit, group, filter, resize, and reorder tabular data. It is an excellent option for getting an overview of information and trends.
KendoReact has two modes, the uncontrolled and the adjustable modes. In the uncontrolled mode, the user can export the data as an Excel or PDF file.
DevExtreme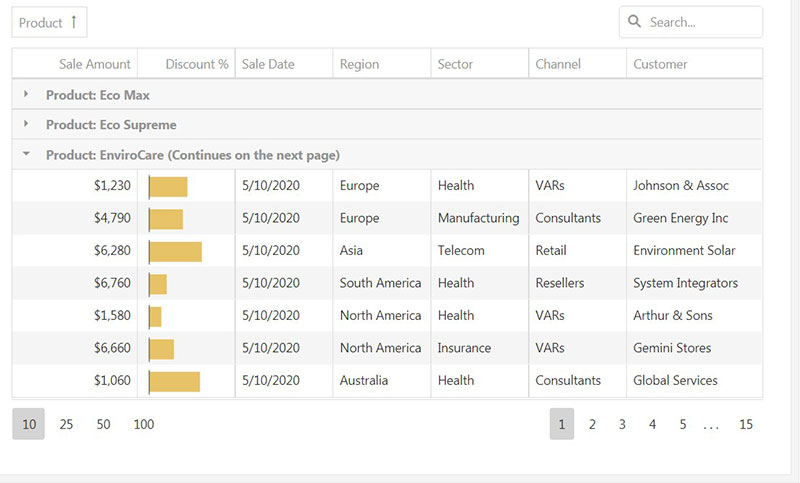 DevExtreme is an excellent grid library. This library is for making responsive tables for computers and touch screen devices.
Amongst other things, it helps to make beautiful:
Data editors
Data grids
Interactive charts
Navigation and multi-purpose widgets
DevExtreme works with popular frameworks, such as Angular, ASP.NET, MVC, and React.
SlickGrid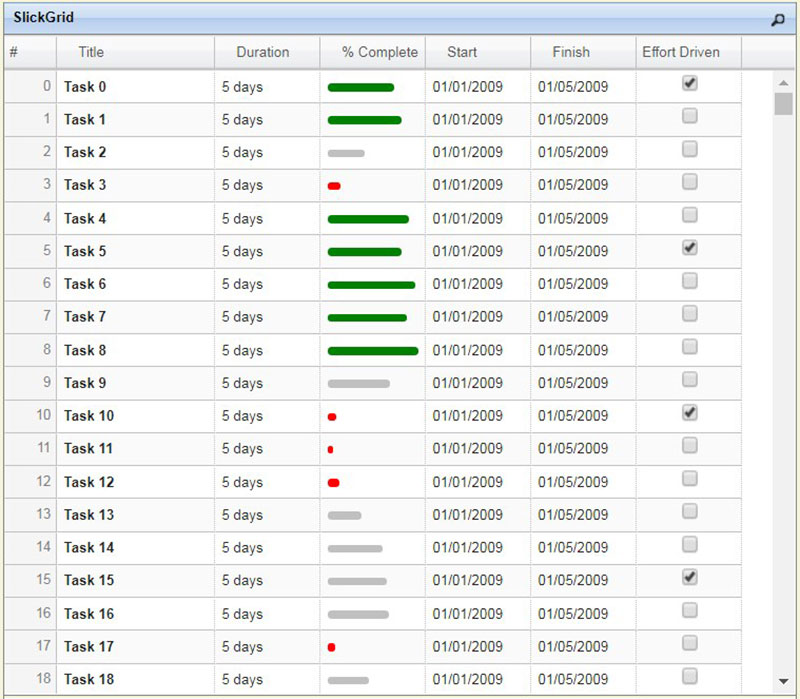 SlickGrid's JavaScript is entirely open source. It is a client-side data grid control library that contains JQuery components.
It is compatible with data-centered frameworks and with Bootstrap. It uses JSON data and external components for the setup of its data sources.
ngx-datatable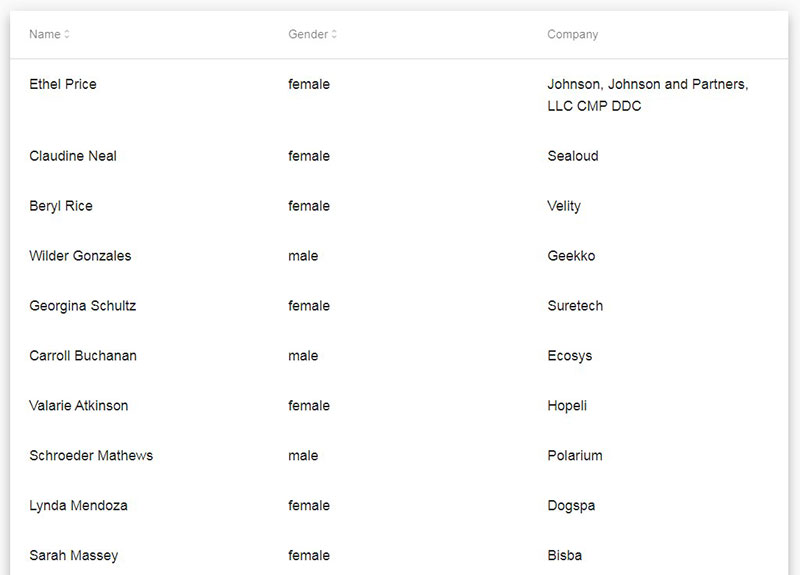 ngx-datatable is an Angular component. The designers made it to handle huge amounts of complex data.
It is small and does not depend on external components. Yet it has all the features needed for rendering tables.
It is thus very lightweight and adaptable.
It allows the user to create what they want and does not assume any makeup details. It is up to the user to sort, filter, and paginate it.
AnyGrids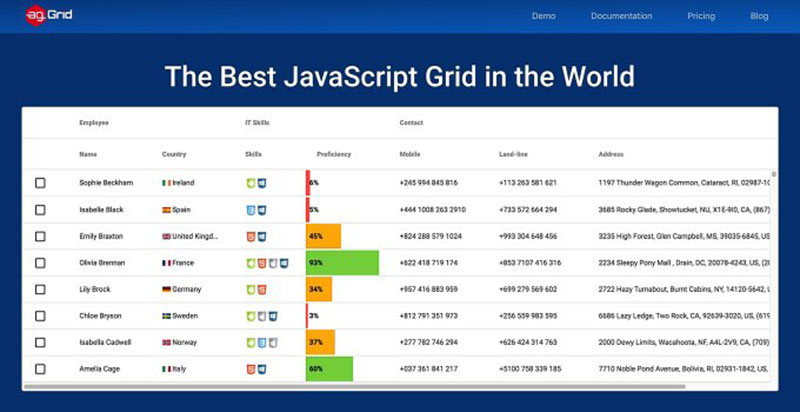 AnyGrids is a data grid library that uses Vanilla at its base. It works in a fast and easy way and handles data from the following sources:
AJAX data
JavaScript arrays
JSON data
There are two options for the user, the script tag and the npm package installation. With these installations and add-on components, it is useful for any kind of project.
AnyGrids offers these functionalities and much more:
Column calculations
Custom data render
Custom sparklines (Bar, linear, pie)
Data filtering
Data grouping
Pagination
Sorting
Use package themes
Angular UI Grid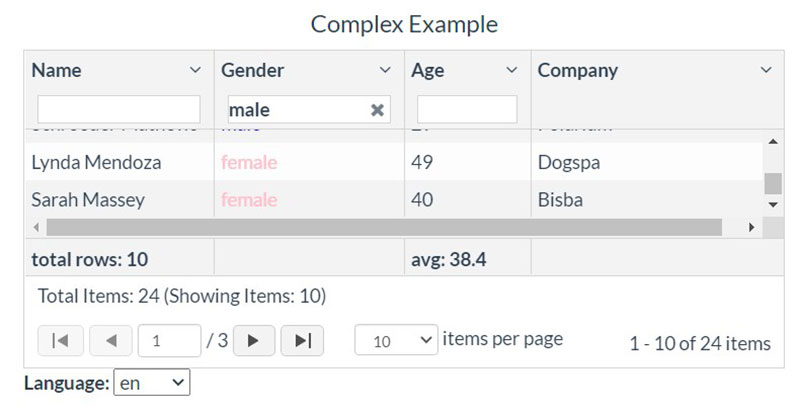 Angular UI Grid is part of a suite based on native AngularJS. It handles large amounts of information with more than 10,000 rows well.
Its design ensures that users only need to use the components that are relevant to them. That makes it lightweight and easy to handle.
Angular UI Grid offers all the usual features. These include:
Filtering
Testing integration
Interaction
Sorting
Easy Editable Data Grid with Vanilla JavaScript – GridEdit

GridEdit is small and makes it easy for users to make editable data grids and spreadsheets. A simple double-click allows the editing of a cell.
Clusterize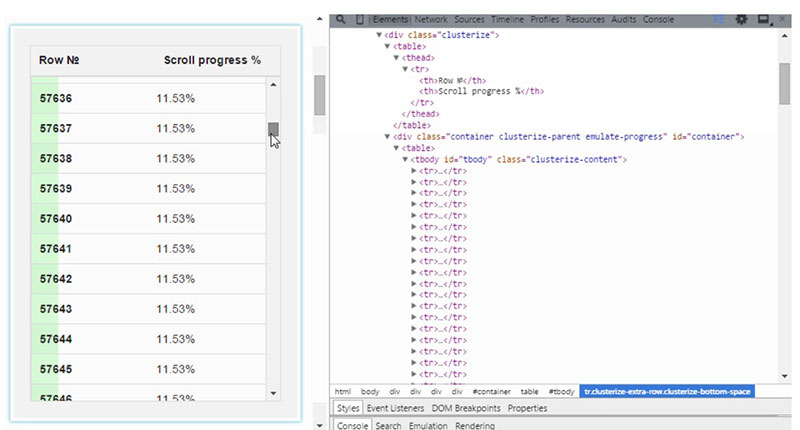 This Vanilla JavaScript plugin is the last on the list of data grid libraries.
It does not have any trouble processing large amounts of data. In fact, thi is the purpose of its design.
It thus helps users to make smooth web pages.
It aims to keep the Document Object Model clean and uncluttered from all kinds of unused tags. It divides lists into smaller clusters and shows elements for scroll positions.
It adds some extra rows to both the top and bottom to emulate the full size of the table. It is fully responsive and supports all common browsers and handheld devices.
FAQ about JavaScript data table libraries
What's the purpose of JavaScript data table libraries?
Well, let me tell you, JavaScript data table libraries are super useful! They're designed to make it easier for developers to create and manage tables in web applications. These libraries provide a whole bunch of useful features like sorting, filtering, pagination, and more. So, if you're building a web app that deals with data, these libraries can be a total lifesaver!
Can you recommend some popular JavaScript data table libraries?
Oh, absolutely! There are several fantastic libraries out there. Some of my personal favorites include DataTables, ag-Grid, and Tabulator. Each of these has its own unique strengths and capabilities, so it's definitely worth looking into which one best fits your project's requirements. You can't go wrong with any of these, honestly!
How do I choose the right data table library for my project?
Great question! There's no one-size-fits-all answer, but a few key factors to consider are:
Features: What kind of functionality does the library offer? Make sure it supports the things you need, like sorting, filtering, or resizing columns.
Ease of use: Is the library easy to set up and work with? A good library should have clear documentation and an active community.
Performance: How well does the library handle large datasets? You'll want something that's efficient and won't slow down your app.
Can I customize the appearance of the table?
You bet! Most data table libraries let you customize the appearance of the table to fit your app's look and feel. This usually involves using CSS to style the table, but some libraries also have built-in options or themes you can apply. Just dive into the documentation to see what's possible!
Do these libraries support handling data from APIs or other data sources?
Oh, for sure! Most JavaScript data table libraries can work with data from a variety of sources, including APIs, local files, or even databases. Some libraries even have built-in functionality to make it easy to fetch and process data from remote sources, which can be super handy.
Are these libraries mobile-friendly?
Well, that's an important aspect to consider! Many of the popular data table libraries, like DataTables and Tabulator, are designed to be responsive and work well on mobile devices. However, it's always a good idea to test the library in your specific use case to ensure it meets your needs on different devices.
How do I handle user interactions like clicks or selections?
Most libraries provide built-in event handling to make it easy to work with user interactions. For example, you might want to do something when a user clicks on a row or cell in the table. Just check out the library's documentation to see what events are available and how to use them in your code.
Can I export the data from a table to different formats like CSV or Excel?
Yes, indeed! Many JavaScript data table libraries offer built-in export functionality, allowing users to export the table data to different formats like CSV, Excel, or even PDF. It's super helpful for users who need to save or share the data outside of your app.
Do I need any specific JavaScript frameworks to use these libraries?
Not necessarily! While some data table libraries are designed specifically for certain JavaScript frameworks, like ag-Grid for Angular or React, there are plenty of options that work with vanilla JavaScript as well. Just make sure to pick a library that's compatible with your chosen framework, if you're using one.
Are there any performance issues I should be aware of?
Well, handling large amounts of data can sometimes be a bit challenging, especially in terms of performance. Some libraries, like ag-Grid or Tabulator, are designed to handle large datasets more efficiently, so they might be a better choice if you're dealing with lots of data.
It's also a good idea to optimize your data fetching and processing to minimize performance bottlenecks. Just remember, always test your app with real-world data to make sure it performs well under various conditions!
Ending thoughts on these JavaScript data table libraries
Data grids continue to be an awesome way of presenting data. No wonder that they are widely used on websites and other applications.
So, whenever it is possible to arrange data in rows and columns it is smart to do so.
All the examples listed above will do an excellent job at creating JavaScript tables. Some are a little more advanced; others focus on being lightweight and simple.
These are the best and most popular libraries available. Use them to make beautiful tables from existing data, by processing and organizing it.
If you enjoyed reading this article on JavaScript data table libraries, you should check out this one on how to make a data table.
We also wrote about a few related subjects like DataTables alternative, JavaScript table library, WordPress table plugins, how to create a table in WordPress without a plugin, how to insert a table in WordPress, WordPress pricing table plugins, and how to create statistical tables in WordPress.