WooCommerce is the most popular plugin to create and run an online store. It provides the essentials to build product pages, shopping carts, and checkout pages.
Yet, the standard version of this plugin has some limitations.
For example, the default page doesn't allow multiple products. This means that clients will have to visit separate pages to buy different items.
It is a proven fact that multiple product tables increase conversion.
It allows customers to check out different products on the same page. They can select their chosen goods and buy them with ease. Of course, it's worth pointing out that most customers will prefer a direct checkout, so be sure to implement it.
For WooCommerce stores there is a golden rule: the easier it is for customers to buy, the higher the conversion rates.
Product tables make the purchasing experience more pleasant and attract recurring visitors. This not only increases sales but helps to support brand awareness.
It's a great option if you want to form a community of faithful clients.
With a WooCommerce product table, customers will see different items on only one page. Luckily, there are many plugins that will help you create one.
Next is a list of featured WooCommerce product table options.
wpDataTables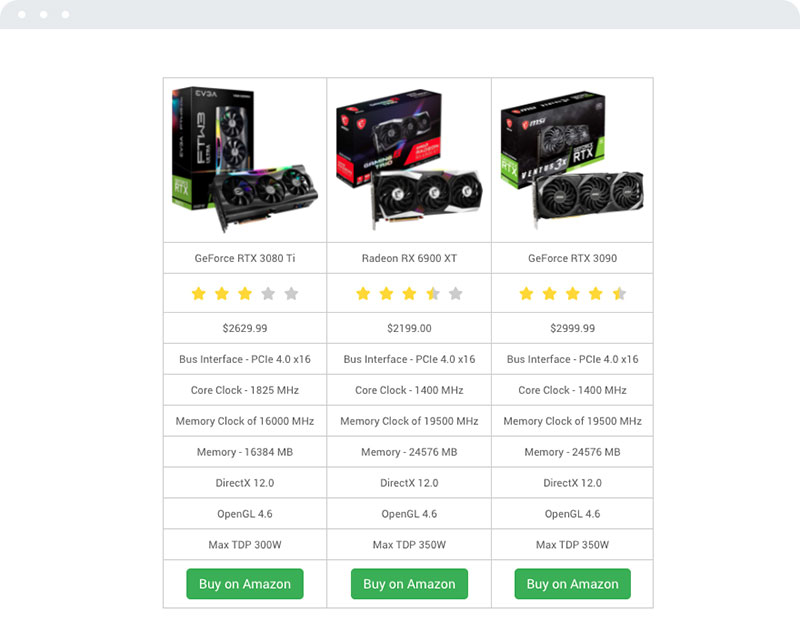 With wpDataTables, you don't need coding skills to create a customized site. You can add product tables and charts to any page or entry.
This is the ideal option if you need to work with charts and data. For adding a special feature to your WooCommerce site, wpDataTables has excellent options.
Users can add product comparisons and pricing tables to improve the purchasing experience. They can create custom product tables with a client-oriented approach.
wpDataTables has a user-friendly interface and plenty of features. When creating charts, you can enter the data manually or import it from an external database.
You can use wpDataTables to create much more
With wpDataTables, you can create any type of table and chart that you'd like. There's a good reason why it's the #1 WordPress plugin for creating responsive tables and charts.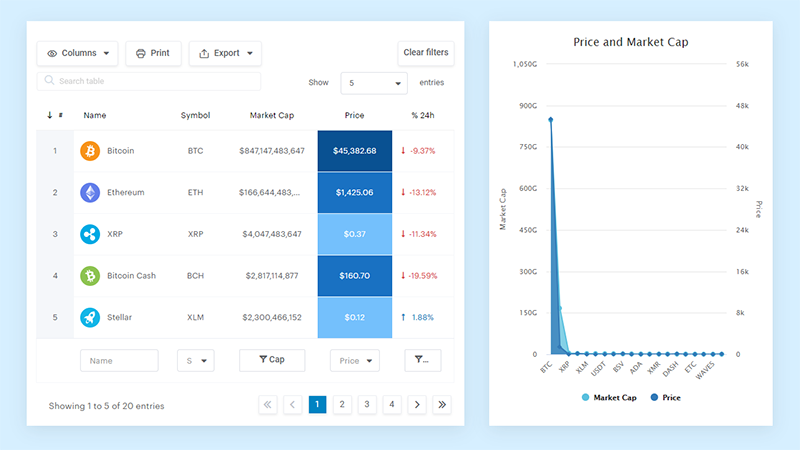 And it's really easy to do something like this:
You provide the table data
Configure and customize it
Publish it in a post or page
And it's not just pretty, but also practical. You can make large tables with up to millions of rows, or you can use advanced filters and search, or you can go wild and make it editable.
"Yeah, but I just like Excel too much and there's nothing like that on websites". Yeah, there is. You can use conditional formatting like in Excel or Google Sheets.
Did I tell you you can create charts too with your data? And that's only a small part. There are lots of other features for you.
WooCommerce Product Table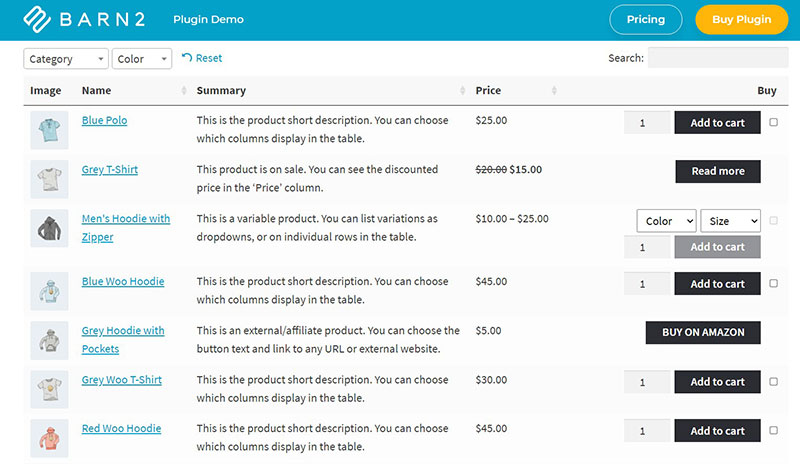 This is a flexible WooCommerce product table plugin. Thanks to its powerful platform, you can create stylish and responsive product tables.
This plugin is customizable and allows you to add tables anywhere on your site. Even users with no coding skills can set up stunning product tables quickly and easily.
With one click, add custom taxonomies, custom fields, media files, and product attributes.
WooCommerce Product Table's flexibility is unique. Store managers can display a few products or many, and it always looks stunning.
WC Product Table Lite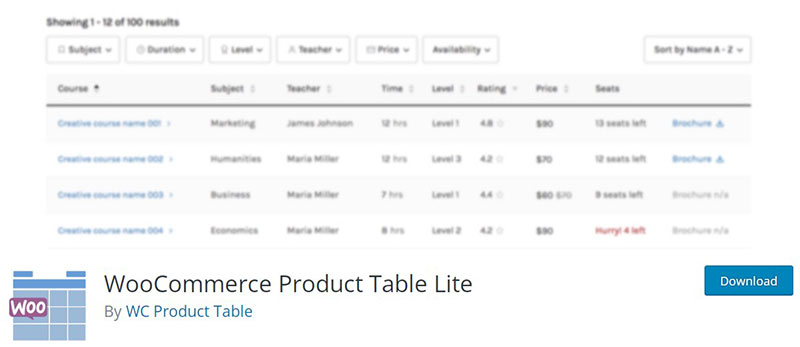 With WC Product Table Lite, you can use product data that is available on your WooCommerce shop. This can be titles, descriptions, reviews, and more.
Users can create a responsive platform that helps clients find what they are looking for. An attractive product table is also included.
These are some of the things that you can do with WC Product Table Lite:
Use a lightbox to display images.
Create product table columns.
Use the dropdown interface to build your product tables.
Use the search and sorting filters.
Add a 'Buy' button on the product page.
JustTables – WooCommerce ProductTable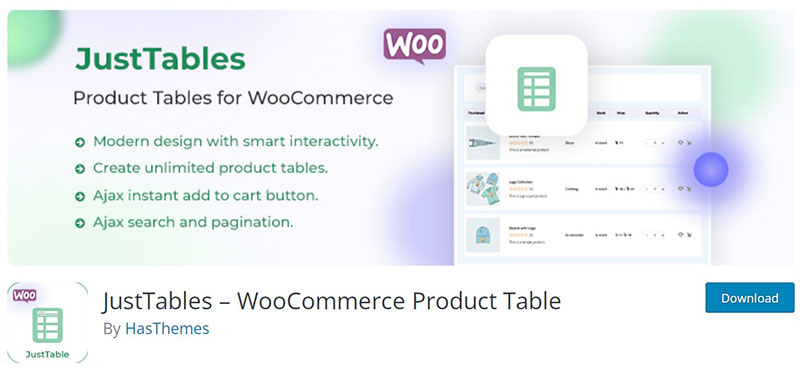 This WooCommerce product table plugin has the perfect combination of design and usability.
It enables developers to give the site a professional look. It also allows customers to navigate across multiple products with ease.
Clients can compare products on one page. They also have the option to use a tabular format instead of the grid display.
With Just Tables, engage your customers by making things simple. You can also add additional product information and create stunning WooCommerce product tables.
Woo Product Table Pro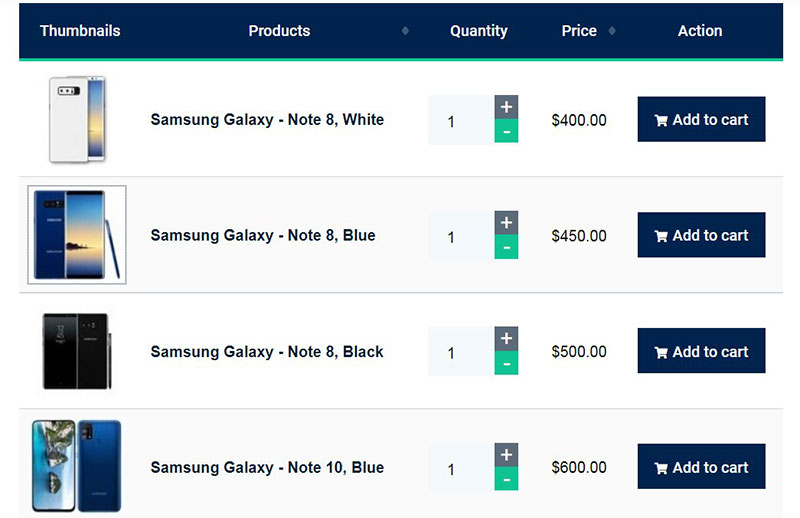 If you are looking for cross-device optimization, Woo Product Table Pro is a great option.
Its responsive design is user-friendly. This means that product tables will look fantastic on desktops and mobile devices.
This plugin is best for restaurant orders, catalogs, and wholesale customers. As well, it makes it easy for store owners to create and manage product tables.
Users will enjoy many features, such as:
Ajax-based pagination
Load more button
Thumb image lightbox
YITH wishlist compatibility
Custom taxonomy
WooCommerce Product Table by WooBeWoo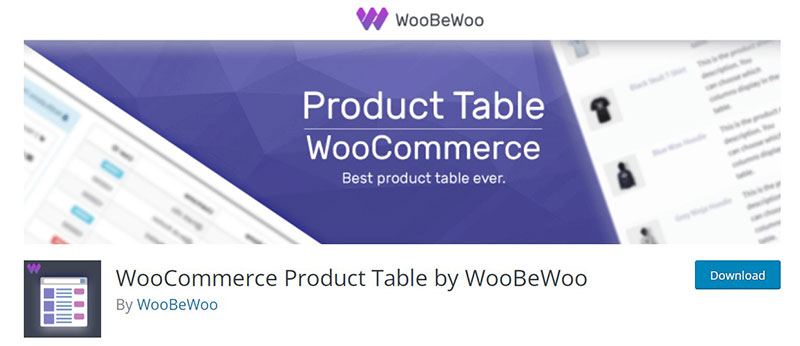 WooCommerce Product Table creates price lists, catalogs, and quick order forms. It has more control options than many other plugins.
You can easily create a responsive product table and retain full control of the table's content.
Adding products to a table is quite straightforward. All you need to do is add them through a form and select the product properties you want to display.
Then, create a shortcode for the product table and insert it where you want.
Thanks to its filters, it is easy for your clients to find items. If you want to create a responsive WooCommerce product table, then this is a great option for you.
WooCommerce Tiered Price Table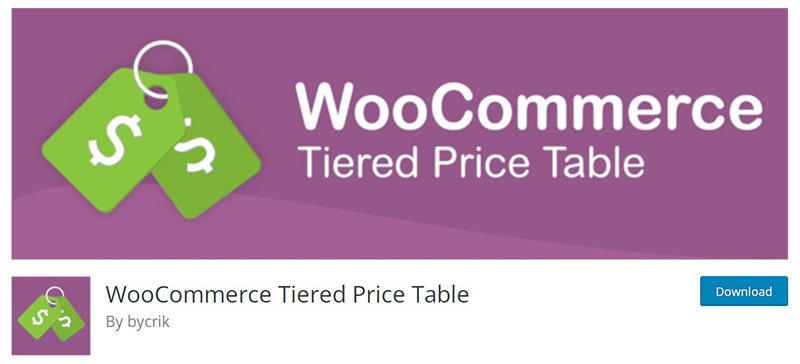 This option works well for all kinds of e-commerce stores. Designed to improve customer experience, this is a great complement to the WooCommerce standard plugin.
It has a user-friendly backend platform to create a stunning website. You can create tables with multiple products and visual effects.
Engage your audience with impressive features like the following:
'Add to cart' options on the product table.
Customize the location of the 'Add to cart' button.
Possibility to add as many columns as desired.
Create pricing lists and menus for your WooCommerce shop.
Ninja Tables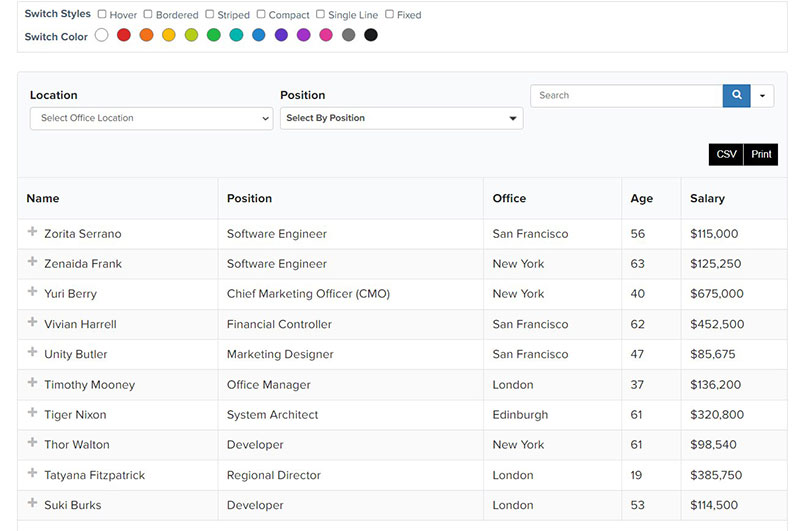 Ninja Tables stands out from other WooCommerce product table plugins. This is thanks to its drag-and-drop possibilities.
Users can drag whole columns, rows, and media files.
It's the perfect choice for beginners or those who have little time for managing a webpage. It's very easy to use and intuitive.
With Ninja Tables, you have plenty of customization options to create WooCommerce tables.
Last but not least, it integrates with other plugins, enhancing its functionalities.
Product Table for WooCommerce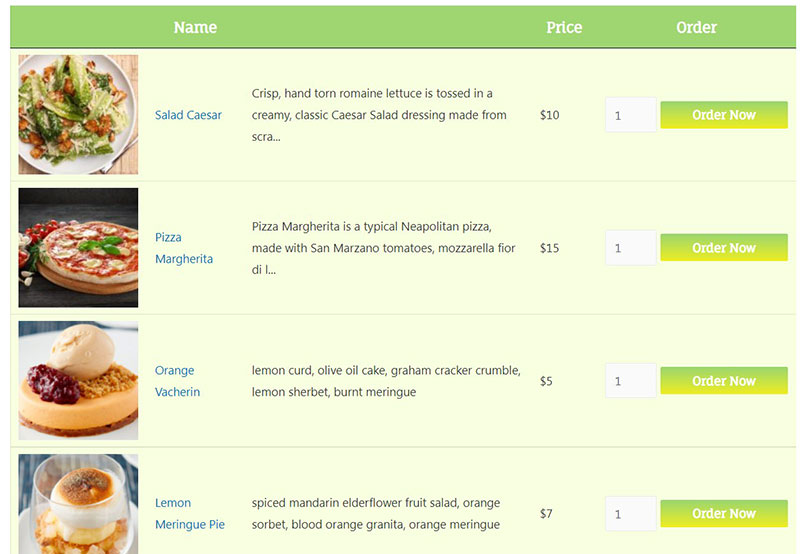 This is the perfect option for those who want a customizable site that's easy to manage. You can create amazing quick order forms, pricing lists, and catalogs.
Your visitors will see the products displayed as a list. You can add multiple products and display them anywhere on your site.
First, add the product variations into a form. Then, copy the shortcode and insert the table element wherever you want.
Users can automatically add the products to the responsive product table. Clients will be able to search items through filters.
WPC Product Table for WooCommerce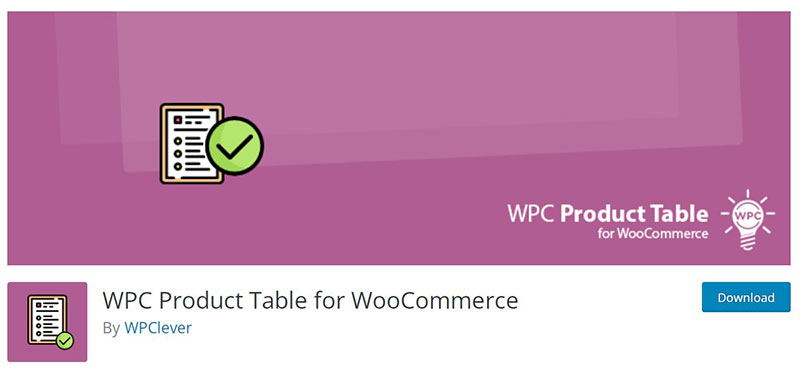 If you want a customizable WooCommerce product table plugin, then choose this one. Users can design the front-end of the site and define the content of their columns.
WPC Product Table offers over 15 types of product properties.
This includes availability, price, reviews, thumbnail, 'add to cart' button, short description, and product comparison. Clients can change the order of the properties according to their preferences.
With its advanced features, this is one of the best options to build a professional website.
Product Table for WooCommerce (wooproducttable)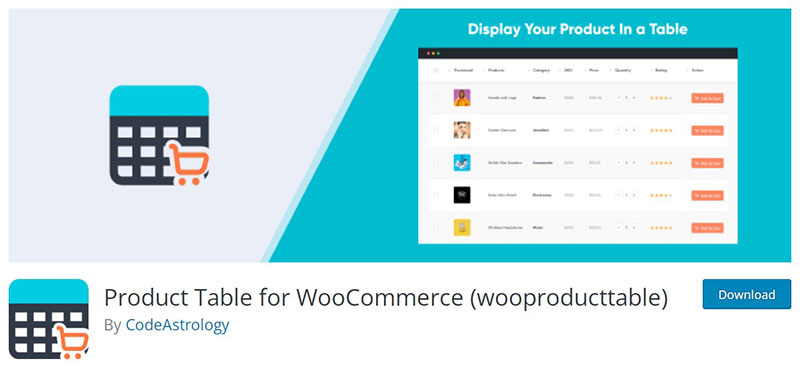 This plugin has an intuitive platform to create a fully responsive product table for WooCommerce. It's easy to manage and includes different design options.
One of its best features is its cross-device compatibility.
A large part of the conversion funnel now occurs via mobile devices. Hence, this feature has become essential.
Let's not forget this plugin's advanced features. These will help you to create stylish product tables.
This plugin also comes with wide customization options. Give your WooCommerce shop a special look by editing colors, padding, backgrounds, and font size.
WooCommerce Product Chart Size Table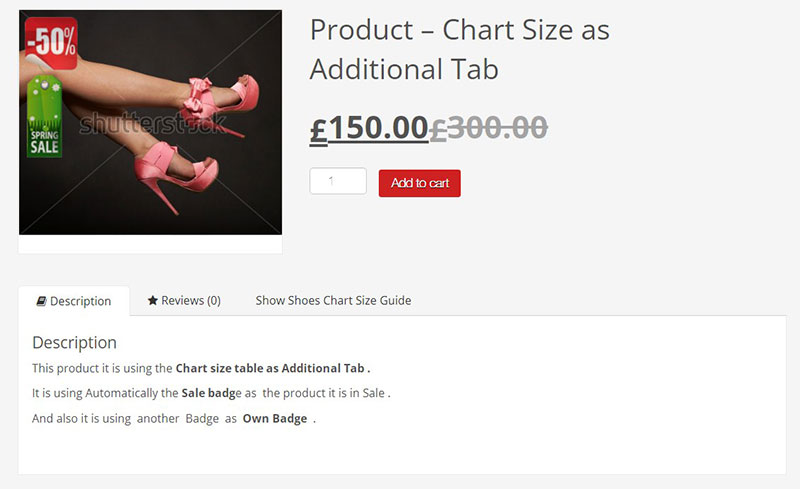 Do you have an online clothing store? Then this is the best product table plugin for you.
Create size charts for products, product categories, or multiple categories. All you have to do is activate the plugin and add the charts to the field of your choice.
Then, insert it into a product table.
Here are some of the things you can do with WooCommerce Product Chart Size Table:
Create unlimited size charts.
Add images and product descriptions right into the size chart.
Assign your size charts to single or multiple product categories.
Customize your chart's text and layout.
Pick your colors with a modal pop-up.
This WooCommerce product table will help to boost your sales. It does this by giving customers all the information they need before buying.
Woo Variations Table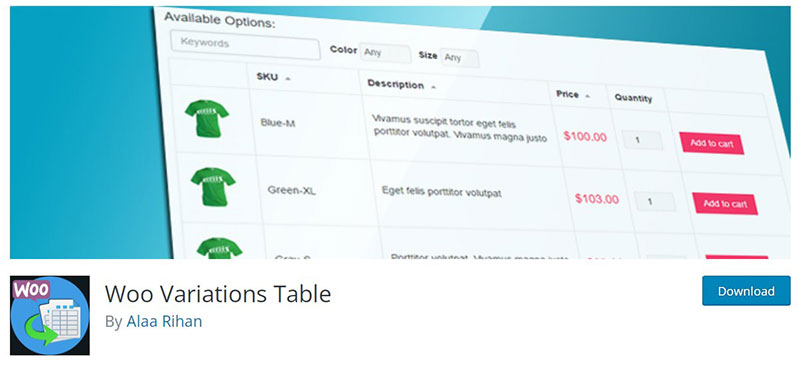 When you think about product variation, you likely picture a drop-down menu. Although this may be a useful feature, Woo Variations Table replaces it with a stylish product table.
Your site can show all the product attributes from this neat table. For customers, this makes the shopping process much easier.
Your clients will be able to change categories and use a keyword-based search bar.
Yet, finding the products is only the first step. Your platform needs to work smoothly so that customers can close the purchase.
Woo Variations Table has 'Add to cart' functions based on Ajax. This means that the page won't reload every time a visitor adds an item to the cart.
Free Woocommerce Product Table View – Woo Table Pro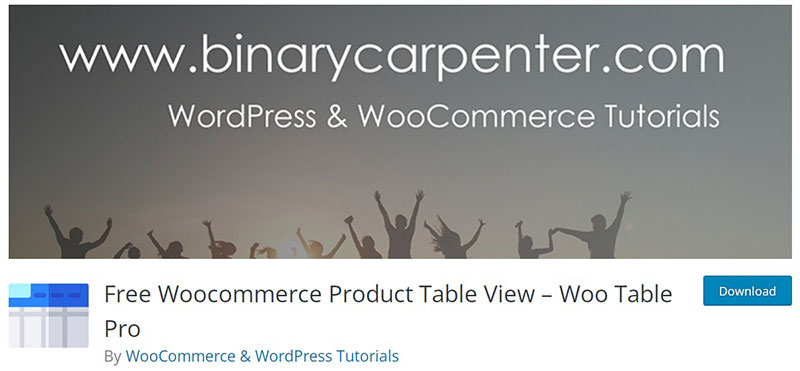 This plugin comes with a free version. It has plenty of WooCommerce features like multiple shortcodes and filtering options.
Users can display as many product tables as they want, even with the free version. Admins can use the drag-and-drop function to change the order of the products.
WooCommerce Product Table View includes custom filters.
Thus, customers can filter products from almost any category. This includes price, attributes, and rating.
It doesn't use Ajax request, yet this is one of the fastest WooCommerce product table options. This is especially so when it comes to filtering products.
Final thoughts on the best WooCommerce product table options available
Every WooCommerce shop needs a reliable website. They need to display their products as neatly as possible.
It's also important to include features that will make shopping easier for the client. Yet, in some cases the standard WooCommerce page is not enough.
Some stores have wider product variations and need to display many items on one page. These can be stores that sell clothes, accessories, books, jewelry, etc.
If this is your case, you need a WooCommerce product table plugin. With any of the listed options, you can combine style and functionality to boost conversions.
These plugins include drag-and-drop tools, wide filtering options, and customization alternatives. Also size charts, Ajax-based shopping carts, and more.
Some businesses will require certain features.
For instance, book stores need a multiple-product page. Clothing and shoe stores require size charts. Tech shops need detailed product descriptions.
All in all, a reliable WooCommerce product table plugin is a must for any online store.
If you enjoyed reading this article about WooCommerce product table plugins, you should check out this one with the best WordPress events plugins. Or, if you are in the mood for exploring more WooCommerce plugins, you should give this site a visit.
We also wrote about a few related subjects like WordPress editor plugin, comparison tables, how to create a survey table with wpDataTables and Forminator, how to design a table, how to create a heatmap table with wpDataTables, DataTables alternatives, JavaScript table libraries and WordPress pricing table plugins.